As an owner of extremely sensitive, dry, and at the same time acne-prone skin, I started my skincare journey quite early. It's been many years of trial and error, but I managed to arrive at a point where my skin looks and feels great, and I even get compliments on it, which feels so strange and yet amazing at the same time!
However, many mistakes were made before I got to this point. Looking back I cringe about some of the things I was doing which clearly were causing the majority of my skin issues, yet that wasn't obvious to me back then.
If you have any skincare concerns yourself (they don't have to be the same as mine), I bet you will find some of the below insights useful! They're all quite simple things to implement, but they can really make a world of a difference.
Let's get to it! Here are the top 9 skincare mistakes most people make (and how to fix them).
Pin this for later: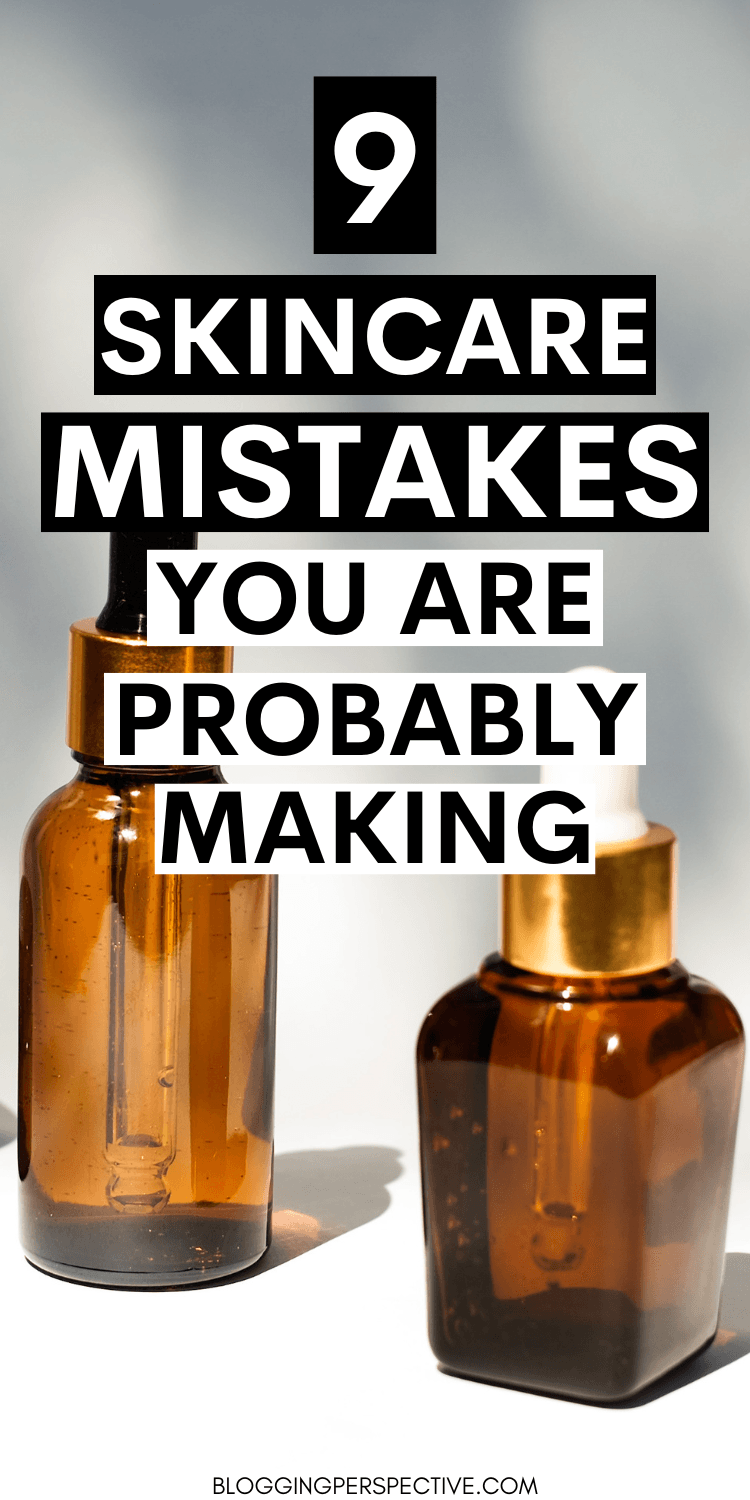 #1. You are not religious about sunscreen.
I know you may be tired of hearing this, but that's just how important sunscreen is!
Applying sunscreen daily helps to reduce the risk of skin cancer in the future, and it is THE best and cheapest anti-aging product you will find!
Yes, it is an additional step in your routine and you may need to test a few different sunscreens before you find the one that looks and feels good on your skin, but it is literally one of the most important things you can do for your skin.
Here are some sunscreen rules you need to know:
Apply enough of it. You need to be liberal with your sunscreen. Forget about the 'pea-sized amount' – this is more of a '1/4 teaspoon' situation.
Reapply it. Ideally, you would reapply sunscreen throughout the day, to keep your skin protected.
You need it every day, regardless of the season – this includes the cold months too.
If you stay indoors but spend time by the window, you should also apply sunscreen.
Your future self will thank you.
#2. You invite dirt and bacteria to camp on your skin.
How often do you press your phone screen against your cheek, or touch your face after touching your phone? Do you touch your face with unwashed hands throughout the day? Use the same towel on your face as well as your body for a week straight? How often do you change your pillowcases?
These are all very easy ways to transfer dirt and bacteria onto your face, which can lead to breakouts.
A good hygiene practice can really help to keep your skin clean. Try regularly changing your pillowcases, cleaning your phone screen, using a separate face cloth, and changing that regularly as well, and don't touch your face as much as you can help it.
#3. You're not using satin pillowcases.
This tip is not that well known, but I swear by it.
Using a silk or satin pillowcase can be better for your skin. Satin is my choice as it is a lot more affordable yet it is quite similar to silk. Satin is a very soft material which means it pulls your skin a lot less than a cotton pillowcase.
This helps to prevent creases on your skin in the morning and it can also help prevent the formation of wrinkles. Satin is also a breathable material so it's good for your pores too.
I have noticed my skin looking more supple and less irritated in the mornings since I started using satin pillowcases a few months ago. Give it a try!
#4. You're using makeup wipes.
I used to be so guilty of this one!
For YEARS I thought that makeup wipes is the best and easiest way to remove makeup from your skin at night. Oh boy, how wrong was I…
Makeup wipes are not effective at removing makeup or dirt from your face. Yes, you read that right.
It may look to you like your makeup is being removed when you're wiping your face with one of these wipes, but it doesn't get completely dissolved and lifted off of your skin.
What makeup wipes do is they just push the dirt around your face. Some of it comes off, but a good amount stays behind, even if you can't see that.
That's why you should always cleanse your skin with a good quality cleanser (it doesn't have to be expensive) and wash it off with water or use a wet face cloth to carefully wipe everything off. Double-cleansing is even better.
#5. You start multiple new products at the same time.
I love a good skincare haul, but after shopping, I often feel tempted to put all my new skincare products on my face that same day. Let me tell you, that is a big mistake!
Your skin is unique and it might be sensitive to a specific ingredient. It might not take well to a product, but it might love a different product.
So if you introduce multiple new products to your routine at the same time and something starts to break you out, it will be nearly impossible to know which product is responsible for that.
That's why you should only introduce one new skincare product at a time, and give yourself at least a couple of weeks to really see how your skin reacts to it, before introducing any other new products. This will make it a lot easier to see what works and what doesn't work for your skin.
#6. You don't get the basics right.
Very often we get distracted by serums, actives, exfoliators, essences, mists, anti-aging products, and other fancy things while actually, we haven't gotten the basics right yet. By the basics, I mean the three most important things that should be present in everyone's skincare:
Cleansing
Moisturizing
SPF
If you don't get these three things right, nothing else matters.
You might have the most expensive and the most hyped-up serums, but if you're putting them on skin that hasn't been cleaned properly, you'll probably break out. You might even blame this new product, but actually, you just need to start cleansing your skin more carefully.
You might be cleansing your skin the right way, but if you don't provide it with moisture after that, it may end up dry and dehydrated.
Lastly, you might nail the first two steps, but if you don't protect your skin by applying sunscreen daily, you might undo all the good things you're doing for your skin and you'll also start to see aging signs sooner rather than later.
These are the foundations of any good skincare routine. I always go back to these three things when something isn't working or my skin gets irritated, and soon I can see positive results. Get the basics right!
#7. You use too many actives.
When it comes to active skincare ingredients, I see many people getting too excited and making mistakes.
By 'actives' or 'active skin ingredients' I mean skincare that has been specifically formulated to address a certain concern or skin problem, such as acne, aging, pigmentation, and so on. Some examples of popular actives include different acids such as AHAs, BHAs, hyaluronic acid, also retinol, niacinamide, and different vitamins – A, C, and E.
When you first introduce actives in your beauty routine, you should research which ones can or cannot be paired with one another, and start slow, increasing the frequency of application if your skin is doing well.
These kinds of products can be very potent and sometimes drying or irritating, therefore you want to take caution. The last thing you want is a damaged skin barrier or irritation from using too many actives too often or not sticking to instructions when it comes to combining different ingredients.
#8. You're not using occlusives for dry skin.
Do you have dry, sensitive, irritated skin or dry patches? Then this skincare hack is for you! One of the best tips I ever got for my dry super sensitive skin was to add an occlusive layer after moisturizing my face at night.
Occlusives are ingredients in skincare that form a protective layer on top of your skin. This occlusive layer acts as a barrier that helps prevent moisture loss, keeping the skin hydrated for longer.
Occlusive creams are heavy and they don't fully absorb into your skin, but if you have irritation or your skin is extremely dry and just needs that hydration boost, layering occlusive on top of your normal moisturizer can be absolutely amazing for your skin! You will see a difference in the morning.
#9. You're washing your skin with hot water.
If you wash your makeup off in the shower – this is for you. I'm sorry, I know it's easy and convenient, but if you like your showers hot, you're making a common skincare mistake and you need to avoid it at all costs.
Using steaming hot water to cleanse your skin can strip your skin of its natural oils and disrupt the moisture balance. This can cause irritation and drying, similar to when your skin is sunburnt.
To keep your skin looking and feeling healthy, opt to cleanse your face over the sink with lukewarm water instead of in a hot shower.
That's it for the biggest skincare mistakes and how to fix them! Like these tips? Want to remember them? Pin this to your Pinterest account: