This post may contain affiliate links, which means I'll receive a commission if you purchase through my links, at no extra cost to you. Please read our full disclosure for more information.
As the days grow shorter and the air turns crisp, we find ourselves cozied up in our favorite sweaters, sipping on warm beverages, and, of course, indulging in some creative nail pampering. That's right, it's that time of the year again – winter is upon us, and it's the perfect season to embrace the magic of winter nails.
There's something utterly enchanting about adorning your fingertips with a touch of winter wonderland. Whether you're savoring the season's first snowfall or simply basking in the cozy glow of your holiday decorations, your nails can be your canvas for capturing the spirit of winter.
So grab your favorite nail polish and get ready to dive into the latest trends for winter nails 2023. Let's paint the town – or should I say nails – with some winter magic!

Winter Nails 2023 – Latest Trends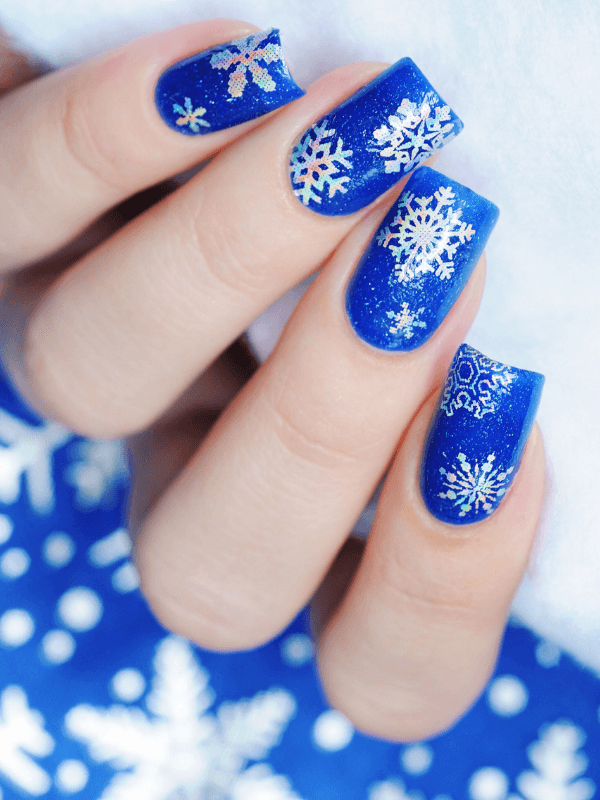 The trends for winter nails in 2023 are as captivating as they are adorable. Let's look at some of the hottest trends that will keep your fingertips looking fabulously frosty:
Snowflake Nails: Embrace the beauty of winter with intricate snowflake designs. These delicate and enchanting patterns will make your nails look like miniature pieces of art, evoking the charm of a snowy day.
White and Blue Nails: Channel the serene beauty of a winter landscape with the classic combination of white and blue. It's a timeless choice that's both elegant and soothing.
Shimmer, Glitter, and Rhinestones: Add a touch of magic to your nails with shimmering polish, glitter, and rhinestones. These elements will catch the light and make your nails twinkle like stars in the night sky.
Christmas Theme: 'Tis the season to be jolly, and what better way to show your festive spirit than with Christmas-themed nails? Think Santa Claus, candy canes, and ornaments – the possibilities are as endless as your holiday cheer.
Sweater Nails: Cozy up your nails with sweater-inspired designs. From cable-knit patterns to Fair Isle prints, these nails will give you that warm and snug feeling, even when you're braving the cold.

Want to create your own winter nails?

Our recommended supplies:



Related articles:
The Ultimate 10-Step Guide to Perfect Manicure at Home
30+ Christmas Nail Ideas: Holiday Magic at Your Fingertips
20+ Adorable Winter Outfits for Freezing Cold Weather

Winter Nails Inspiration 2023-2024
Now, get ready to be inspired, and stay tuned for a visual treat as we explore these trends in detail with some stunning images of Winter Nails 2023.
Let's turn our nail beds into mini winter wonderland!

Teddy Bear Nails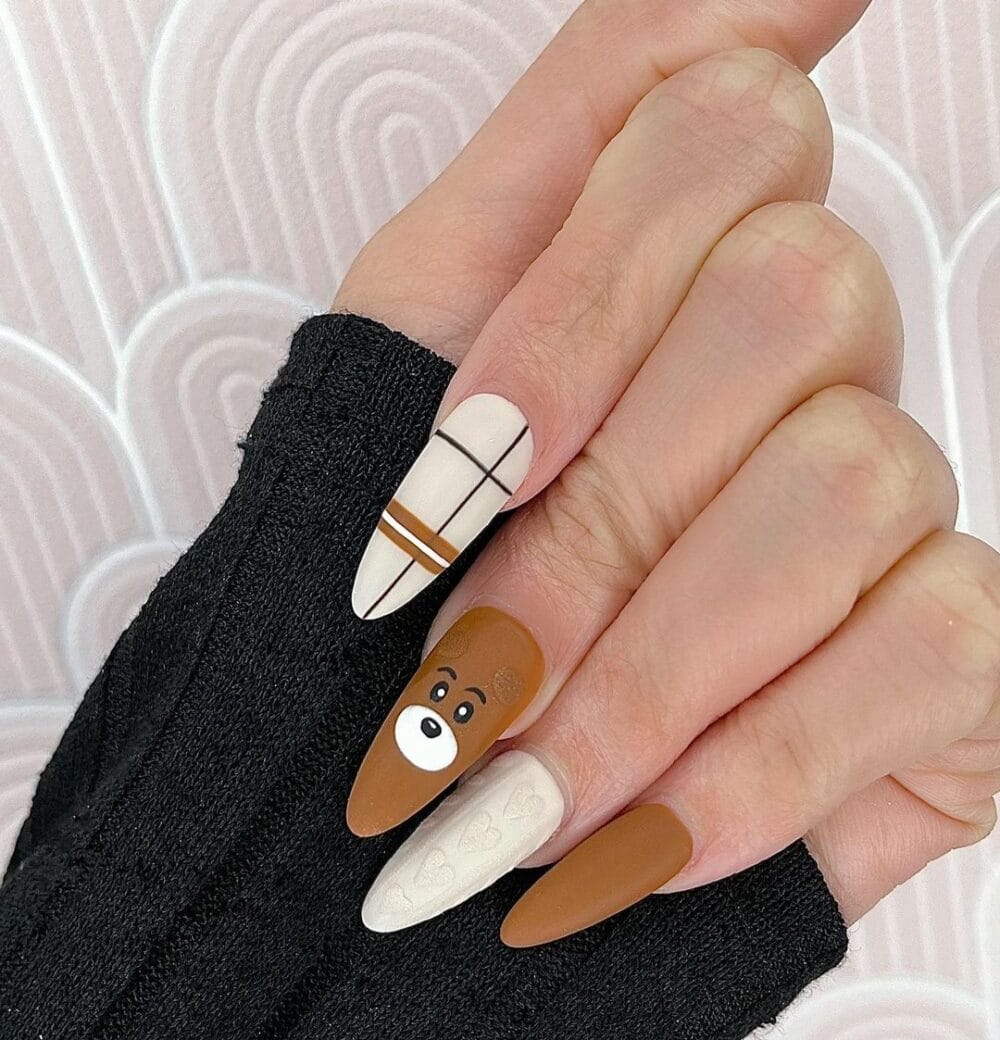 Photo: nailsbyjd
Cozy up to the winter season with these adorable teddy bear nails. They're as huggable as they are stylish!

White and Blue Nails with Snowflakes and Crystals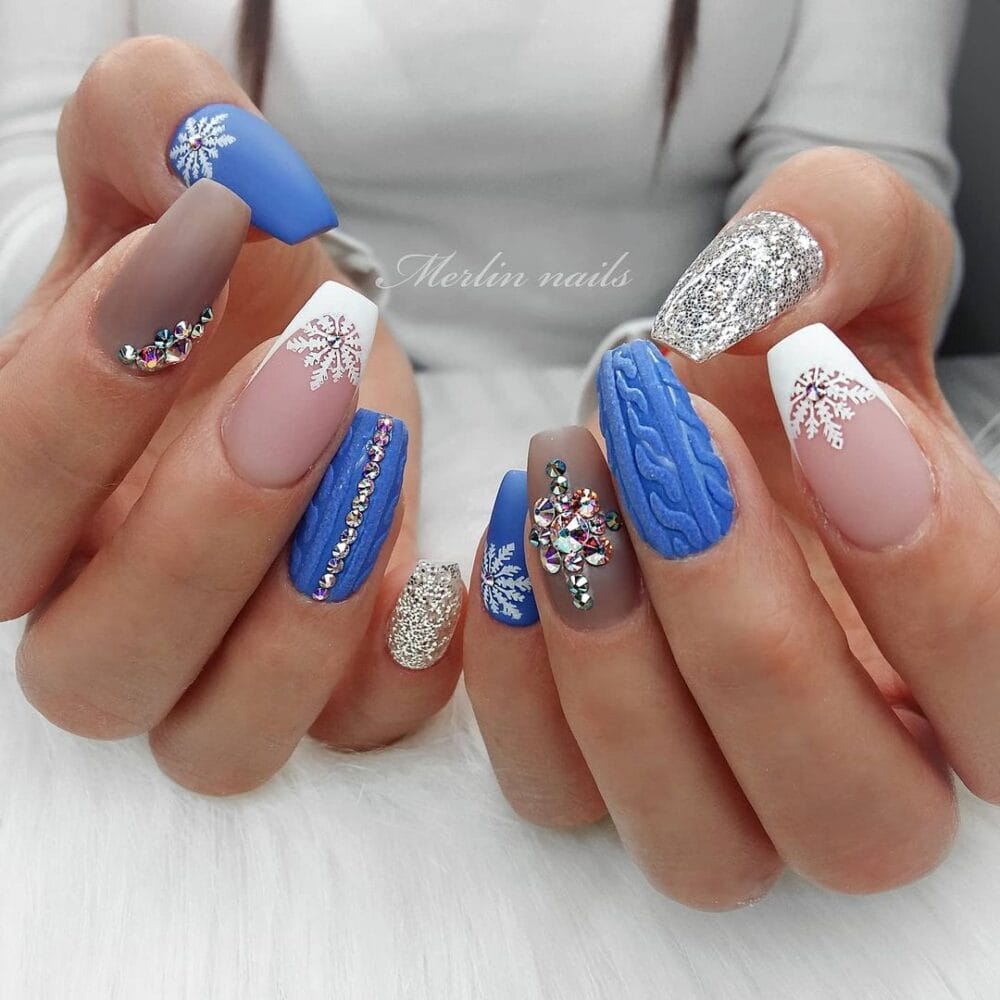 Photo: merlin_nails
This nail art combines white and blue hues, snowflakes, and crystals for an elegant, frosty look that's perfect for the season.

Stars and Green Glitter French Manicure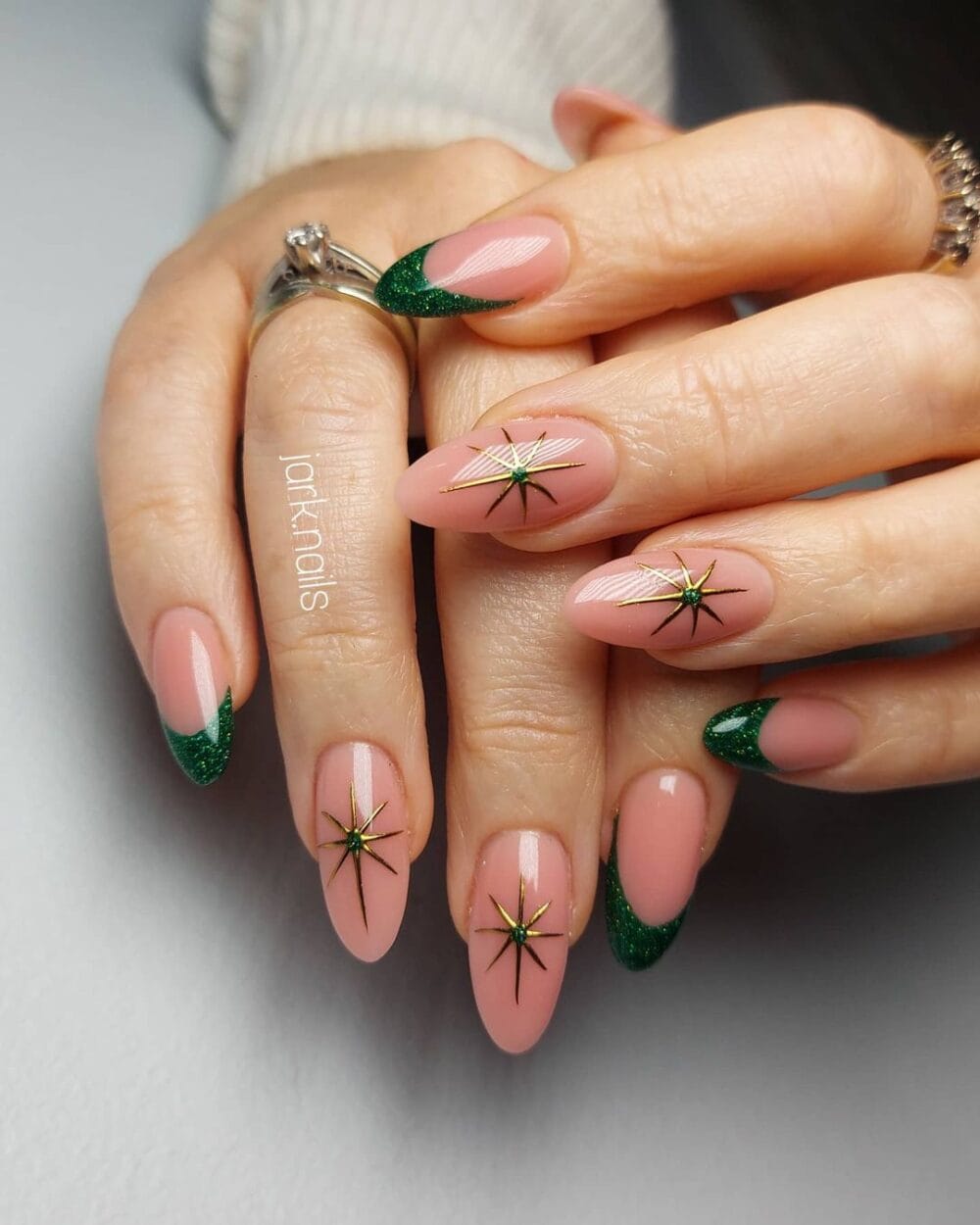 Photo: jark.nails
Shine bright with starry nails and green glittery French tips. It's like having a piece of the night sky at your fingertips.

Snowman Nails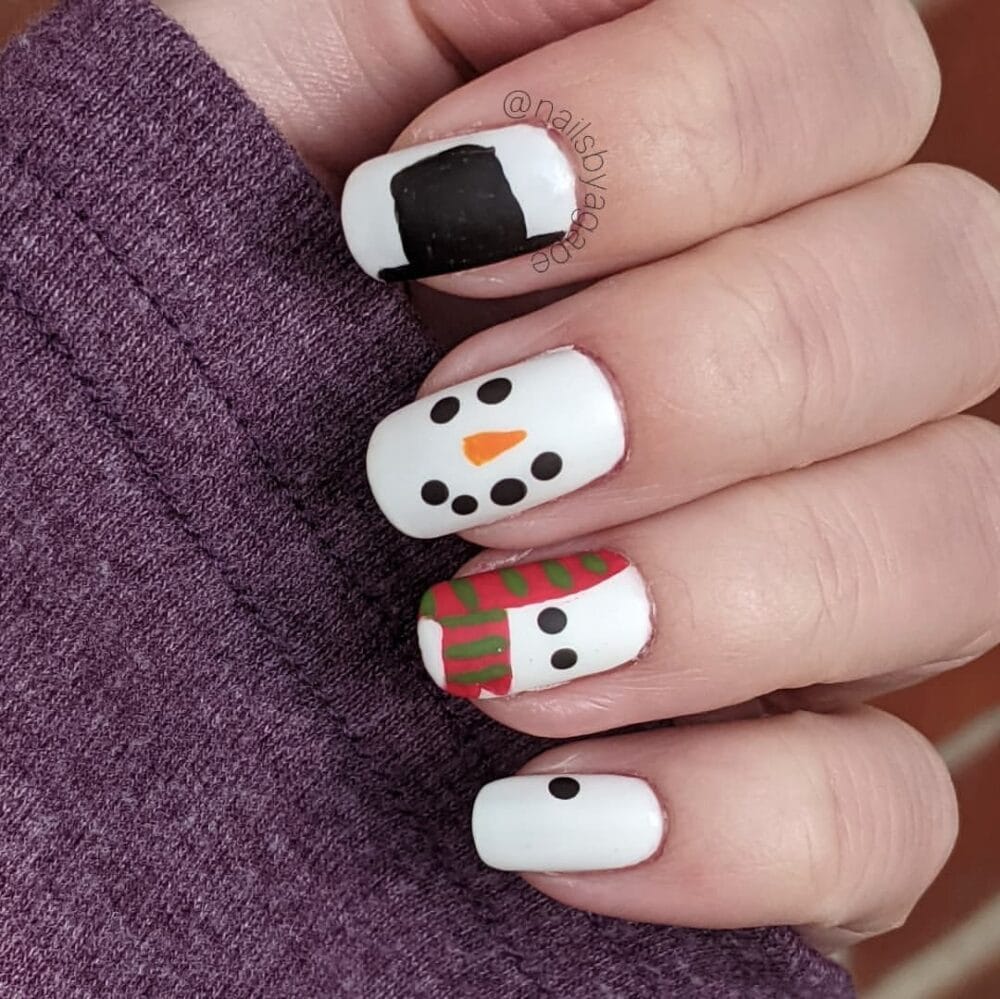 Photo: nailsbyagape
Spread holiday cheer with these fun and creative snowman nails. They'll put a smile on your face and keep your nails looking festive.

White Snowflake Nails with Rhinestones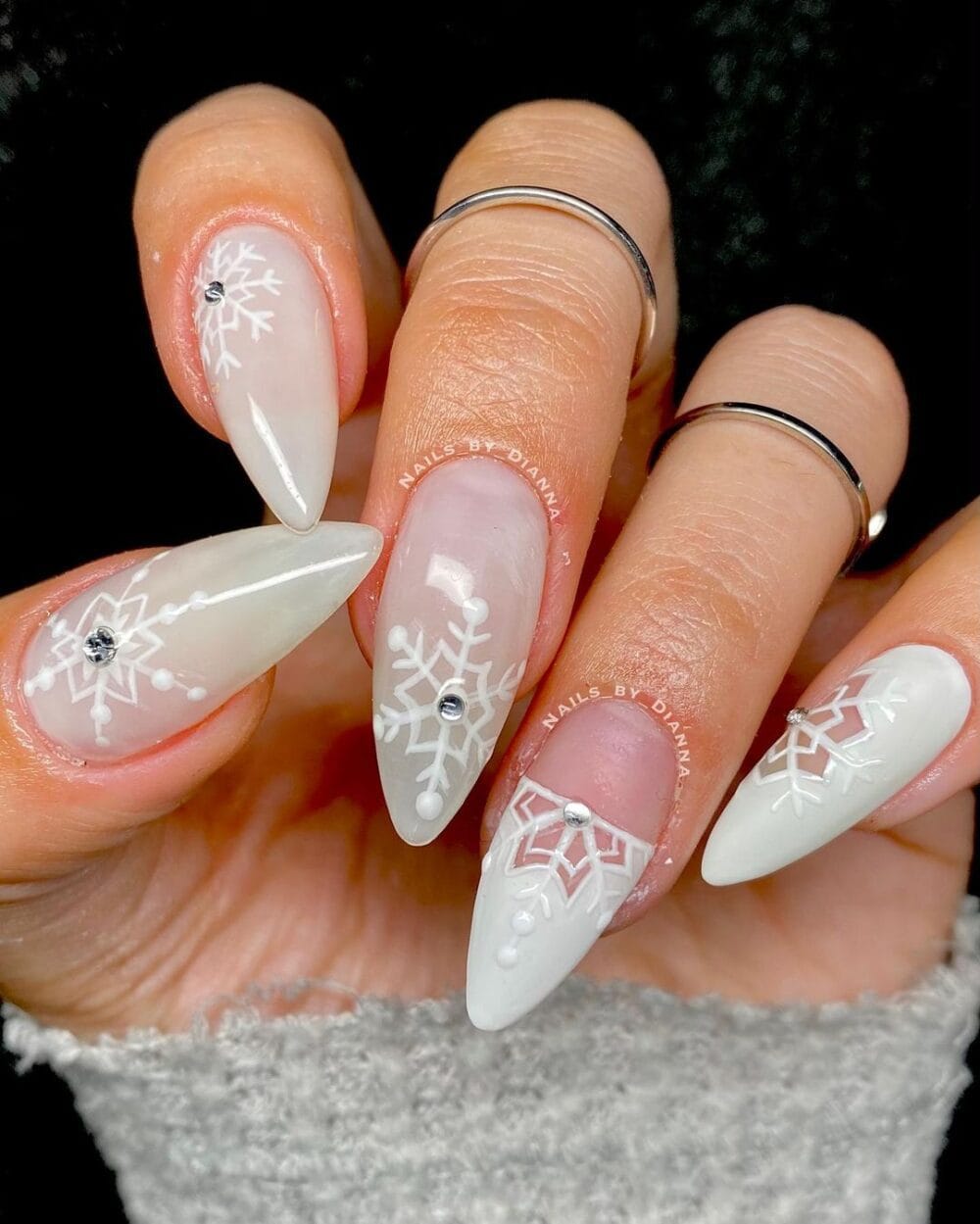 Photo: nails_by_dianna
Embrace the delicate beauty of winter with these white snowflake nails decorated with sparkly little rhinestones. It's a snowy wonderland on your fingertips.

Silver Snowflake Nails with Glitter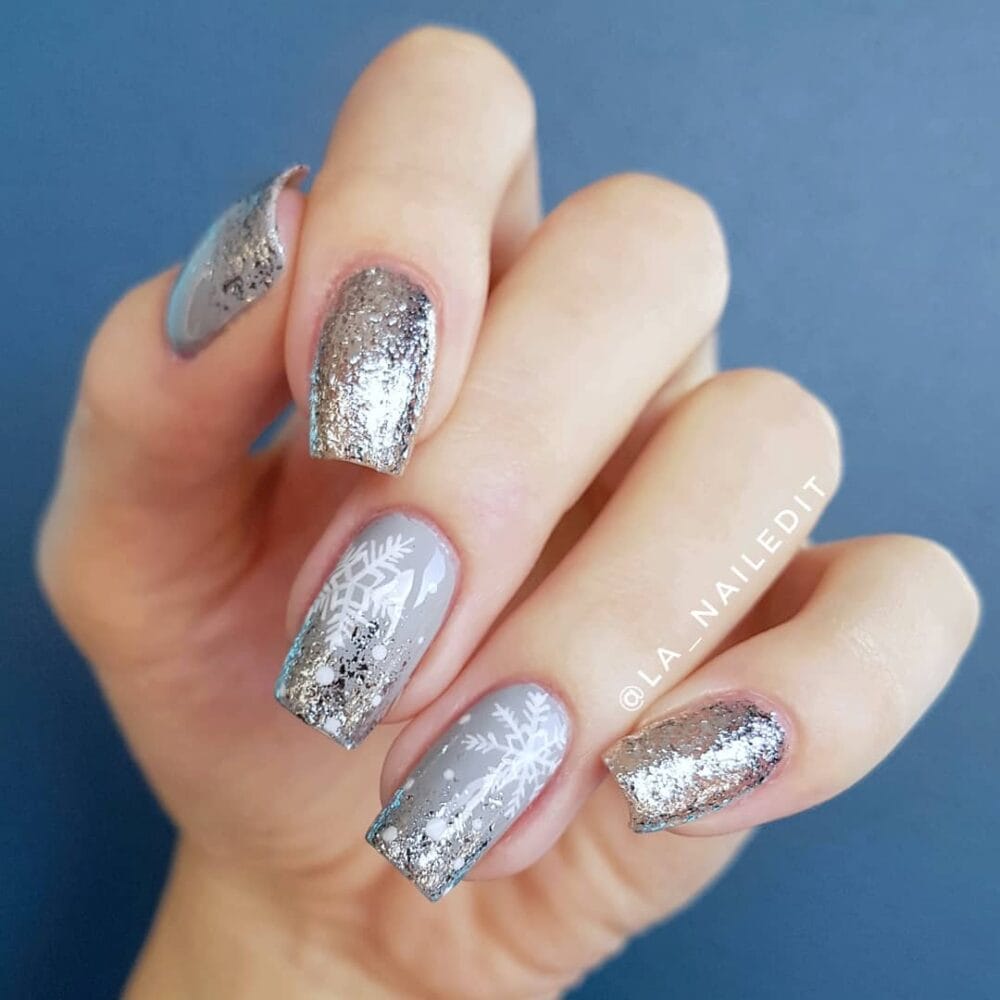 Photo: la_nailedit
These silver snowflake nails with a touch of glitter add a touch of elegance to your winter look. This sparkly set is perfect for New Year's Eve!

White Winter Nails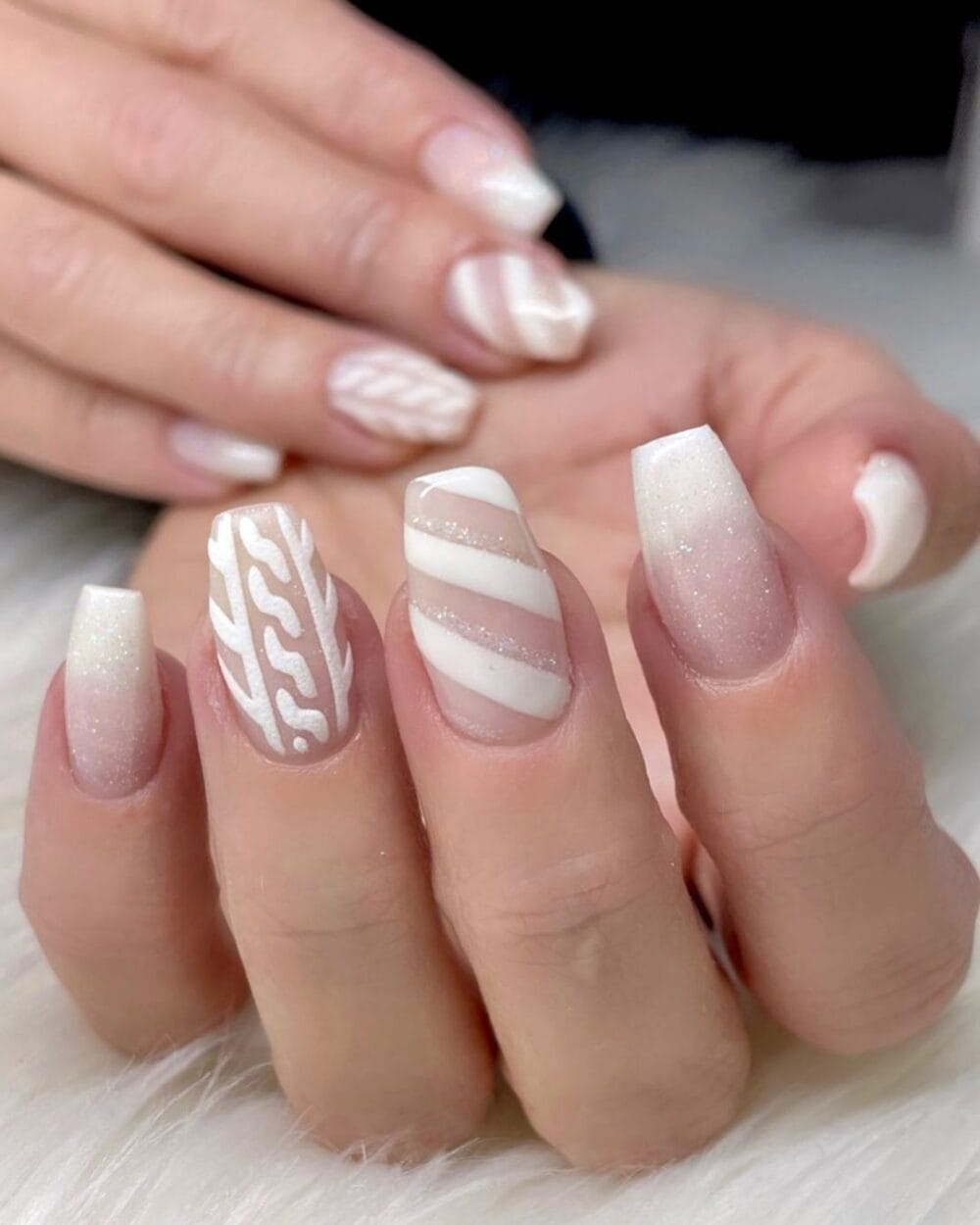 Photo: abrushofperfectioncaseyleigh
These white winter nails with sweater patterns are super versatile and will go great with any outfit. A classic choice that's always in style.

Holographic Blue Nails with Snowflakes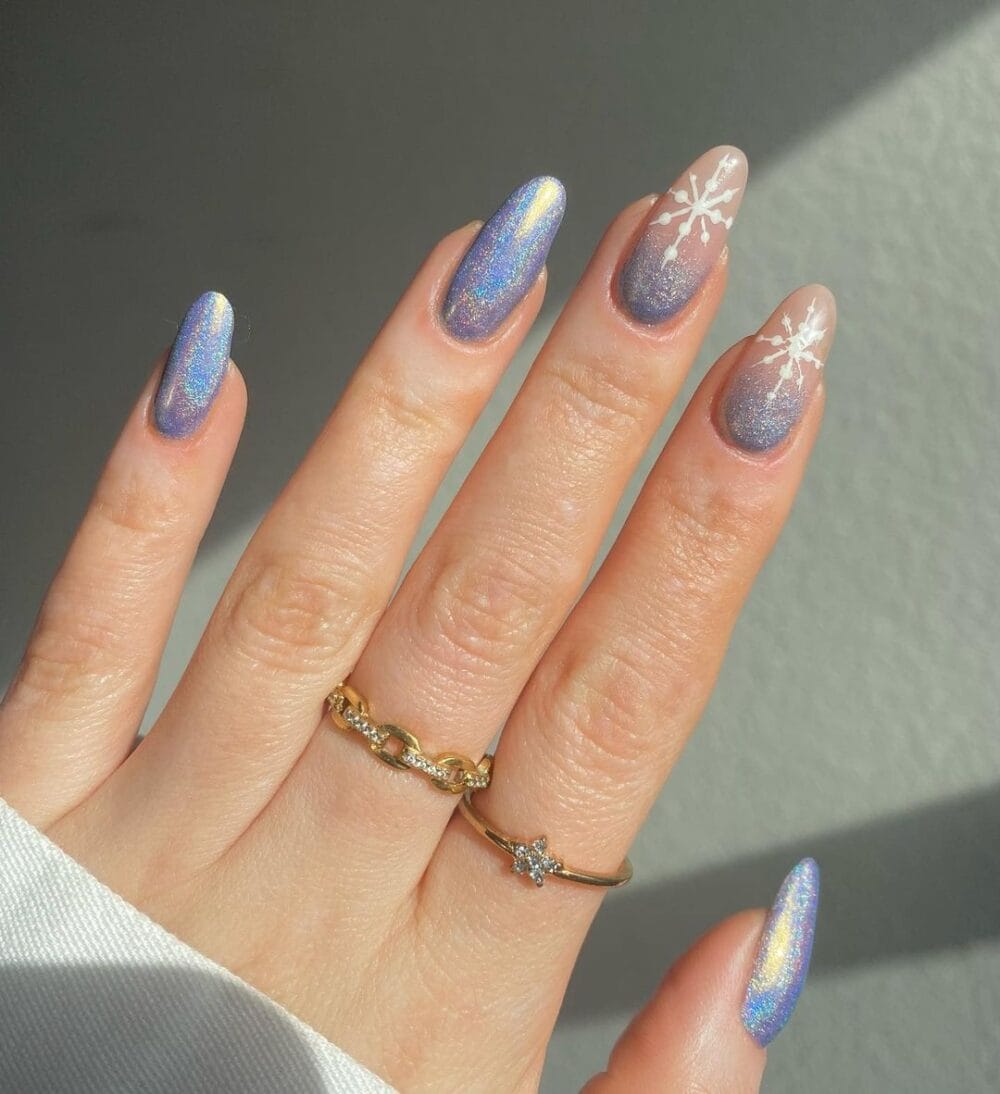 Photo: _karebeauty_
Experience the icy beauty of winter with this stunning holographic blue nail polish and charming snowflake accents – they are a must-have this winter.

Black and White Winter Nails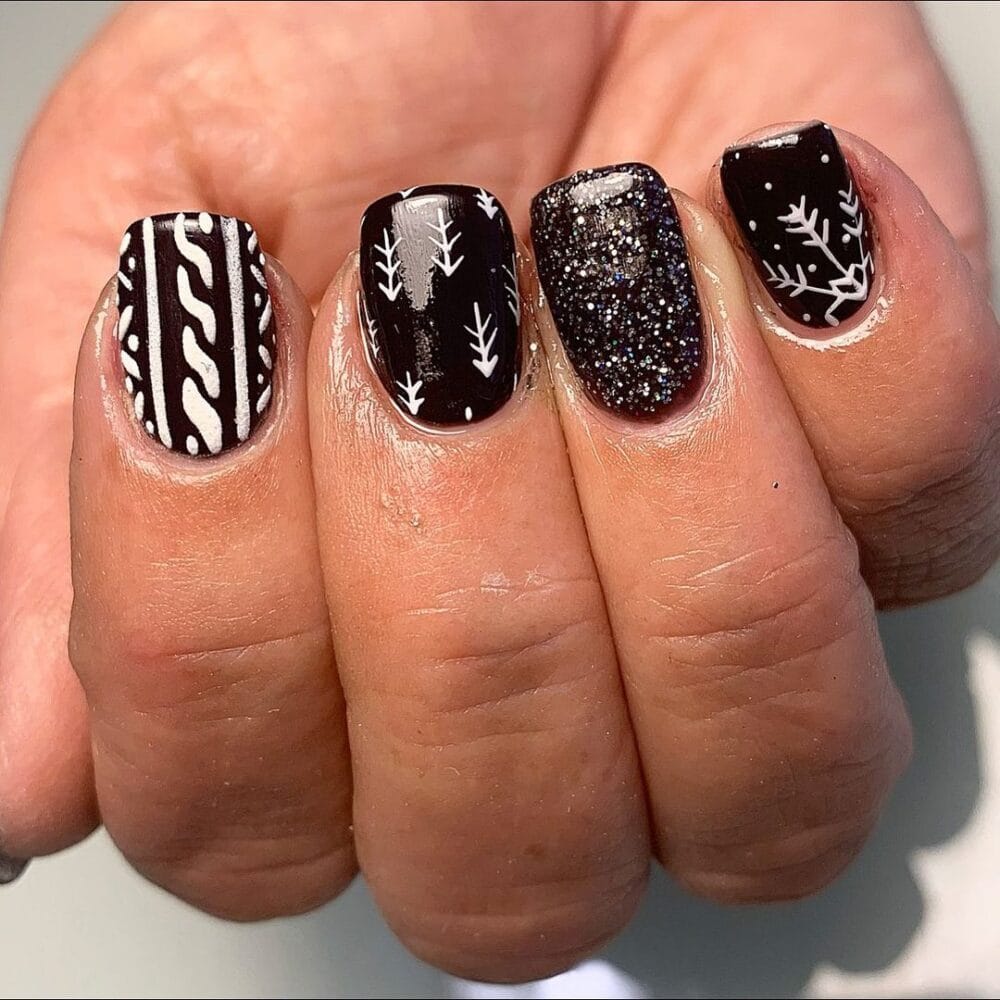 Photo: nailsbyannieb_
Get chic with this monochrome masterpiece – black and white winter nails with a touch of glitter and different winter patterns. A look that's both sleek and stylish.

White Swirl Nails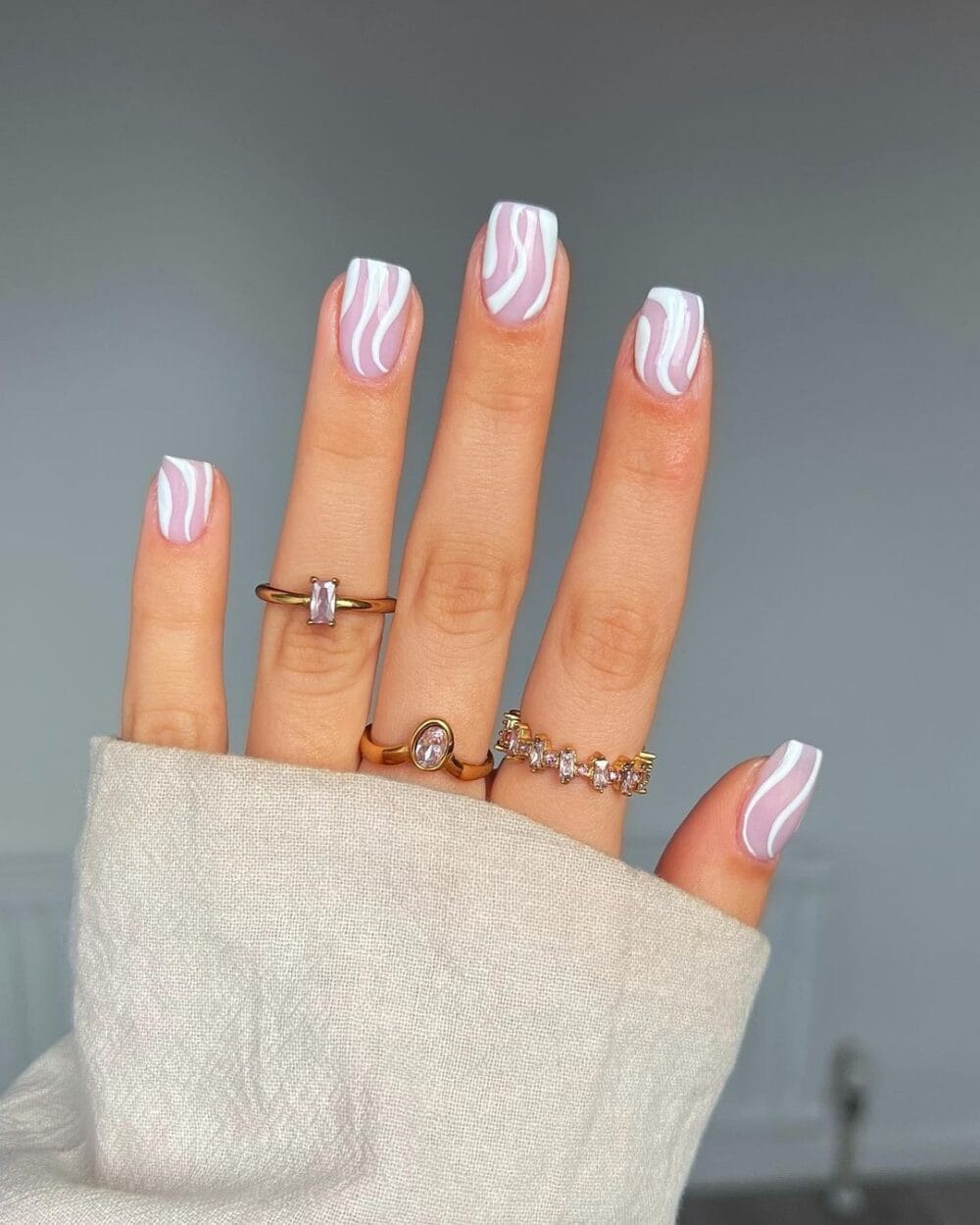 Photo: allnailss._
These white swirl nails add a touch of class to your winter nail game. A sophisticated choice for a frosty season.

Snowglobe Nails with Snowmen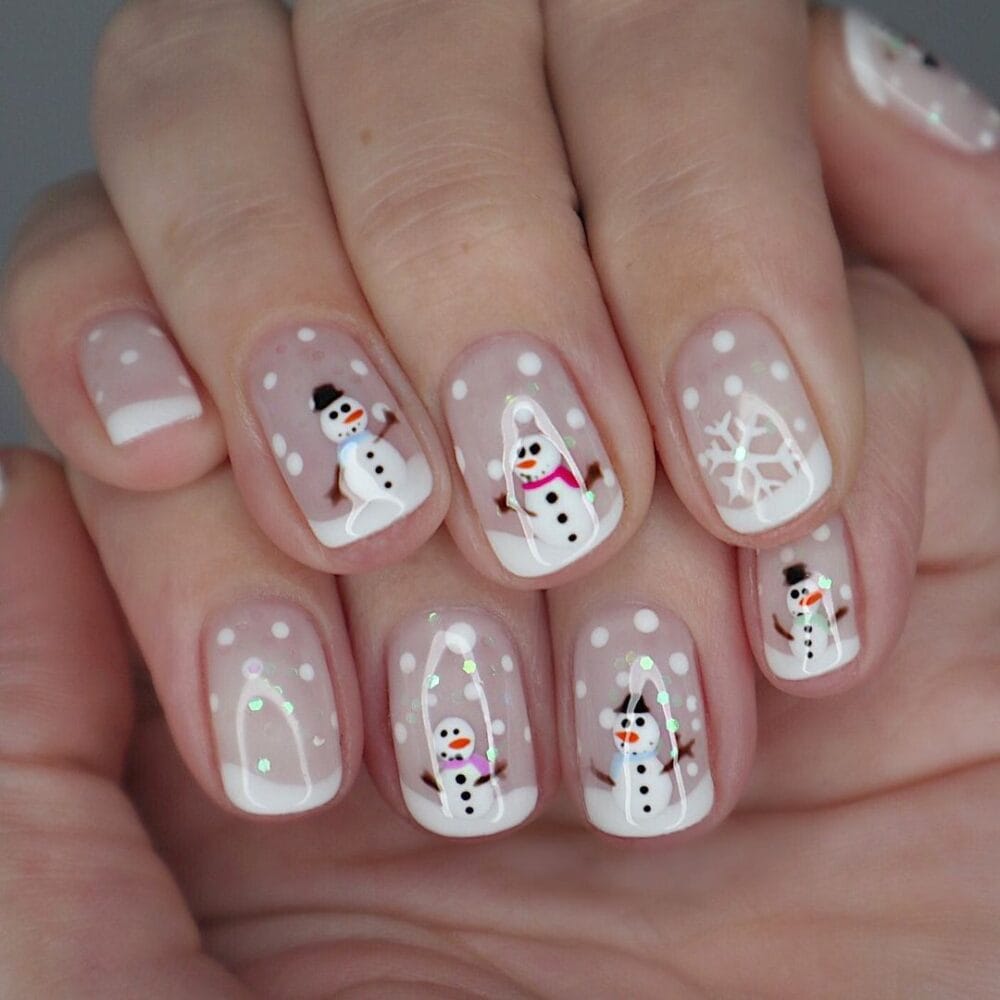 Photo: paintbyjaz
Shake things up with these snowglobe nails with cute little snowmen! They're perfect for embracing the magic and joy the winter brings us.

Grey Nails with Glitter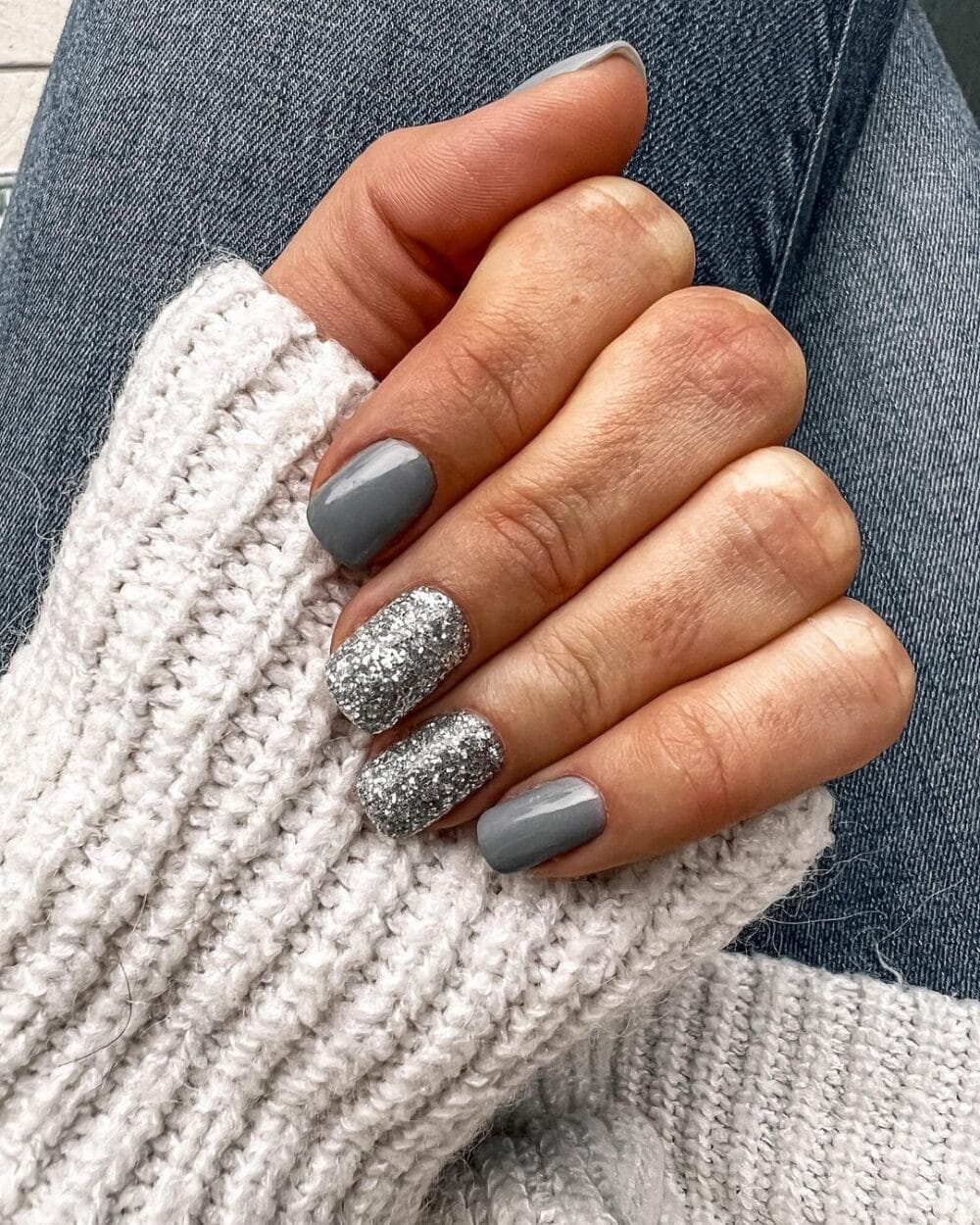 Photo: doriczegledi
Shine bright with these stylish grey nails featuring a touch of glitter. Let your nails sparkle even if the weather outside is frightful!

Blue Winter Nails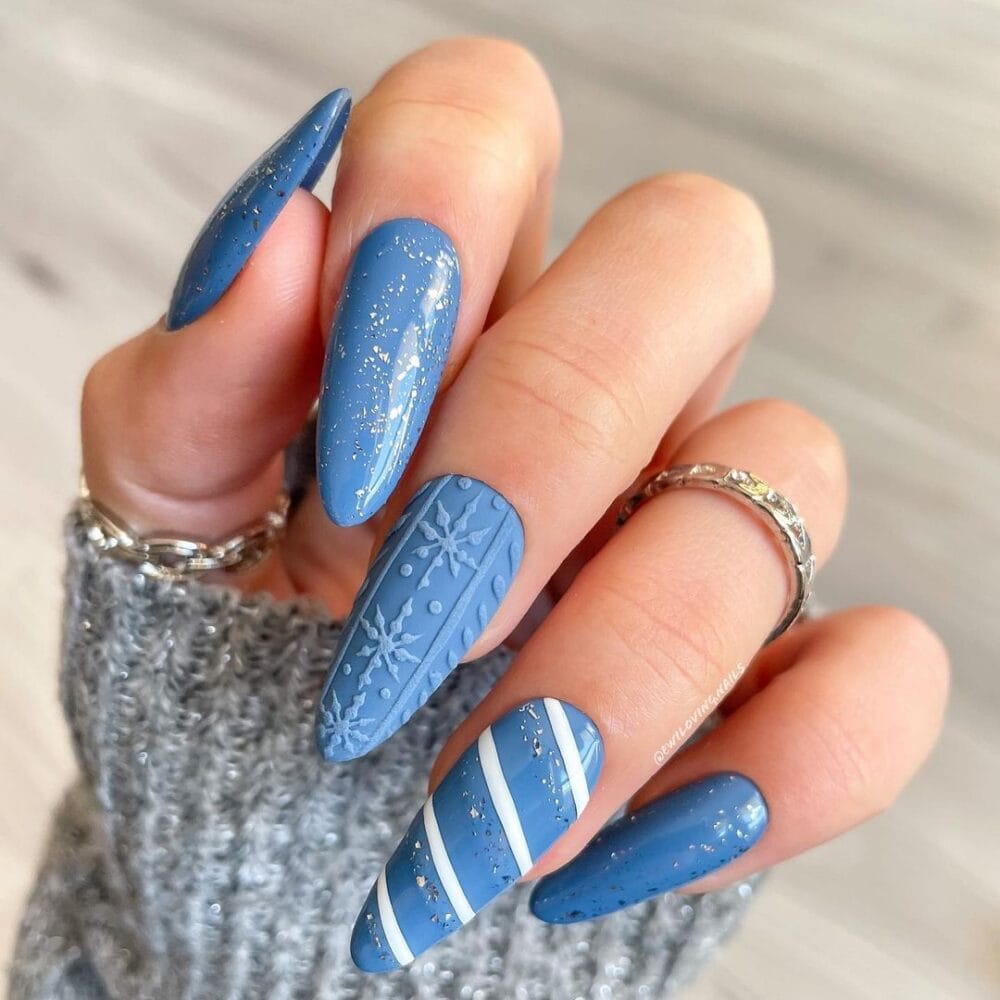 Photo: ewiloving.nails
Embrace the icy beauty of winter with stunning blue nails that will make you feel like you're in a winter wonderland.

Sparkly Snowflake Nails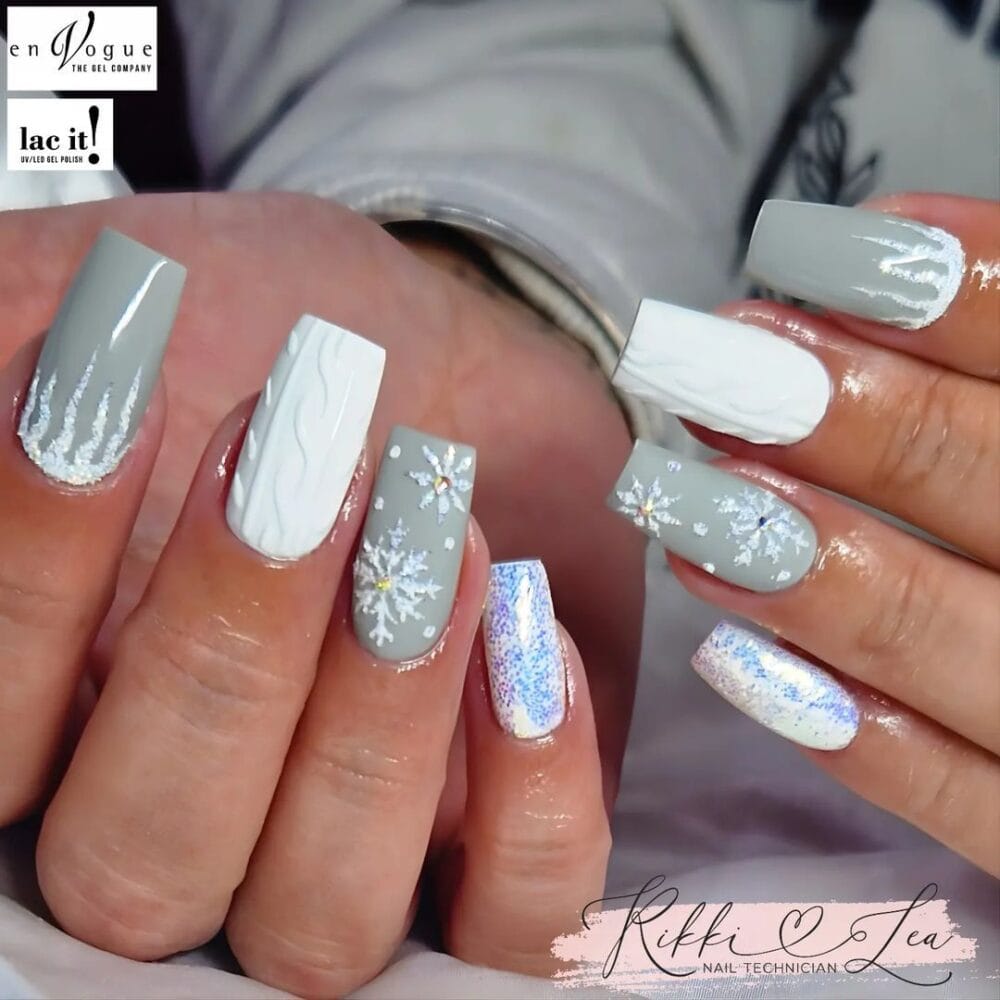 Photo: rikkilea_nail_technician
Add a touch of sparkle to your winter look with intricate snowflake designs. These grey and white nails with a touch of blue and rhinestones truly capture the charm of a snowy day on your nails.

Green and Gold Mani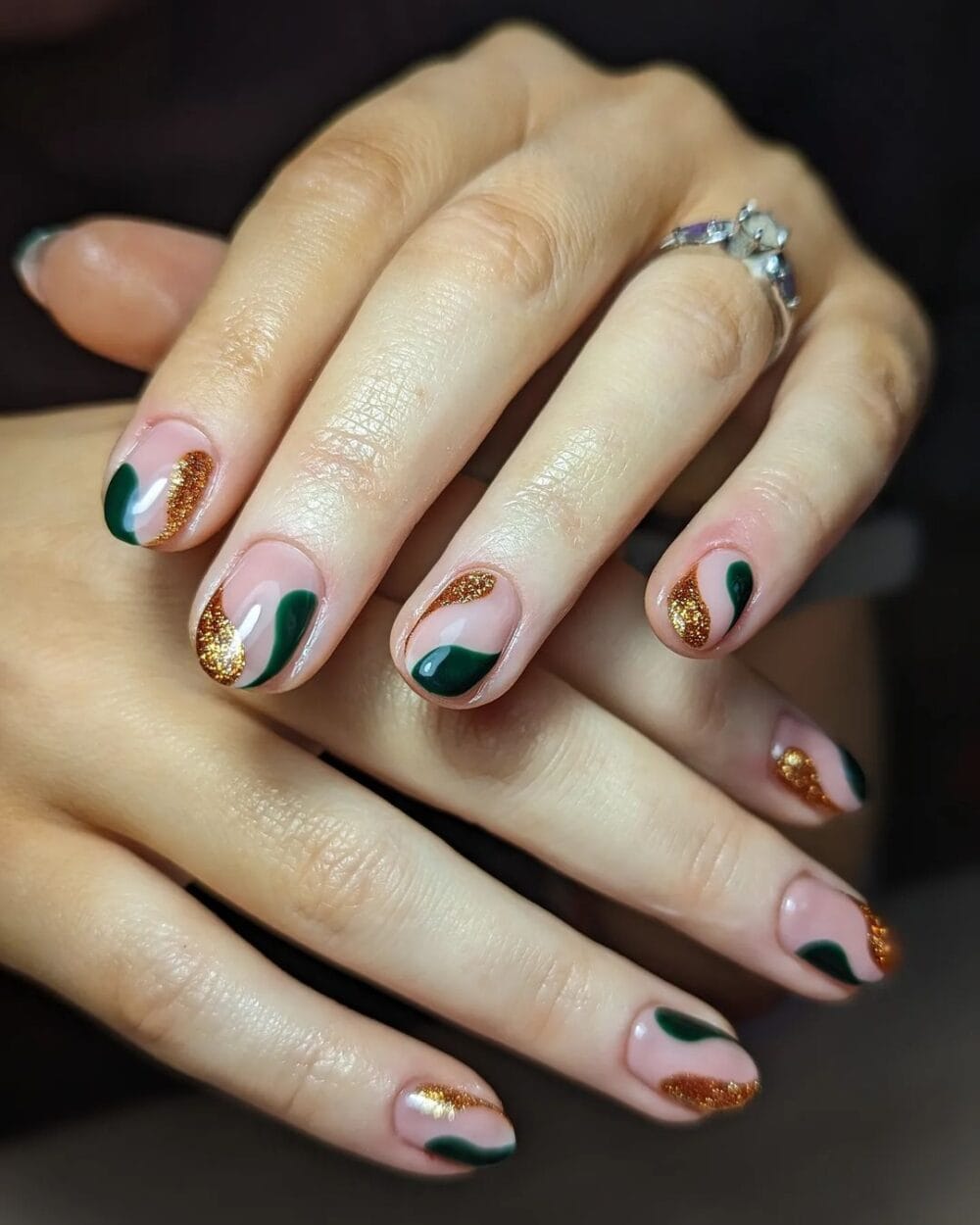 Photo: nailsandmog
Get festive with a green and gold manicure that's perfect for the holiday season. These nails will bring a touch of holiday spirit with you everywhere you go.

Blue Winter French Mani with Glitter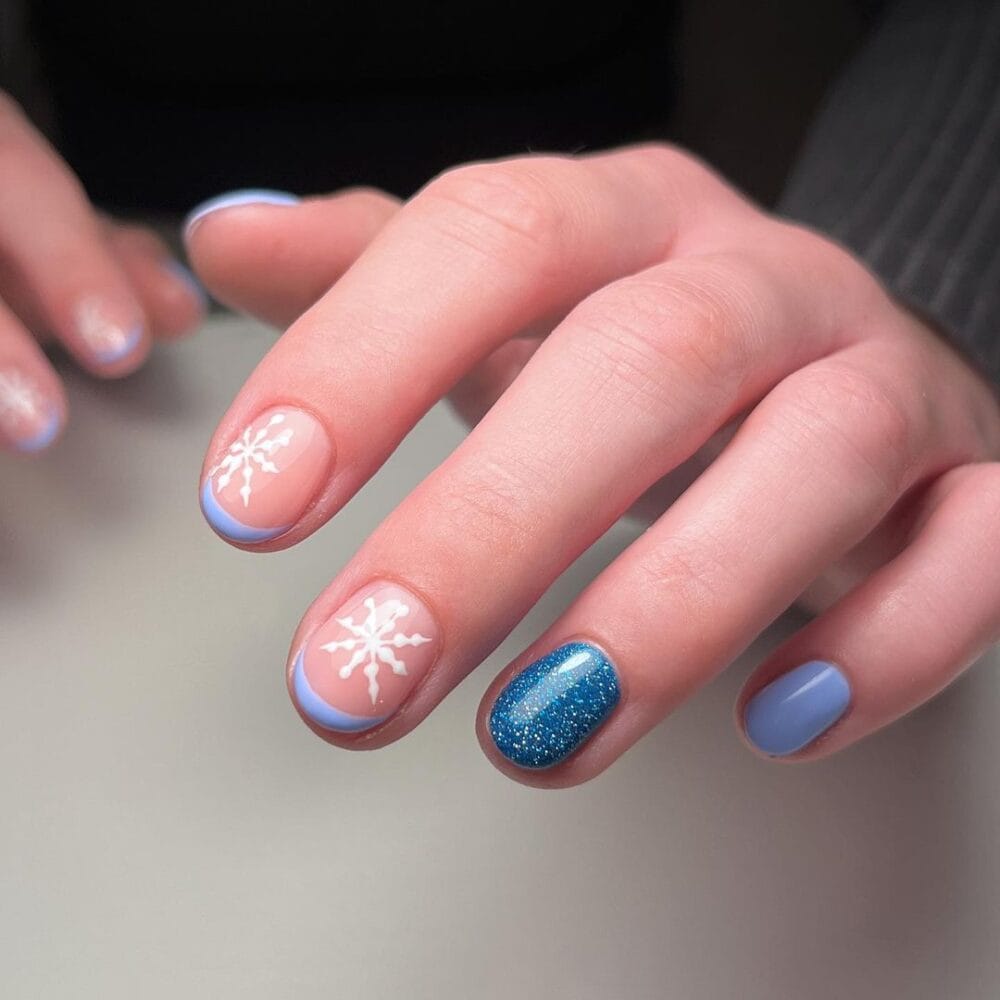 Photo: leahhuntbeauty
Elevate your style with a blue winter French manicure with a bit of sparkle. It's a fun colorful choice that's perfect for the winter season.

Christmas Garland Nail Art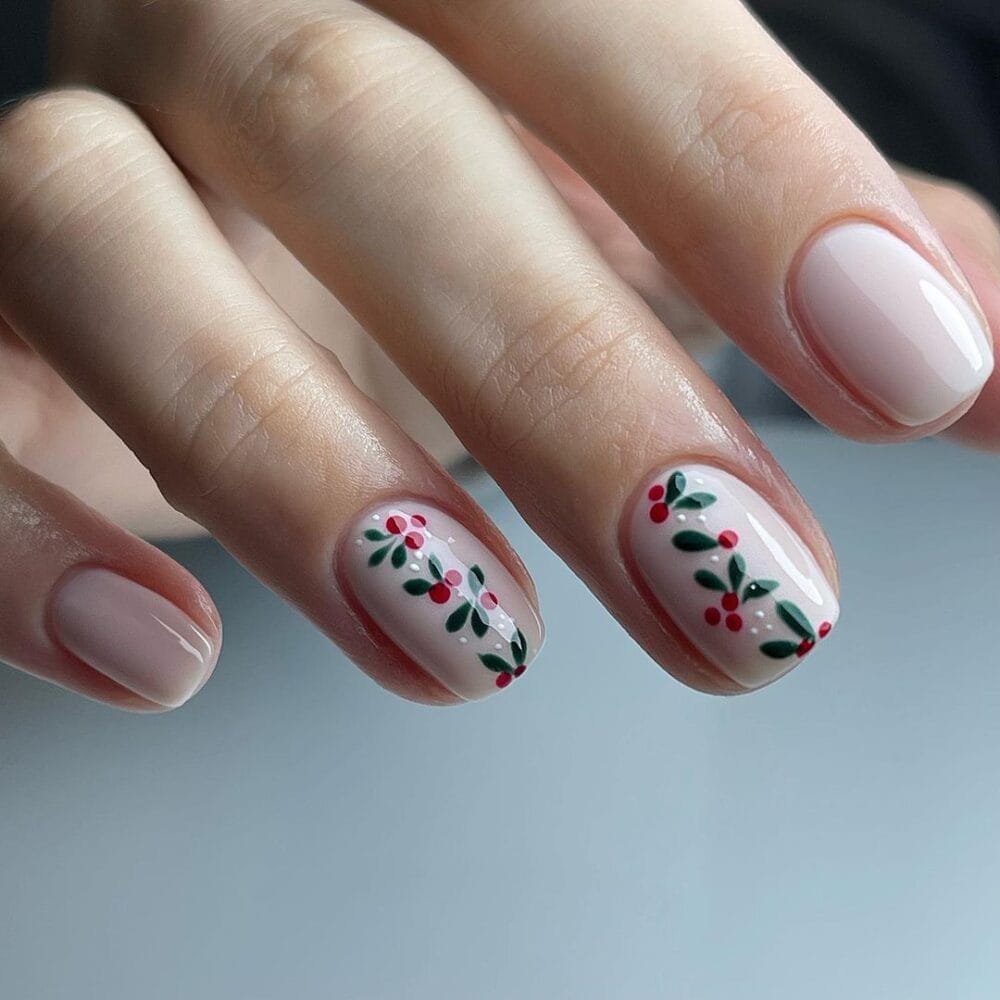 Photo: beautyhaven_byjodie
Spread festive cheer with this subtle Christmas garland design on your nails. Ther's nothing cuter than havng a little holiday wreath on your nails!

Red Reindeer Nails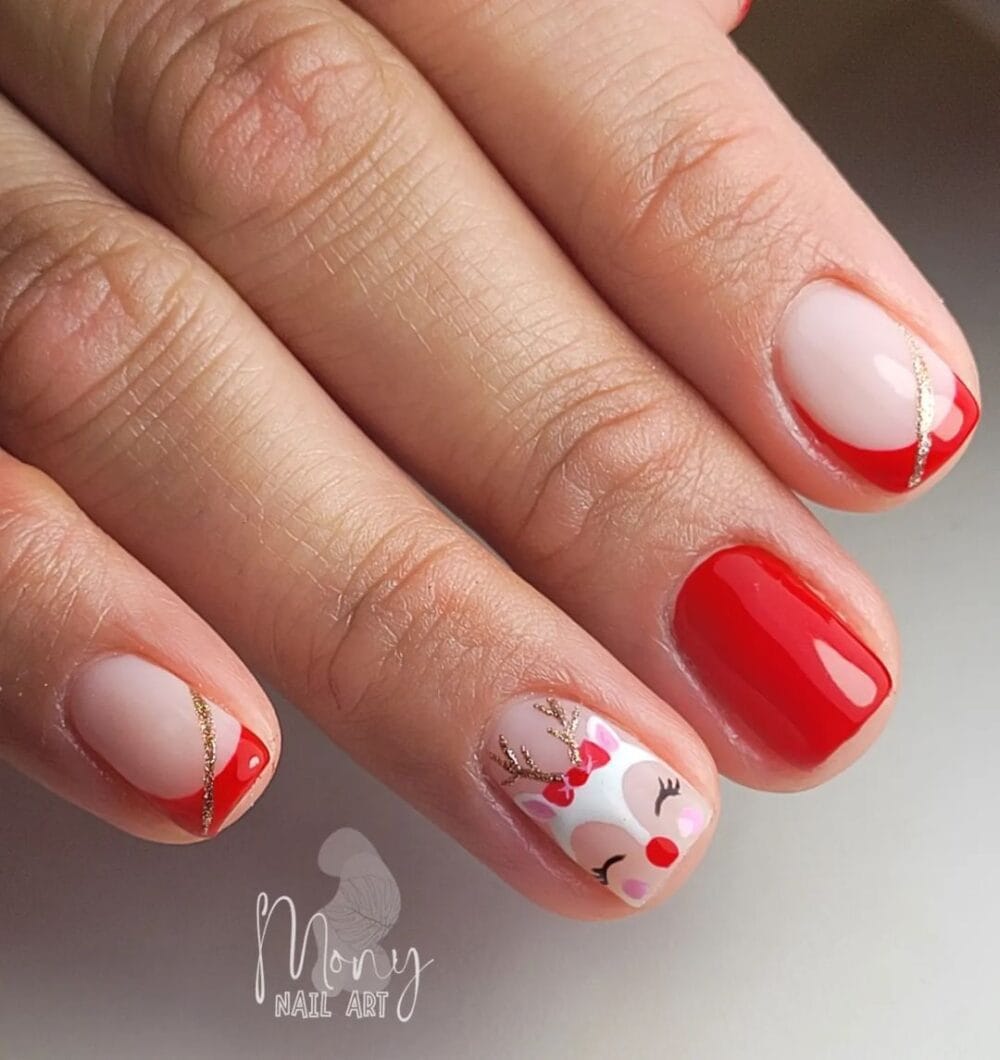 Photo: monynailart
Celebrate the holiday season this winter with these super adorable red reindeer nails. Rudolph would be proud of this stylish tribute.

Simple White Snowflake Nails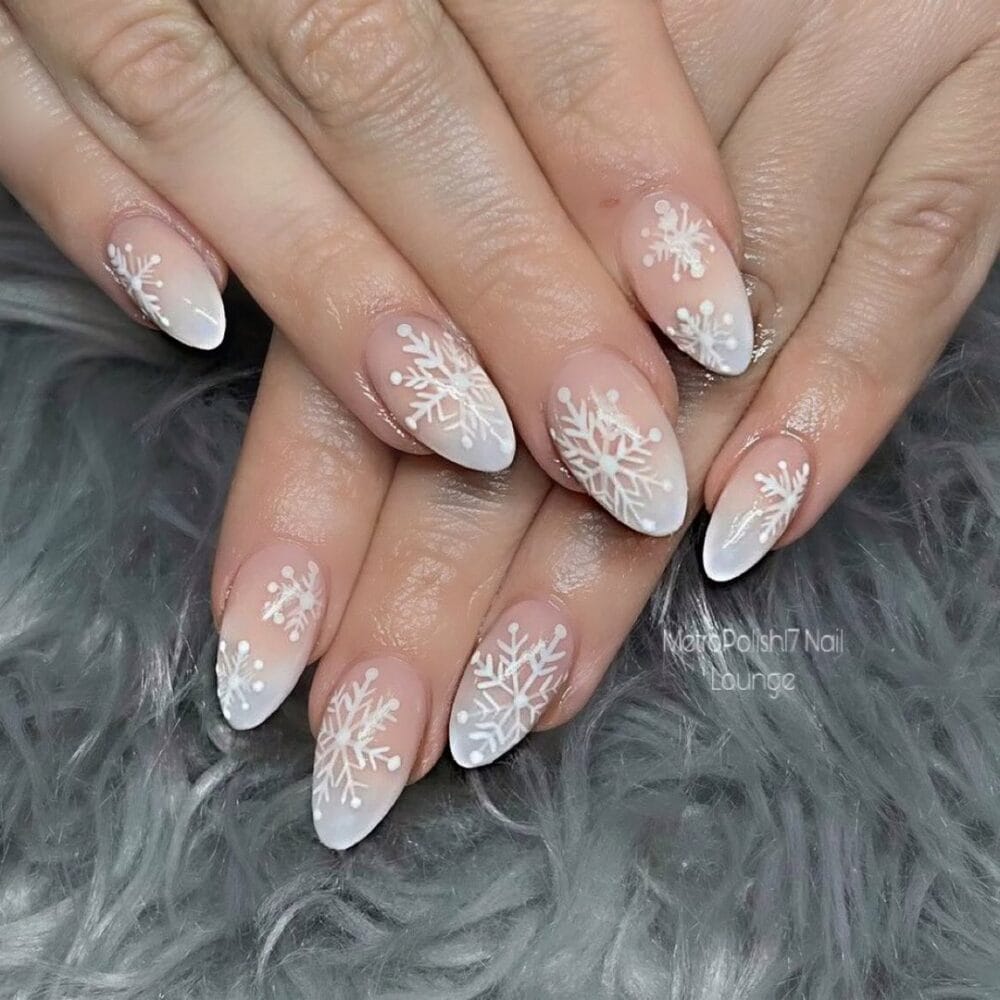 Photo: metropolish17
Embrace the pure elegance of winter with these white snowflake nails. The minimal design is great if you're looking for something simple yet absolutely gorgeous.

Cozy Winter Vibes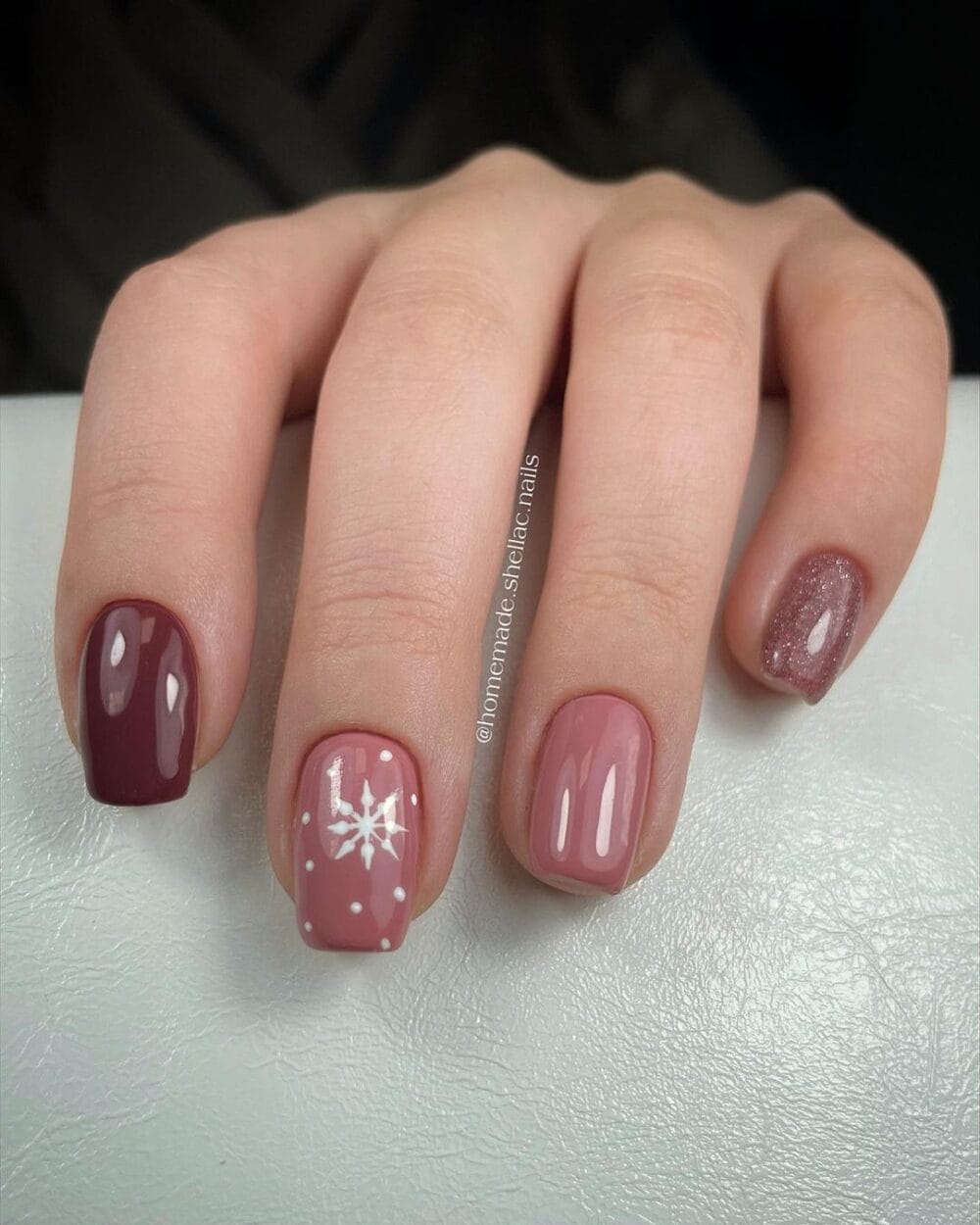 Photo: Sam @samznails_
Cozy up to the season with these warm shades – this design is perfect for those seeking snug and stylish nail art.

Brown Ombre Winter Nails with Snowflakes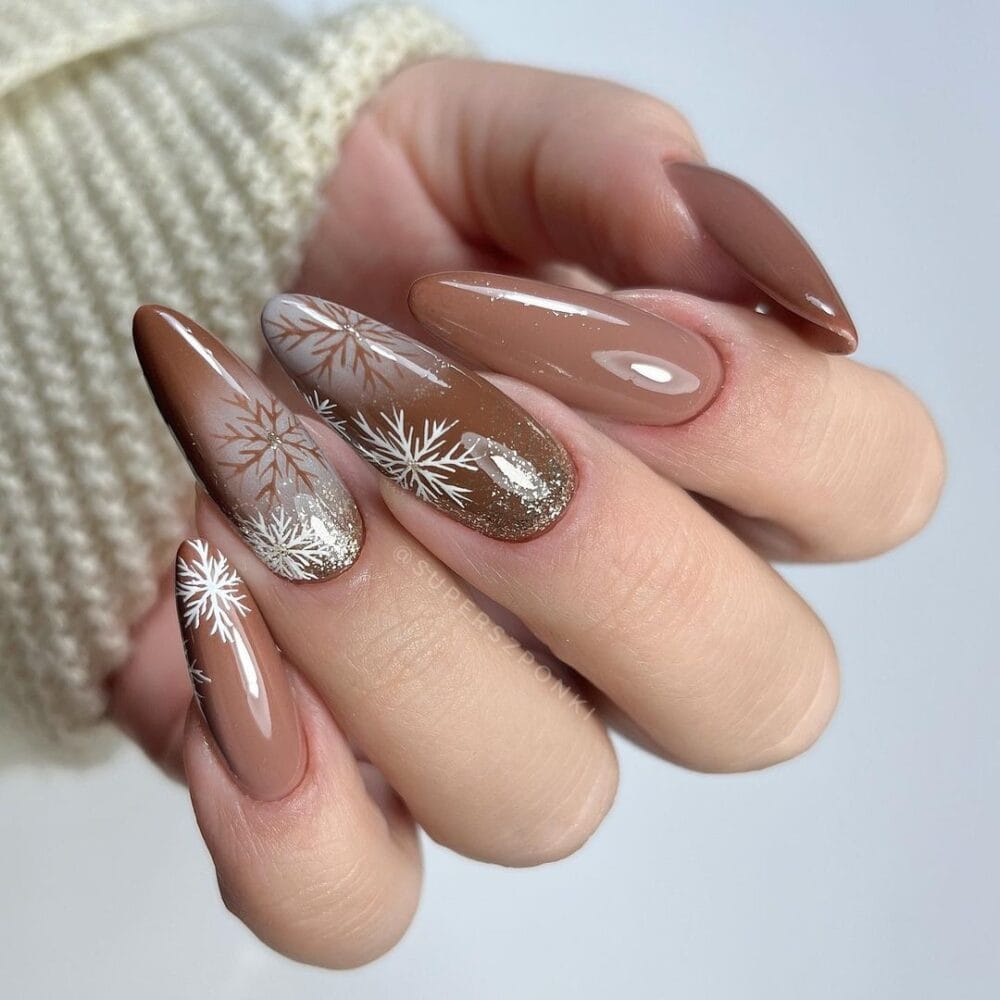 Photo: superszponki
Brown mmbre nails and snowflakes come together in harmony for a beautiful representation of the winter season. You don't have to stick to traditional white and blue colors when it comes to creating a beautiful winter nail set!

Blue Glitter Winter Nail Art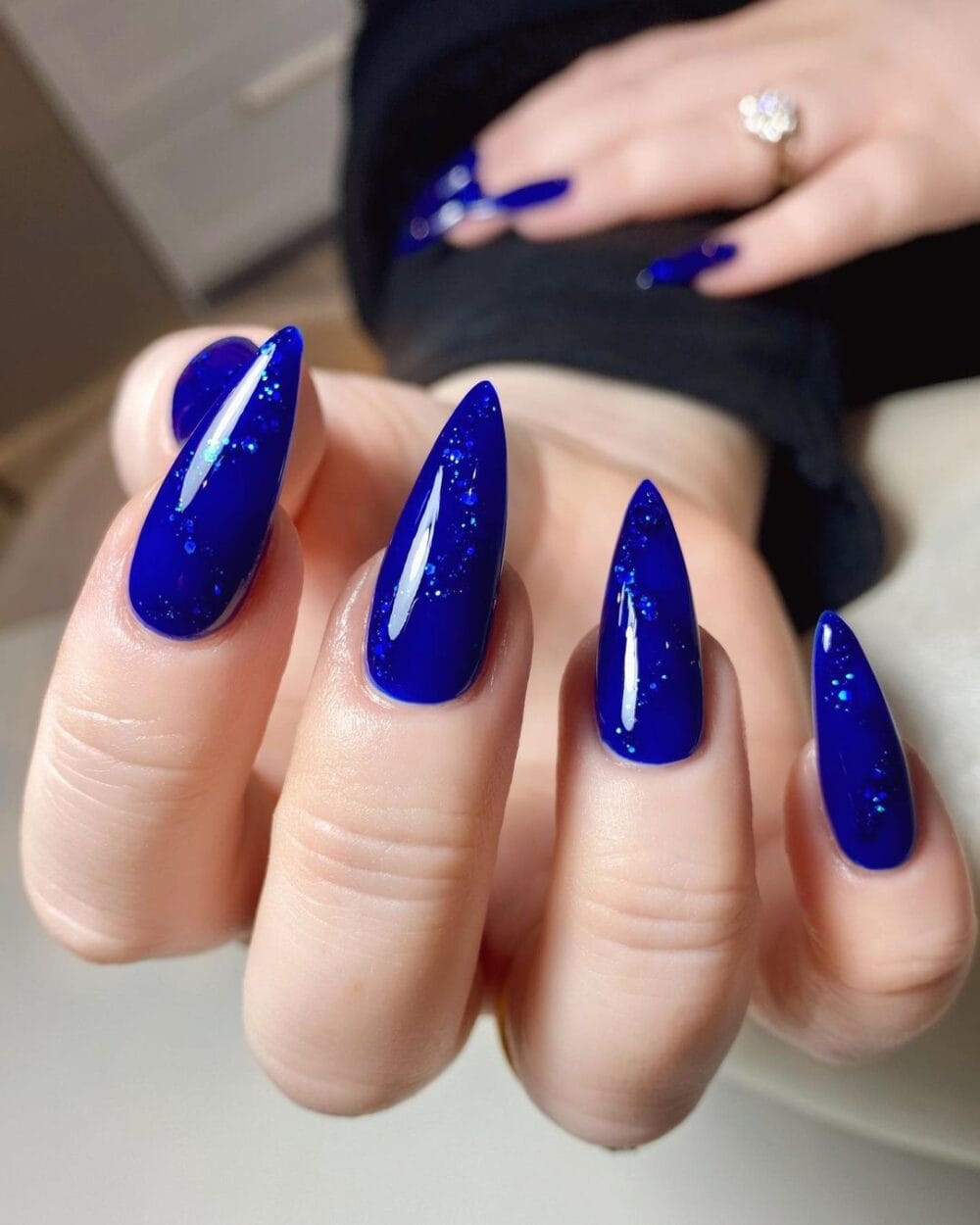 Photo: jenniferleylandjones
Add glamour to your winter look with these blue glitter swirl nails. This bold color will make your nails twinkle like the winter night sky.

Frosted Window Nail Art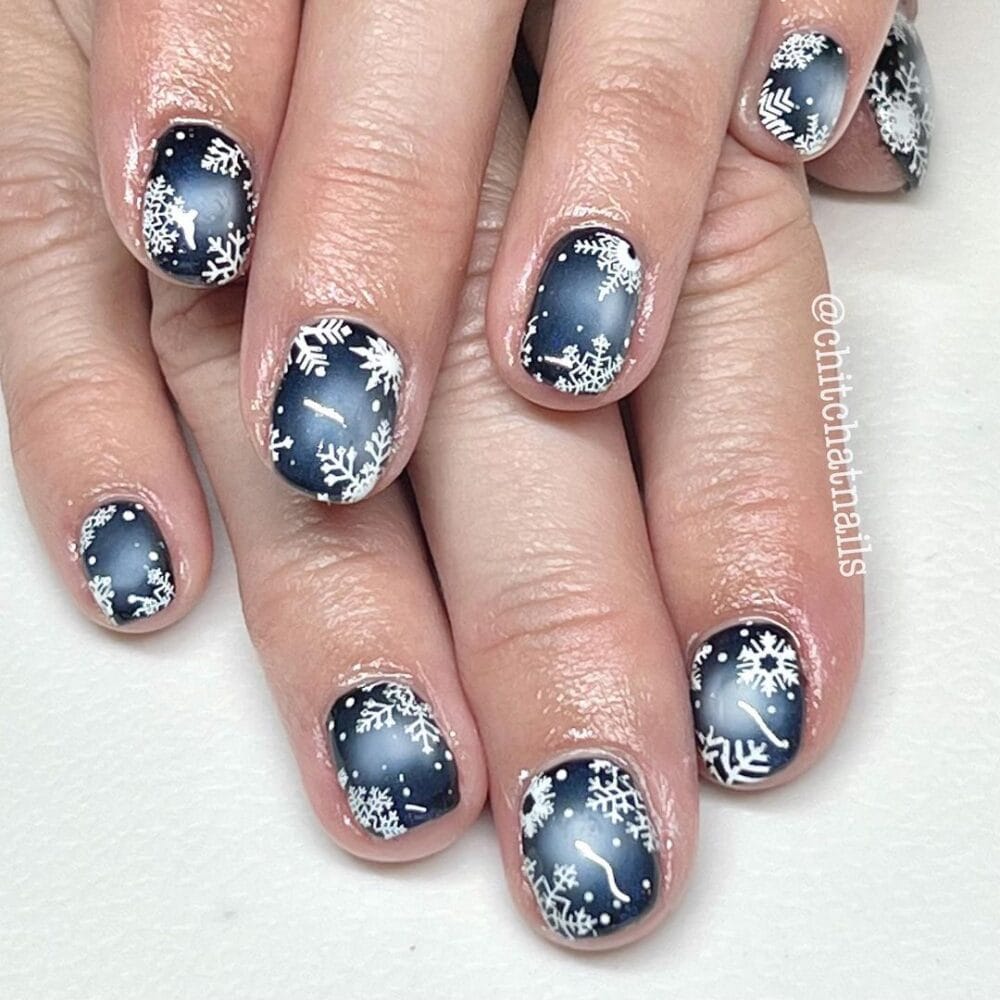 Photo: chitchatnails
Experience the essence of winter with this unique and captivating 'frosted window' nail art. It's like looking out the window on a freezing day!

Light Blue Sweater Nails with Snowflakes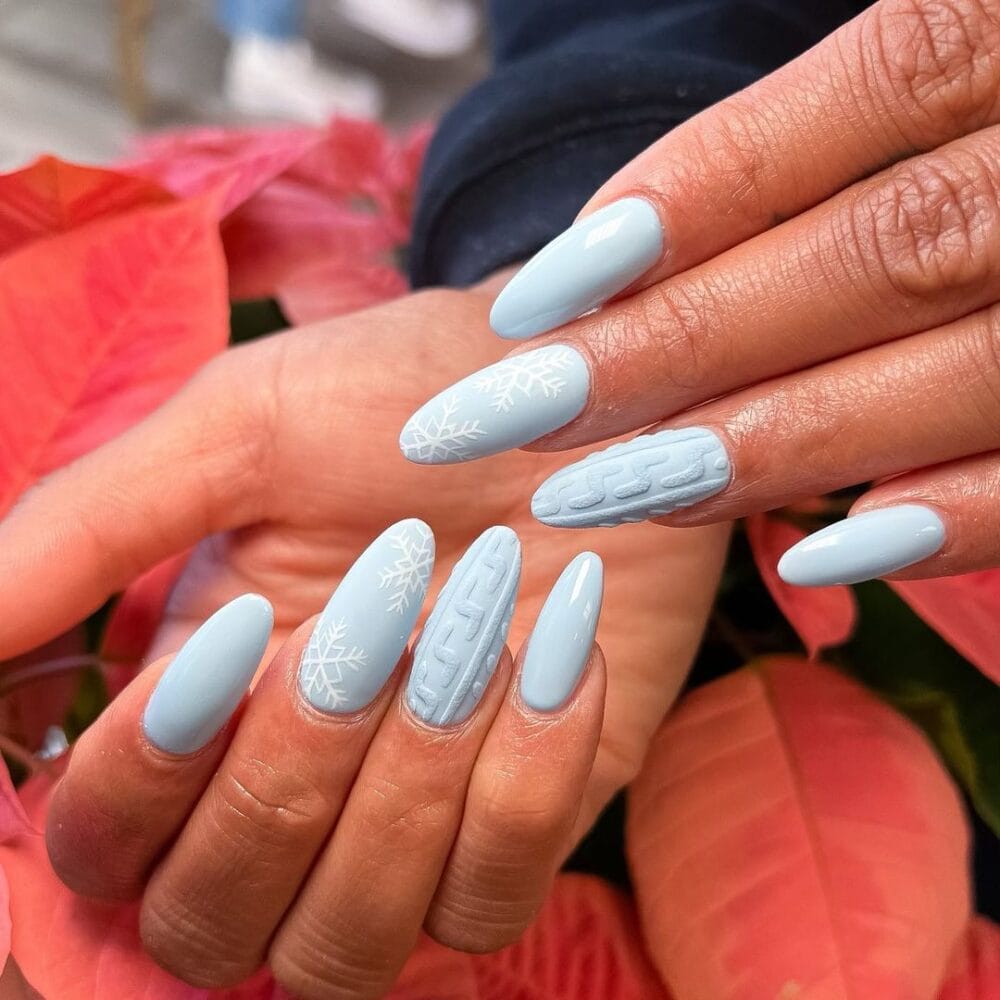 Photo: thelittlenailshopsd
'Tis the season to feel warm and fashionable, and these gorgeous light blue winter nails decorated with cozy sweater patterns are the perfect accessory for embracing the wintery charm.

Sweet Christmas Cookie Nails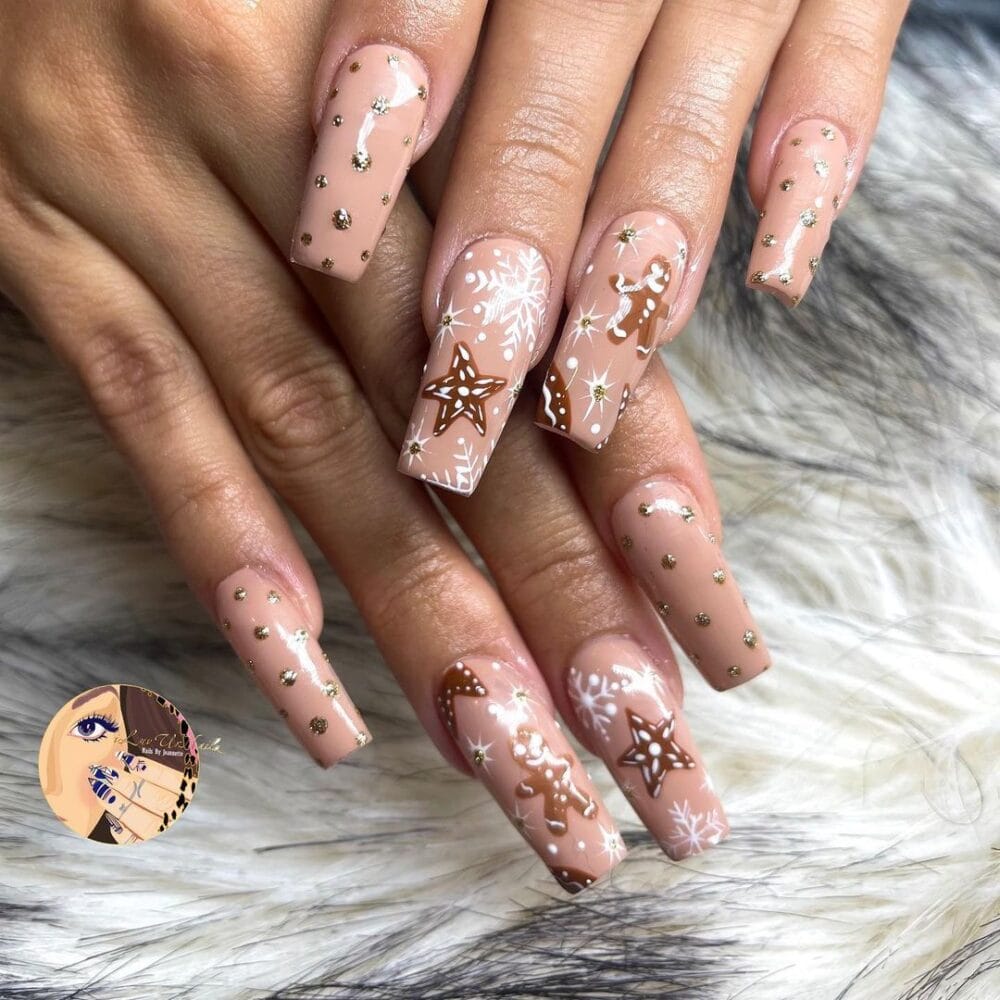 Photo: iluvurnailz
Indulge in the delightful spirit of the holidays with these Christmas cookie nails. The festive designs on your nails will make you feel like you're enjoying freshly baked Christmas treats.

Winter Wonderland in Jade and White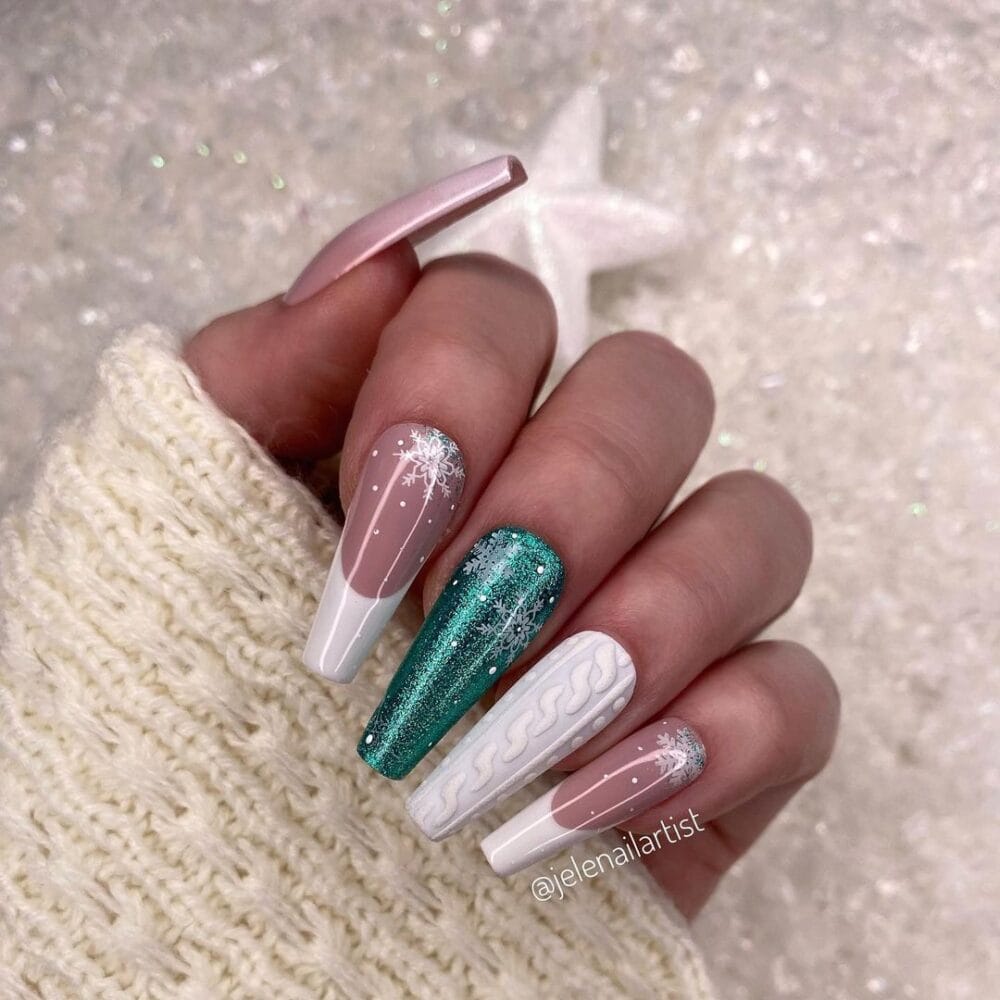 Photo: jelenailartist
Step into a serene winter wonderland with these stunning glittery jade and white winter nails. The gorgeous combination of colors and designs reminds you of the beauty of the season.

That's it for now!
We hope you're feeling inspired and ready to embrace the season with fabulous fingertips.
Whether you choose the adorable teddy bear nails, the elegance of snowflakes and crystals, or the celestial charm of starry designs, your nails can be your canvas for capturing the magic of winter.
Pick your favorite style, get creative, and let your nails become a wintery work of art. Until next time, keep those nails looking fabulous!

Share on Pinterest: