Can you feel the holiday spirit in the air? It's that magical time of year again when everything is bathed in twinkling lights and the aroma of freshly baked cookies fills the kitchen.
But what's Christmas without a little bit of sparkle on our fingertips? That's right, we're talking about Christmas nail ideas that will make your hands look as festive as the holiday season itself.
Whether you're a seasoned nail art pro or simply someone who enjoys a polished manicure, you're in for a treat! We're about to go on a lovely journey through more than 30 gorgeous Christmas manicure designs that are sure to give your fingertips a seasonal flair.
From timeless reds and greens to charming winter wonderlands, there's a nail style to match every taste and level of expertise.
So, imagine yourself snuggled up with a warm mug of cocoa by the fireside as we take a delightful tour through the enchanting realm of holiday nail art together!

Related: 20+ Adorable Winter Outfits for Freezing Cold Weather

Christmas Nail Ideas 2023

Christmas Pudding Nails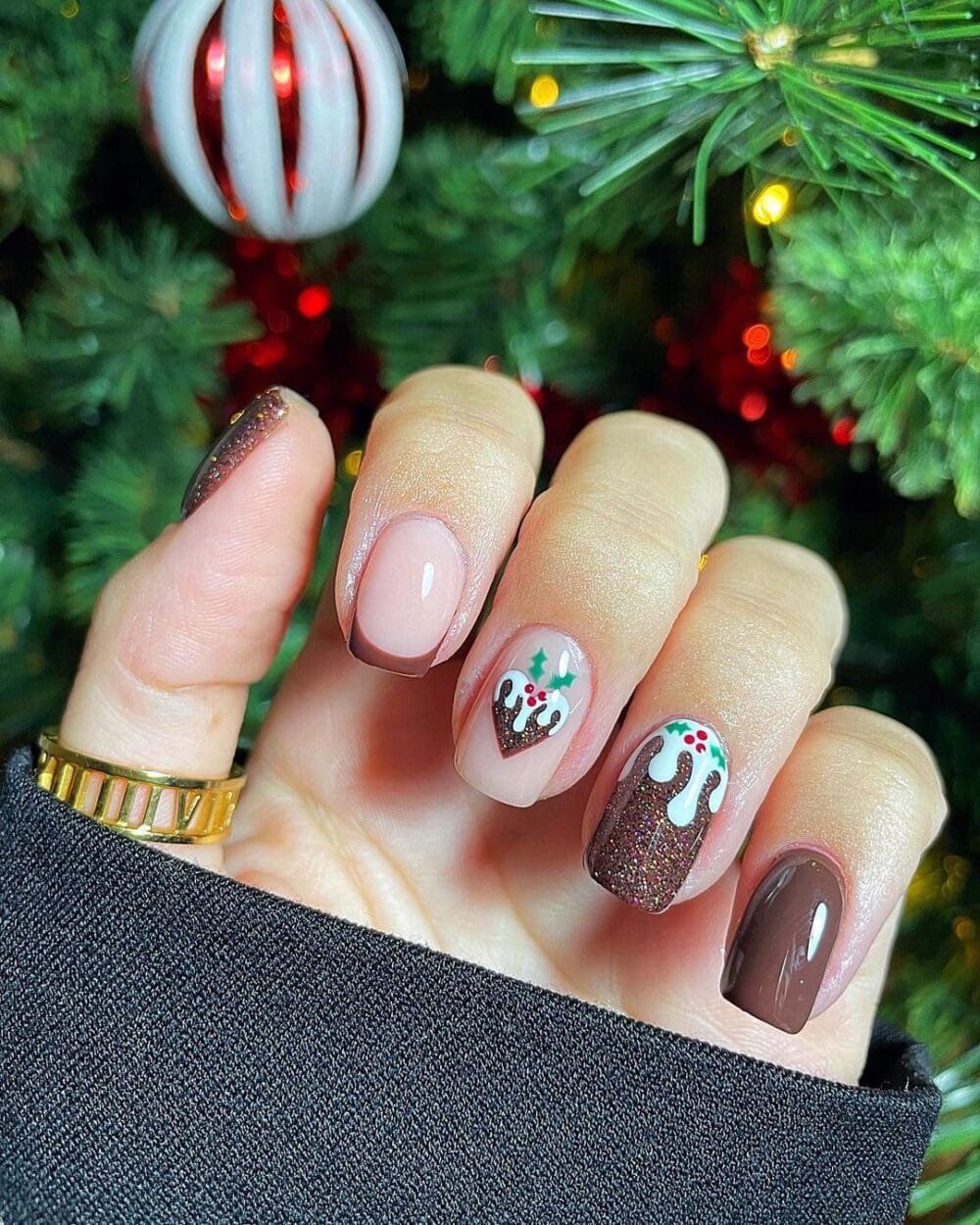 Photo: nails.by.iz_
These Christmas pudding nails are almost good enough to eat! With their adorable design resembling the holiday dessert, you'll be spreading the warmth and coziness of Christmas wherever you go.

Candy Canes and Christmas Trees
Photo: abbydoesnails
Celebrate the sweetness of the season with candy cane and Christmas tree nails on a pink base. This charming combination is a festive favorite, exuding holiday cheer with every glance.

Blue Chrome Christmas Nails with Snowflakes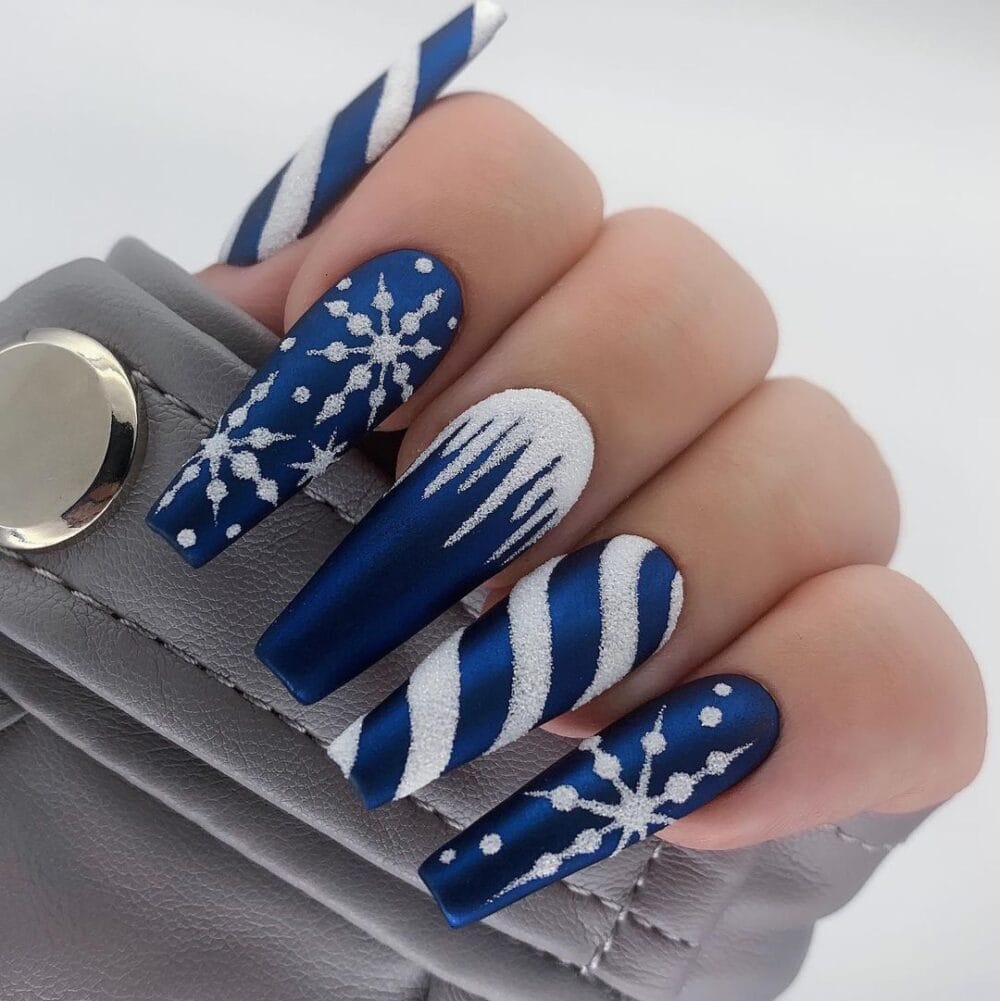 Photo: keelynailartist
Embrace the cool, wintery vibes with these blue chrome Christmas nails featuring delicate snowflakes. It's like having a mini snowstorm right at your fingertips!

Snowglobe Inspired Christmas Nails
Photo: glitterfingersss
Capture the magic of a winter wonderland with these enchanting snowglobe nails. The intricate detailing on each nail is like having a tiny snow globe on your fingertips.

Christmas Garland and Glitter French Tips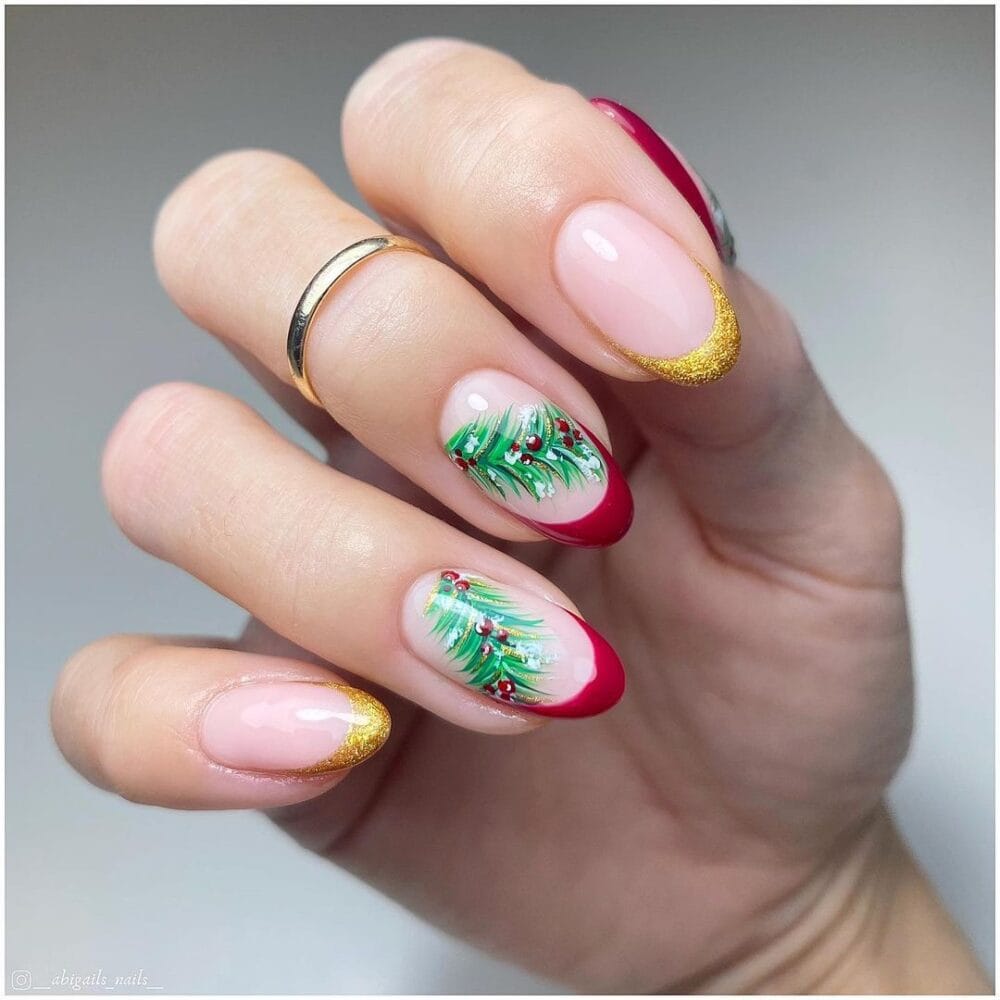 Photo: __abigails_nails__
Elevate your French tips with Christmas garland and glitter. This creative combination adds a touch of sparkle and holiday cheer to a classic nail style.

Red Shades with Christmas Trees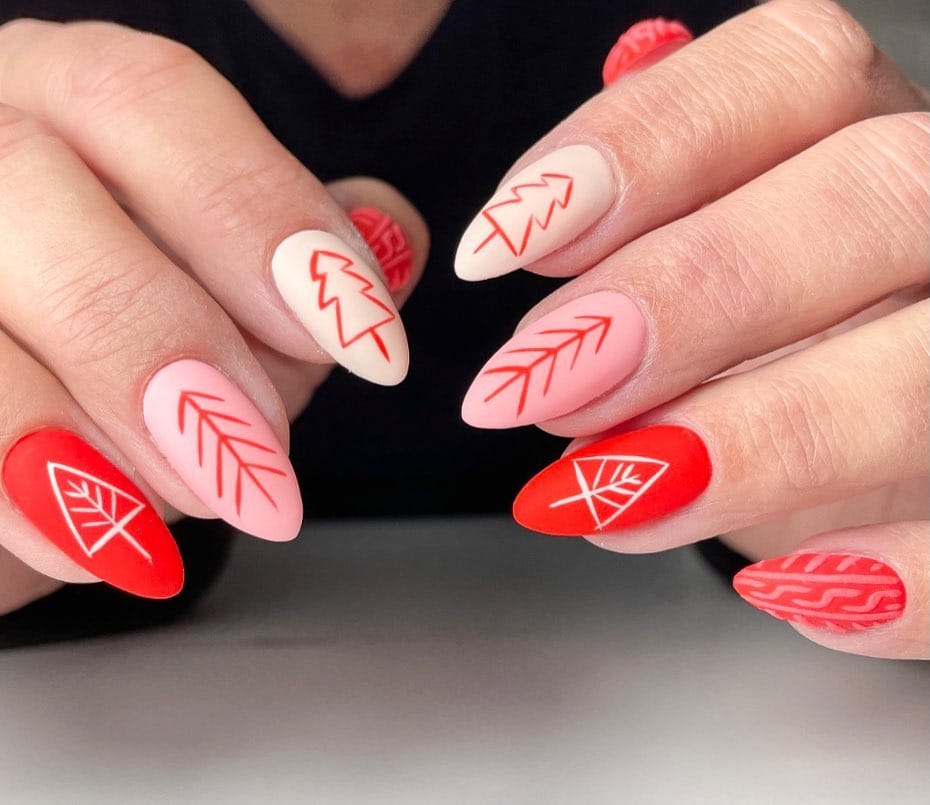 Photo: topcoat_tonic
Elevate your holiday spirit with these red shades decorated with charming Christmas trees. This sleek and modern Christmas nail design will make your nails a festive focal point.

Santa Claus and a Cabin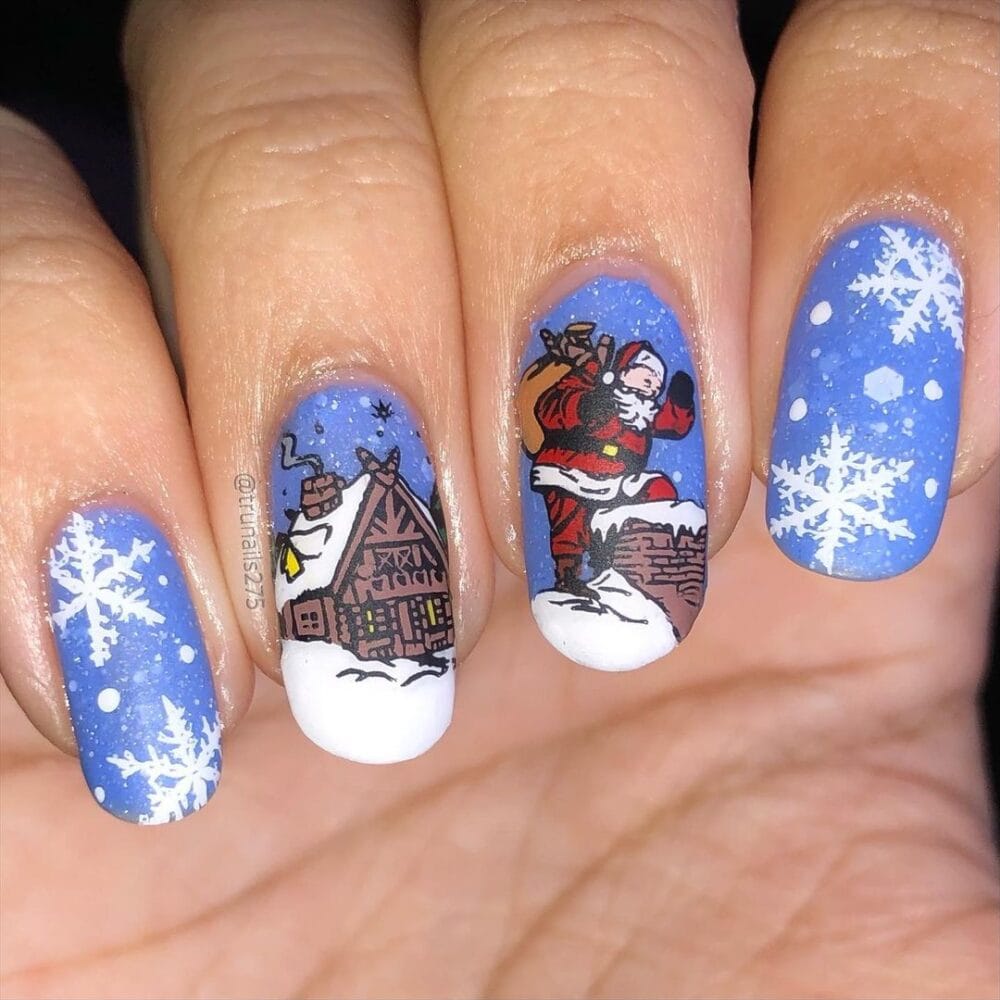 Photo: trunails275
Embrace the cozy vibes of Christmas with Santa Claus and cabin-themed nails. These whimsical and detailed designs will transport you to a winter wonderland every time you look at your fingertips.

Candy Cane Nails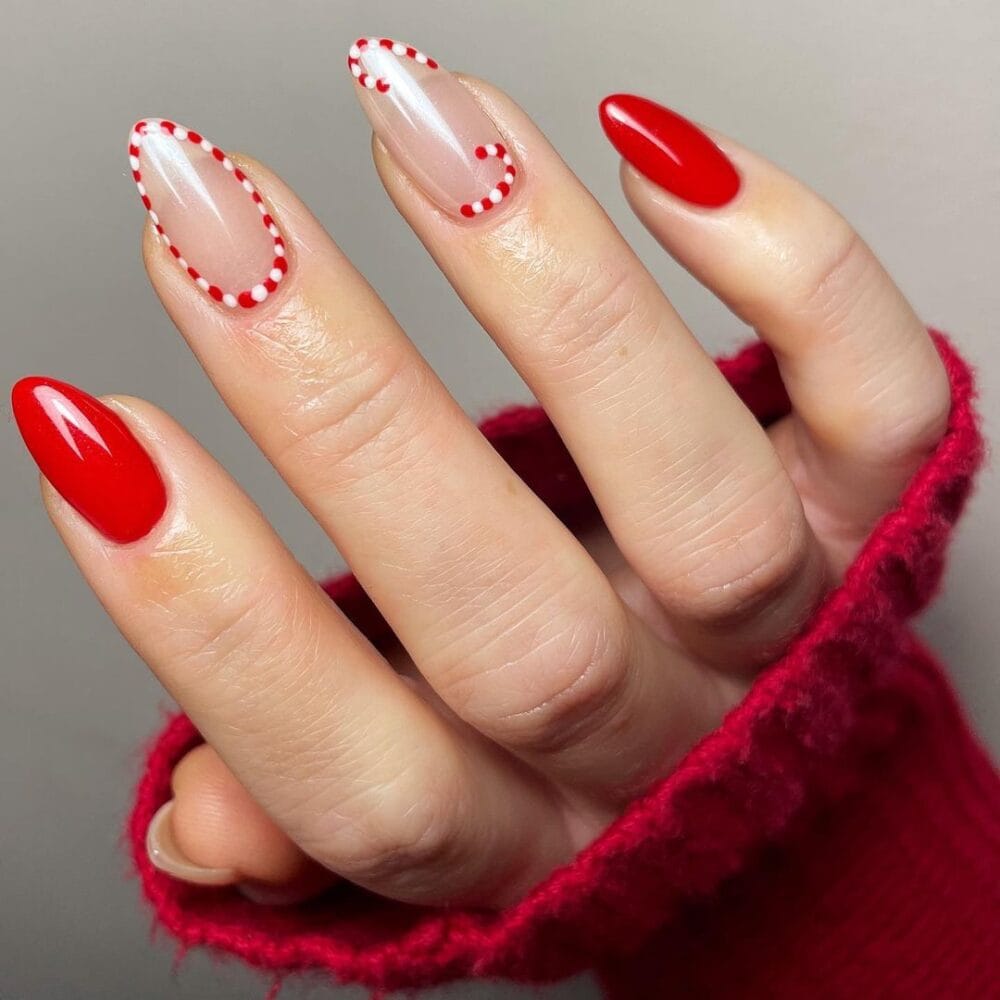 Photo: nails_by_daniellekatie
Indulge in the sweet charm of candy cane nails. These red and candy cane-framed nails are a delightful nod to the iconic holiday treat. They're sure to add a touch of whimsy to your Christmas ensemble.

Green Christmas Sweater Nails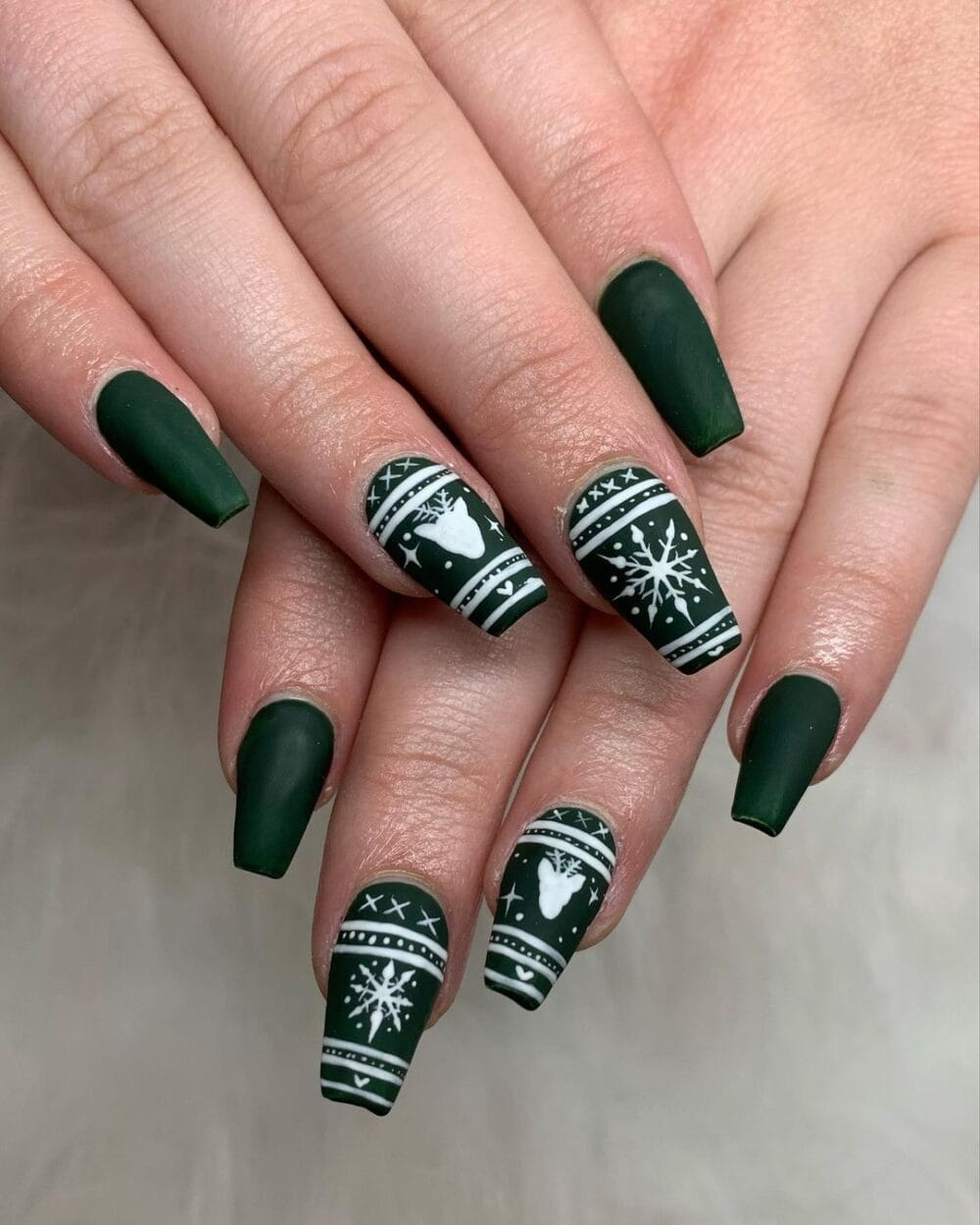 Photo: nailedby_elke
Wrap yourself in the cozy charm of green Christmas sweater nails. This delightful pattern adds a touch of warmth and nostalgia to your winter look.

Grinch and Cindy Lou Nails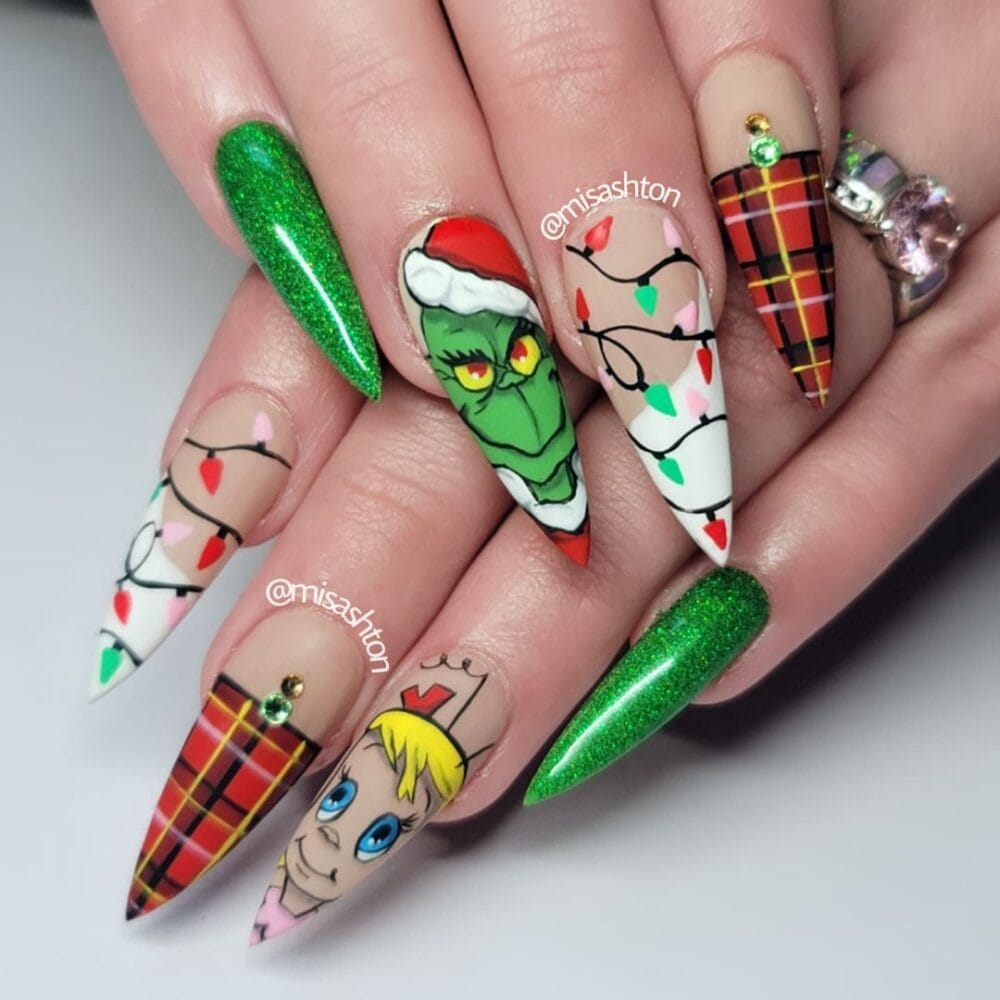 Photo: misashton
If you're a fan of Dr. Seuss's beloved characters, these Grinch and Cindy Lou Who nails are a must-see. These creative and fun Grinch-inspired nails are guaranteed to steal the show during your holiday celebrations.

Gingerbread Nails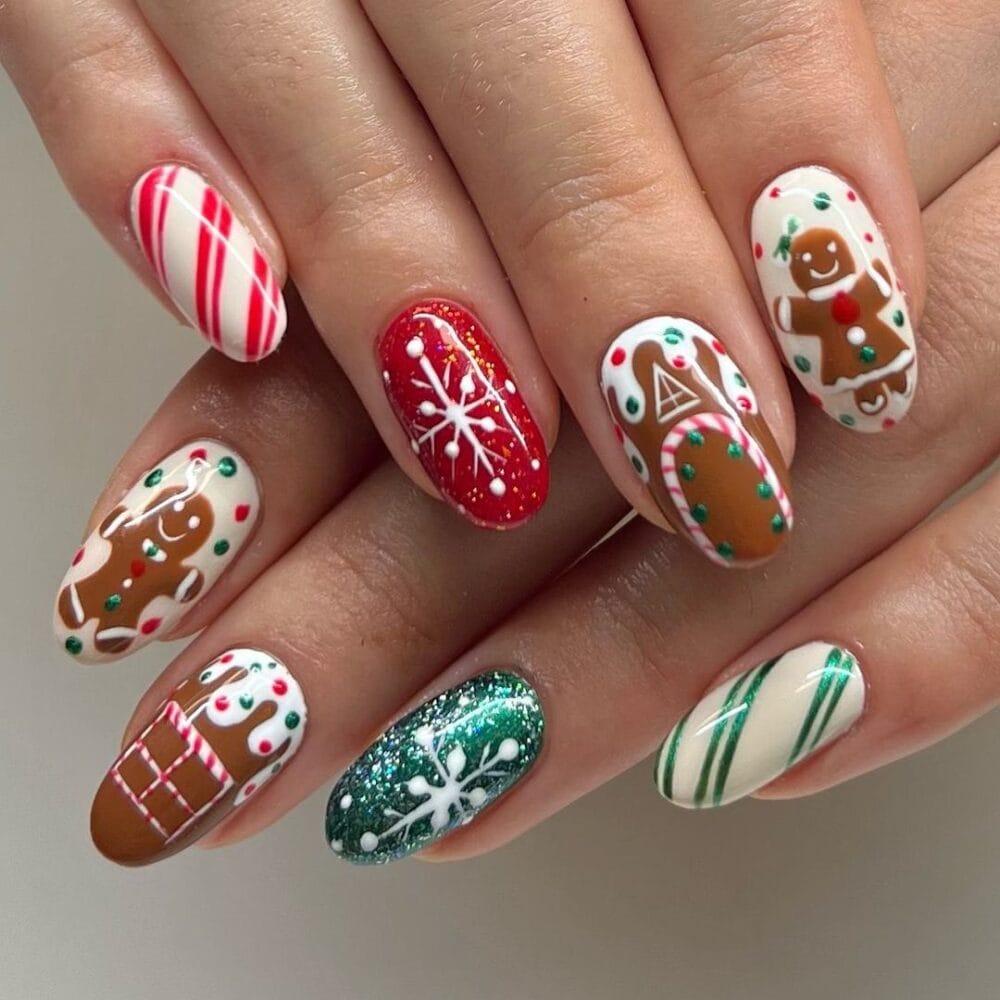 Photo: karlasoriginailkolors
Indulge in the sweetest side of the holidays with gingerbread nails. These cute and delectable designs will have you craving gingerbread cookies in no time.

Christmas French Tips with Santa Hat
Photo: amy_marietta
Elevate your French tips with a Santa hat twist and a Christmas present accent. This creative and festive design is a playful way to celebrate the season.

Pink Nutcracker Nails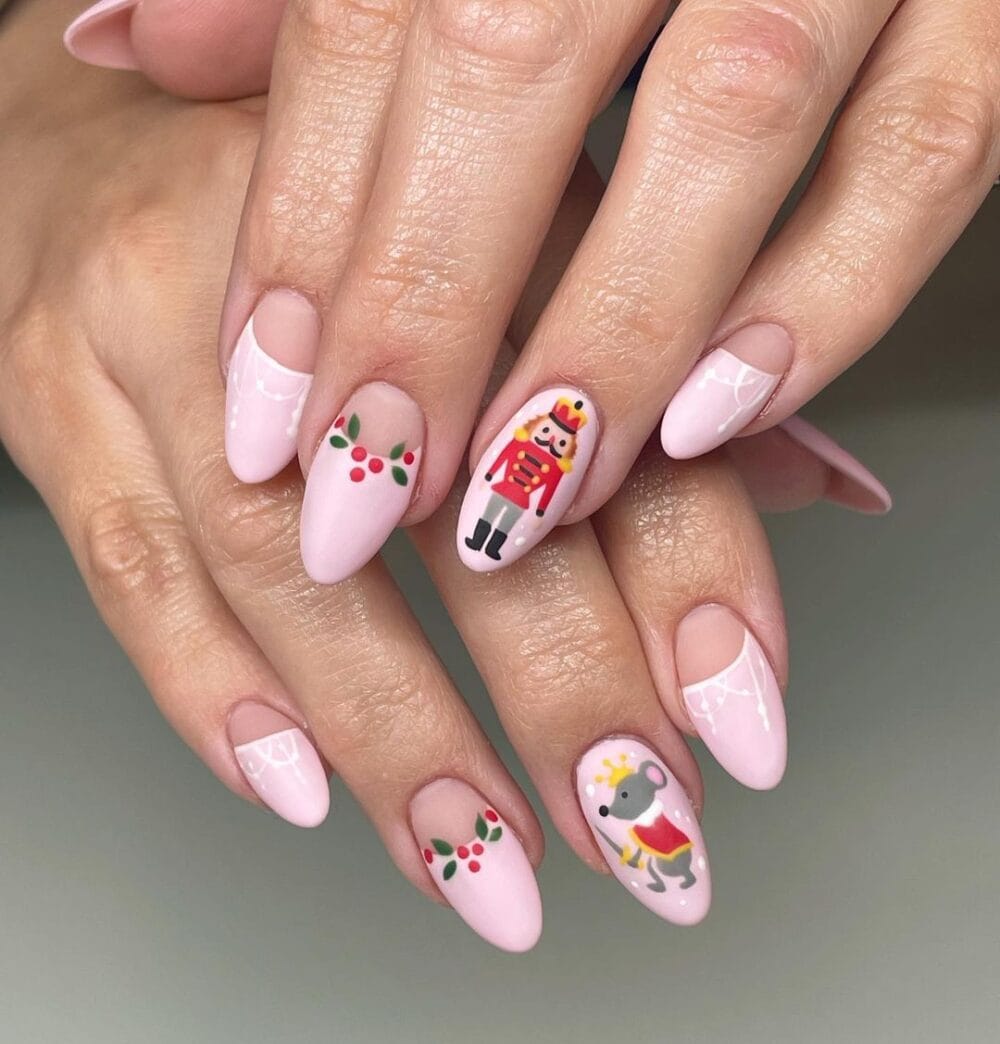 Photo: nail.brat
If you're looking to add a pop of color to your holiday ensemble, these cute pink Nutcracker nails are the way to go. They bring a modern twist to a traditional theme, and the result is simply stunning.

Related: 20+ Stunning Thanksgiving Nail Ideas 2023 For This Fall

Festive Christmas Nail Design
Photo: brooklynblushco
Get into the festive spirit with this vibrant and eye-catching glittery Christmas nail design. With a joyful mix of colors and holiday-themed accents, your nails will be the life of the party.

Mix and Match Christmas Nails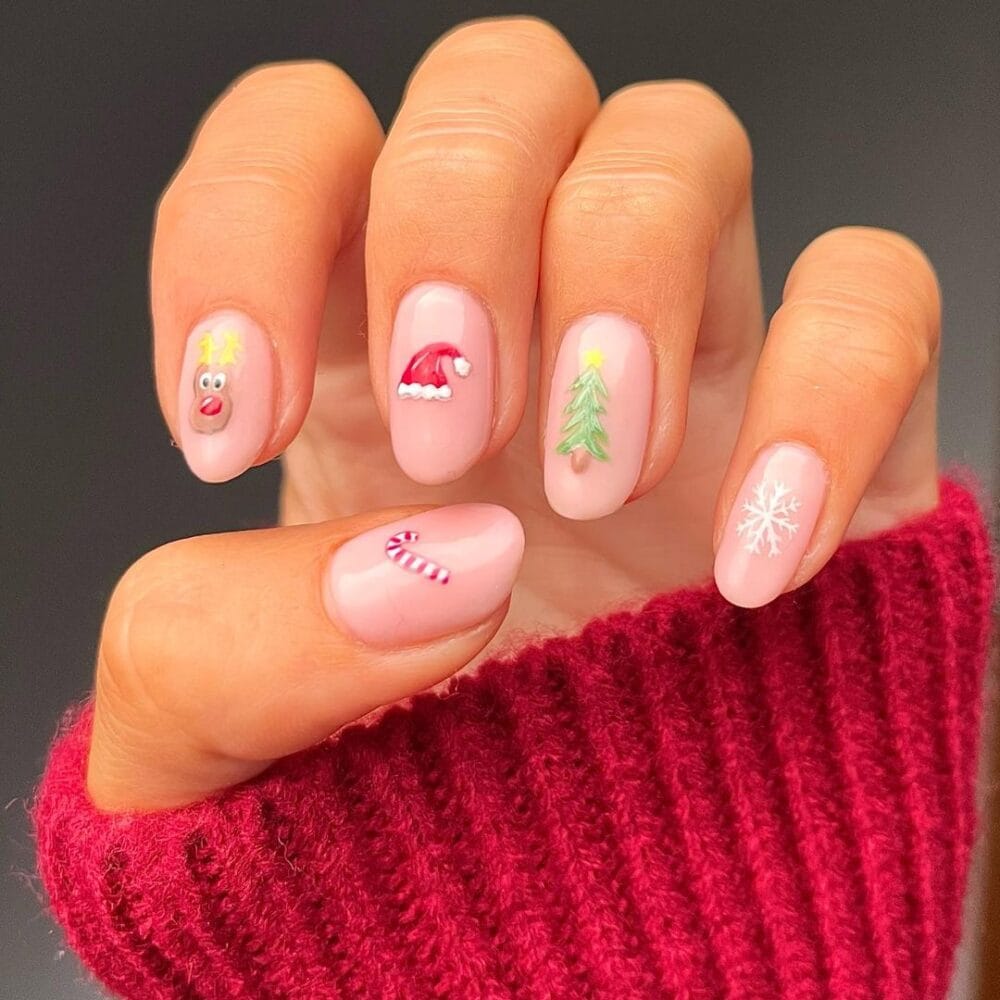 Photo: style_by_phoebe
Unleash your creativity with a mix and match Christmas nail design. From reindeer to snowflakes to ornaments, this playful and eclectic style lets you showcase various holiday elements on your nails.

Bright Red Chrome Christmas Nails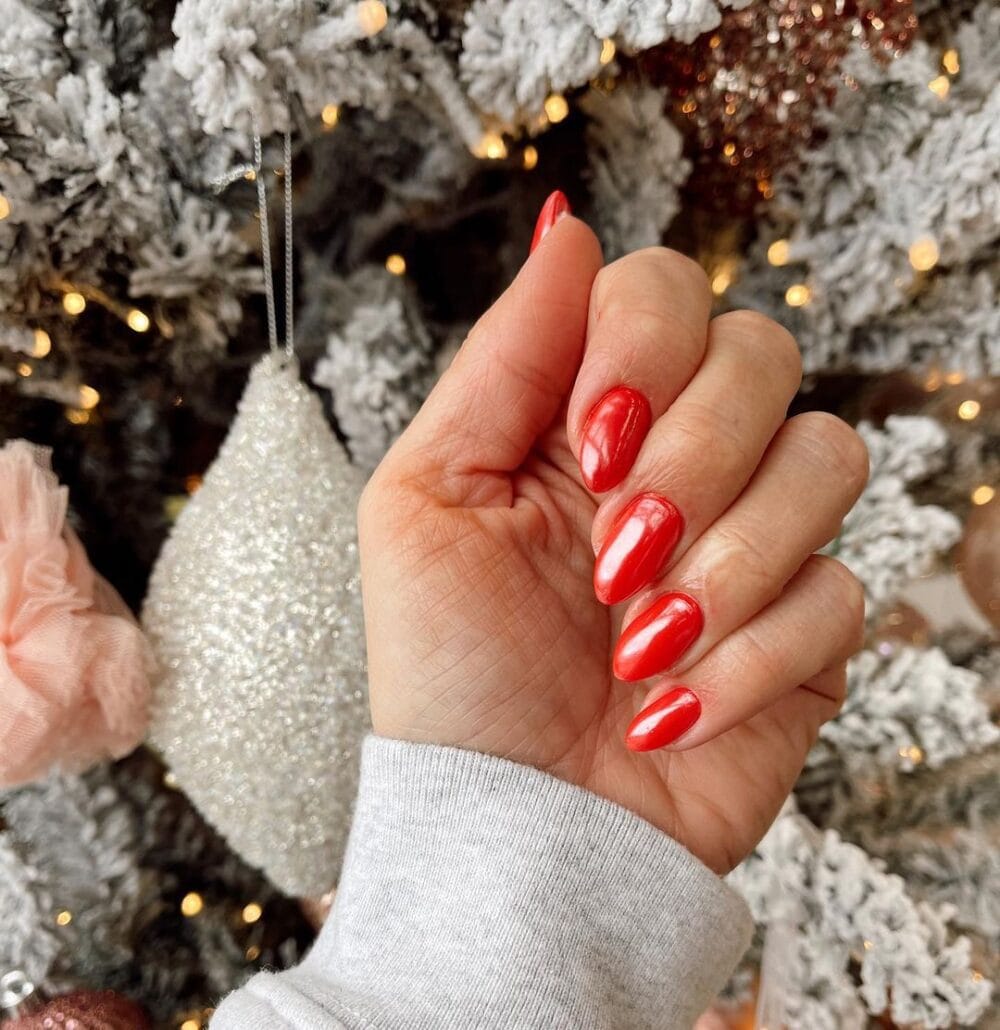 Photo: nailsby.hails
Make a bold statement with these bright red chrome nails. The high-shine finish adds a touch of glamour to your holiday look.

Pastel Christmas Nails with Snowflakes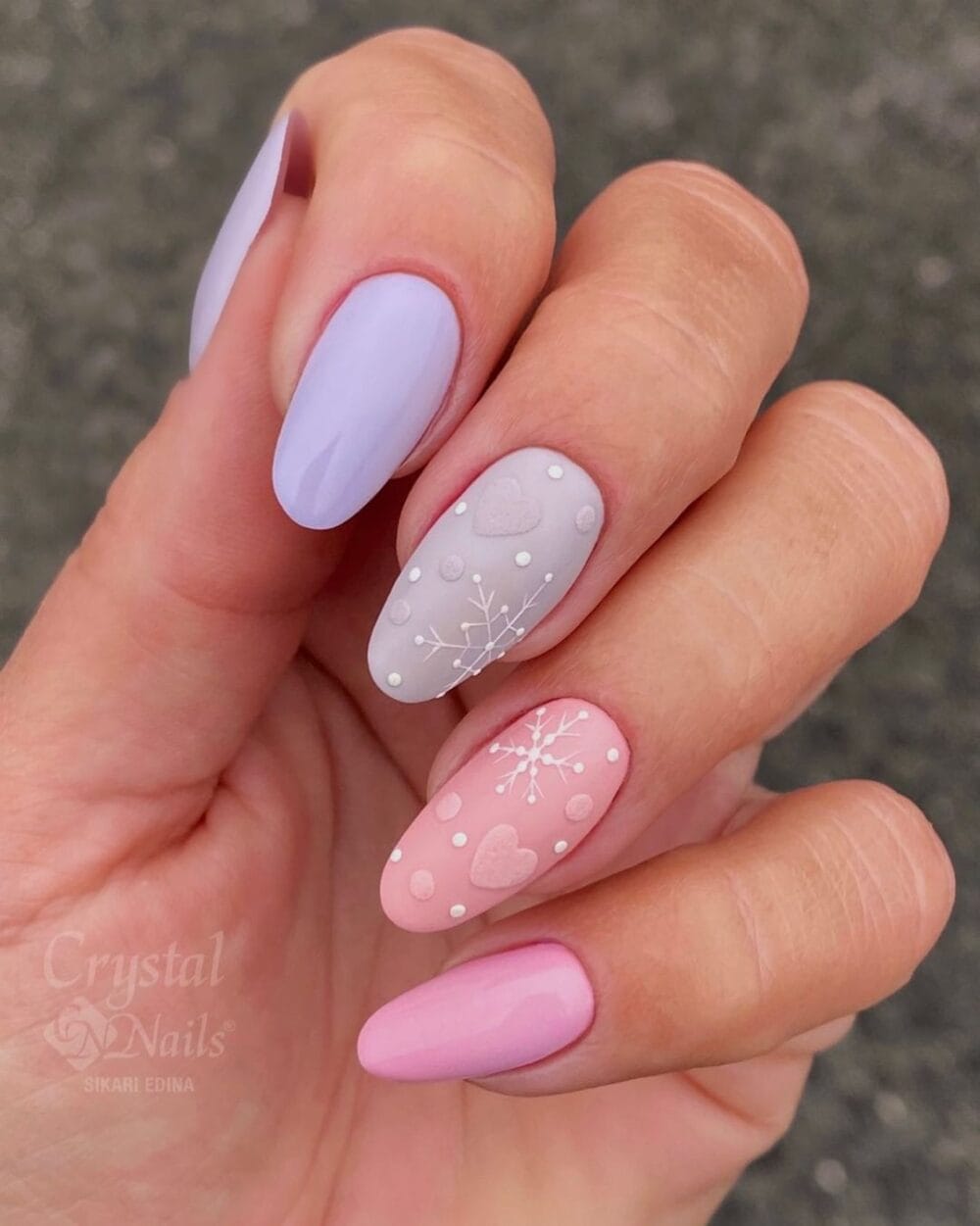 Photo: sikari.nail.academy
Step away from traditional colors and opt for pastel Christmas nails with delicate snowflakes. This soft and dreamy design captures the serene beauty of winter and adds a touch of elegance to your nails.

Candy Frames with Golden Hearts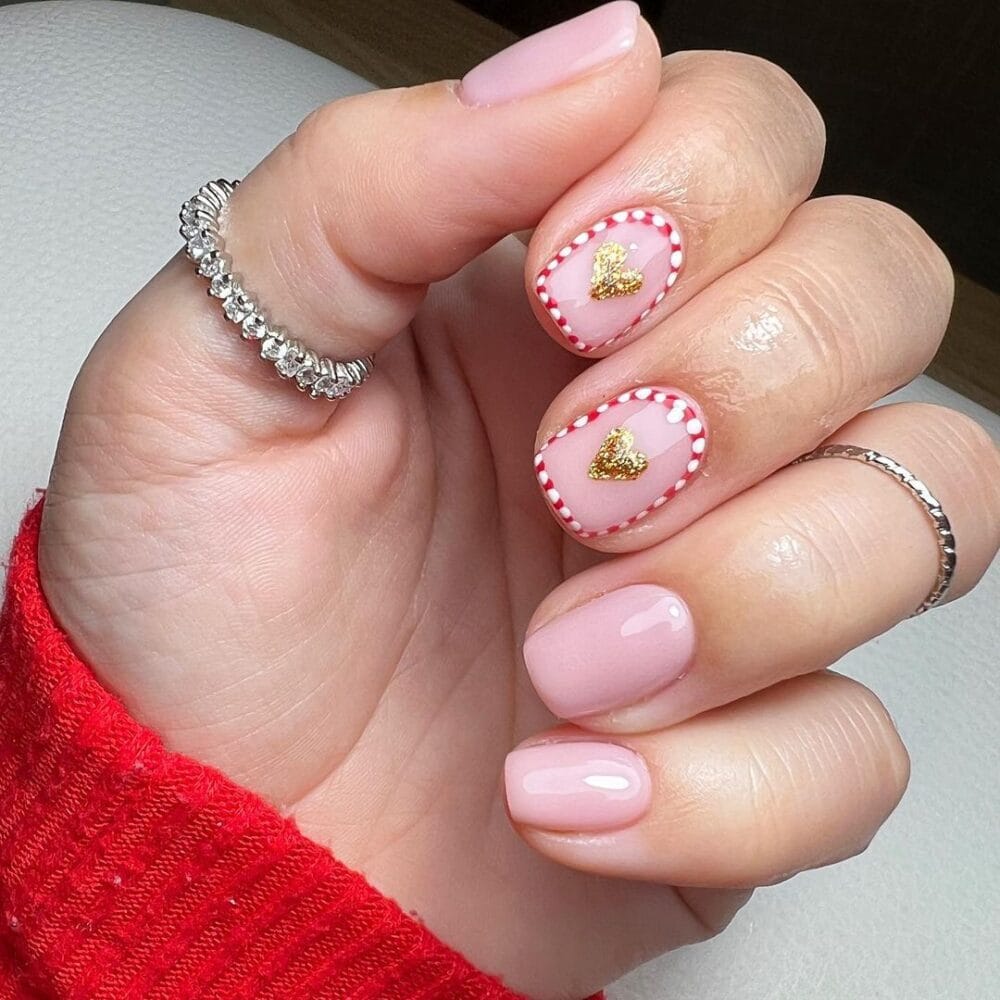 Photo: maisieleahnails
Add a touch of festivities to your nails with candy cane frames and golden hearts. This subtle design captures the Christmas joy while keeping it minimal and elegant.

Christmas Bauble Nails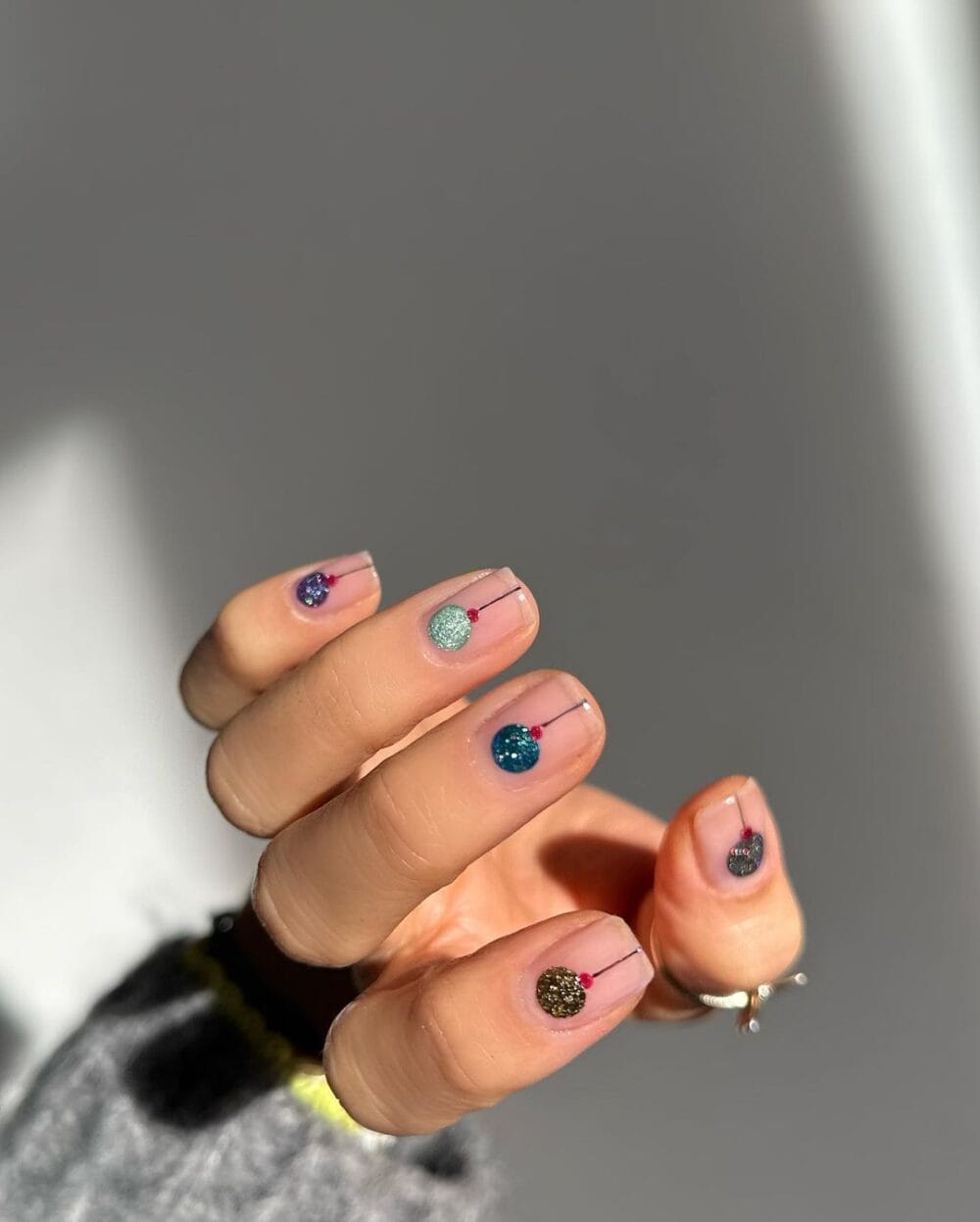 Photo: thehangedit
Decorate your nails with the beauty of these glittery Christmas baubles. These festive nails are perfect if you're looking for a unique Christmas nail design.

Candy Canes, Gingerbread, and Christmas Pudding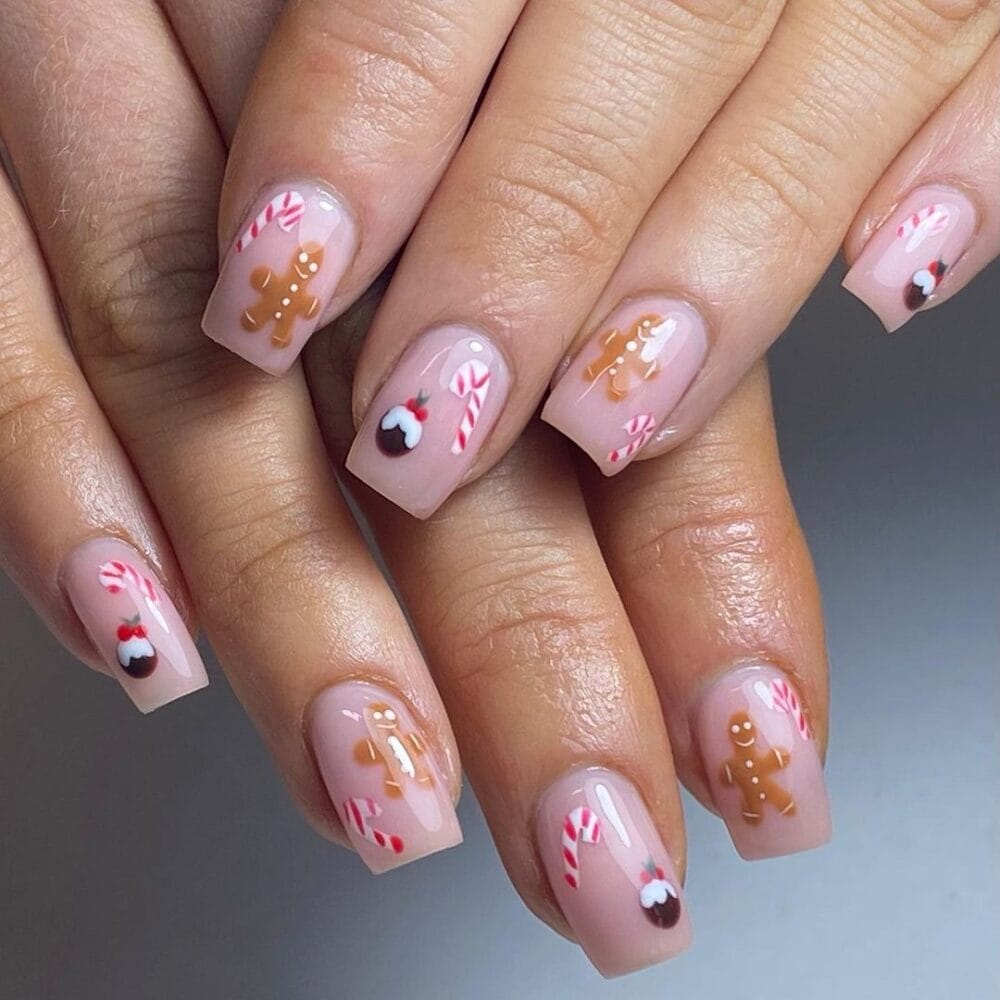 Photo: _iwnails
Why choose one holiday treat when you can have them all? These nails feature candy canes, gingerbread, and Christmas pudding designs that are sure to satisfy your sweet tooth.

Multicolor Glitter Christmas Tree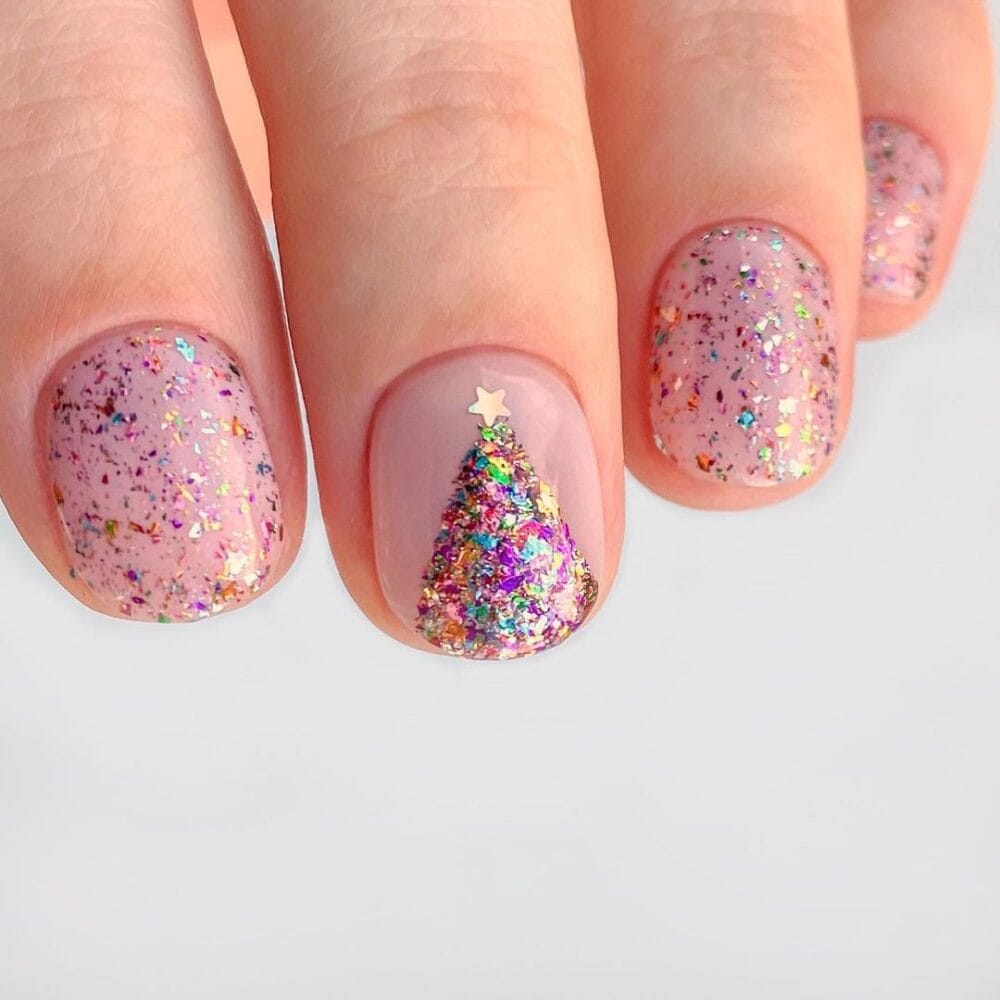 Photo: onenailtorulethemall
Shine bright like a Christmas tree with this multicolor glittery nail art. Each nail features a dazzling Christmas tree design that's perfect for adding some sparkle to your holiday look.

Gingerbread Man Mani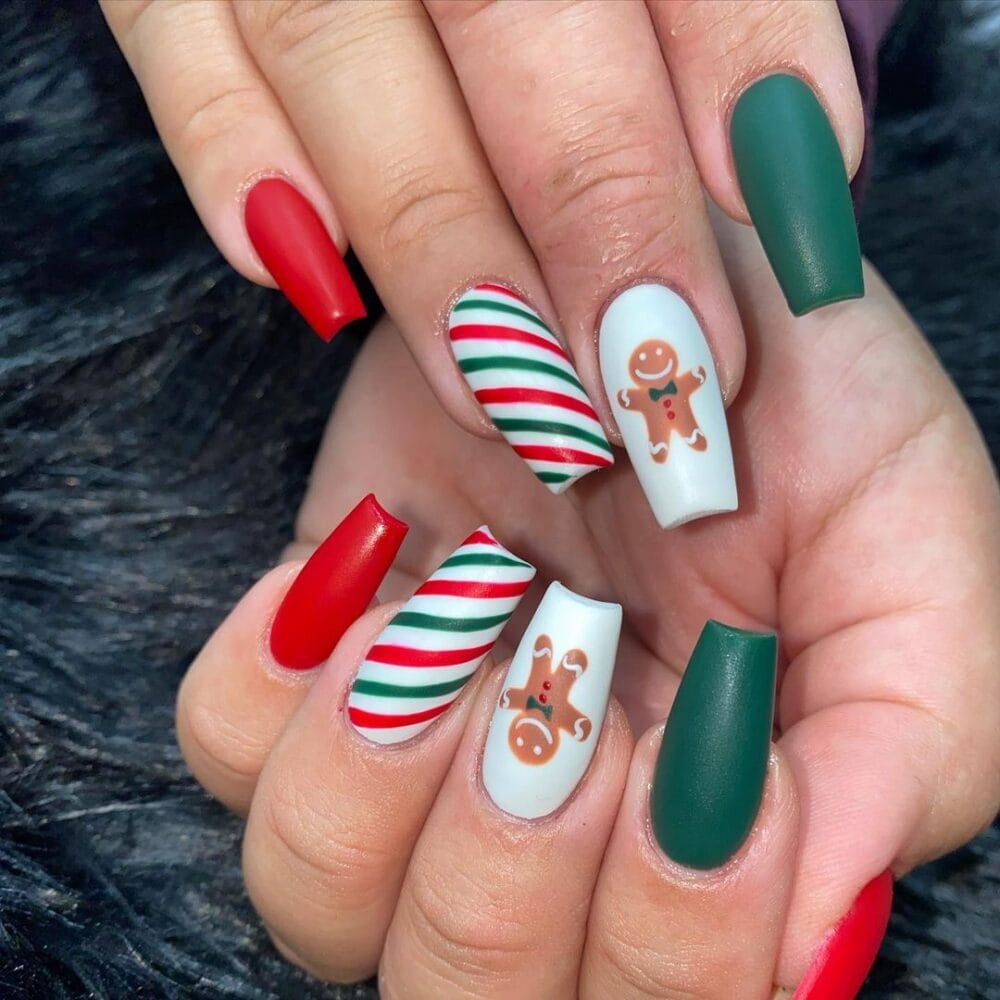 Photo: manisby_erika
Indulge in the sweetest side of the holidays with this adorable gingerbread man cookie mani. This cute and festive design will have you craving gingerbread cookies in no time.

Neutral Christmas Nails
Photo: estheticsbytmr
These understated yet stunning designs capture the timeless beauty of Christmas in a neutral palette. Perfect for those who prefer a more subtle festive look, these nails will complement any holiday outfit.

Christmas French Tips
Photo: murfeishun
If you're a fan of classic looks, these Christmas French tips are a timeless choice. The combination of red glitter tips with holiday-themed accents adds a chic twist to the traditional French manicure.

Snowman with Snowflakes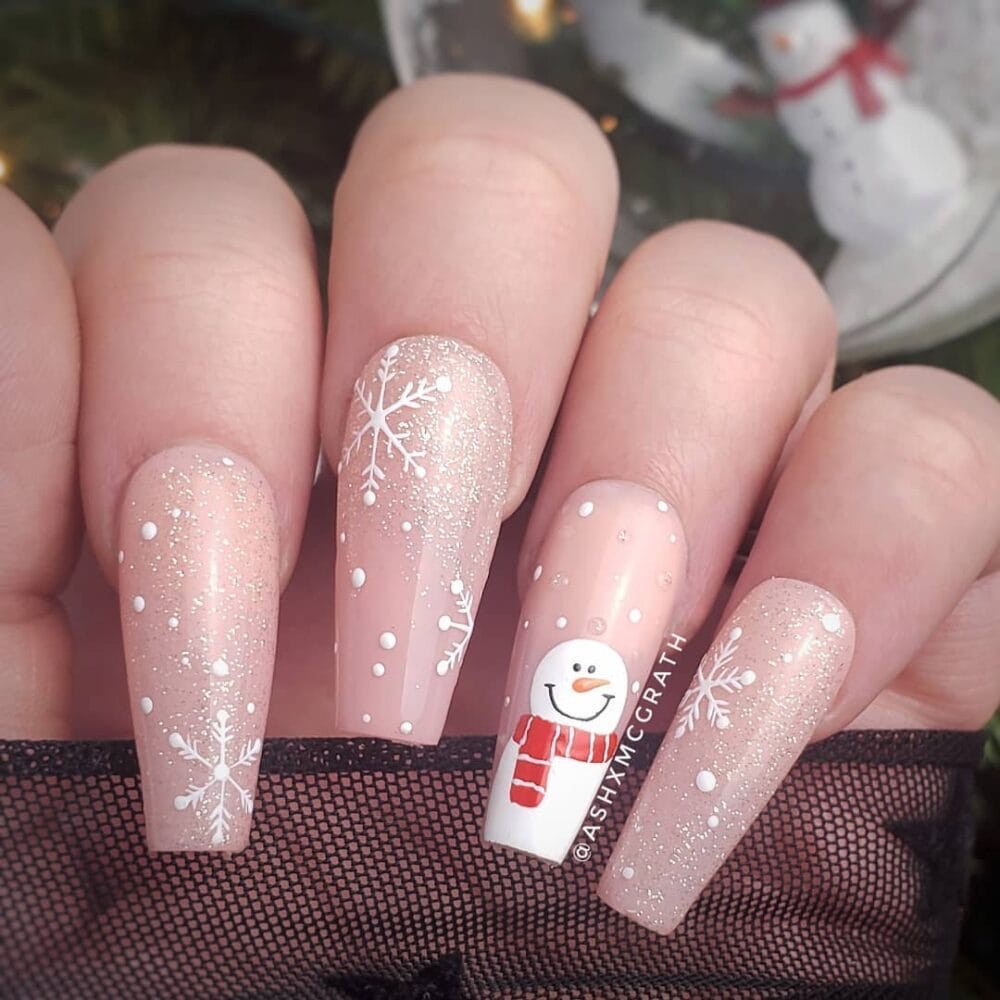 Photo: ashxmcgrath
Let it snow with these adorable snowman and snowflake nails. These playful designs will make you feel like you're in a winter wonderland.

Red and White Reindeer Christmas Nails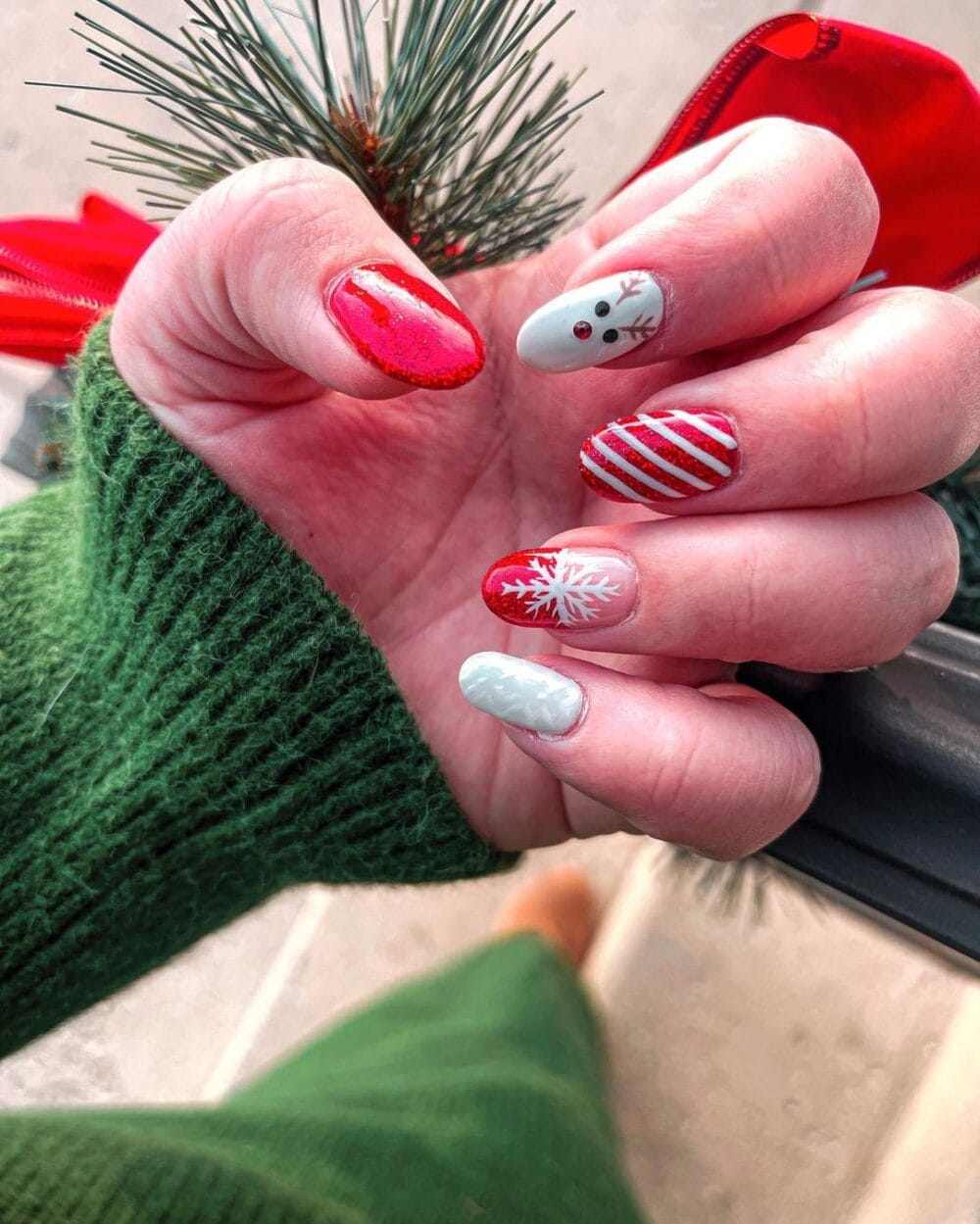 Photo: blushesofrosina
Opt for a timeless classic with red and white Christmas nails with a Reindeer accent. This gorgeous design complements any holiday outfit, making it a perfect choice for the season.

Plaid Christmas Nails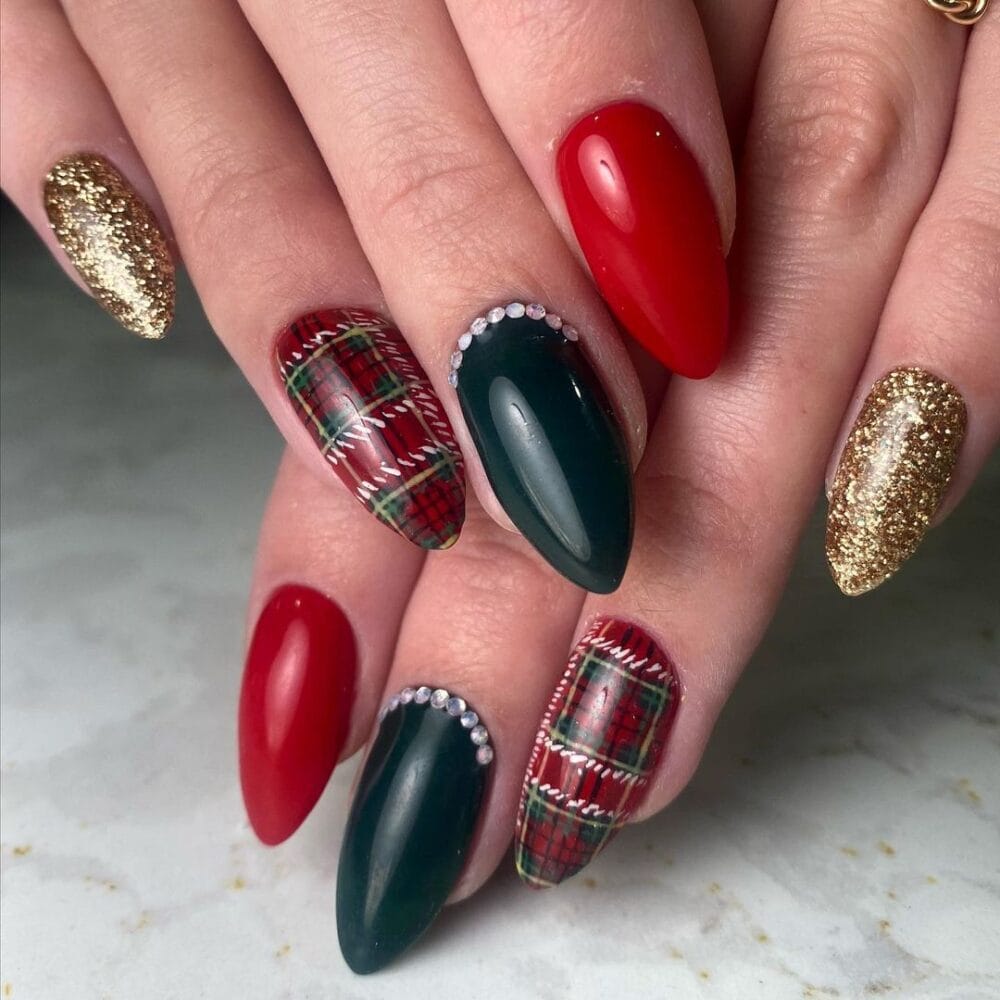 Photo: ashlee.bee.nails
Cozy up to the holiday season with these plaid Christmas nails. The intricate plaid patterns combined with the holiday color scheme and glitter capture the warmth and comfort of the holidays.

Grinch and Candy Cane Nails
Photo: candy_nails_uk
Bring a touch of Christmas movies and candy canes to your nails. These perfect Grinch-inspired nails are sure to make your heart grow three sizes this holiday season.

Gold Christmas Nails with Snowflakes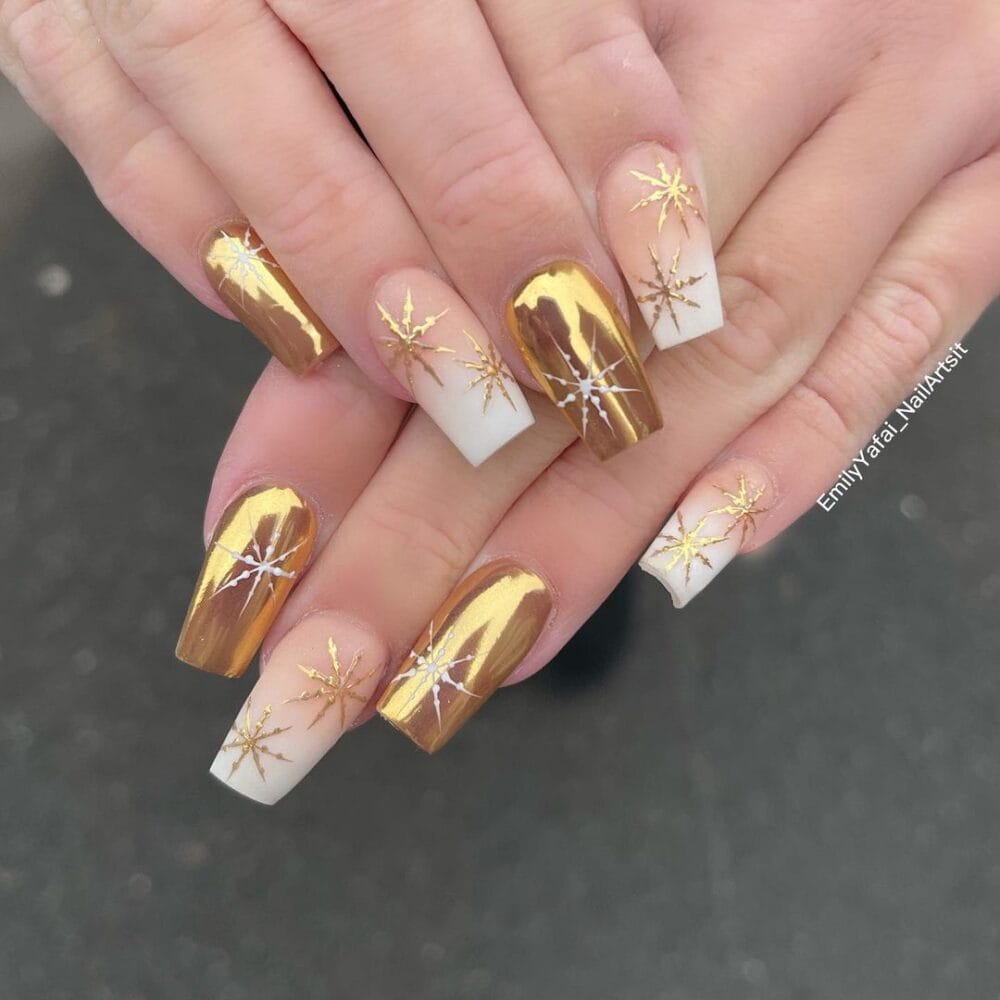 Photo: emilyyafai__nailartist
Embrace the holiday glimmer with these stunning gold Christmas nails adorned with delicate snowflakes. This elegant design brings a touch of sophistication to your festive look, making it perfect for any holiday soirée.

Short Nails with Christmas Trees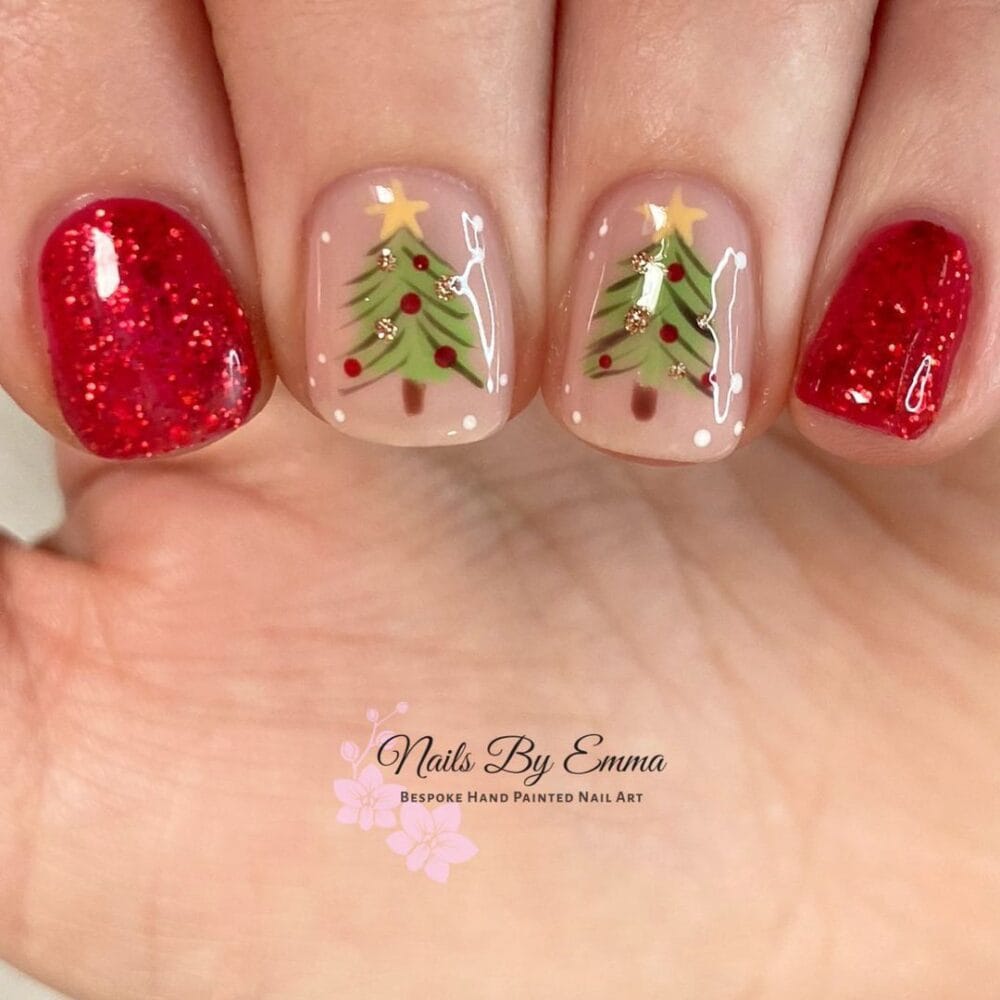 Photo: nailsbyemmaleeds
Short nails can be just as festive! These adorable short Christmas nails featuring tiny Christmas trees are both cute and convenient. They're perfect for those who prefer a short nail look but still want to look glamorous for the holidays.

Red Nutcracker Nails
Photo: stylebycambria
Dance into the holiday season with these festive red Nutcracker nails. This classic and timeless design pays homage to a beloved holiday tradition.

Red Shimmer Christmas Nails
Photo: zobacz.jak
Make a statement with these bold red shimmer Christmas nails that capture the essence of holiday glam. The sparkling red hue and an elegant Christmas tree add a touch of sophistication to your festive look.

Buffalo Plaid Nails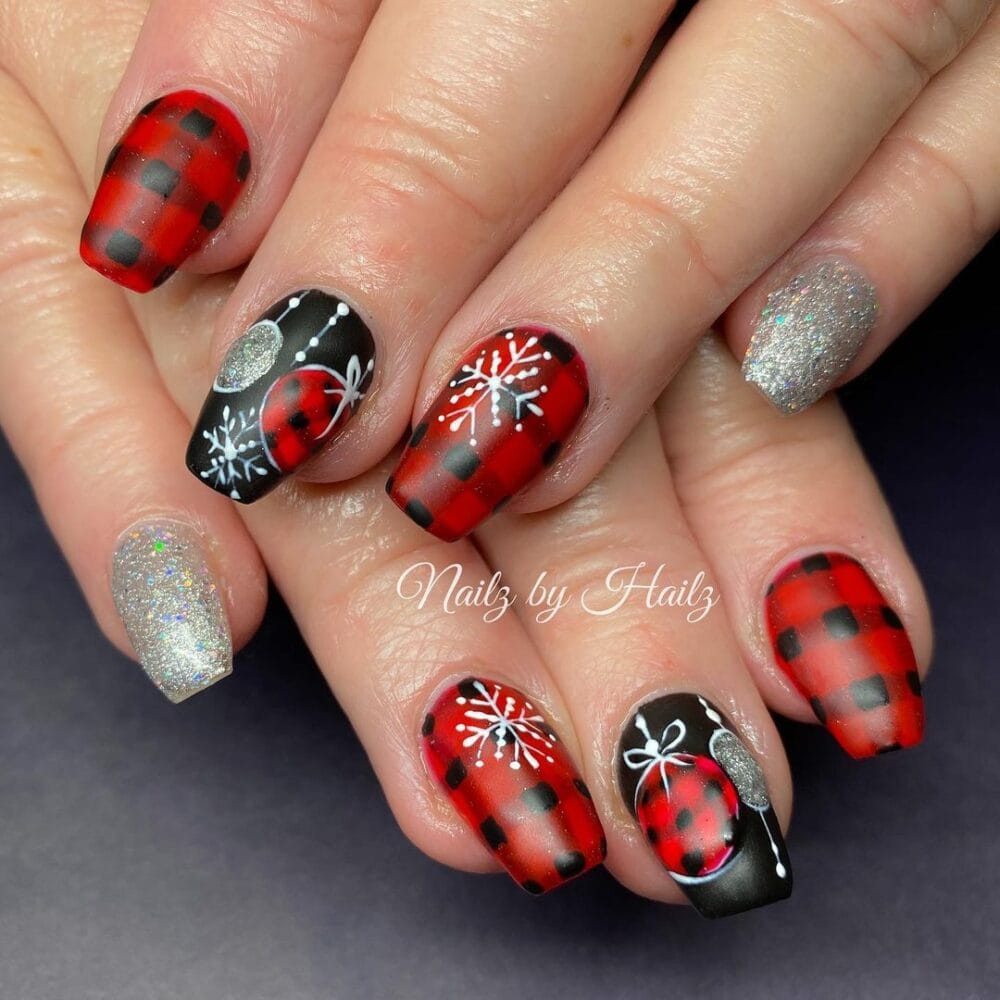 Photo: nailzbyhailz
Channel rustic charm with these buffalo plaid Christmas nails. This cozy pattern is a favorite during the holiday season and adds a touch of warmth to your winter look.

Santa Claus Nails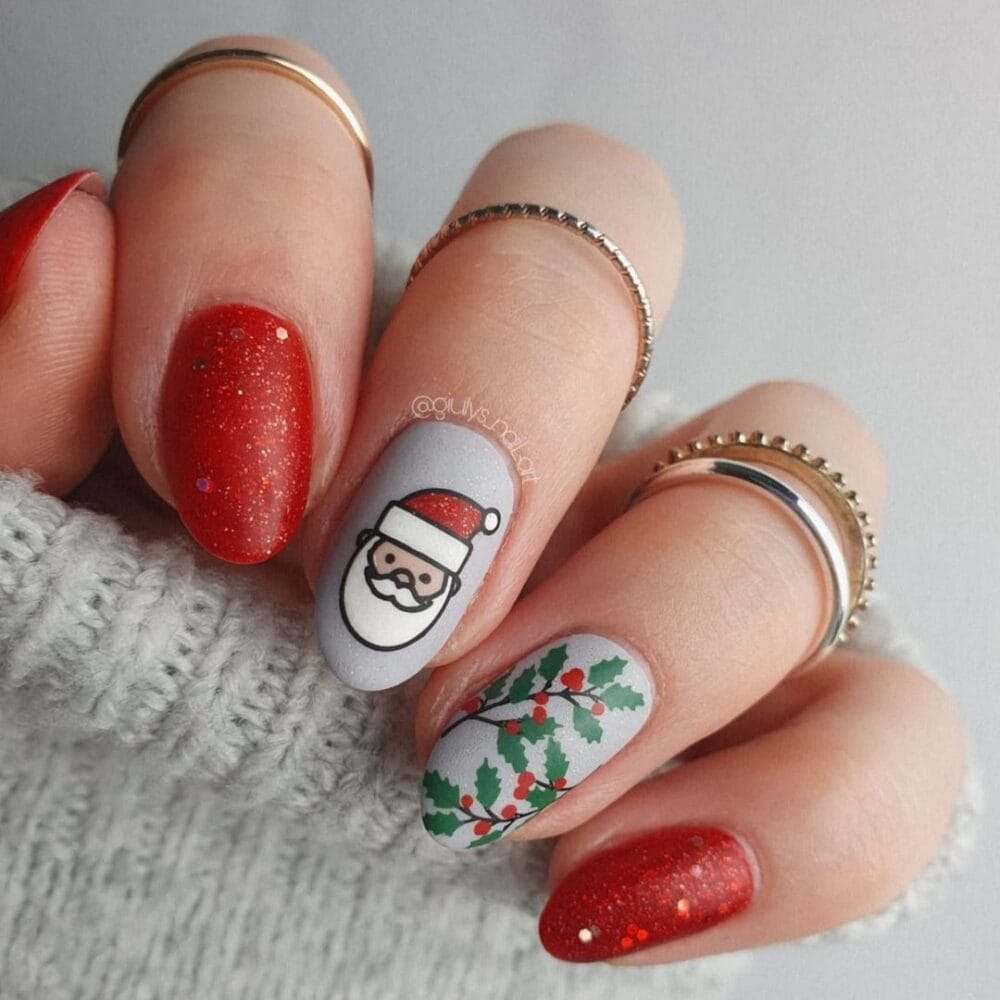 Photo: giulys_nail_art
Santa's jolly face and iconic hat make for an adorable and festive design that will bring a smile to your face all season long. The perfect choice for spreading holiday cheer, these nails are a delightful addition to your Christmas look

That's it for now!
To wrap it up, these Christmas nail ideas are like a sparkly present waiting to be unwrapped! With an incredible variety of styles and designs, there's a little something for everyone to jingle all the way with their nails.
So, go ahead, grab your nail polish, and let's sleigh the holiday season together, one festive nail at a time. Get ready to dazzle and spread some serious holiday cheer – it's time to nail this festive look!
Happy holidays and may your nails shine as brightly as your holiday spirit!

Share on Pinterest: