This post may contain affiliate links, which means I'll receive a commission if you purchase through my links, at no extra cost to you. Please read our full disclosure for more information.
Hey there, nail art aficionados and summer enthusiasts!
Can you believe it's that time of year again? The sun is shining, the ice cream trucks are serenading our neighborhoods, and it's officially time to show off those gorgeous nails that have been hibernating under gloves and mittens.
Get ready to dive into a world of color, creativity, and all things fabulous as we unveil the hottest summer nail designs that are setting 2023 on fire!

Summer Nail Trends 2023

1. Bright & Bold Nails
Bright and bold is the name of the game this season, and trust us when we say it's a full-on celebration of hues! Picture this: nails painted in electric blues, vibrant corals, and sunflower yellows that practically radiate sunshine.
But hey, we're not stopping there! For the truly adventurous, neon nails are here to steal the spotlight with their eye-catching allure.

2. Pastels
For those of you who prefer a touch of subtlety while still riding the summer wave, we've got you covered with delicate designs that channel all the seasonal vibes without shouting from the rooftops.
Pastels are making a triumphant return this summer, proving that soft shades can make just as bold a statement as their brighter counterparts. Imagine minty greens that evoke ocean breezes and baby pinks reminiscent of cotton candy at the fair.

3. Abstract Nail Art
Prepare to be amazed by the abstract wonders gracing fingertips left and right. Swirls of colors that look like they're straight out of a modern art masterpiece? Check. Geometric patterns that redefine the word "cool"? Double check.

4. Florals & Botanicals
And who could forget the eternal love affair between florals and summer? Blossoms and petals dancing across nails create a garden party that never ends.

5. Fruity Nails
And oh, speaking of parties, how about flaunting some fruity nails? Watermelons, pineapples, and berries galore, all intricately detailed on your nails – it's practically a tropical vacation in miniature!

6. Barbie Mania
For those who have been dreaming of their Barbie days, there's a nod to the iconic doll and the newly released Barbie movie with nails dipped in movie-inspired pink shades that scream fun and fashion.

7. Beach Themed Nails
Last but not least, let's not forget the calming charm of beach-inspired nails. Think sandy beige bases adorned with seashell motifs, waves, and even palm trees – bringing the beach to your fingertips, no sunscreen required!

8. Pick and Mix
It's like the candy aisle at the grocery store, but for your nails. Mix and match different colors, patterns, and even textures to create a kaleidoscope of creativity right at your fingertips.
Why not sport some smiley faces, hearts, stars, or something 80s inspired in your nail art – it beams good vibes to everyone you meet. It's like a cheerful mini mural on each finger!

Achieve the Summer Nail Look at Home
Achieving the perfect summer nail look at home is easier than you might think! Start by gathering a selection of vibrant and pastel nail polishes that capture the essence of the season.
After shaping your nails and applying a base coat to ensure a smooth canvas, it's time to get creative. From delicate florals to bold abstract designs, let your imagination run wild using nail art brushes, stencils, or even simple tools like toothpicks for dots.
Mix and match colors, experiment with various patterns, and don't be afraid to add a touch of bling with gems or rhinestones.
Once you're satisfied with your design, seal the deal with a top coat to protect your masterpiece and make it last. And voila! You've just brought the vibrant spirit of summer right to your fingertips.
Recommended supplies:

So buckle up, nail enthusiasts, because this summer is about to get a whole lot more colorful and creative. From bold and bright to sweet and subtle, there's a nail design to match every personality and style.
Grab your favorite shades, find some artistic inspiration, and let's dive headfirst into the wonderful world of summer nails in 2023!

Related: The Ultimate 10-Step Guide to Perfect Manicure at Home

Summer Nails Inspiration 2023

1. Blue Watercolor Florals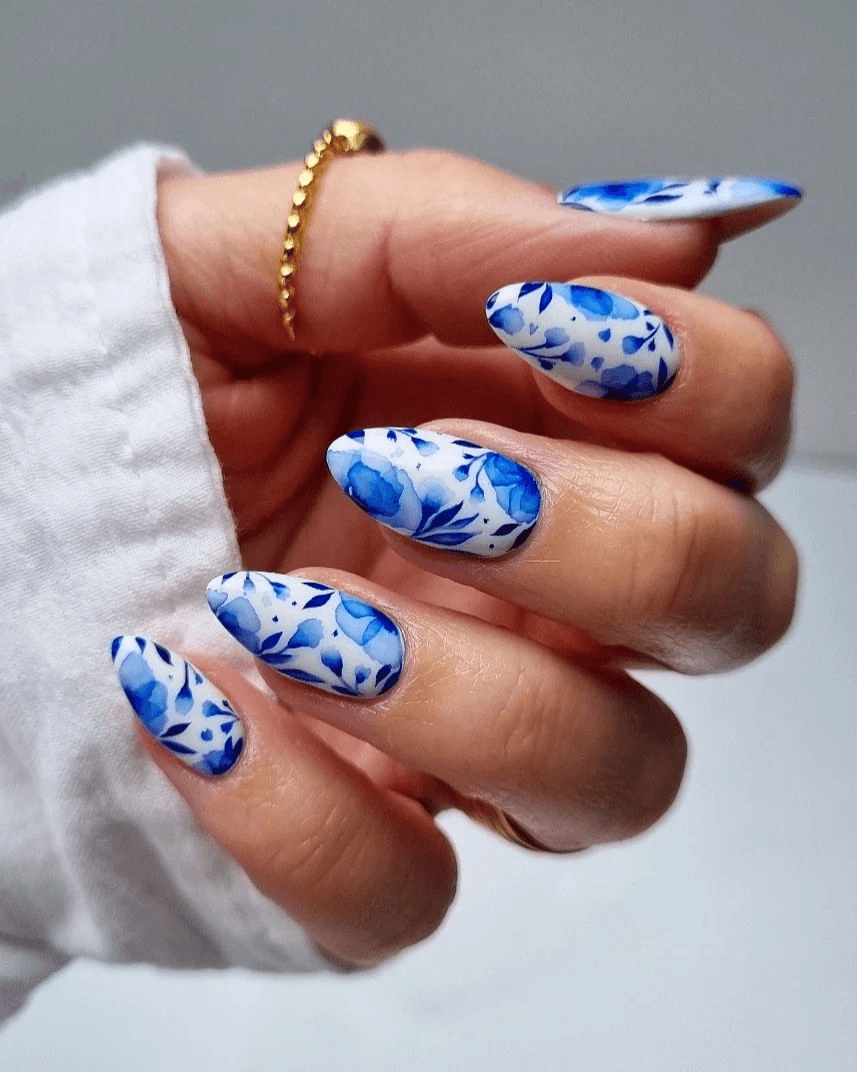 2. Soft Rainbows and Clouds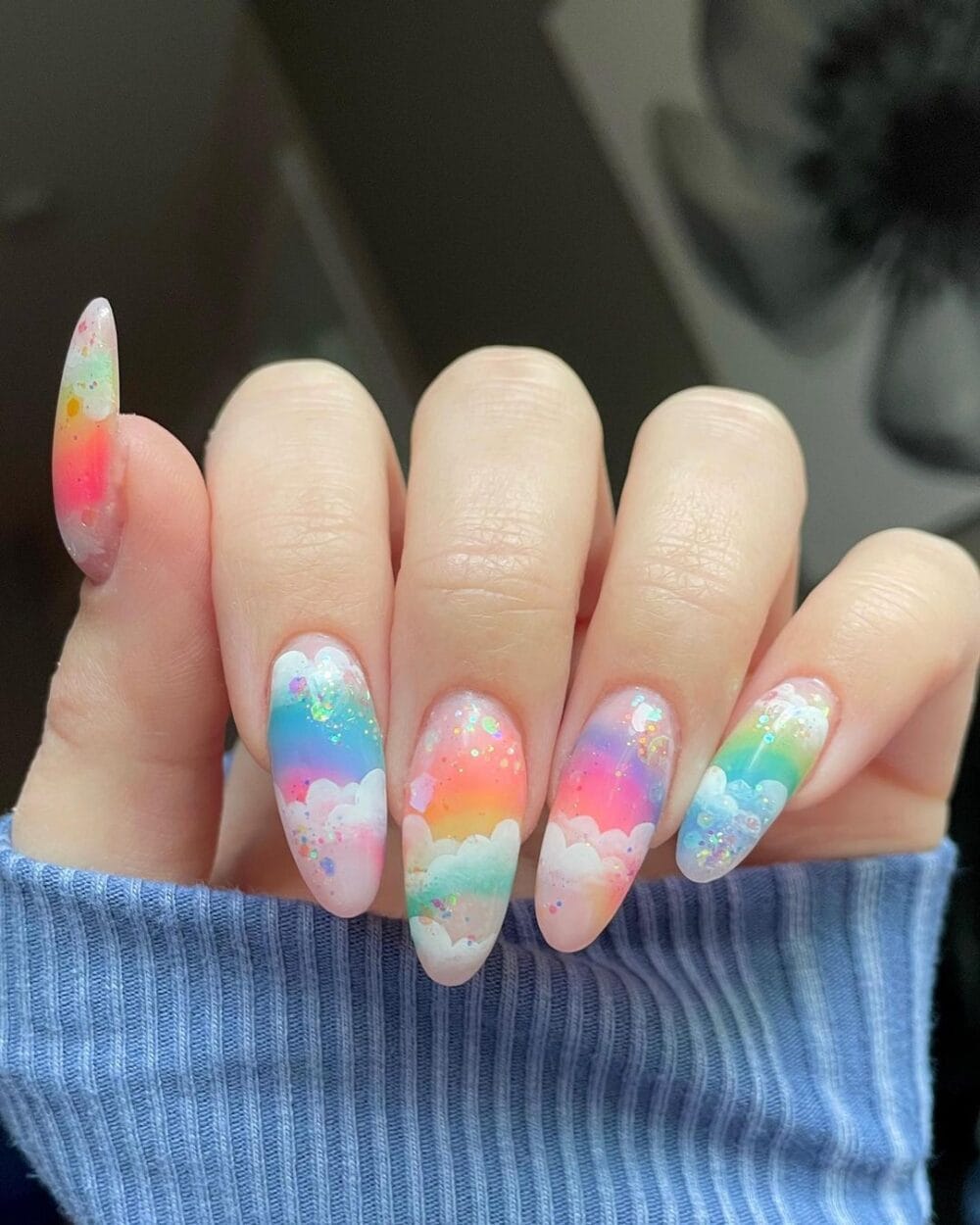 3. Cherry Nails with Gradient French Tips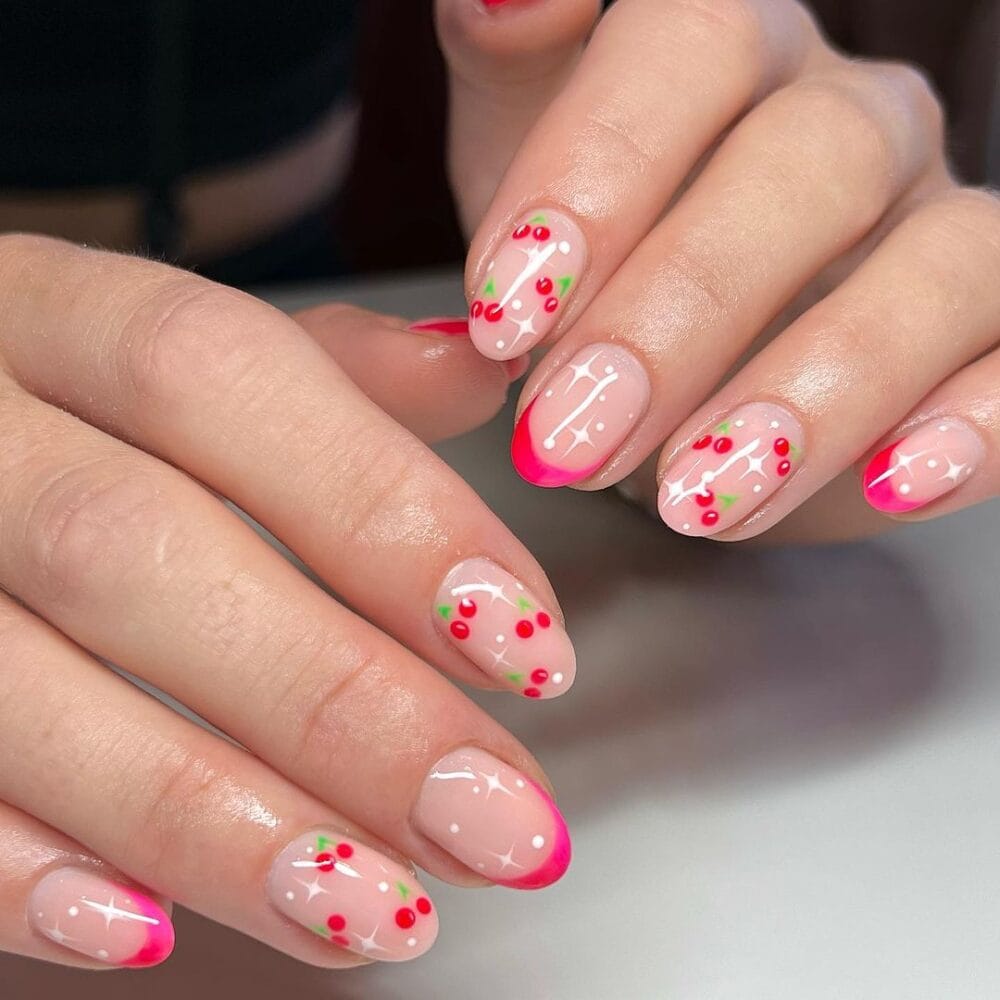 4. Funky Nails with Smiley Faces, Rainbows, and Flowers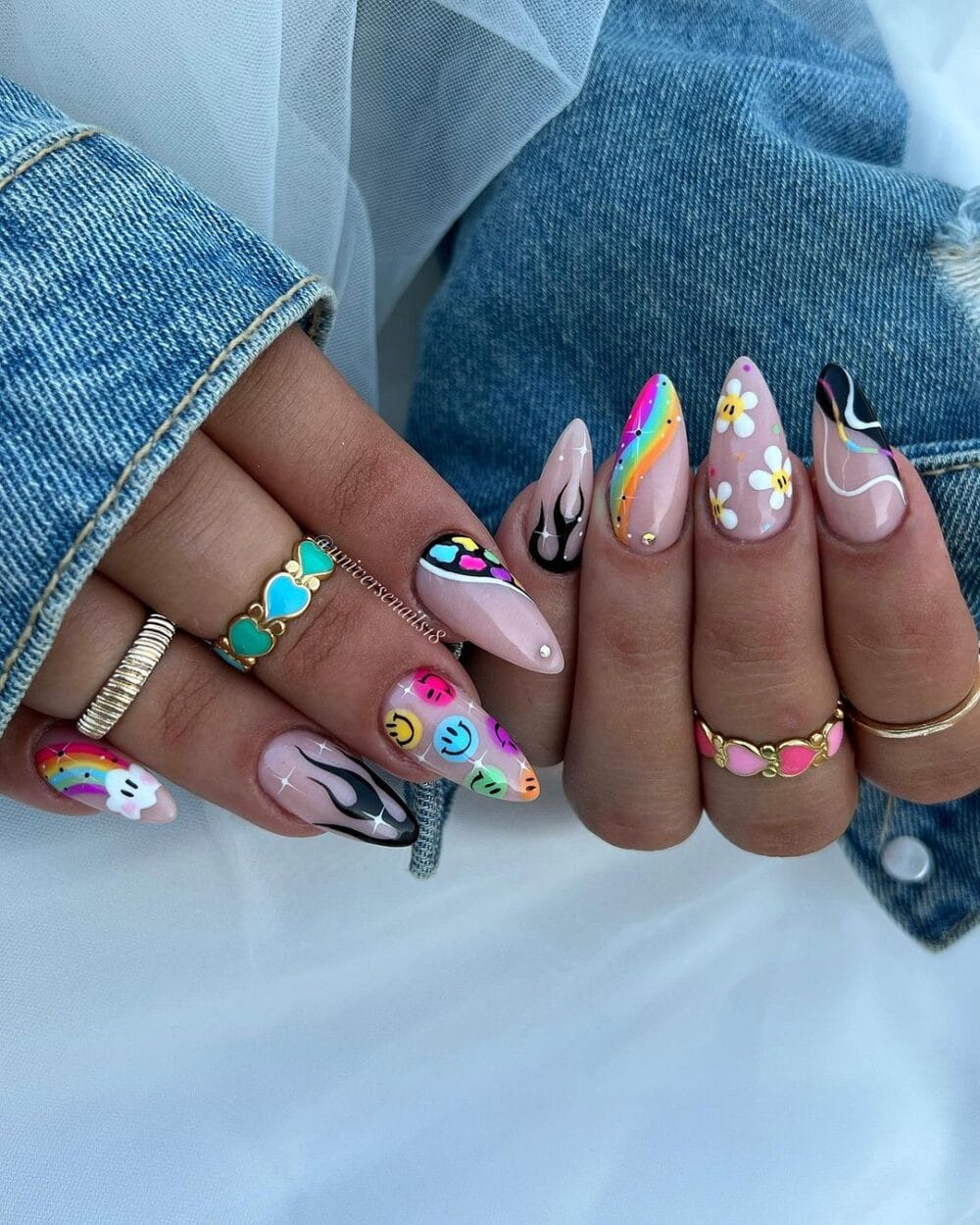 5. Neon Green Squiggly French Tips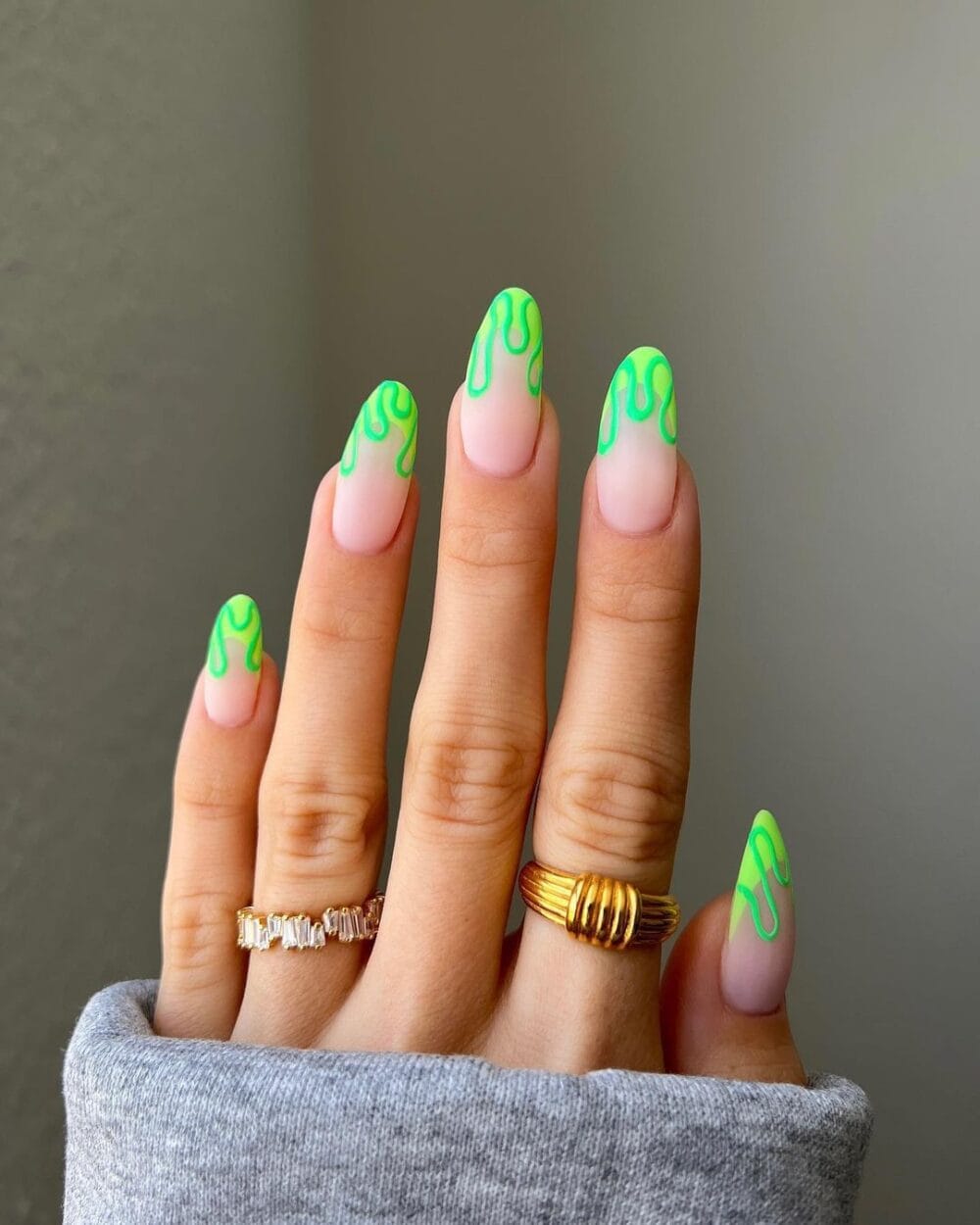 6. Blue and Coral Nails with Little Flowers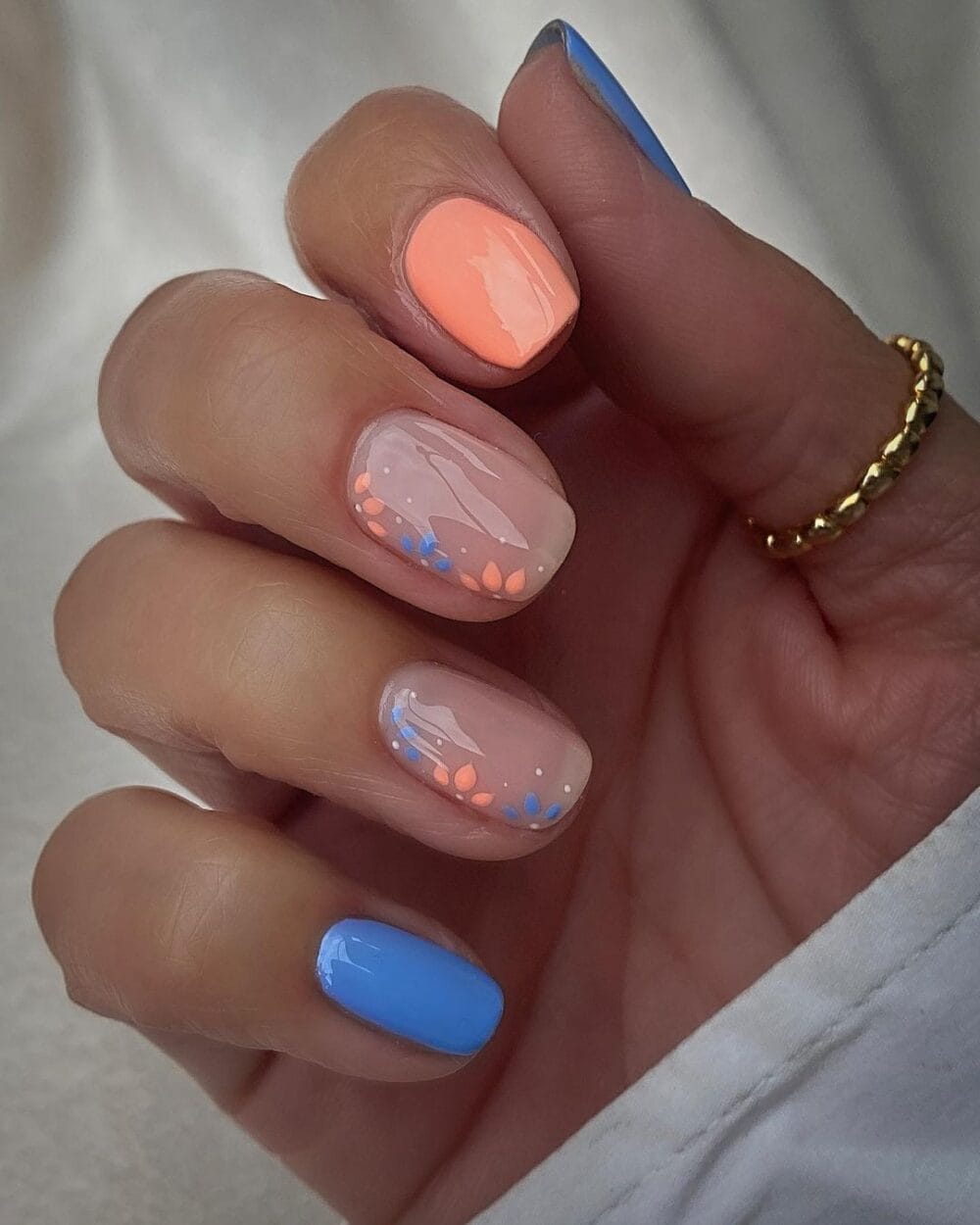 7. Groovy Flower Nails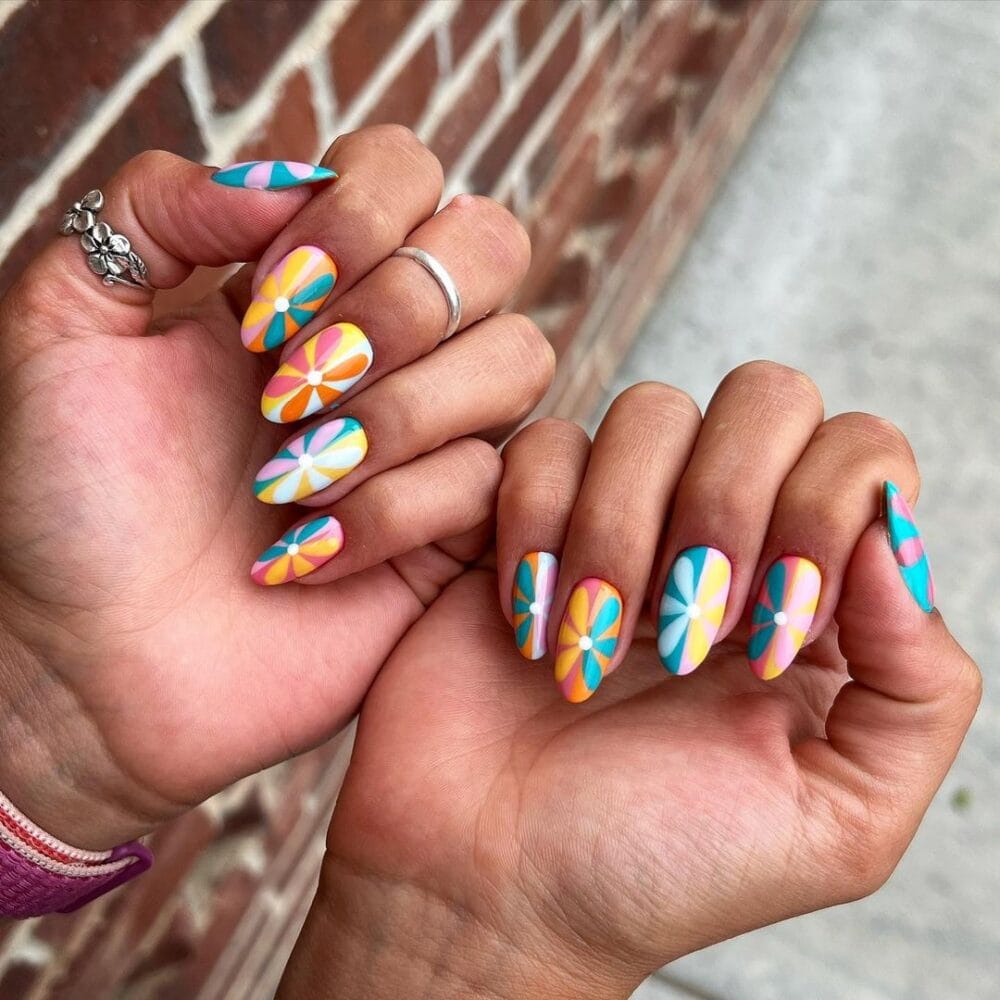 8. Minimalist Blue French Tips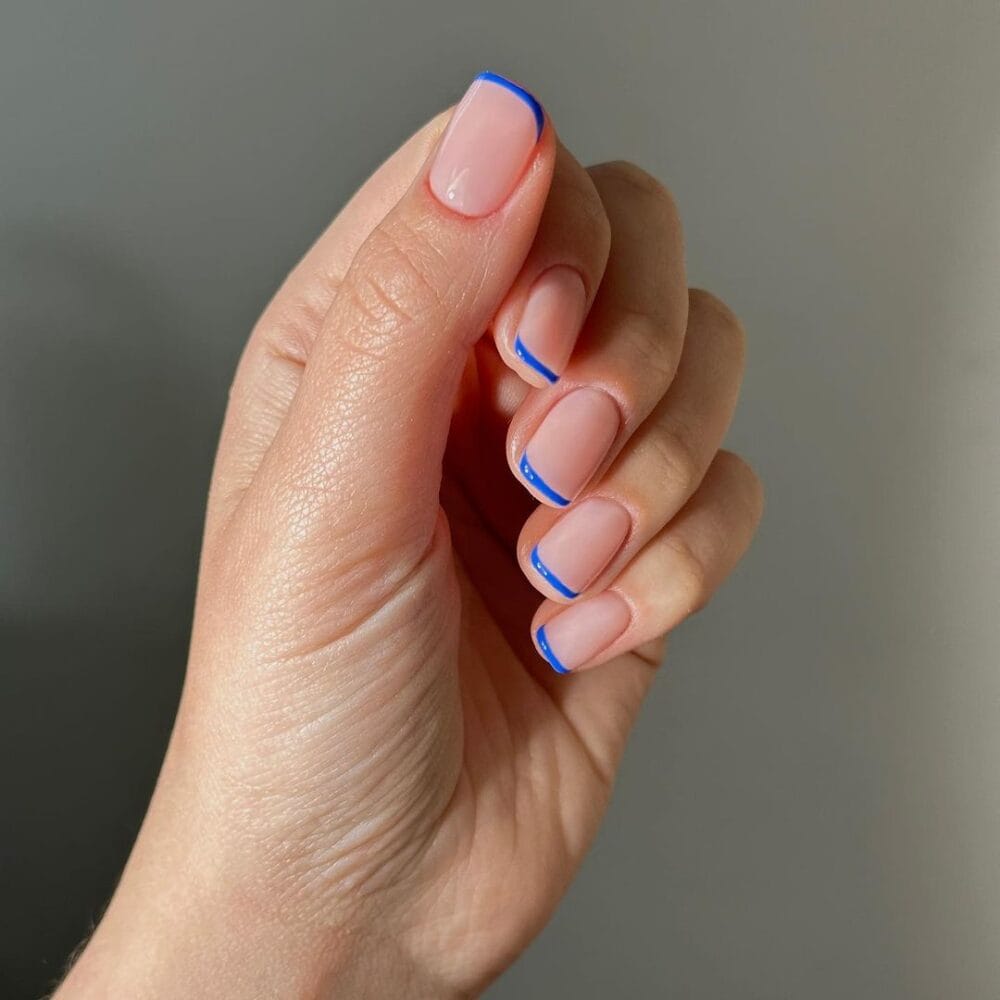 9. Psychedelic Red Swirl Nails

10. Pastel Squiggles Nail Art

11. Fruity Orange Nails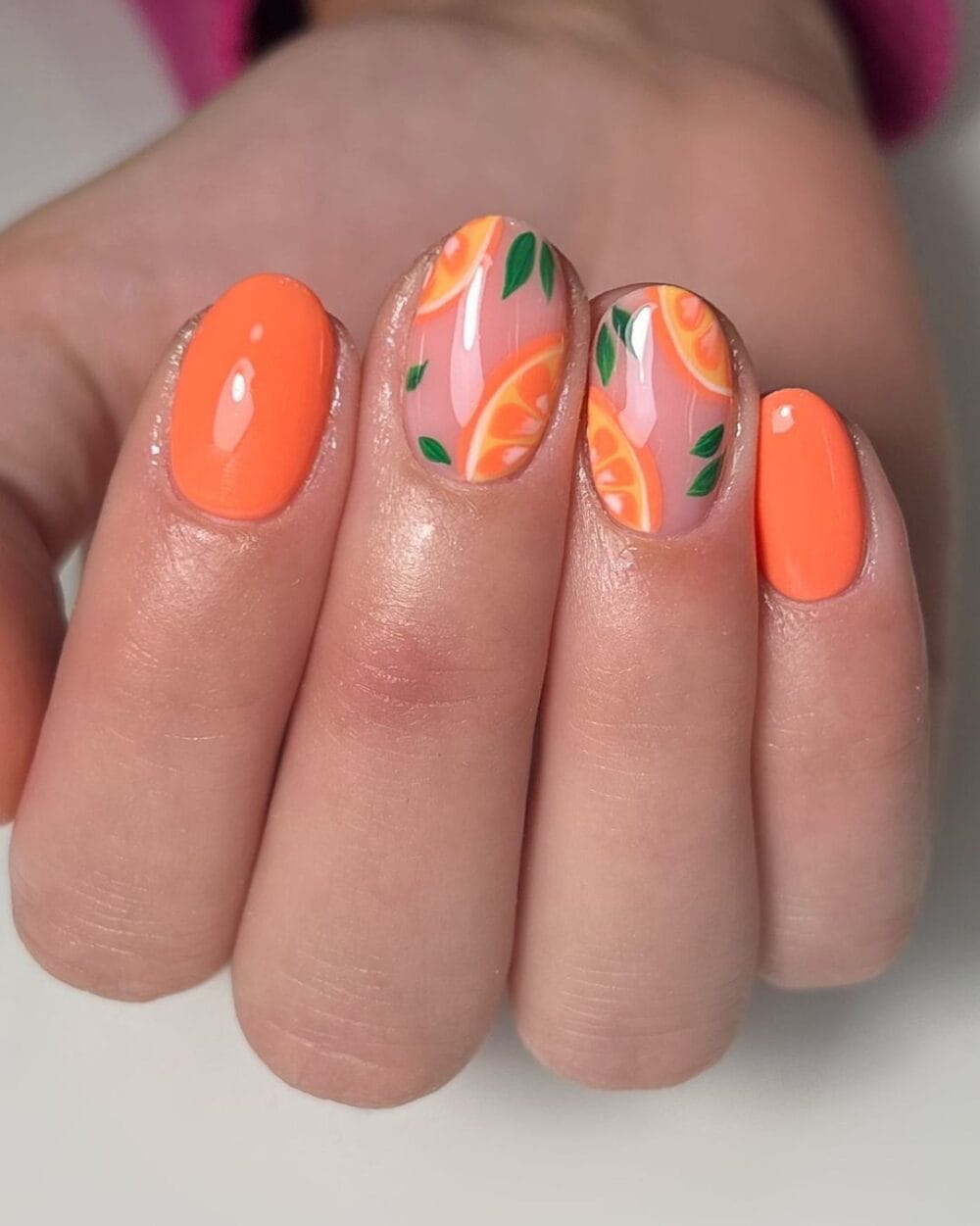 12. Blue and White Marble Nails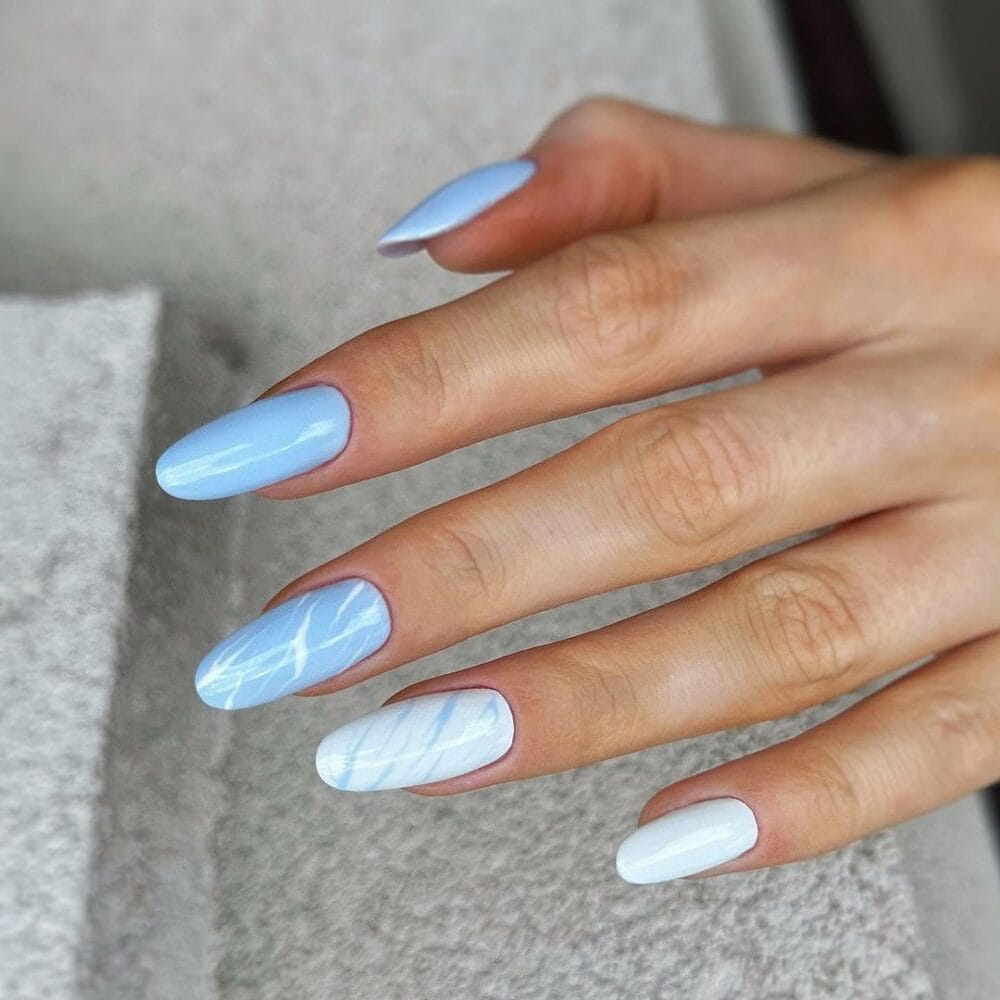 13. Purple Nails with Glitter and Palm Trees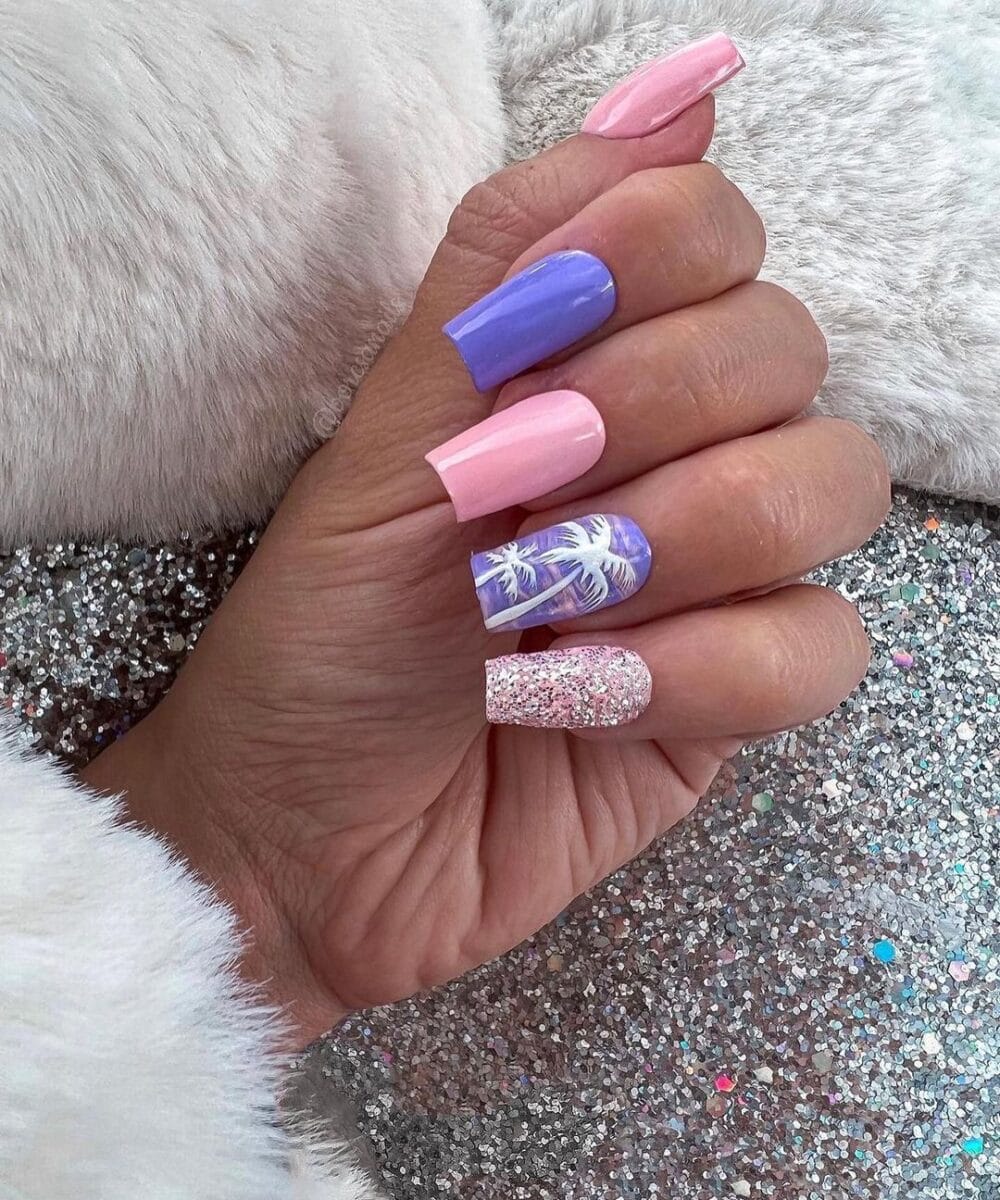 14. Super Bright Beach Nails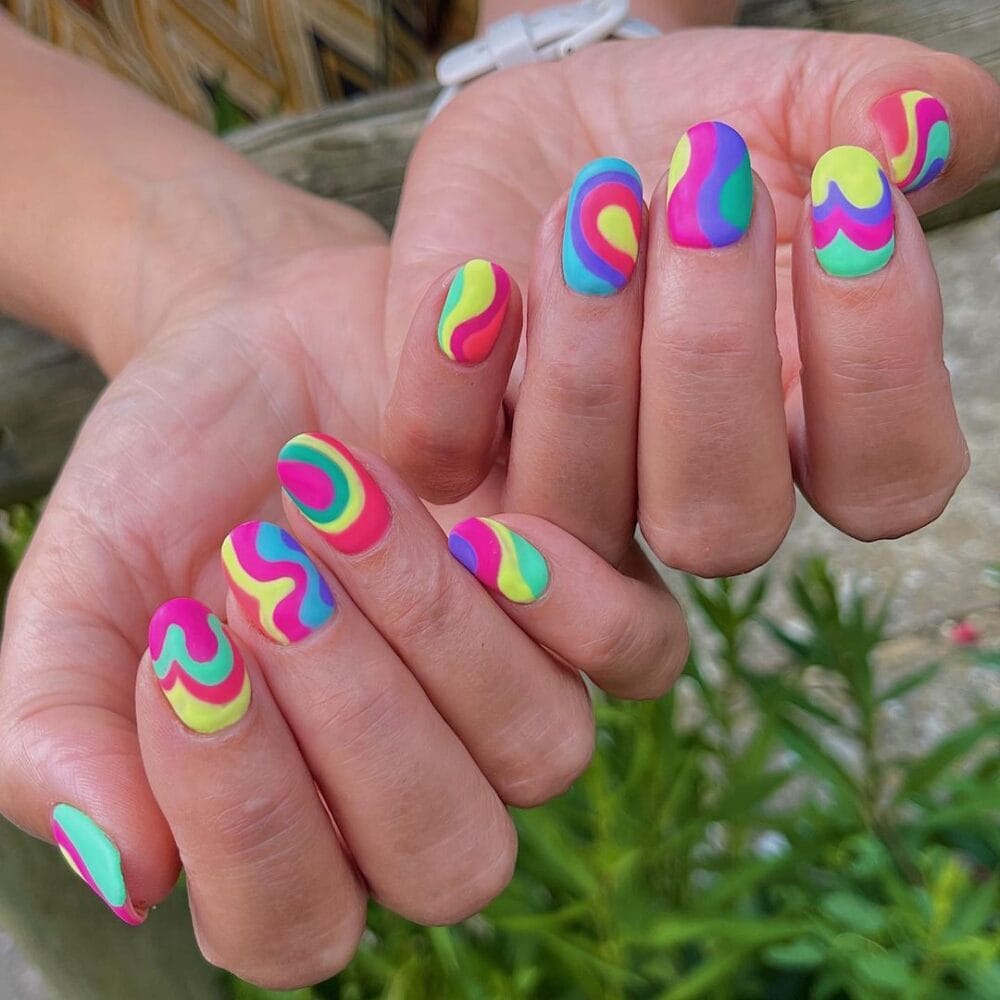 15. Subtle Oval Nails with Cherry Accents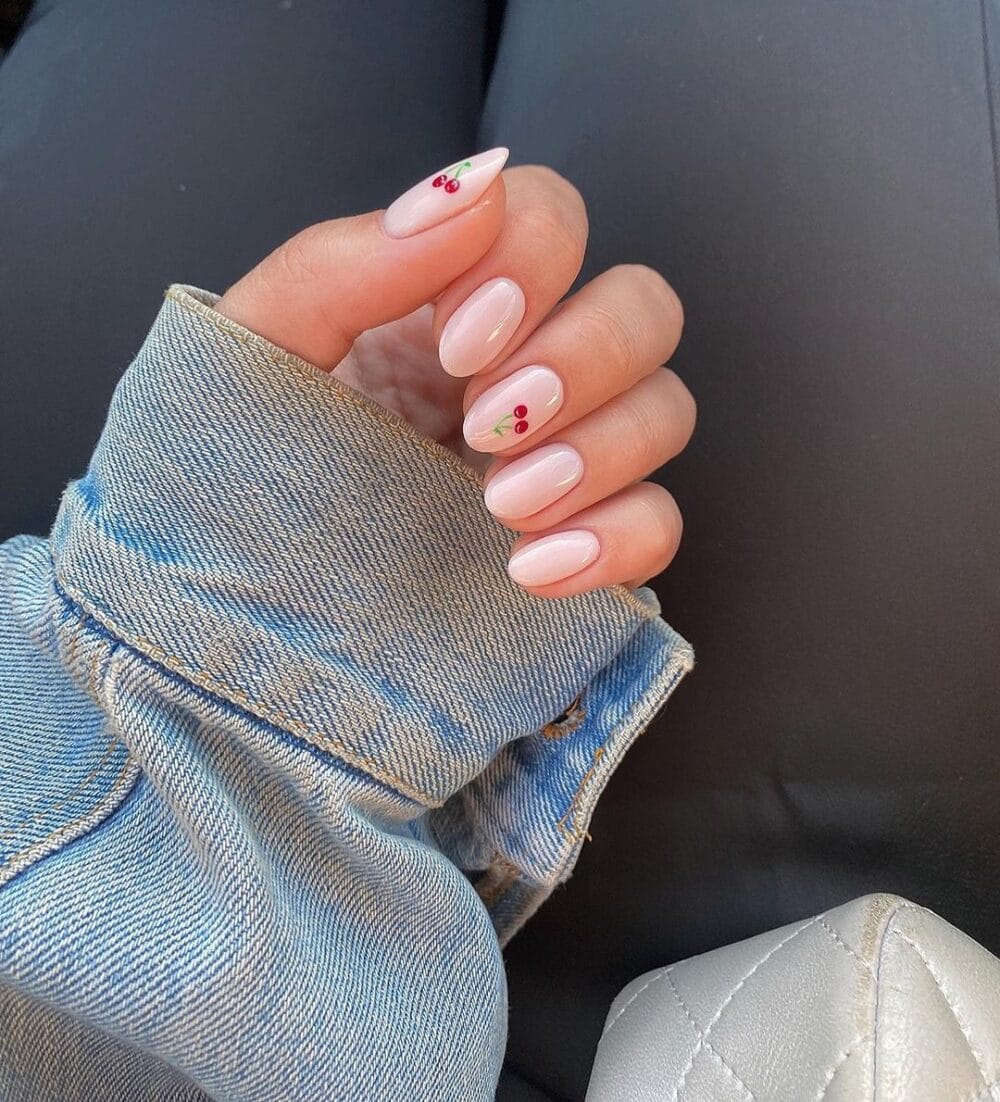 16. Delicate Watercolor Florals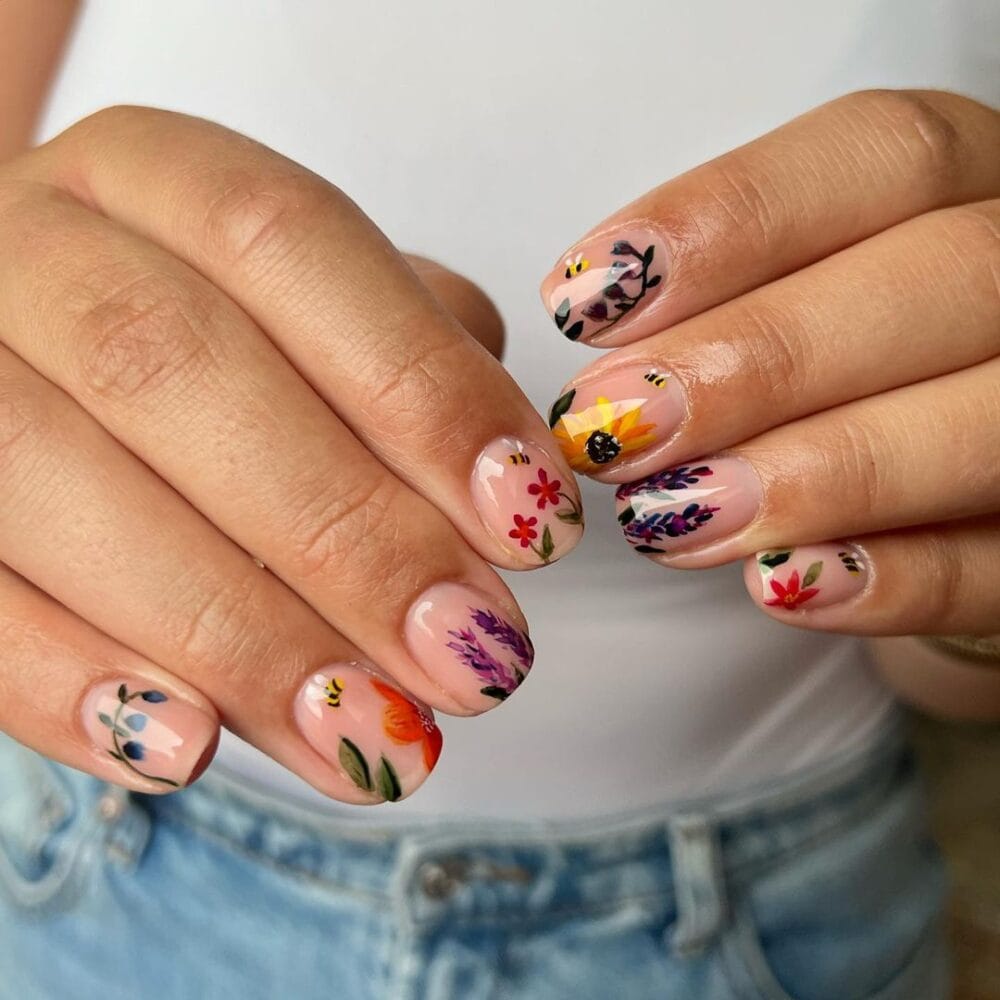 17. Funky Nails Perfect for Festivals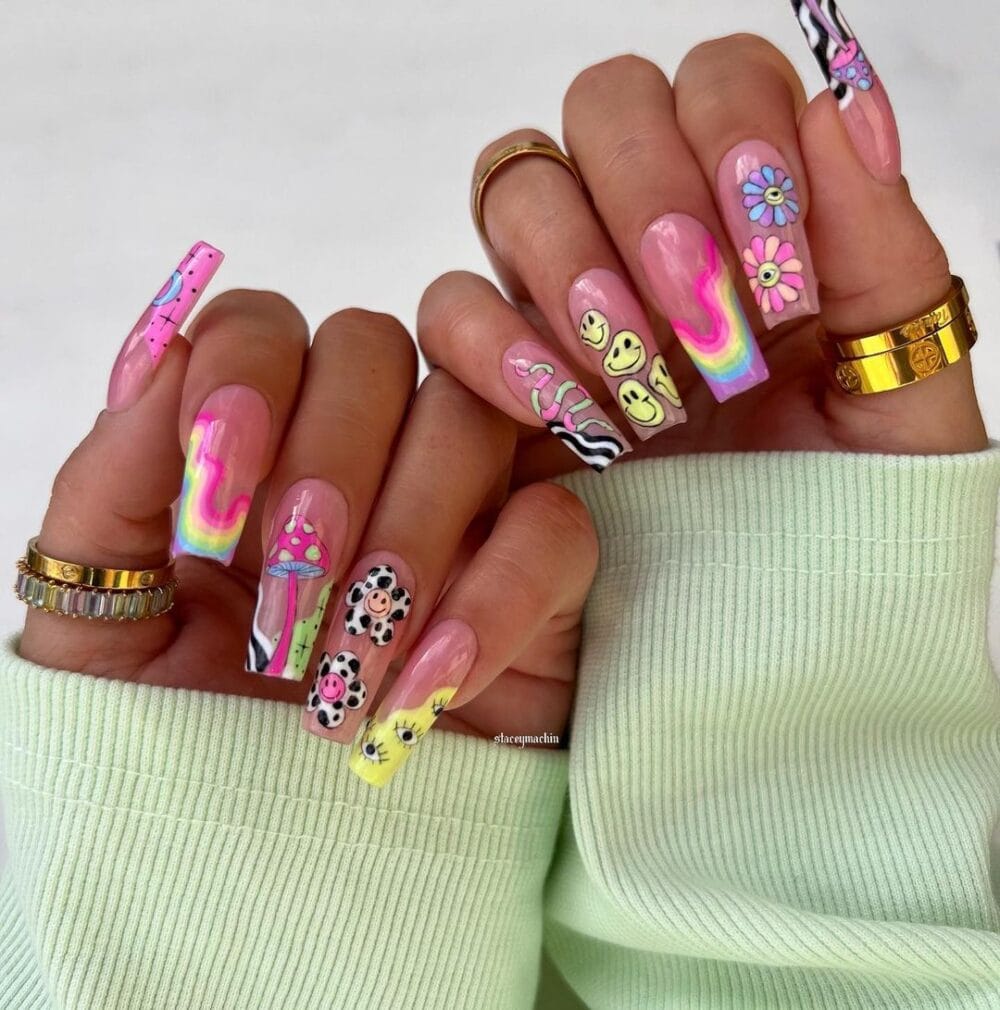 18. Greek Vibes with Blue Swirl Nails

19. Vibrant Green Botanical Nails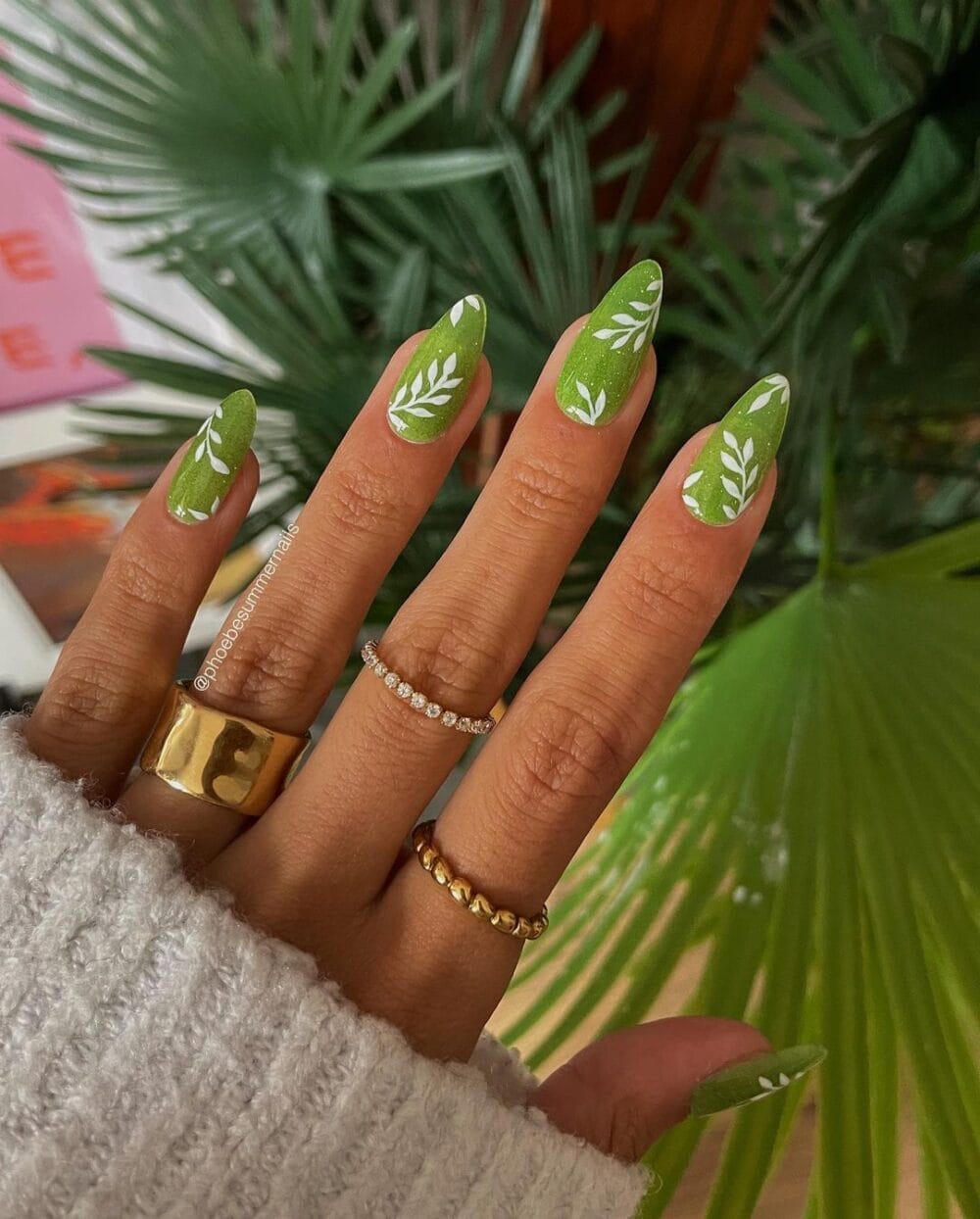 20. Orange French Tips

21. Fruit Nails & Blue Nails Combo

22. Colorful Summer Stripes

23. White Florals with Marble Leaves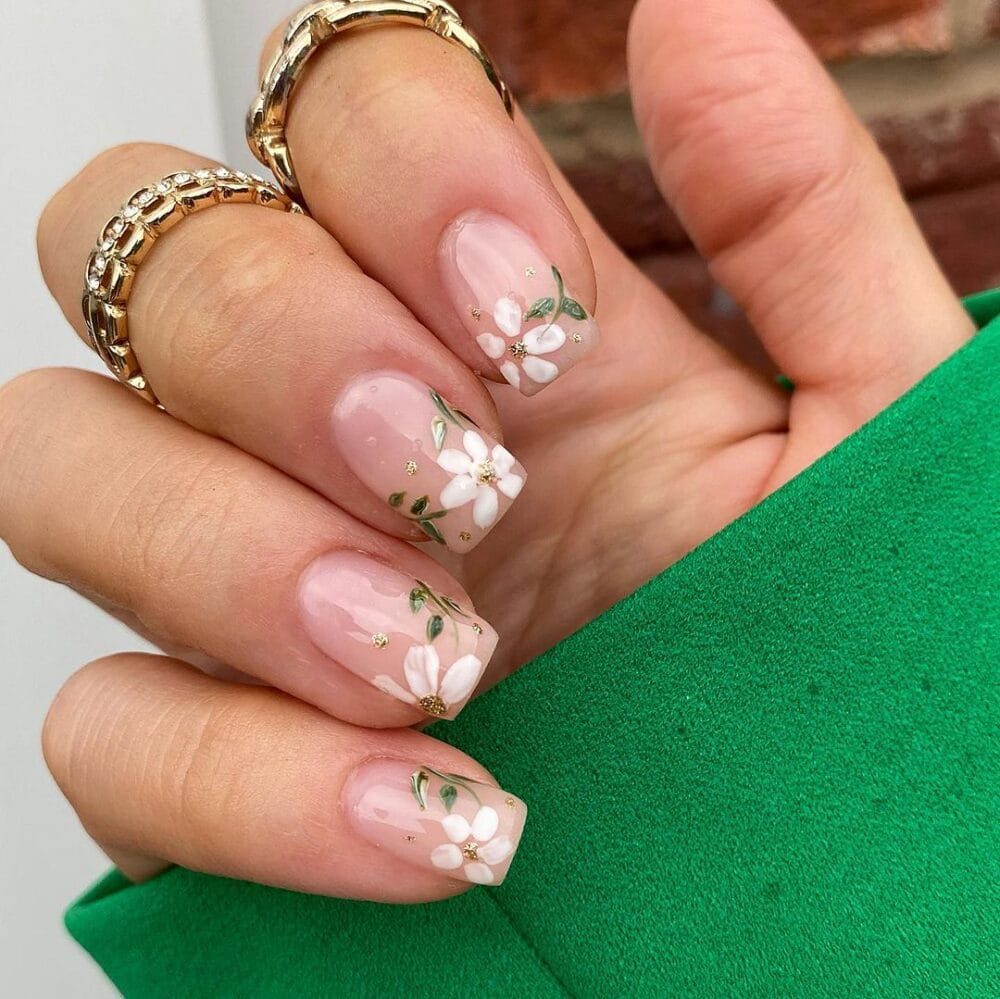 24. Blue and Bright Yellow with Floral Accents

25. Adorable Mix and Match Nails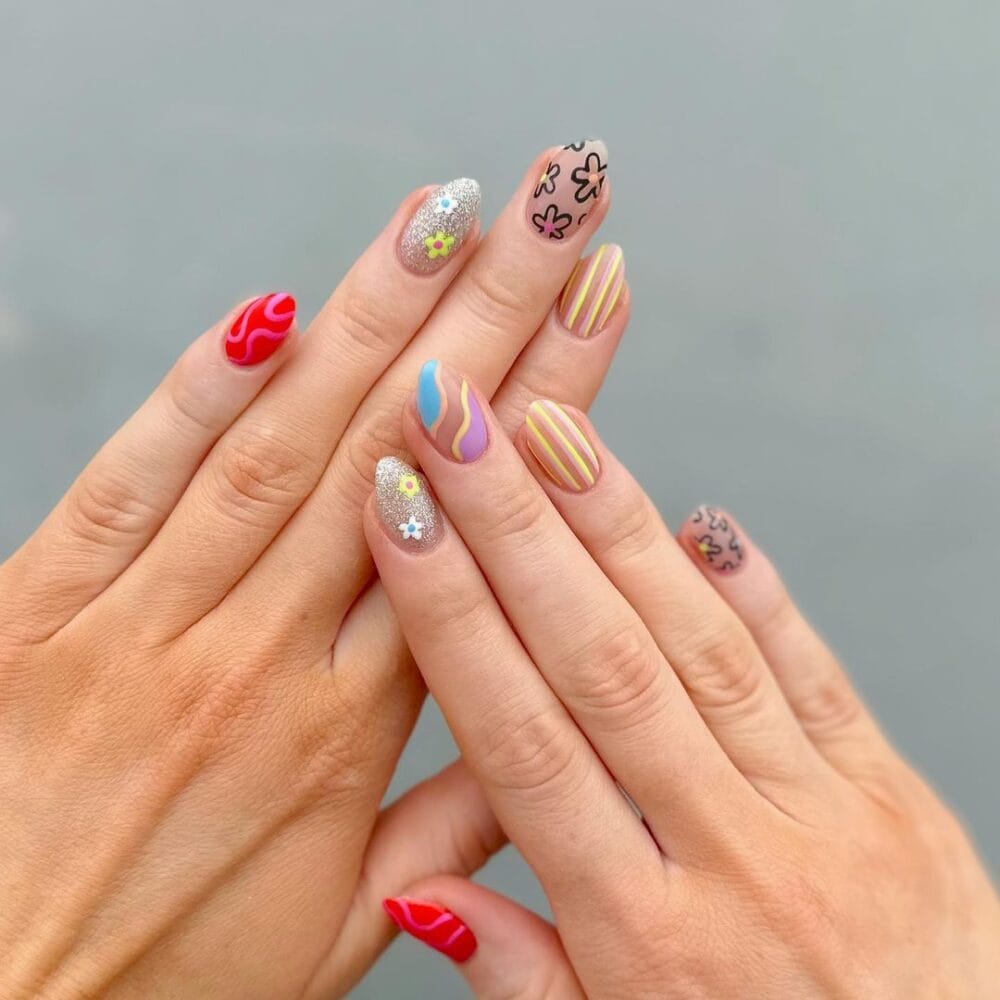 26. Bright Nails with Abstract Geometric Pattern

27. Lime Green and Bright Blue Combo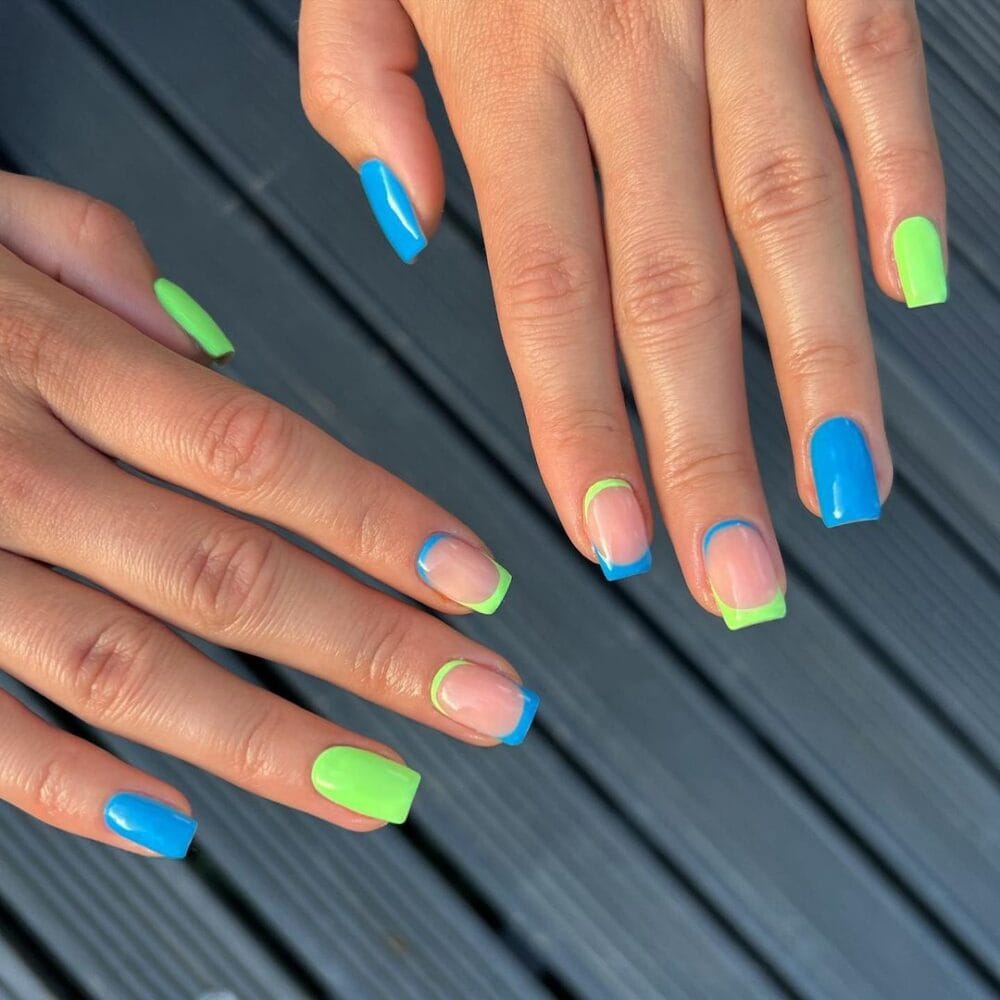 28. Watermelon and Lime Nail Art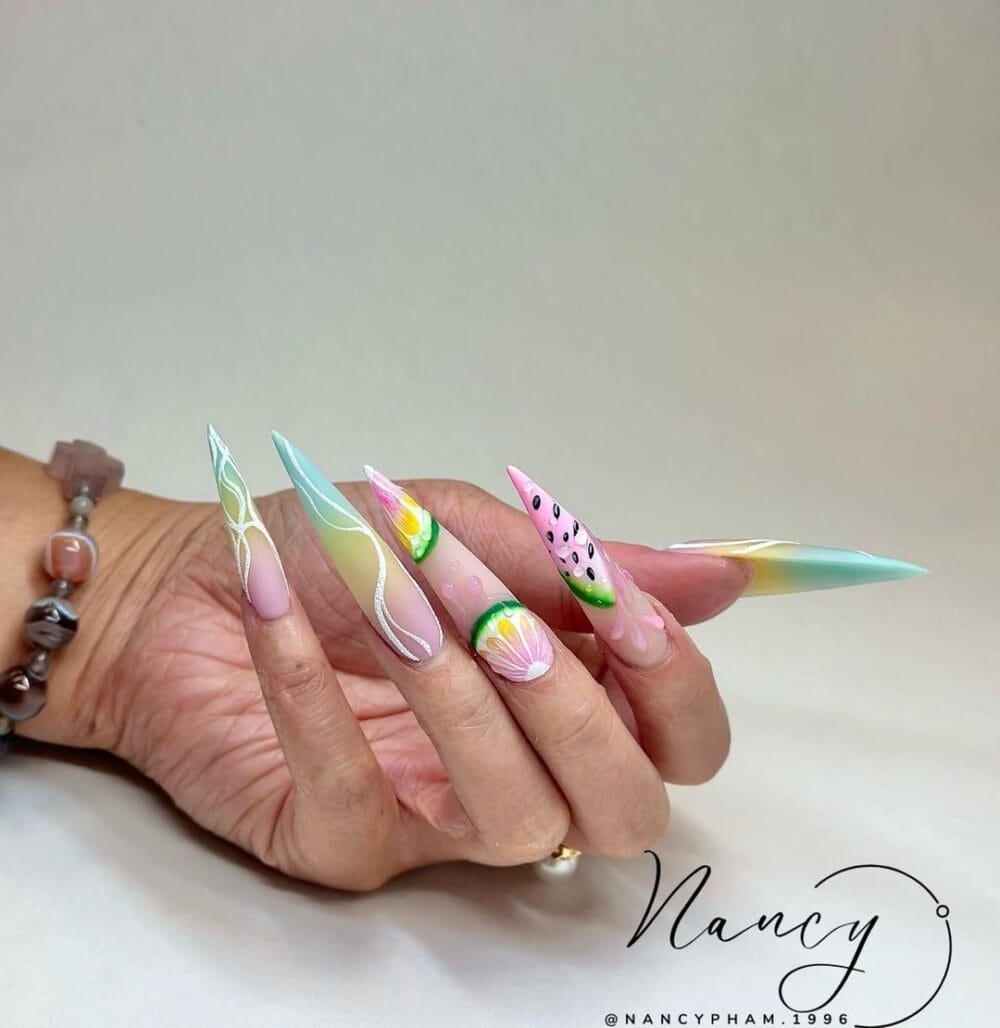 29. Pink and Red Combo with Flowers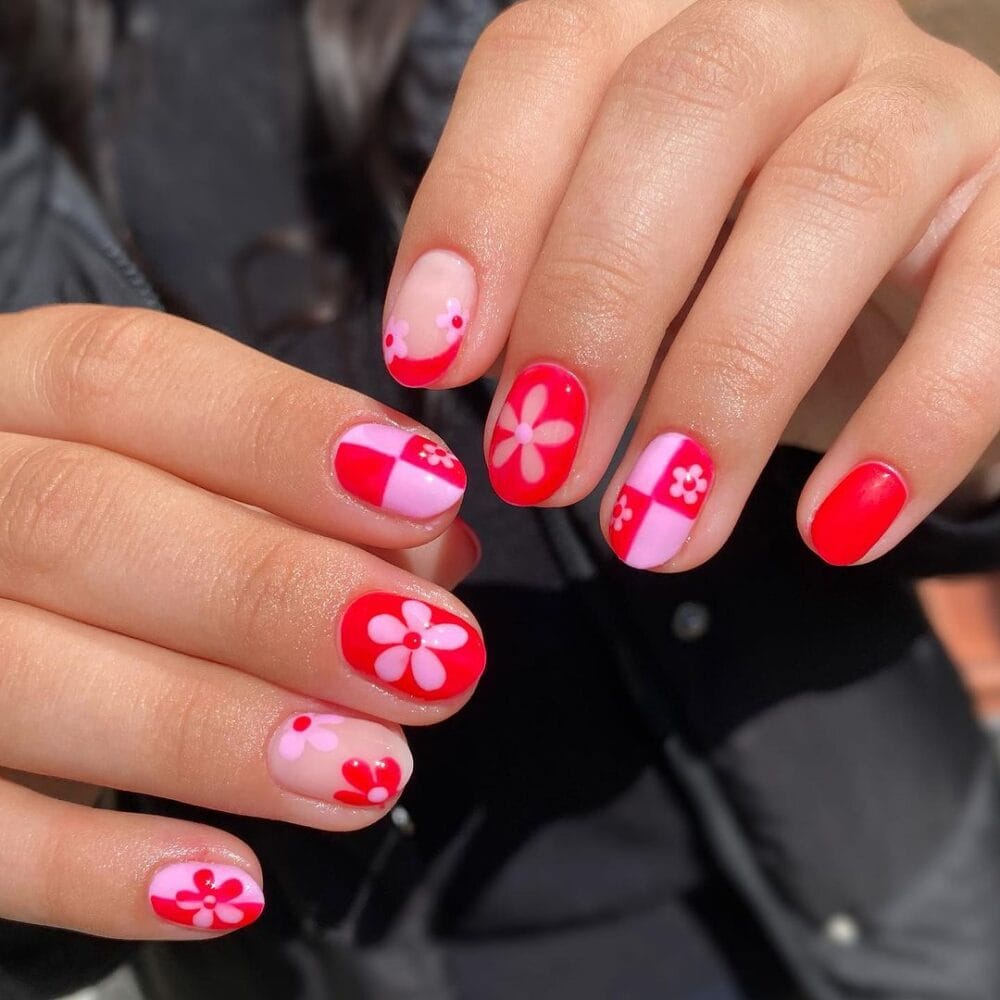 30. Cute Little Abstract Blobs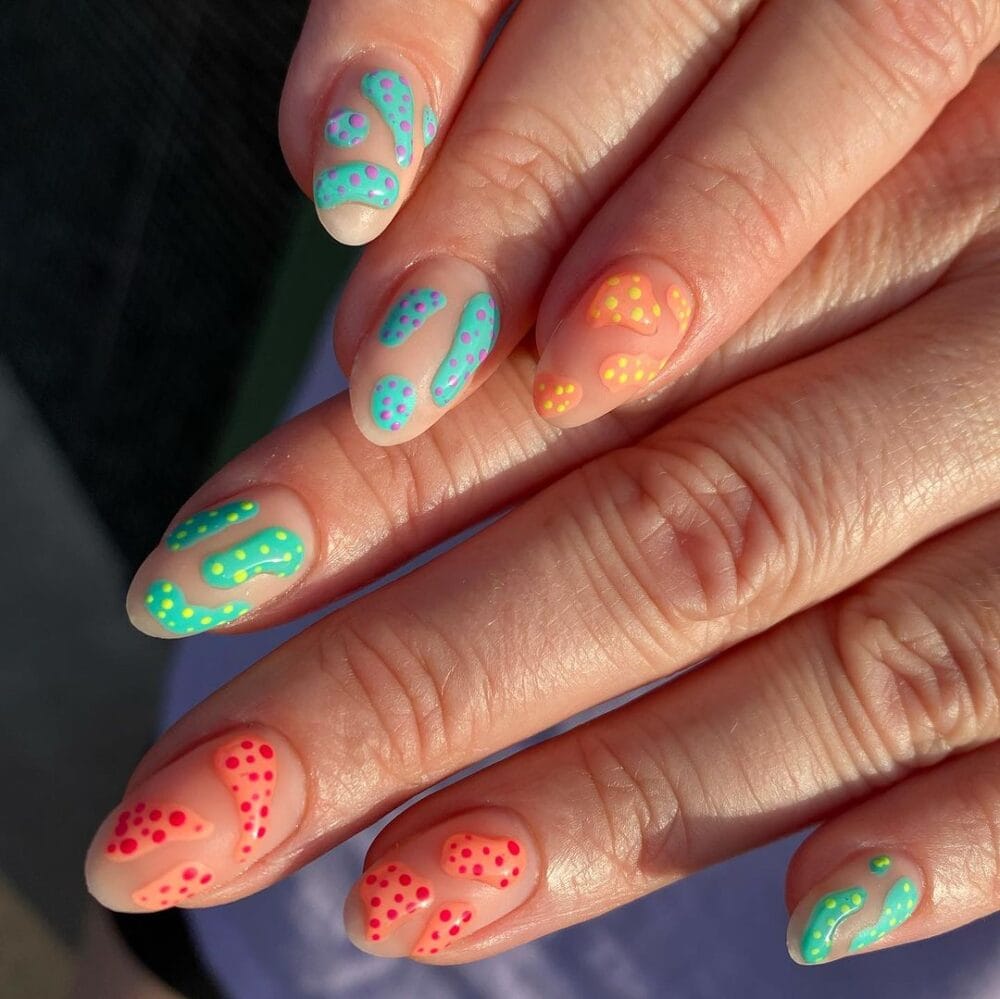 31. Hearts and Cherries with a Hint of Blue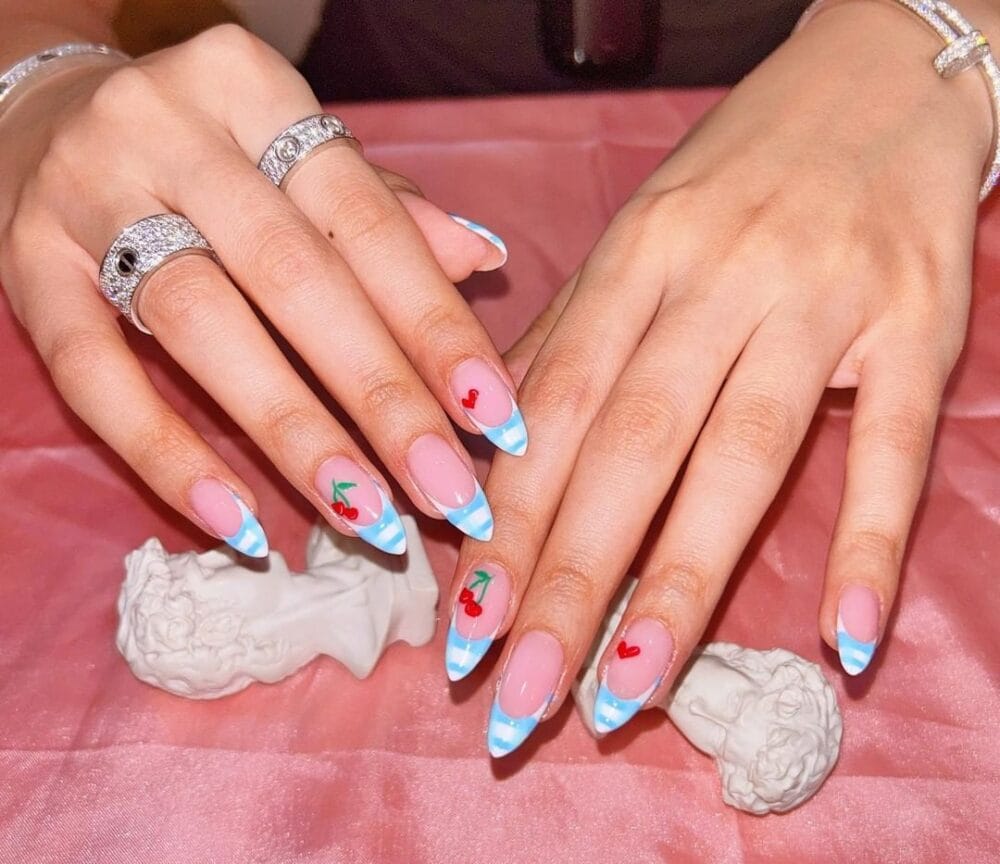 32. Elegant Orange Nails

33. Pink Nails Inspired by 80s Pink Glassware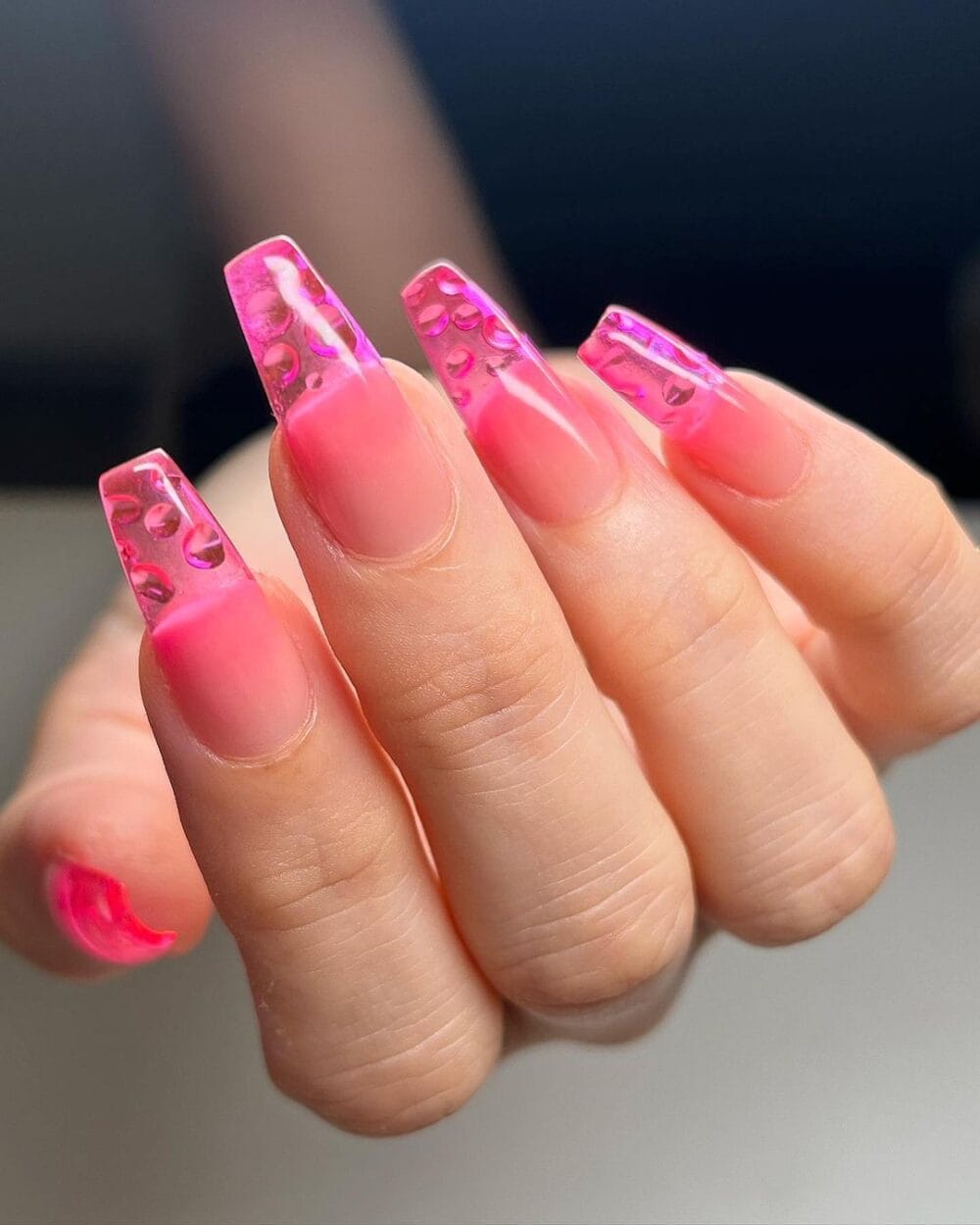 34. Fun Frog Nails with Cherries and Mushrooms

35. Classic French Tips with White Flowers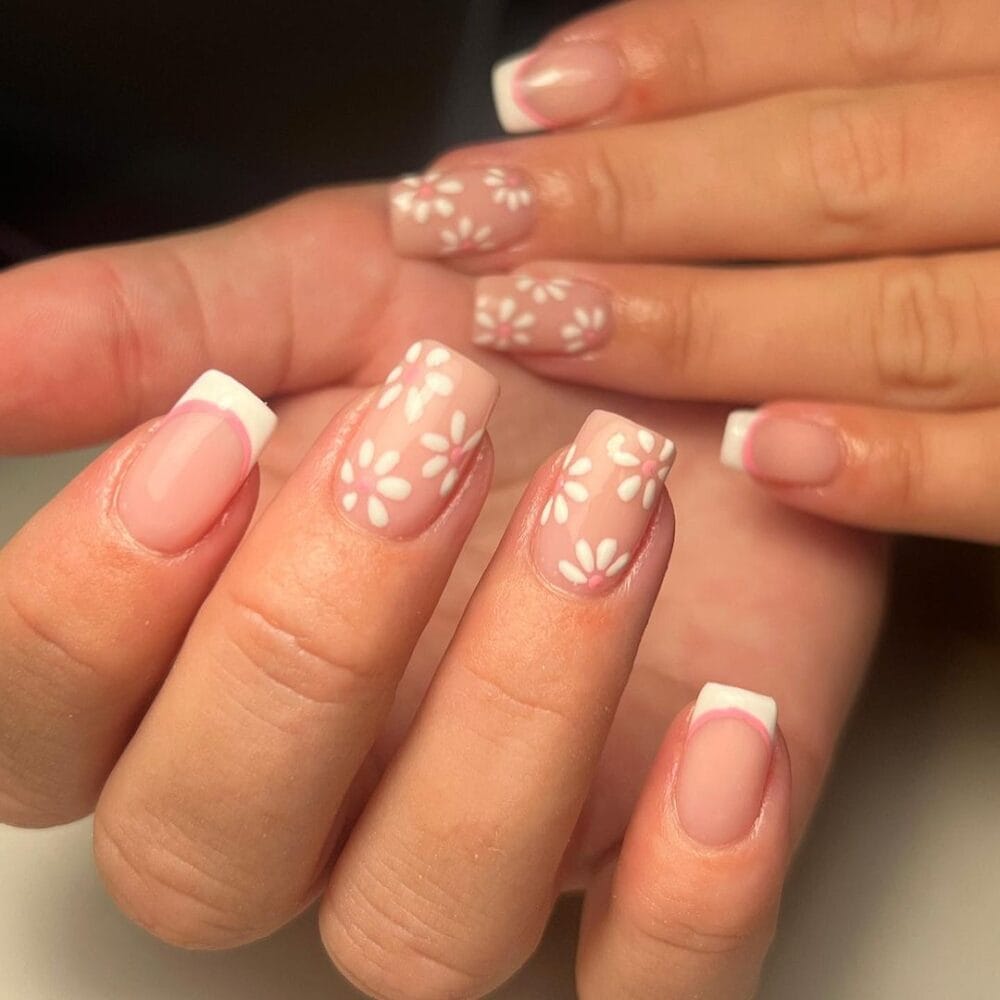 36. Neon French Tips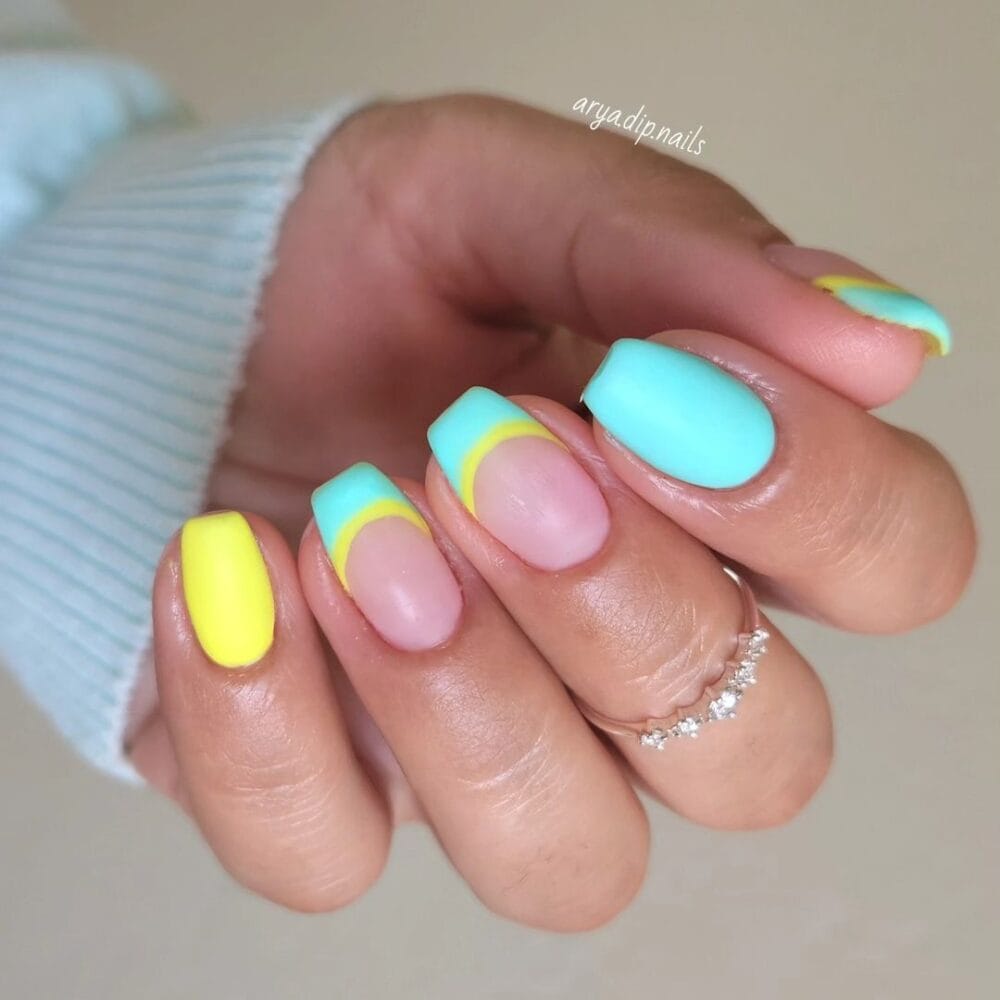 37. Abstract Nail Art with Bright Colors

38. Summer Nails with Stripes

39. Vacation Themed Nails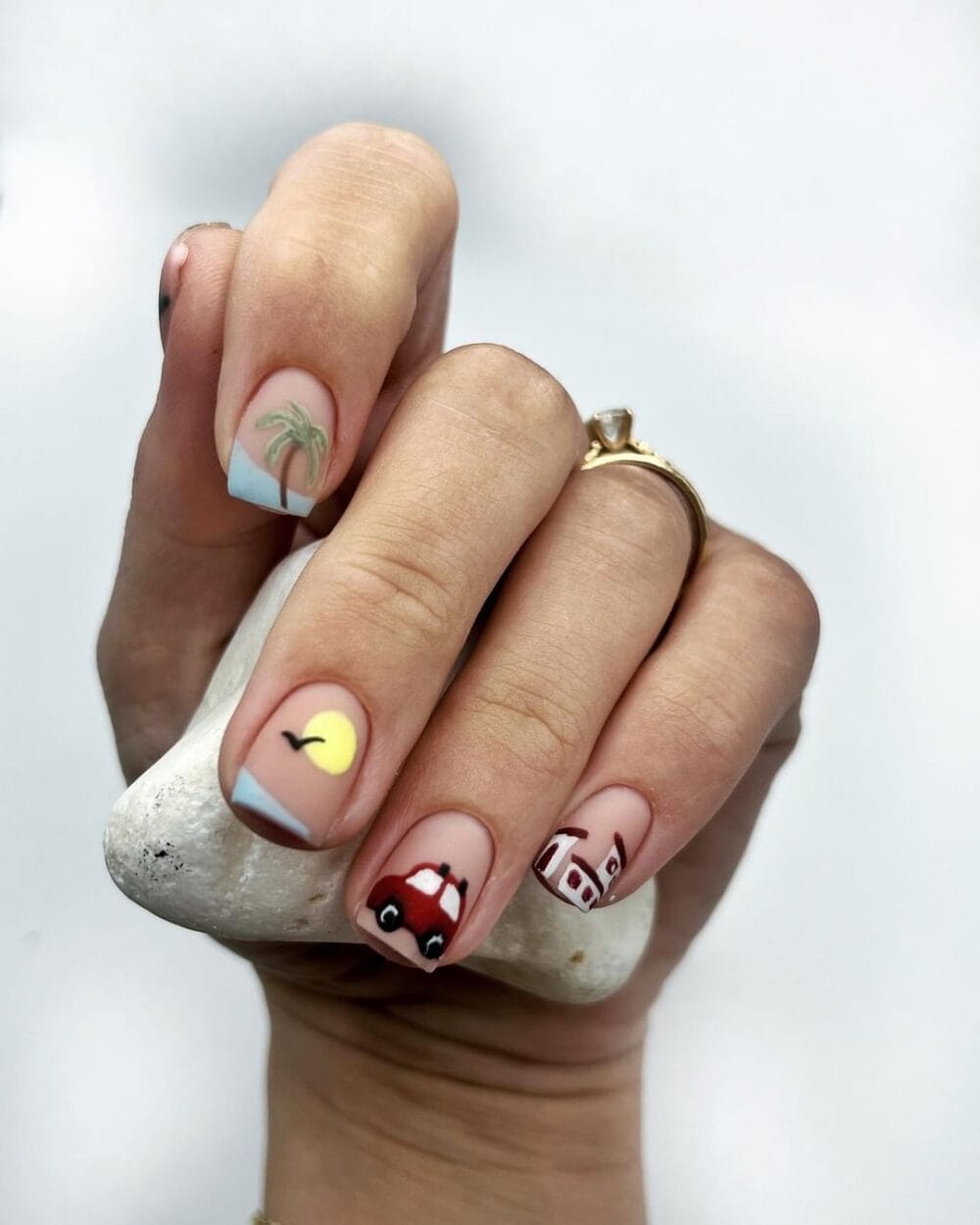 40. Crazy Cute Abstracts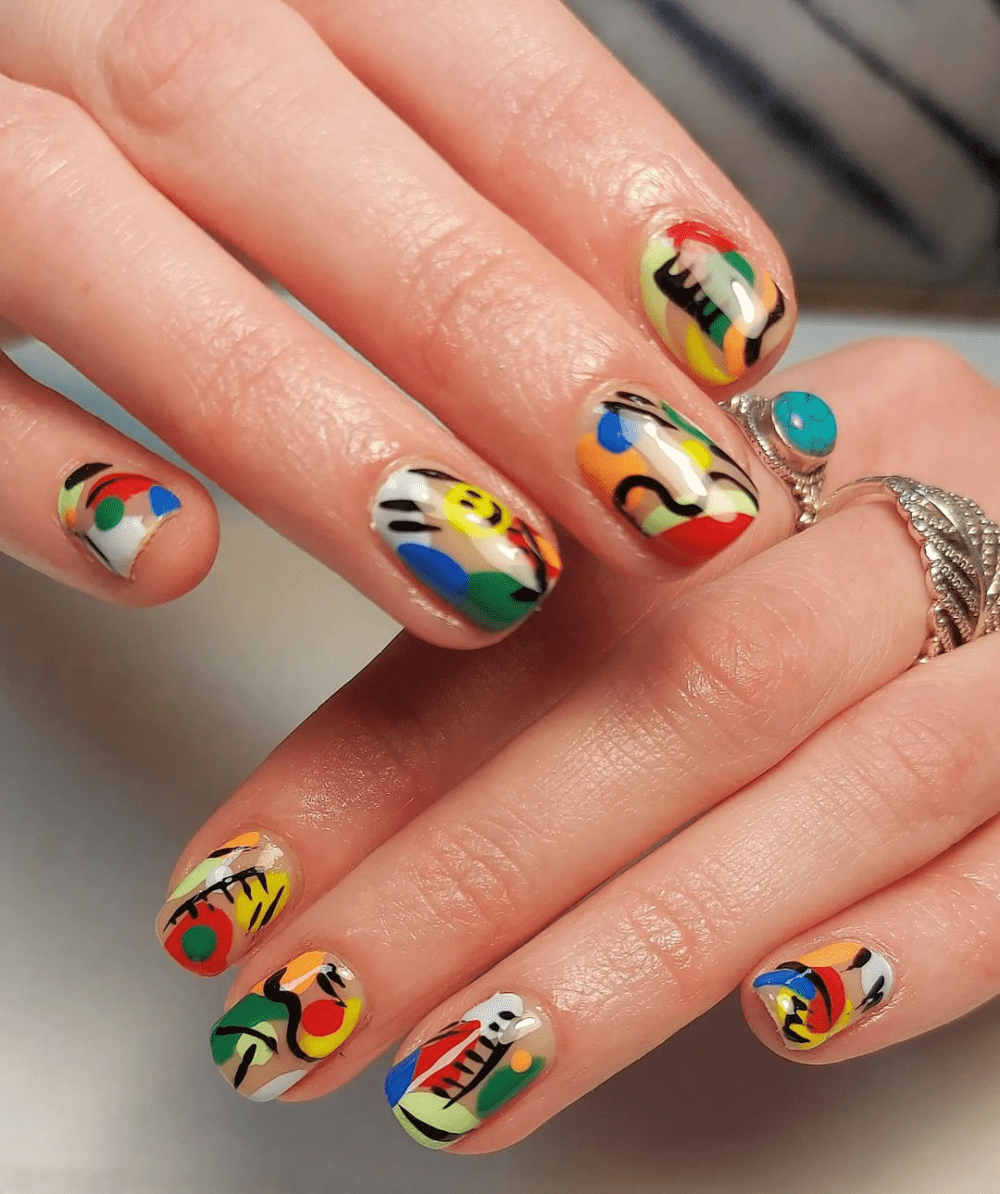 41. Rainbow Ombre Nails

42. Beach Nails Featuring Starfish and Ocean

43. Fresh Lemon Nails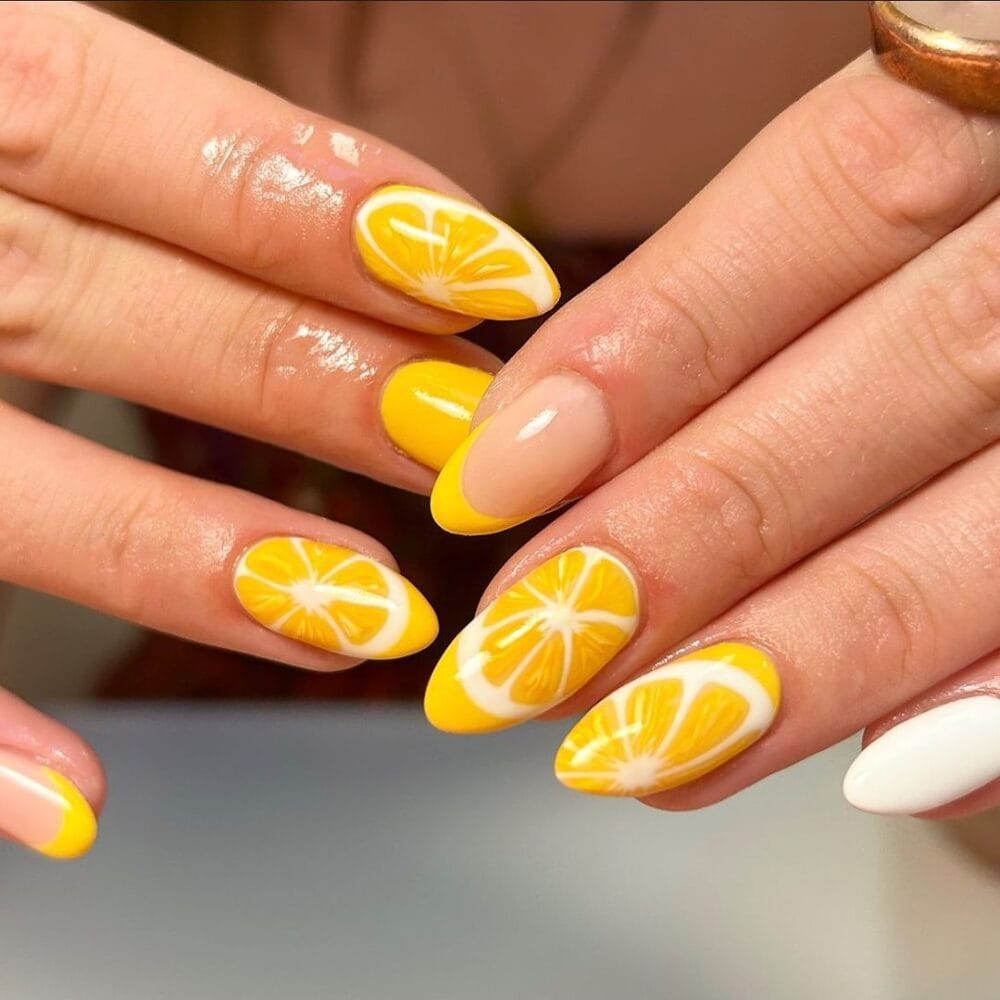 44. Tile Nails with Yellow Florals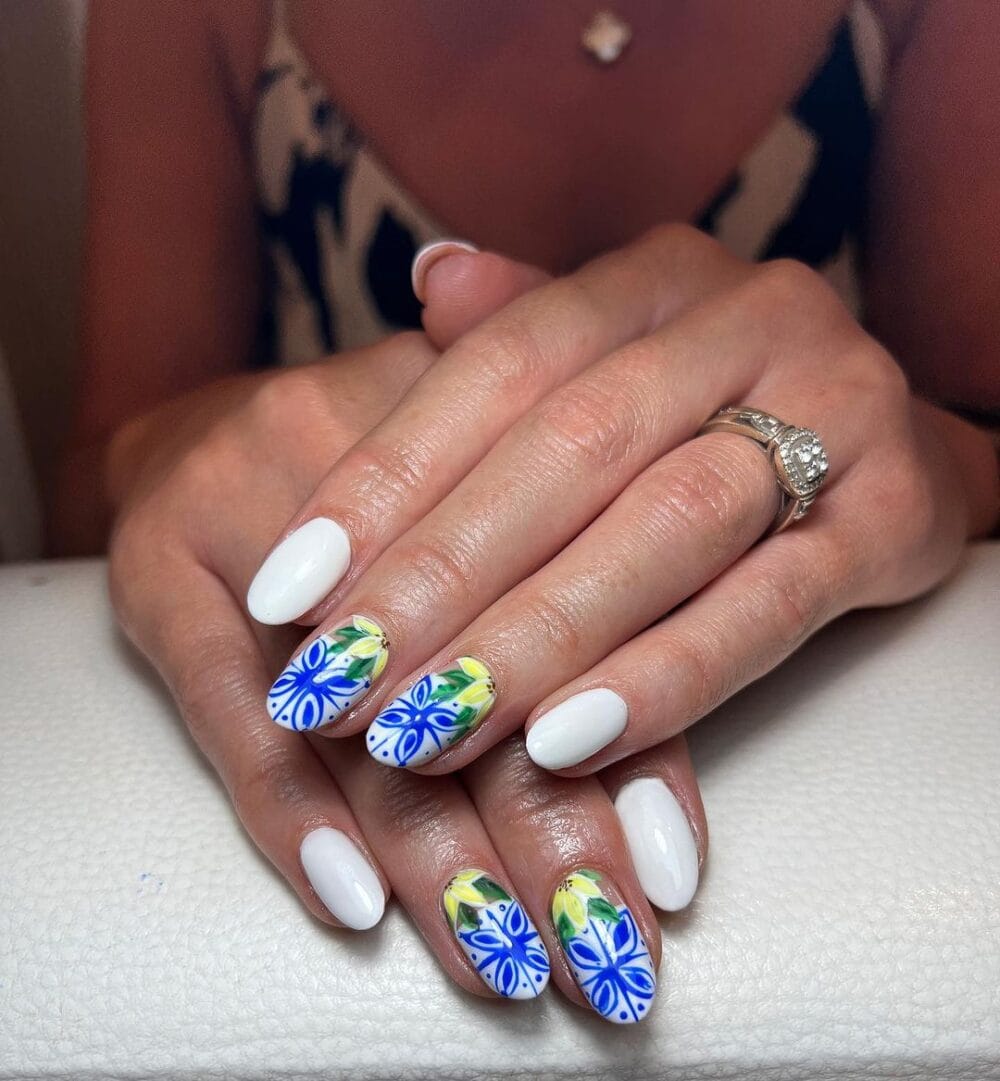 45. Bright Summer Colors with Botanical Patterns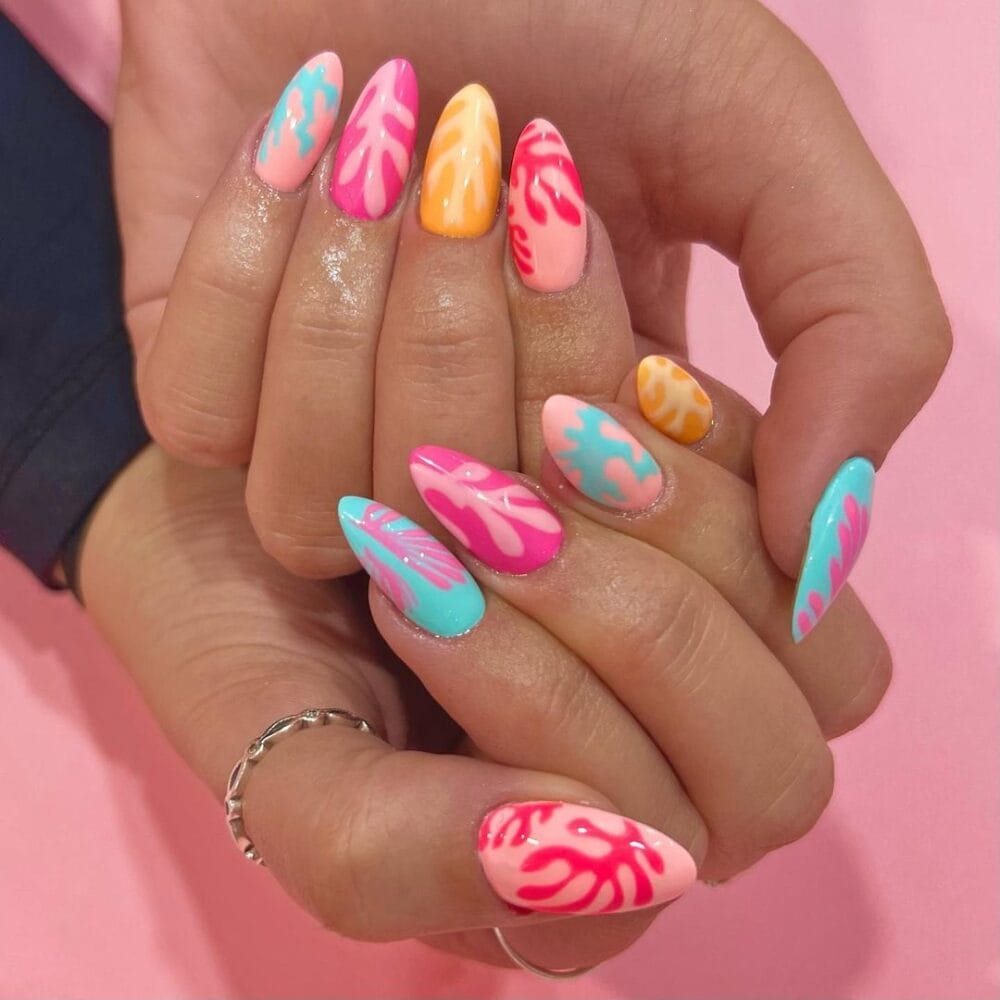 46. Gorgeous Combination of Blue Shades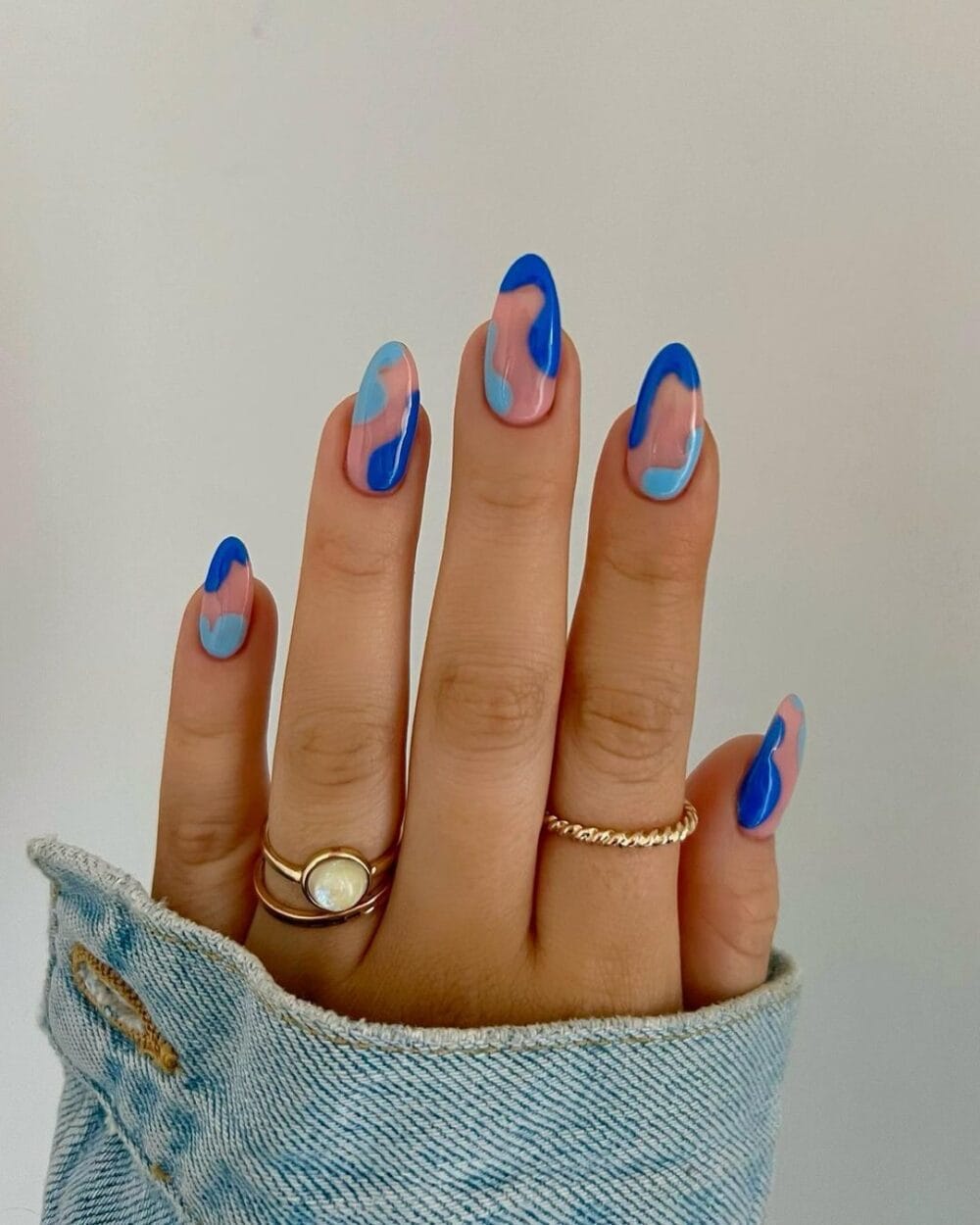 47. Pastel Squiggles and Blobs

48. Playful Mix and Match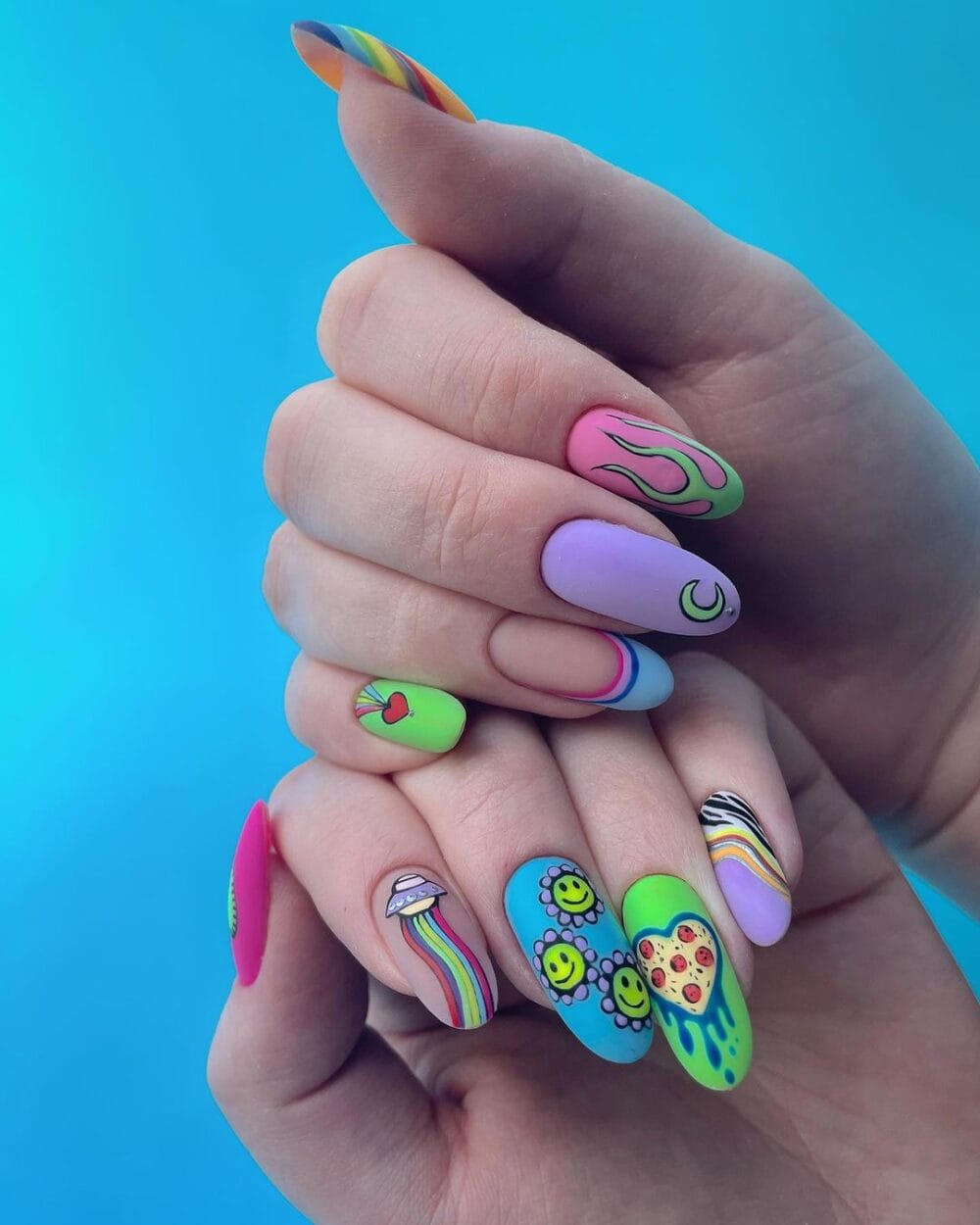 Conclusion
And there you have it, fellow nail art enthusiasts – your ultimate guide to rocking the hottest summer nail designs of 2023!
Whether you're all about bold and vibrant colors, subtle pastels, or funky and abstract creations, this season has something for everyone.
With a plethora of supplies at your fingertips, along with a healthy dose of creativity and a touch of summer inspiration, you're well-equipped to transform your nails into miniature works of art that capture the essence of the sun-soaked days and balmy nights.
So go ahead, experiment, express yourself, and flaunt those fabulous summer nails wherever you go. Happy painting!

FAQs (Frequently Asked Questions)
1. Can beginners achieve these nail designs at home?
Many of the designs showcased are adaptable to various skill levels. Start with simpler designs and gradually work your way up to more intricate ones as you gain confidence and experience.
2. Do I need special tools to create these nail designs?
While specialized nail art brushes, stencils, and tools can enhance your designs, you can also achieve stunning results using household items like toothpicks, bobby pins, and tape.
3. How can I make my nail art last longer?
Using a quality base coat and top coat is key to extending the life of your nail art. Additionally, avoid exposing your nails to excessive moisture, and consider wearing gloves when doing chores to protect your designs.
4. Can I mix and match different nail designs?
Absolutely! The beauty of nail art is that it's entirely customizable. Feel free to mix and match different designs, colors, and techniques to create a unique look that's all your own.
5. What if I make a mistake during the process?
Don't worry! Mistakes are part of the creative process. Keep some cotton swabs and nail polish remover handy to clean up any smudges or errors. Remember, practice makes perfect!