This post may contain affiliate links, which means I'll receive a commission if you purchase through my links, at no extra cost to you. Please read our full disclosure for more information.
Welcome to the ultimate guide on how to achieve a perfect manicure at home!
Taking care of your nails and creating beautiful nail art is not only a form of self-expression but also a fun and rewarding experience.
In this comprehensive article, we'll cover everything you need to know to master the art of DIY manicures and elevate your nail game.
Share on Pinterest: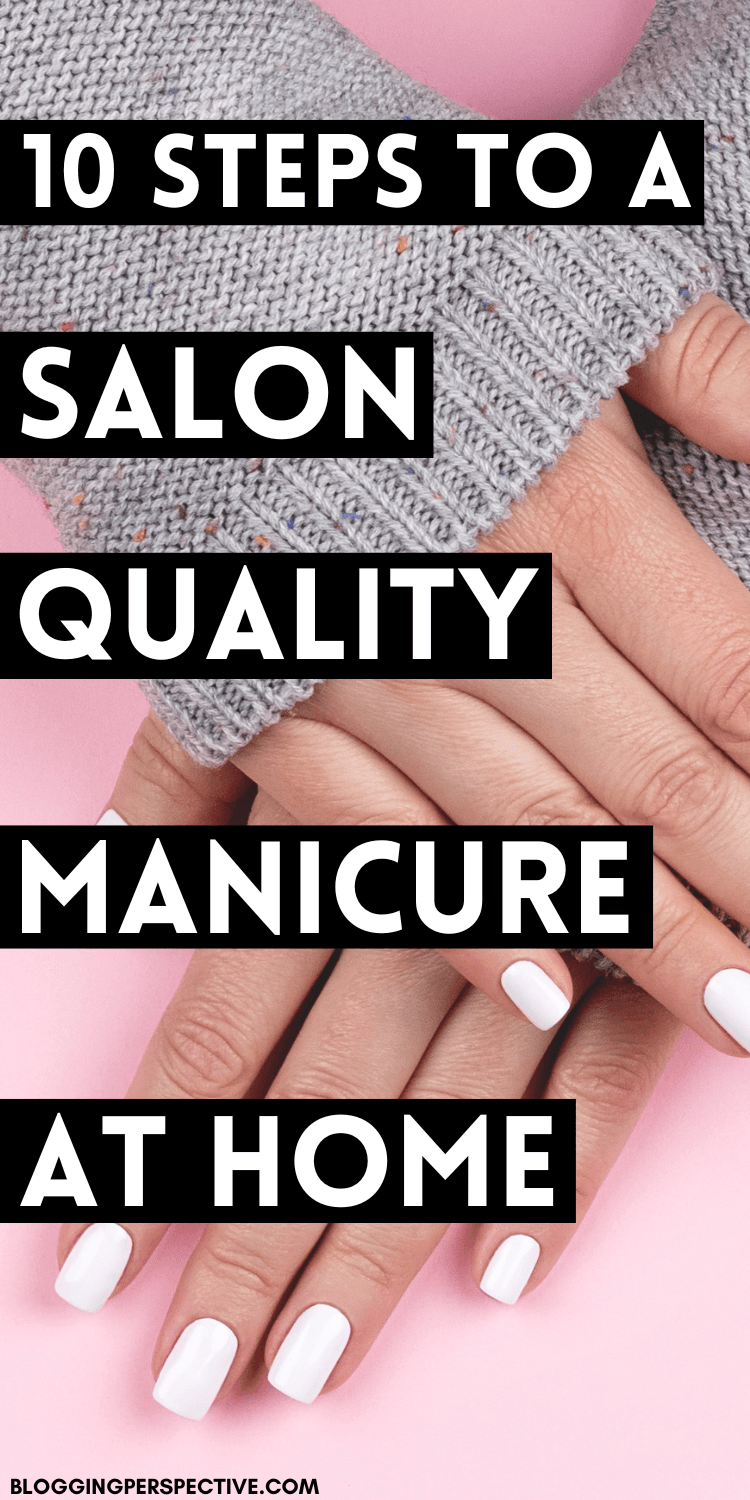 1. What tools do I need for a perfect manicure at home?
Having the right tools is the first step towards achieving salon-worthy nails at home.
While the basic tools like nail clippers, nail file, cuticle pusher, and nail polish are essential, let's dive deeper into some additional tools that can take your manicure to the next level:
Nail Clippers: Start with a good pair of nail clippers to trim your nails to the desired length before shaping them.
Nail File: A high-quality nail file is essential for shaping and smoothing the edges of your nails. Opt for a fine-grit file to prevent unnecessary damage.
Cuticle Pusher: A cuticle pusher helps gently push back the cuticles, creating a clean nail bed for polish application.
Cuticle Trimmer: For those with excess or overgrown cuticles, a cuticle trimmer or nipper can be used to carefully remove any excess skin.
We recommend:
Nail Buffer: A nail buffer helps create a smooth and shiny surface on your nails. It can also be used to gently remove ridges and imperfections.
We recommend:
>
Base Coat: Applying a base coat is crucial for protecting your natural nails from staining and creating a smooth surface for nail polish.
Top Coat: Seal the deal with a top coat to add shine, protect the polish, and extend the life of your manicure.
We recommend:
Nail Polish: Choose your favorite nail polish color to express your personality and style. From classic reds to trendy pastels, the choices are endless!
We recommend:
Nail Polish Remover/Acetone: When it's time to change your nail color, a nail polish remover or acetone will do the trick. Opt for non-acetone removers if you have sensitive nails.
Cotton Pads: Use cotton pads or balls with nail polish remover for easy and efficient nail polish removal.
We recommend:
If you have all of the above, you are all set for a perfect manicure at home. However, for a more advanced manicure look, consider the following tools as well:
Nail Stamping Kit: For those interested in nail art, a nail stamping kit is a fun addition to your manicure arsenal. It allows you to transfer intricate designs onto your nails with ease.
Dotting Tools: Get creative with dotting tools! They come in various sizes and are perfect for creating polka dots and intricate designs.
Striping Tape: Add clean lines and geometric patterns to your nails with striping tape. It's an easy way to achieve a professional look.
Nail Vinyls/Stencils: Nail vinyls or stencils make nail art effortless. Simply stick them onto your nails, paint over, and peel off to reveal stunning designs.

2. How do I prepare my nails before starting the manicure?
Prepping your nails properly is the key to a long-lasting and flawless manicure. Let's delve into the preparation process in more detail:
Step 1: Shape Your Nails
Choose a nail shape that complements your hands and style. Whether it's square, round, oval, almond, or stiletto, filing your nails to the desired shape is the first step.
Step 2: Soften Cuticles
Soak your hands in warm, soapy water for a few minutes to soften the cuticles. This makes it easier to push them back gently and remove any excess skin.
Step 3: Push and Trim Cuticles
Using a cuticle pusher, gently push back your cuticles. Avoid cutting them too aggressively, as they serve as a protective barrier for your nails.
Step 4: Buff Your Nails
Lightly buff the surface of your nails to create a smooth canvas for the polish to adhere to. However, avoid over-buffing, as it can weaken the nails.
Step 5: Cleanse Your Nails
Before applying any polish, cleanse your nails with nail polish remover to remove any oils or residues that could interfere with the adhesion.
Here are a few of my favourite video tutorials which you can follow along:

3. How can I promote healthy nails during the manicure process?
Nail health should be a top priority during your manicure journey. Here are some additional tips to ensure your nails stay strong and healthy:
Hydrate Your Nails
Keep your nails hydrated by regularly applying cuticle oil or a moisturizing nail serum. This prevents your nails from becoming dry and brittle.
Use a Nail Strengthening Base Coat
If your nails are prone to breakage or splitting, consider using a nail strengthening base coat to provide extra support.
Give Your Nails a Break
As much as you love experimenting with different nail polishes and designs, give your nails a breather between manicures to prevent damage and allow them to recover.
Also read: How to Smell Amazing All Day Long: 18 Tips and Tricks

4. What are some common mistakes to avoid during a home manicure?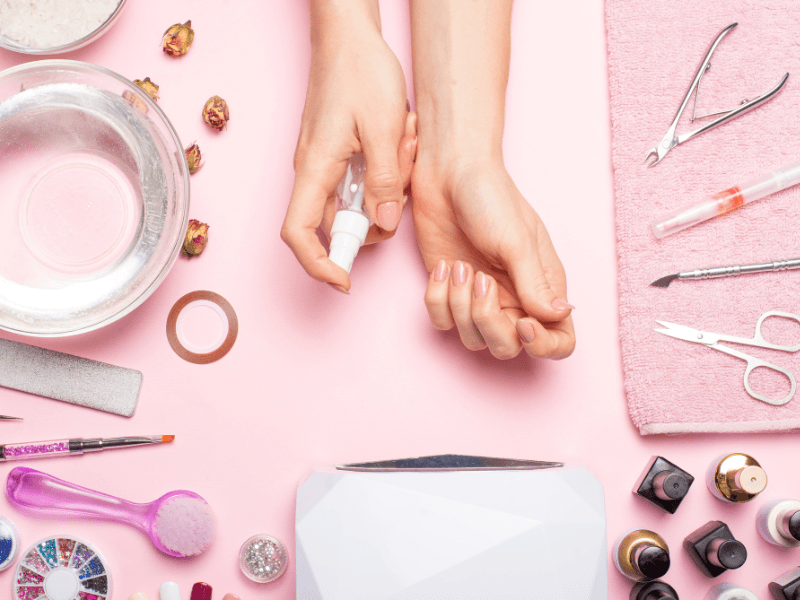 Perfecting the art of DIY manicures takes time and practice. Here are some additional common mistakes to steer clear of:
Skipping the Nail Prep: Rushing through the preparation process can lead to uneven polish application and premature chipping.
Shaking the Nail Polish Bottle: Instead of shaking the nail polish bottle vigorously, gently roll it between your palms to avoid creating air bubbles.
Using Old Nail Polish: Using old and clumpy nail polish can result in streaky and uneven coverage. Invest in fresh nail polishes for the best results.
Overloading the Brush: Avoid loading too much polish on the brush to prevent excess pooling and messy application.
Forgetting the Top Coat: Don't skip the top coat! Applying a good-quality top coat helps seal the color and adds shine, ensuring a longer-lasting manicure.

5. How can I make my manicure last longer?
A little extra effort can significantly extend the lifespan of your DIY manicure. Let's explore some practical tips to maximize the longevity of your nail art:
Wrap the Tips: After applying the base coat, color, and top coat, gently swipe the polish along the tips of your nails to seal them. This "wrapping" technique helps prevent chipping.
Reapply Top Coat: Every few days, apply an additional layer of top coat to refresh the shine and protect your nails from daily wear.
Wear Gloves for Chores: Whenever you're doing household chores or using cleaning products, protect your nails by wearing gloves to avoid chipping and staining.
Avoid Soaking Nails: Prolonged exposure to water can cause the polish to lift from the nail bed. While washing dishes or bathing, try to wear protective gloves to preserve your manicure.
Nail Glue for Repairs: If you experience a minor chip, you can use nail glue to repair it temporarily. Apply the glue, buff it gently, and then reapply the top coat for a seamless look.

6. What are some trendy nail art ideas I can try at home?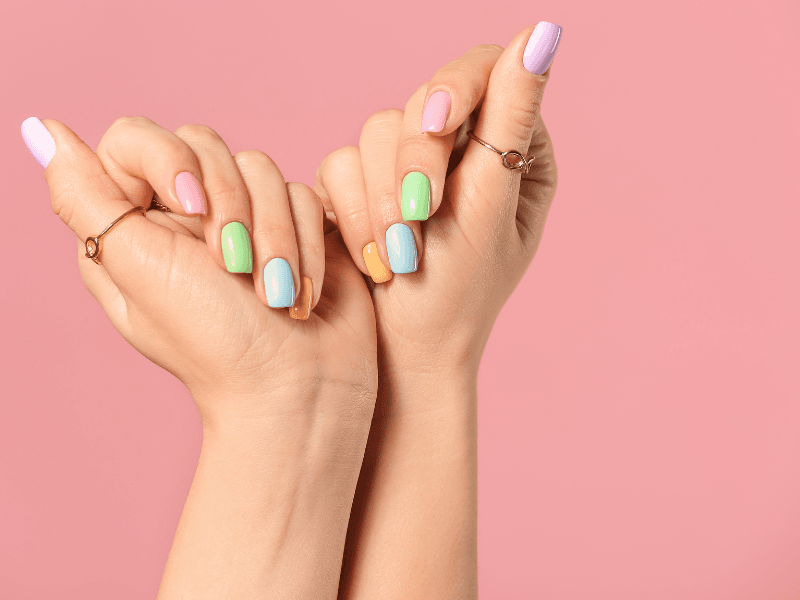 Unleash your creativity and have fun experimenting with these popular nail art ideas:
Negative Space Manicure: Leave a portion of your nail bare to create unique and eye-catching designs.
Chrome Nails: Achieve a mirror-like finish with chrome powder or nail wraps, giving your nails a futuristic and glamorous look.
Tie-Dye Nails: Create a tie-dye effect using different colors and a sponge, giving your nails a playful and vibrant appearance.
Animal Print: Embrace your wild side with animal print designs like leopard spots or zebra stripes.
Abstract Art: Experiment with abstract patterns and geometric shapes for a modern and artistic touch.

Related: 40+ Hottest Summer Nail Designs You Must Try This Year

7. How do I fix smudged nail polish during the manicure?
Accidentally smudged your freshly painted nails? Don't worry; it happens to the best of us! Here's how to fix it:
Wait for the Polish to Dry: Allow the nail polish to dry completely. Patience is key to avoiding further mishaps.
Nail Polish Remover and Cotton Swab: Dip a cotton swab in nail polish remover and gently dab the smudged area until it blends with the rest of the nail.

8. Can I use gel nail polish at home?
Absolutely! Gel nail polish is a popular choice for its long-lasting and chip-resistant properties.
It's a bit more involved than regular polish, but with practice, you can achieve salon-quality results at home.
You will need a UV or LED lamp to cure it properly.
Recommended:

Also read: 9 Skincare Mistakes Most People Make

9. How do I remove gel nail polish at home?
Removing gel nail polish at home requires a little more effort than regular polish, but it's entirely doable. Here's how:
Buff the Top Layer: Gently buff the top layer of the gel polish to break the seal and make the removal process more accessible.
Soak in Acetone: Soak a cotton ball in acetone, place it on your nail, and wrap it with aluminum foil to hold it in place.
Wait and Remove: Leave the acetone-soaked cotton balls on your nails for about 10-15 minutes. The gel polish should start to lift.
Gently Remove: Gently remove the softened gel polish using a cuticle pusher or a wooden stick. Be careful not to scrape or damage your natural nails.

10. How often should I do a manicure at home?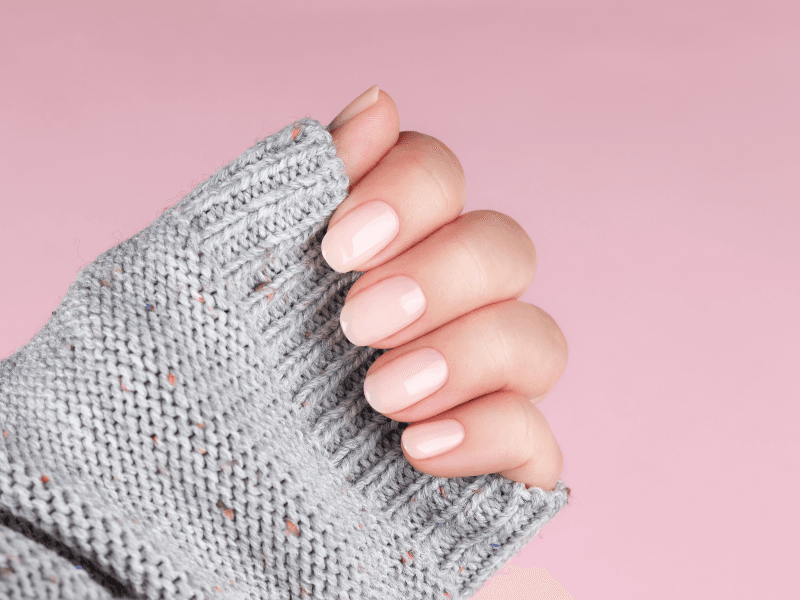 The frequency of your at-home manicures depends on your nail growth and personal preference.
On average, once a week is sufficient for most people.
However, some may choose to do it more often if they prefer having freshly painted nails all the time.

Conclusion
Congratulations! You've now mastered the art of achieving a perfect manicure at home.
Armed with essential tools and knowledge, you can transform your nails into stunning works of art, expressing your unique style and personality.
Remember, practice makes perfect, so don't be afraid to experiment with different nail art ideas and techniques. Whether you prefer classic elegance or bold creativity, this ultimate guide has provided you with the tips, tricks, and inspiration to elevate your DIY manicures to professional levels.
So, gather your favorite nail polishes, unleash your creativity, and embark on a journey of self-expression through the beauty of perfectly manicured nails. Happy manicuring!
TL;DR: Perfect Manicure at Home Tips
| Question | Summary |
| --- | --- |
| What tools do I need for a perfect manicure at home? | Nail clippers, nail file, cuticle pusher, cuticle trimmer, base coat, nail polish, etc. |
| How do I prepare my nails before starting the manicure? | Shape nails, soften cuticles, push and trim cuticles, buff nails, cleanse nails. |
| How can I promote healthy nails during the process? | Hydrate nails, use nail strengthening base coat, give nails a break. |
| What are some common mistakes to avoid during a home manicure? | Skipping nail prep, shaking polish bottle, using old polish, overloading brush, forgetting top coat. |
| How can I make my manicure last longer? | Wrap the tips, reapply top coat, wear gloves for chores, avoid soaking nails, use nail glue for repairs. |
| What are some trendy nail art ideas I can try at home? | Negative space manicure, chrome nails, tie-dye nails, animal print, abstract art. |
| How do I fix smudged nail polish during the manicure? | Wait for polish to dry, use nail polish remover and cotton swab. |
| Can I use gel nail polish at home? | Yes, but you need a UV or LED lamp to cure it properly. |
| How do I remove gel nail polish at home? | Buff the top layer, soak in acetone, remove with a cuticle pusher. |
| How often should I do a manicure at home? | Once a week or as per personal preference. |
Share on Pinterest: