As the leaves turn to their autumnal hues and the air carries a fresh chill, our wardrobes beg for a cuddly transformation.
Sweater outfits, the quintessential heroes of fall and winter fashion, emerge as the perfect blend of comfort and style.
Whether you're sipping pumpkin spiced lattes or strolling through a winter wonderland, a sweater is your trusty companion that promises warmth and a dash of panache.

Related articles you might enjoy:
20+ Adorable Winter Outfits for Freezing Cold Weather
20+ Casual Fall College Girl Outfit Ideas for This Year

How to Style Sweater Outfits
Sweater outfits are more than just a seasonal trend; they're a perennial favorite for their versatility and ease of styling.
This year, the cozy factor is dialed up with oversized knits and textured fabrics taking center stage, making sure that you feel like you're wrapped in a warm hug all day long. From the chunky cable-knits that spell out classic comfort to the sleek cashmere that whispers luxury, sweaters come in an array of styles to suit every taste and occasion.
But it's not just about picking a sweater; it's about crafting the perfect outfit. Here's how you can play around with different styles:
Layer Like a Pro: Start with a basic turtleneck and layer a slouchy cardigan for a casual look, or throw on a belted robe sweater over a midi dress for a touch of sophistication.
Bottoms Up: Pair your sweaters with everything from the timeless denim jeans to leather leggings for an edgy twist. For those who love to twirl, a flared skirt with a fitted sweater makes for an adorable ensemble.
Accessorize Wisely: Elevate your sweater game with the right accessories—think statement necklaces with a V-neck sweater, a beret and scarf combo for that Parisian chic vibe, or a baseball cap and cozy earmuffs for a casual look.
Footwear Matters: Complete your sweater outfit with boots – ankle, knee-high, or combat for a more rugged look. On milder days, loafers or mules can add a relaxed yet put-together finish.
Next, let's look at some seriously cozy and cute sweater outfits, to get you inspired for the cold season!

Minimalist Black Sweater Outfit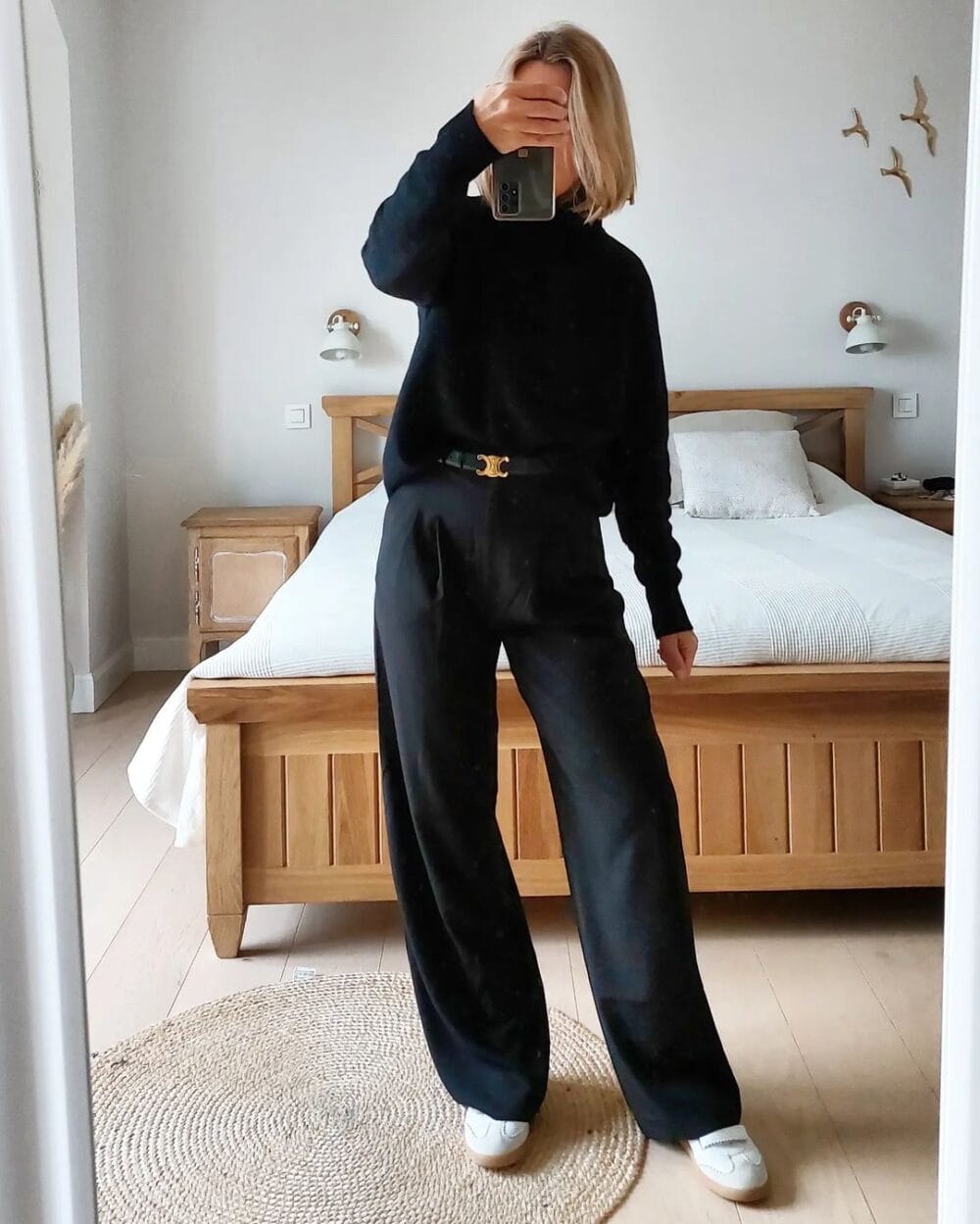 Photo: thinklikeyoda
Embrace the art of simplicity with a minimalist black sweater. Its sleek silhouette is endlessly versatile, making it the perfect canvas for your favorite accessories. Try it with high-waisted trousers and a bold statement necklace for a look that's effortlessly stylish.

All-White Sweater Outfit with Maxi Skirt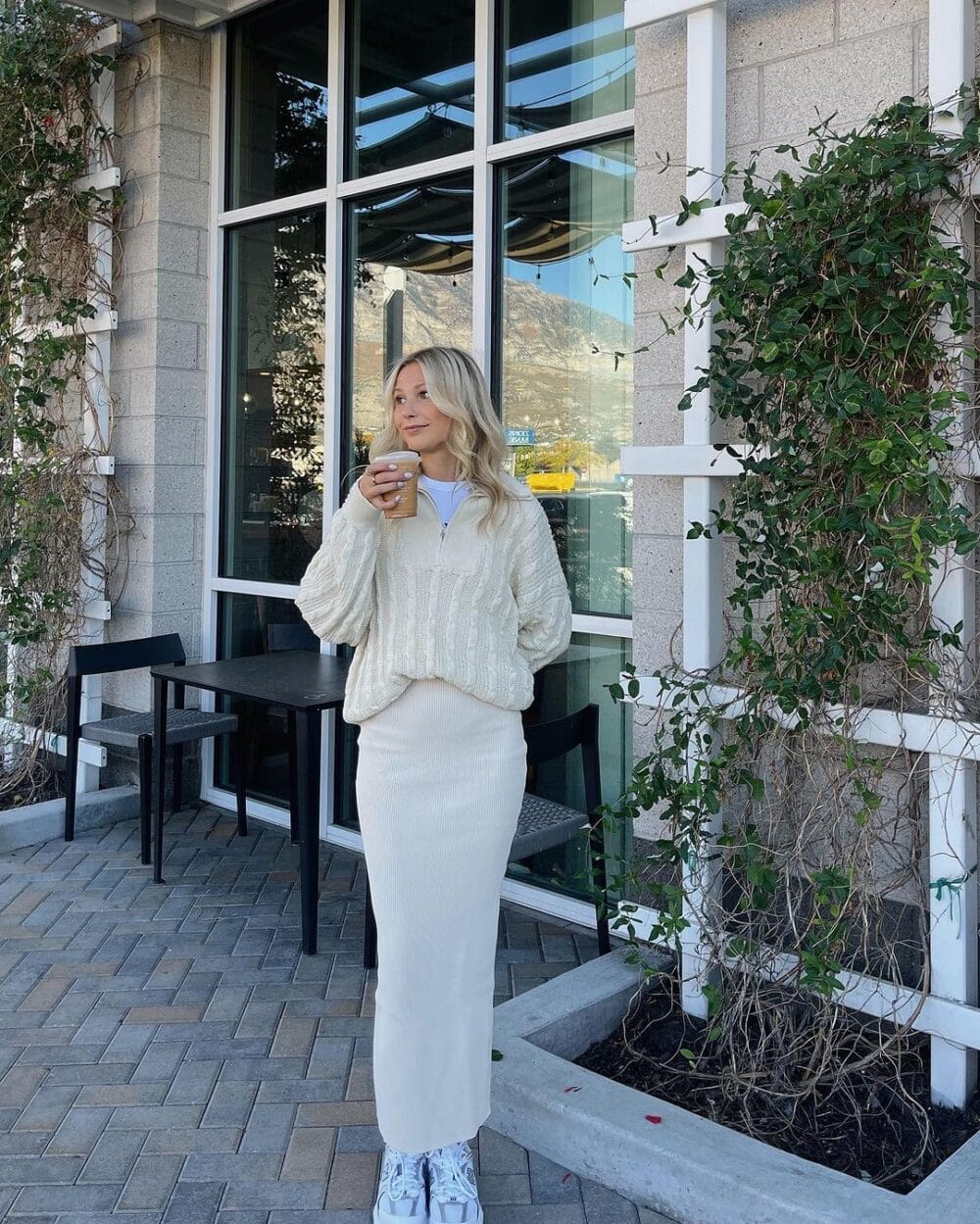 Photo: alexa.ritter
An all-white ensemble brings a touch of elegance to sweater season. The combination of a cozy sweater with a flowing maxi skirt creates a harmonious balance between comfort and sophistication. It's an outfit that will make you stand out in a sea of autumn shades.

Vintage Autumn Sweater Outfit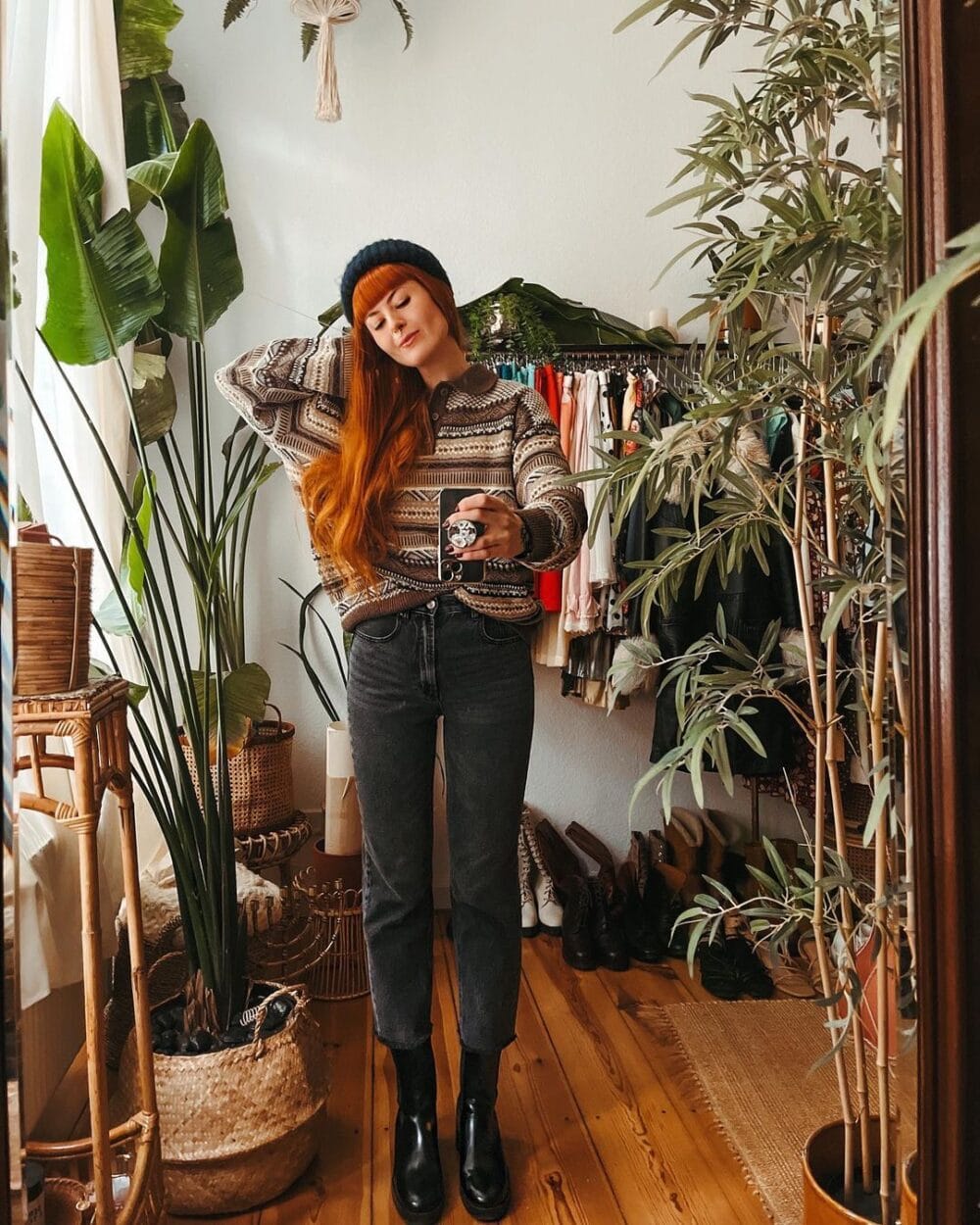 Photo: viorosie
Nothing says 'fall fashion' like a vintage-inspired sweater. The rich, warm tones and classic patterns evoke a sense of nostalgia while keeping you snug. Pair with high-rise jeans and mid-calf boots for a day of apple picking or a casual coffee date.

Sweater Outfit with Skirt and Winter Accessories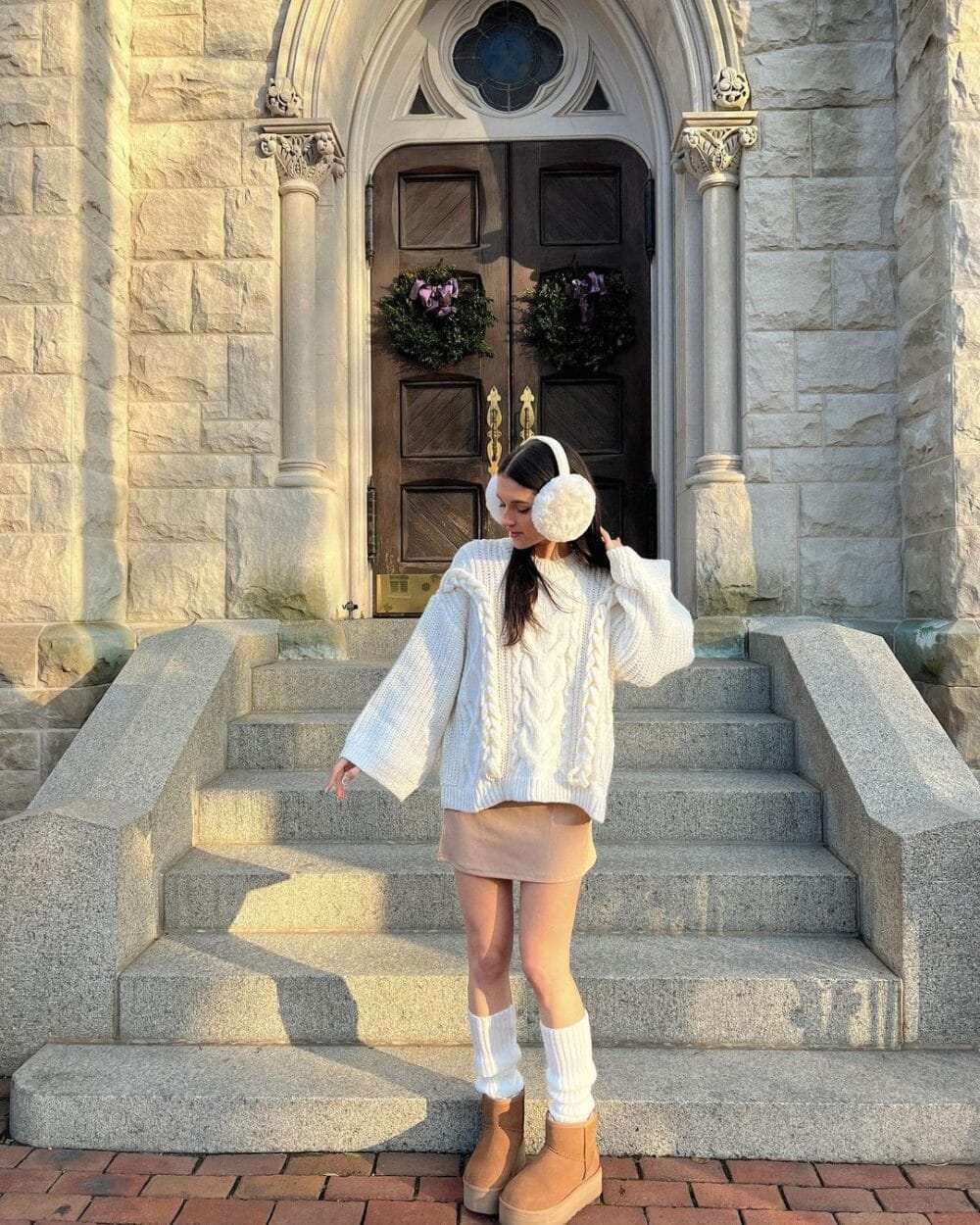 Photo: emilyloxtercamp
Mixing textures and layers is key for a stylish winter look. A soft sweater paired with a skirt and topped with winter accessories like earmuffs and legwarmers offers both warmth and visual interest. This outfit is perfect for a winter date or a weekend hangout with your bestie.

Baby Blue Mohair Sweater Outfit
Photo: kamilalibelula
A soft baby blue mohair sweater is like a breath of fresh air on a crisp autumn or winter day. Its delicate shade will definitely complement the golden leaves and clear blue skies. Pair it with light-wash jeans and blue accessories for a look that's both cozy and chic.

Cozy Grey Sweater with Maxi Skirt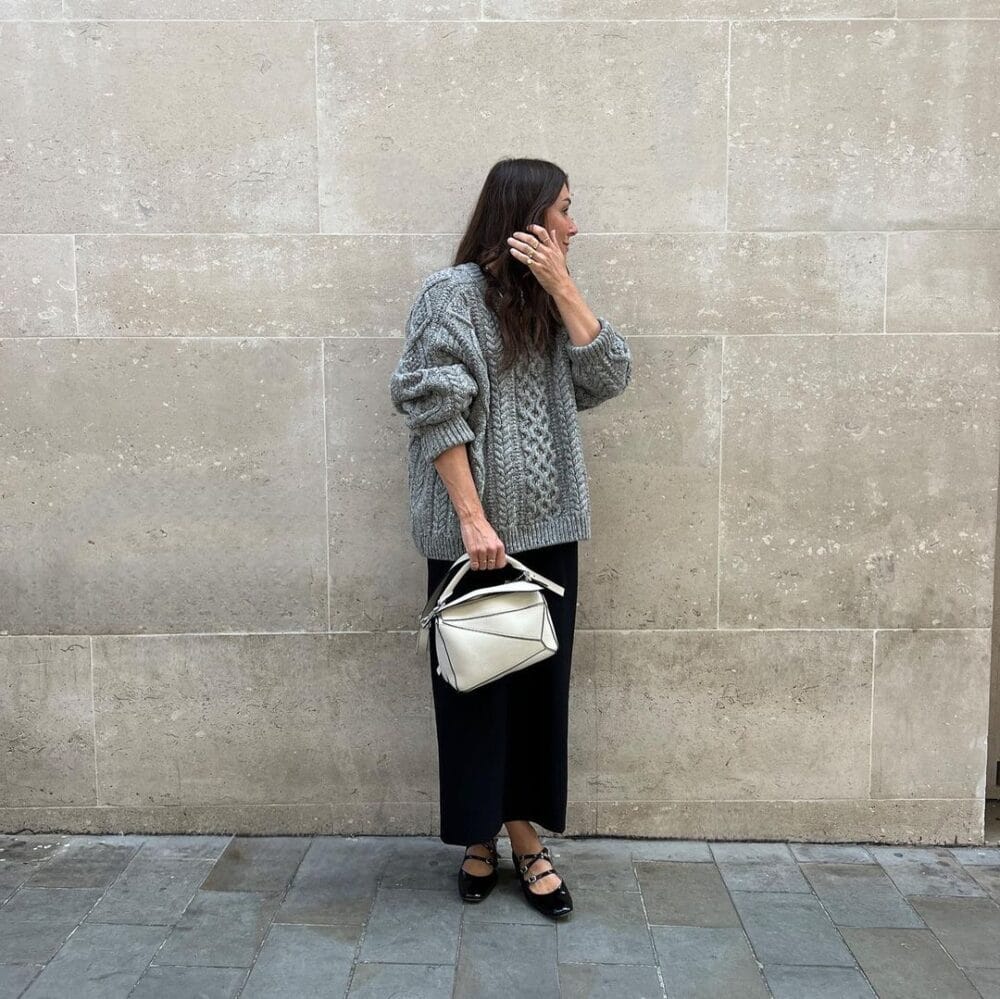 Photo: clairewakeman
A snug oversized grey sweater teamed with a maxi skirt creates an outfit that's both sophisticated and laid back. It's an ideal choice for those days when you want to look put-together without sacrificing comfort.

Casual Grey Sweater Outfit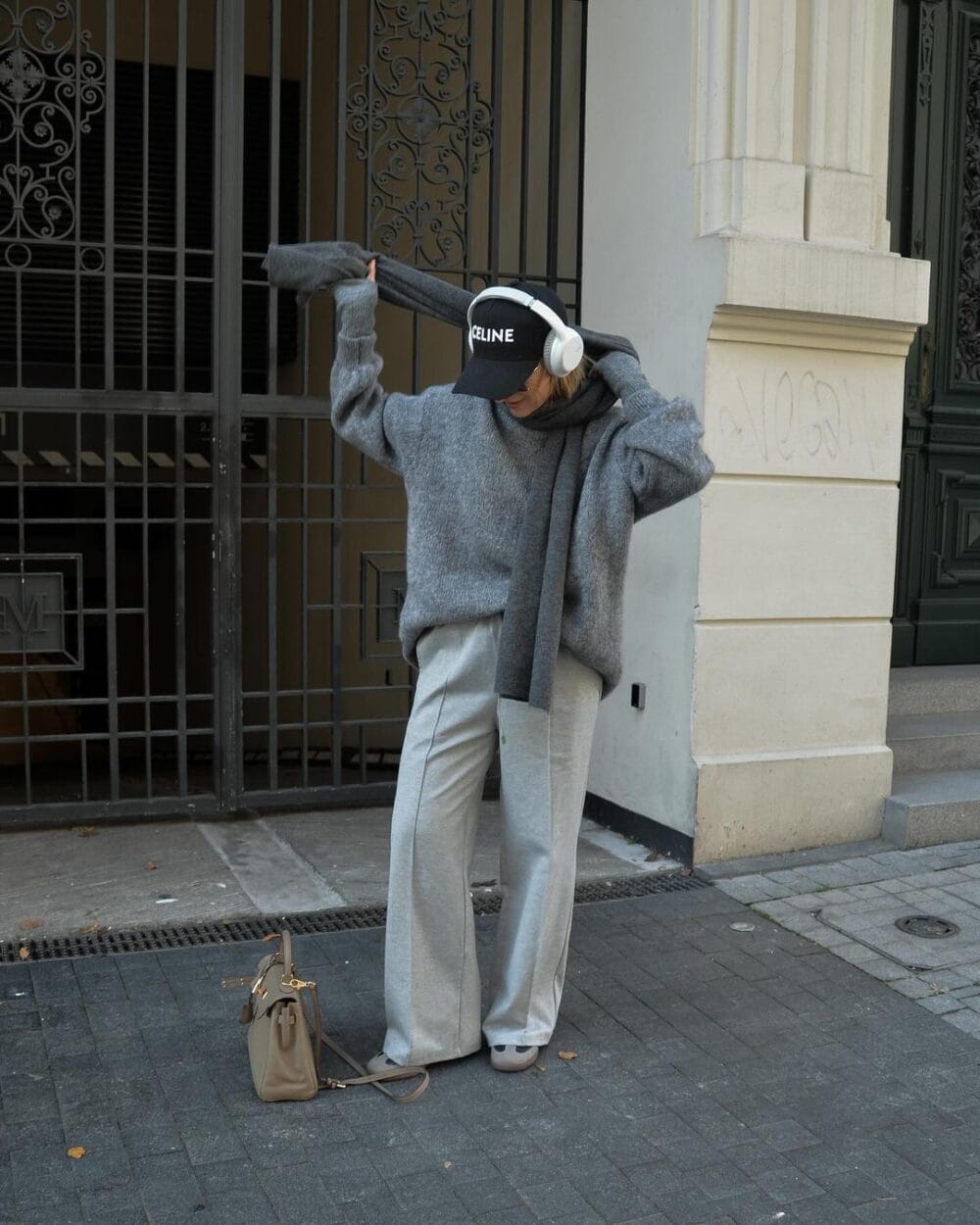 Photo: _agaa.g
For a casual and aesthetic look, go for varying shades of grey. A casual grey sweater matched with light grey trousers and a baseball cap presents an outfit that's equal parts sporty and chic—perfect for a weekend outing.

Orange Sweater with Tweed Skirt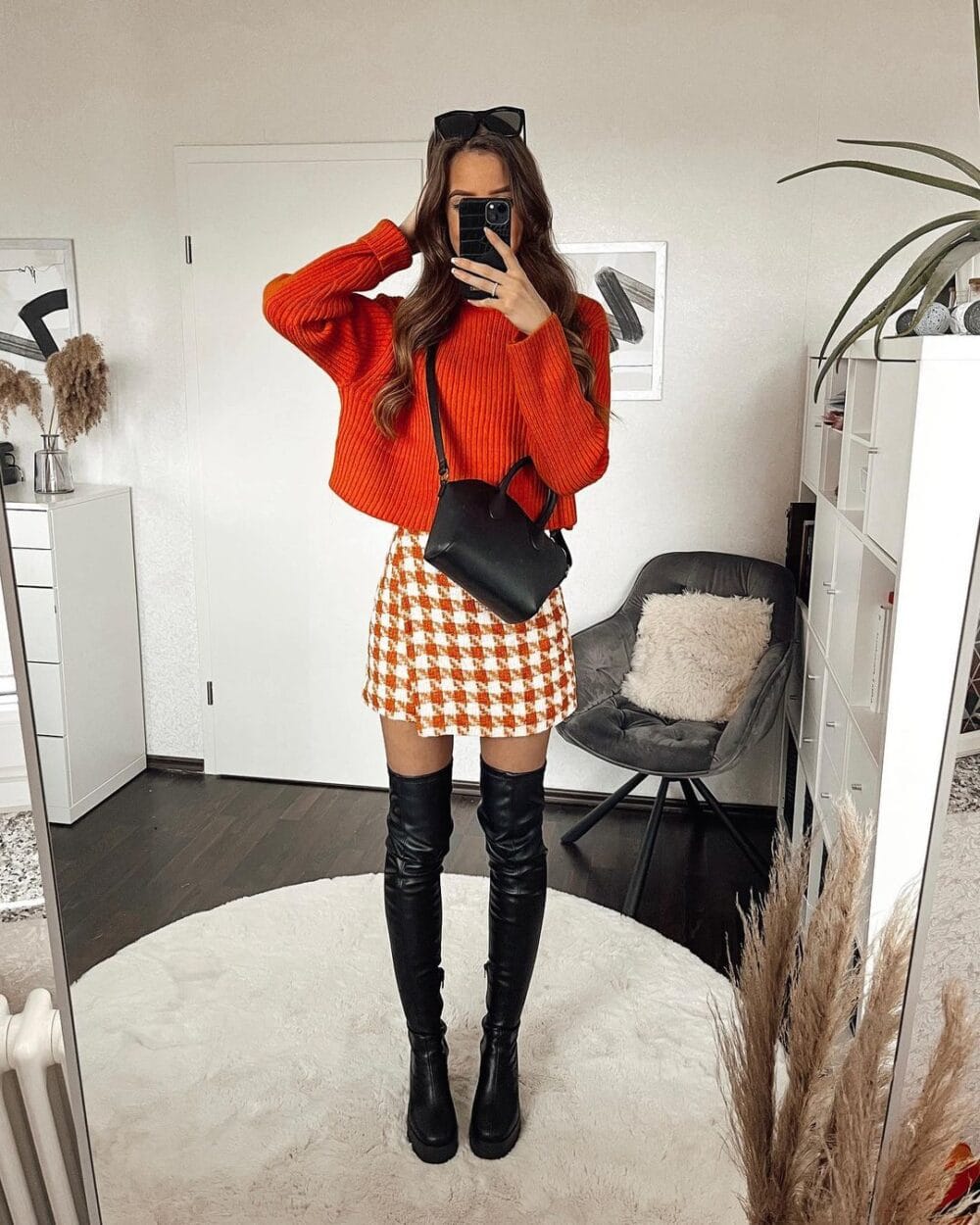 Photo: resewingme
Brighten up dreary winter days with a pop of color. An orange sweater paired with a cute little tweed skirt offers a vibrant contrast that's sure to turn heads and lift spirits.

Relaxed Striped Turtleneck with Jeans and Converse Shoes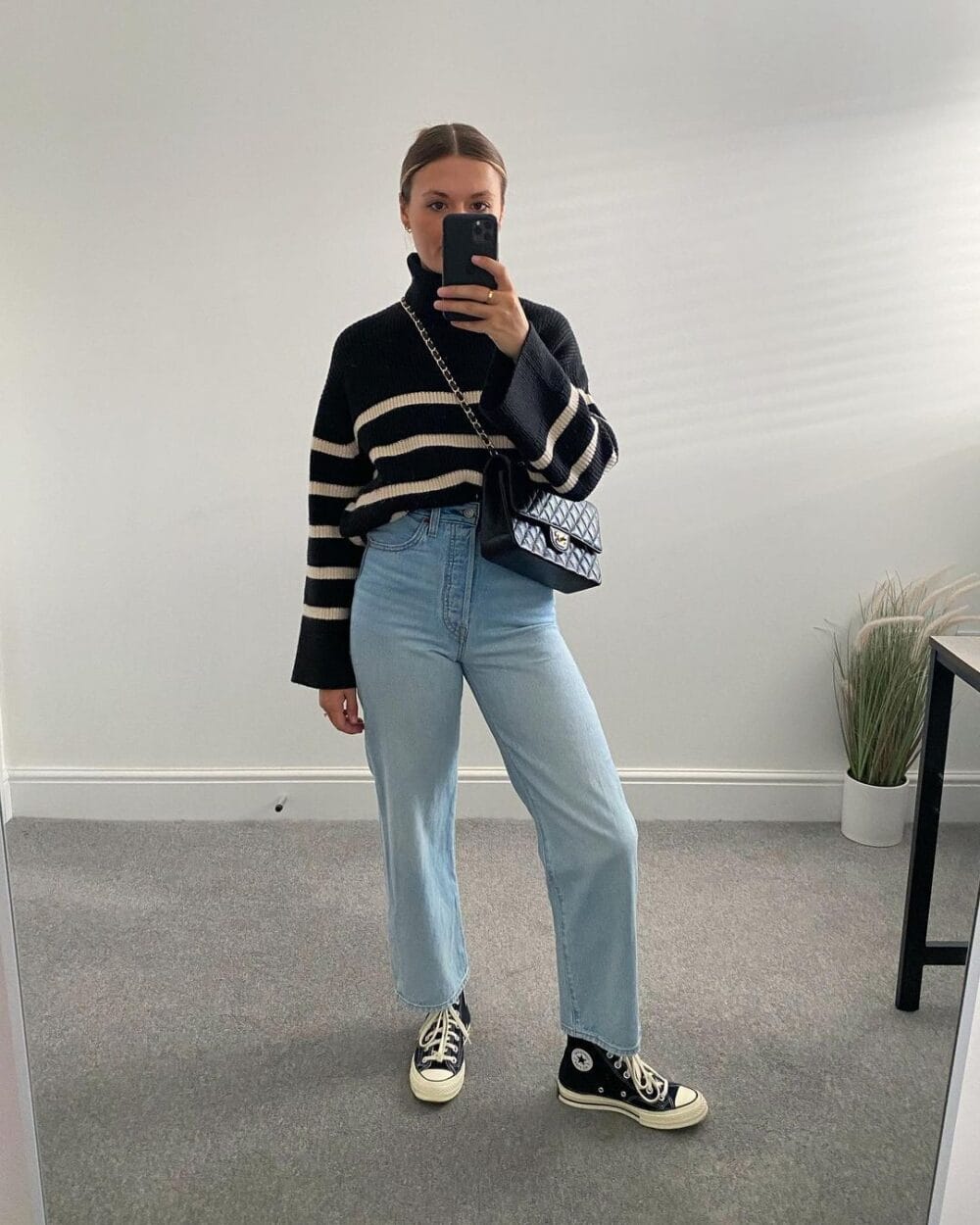 Photo: theba_sics
Casual and cool, a striped turtleneck sweater is a timeless piece that pairs perfectly with your favorite jeans and Converse shoes. It's an effortless casual look that never goes out of style.

Comfy Beige Sweater Outfit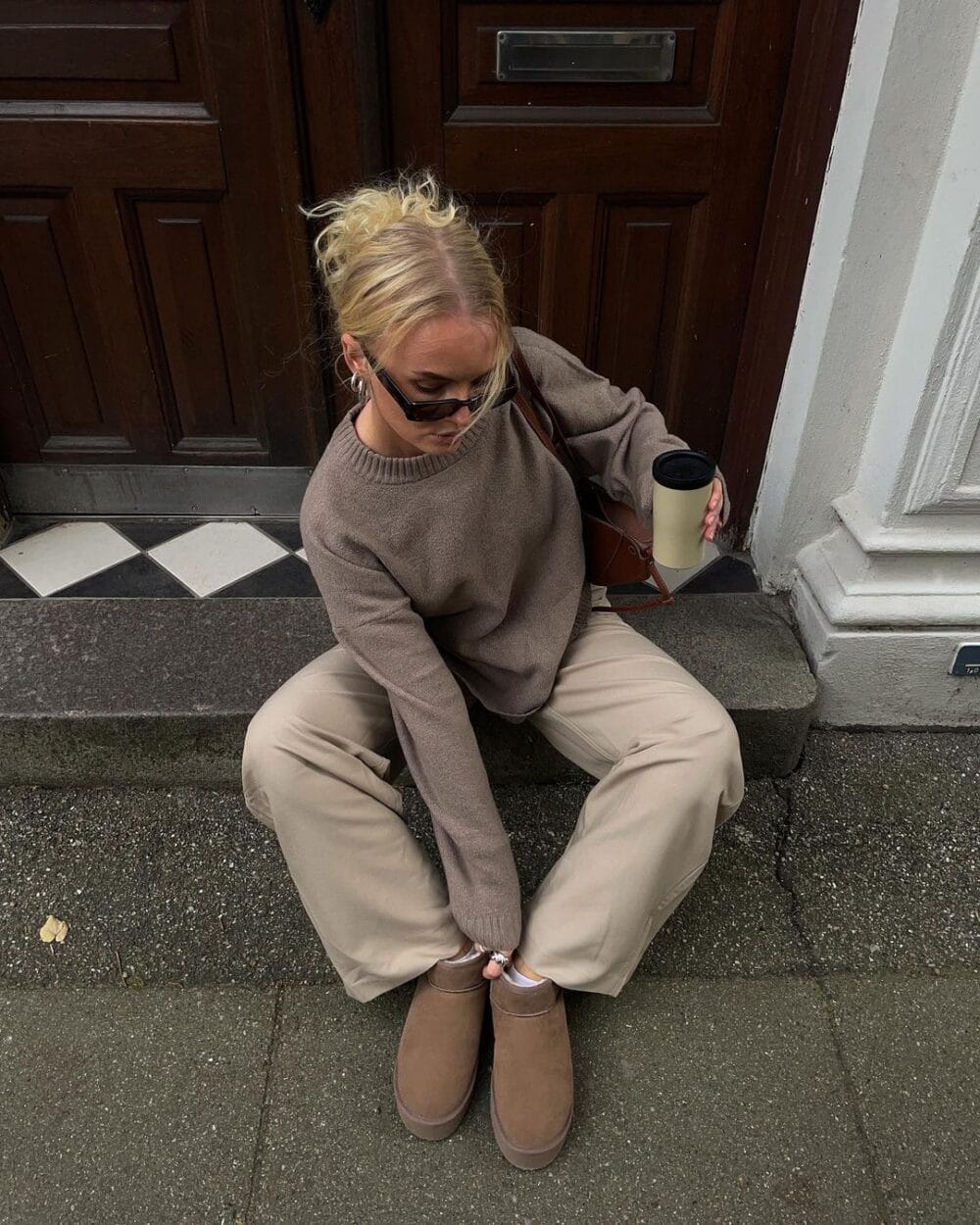 Photo: mathildenauta
Wrap yourself in the warmth of a comfy beige sweater outfit. The monochrome pairing with pants and teddy boots is like a soft blanket on a chilly day—ultimate comfort without compromising on style.

Fall Color Scheme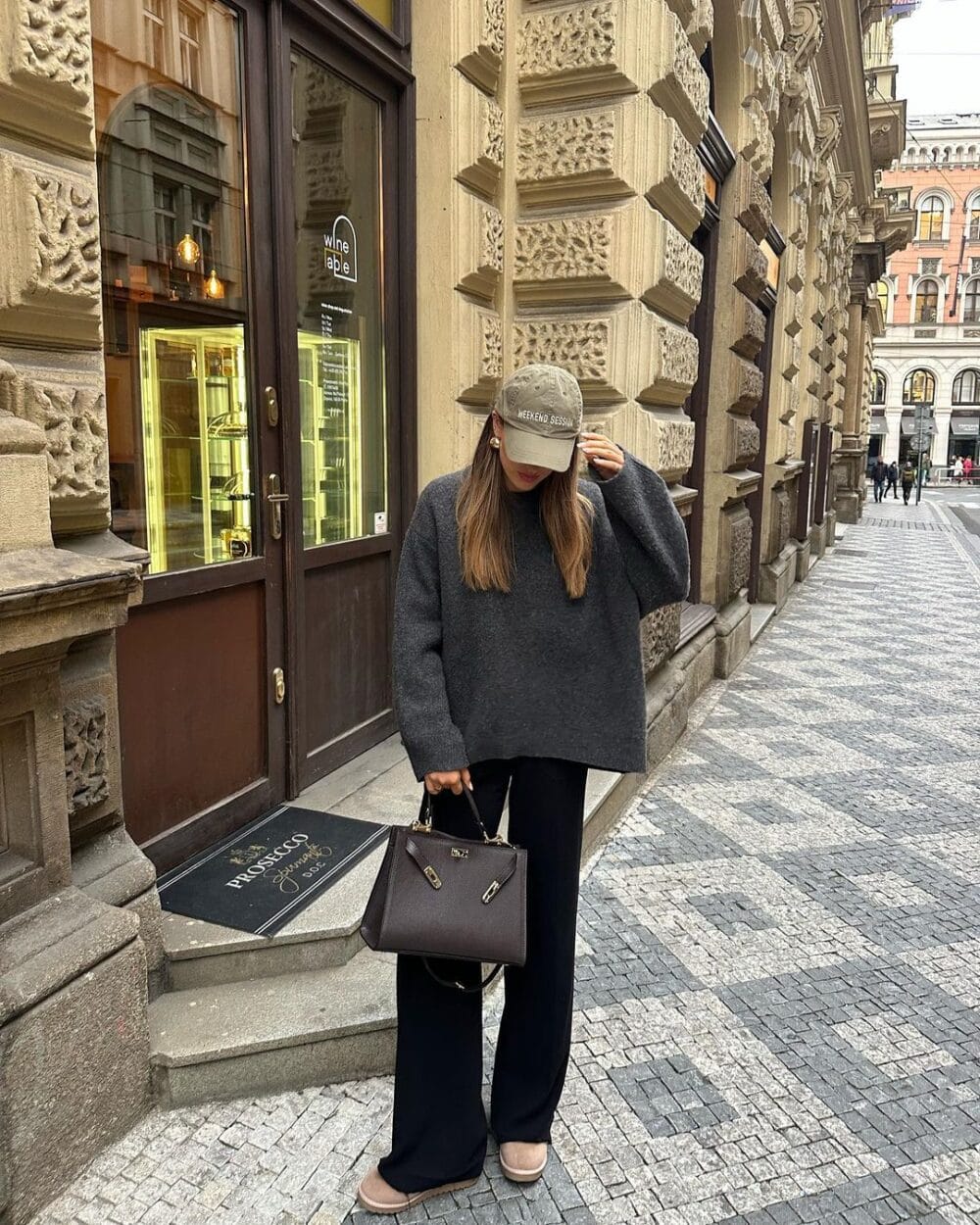 Photo: nadiyalyalko
Embrace the essence of autumn and winter with a sweater that reflects the season's palette. A grey sweater combined with black pants and complemented by a brown stylish handbag and beige baseball cap captures the fall spirit perfectly.

Beige Sweater with Skinny Leather Pants and Converse Shoes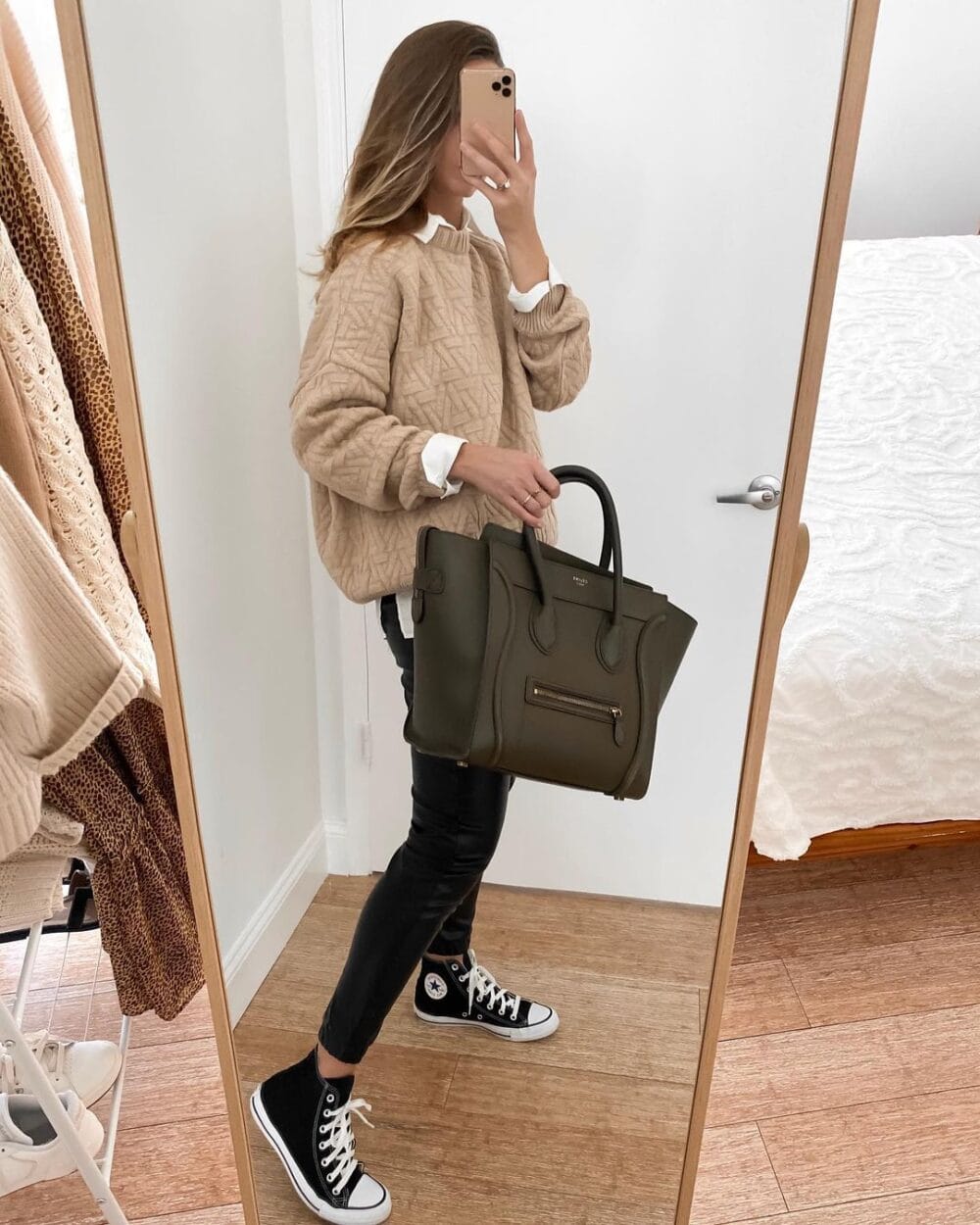 Photo: la_nadia
Mix textures for a look that's as interesting as it is fashionable. A soft beige sweater paired with skinny leather pants and Converse shoes strikes the perfect balance between edgy and approachable.

Chic Sweater with Grey Jeans and Uggs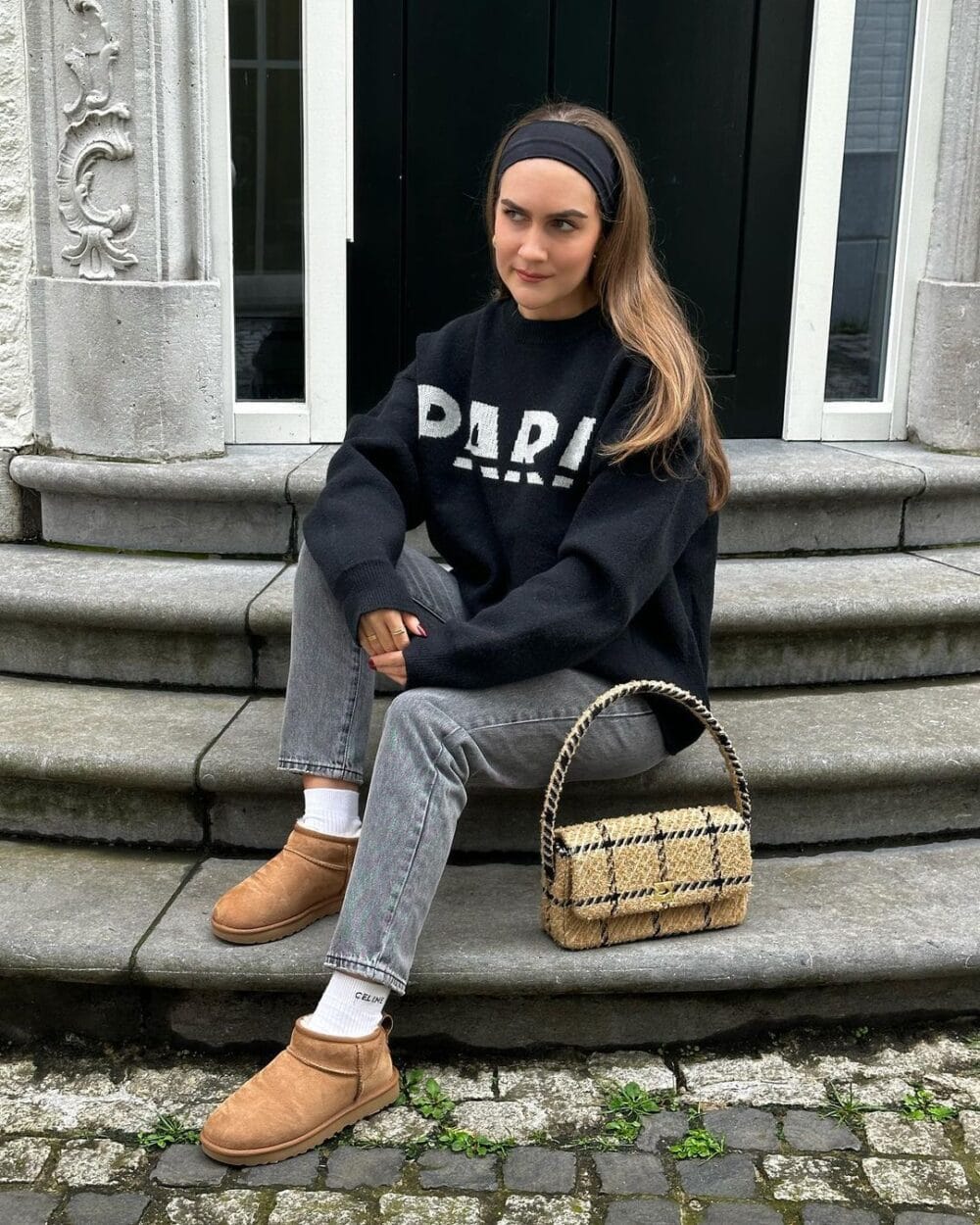 Photo: noareijnen_
Stay chic and snug in a trendy sweater that pairs beautifully with grey jeans and Uggs. Add a tartan handbag for a touch of classic charm to this cozy and practical outfit.

Sweater and Shirt Combo
Photo: allo_lizushka
For a smart-casual twist, layer a crisp shirt under a light grey sweater. The addition of a black crossbody bag adds a chic touch to this classic combination, making it ideal for both office hours and after-work drinks.

Sweater Outfit with Mini Skirt and Rain Boots
Photo: kyleegiancola
Defy the rainy day blues with a cheerful ensemble featuring a cozy sweater, a playful mini skirt, and practical rain boots. It's a fun and flirty look that's rainproof and stylish.

Black and White Sweater Outfit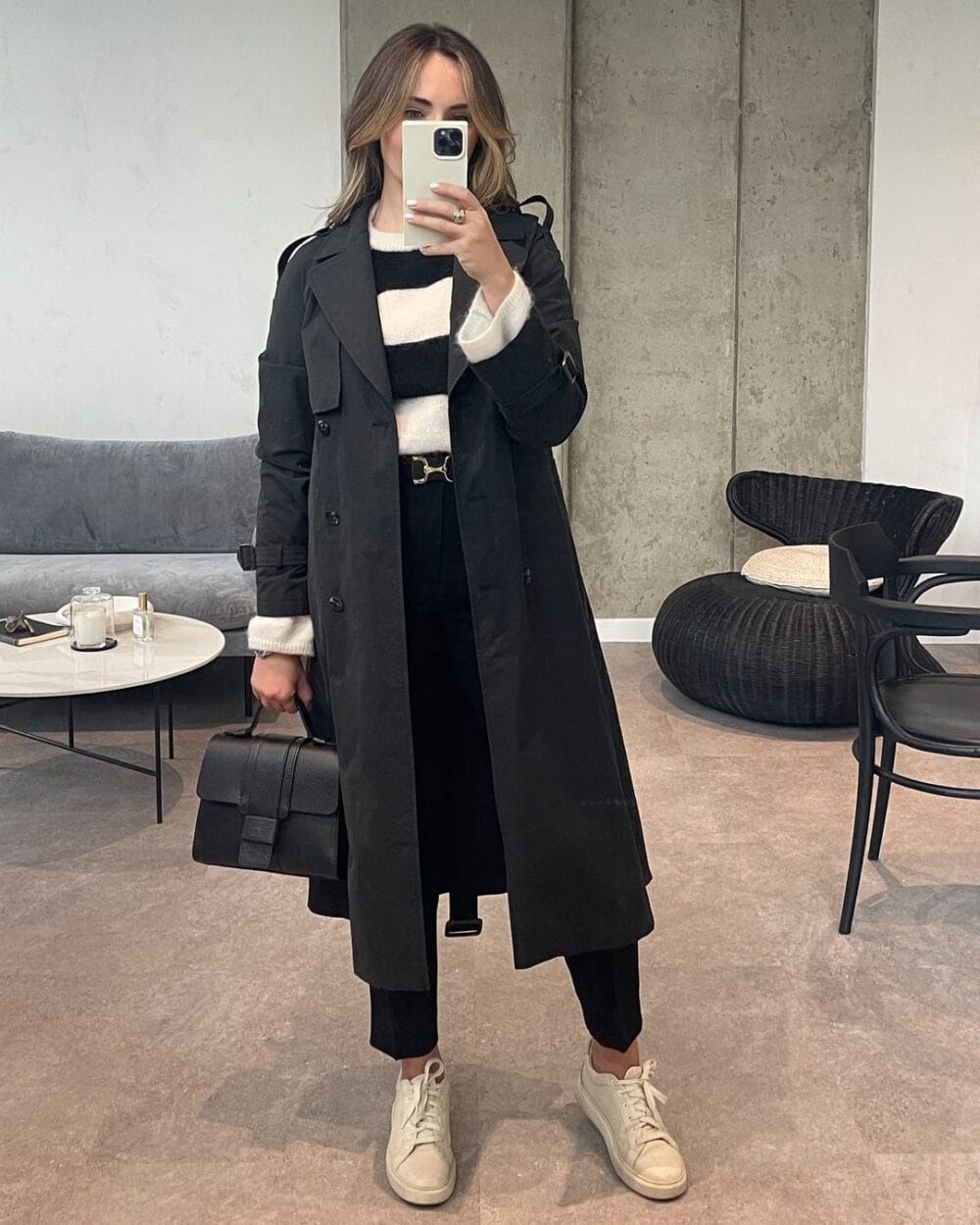 Photo: livinglife.oh
A striped sweater under a black trench coat is the epitome of classic style. This black and white look is a sophisticated choice that will keep you looking sharp and staying warm, no matter where your day takes you.

Wrap Up in Style
As we wrap up our cozy tour through sweater outfits, remember that the key to mastering cold-weather style is layering, texture, and a touch of personal flair.
These looks are more than just a defense against the chill—they're a way to express your style while staying snug. So, pick your favorites and step out in confidence, knowing you've got the sweater game on lock.

Enjoyed this article? Check out more fall and winter trends:
35 Best Fall Nail Ideas 2023 That You'll Absolutely Love
Winter Nails 2023: Top Nail Art Trends of the Season

Share on Pinterest: