Winter is just around the corner, and with it comes the biting cold that can send shivers down your spine.
But fear not, fashionistas! Embracing the frosty season with style is easier than ever, thanks to the latest winter outfit trends that keep you both cozy and chic.
In this article, we've curated over 20 trendy winter outfits that are perfect for those bone-chilling days when you need to look your best while staying warm.
From layering essentials to snow-ready ensembles, we've got you covered, quite literally!

Embrace Freezing Weather in Style
Winter fashion isn't just about surviving the cold; it's about thriving in it! This season, it's all about blending practicality and style to create looks that will make you the envy of the snow-covered streets.
Here's a sneak peek at what's hot in the world of winter fashion:
Puffer Jackets: Oversized puffer jackets are all the rage this winter. They're not only incredibly warm but also add a trendy, streetwear-inspired vibe to your outfits.
Chunky Sweaters: There's nothing cozier than wrapping yourself in a chunky knit sweater. Opt for earthy tones or bold colors to make a statement.
Layering Essentials: Layering is key to staying warm in freezing weather. Invest in stylish thermals, turtlenecks, and leggings that you can mix and match.
Boots, Boots, Boots: From knee-high leather boots to rugged snow boots and UGGs, your choice of footwear can elevate your winter look while keeping your toes toasty.
Faux Fur Accents: Incorporate faux fur details, like fur-lined hoods or fur-trimmed boots, to add a touch of luxury to your winter ensemble.
Statement Coats: Make a statement with a bold and colorful winter coat. Vibrant reds, deep blues, and forest greens are trending hues this season.
Midi-Length Skirts: Stay stylish while braving the cold by pairing midi-length skirts with cozy tights and ankle boots.
Blanket Scarves: Oversized blanket scarves not only keep you warm but also double as a stylish accessory. Drape them over your shoulders for an effortlessly chic look.
Leather Gloves: Elevate your winter glove game with leather gloves. They're not just sleek but also excellent at keeping your hands warm.
Mix Textures: Experiment with texture combinations like leather and shearling or denim and faux fur for a visually appealing winter outfit.
Monochrome Magic: Create a sleek and sophisticated winter look by dressing head to toe in a single color, preferably a neutral shade.
Belted Coats: Cinch your winter coat with a stylish belt to define your waist and add a fashionable touch to your outerwear.

The Art of Staying Warm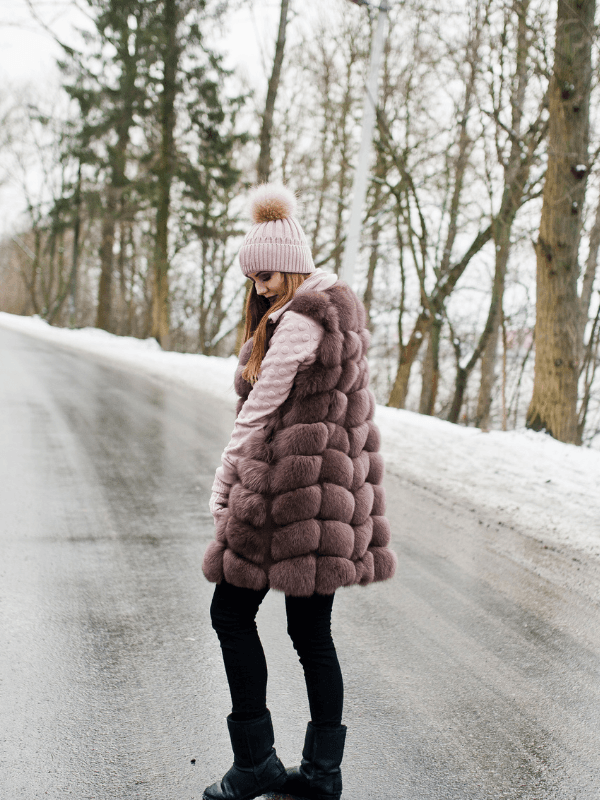 When the temperature plummets, it's essential to stay warm without compromising your style. Here are some tips to help you brave the cold with confidence:
Invest in Quality Outerwear: A good-quality winter coat is worth the investment. Look for options with insulation and waterproofing to keep you warm and dry.
Layer Strategically: Use the layering technique to trap heat. Start with a moisture-wicking base layer, add an insulating middle layer, and top it off with a stylish outer layer.
Accessorize Thoughtfully: Don't forget the power of accessories. A stylish scarf, beanie, and gloves can add both warmth and flair to your outfit.
Opt for Thermal Fabrics: Choose clothing made from thermal materials like wool, fleece, and down for maximum warmth.
Thigh-High Socks: Keep your legs warm with thigh-high socks or tights. They not only look stylish but also add an extra layer of insulation.
With these winter outfit trends and tips, you'll be ready to face the freezing cold weather while looking effortlessly fashionable.
Scroll down for a visual feast of the trendiest winter outfits to inspire your cold-weather wardrobe!

20+ Cute Winter Outfits for Freezing Cold Weather


All Black with Platform Boots and Leather Pants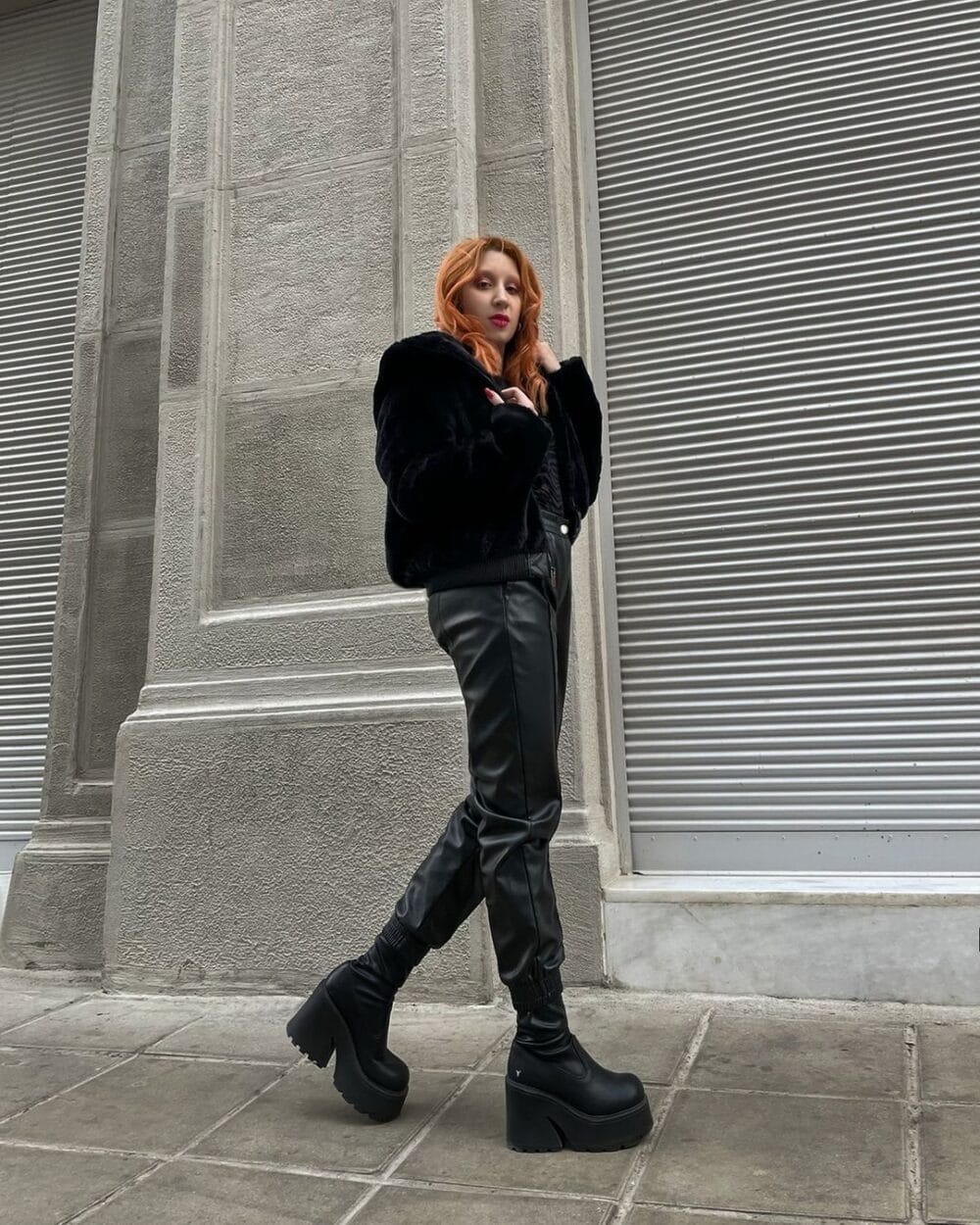 Photo: @t.h.e.k.a.y
Elegant and edgy, this all-black ensemble features platform boots, leather pants, and a fur jacket. It's the perfect choice for those who love a bold, monochromatic winter look.

Long Teddy Coat + Chunky Knit Scarf
Photo: @emilyclaireevans
Wrap yourself in warmth and style with a long white teddy coat and a generously sized brown chunky knit scarf. It's a cozy combination perfect for braving the winter chill.

Belted Burgundy Dress and Long Tartan Coat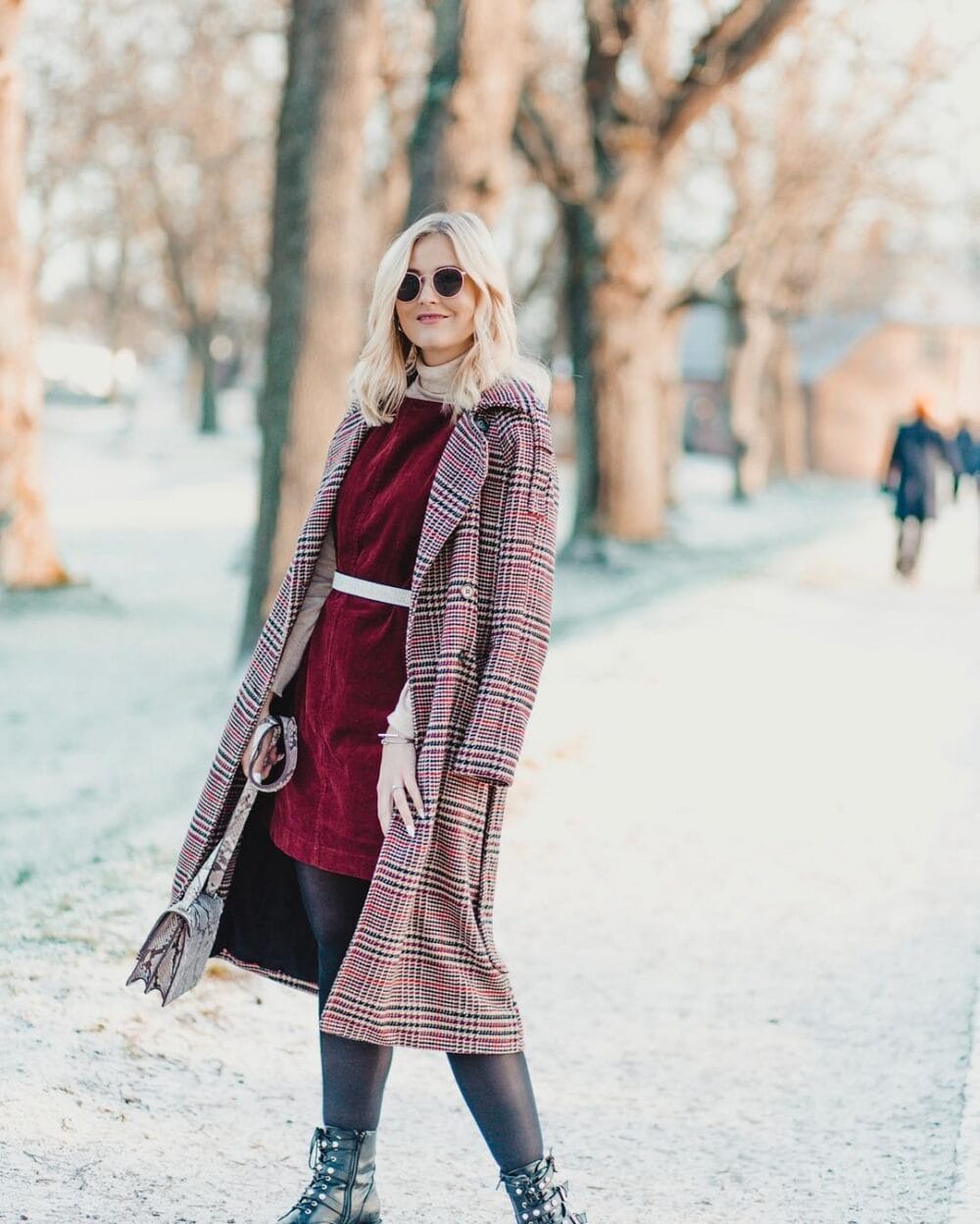 Photo: @kajamarie__
Dress for a perfect Christmas with a beautiful belted burgundy dress, black boots, and a long tartan coat. It's a playful and elegant holiday ensemble.

Beige and White Combo Winter Outfit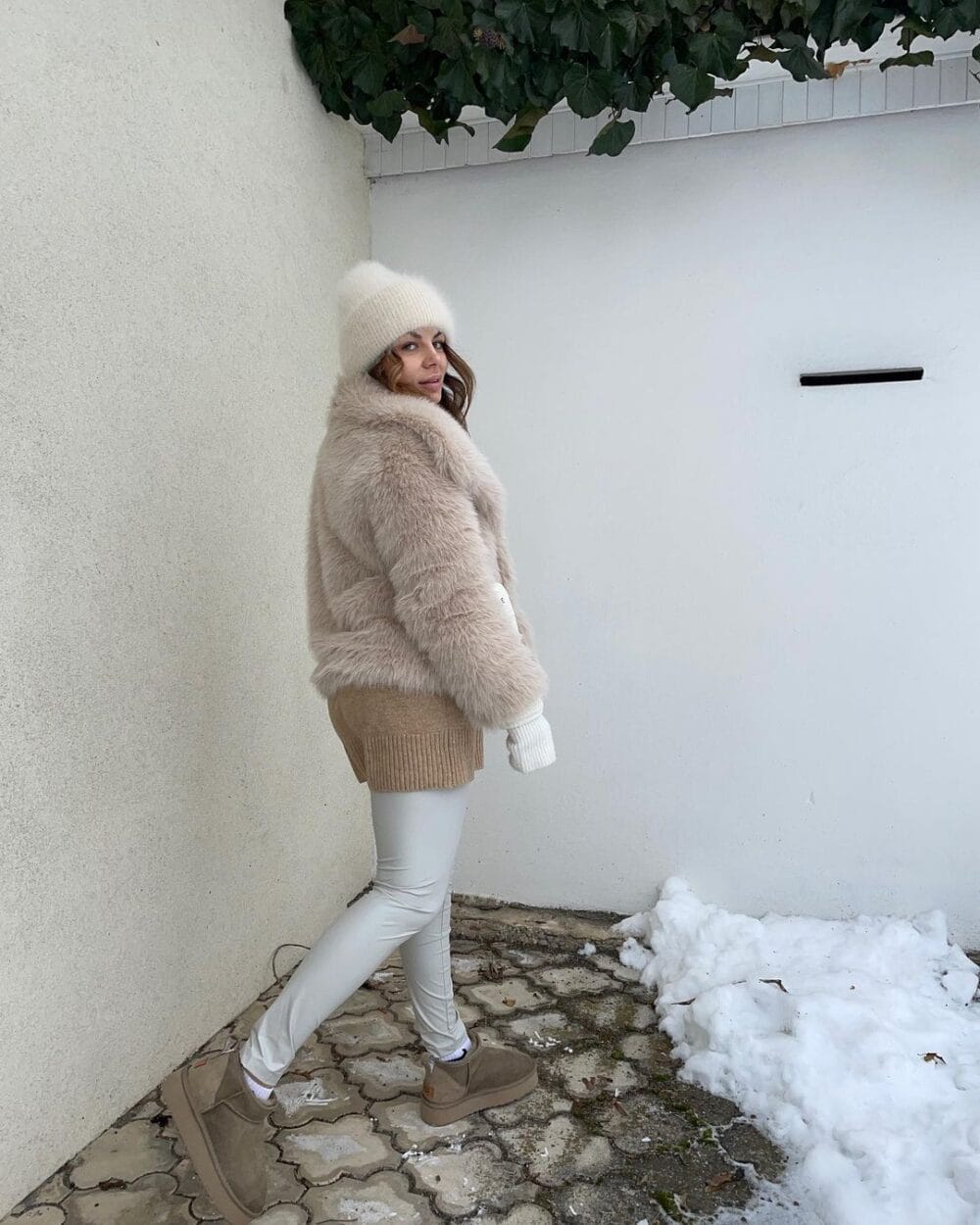 Photo: @adriankax
Winter warmth meets style in this cozy beige and white ensemble. An elegant faux fur jacket paired with a fluffy beanie, white jeans, and snug Uggs is the perfect recipe for looking chic and feeling toasty when the temperatures plummet.

Light Wash Jeans + White Boots + Cute Accessories
Photo: @tiffanyvvii
Combine trendy light wash jeans, white boots, a warm puffer jacket, and cute winter accessories such as a colorful scarf and earmuffs for a winter outfit that's both chic and warm.

Black and White Winter Outfit with Fur Details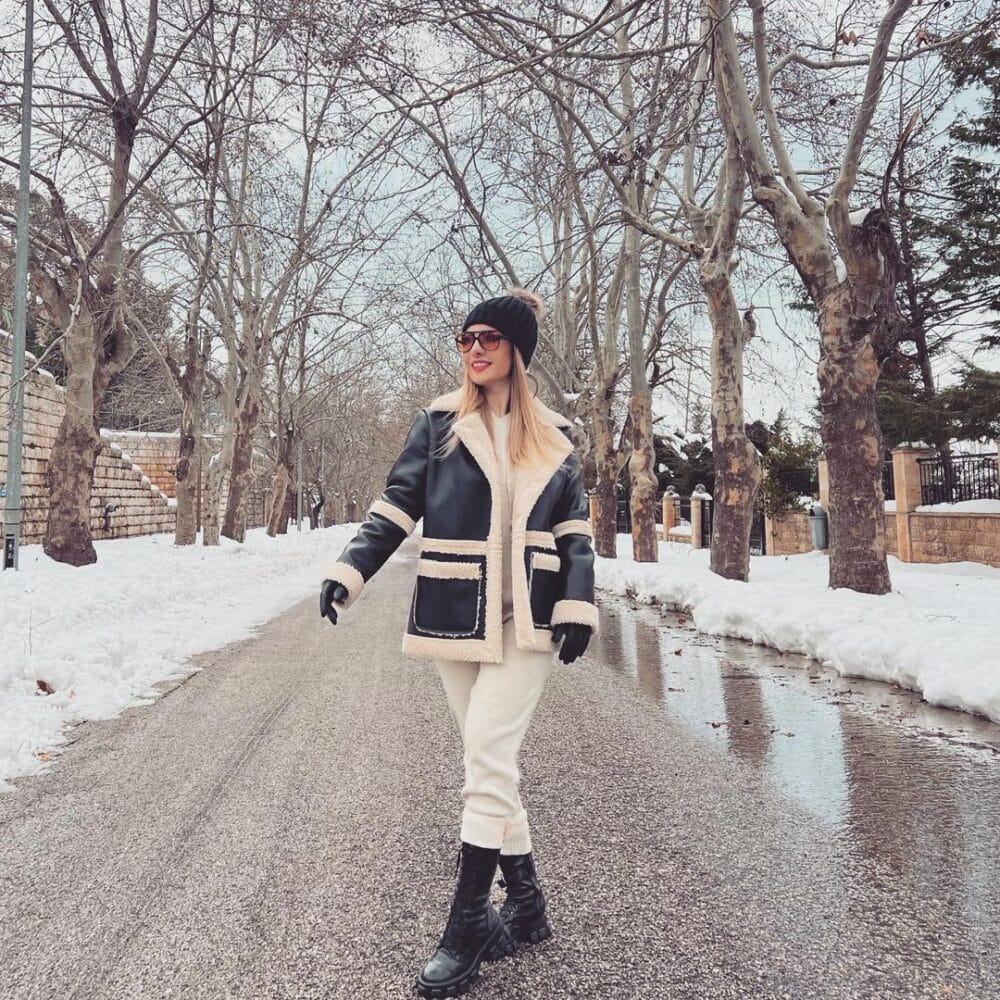 Photo: @loucasgiselle
This outfit combines sleek white pants with black boots and an aviator-style jacket with fur details, perfect for cold winters. It's a look that's ready to take off and conquer the winter cold.

Christmas Vibes with Green Coat and Red Scarf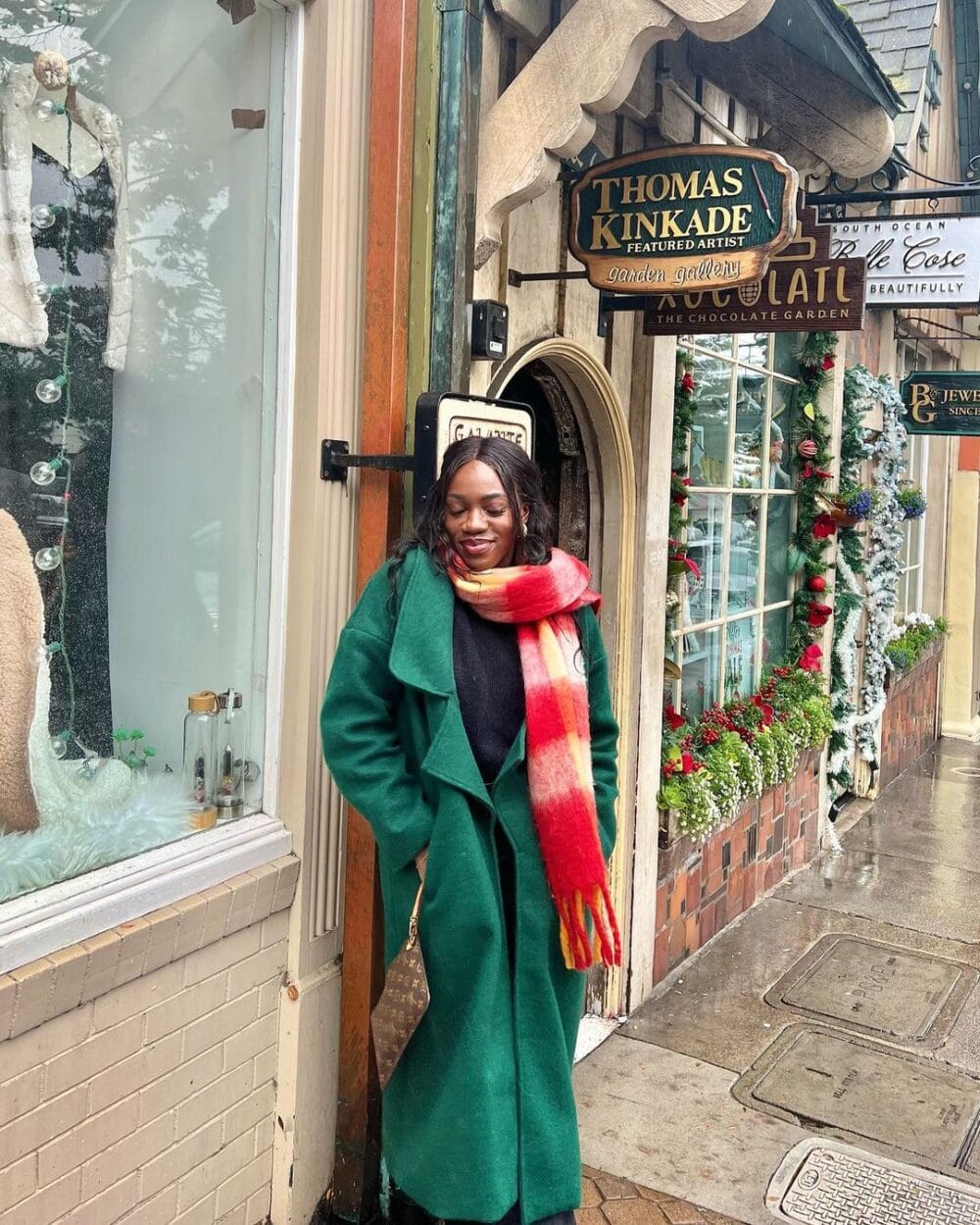 Photo: @nk.medani
Celebrate the holiday season with a festive look by pairing a green coat and a vibrant red scarf. This outfit exudes Christmas charm and warmth.

Skirt, Turtleneck, and Fluffy Details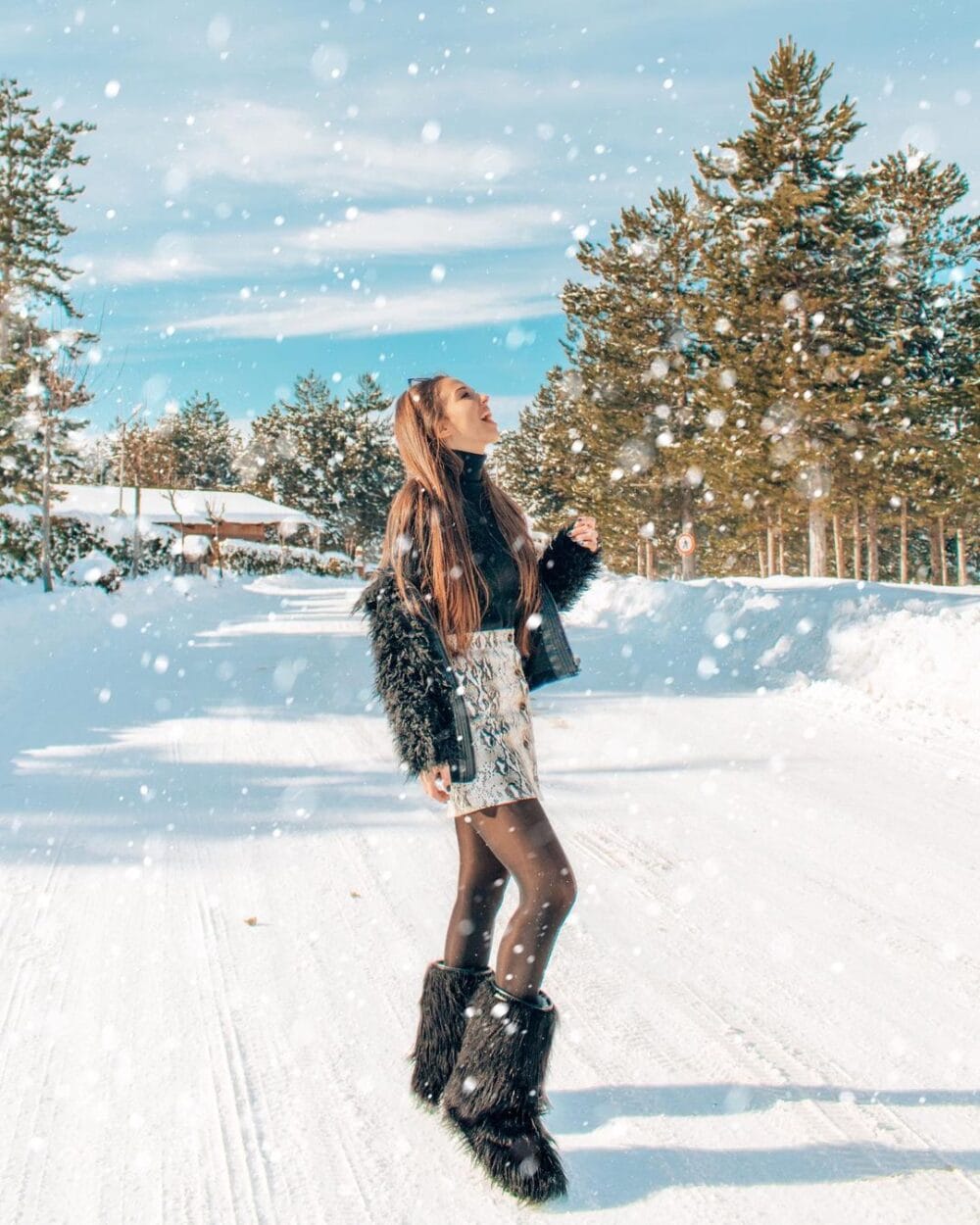 Photo: @withlovegergana
Embrace the winter whimsy with a cute snakeskin print skirt, a black turtleneck, a fluffy jacket, and fluffy snow boots. It's a charming and elegant look for snowy adventures.

Beige and White Snowy Weather Outfit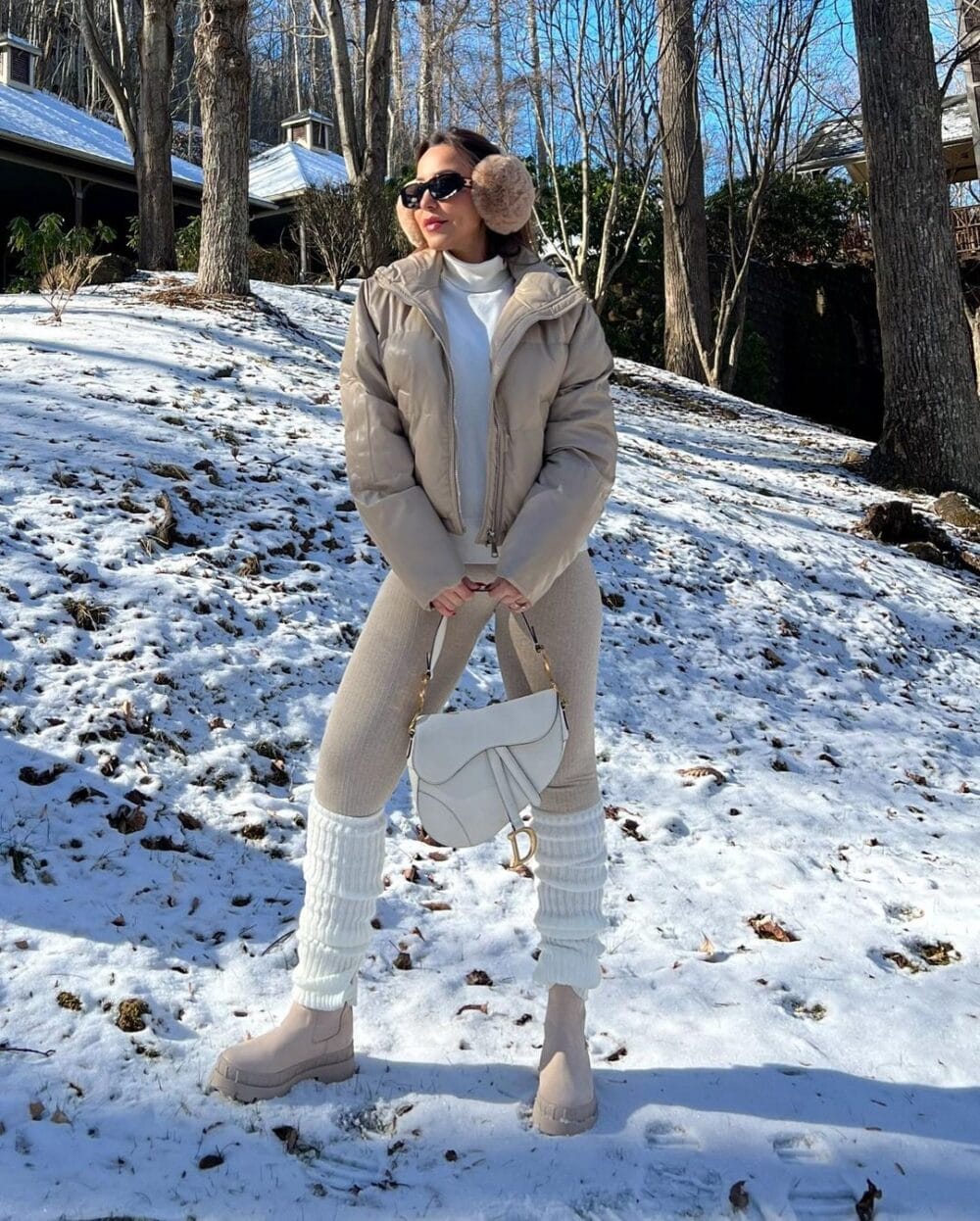 Photo: @danidanisu
A beige puffer jacket, beige boots with white legwarmers, knitted leggings, and cozy earmuffs come together in this snow-ready outfit. Embrace the serene winter landscape in style while staying snug.

Casual Winter Outfit with Teddy Jacket and UGGs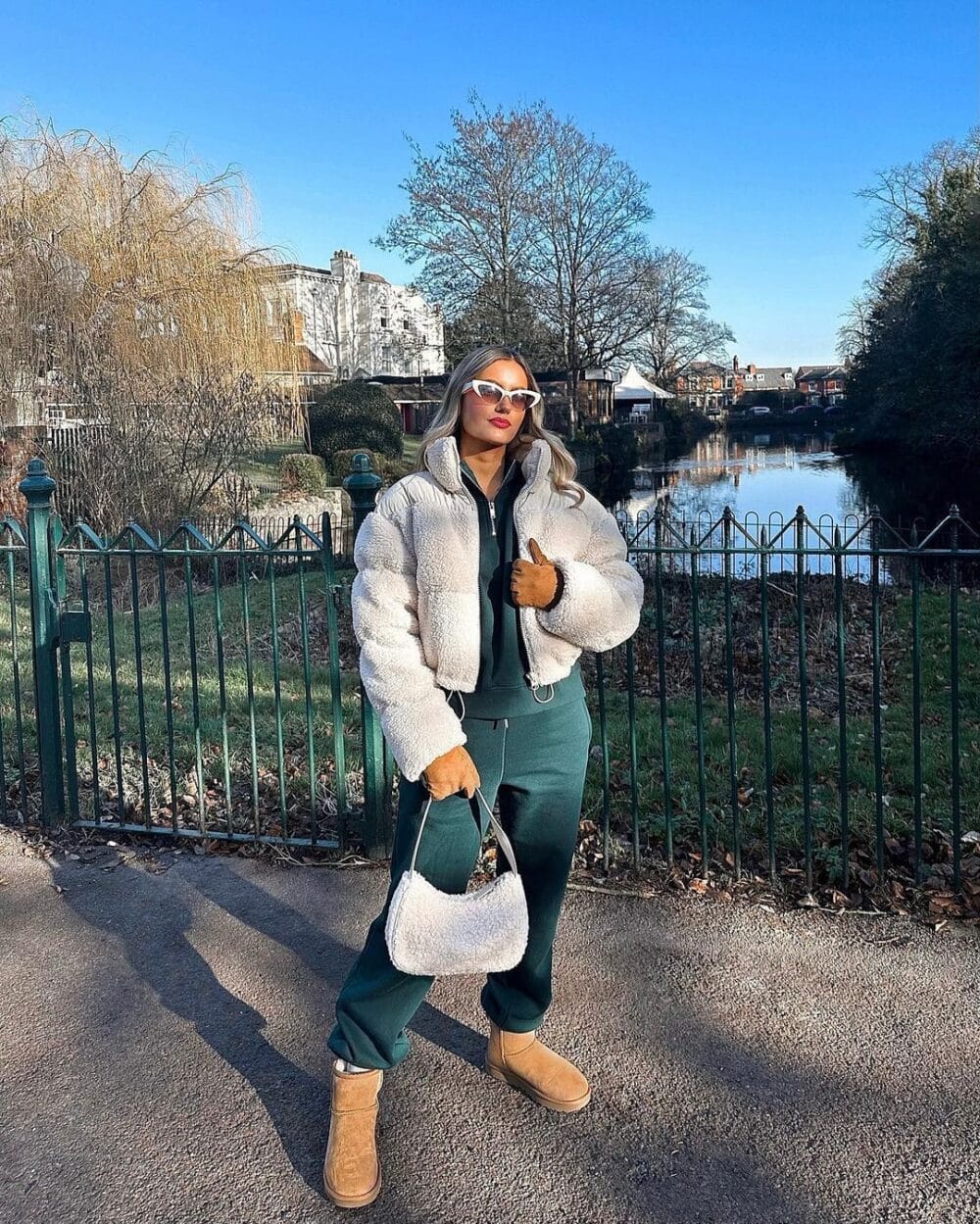 Photo: @misspoppylocks
Get comfy and cute with these casual green sweatpants, a cozy white teddy jacket, Uggs, and a few adorable accessories. This outfit proves that staying warm can still be playful and fashionable.

Warm Balloon Sleeve Sweater with Flare Jeans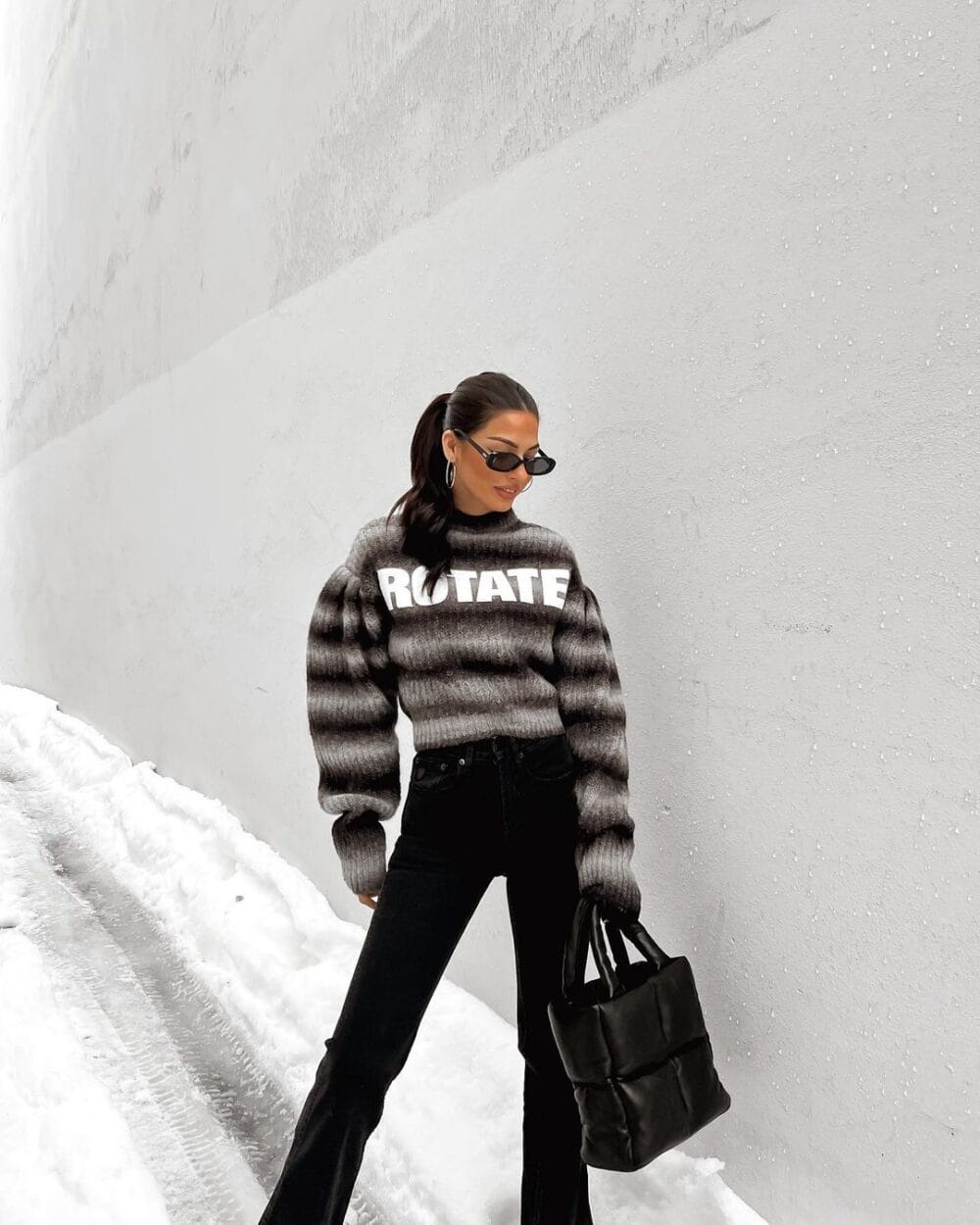 Photo: @sarahmartin3z
Stay cozy and trendy with this warm balloon sleeve sweater paired with flattering black flare jeans and a padded black tote bag. It's a versatile outfit suitable for various winter occasions, and you can easily pair it with different coats and jackets.

Long Sweater Winter Outfit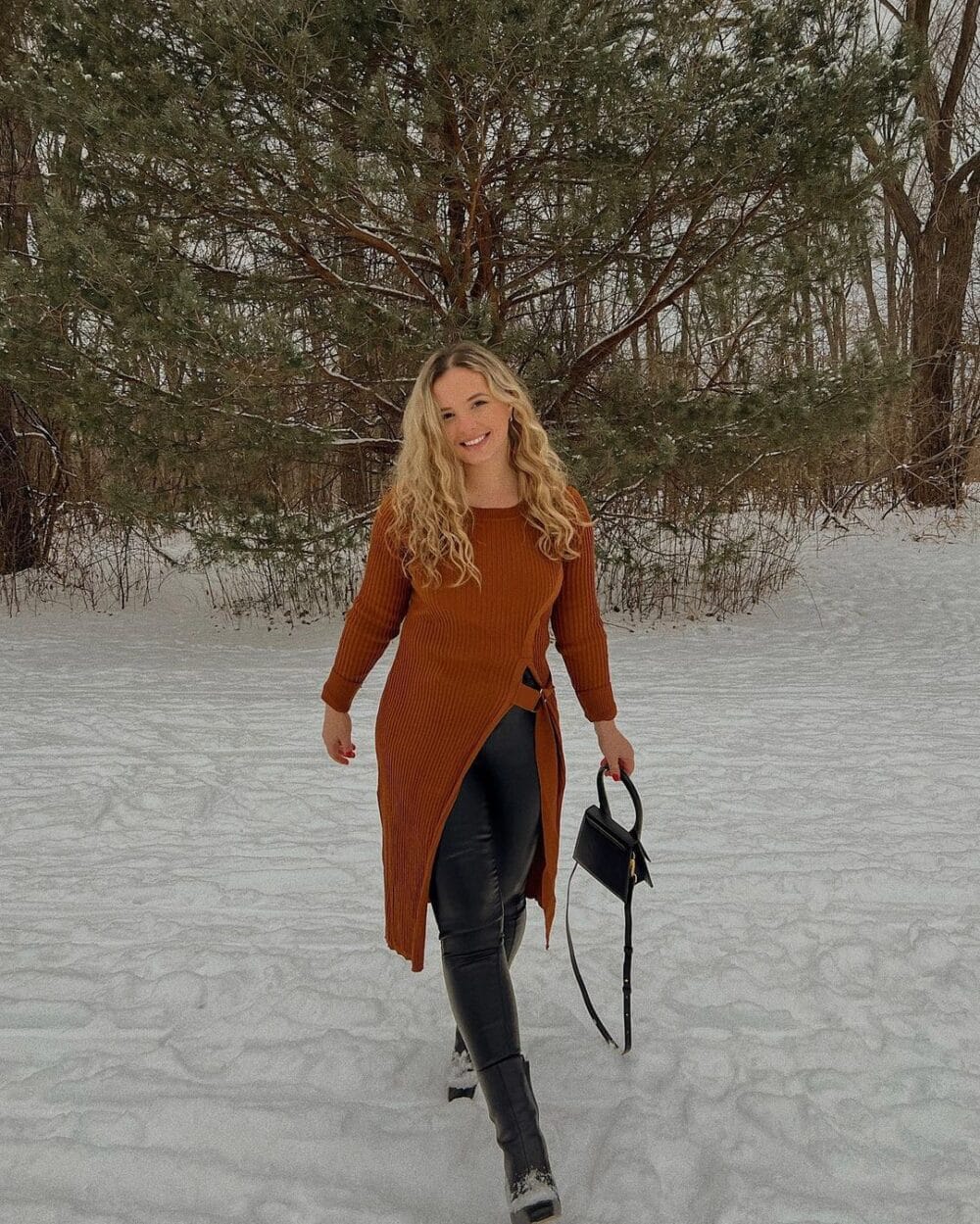 Photo: @emakllogjeri
Embrace the freezing weather with style in a long sweater, leather pants, and fashionable boots. This outfit effortlessly combines comfort and sophistication and will go great with a long coat.

Related: 20+ Casual Fall College Girl Outfit Ideas for This Year

Cute Ski Outfit with Caramel Brown Jacket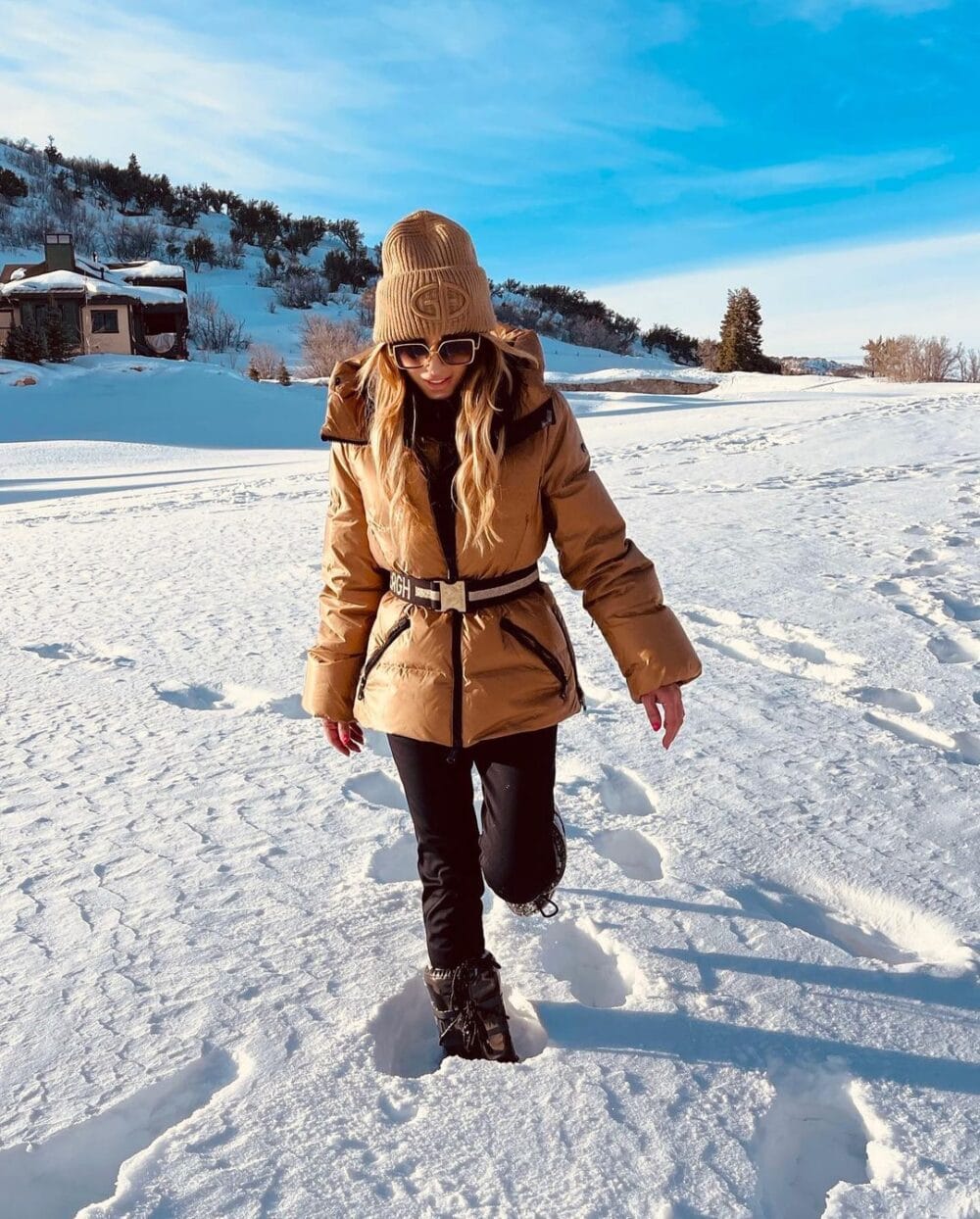 Photo: @therealocdentist
Hit the slopes in this super cute ski outfit featuring a caramel brown jacket, a matching hat, snow boots, and trendy sunglasses. Stay warm and stylish wherever you go.

Coat with Animal Print Collar and Black Boots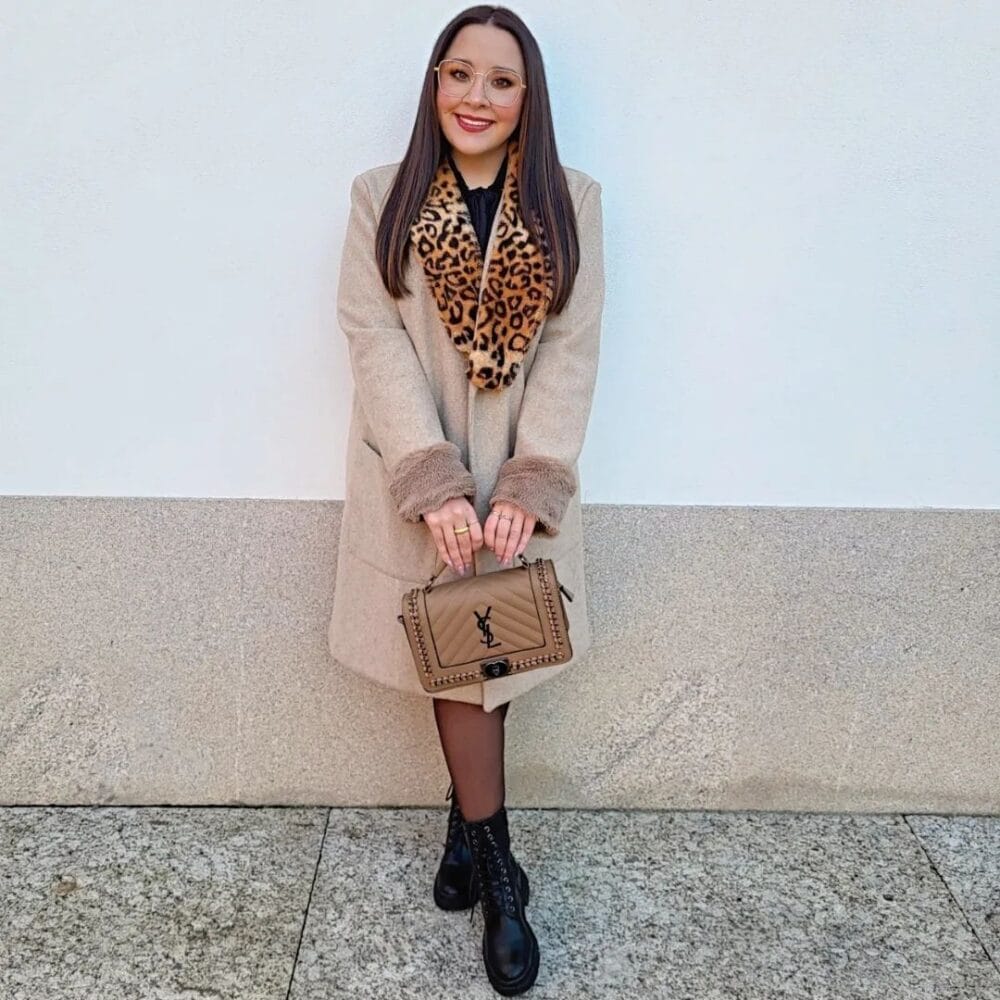 Photo: @claudia_sofia_fpereira
Add a touch of wild elegance to your winter wardrobe with a coat featuring an animal print collar. Paired with black boots and a classy handbag, it's a look that's both fierce and fabulous.

Cozy Winter Cabin Outfit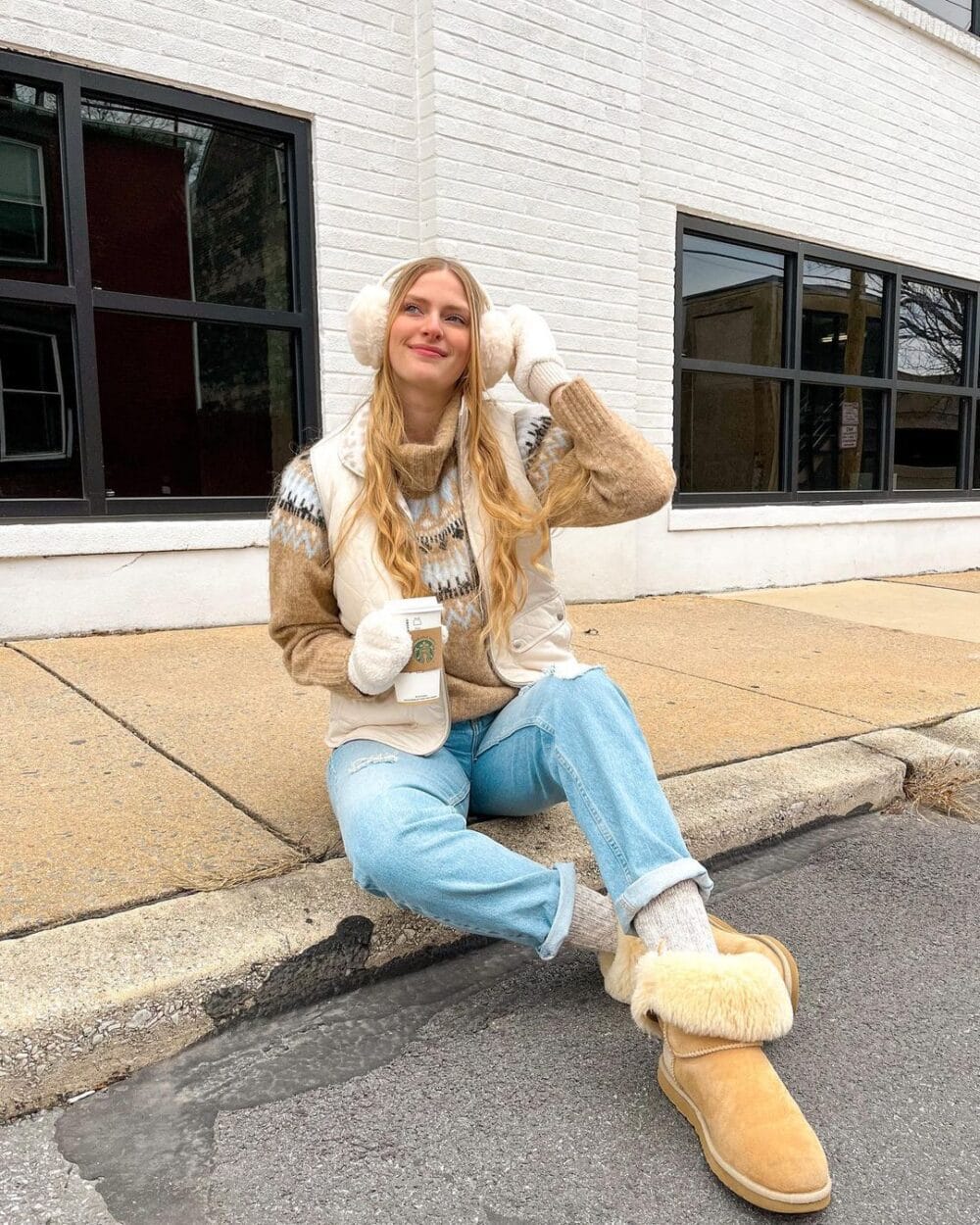 Photo: @emmaredcay
Embrace the cozy vibes with a chunky sweater, a cute vest, and light wash jeans paired with warm ankle boots. This look is perfect for those cozy winter cabin getaways.

Warm Teddy Coat Winter Outfit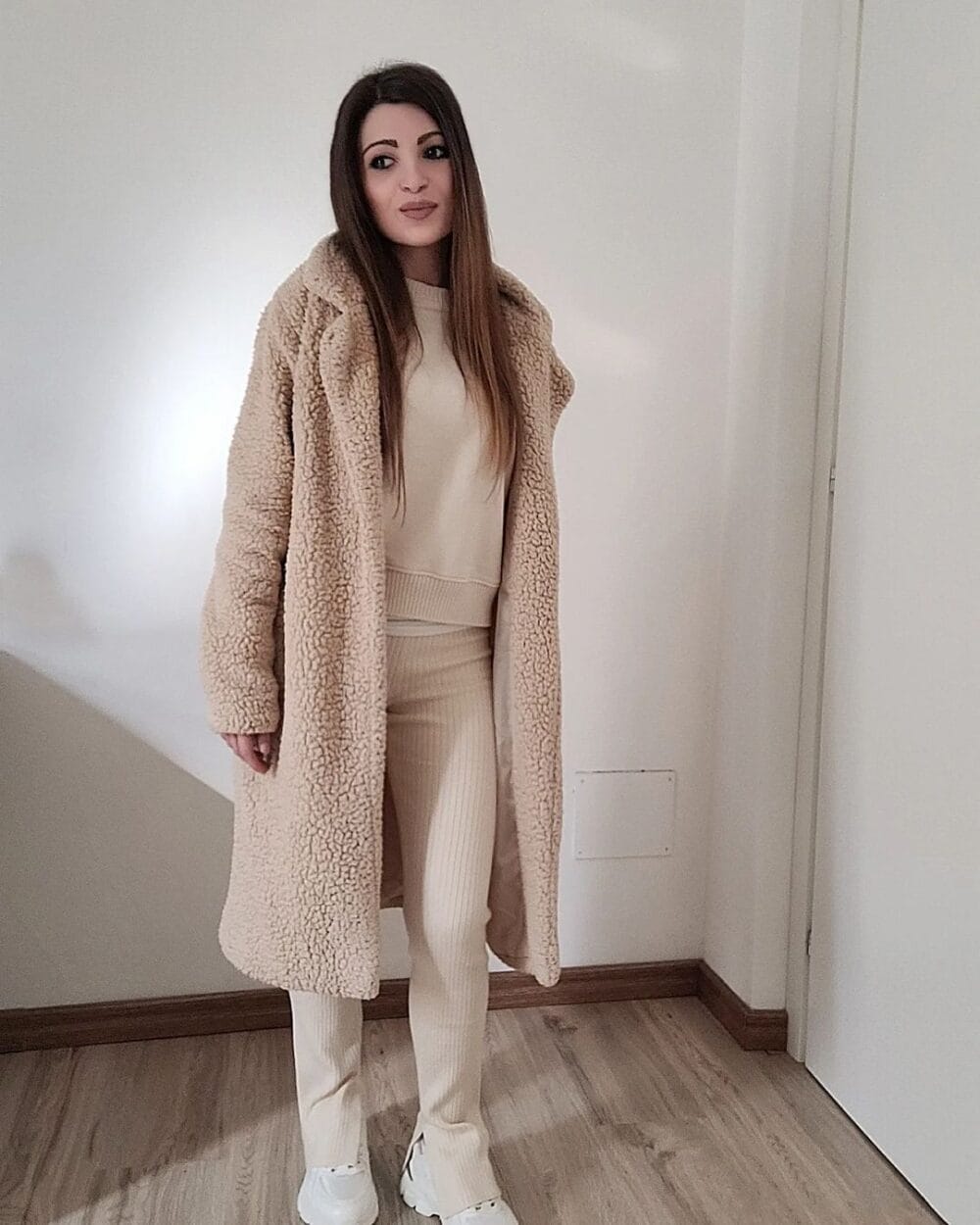 Photo: @brunellamanuli
Stay on-trend in all beige with a warm long teddy coat that's as stylish as it is snug. It's an elegant and monochromatic way to conquer the cold.

Cute Winter Sweater Outfit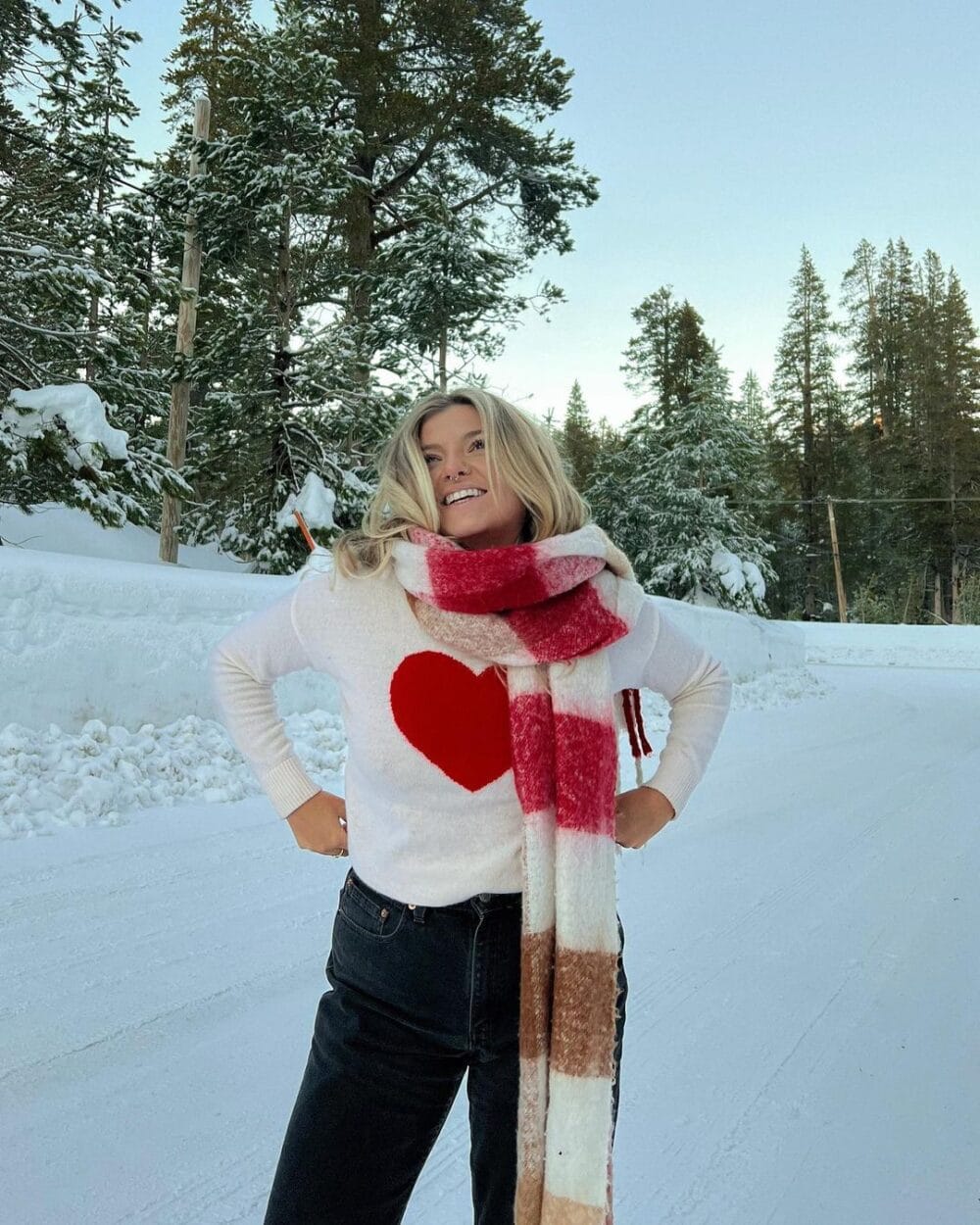 Photo: @andiefitzgerald
Inject some fun into your winter wardrobe with a playful sweater adorned with a red heart and a big, colorful scarf. Stay warm and spread joy with this cheerful outfit. This will be easy to pair with almost any coat or a casual puffer jacket.

Classy Winter Coat Outfit
Photo: @12alii
This classy winter coat paired with brown boots, animal print scarf. and a fun cross-body bag creates an elegant winter look with a hint of flair and playfulness.

Plaid Jacket, Leather Pants, and Chelsea Boots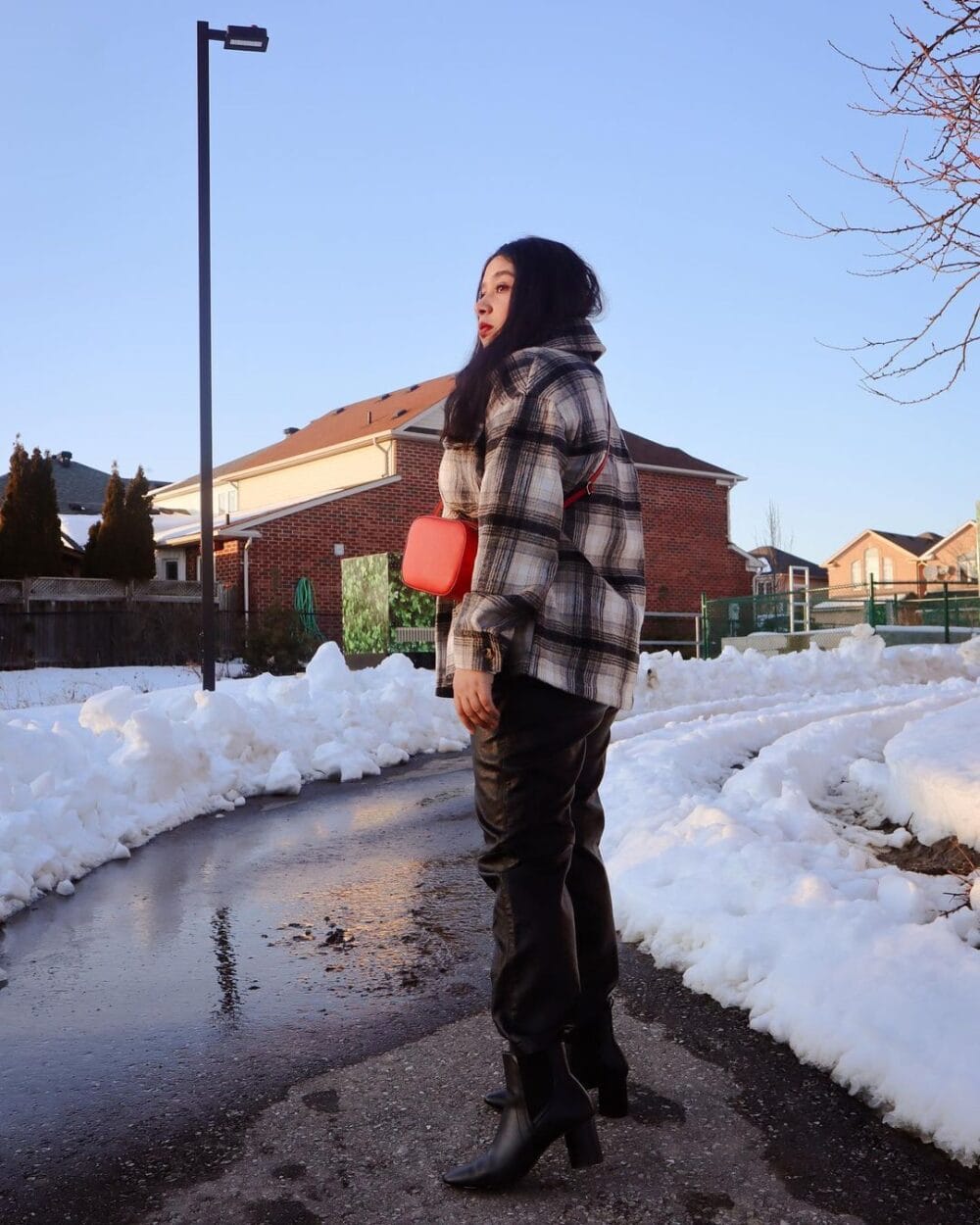 Photo: @brunette_touch
Go for a sophisticated yet edgy winter look with a plaid jacket, leather pants, and trendy Chelsea boots. It's a winning combination for urban explorers.

Tartan Pants + Puffer Jacket
Photo: @maffstudio
Make a statement with tartan pants, black boots, and a puffer jacket that keeps you cozy and fashion-forward. This outfit is perfect for those who love a touch of boldness.

Cozy Winter Outfit with Colorful Accessories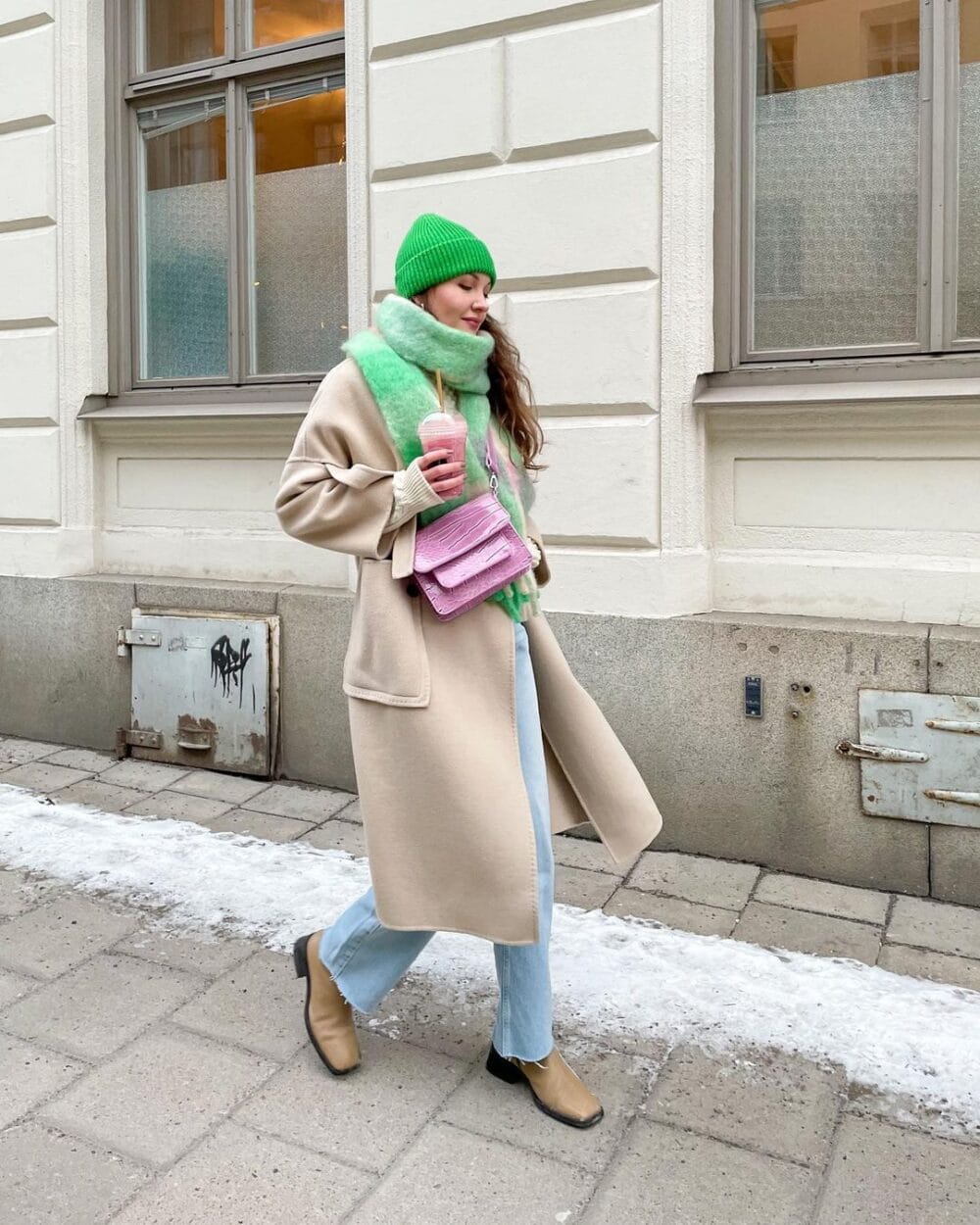 Photo: @alexandrastenring
Brighten up the winter landscape with this cute and warm outfit featuring green and pink accessories. Stay vibrant and cozy all season long.

Rib Knit Leggings Winter Outfit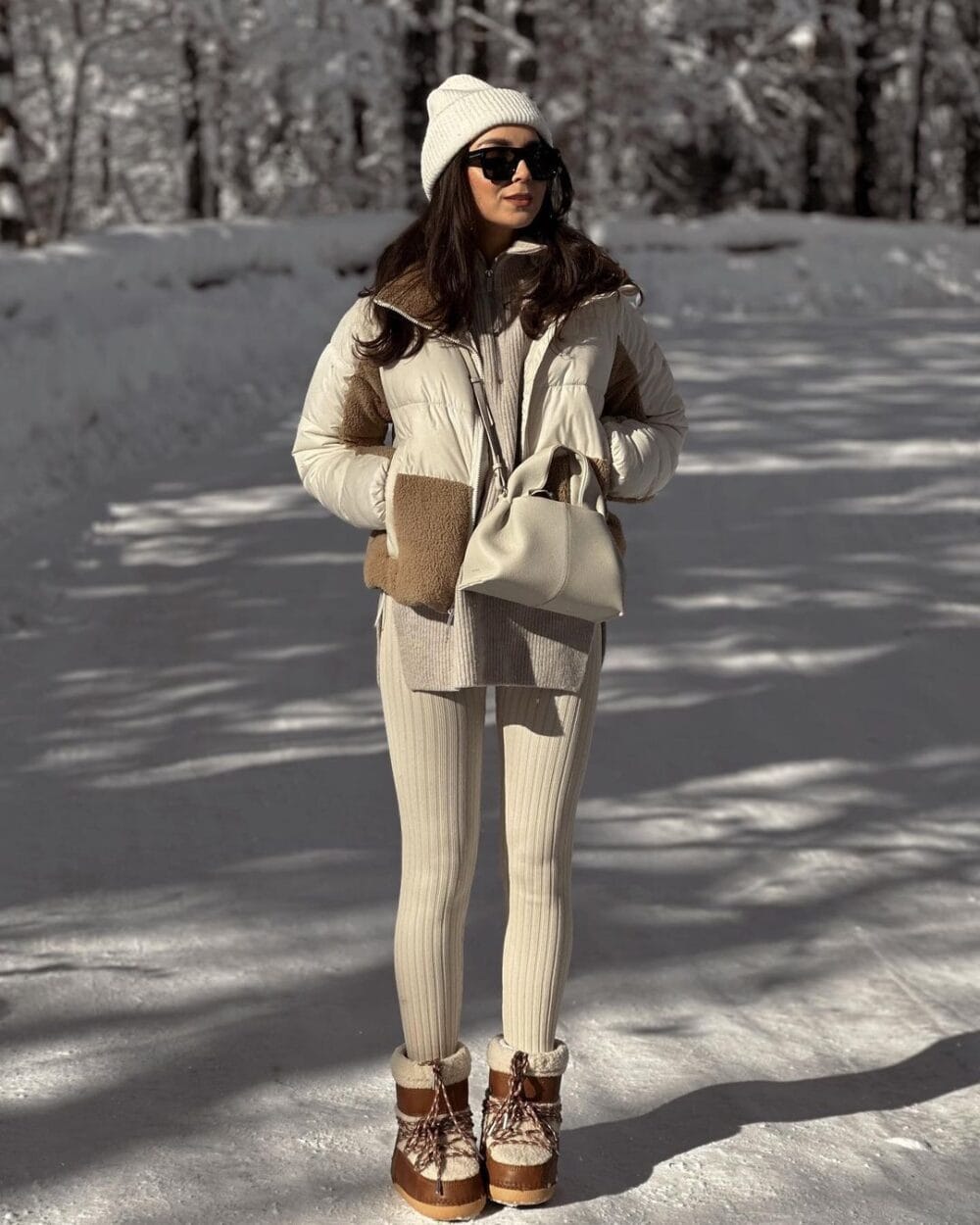 Photo: @claudia.costea
Keep it simple and stylish in a white and beige outfit, featuring rib-knit leggings, super cute snow boots, and a matching jacket. This look is perfect for those who love the snow!

Chic Black Winter Outfit
Photo: @samstephen
Stay cool and classic in a black puffer jacket, jeans, and boots, topped off with a white beanie. A casual black outfit is a perfect choice for urban winter adventures.

That's it for now!
In conclusion, winter fashion doesn't have to be a battle between staying warm and looking stylish.
With the array of trendy winter outfits we've explored, you can embrace the chill in style, no matter how cold it gets.
From cozy faux fur jackets to elegant aviator jackets, and from playful sweaters to sophisticated coats, these outfits showcase the perfect balance between comfort and fashion.
So, bundle up, step out, and let your winter wardrobe shine, turning the frosty season into your very own fashion runway!

Share on Pinterest: