As the leaves start to change and the air gets a little crisper, it can only mean one thing: fall is here! And what better way to embrace the season than by revamping your wardrobe with some super stylish and cozy fall outfits?
In this article, we'll explore the super fun world of autumn college fashion, featuring essential wardrobe pieces every college girl should have for the season.
Additionally, we'll look at some tips on crafting outfits that effortlessly blend style and comfort, ensuring you're prepared for those bustling days on campus.
And most importantly, we have a list of casual fall college girl outfit ideas for you to get inspired from!
So, grab your pumpkin spice latte and get ready to slay the fashion game this autumn!

Related: 15 Simple Habits of Women Who Always Dress Well

College Fashion Trends for Fall
First and foremost, let's take a quick look at some of the hottest college fashion trends for fall 2023. These trends are all about combining comfort and style, making them perfect for the college lifestyle:
Oversized Sweaters: There's nothing quite like snuggling up in an oversized sweater on a chilly fall day. This trend is not only cozy but also effortlessly chic. Pair it with leggings or skinny jeans for a relaxed yet stylish look.
Plaid Everything: Plaid is a fall classic that never goes out of style. Try a plaid skirt, flannel shirt, or even plaid accessories – this pattern adds a touch of autumn charm to any outfit.
Ankle Boots: Comfortable and versatile, ankle boots are a must-have for fall. They go perfectly with jeans, skirts, and dresses, adding a trendy edge to your look.
Neutral Tones: Earthy and neutral colors like camel, olive, and rust are making a big comeback this fall. These hues are not only sophisticated but also incredibly easy to mix and match.
Layered Outfits: Fall is all about layering. Think cardigans over blouses, scarves paired with sweaters, and denim jackets worn atop dresses. Layering keeps you warm and also adds depth to your outfits.
Next, let's talk about those essential wardrobe staples you'll need to create stunning fall looks.

College Girl Wardrobe Staples for Fall
Building a solid wardrobe for fall is all about having the right pieces at your fingertips. Here are some must-have staples every college girl should consider adding to her closet:
Denim Jeans: A good pair of jeans is a year-round essential, but they truly shine in the fall. Opt for classic blue or experiment with different washes and cuts to find your perfect fit.
Leather Jacket: A leather jacket is a classic clothing item that adds a bit of edginess to any fall outfit. A leather jacket is awesome for a casual look, which is what college fashion is all about.
Trench Coat: A stylish trench coat is a versatile outerwear piece that can elevate any outfit. It's ideal for those unpredictable fall weather days.
Scarves: Scarves not only keep you warm but also add a pop of color and texture to your ensemble. Invest in a few cozy scarves in different patterns and materials.
Leggings: Comfy leggings are a lifesaver for those days when you want to feel relaxed yet put-together. Pair them with oversized sweaters or tunics for a cute and casual look.
Knit Cardigans: A selection of knit cardigans in various colors is a fantastic addition to your fall wardrobe. They can be layered over almost anything and are perfect for achieving that cozy, autumn aesthetic.
Hats: Make the most of your cozy beanies and stylish baseball caps. Hats are a great addition to your fall wardrobe. They will keep you warm and also add a trendy element to your look.

Tips for Putting Together a Fabulous Fall Outfit
Creating stylish and comfortable fall outfits is easier than you might think. Here are some tips to help you curate your fall wardrobe and put together fantastic looks:
Mix and Match: Don't be afraid to mix different textures, patterns, and colors. Experimentation often leads to the most unique and eye-catching outfits.
Accessorize: Accessories can take your outfit to the next level. Think statement necklaces, cozy beanies, and ankle boots that add a touch of personality to your look.
Comfort is Key: While staying stylish is important, don't compromise on comfort. Choose clothing items that feel good and comfortable to wear all day, especially when you have a busy college schedule.
Now, let's get to the good part – scroll down for some serious fall college girl outfit ideas and inspiration!

Related: 37 Cute Women's Halloween Costumes to Copy This Year

Casual Fall College Girl Outfit Ideas

Band T-shirt, Dr. Martens, and Leather Jacket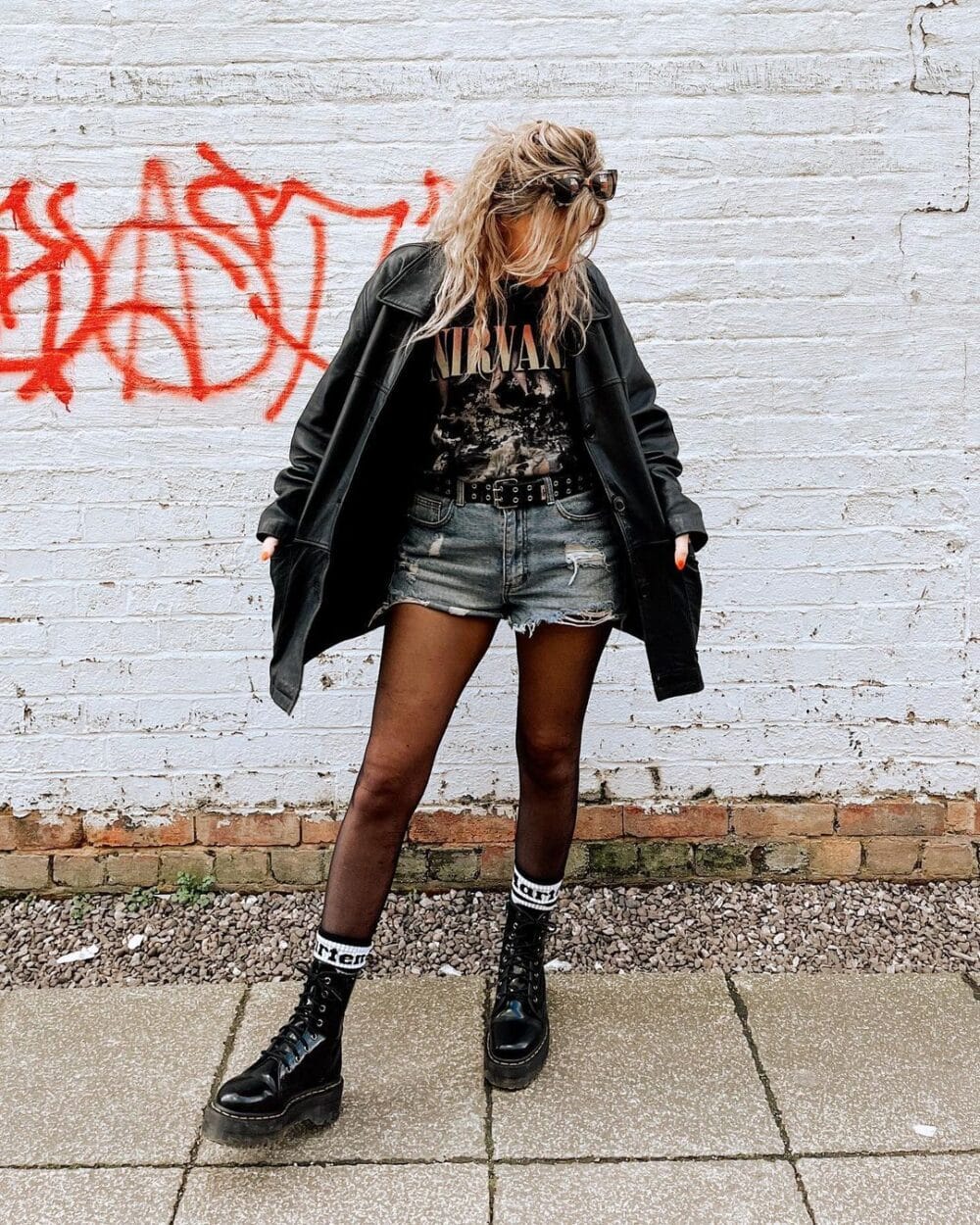 Photo: @its_a_m00dx
Rock a rebellious grunge look with denim shorts paired with tights, Dr. Martens Jadon boots, your favorite band t-shirt, and a sleek leather jacket.

Sweatpants, Cropped Sweatshirt, and Oversized Biker Jacket
Photo: @daniellee_esther
Achieving the ultimate cool-girl vibe with comfy sweatpants, a trendy cropped sweatshirt, and an oversized biker jacket.

Charcoal Joggers with a Cardigan and Cross-Body Bag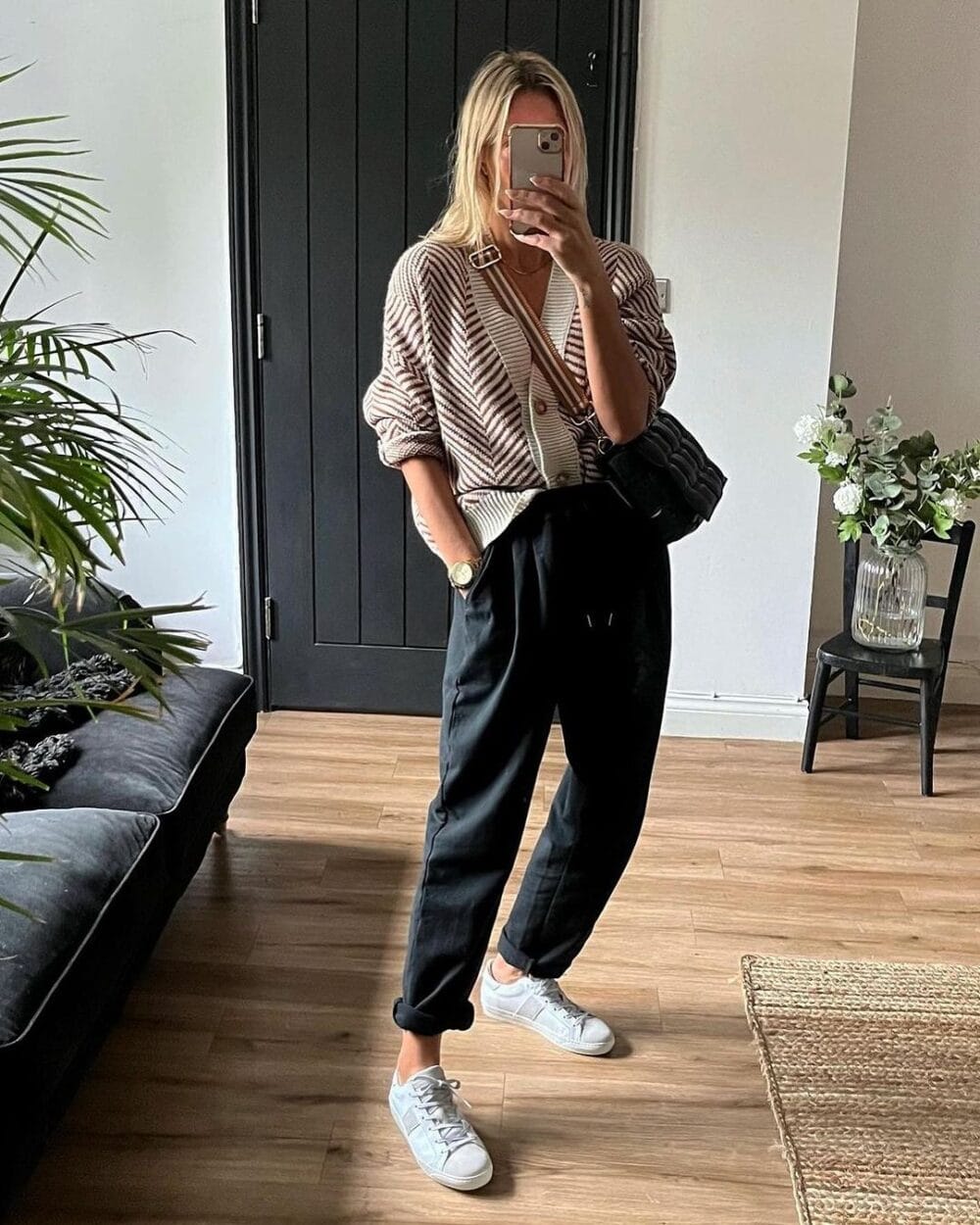 Photo: @kspringhamstyling
Sporty and chic in charcoal joggers, a cozy cardigan, and a handy cross-body bag for your essentials.

Light Wash Jeans, White Top, and Leather Jacket
Photo: @purdeylauraa
Effortlessly stylish in light wash jeans, a classic white top, and a sleek leather jacket. Super simple and versatile.

Corduroy Jacket and Uggs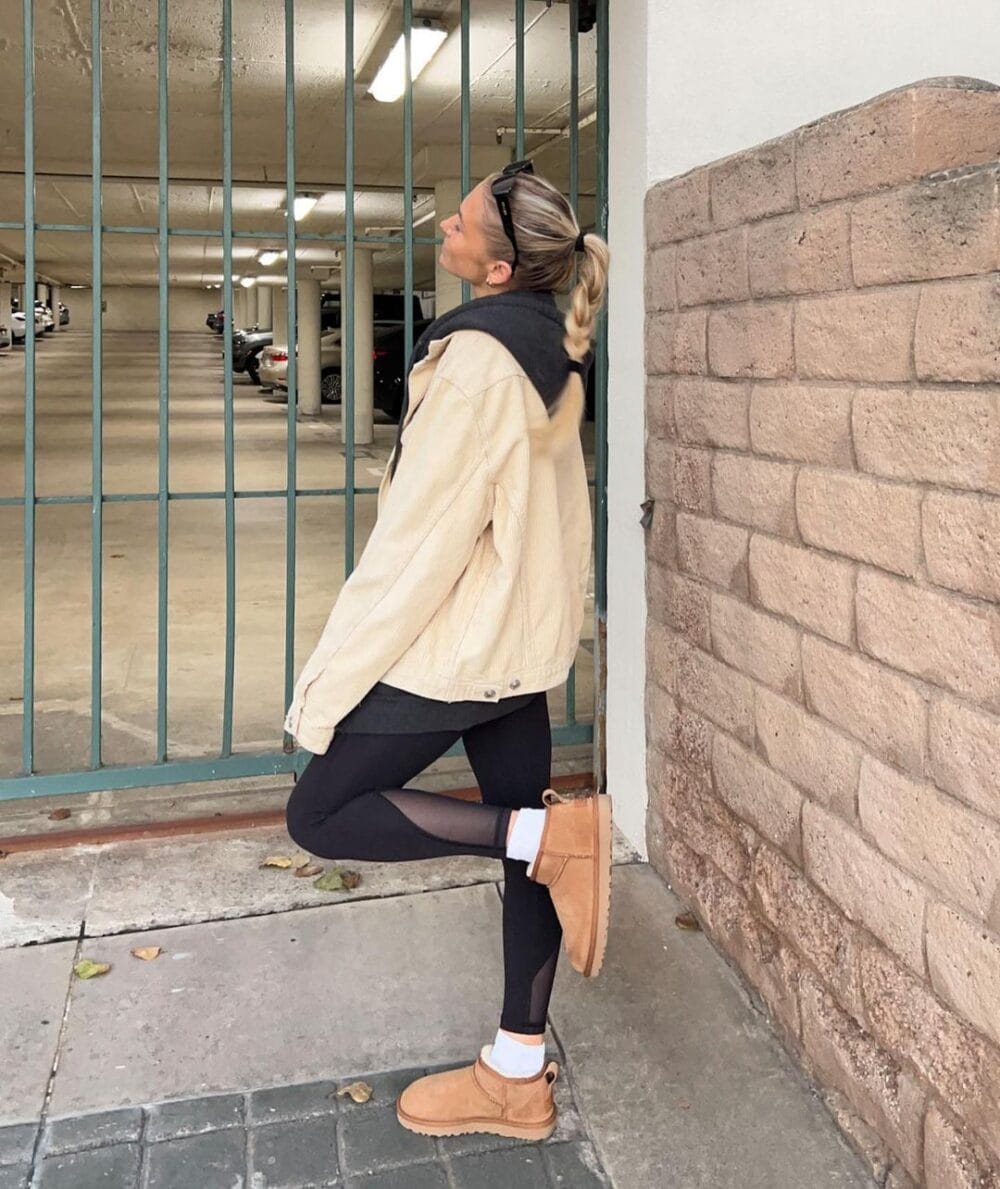 Photo: @alisecaroline
Embrace the cozy vibes of fall with a stylish corduroy jacket and snug Uggs. Perfect for those chilly campus walks.

Side Stripe Flare Leggings, Hoodie and Chelsea Boots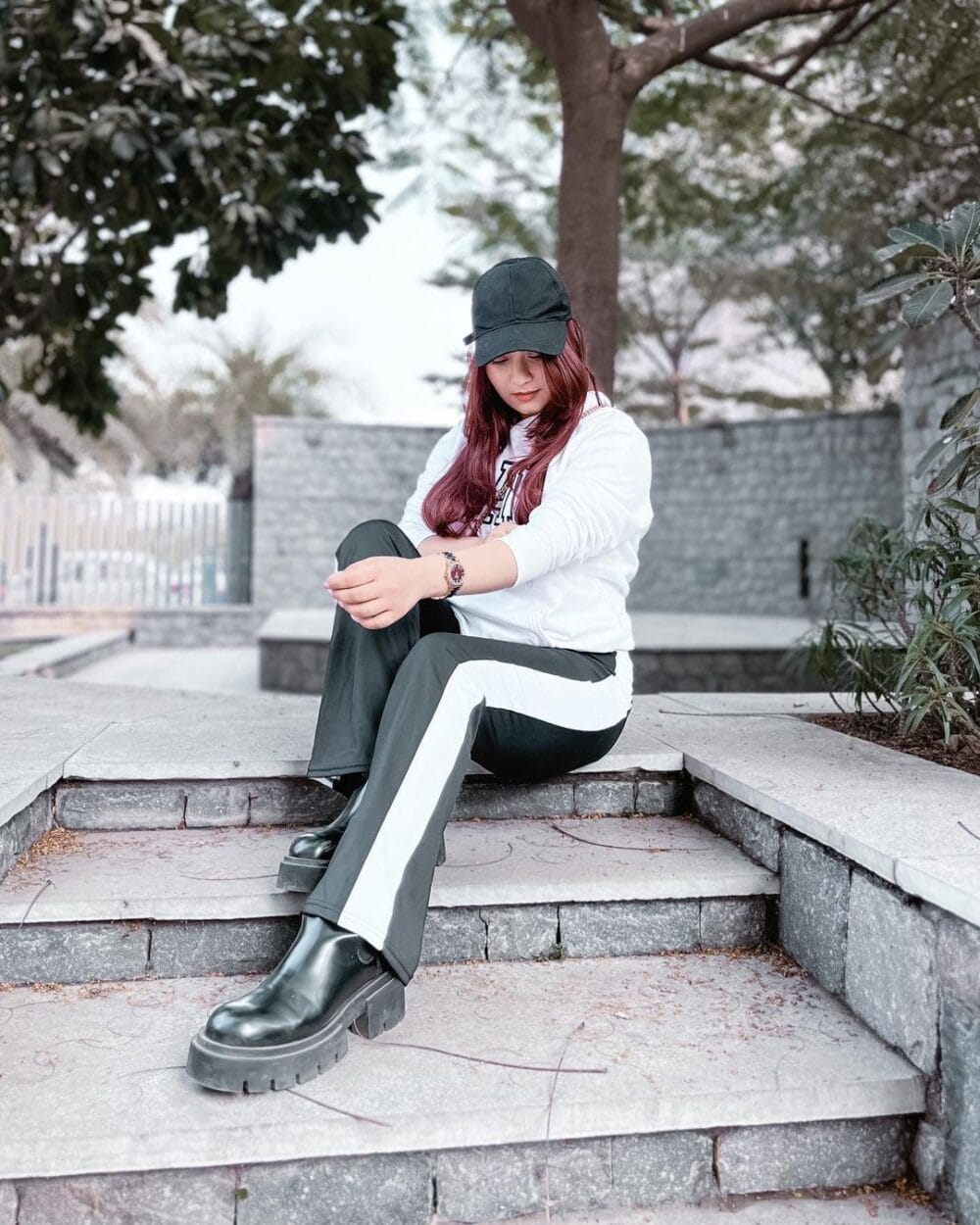 Photo: @aaasthaa_
Get ready to conquer the day in style with these comfy yet trendy side stripe flare leggings paired with a classic white hoodie for ultimate comfort and chic Chelsea boots.

Plaid Shirt, Cozy Vest and Leather Pants
Photo: @camilaperic
Rock a colorful plaid shirt, a fashionable vest, and sleek leather pants on campus this year – a unique look that exudes autumn charm.

Cargo Pants with Crop Top, Sneakers, and Leather Jacket
Photo: @davneetdhillon
A sleek and stylish combo of white cargo pants, a matching crop top, cool Nike sneakers, and a leather biker jacket – effortlessly chic.

Black Mini Skirt and Yellow Turtleneck Sweater
Photo: @gorjess_lifestyle
Adding a pop of color to fall with a black mini skirt, black boots and a cozy yellow turtleneck sweater – a perfect combo of cute and cozy.

Leggings, Ankle Boots, Turtleneck Top, and Sweater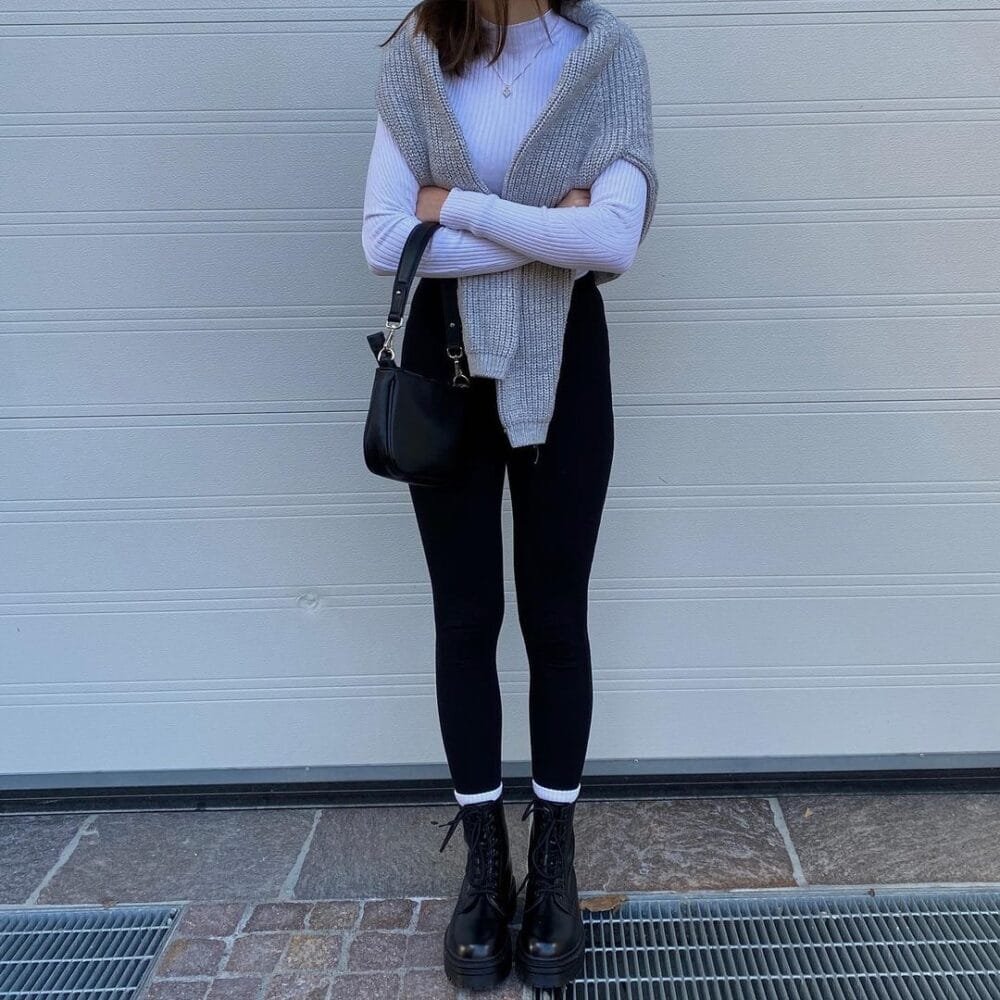 Photo: @noemi.dgs
A comfy-classy look featuring black leggings, ankle boots, a white turtleneck top, and a cozy grey sweater. It doesn't get more comfy than this and you'll always stay warm.

Colorful Striped Sweater with Jeans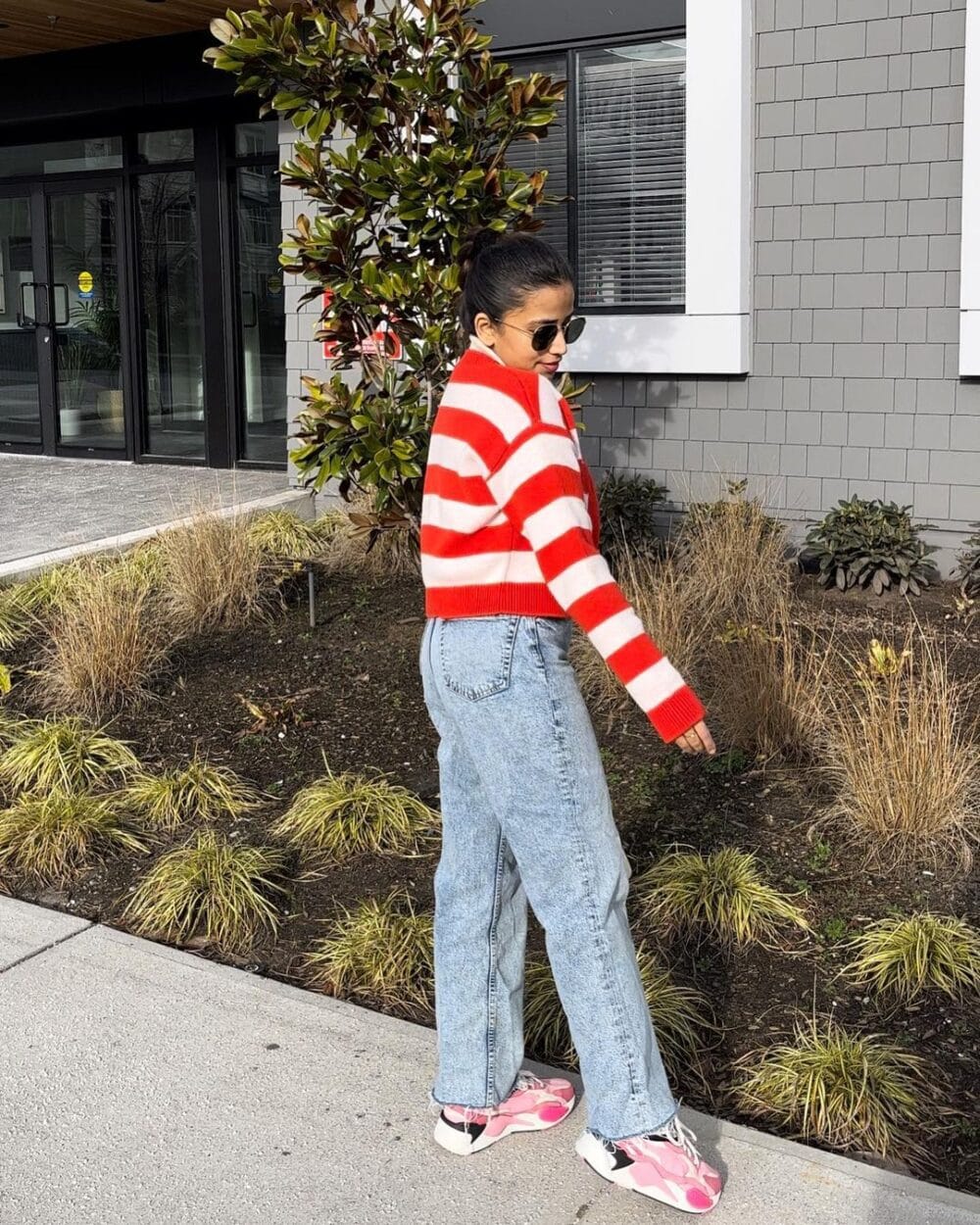 Photo: @iakankshamahajan
Staying vibrant and stylish in a colorful red and white striped sweater paired with classic jeans and colorful sneakers as well. This simple fall college outfit is great for those long days on campus.

Cropped Sweatshirt, Mini Skirt, and Sneakers
Photo: @maddybajczyk
Slay the casual cute college girl look with a cropped sweatshirt and a black mini skirt, paired with comfortable sneakers. A perfect college girl outfit.

Midi Skirt, Sweatshirt, and Boots in Fall Colors
Photo: @itsyohomegirl
Stand out and embrace autumn hues with a stylish striped midi skirt, cozy sweatshirt, and trendy boots – all in fall colors.

Ripped Wide Leg Jeans, Mesh Top and Leather Jacket
Photo: @laviniackat
Channeling edgy vibes with this all-black outfit: black ripped wide-leg jeans, a sultry mesh top over a crop top, and a sleek leather jacket. This definitely exudes 'IT Girl' vibes.

Grey Oversized Sweater, Ripped Jeans, and Lace-Up Boots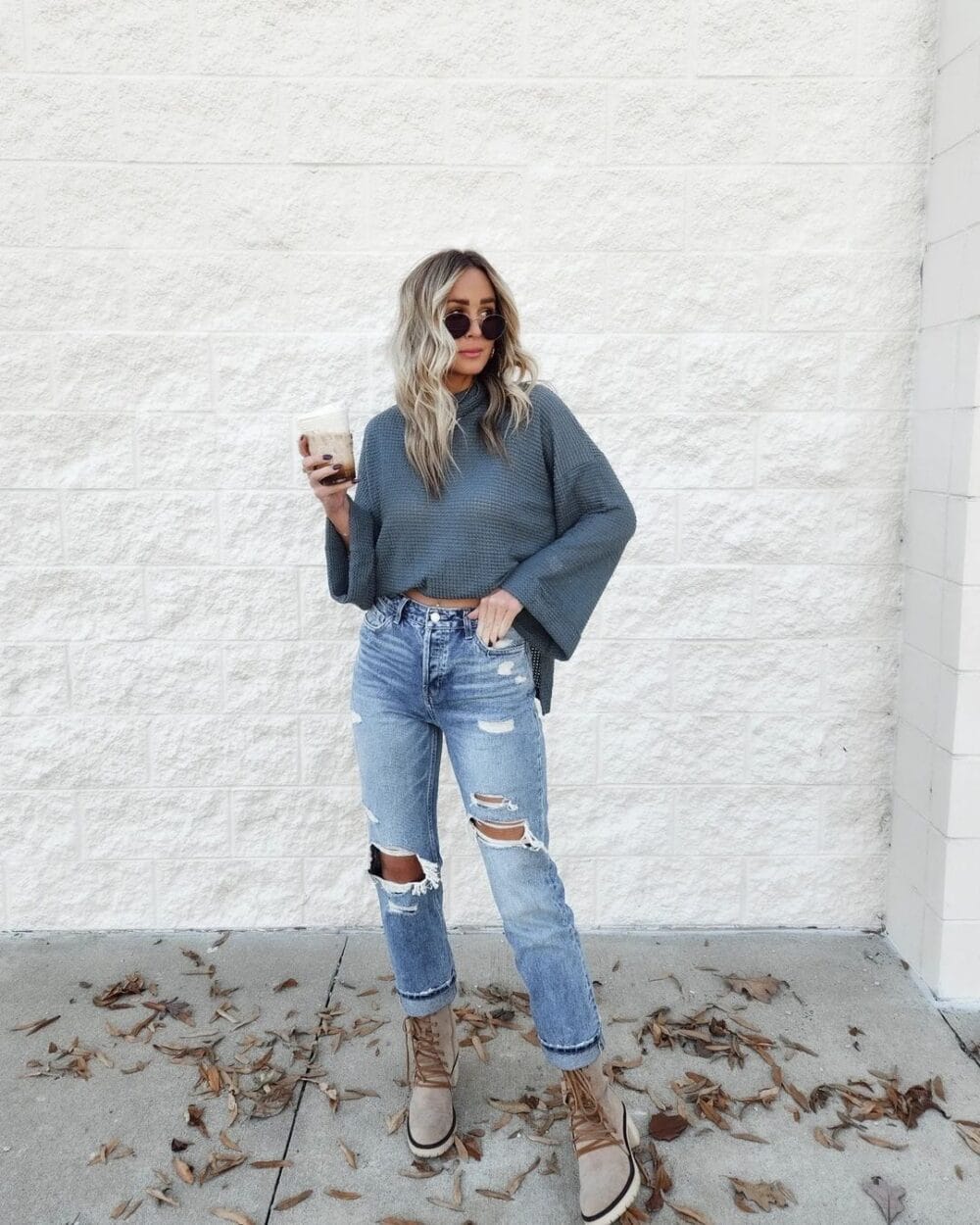 Photo: @leanncaves
Get comfy and stylish in a super cute grey oversized sweater, ripped light blue jeans, and these awesome lace-up boots.

Black Polo Neck and Leather Pants with Pink Accessories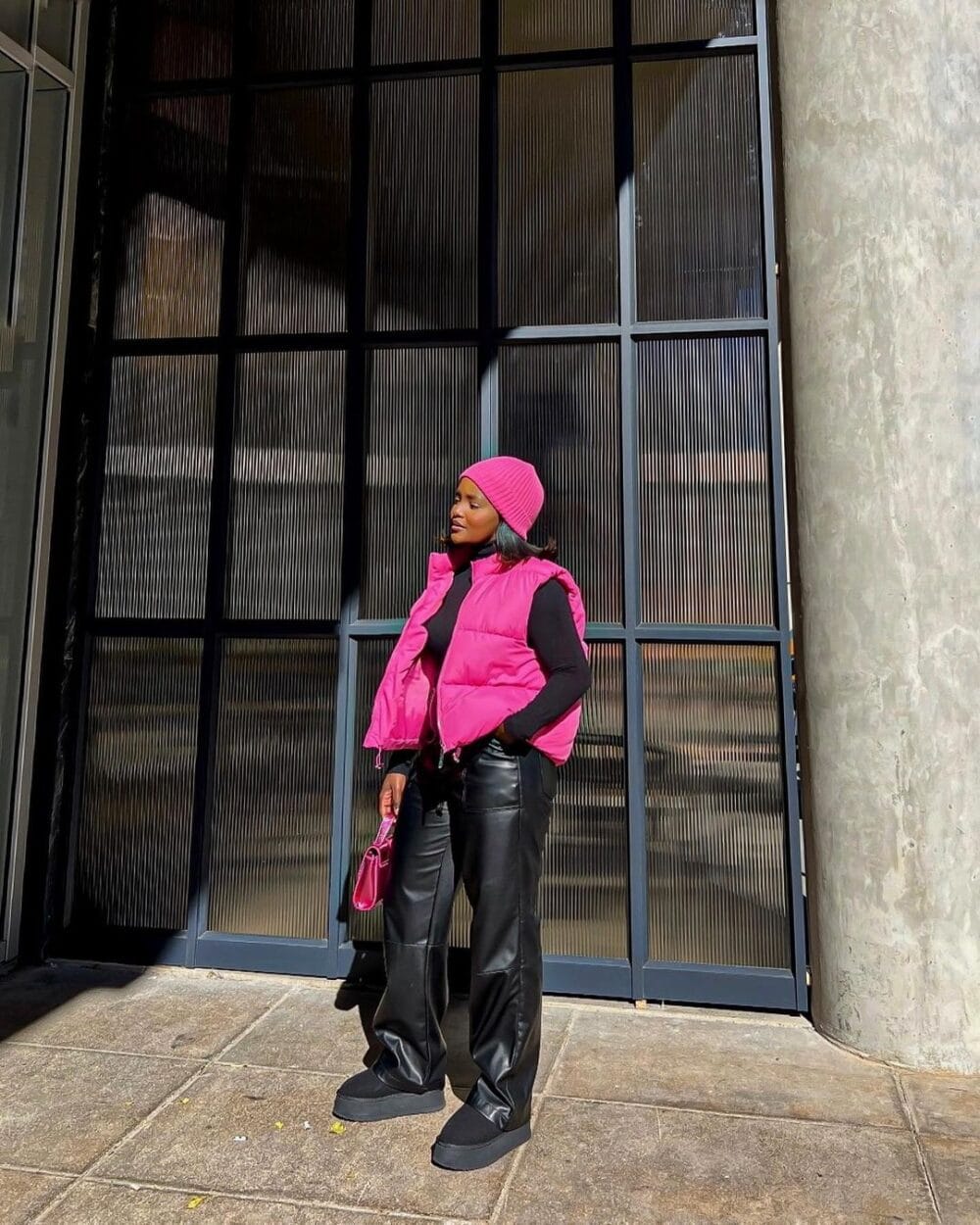 Photo: @kamohelo_muso
A sophisticated blend of a black polo neck, black leather pants, a pink vest, and fun pink accessories for that extra bit of flair this fall.

Metallic Cargo Pants with a Black T-shirt
Photo: @marika_vialova
Steal the show on campus this year with these shimmering metallic cargo pants, paired with a cool black t-shirt.

Green Teddy Jacket with Jeans and Uggs
Photo: @madeline.hagmann
Stay warm and cozy in a green teddy jacket, classic light wash jeans, and comfy Uggs – perfect for autumn adventures.

Blue Wide Leg Jeans, Sweater, and Puffer Jacket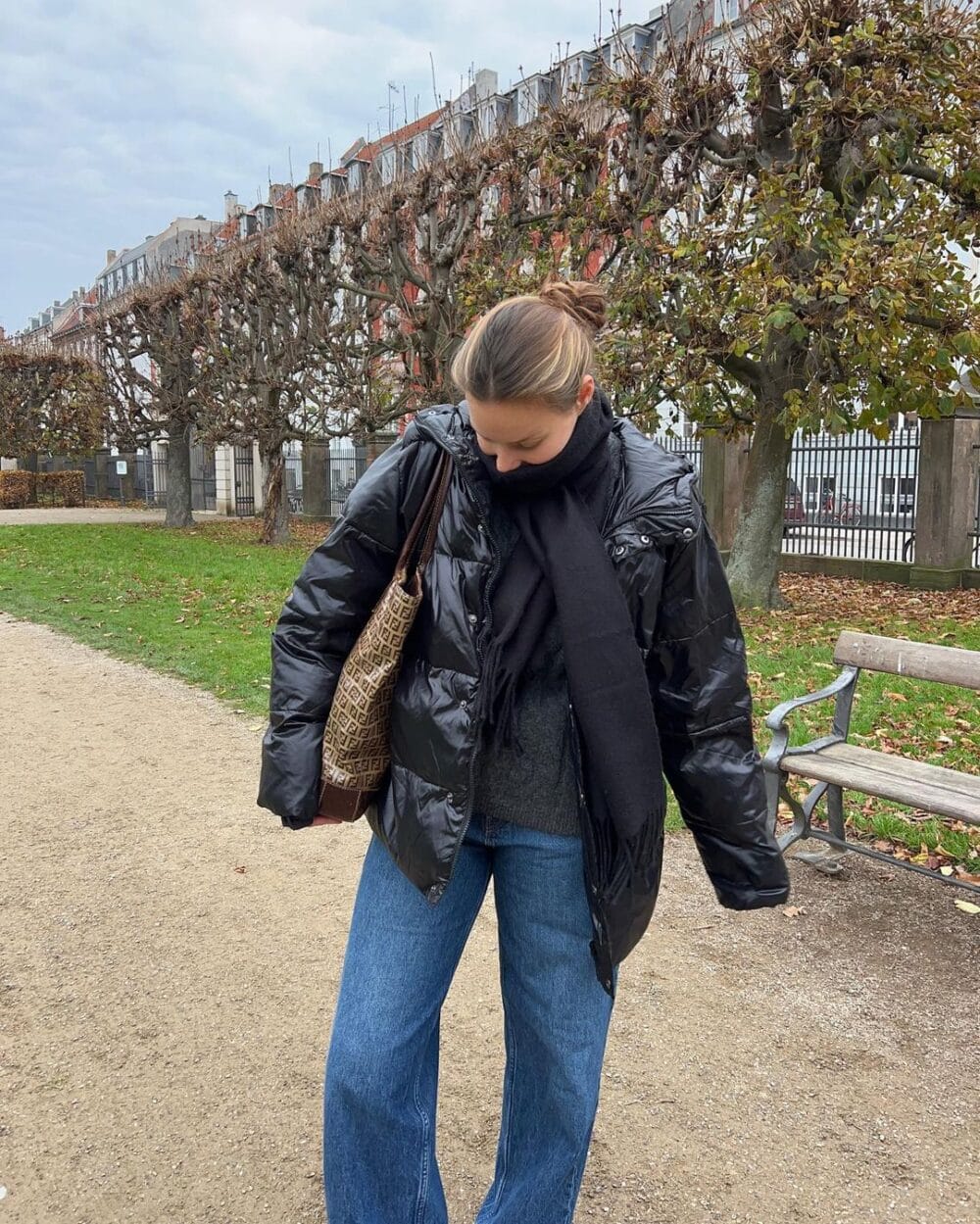 Photo: @mathilderavnc
Combining style and warmth with trendy blue wide-leg jeans, a simple sweater, and a warm puffer jacket, as well as a cute tote bag for your college essentials.

Long Sleeve Shirt under T-shirt with White Cargo Pants
Photo: @zeynab_makke
Mixing patterns with a striped long sleeve shirt layered under a black t-shirt, paired with crisp white cargo pants for a fresh fall look.

Zebra Pants with Rib-Knit Long Sleeve Top
Photo: @manvii_jain
Another look that's great for standing out on campus this autumn – cute zebra pants with a black rib-knit long sleeve top for a chic and wild ensemble.

Cozy Sweater, Ugg Slippers, and Basebal Cap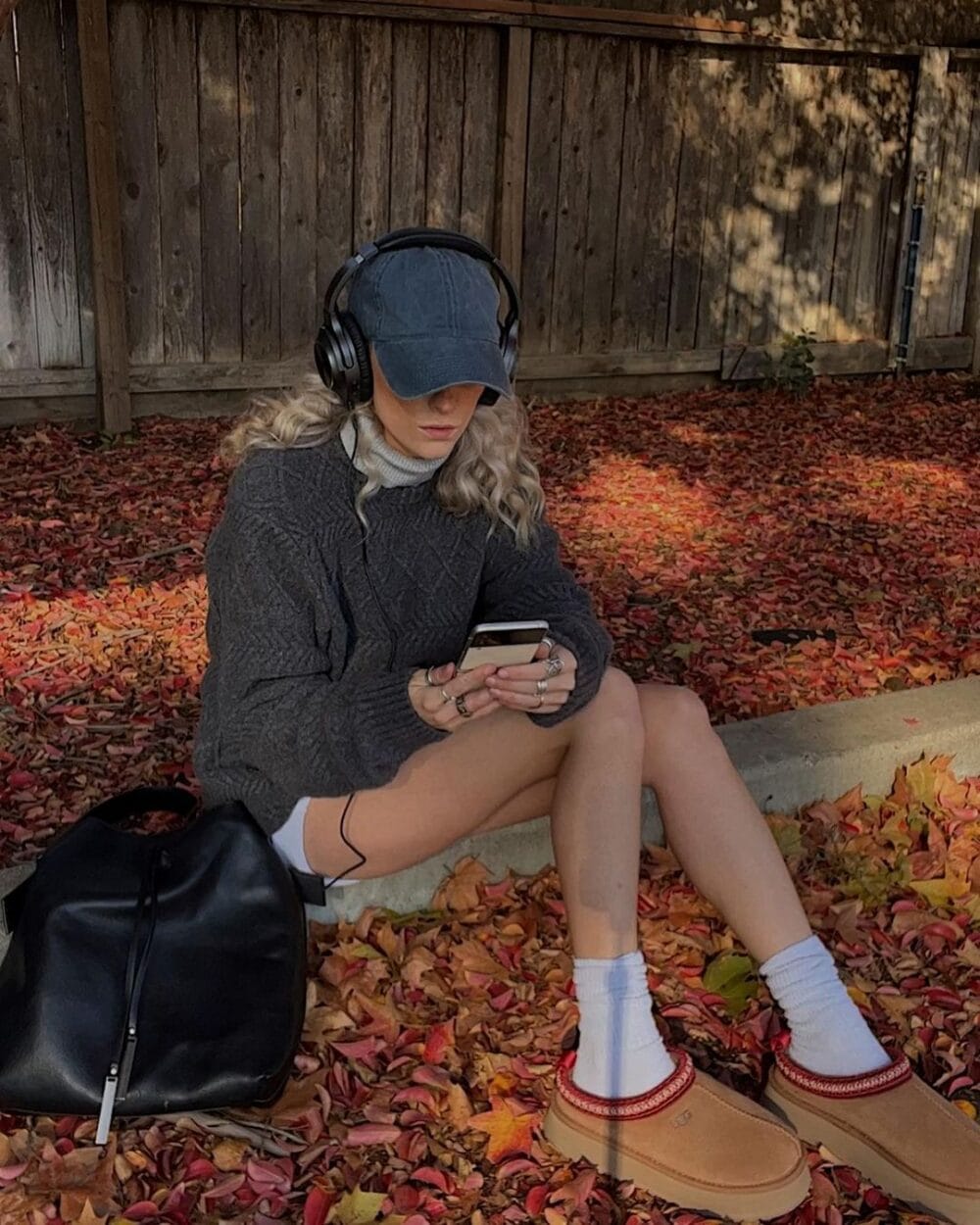 Photo: @byleighsdesign
Stay cozy and stylish on campus with this oversized grey sweater, trendy UGG slippers, a sporty baseball cap, and a spacious black tote bag. The perfect ensemble for a casual yet fashionable college look!

Ultra Mini Uggs, Puffer Vest, and Leggings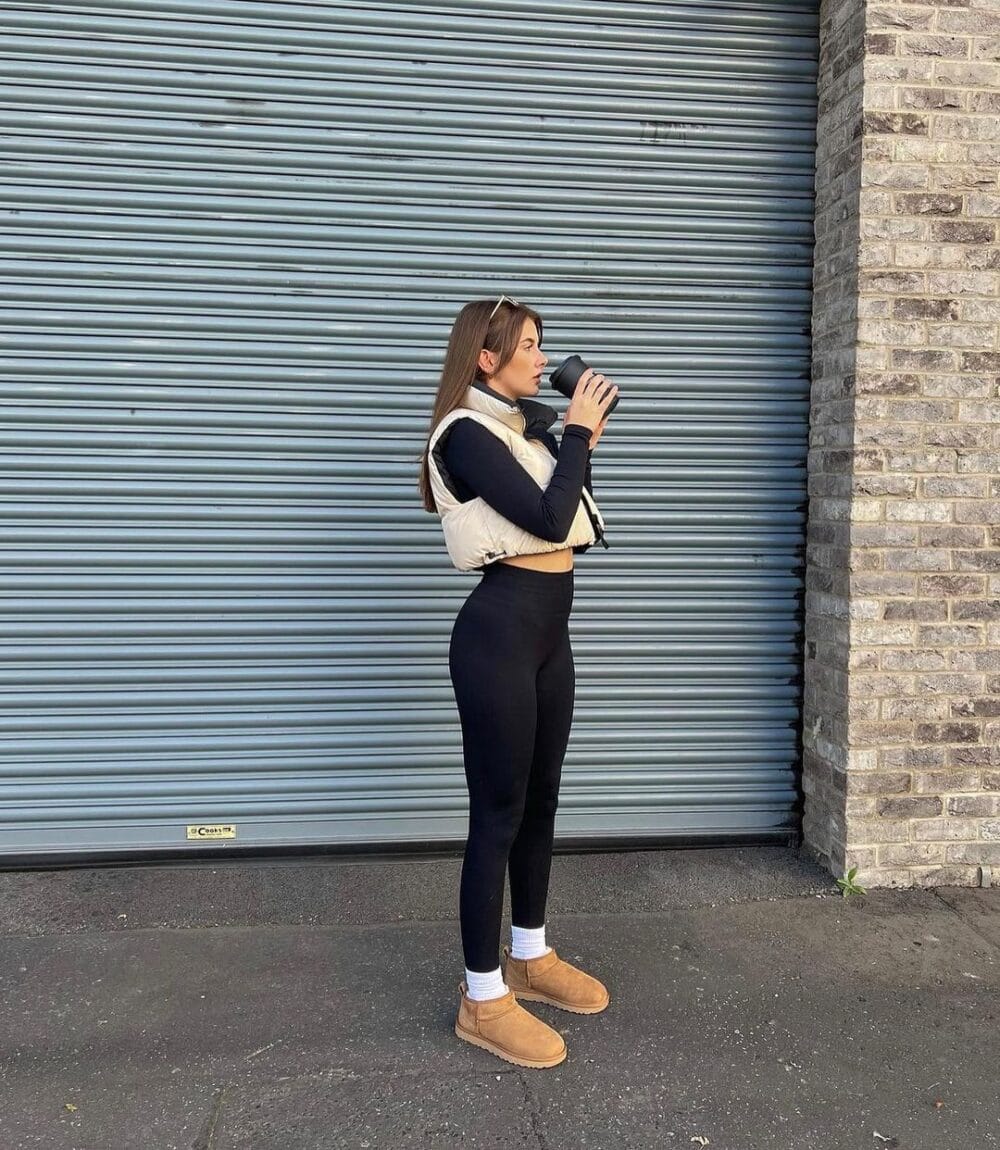 Photo: @chelseekeenan
Elevate your fall wardrobe with Ultra Mini Uggs, a cozy puffer vest, and stylish leggings. Stay snug and stylish as you conquer the campus in comfort!

Conclusion
And there you have it – we've journeyed through the delightful realm of fall fashion, discovering the hottest trends, must-have staples, and tips for crafting stunning outfits that effortlessly blend style and comfort.
As the leaves paint the world in warm hues and the air turns crisp, your autumn adventure begins.
So, grab your oversized sweaters, slip into those comfy jeans, and don't forget to throw on that timeless leather jacket – because fall isn't just a season; it's a fashion sensation!
Stay cozy, stay fabulous, and let your style be the exclamation point in this delightful autumn story. Happy fall, fashionistas!

Share on Pinterest: