Hey there, hair adventurers and color enthusiasts! Are you ready to dive headfirst into a world of vibrant hues and captivating shades?
Buckle up, because we're about to embark on a chromatic journey that will leave you in awe and itching to grab those hair dye bottles or book an appointment with a hair colorist!
That's right, we're diving into the enchanting realm of rainbow hairstyles – where traditional norms meet a prism of possibilities, and your hair becomes the canvas for a masterpiece of colors.
From pastel lavenders paired with minty greens to fiery reds intertwined with electric blues, the rainbow hair trend is all about embracing your inner unicorn and letting your hair shout, "I'm here to slay the color game!"
But here's the secret sauce – it's not just about the outright boldness. Our blog post is ready to showcase the spectrum of styles, from flamboyant, full-head rainbows crafted by masterful hairstylists to subtle and surprising pops of color hidden beneath a layer or gently gracing the tips.
Also, who said rainbows were limited to the classic ROYGBIV lineup? Imagine earthy tones seamlessly blending into a sunset-inspired gradient or mermaid-worthy shades that flow from deep sea blues to sparkling aquamarine.
The possibilities are as limitless as your imagination, and our blog is about to give you a front-row seat to this kaleidoscopic extravaganza.

Related: A Complete Hair Care Routine Guide: 40+ Tips You Need To Know

Rainbow Hairstyles – Get Inspired!
Whether you're the daring soul ready to rock a full-throttle rainbow mohawk or the mystic who prefers a concealed burst of colors, we've got you covered.
Get ready to be inspired, to bookmark your favorites, and to share this colorful journey with your fellow hair aficionados.
Let's go!

1. Holographic Rainbow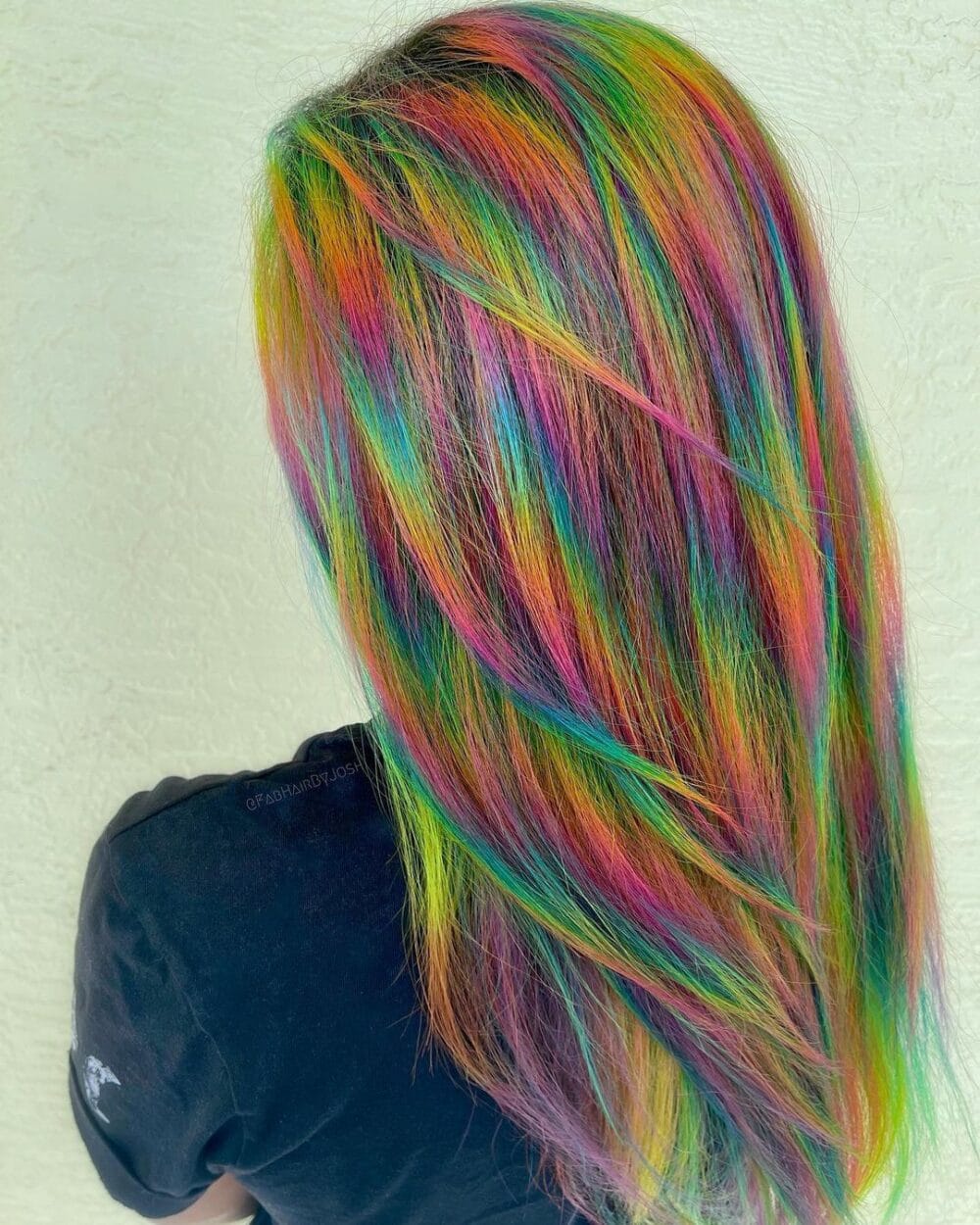 Behold a mesmerizing masterpiece of hair artistry, where each strand of hair seamingly embodies a separate rainbow, cascading harmoniously to create a kaleidoscope of colors that's nothing short of breathtaking.

2. True Rainbow Love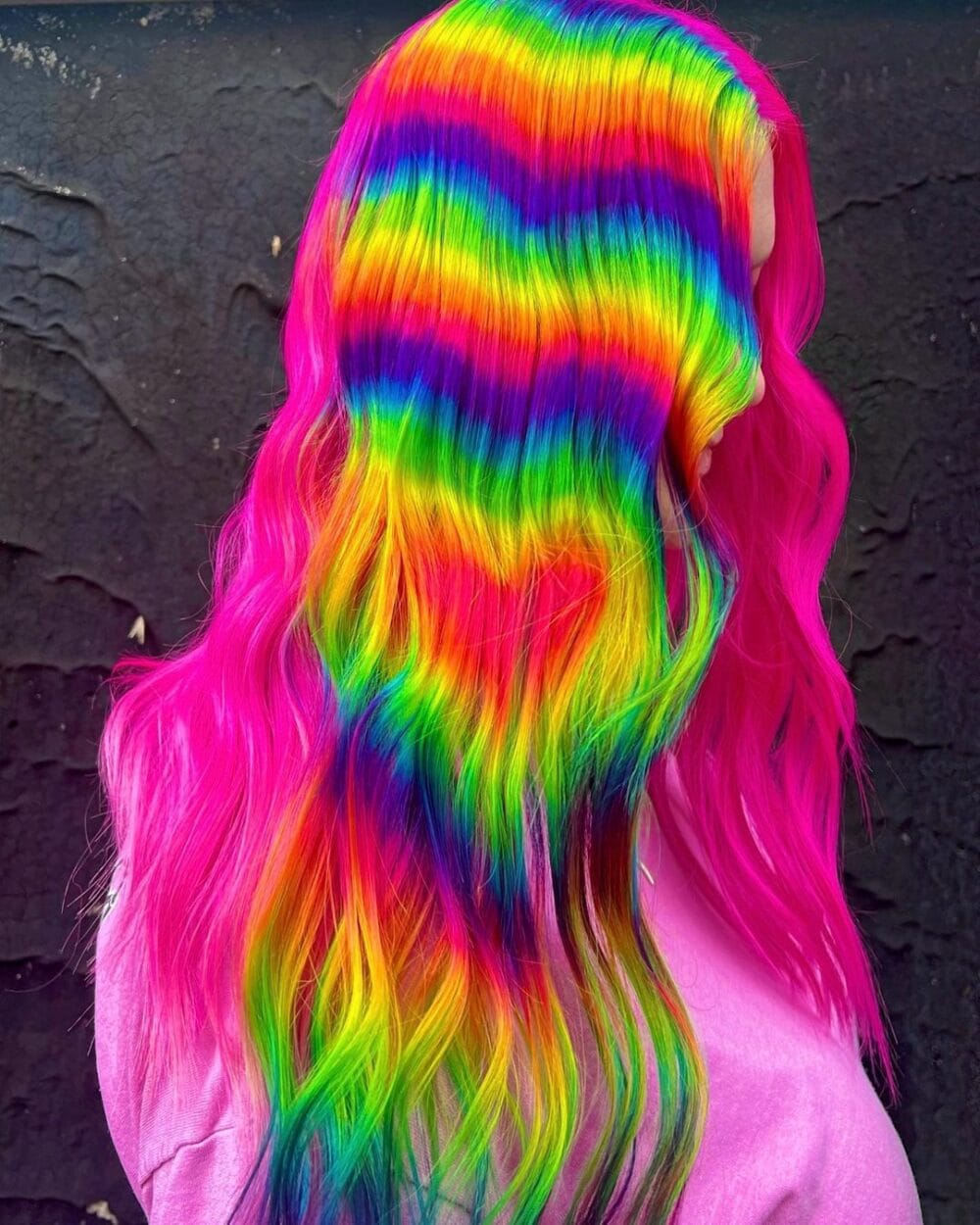 Dive into a sea of colors with this vibrant rainbow hairstyle – it's a joyful statement that can't be ignored.

3. Blue + Rainbow Highlights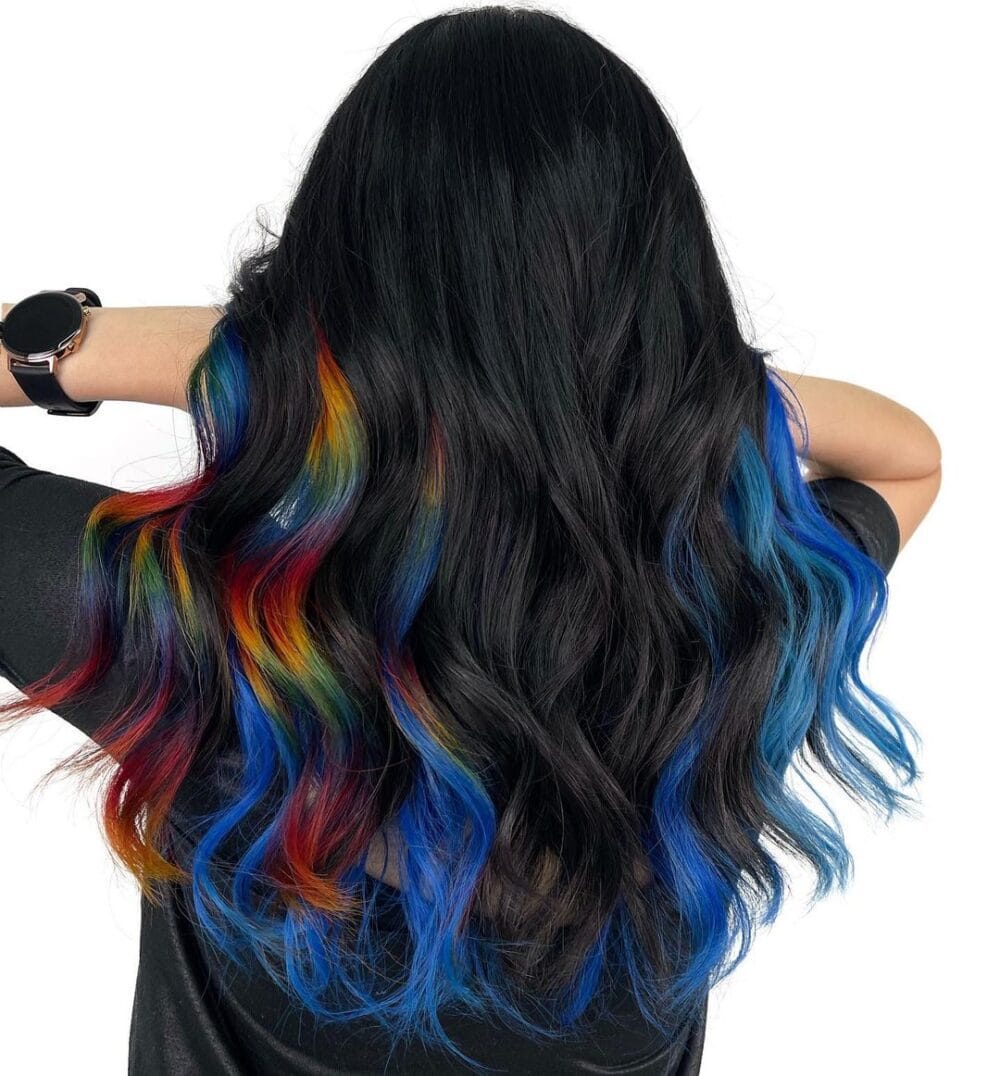 Create a buzz wherever you go with these electrifying blue and rainbow combination highlights that are both bold and beautiful.

4. A Rainbow in Grey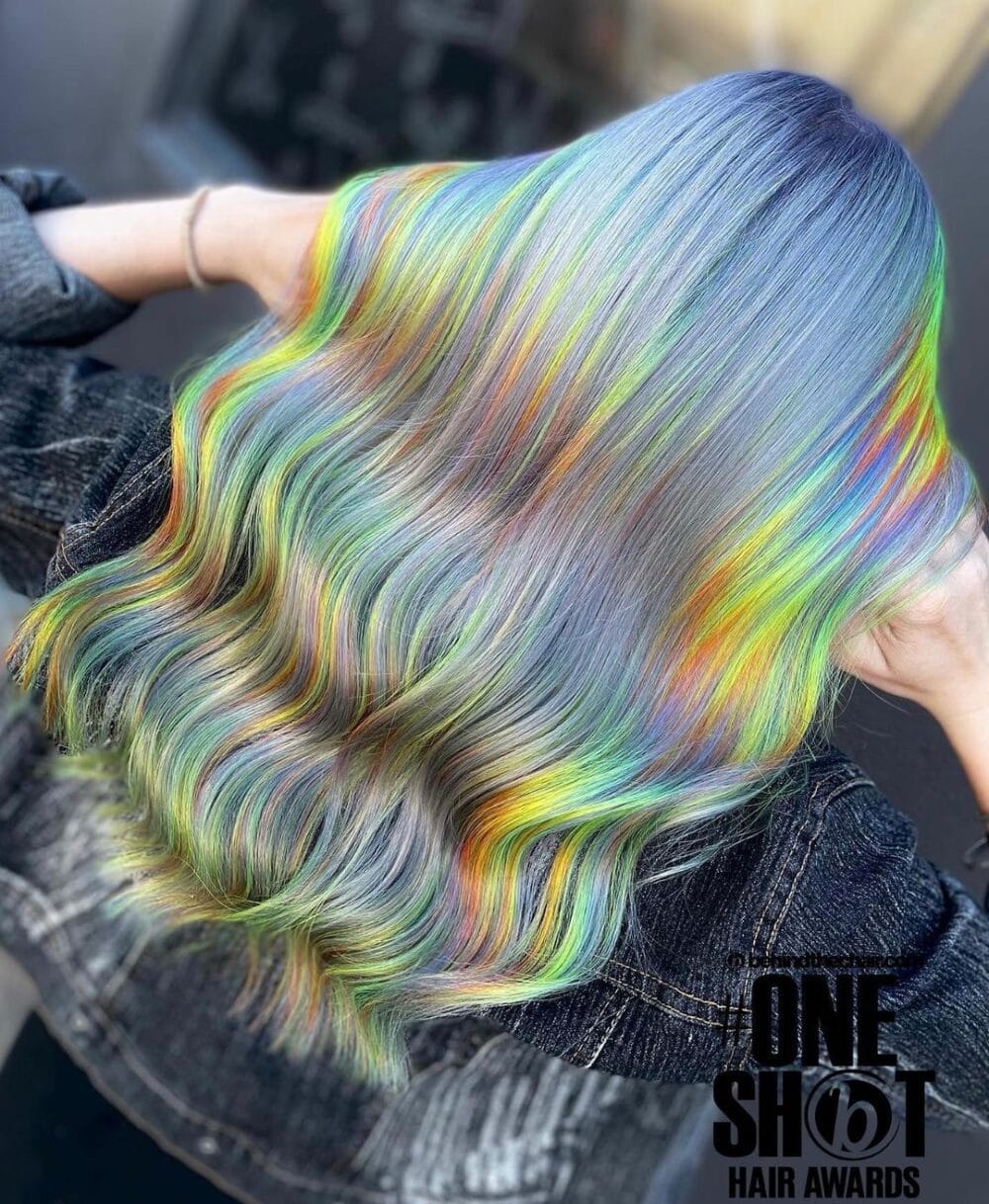 By André @andre_does_hurrr
This unique hairstyle blends soft shades of grey seamlessly with delicate streaks of rainbow hues, creating a look that's as sophisticated as it is enchanting.

5. Purple Rainbow
Prepare to be the center of attention with this show-stopping purple rainbow hairstyle that's a colorful explosion of personality.

6. Bright Pink Rainbow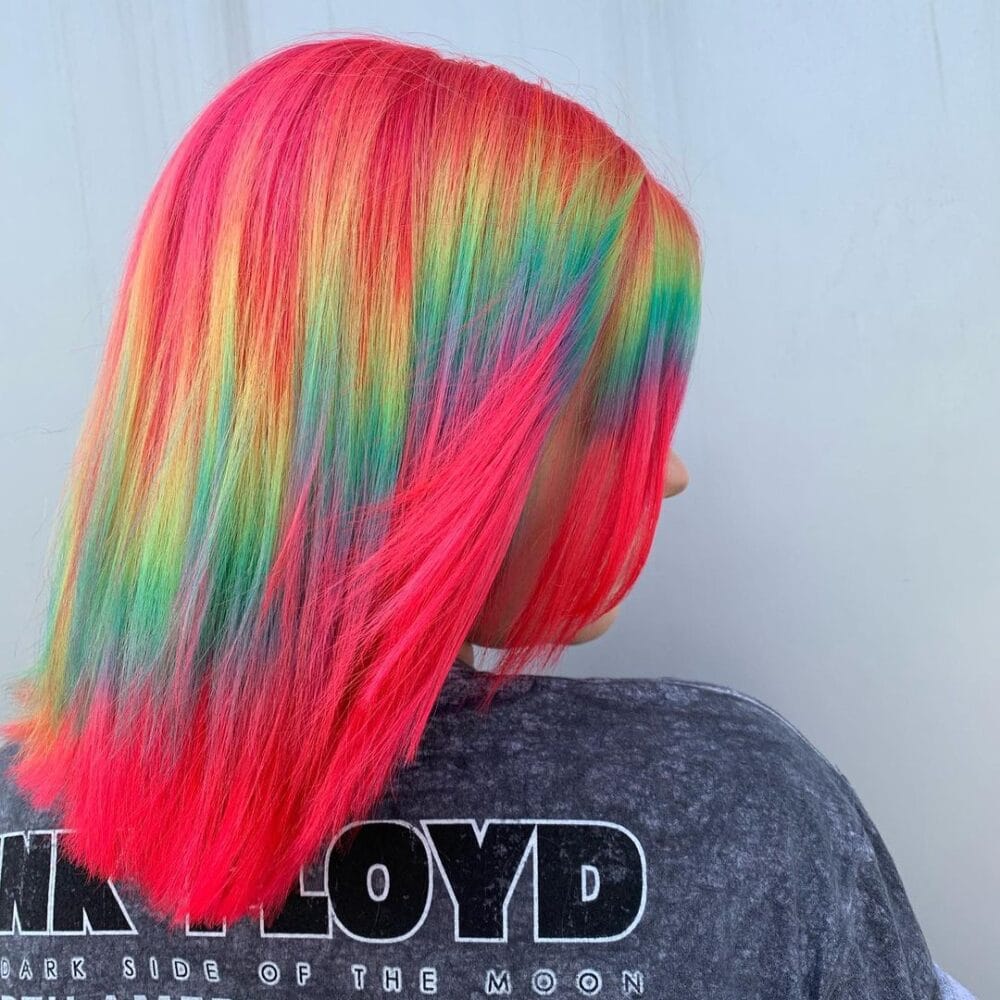 Unleash your inner unicorn with this eye-catching bright pink rainbow hairstyle that's as unique as you are.

7. Fiery Red Rainbow
Ignite your inner fire with this fiery yet harmonious red-toned rainbow hairstyle, where each strand represents a distinct shade in the spectrum.

8. Rainbow Glitch with Blond Streaks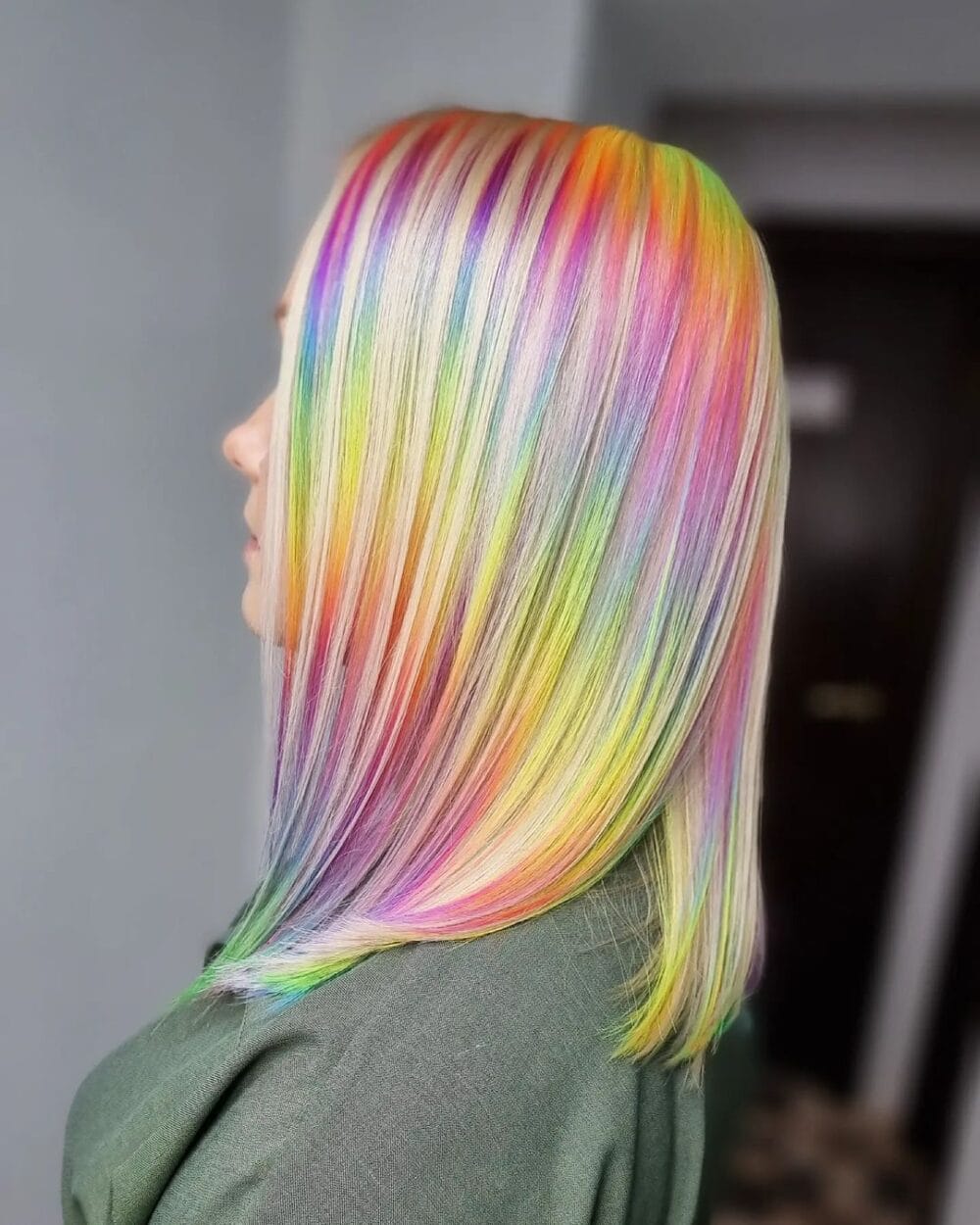 Unconventional and utterly fabulous, this rainbow glitch with blonde streaks hairstyle effortlessly combines a playful spirit with a touch of rebelliousness.

9. Blond Rainbow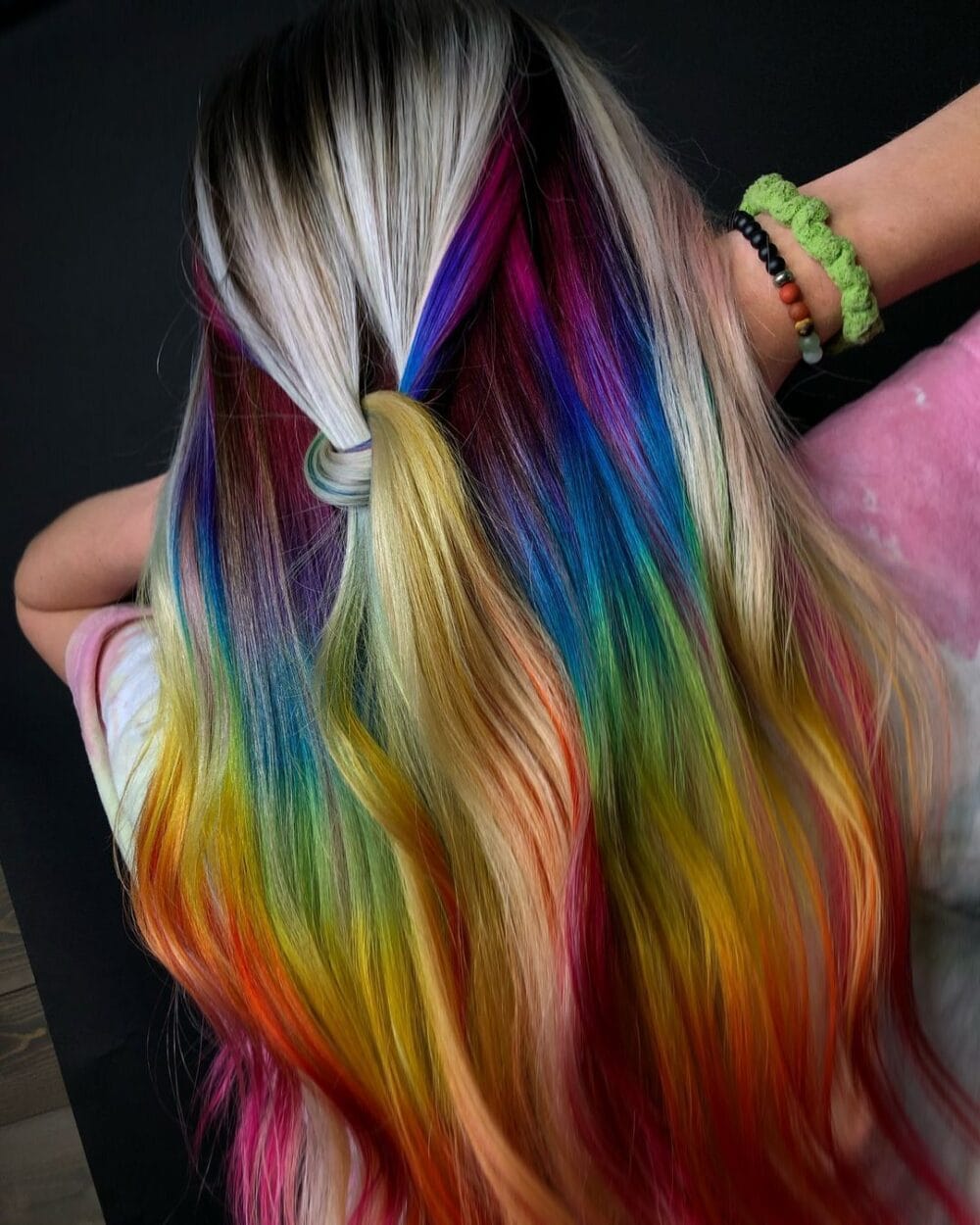 Embrace the boldness of a full spectrum with this rainbow-blond hairstyle that's a true expression of fearless style.

Related: 40+ Hottest Summer Nail Designs You Must Try This Year

10. Lolipop-Inspired Hair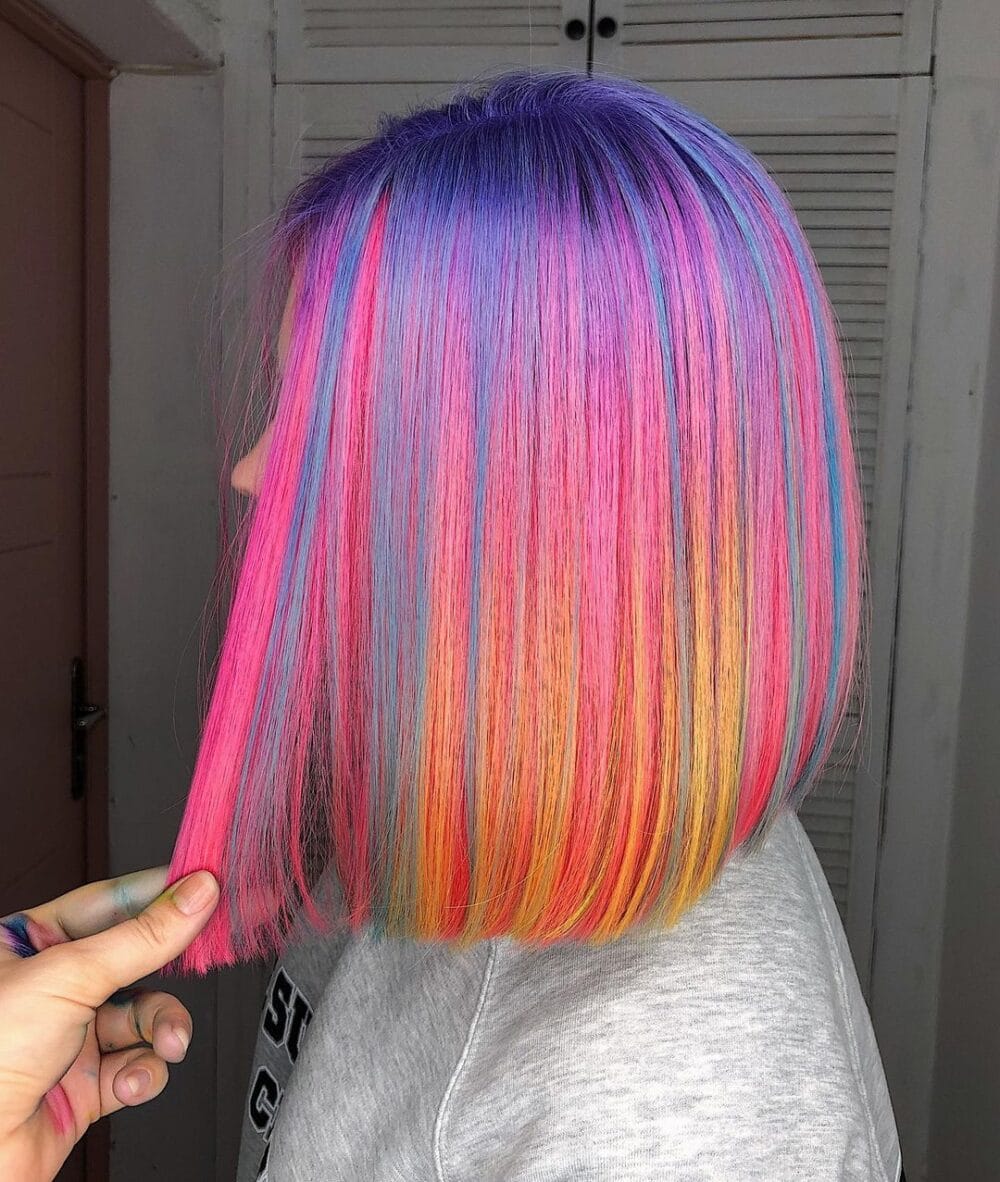 Your hair becomes a work of art with this sweet lollipop-inspired look, showcasing a spectrum of colors that blend seamlessly.

11. Deep Dark Rainbow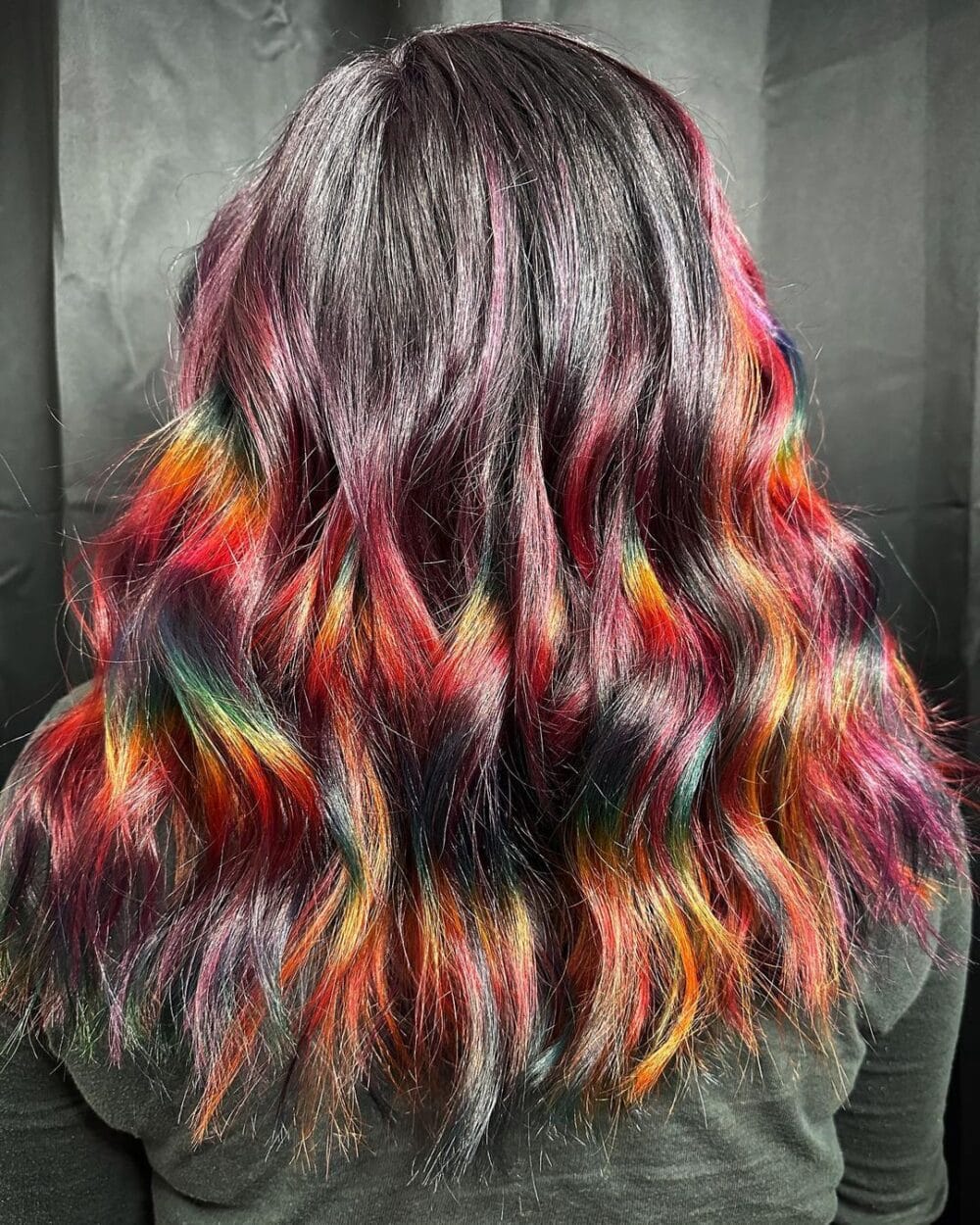 Elevate your natural allure with a twist of color – this hairstyle gracefully intertwines deep, natural hues with subtle strands of rainbow shades, offering a sophisticated yet enchanting touch of individuality.

12. Warm Rainbow Tones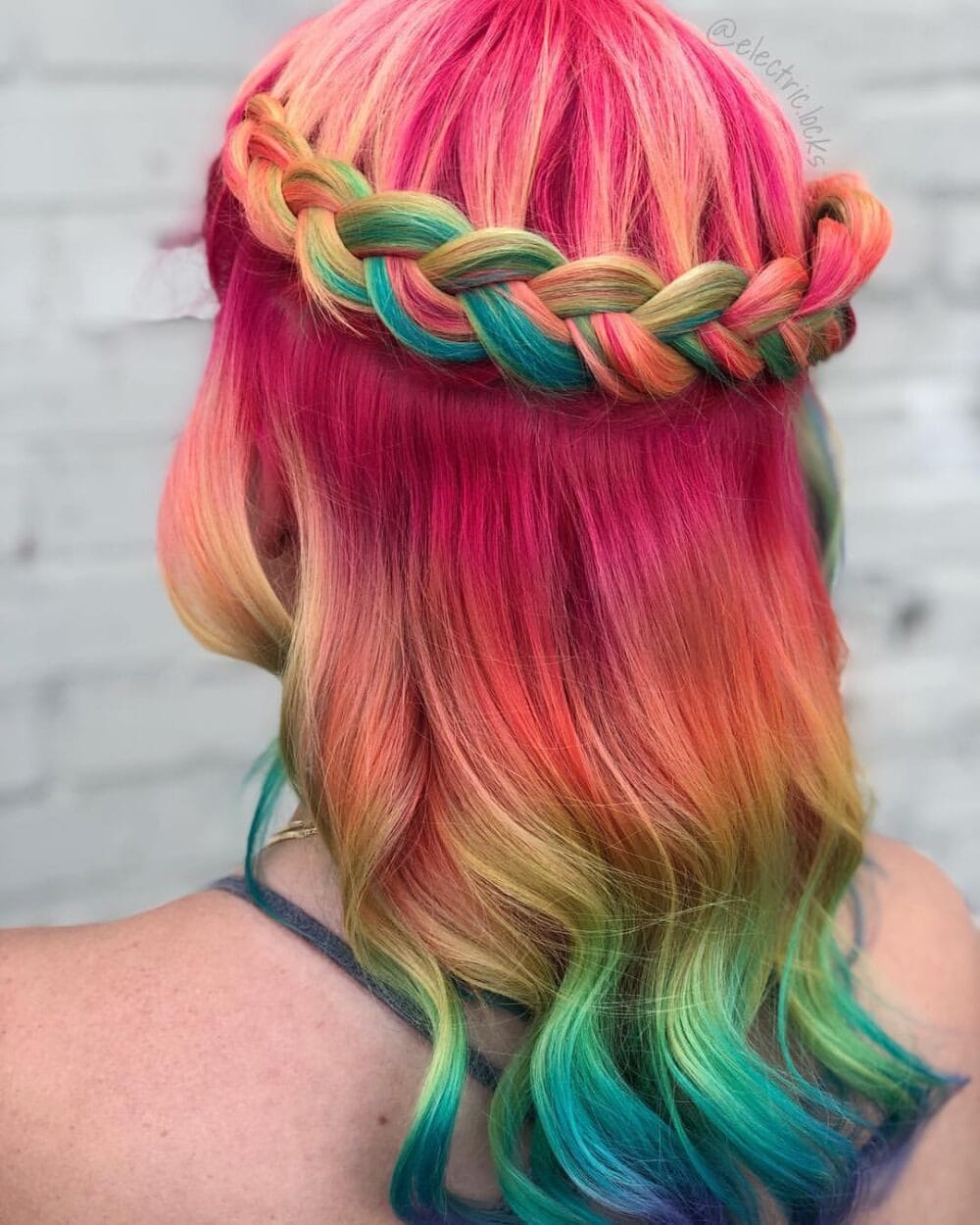 Transform your locks into a living warm rainbow with this hairstyle that's as fun as it is colorful.

13. Teal Rainbow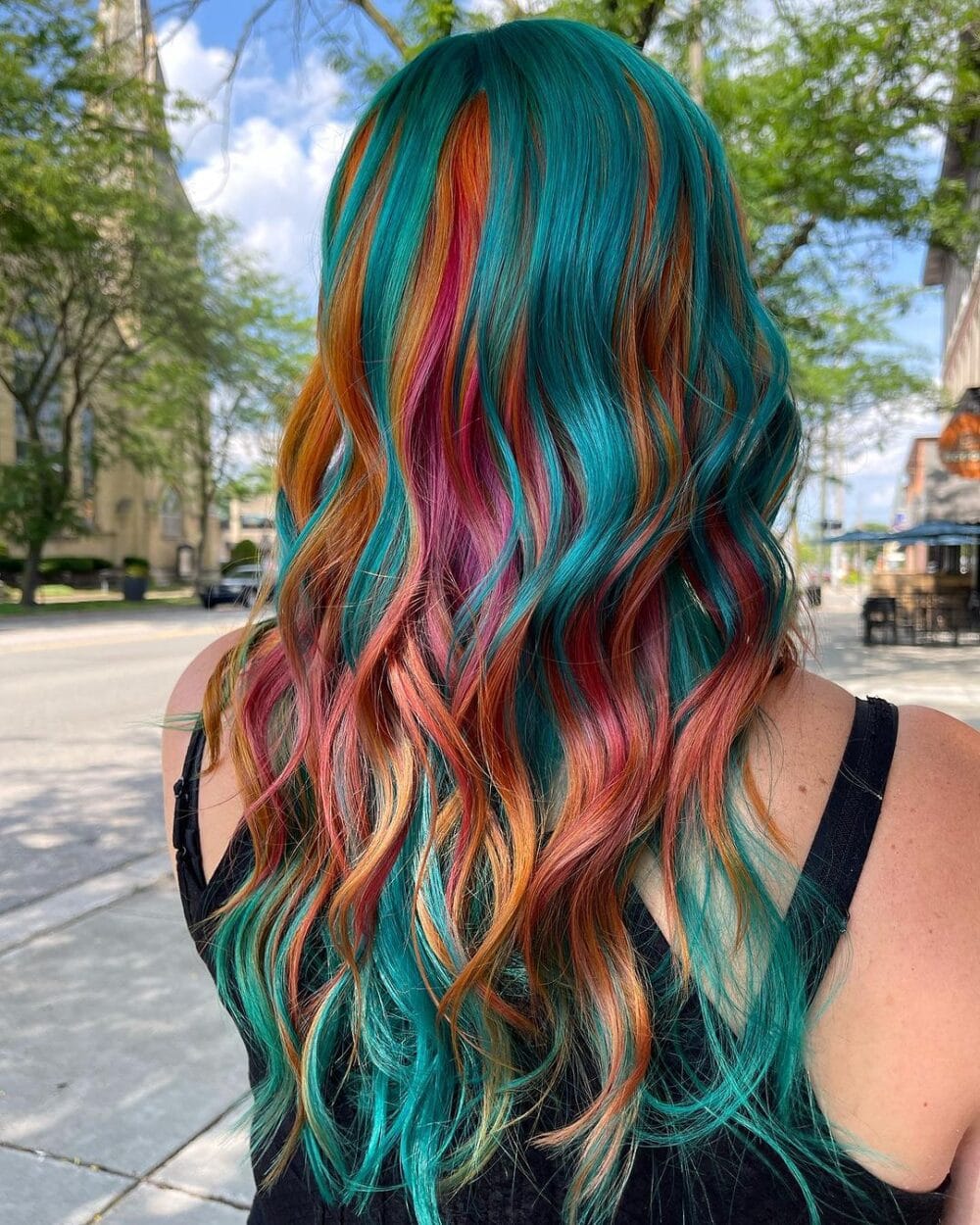 Dive into a world of vibrant contrast with this mesmerizing hairstyle that pairs striking teal tones with bursts of warm orange and pink, creating a harmonious fusion of boldness and warmth that's impossible to ignore.

14. Rainbow Cupcake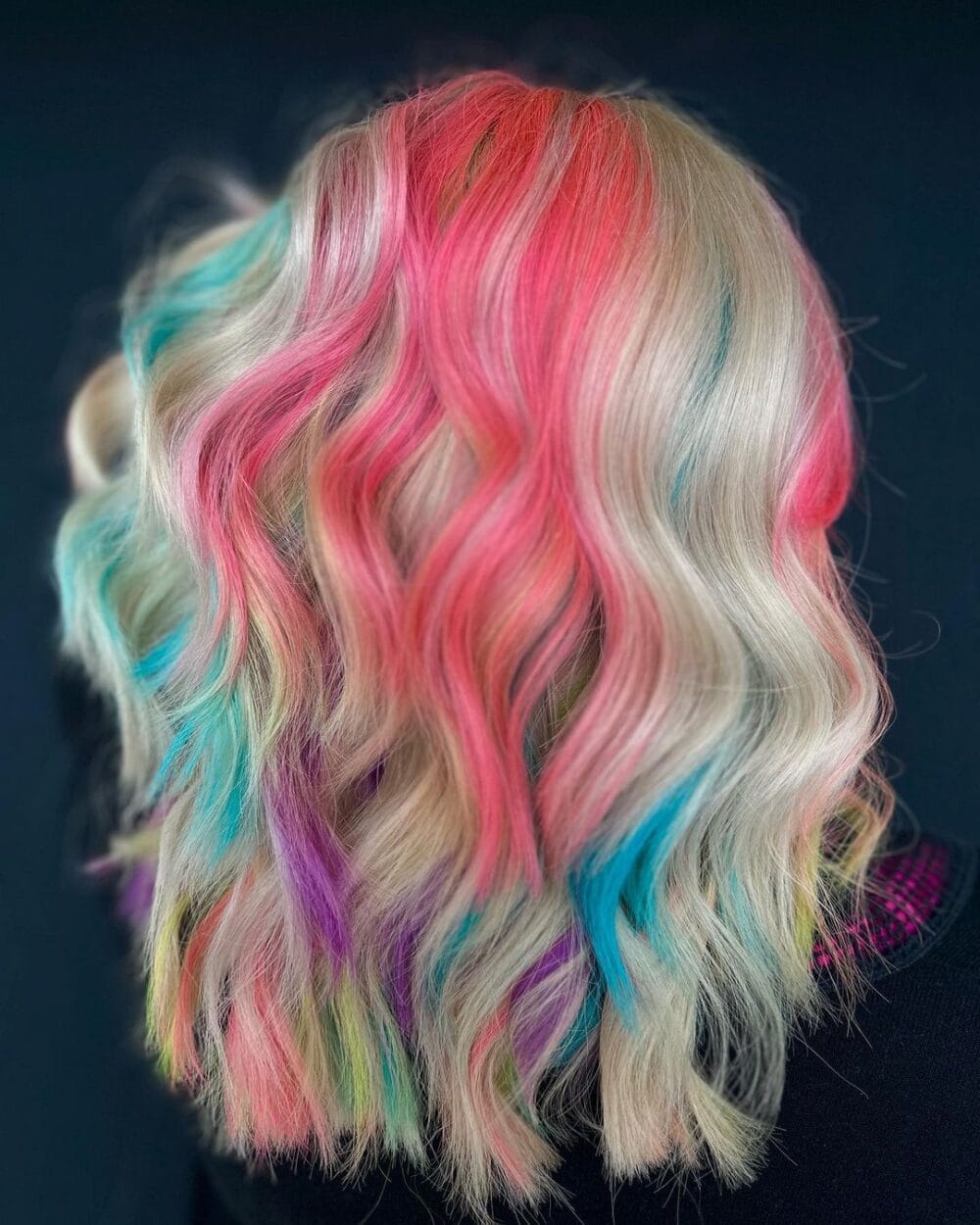 A vibrant explosion of colors come together with natural hair shades in this stunning rainbow hairstyle – it's like a party on your head!

15. Rainbow Hair Tips
Elevate your style game with subtle yet captivating rainbow hair tips that are a testament to the joy of embracing color.

16. Rainbow Prism Perfection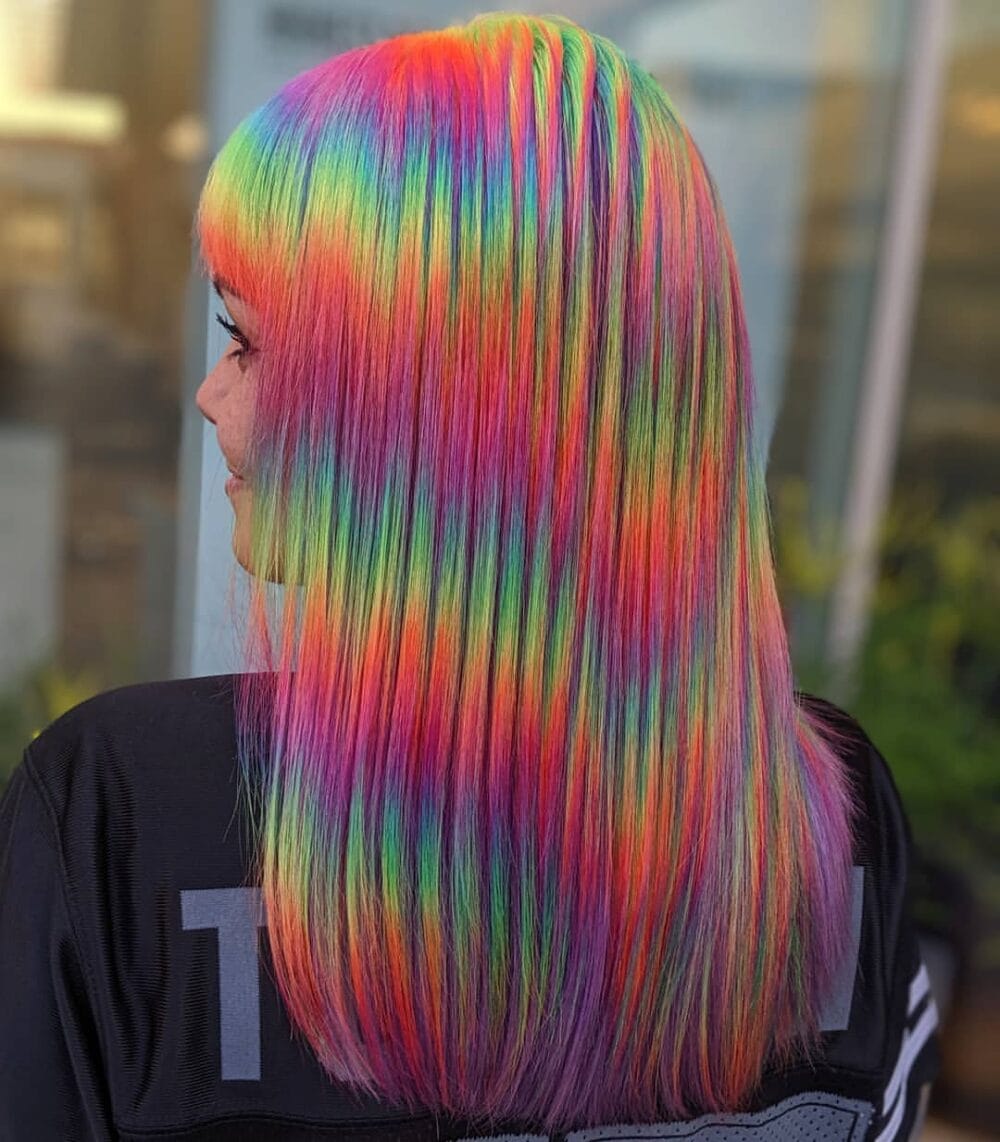 Who needs a pot of gold when you can wear a radiant rainbow prism on your head? This hairstyle is pure treasure.

17. Peekaboo Rainbow Highlights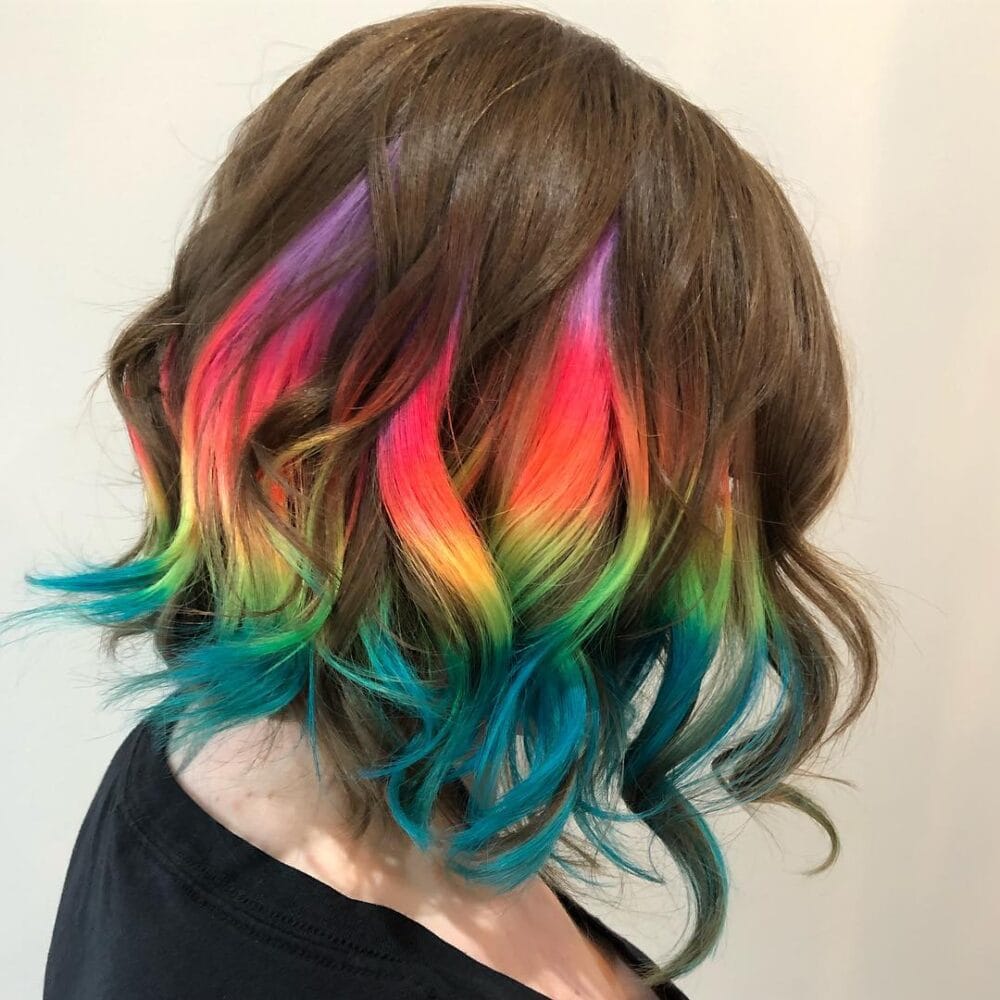 Subtle yet striking, this peekaboo rainbow highlights hairstyle adds a pop of color that's just waiting to surprise and delight.

18. Pink Rainbow Hair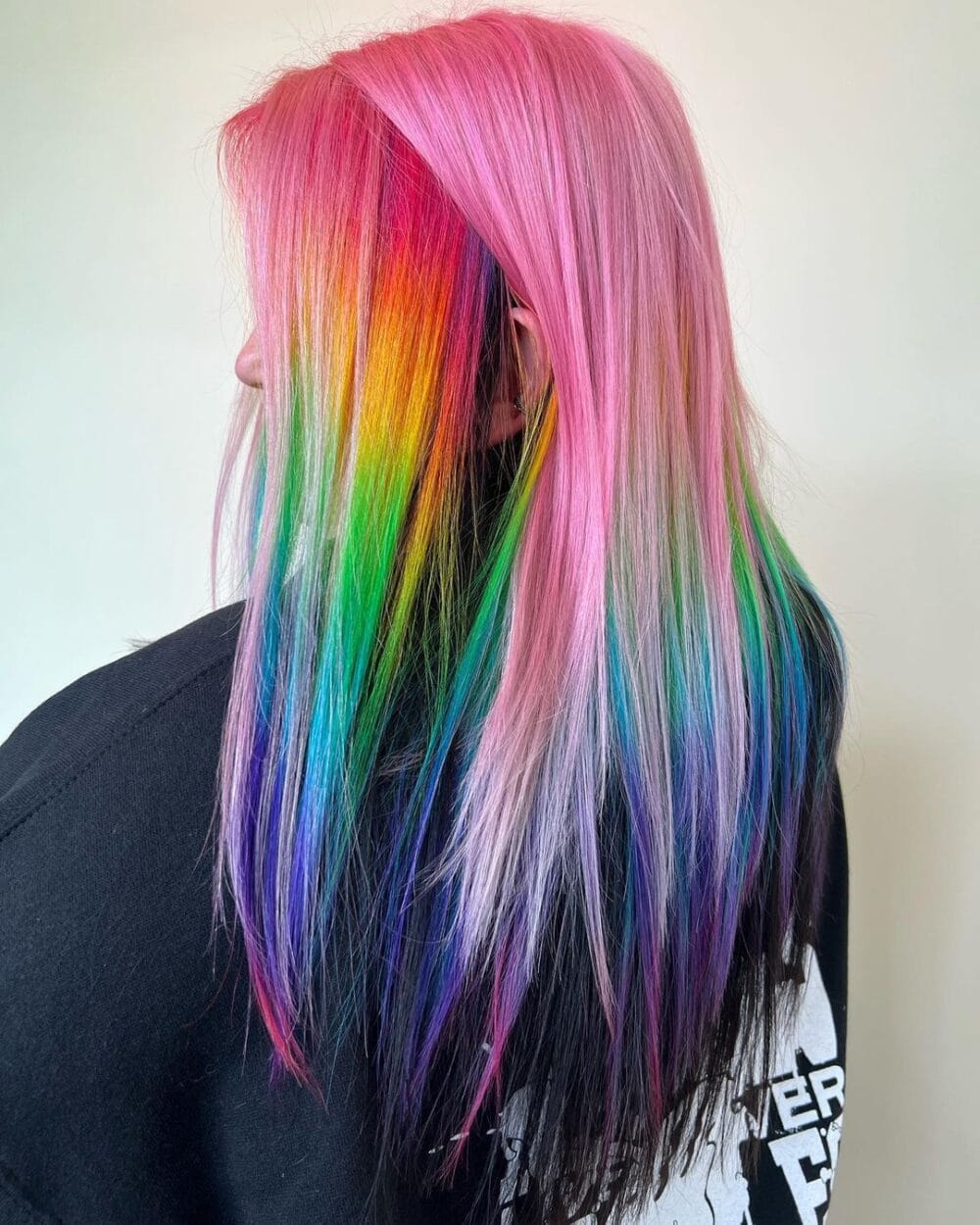 Take your hair game to a whole new level with this stunning pink rainbow hair look that's like wearable art.

19. Green Rainbow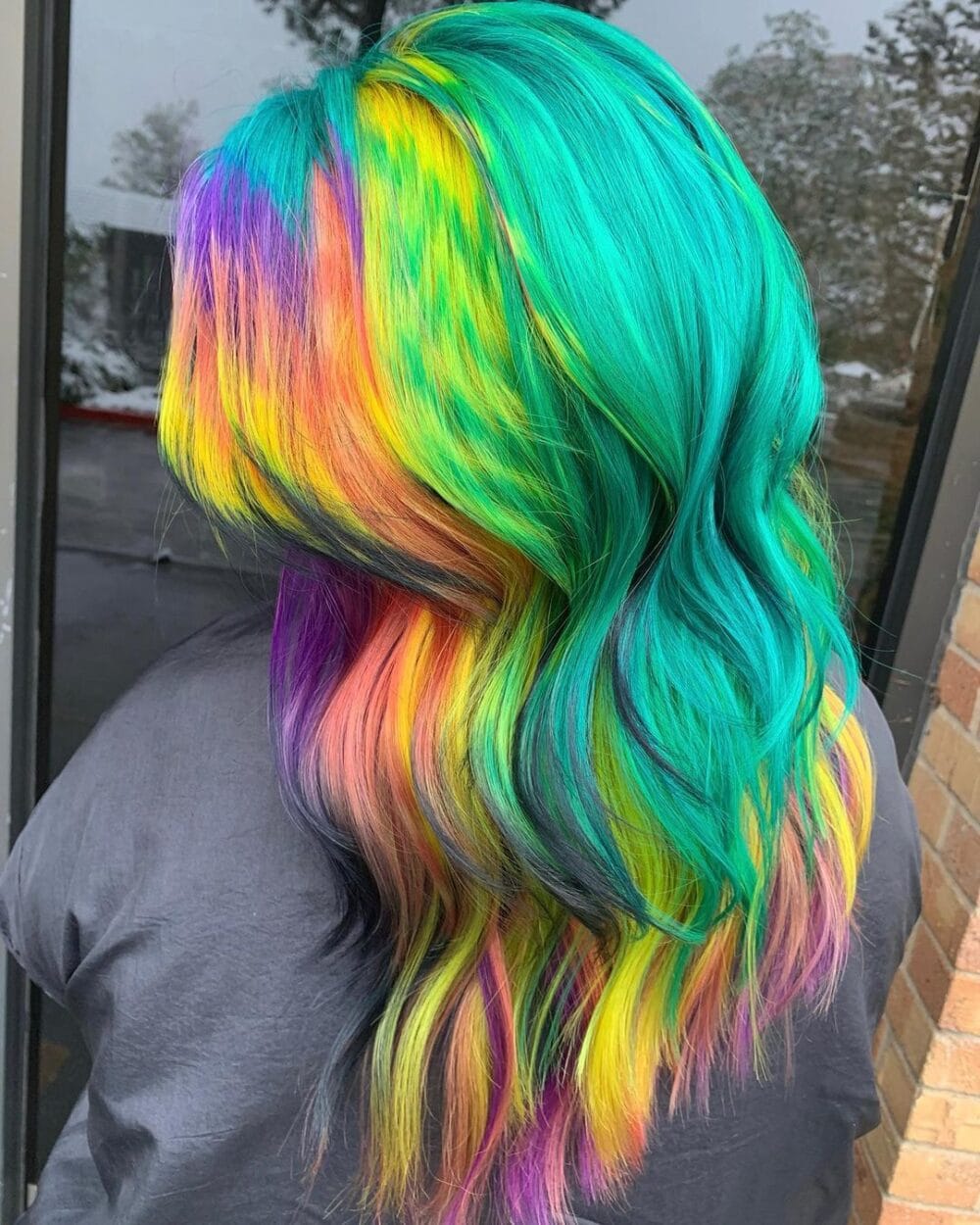 Get ready to turn heads and spread smiles with this cheerful Alice in Wonderland/Mad Hatter-inspired rainbow hairstyle.

20. Unicorn Vibes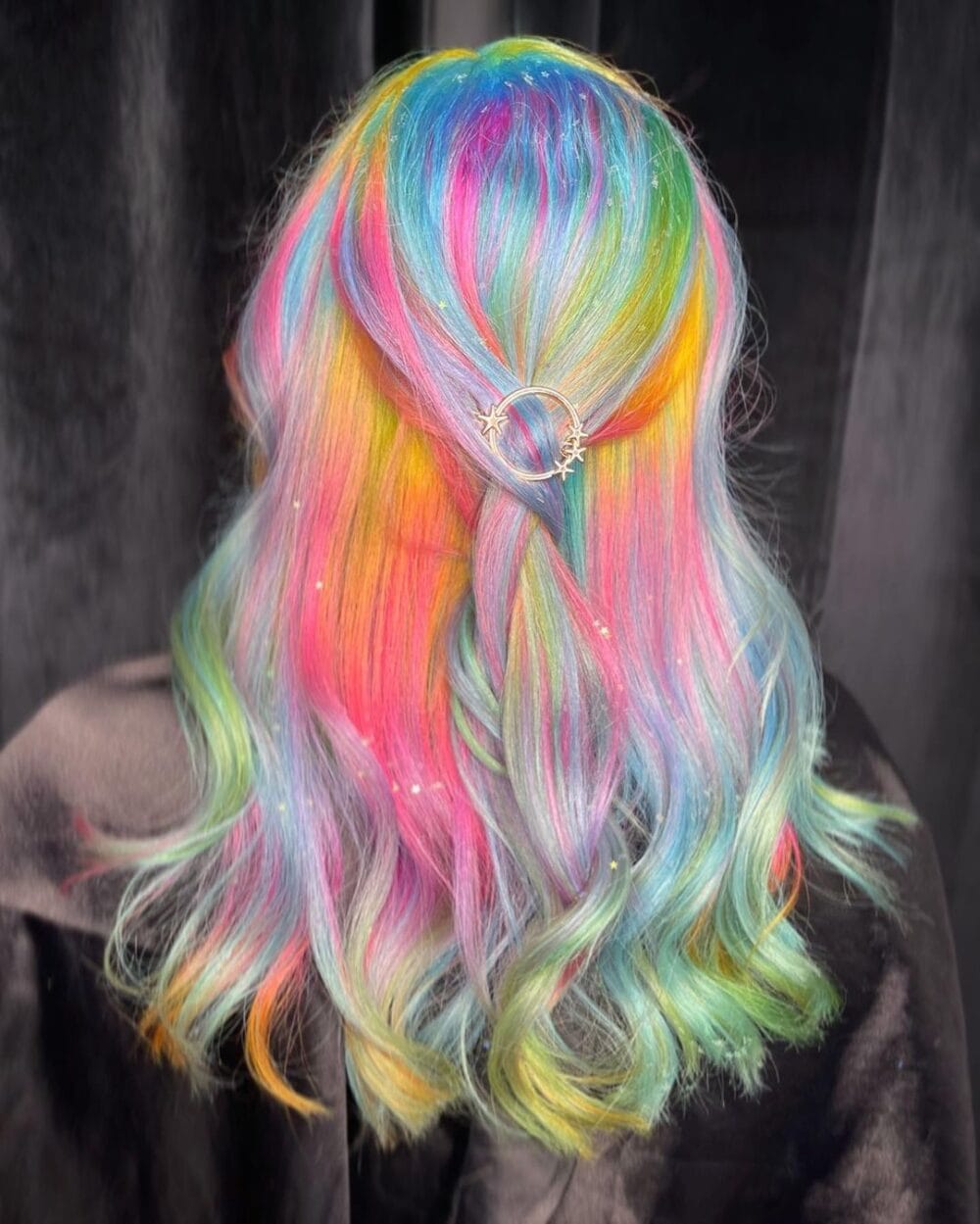 Life's too short for dull hair – show off your vibrant personality with this rainbow and blue skies-inspired look.

21. Pastel Pink and Rainbows
With so much pink in sight, this rainbow hairstyle is a playful nod to self-expression and positivity.

22. Hidden Layer of Vivids
This rainbow hairstyle is pure magic – the hidden layer of vivid colors creates a playful and captivating look.

23. Galaxy Vibes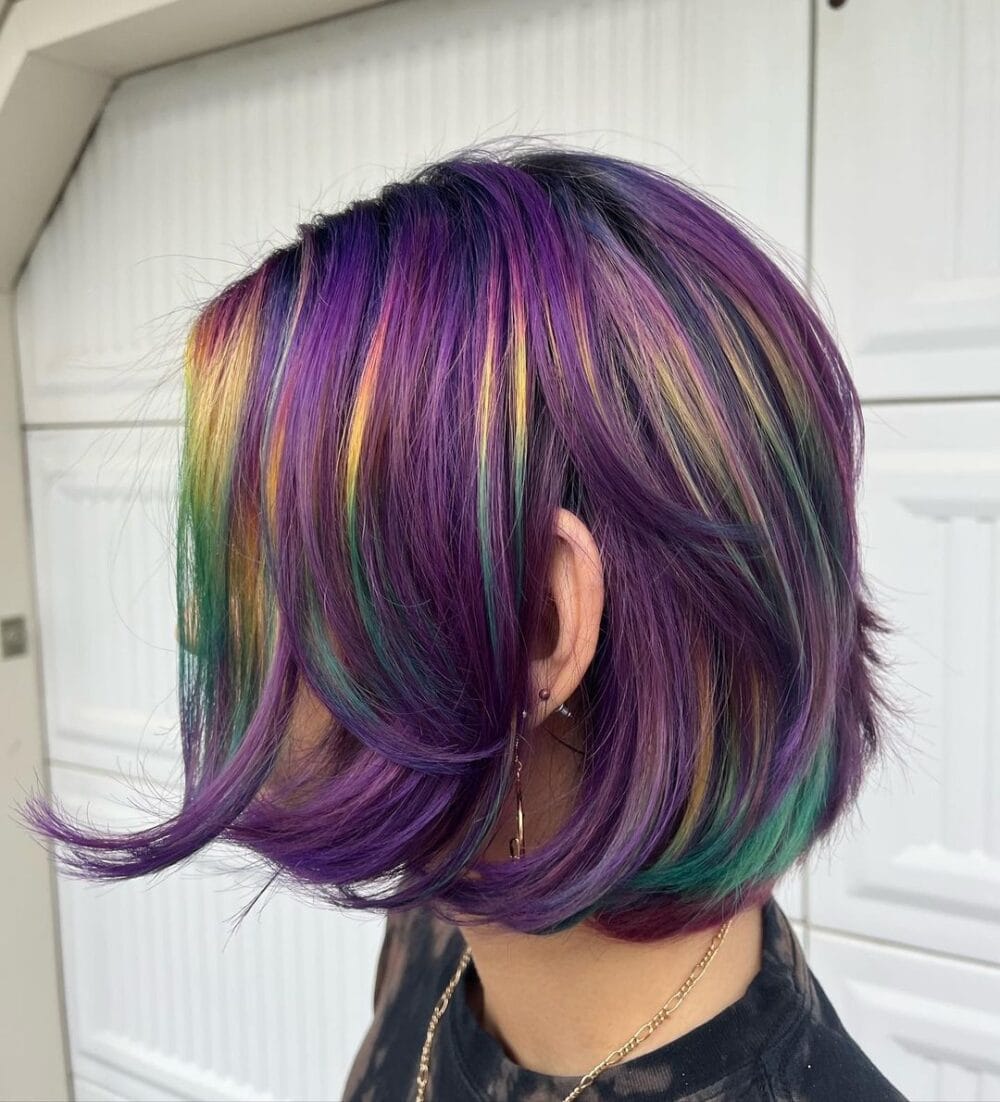 Create your own spectrum of style with this playful rainbow/galaxy hairstyle that's like a symphony of purple and rainbow colors harmonizing perfectly.

24. Pinkish Rainbow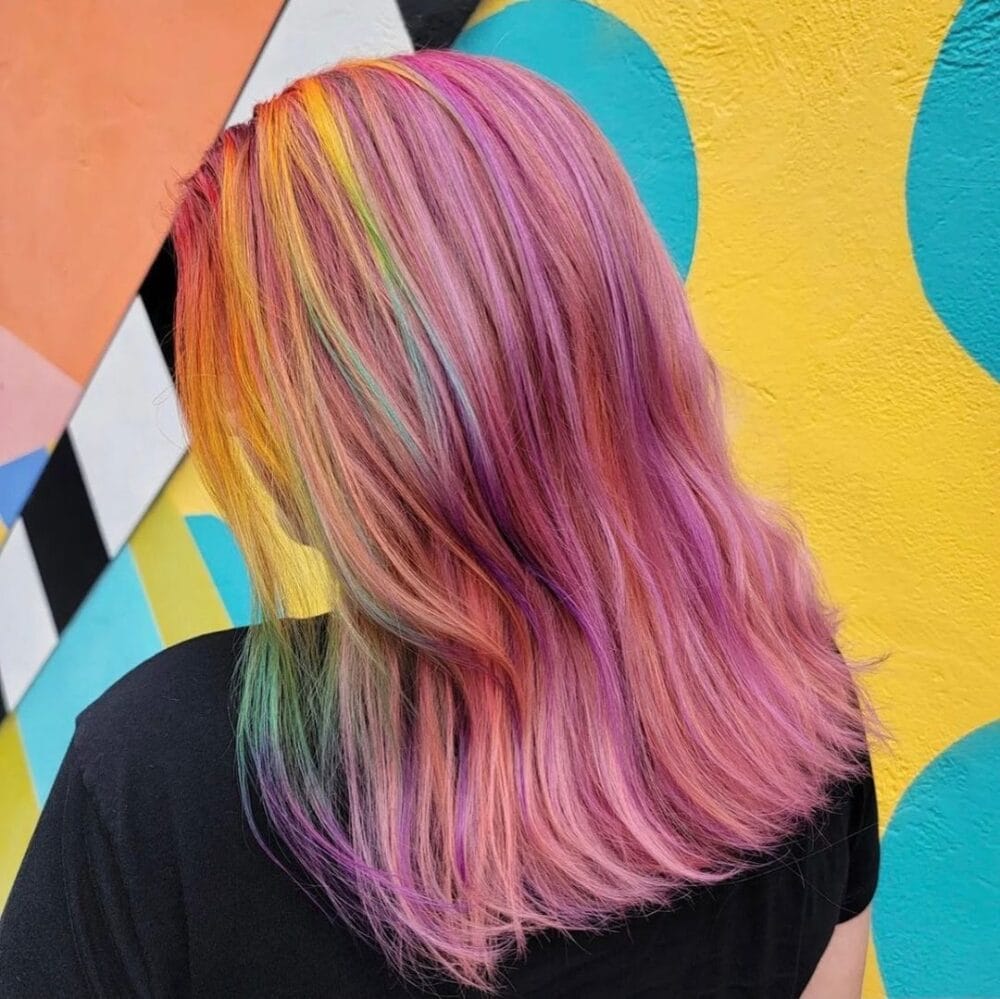 Break free from the ordinary and step into a world of enchantment with this captivating Lisa Frank-inspired rainbow hairstyle.

25. Pastels with Bold Pink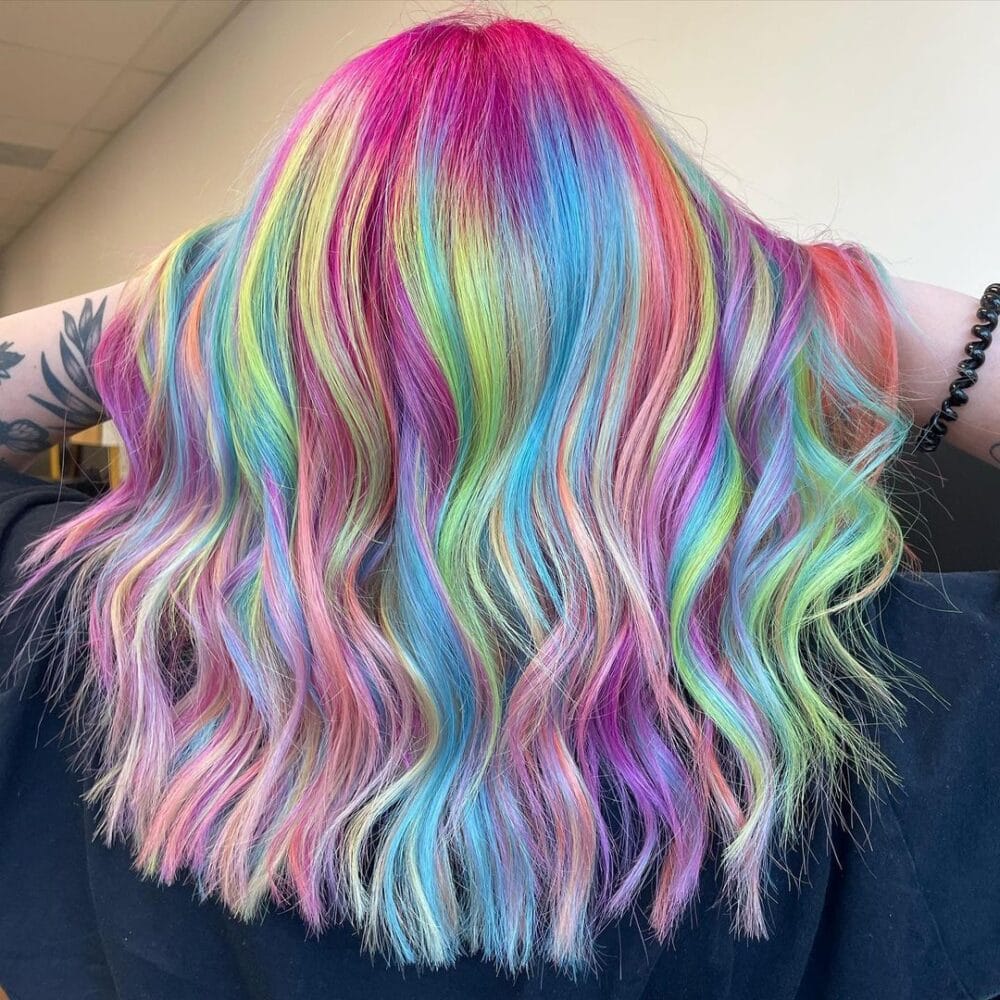 Radiate positivity with this pastel tropical summer-inspired rainbow hairstyle that's a testament to the beauty of embracing every shade of life.

26. Rainbow Half and Half
Channel your inner artist with this mesmerizing split rainbow hair that transforms your locks into something special.

27. Mesmerizing Pink
Unleash your inner Barbie with this mesmerizing pink rainbow hairstyle that changes the way you see and wear color.

28. Tutti Frutti Buns
Add a playful twist to your look with shoulder-length, bright pink hair that boasts a hidden secret – a rainbow peekaboo surprise!

29. Mermaid Hair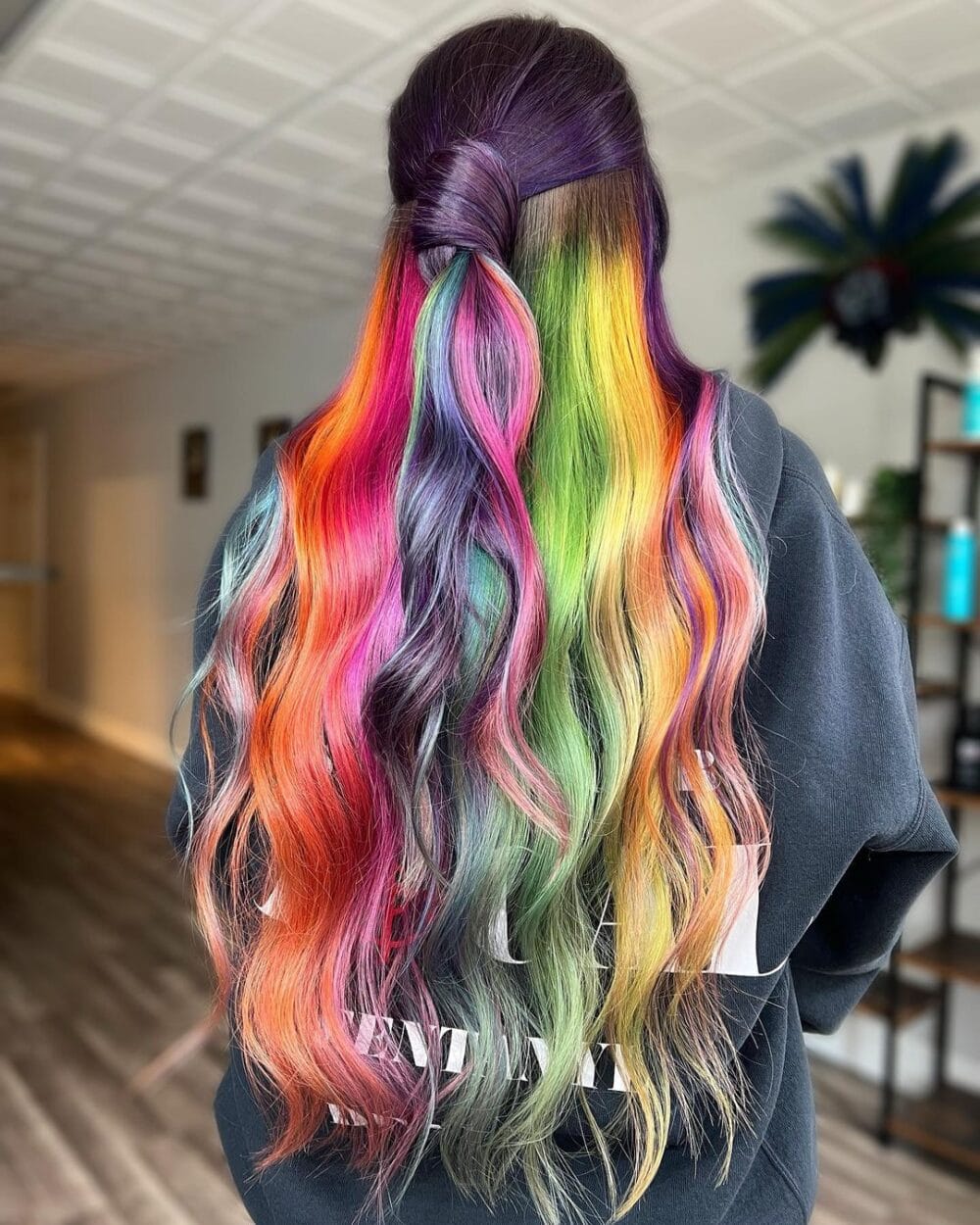 Dive into a dreamy world of enchantment with long, mermaid-like rainbow hair that's as whimsical as it is captivating.

30. Vivid Half and Half
Embrace the boldness of half-and-half rainbow hair, where vibrant colors collide in a striking statement of individuality.

31. Mermaid Blues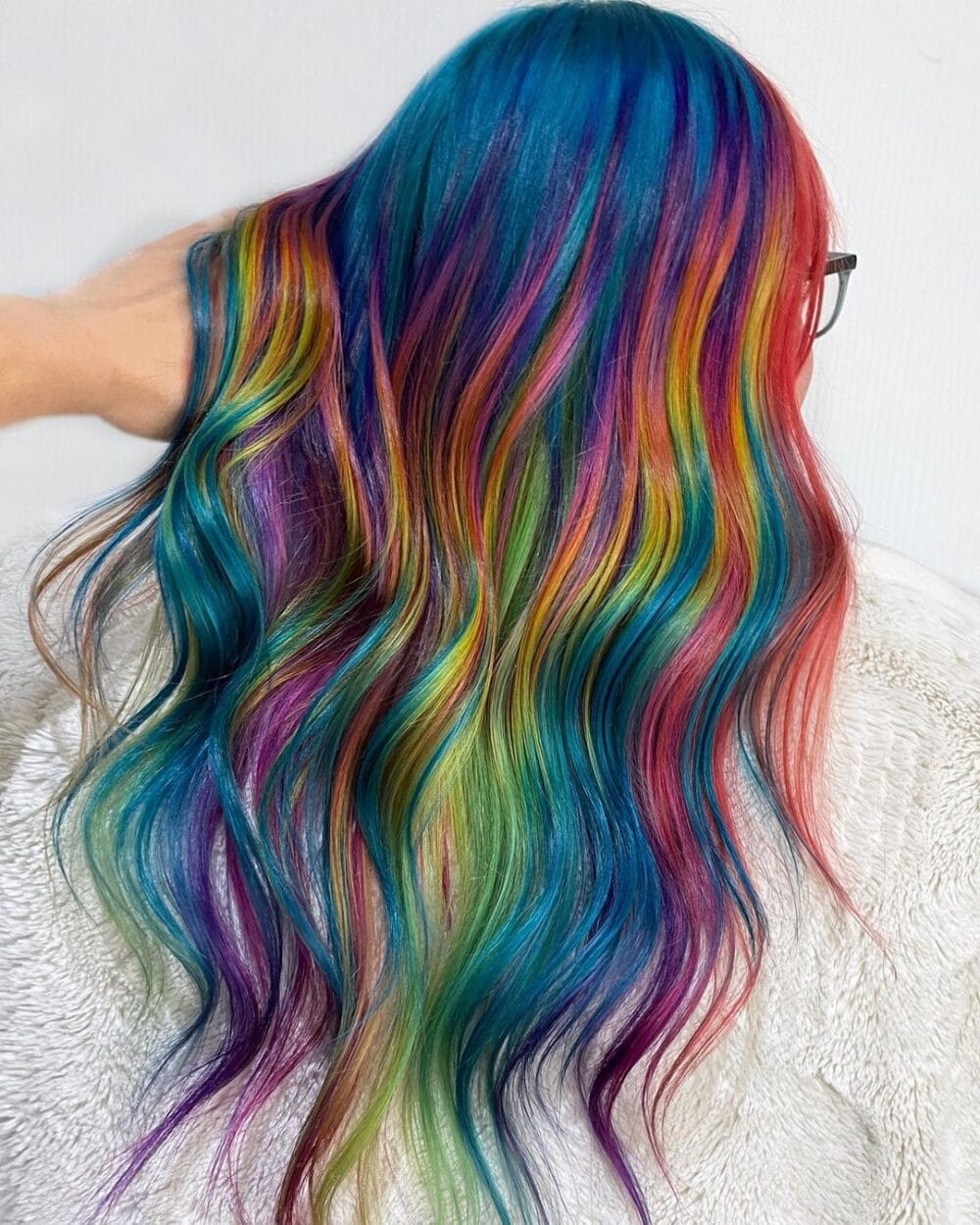 If you are drawn to the calmness of the sea or fancy looking more like a mermaid, this blue-infused rainbow hairstyle is a stunning testament to the magic of color.

32. Radiant Long Rainbow Hair with a Pop of Pink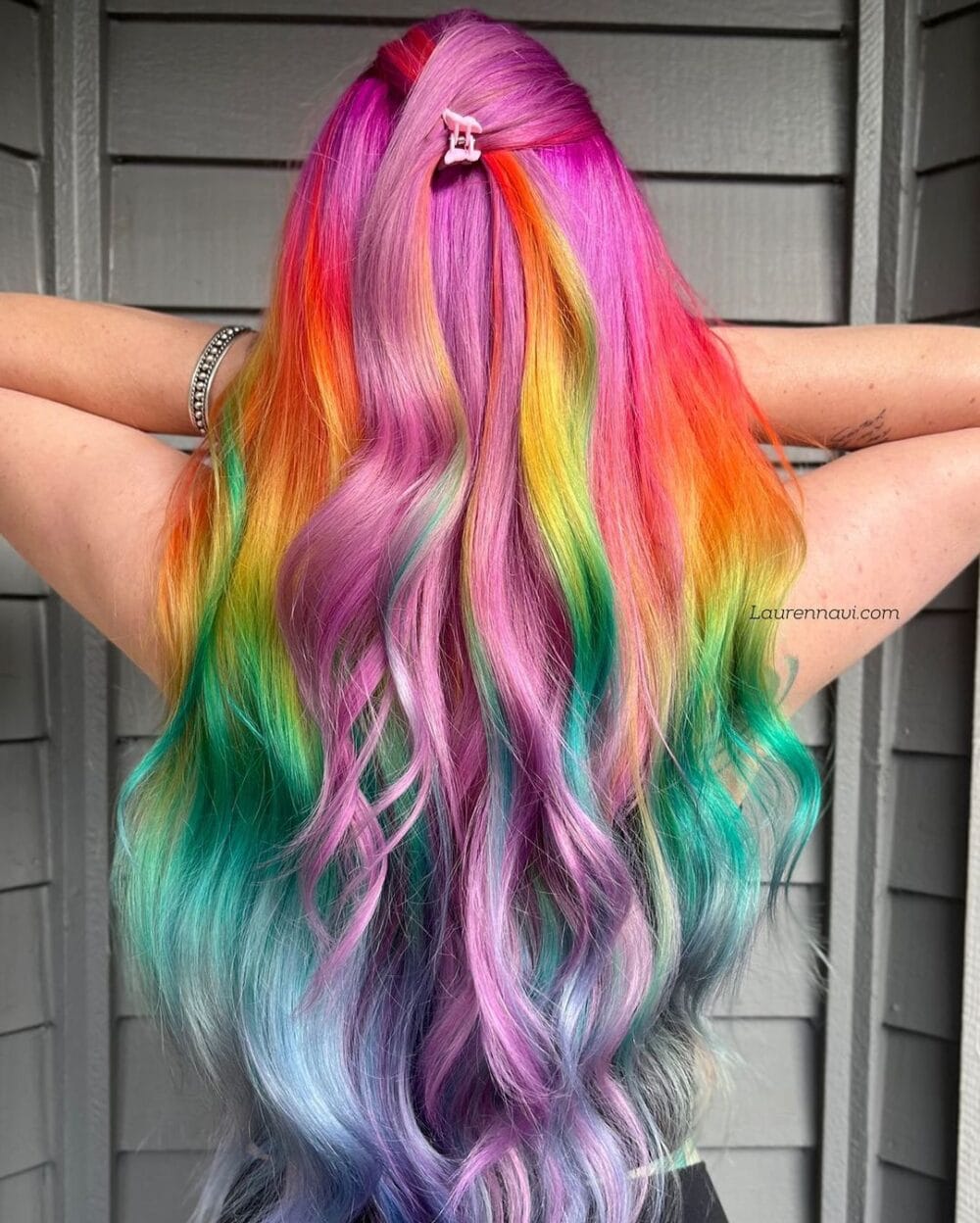 A breathtaking long rainbow hair that takes the spectrum to new heights! A mesmerizing blend of vibrant colors cascades beautifully down with a pop of purple/pink at the top.

We Hope You Got Inspired!
And there you have it, fellow adventurers of style and color – a whirlwind tour through the mesmerizing world of rainbow hairstyles!
From daringly bold to subtly chic, we've shown you that there's a rainbow-flavored option for every kind of spirit out there. Isn't it exhilarating to know that your hair can be a canvas for your personality, a vibrant expression of who you are?
As we wrap up our technicolor journey, remember this: there's no right or wrong way to wear a rainbow. Whether you're up for a jaw-dropping transformation that stops traffic or a low-key hint of colors that's just for your eyes to enjoy, the power is in your hands (and your hairstylist's, of course!).
Now, armed with inspiration and maybe a few photos to show your stylist, go forth and embrace your inner unicorn.