Maintaining a clean and organized home is crucial for a healthy and happy life.
However, it can be challenging to find the time and energy to clean when you have a busy schedule.
In this article, we'll share tips and tricks for keeping your home clean without spending too much time and effort.
PIN FOR LATER: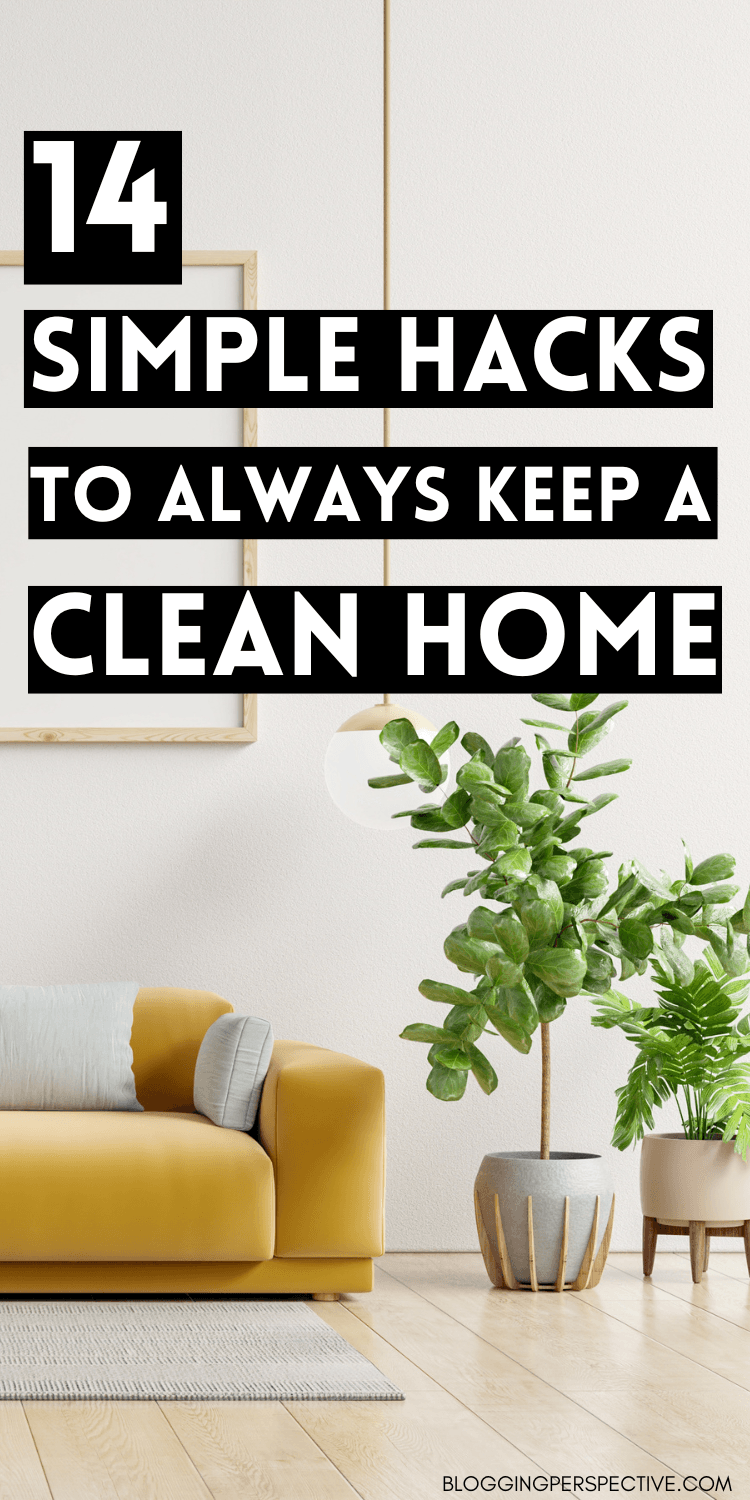 Set a Timer
Setting a timer can be a game-changer when you're short on time.
Start by setting a timer for a short period, such as 10 or 15 minutes, and focus on one task like decluttering a surface or wiping down your kitchen counters. Take a break when the timer goes off, and then set it again for another task.
Before you know it, you'll have tackled several cleaning tasks in a short amount of time.
Have a Plan
Before you start cleaning, make a list of the areas in your home that need attention and prioritize them.
Start with the most important areas, such as your kitchen and bathroom.
Having a plan will help you stay focused and avoid feeling overwhelmed.
Remove the Clutter
Decluttering your home is essential before you start cleaning. Remove any unnecessary items that are taking up space and making it harder to clean.
Decluttering not only makes it easier to clean but also helps reduce stress and increase productivity. Get rid of any items that you no longer need or use, and donate or sell them.
Get Your Cleaning Tools Ready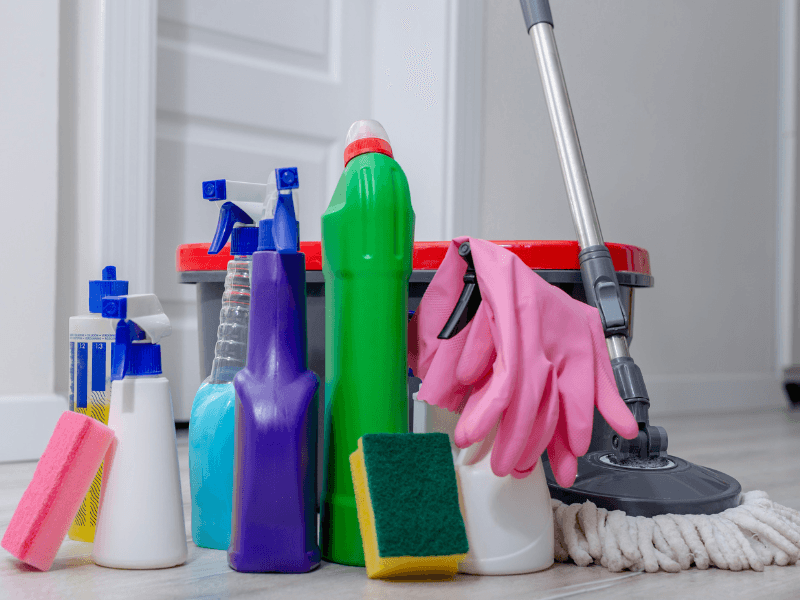 Before you start cleaning, make sure you have all the necessary cleaning tools and products, such as a vacuum cleaner, broom, mop, microfibre cloths, cleaning sprays, and gloves.
Having everything you need in one place will save you time and make the process much more efficient.
Keep the Right Tools in the Right Room
To save time and be more efficient, keep the right tools in the right room.
For example, keep the bathroom cleaning sprays and cloths in your bathroom, so you don't have to go searching for them when you need them.
This will also help you avoid wasting time and energy carrying cleaning supplies from one room to another.
Work Top to Bottom
One of the most important tips for efficient cleaning is to work from top to bottom.
Start with high surfaces, such as shelves, cabinets, and ceiling fans, and work your way down to the floor. This way, any dust or dirt that falls will be cleaned up as you work your way down.
Know Your Cleaning Products
Using the right cleaning products for the job is essential for efficient cleaning. Take the time to read labels and learn which products work best for different surfaces and materials.
Grease vs. Limescale
When it comes to cleaning kitchen and bathroom surfaces, it's important to know the difference between grease and limescale.
Grease is the sticky residue left behind from cooking oils, and fats, while limescale is the chalky white residue left by hard water. To remove grease, use a degreaser, and to remove a limescale, use a limescale cleaner.
Allow Time for the Product to Work
When using cleaning products, it's important to allow time for them to work.
Spray the cleaner on the surface and wait a few minutes before wiping it away. This will give the product time to break down any dirt and grime, making it easier to clean.
Folding Your Microfibre Cloth
Microfibre cloths are a must-have for efficient cleaning, but did you know that you can get the most out of them by folding them in a specific way?
To get the most out of your microfibre cloth, fold it in half, then in half again, creating eight cleaning surfaces.
This will allow you to use each cloth multiple times before having to switch to a fresh one.
Get Family Involved
Another way to make cleaning fun is to turn it into a competition. You can challenge your family members to see who can clean their assigned task the fastest or who can clean the most in a certain amount of time.
Adding a competitive element to cleaning can make it more enjoyable and help everyone stay motivated.
Reward Yourself
After you've completed your cleaning tasks, be sure to reward yourself. Treat yourself to something you enjoy, like a favorite snack or a relaxing activity.
By rewarding yourself, you'll be more motivated to continue cleaning in the future.
Schedule Regular Cleaning Times
One of the best ways to stay on top of cleaning is to schedule regular cleaning times. This means setting aside a specific time each day or week to clean.
By making cleaning a part of your regular routine, you'll be less likely to let it pile up and become overwhelming.
Hire a Professional
If you find that you still don't have the time or energy to keep your home clean, consider hiring a professional cleaning service.
They can help take care of the cleaning tasks you don't have time for, leaving you with more time to focus on other important things in your life.
Conclusion: Simple Speed Cleaning Hacks
In conclusion, cleaning your home doesn't have to be a daunting task. With the right tools, mindset, and approach, you can make cleaning easier and more efficient.
By setting a timer, having a plan, removing clutter, and using the right tools and products, you can get more done in less time.
And by making cleaning fun, rewarding yourself, scheduling regular cleaning times, and considering professional help if needed, you can maintain a clean and organized home without feeling overwhelmed.
Save this to your Pinterest collection: