The holiday season is upon us, and there's no better way to infuse your home with the spirit of Christmas than by starting with your mantel. It's more than just a shelf above your fireplace—it's the focal point of your living room, the heart of the home during the festive season, where stockings hang with care and where the magic of Christmas comes to life.
Your mantel is not just a place to hang your stockings. It's a stage for your creativity, a canvas for your holiday spirit, and a gathering place for your cherished holiday memories.
So we're here to share some amazing Christmas mantel decorating ideas and provide you with tips so that your mantel truly stands out this year!

Related: Latest Christmas Tree Ideas for a Festive Home

The Building Blocks of Mantel Decor
When it comes to dressing up your mantel, the possibilities are endless. Here are some classic items and materials you can use to start your mantel masterpiece:
Garlands: A lush green garland is the backbone of any mantel decoration. Consider the type of greenery that suits your style—pine, fir, or even eucalyptus for a more modern twist.
Christmas Baubles: Shiny or matte, colorful or monochromatic, baubles add a touch of whimsy and reflect the twinkling lights beautifully.
Bells and Bows: For that quintessential Christmas jingle and a pop of color, bells and bows are perfect additions.
Christmas Stockings: Choose Christmas stockings that complement your overall theme, whether they're hand-knit with love or bought to match your decor palette.
Candles: Nothing says cozy like the soft glow of candles. Use them in varying heights for a dynamic look.
Fairy Lights: A string of lights can give your mantel that sought-after sparkle.
Art Prints: Seasonal art can anchor your mantel display and set the theme.
Unique Finds: Don't be afraid to use unexpected items like vintage toys, framed holiday cards, or even a mirror to reflect the lights and decorations.

Layering Your Garland
Layering garland can add depth and interest to your mantel. Here's a simple way to create a lush look:
Start with a base layer of greenery, draping it across the mantel.
Add a second layer with a different texture or color for contrast.
Weave in some fairy lights for a subtle shimmer.
Tuck in larger elements like pinecones or baubles, ensuring they're nestled securely within the branches.
Finish with delicate items like sprigs of berries or small ornaments for a touch of finesse.

Decorating Styles to Consider
Your Christmas mantel should be a reflection of your home's style. Here are just a few popular decorating themes to inspire you:
Rustic Christmas Mantel: Think natural elements like pinecones, wood accents, and a burlap garland ribbon. Add some plaid elements for a cozy, country feel.
Modern Decor: Use metallics like silver and gold, geometric shapes, and minimalist decor for a chic and sleek look.
Traditional Christmas: Red and green baubles, traditional Christmas figurines, and a classic red garland bow can never go wrong.
Winter Wonderland: Incorporate pastel colors, playful ornaments, and a touch of glitter for a fun and festive vibe.
However, there's no right or wrong way to decorate your mantel for Christmas. Choose whatever style suits you and your home – and we have plenty of ideas below to get inspired from!

Related: 35 Christmas Wreaths That Will Make Your Home Merry and Bright

Christmas Mantel Decorating Ideas

Christmas Garland with Large Bells and DIY Sign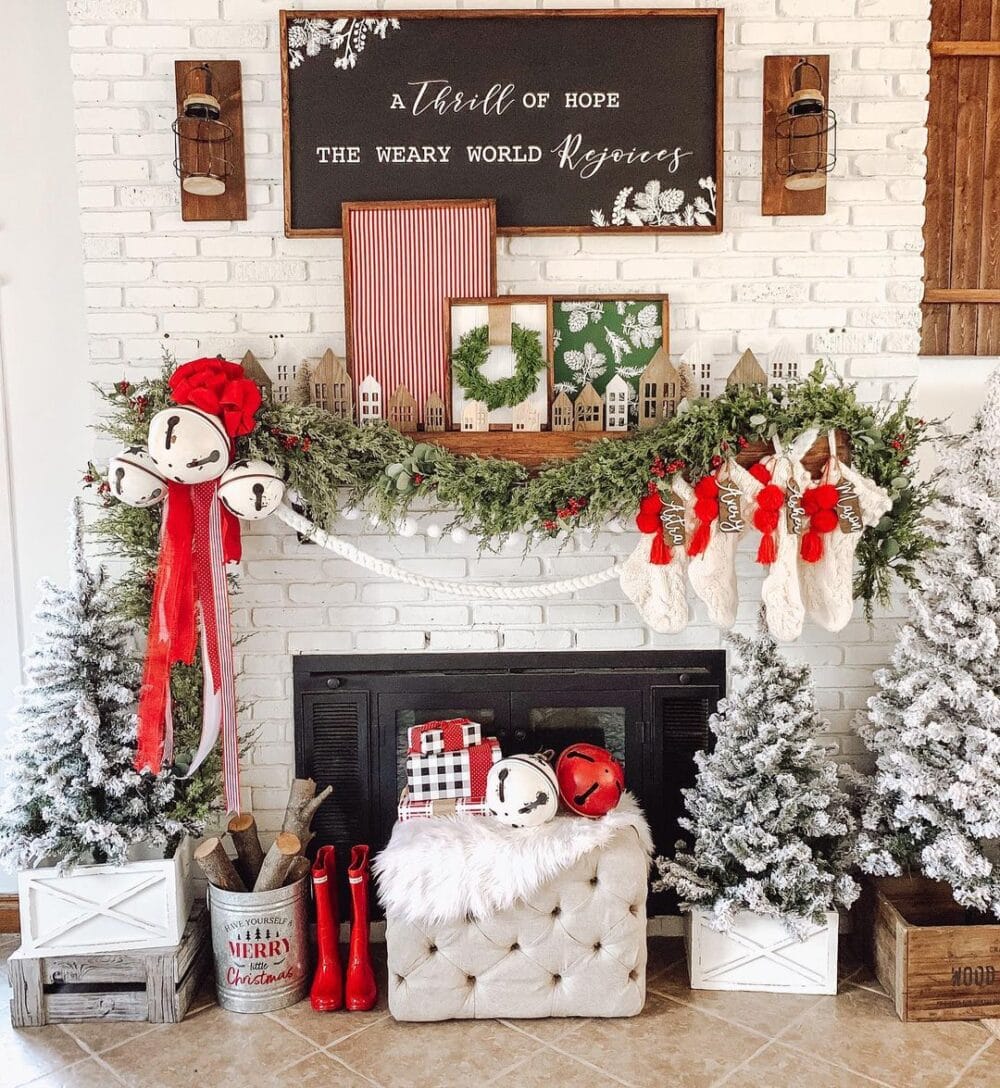 Photo: athomewithastra
Drape your mantel with a lush garland and add these large, charming bells for a touch of vintage flair. A DIY sign with a festive message can be the cherry on top of your holiday decor, inviting everyone to feel the joy of the season.

Cozy Cottage Christmas Mantel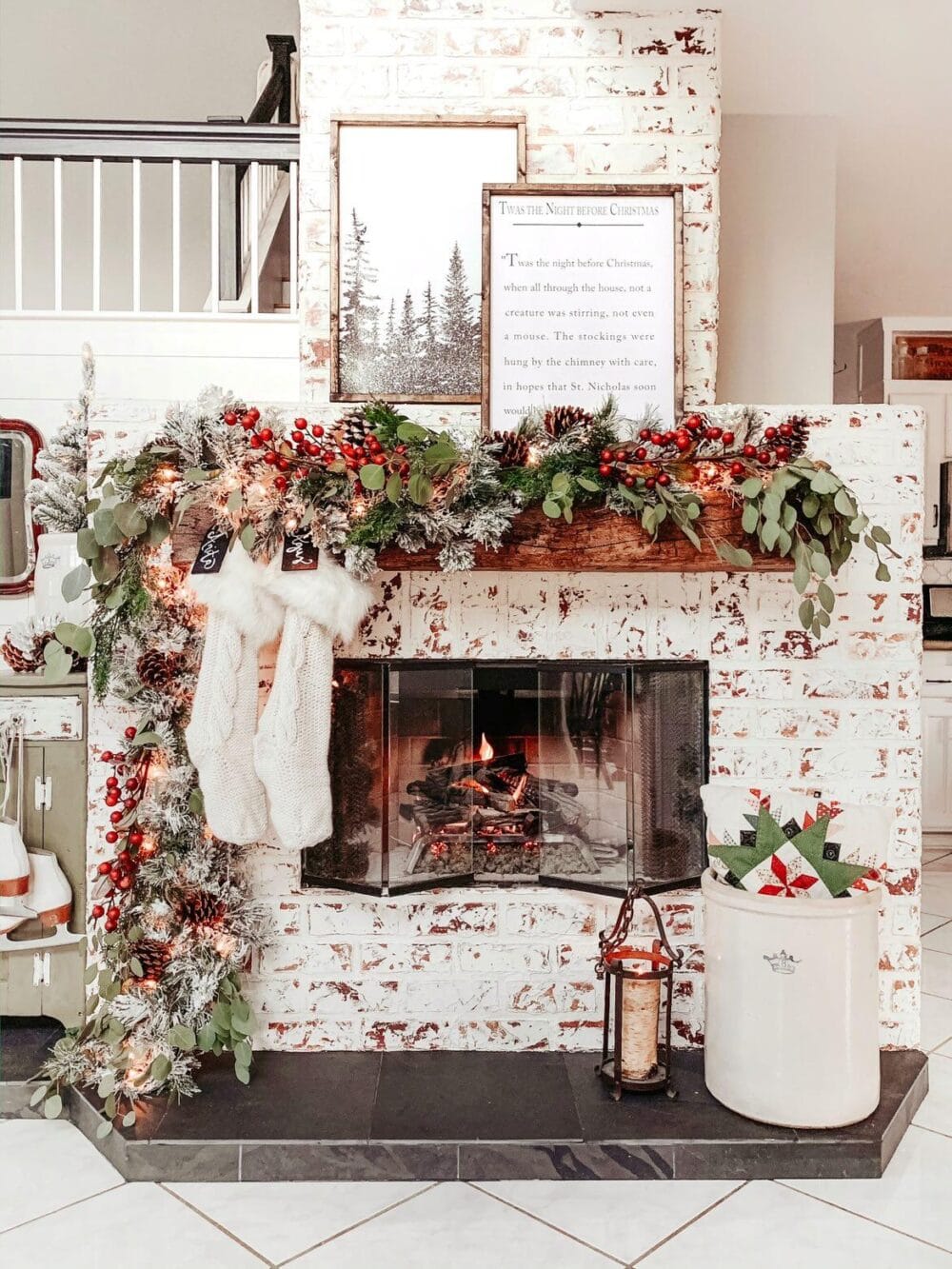 Photo: sunrisevalleyfarm.co
Embrace the cozy comfort of a cottage Christmas with a mantel display that features soft lighting and rustic elements. It's like wrapping your fireplace in a warm, holiday hug that welcomes all who gather around it.

Rustic Woodland Christmas Mantel
Photo: birchlanebyjennifer
Transform your mantel into a woodland retreat with rustic accents like pinecones and wooden snowflakes. This natural approach to holiday decorating brings the tranquil beauty of a winter forest into your home.

Pastel Christmas Mantel Decor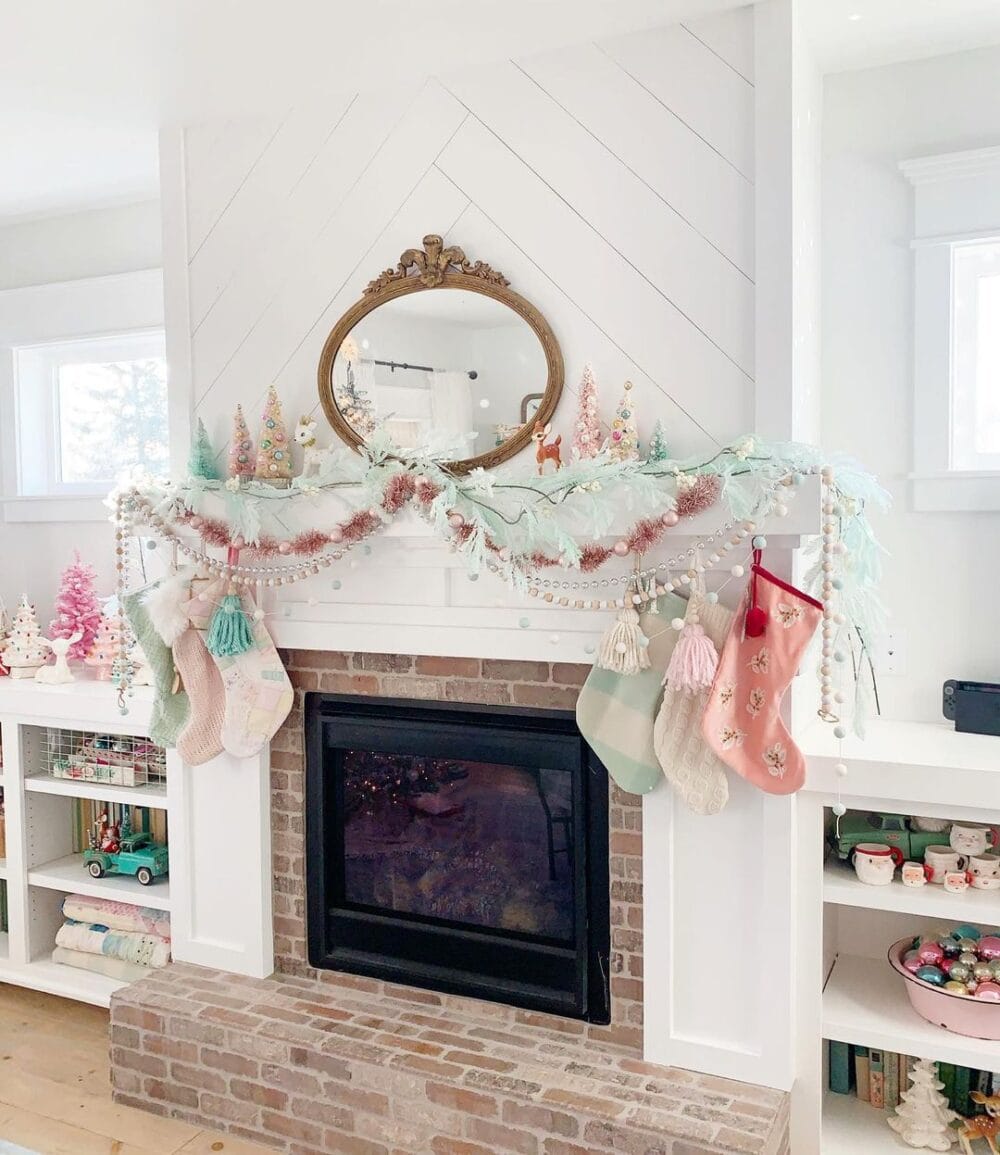 Photo: whimsicaltreasuresdecor
Who says Christmas has to be red and green? A pastel palette can add a playful and super cute twist to your mantel decor, proving that the holidays can be both merry and stylish.

Fun Christmas Garland and Striped Stockings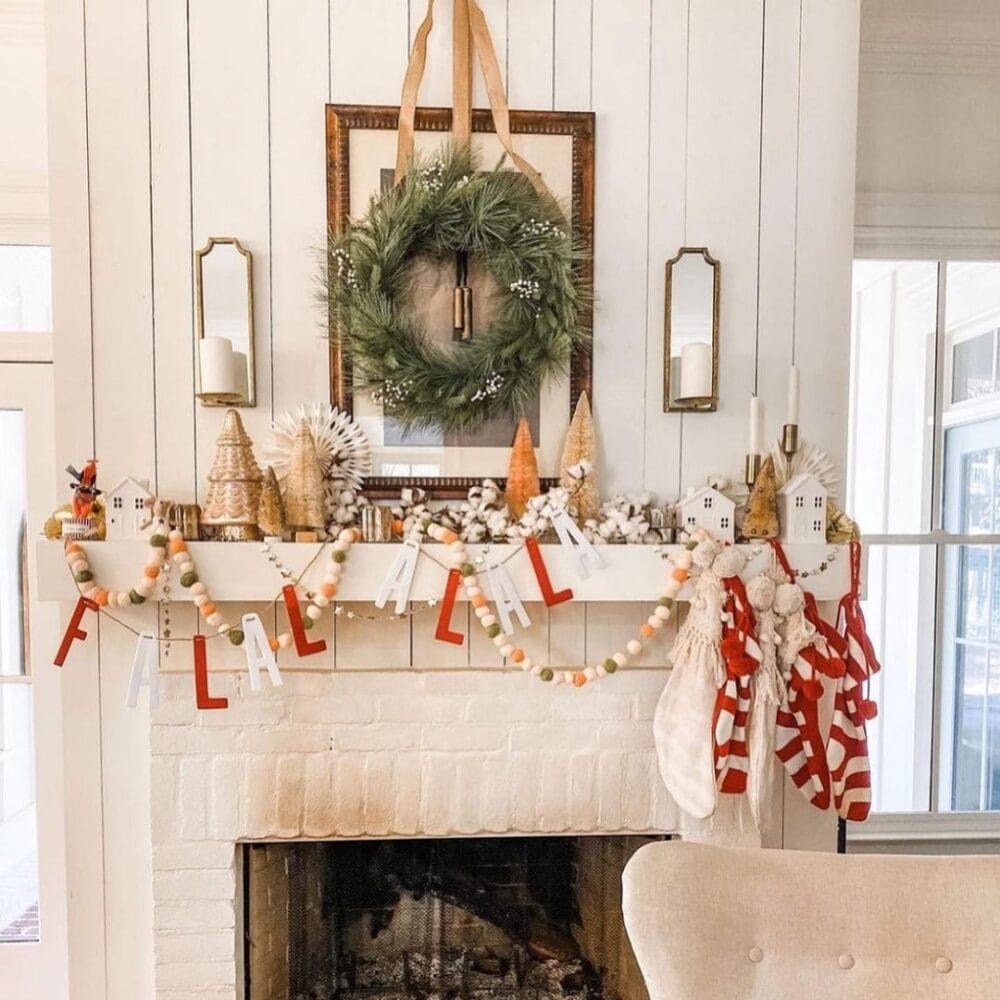 Photo: lesleywgraham
Deck your mantel with a whimsical 'Falalalala' garland and candy cane-striped stockings. This cheerful combination is sure to have you singing holiday tunes all season long.

Gingerbread Houses and Velvet Tree Cones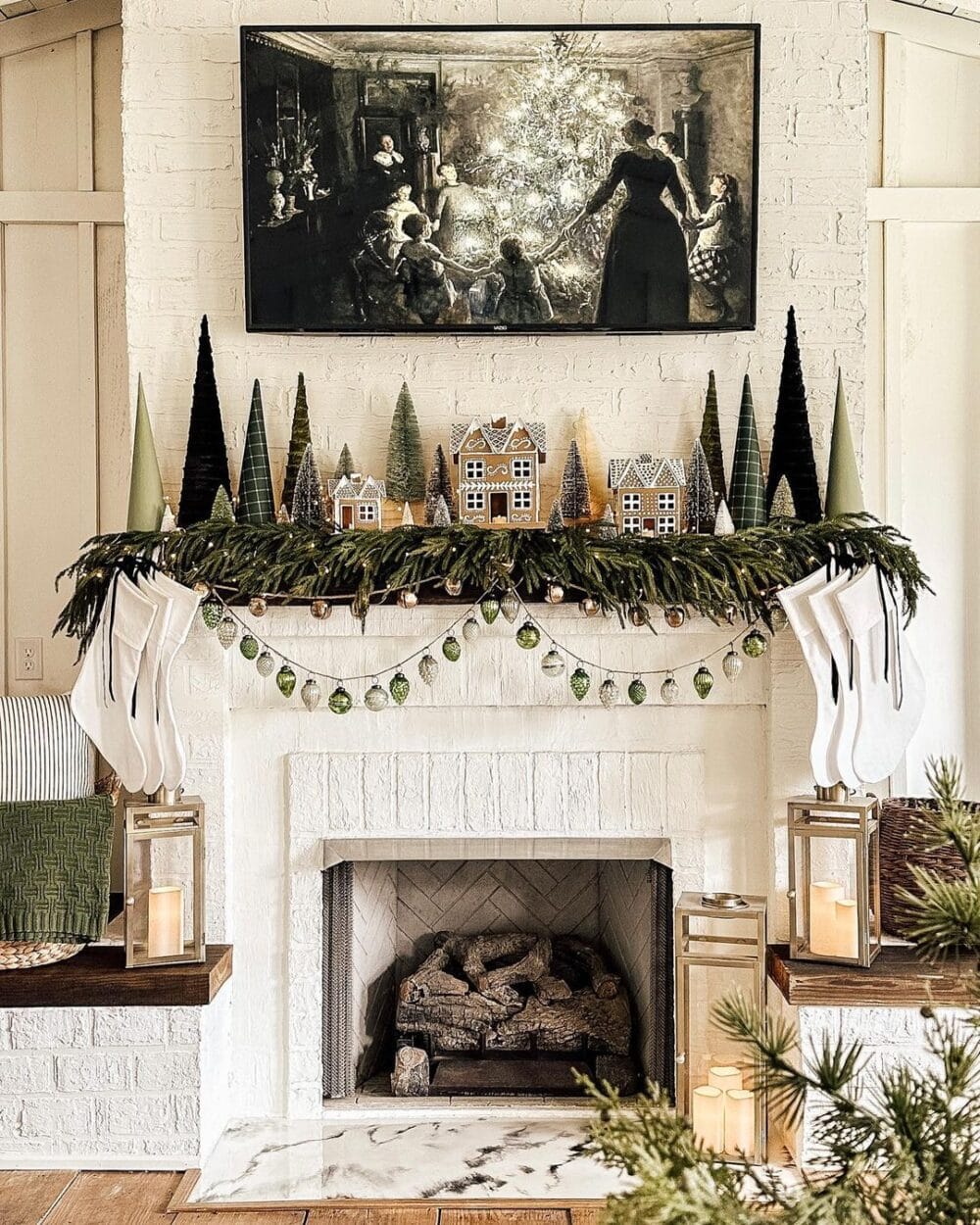 Photo: returninggrace
Sweeten up your mantel with adorable gingerbread house decorations, adorable DIY velvet tree cones, and Christmas art on your TV! This sweet and nostalgic mantel decor perfectly embodies the spirit of Christmas.

Colorful Mini Christmas Trees and Tassel Garland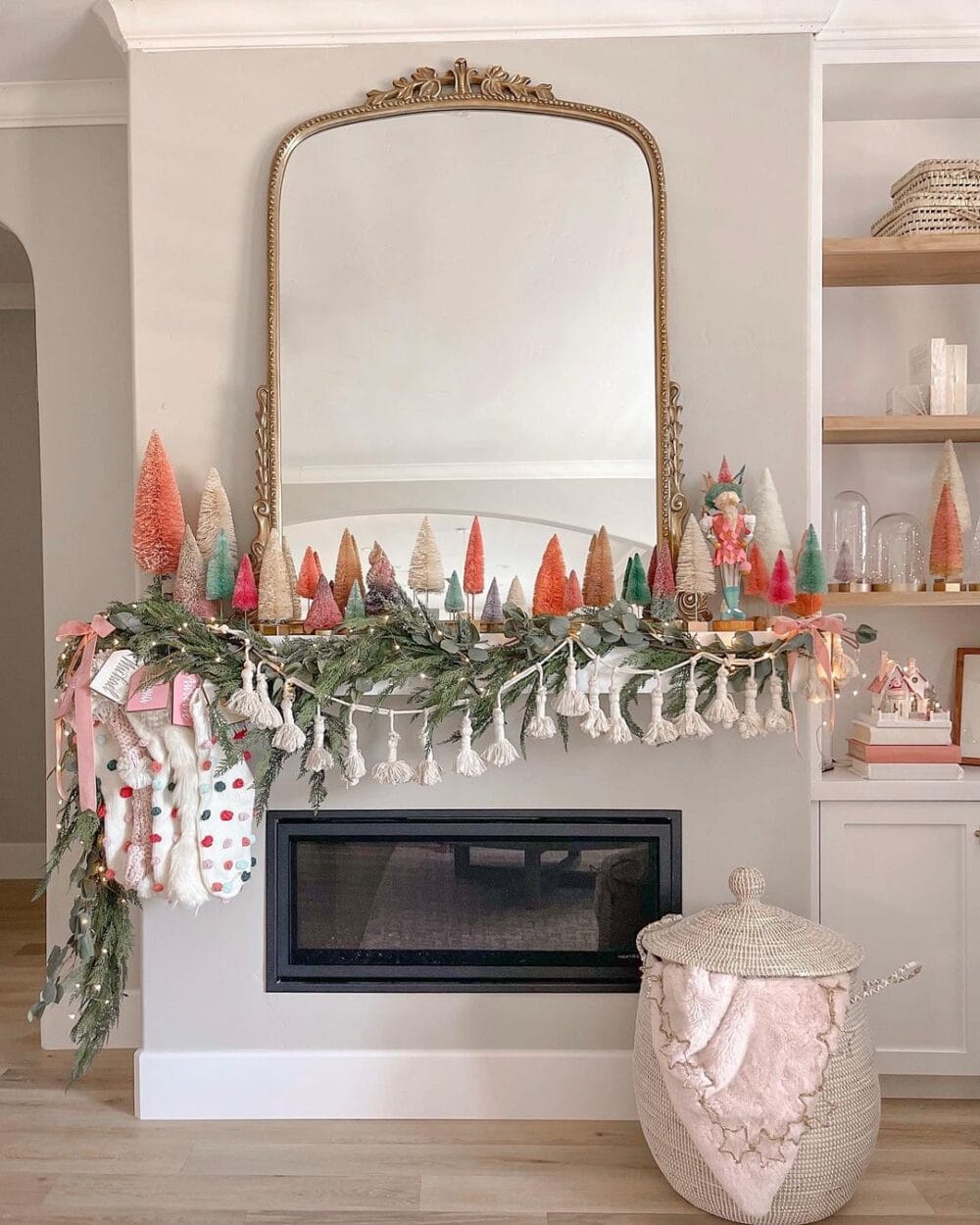 Photo: aurelie.erikson
Brighten your holiday mantel decor with a collection of colorful Christmas tree figures, super cheerful Christmas stockings, and a fun boho-style tassel garland. It's a vibrant and joyful way to celebrate the season's festivities!

Vintage Christmas Stockings and Neutral Mini Christmas Trees
Photo: shopatblu
Go with vintage Christmas stockings and a mantel display filled with neutral-colored miniature tree figures for a simple and nostalgic Christmas mantel look. This nod to Christmases past will fill your home with timeless charm.

DIY Cardboard Stars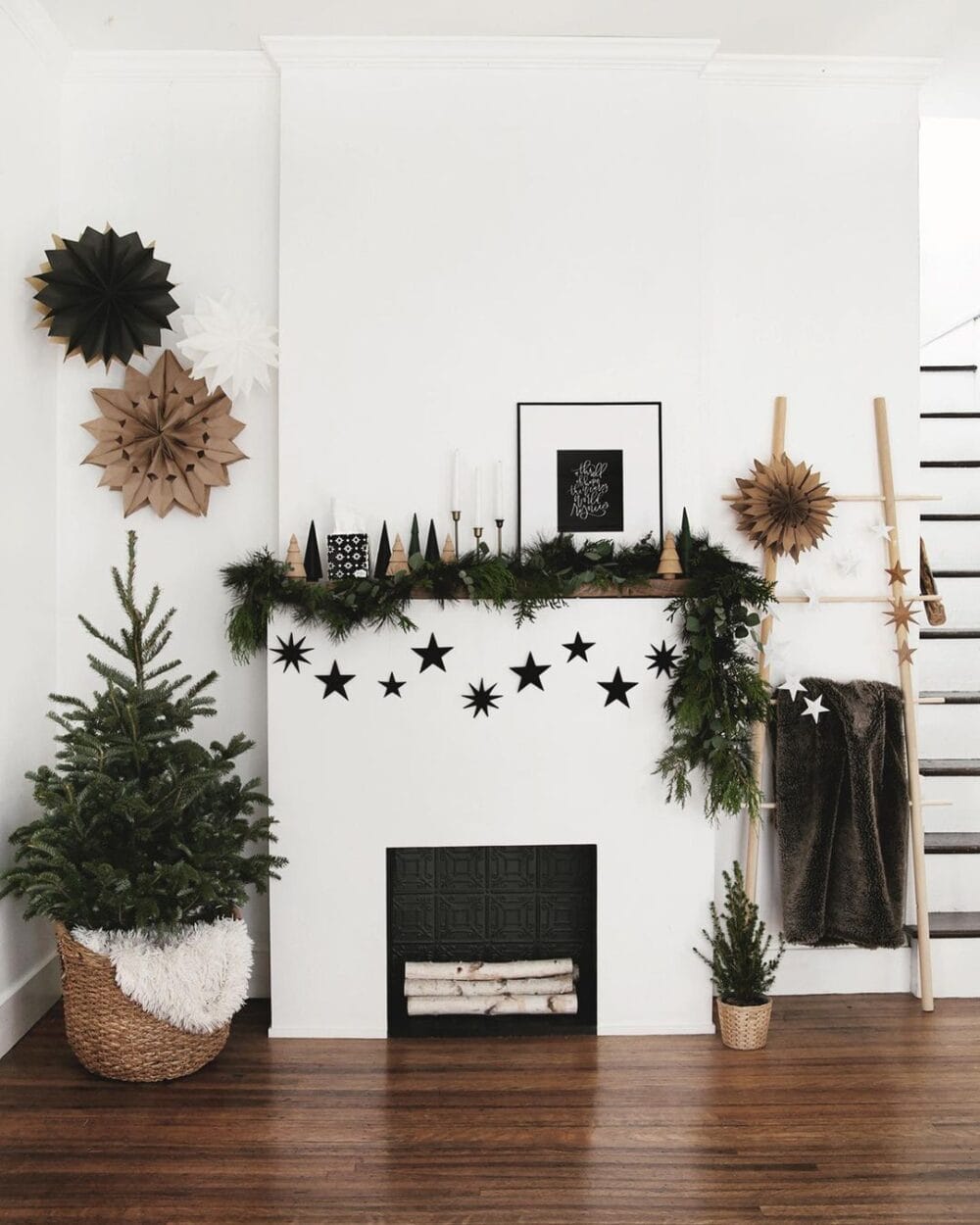 Photo: The Merry Thought
Get crafty with DIY cardboard stars that add a modern touch to your mantel decor. It's a simple yet stunning way to create a starry night right in your living room.

Christmas Stockings Garland and Christmas Art Prints
Photo: laurie3.lh
Combine the traditional with the artistic by hanging a cute red mini Christmas stockings garland alongside festive art prints on your mantel. It's a perfect blend of holiday cheer and creative flair.

Fresh Foliage with a Large Bow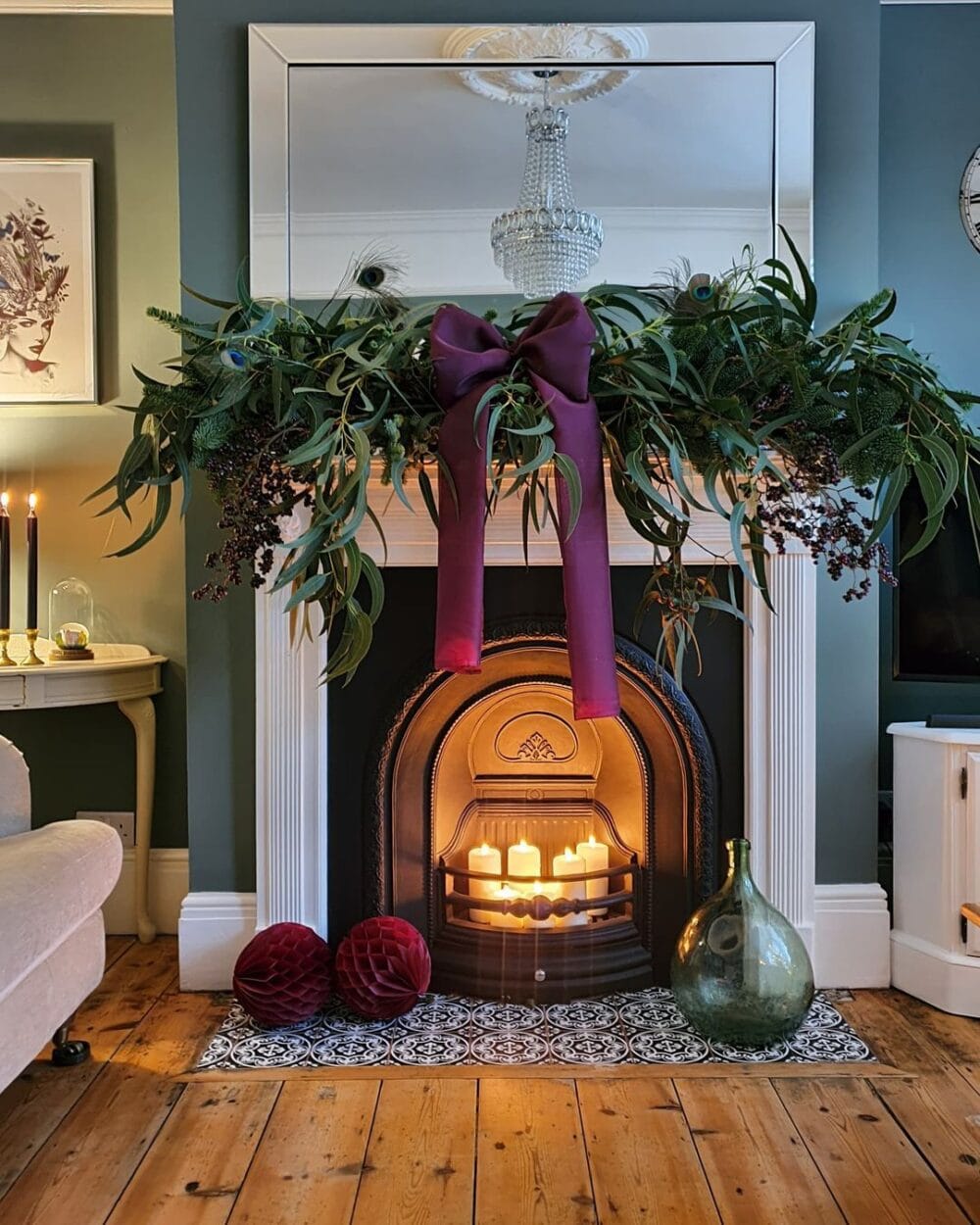 Photo: newbzresidence_no7
The holiday spirit comes alive on this mantel decorated with fresh greenery and a statement-making bow. This natural and elegant Christmas mantel decor brings the outside in and adds a burst of life to your holiday display.

Vintage Santa Collection
Photo: simplyjessidee
Showcase a collection of vintage Santas for a mantel that tells a story of Christmas traditions and cherished memories. It's a heartwarming sight that's sure to spark conversation and nostalgia.

Classy Christmas Mantel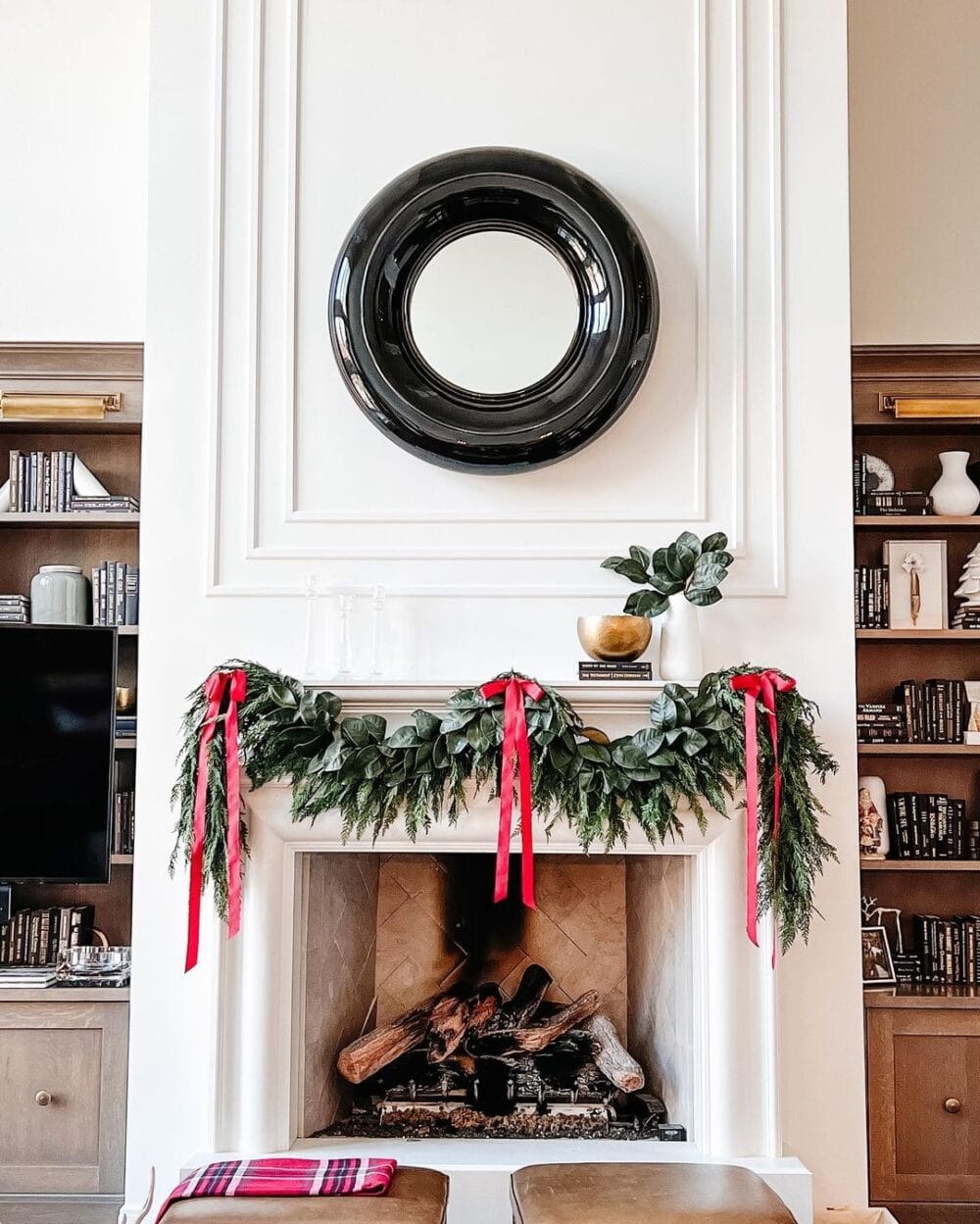 Photo: rachelfolkman
Stick to the classics with a simple Christmas mantel that features reds and greens. It's a timeless look that honors the heart and soul of Christmas decorating.

Colorful Christmas Mantel with Christmas Baubles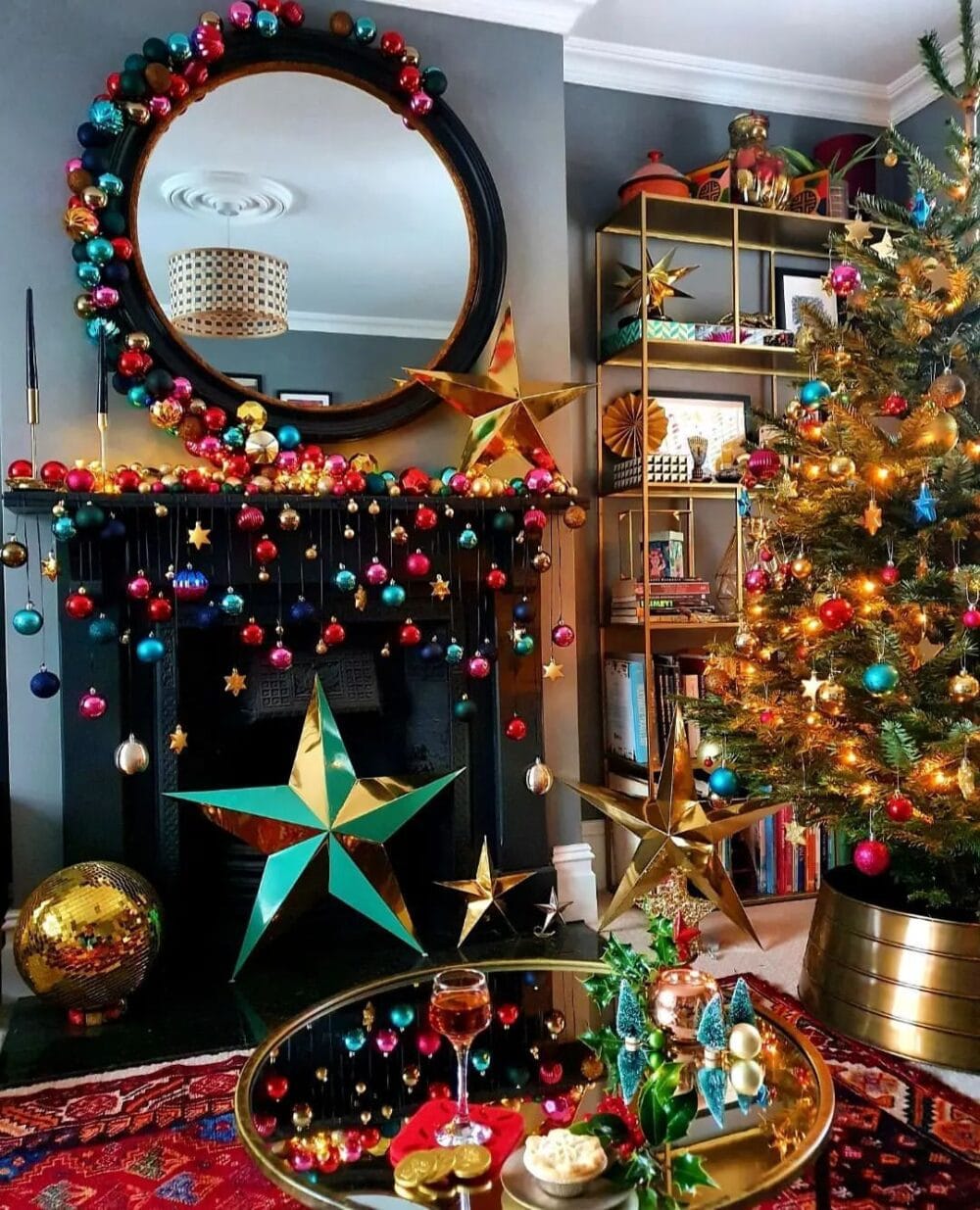 Photo: lovinglansdowne
Add a pop of color to your mantel with an array of shiny Christmas baubles. This festive approach is all about fun and is sure to brighten up any room.

Red, Gold, and Green Traditional Christmas Mantel
Photo: suzannezinggstyle
Embrace the elegance of tradition with a mantel that's rich in gold, green, and red hues. This classic combination is the epitome of Christmas elegance.

Cozy Christmas Mantel with Snowflakes and Candles
Photo: themerrymorriscottage
Illuminate your mantel with a twinkling garland and quaint white house candle holders. This serene setup will make your evenings glow with holiday warmth.

Farmhouse Christmas Mantel Decor
Photo: life_with_moss
Capture the cozy essence of farmhouse style with a mantel that's rustic and inviting. It's the perfect backdrop for sipping cider and enjoying the holiday hustle and bustle.

Nutcracker and Reindeer Accents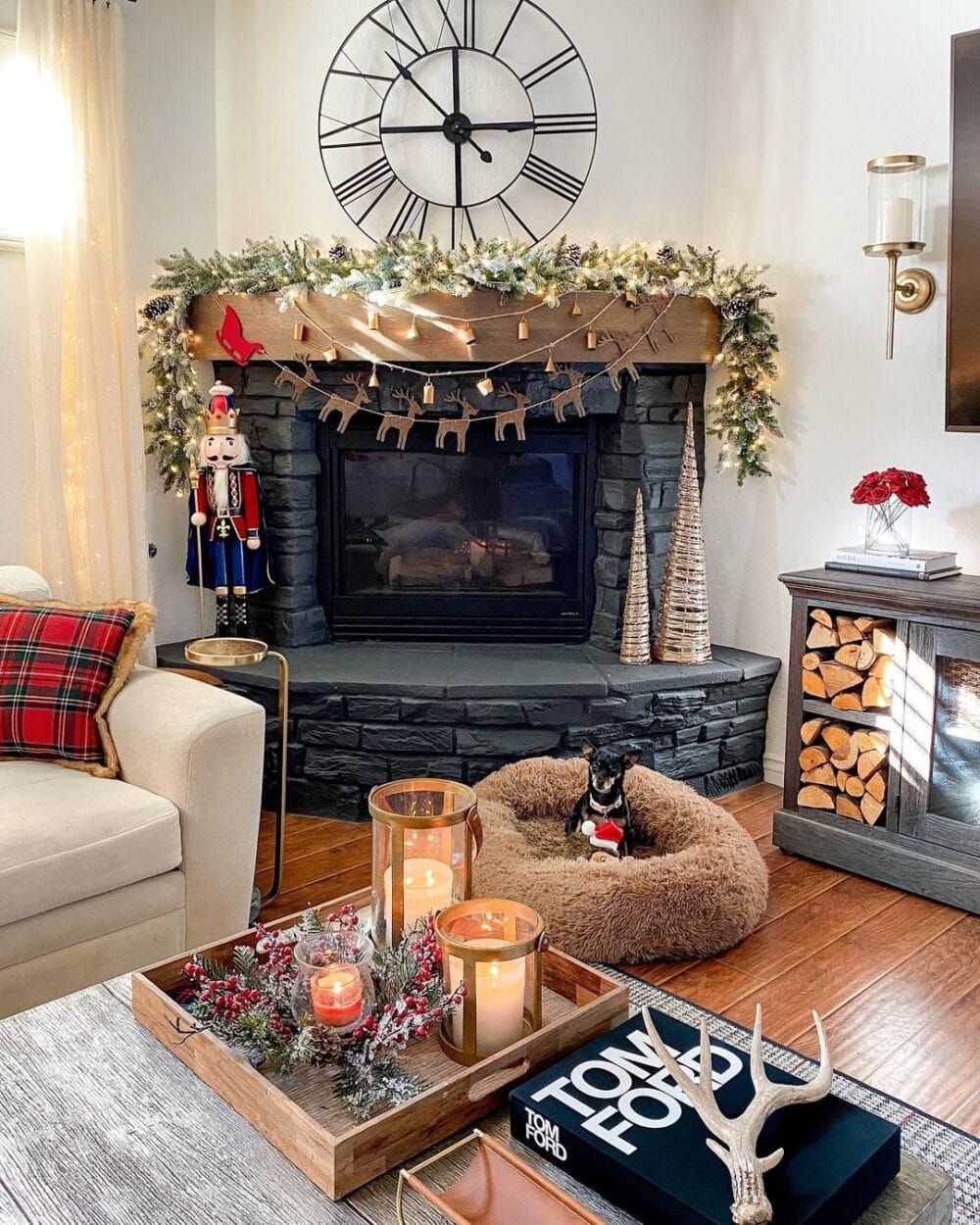 Photo: ashleynicoleinteriors
Add a touch of fantasy to your mantel with graceful reindeer and a whimsical nutcracker by the fireplace. These charming figures will dance and prance their way into your holiday celebrations.

Blue and White Christmas Mantel Decor
Photo: laurasolenskydesign
For a twist on the traditional, dress your mantel in chic blue and white decor. It's a fresh take on holiday style that's as crisp as the winter air.

Ice Blue Accents, Gold Christmas Trees, and Rhinestone Brooches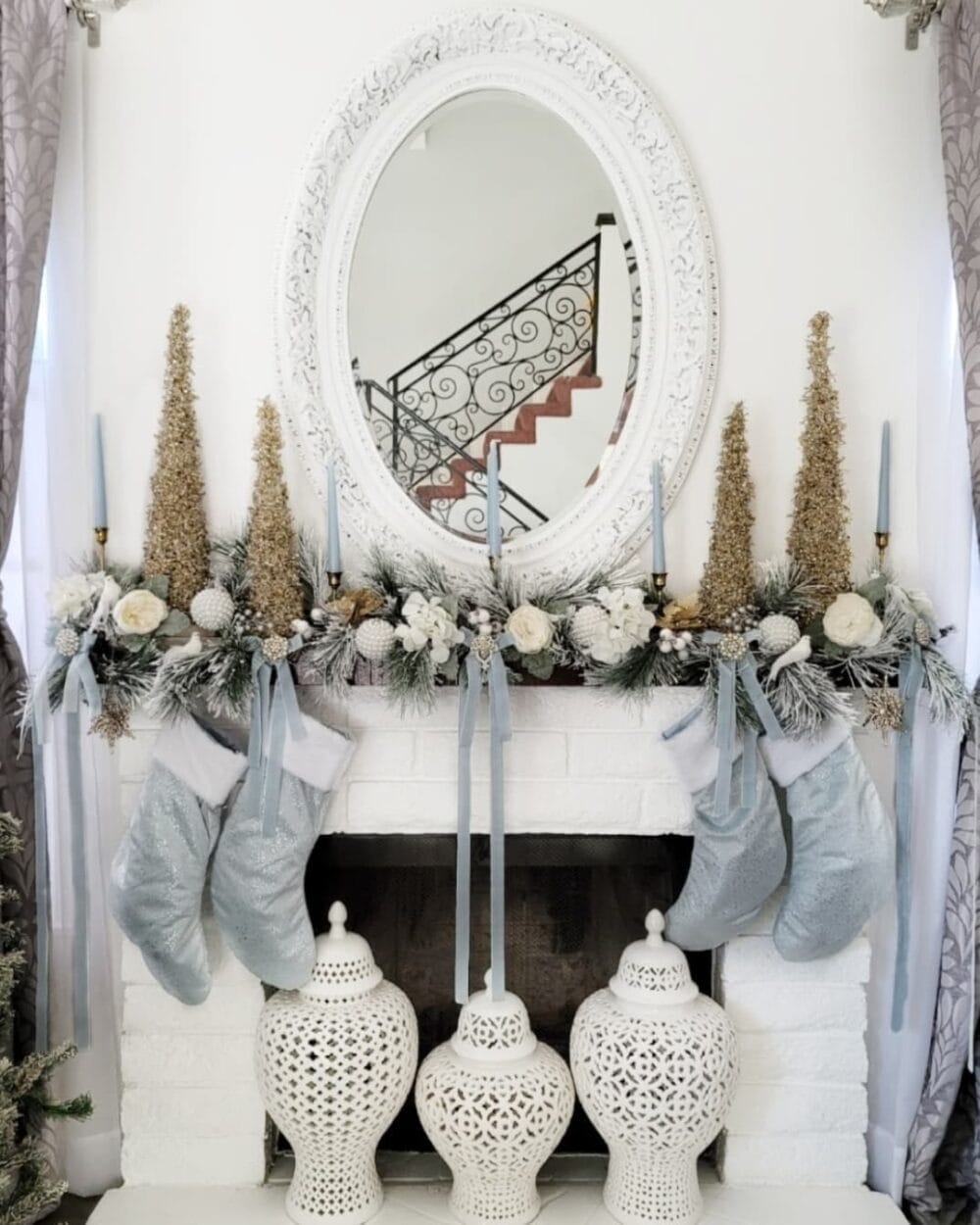 Photo: vintagechicdecor
Elevate your mantel with the elegance of ice blue accents, shimmering gold trees, and sparkling rhinestone brooches. This chic display is like a winter wonderland of style.

White Christmas Mantel Decorations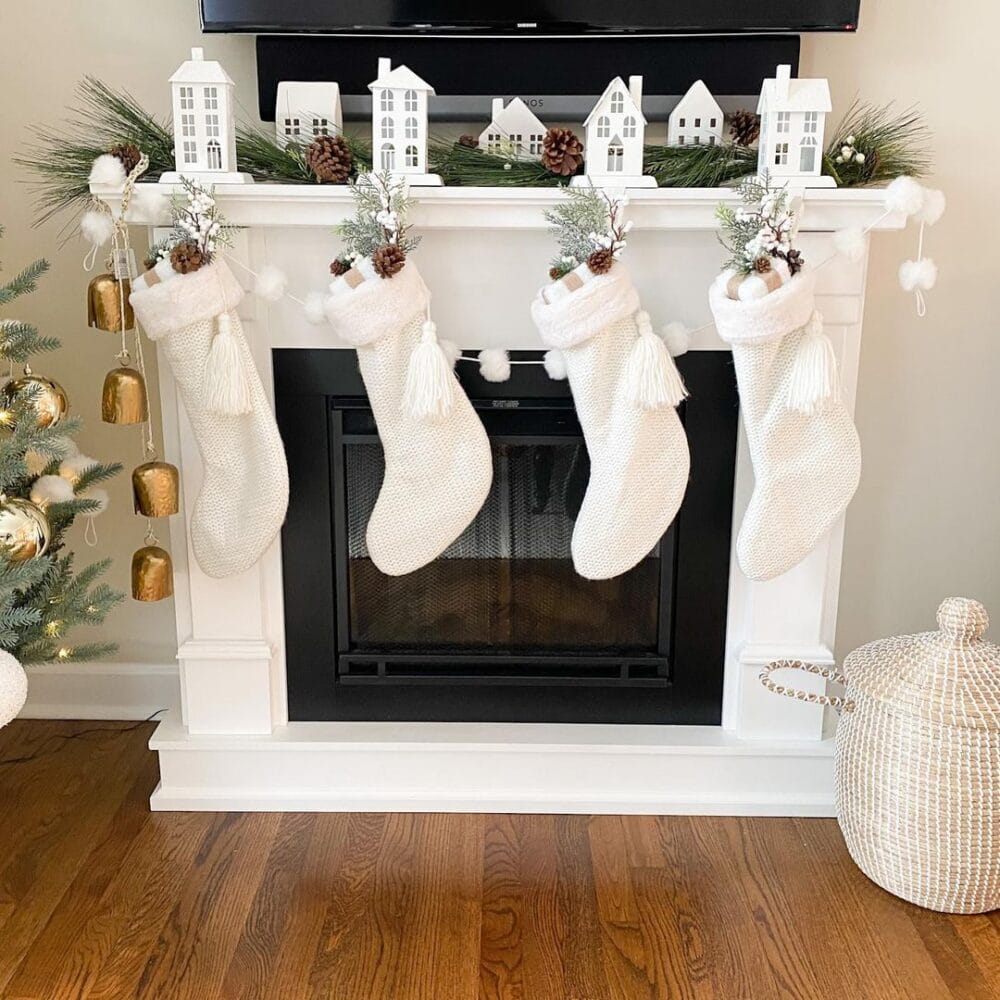 Photo: Simply Staged & Styled
Create a white winter wonderland on your mantel with some greenery accented by gold bells. It's a clean yet sophisticated look that's as peaceful as a silent night.

Lush Foliage, Red Candlesticks, and Clear Christmas Baubles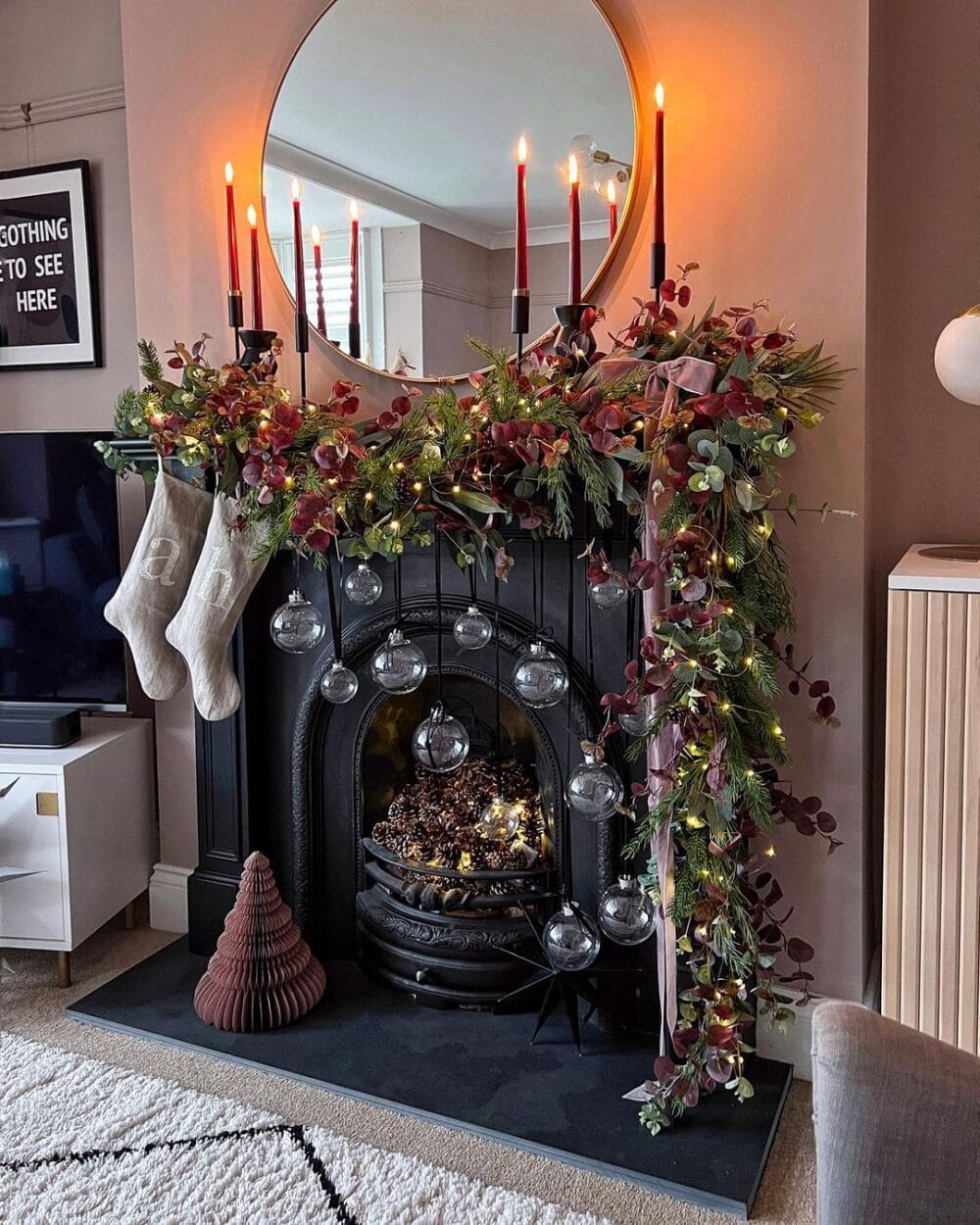 Photo: jo_at_sixty8
Create a rich and vibrant display with lush greenery, bold red candlesticks, and clear baubles that give the mantel a modern twist. It's a festive feast for the eyes!

Striped Christmas Stockings and Gold Bells Garland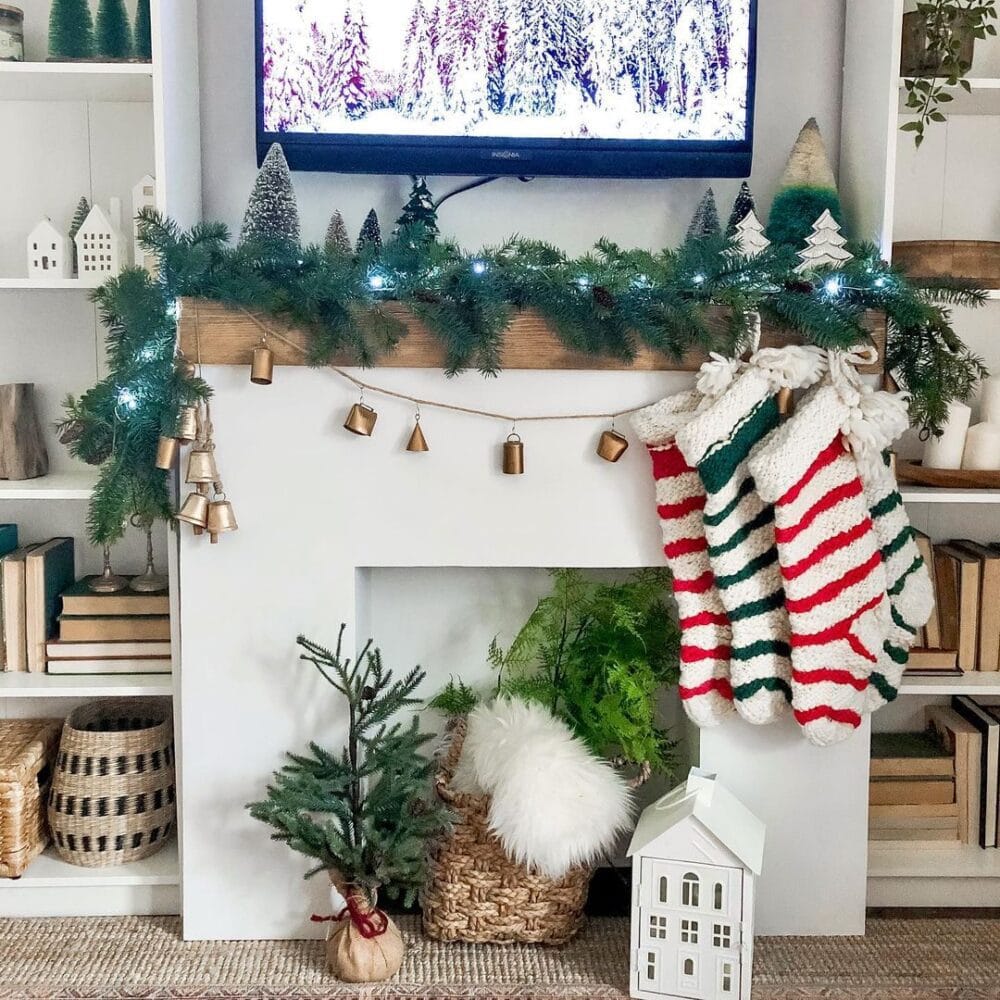 Photo: thelovedhome_
Hang these cozy-looking red and green striped stockings, and complement them with a garland of gold bells. This charming combination is the perfect mix of fun and tradition for your mantel decor.

Colorful Festive Mantel with Nativity Scene
Photo: @spruceridge_vintage
Dress your mantel in holiday cheer with this stunning mantel, where twinkling lights and lush garland intertwine to highlight a beautifully scripted chalkboard sign and Nativity scene, creating a perfect backdrop for heartfelt Christmas gatherings.

Classic Christmas Mantel with Natural Elements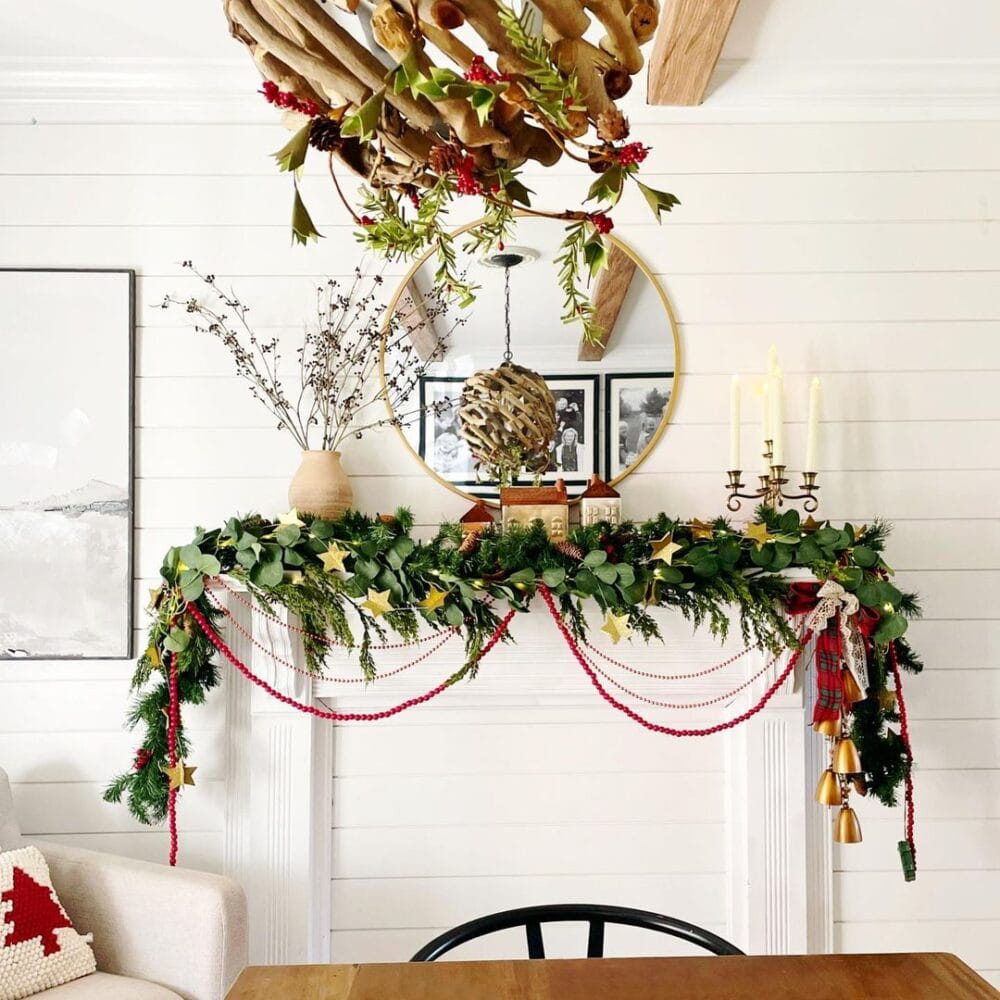 Photo: @thehylandhomestead
Welcome the season's warmth by decorating your mantel with a mix of different garlands, berry accents, and rustic touches. The cascading garland paired with vintage accents and a touch of candlelight sets the stage for a cozy holiday atmosphere.

That's It For Now!
As you deck the halls this season, let these Christmas mantel decorating ideas inspire you to create a space that's full of warmth, cheer, and festive spirit.
Whether you prefer the rustic charm of woodland accents, the playful whimsy of pastel colors, or the timeless elegance of traditional decor, your mantel is the perfect stage to showcase your holiday style.

Enjoyed this article? Check out our other Christmas content:
30+ Christmas Nail Ideas: Holiday Magic at Your Fingertips
20+ Stunning Christmas Makeup Ideas for a Glamorous Holiday Look

Share on Pinterest: