'Tis the season to sparkle and shine, and what better way to do that than with some enchanting Christmas makeup looks?
I can practically hear the jingle bells and feel the warmth of holiday cheer in the air. It's that magical time of year when we get to transform our faces into festive canvases filled with creativity and glamour.
So, grab your brushes, dust off your palettes, and let's dive into the world of Christmas makeup artistry!

Christmas Makeup Trends for 2023
This year, the Christmas makeup scene is brimming with exciting trends that will make you the star of every holiday party.
From bold and dramatic looks to whimsical and Christmassy vibes, there's something for everyone. Whether you're planning to go all out with glitter and shimmer or prefer a more subtle nod to the season, we've got you covered.
Bold and Dramatic Eyes: Get ready to make a statement with intense smoky eyes, jewel-toned eyeshadows, and fluttery lashes that rival the snowflakes outside.
Christmas-Inspired Makeup Art: Some makeup artists are taking it to the next level with intricate designs like Santa hats, reindeer antlers, and even Christmas tree decorations right on their faces!
Festive Color Schemes: Red, green, gold, blue, and brown are the stars of the show this season. These hues will help you create captivating looks that scream "holiday spirit."
Glitter Galore: 'Tis the season to shine, and nothing says Christmas like a touch of glitter. From subtle glimmers to all-out sparkle, there's no such thing as too much glitter during the holidays.
Icy Blue Accents: Incorporate icy blue eyeshadows or liners to give your makeup a wintery, frosty vibe. It's a subtle nod to the frosty beauty of the season.
Candy Cane Stripes: Incorporate candy cane stripes into your eye or lip makeup for a playful and sweet holiday look.
Red Lipstick: A classic red lip is always in style during the holidays. It's a timeless choice that adds a touch of glamour to any festive look.
And of course, don't forget to complete your look with a gorgeous set of Christmas nails.
Now hold onto your makeup brushes, because this Christmas, we're about to sleigh the beauty game!

20+ Christmas Makeup Ideas for a Glam Holiday

Red and Green Eyeshadow with Red Lipstick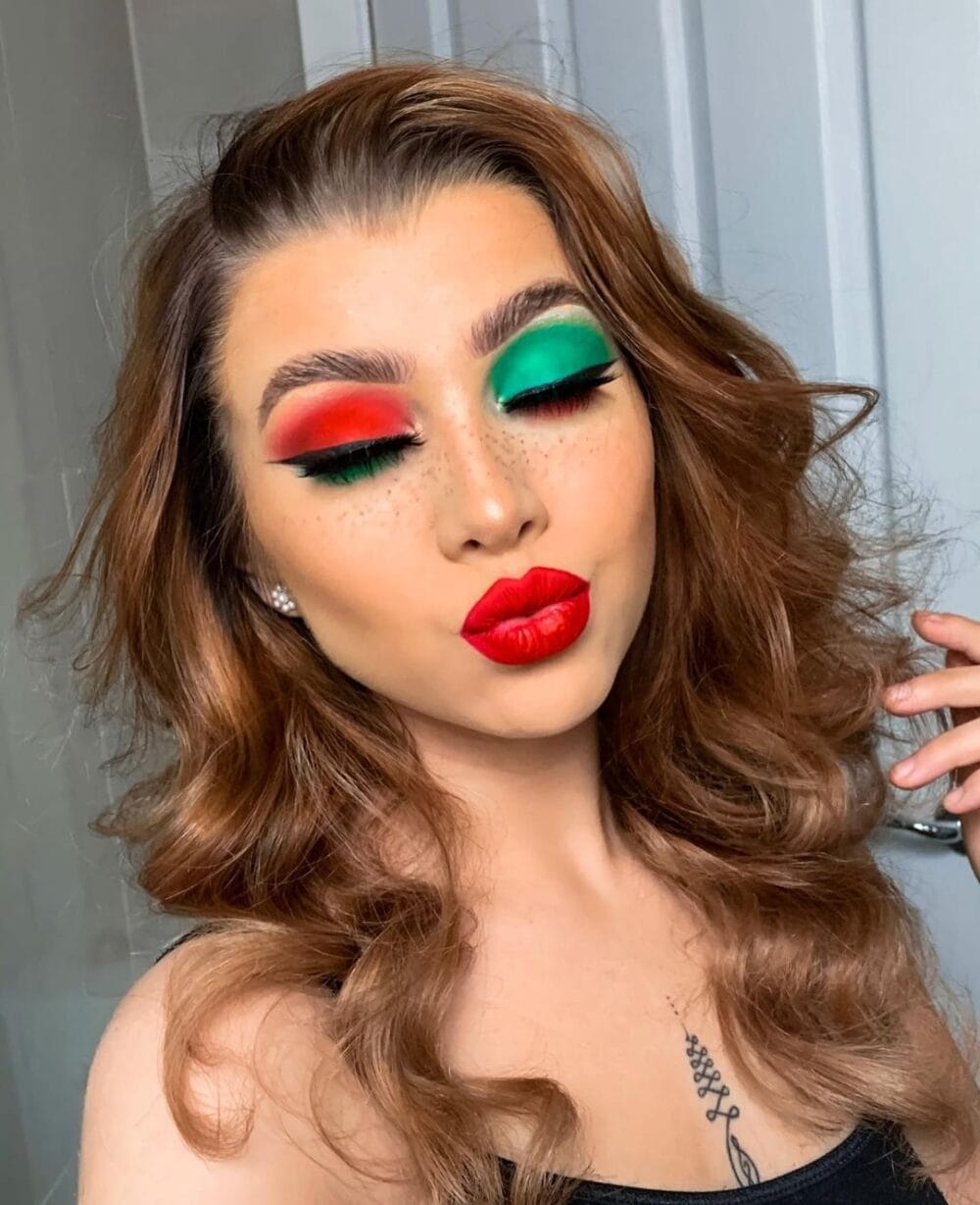 Photo: sarahanne616
'Tis the season for classic holiday colors! This look combines festive red and green eyeshadows with a bold red lipstick, creating a striking and merry makeup combination. Perfect for those who want to make a statement and spread some Christmas cheer.

Christmas Reindeer Eyeliner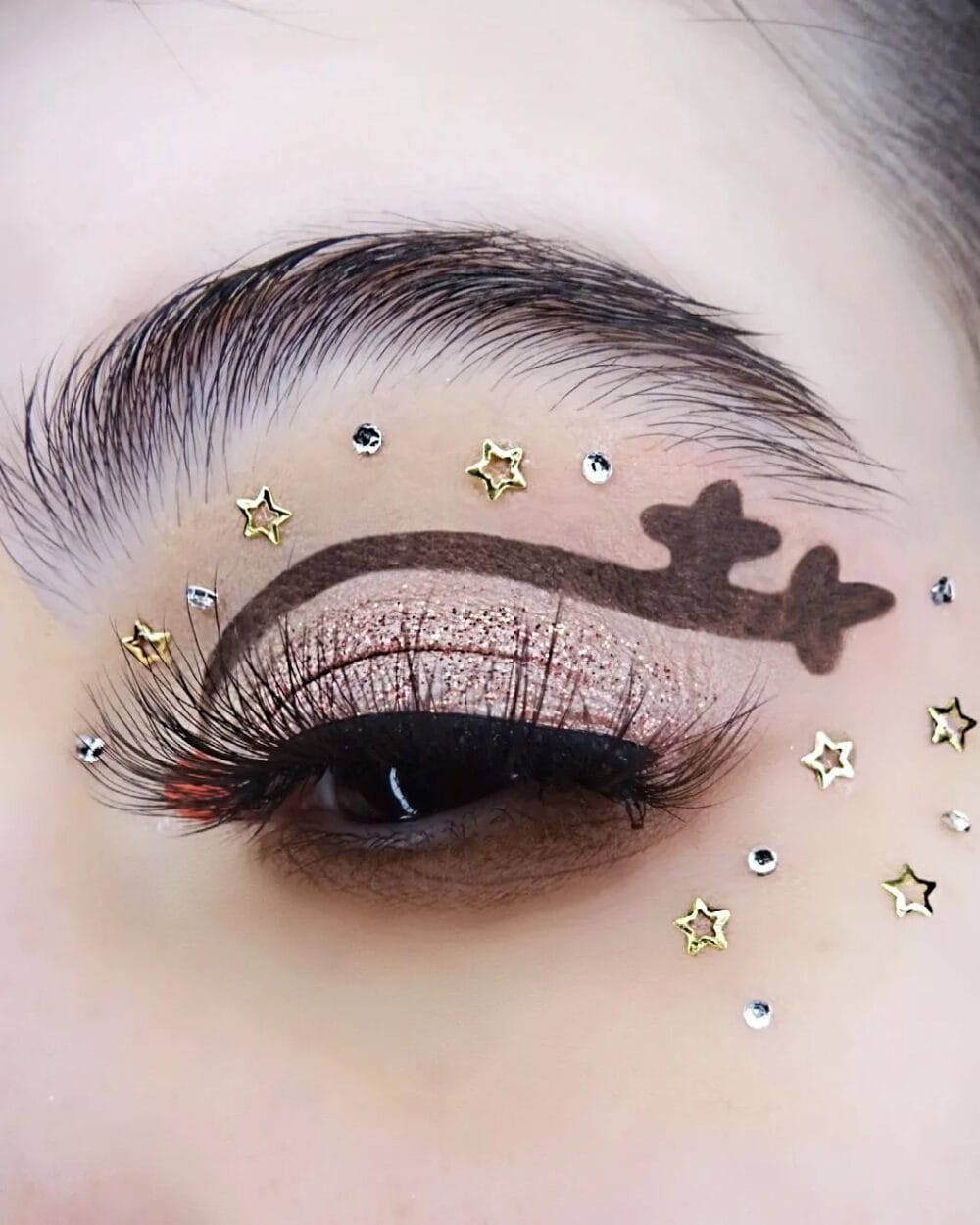 Photo: serenademakeup
Oh, deer! This playful Christmas makeup features adorable reindeer eyeliner, adding a fun little touch to your holiday makeup look. It's a creative way to incorporate the season's favorite animal into your makeup, and it's bound to put a smile on everyone's face.

Red and Shimmery Gold Eyeshadow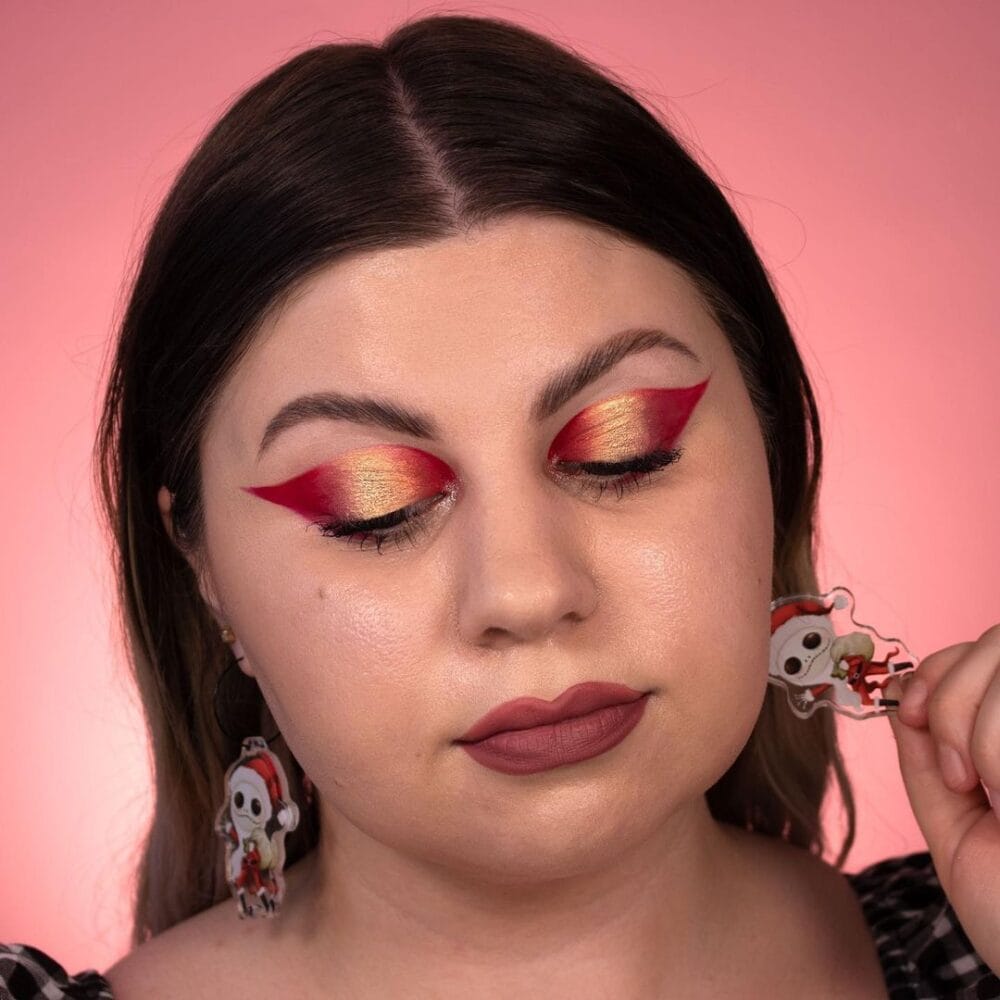 Photo: lianatriesmakeup
Elegance meets festivity with this red and shimmery gold eyeshadow combo. The warm, inviting tones complement each other beautifully, creating a glamorous yet Christmassy appearance. You'll shine like a holiday ornament at any gathering.

Ice Queen Eye Makeup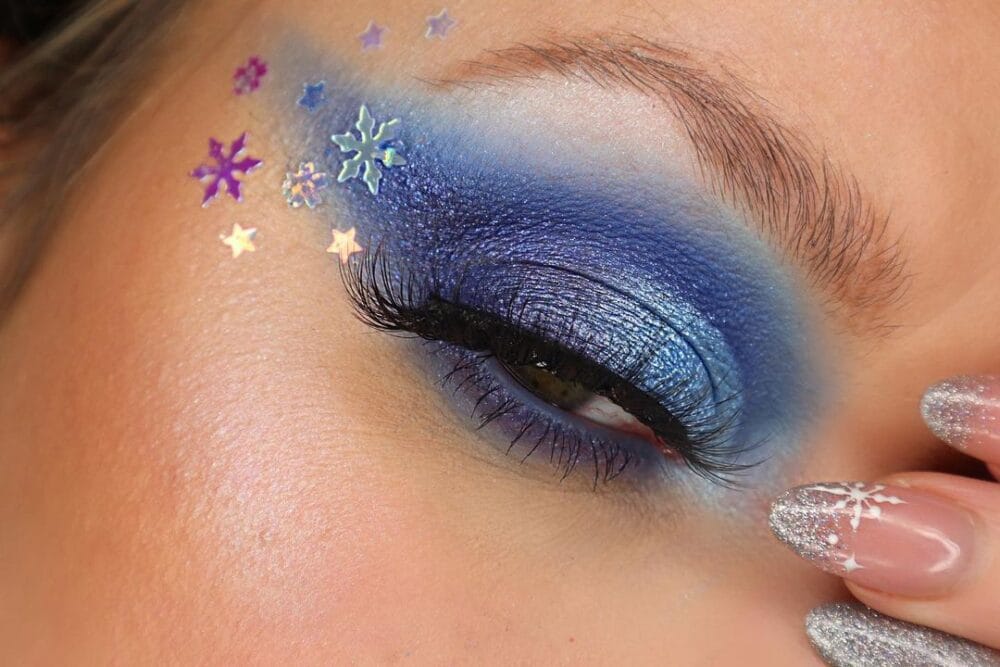 Photo: hollie.rutter
Embrace the enchanting beauty of winter with this ice queen eye makeup look. Icy blues and shimmering snowflakes create a frosty and ethereal look, making you feel like you've stepped right into a winter wonderland. Perfect for those who love the chill of the season.

'Merry Christmas' with Reindeer Accent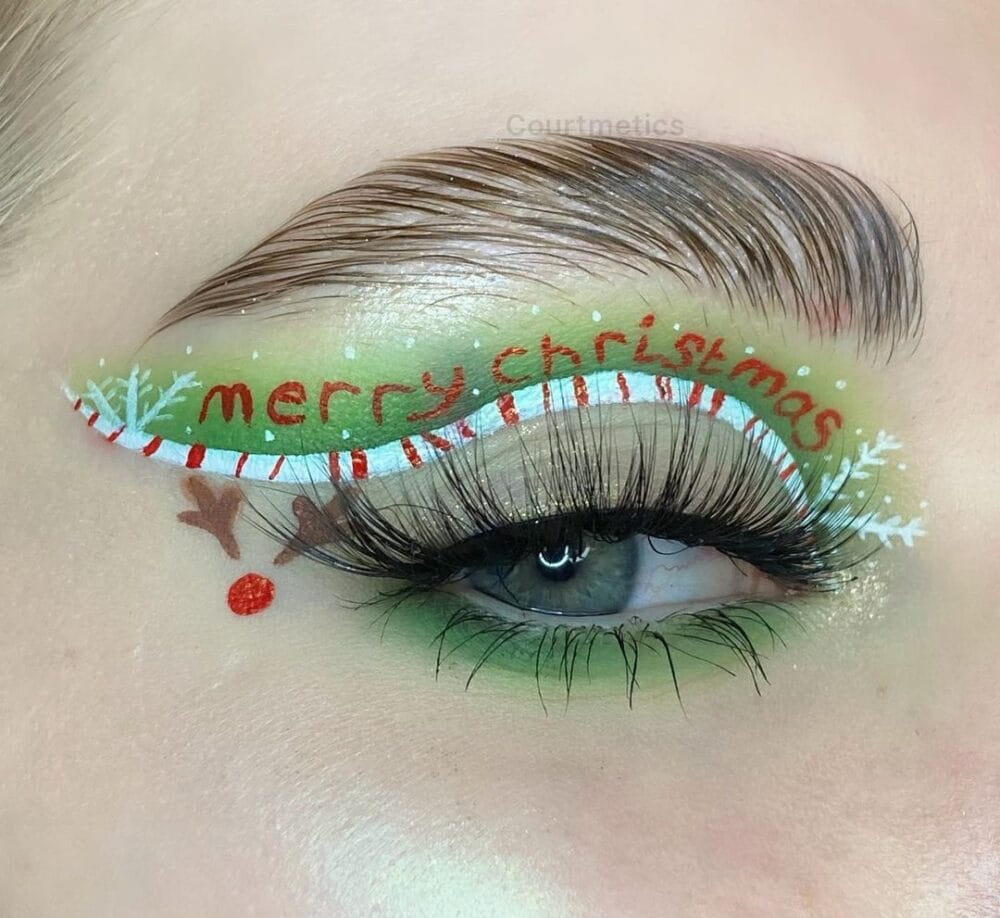 Photo: courtmetics
Spread the holiday spirit with a makeup message! This green 'Merry Christmas' eye makeup look decorated with a cute little reindeer accent is a delightful way to express your festive joy. It's a conversation starter and a celebration of the season.

Christmas Lights Eyeshadow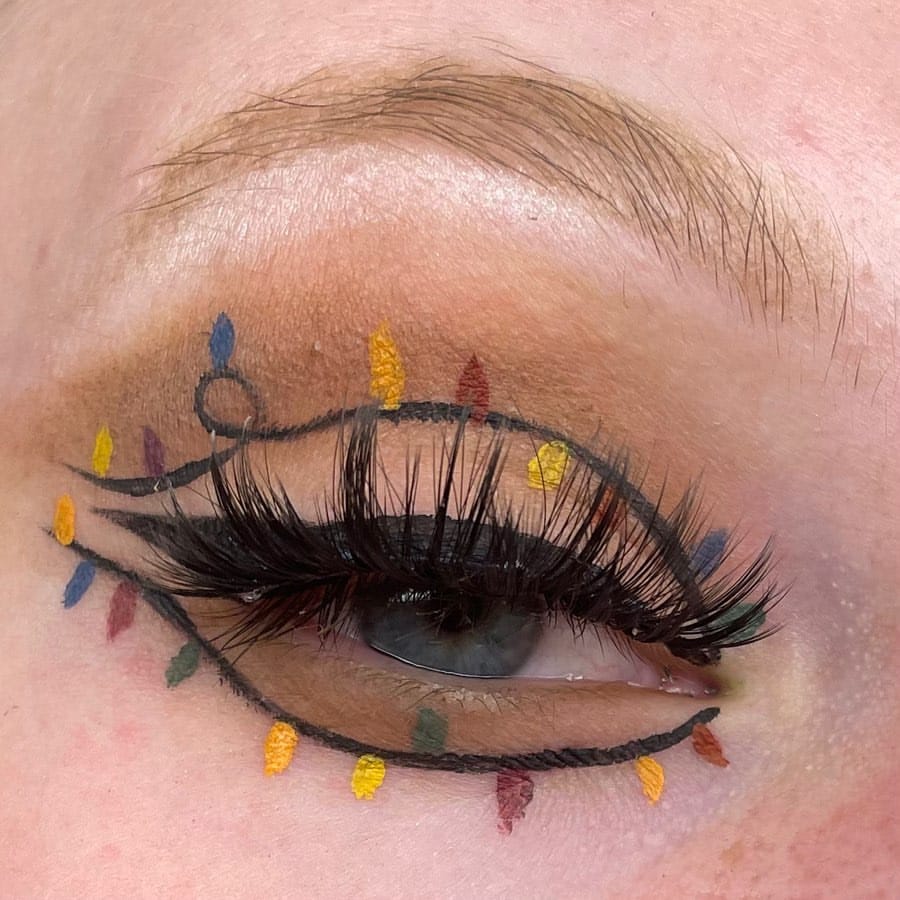 Photo: kristine.bow
Illuminate your eyes with the magic of Christmas lights! This super cute eyeshadow design captures the twinkle and glow of holiday decorations. It's a fun and playful look that's perfect for parties and adding a touch of whimsy to your ensemble.

Red Christmas Makeup Glam
Photo: maadlashes
When in doubt, go bold with red! This striking red makeup look is both festive and empowering. It's a timeless choice that symbolizes love, passion, and the warmth of the holiday season.

Related: 20+ Adorable Winter Outfits for Freezing Cold Weather

Blue Eyeshadow with Snowflakes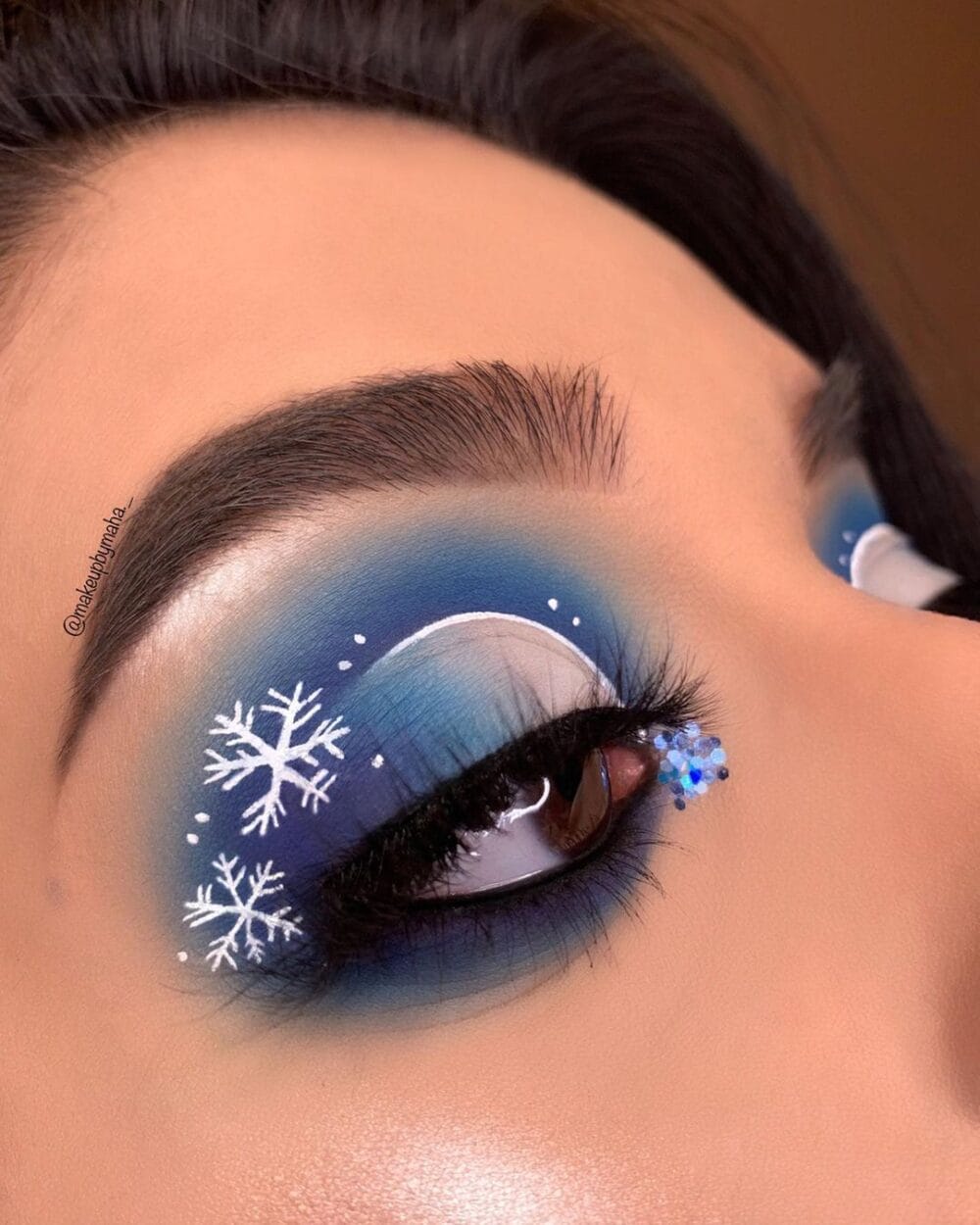 Photo: makeupbymaha._
Capture the serene beauty of a snowy winter day with blue eyeshadow adorned with delicate snowflake details. It's a tranquil and enchanting look that's sure to make you stand out at any holiday gathering.

Candy Cane Christmas Makeup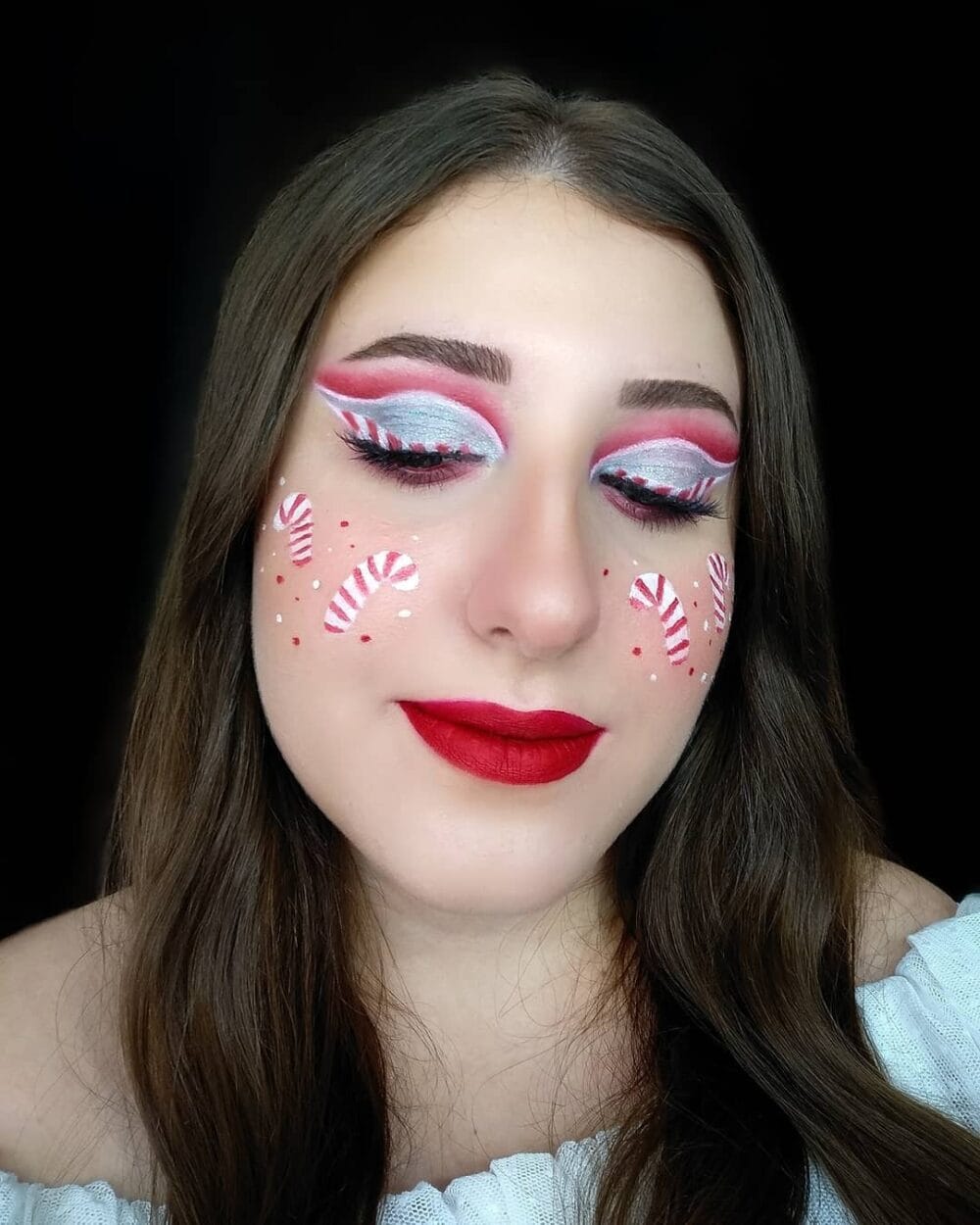 Photo: muaedasugiyama
Indulge your sweet tooth with candy cane-inspired makeup. The red and white stripes and the candy cane accents on your cheeks bring a playful and delicious twist to your holiday look. It's a fun way to embrace the spirit of giving and treats.

Red and Gold Christmas Makeup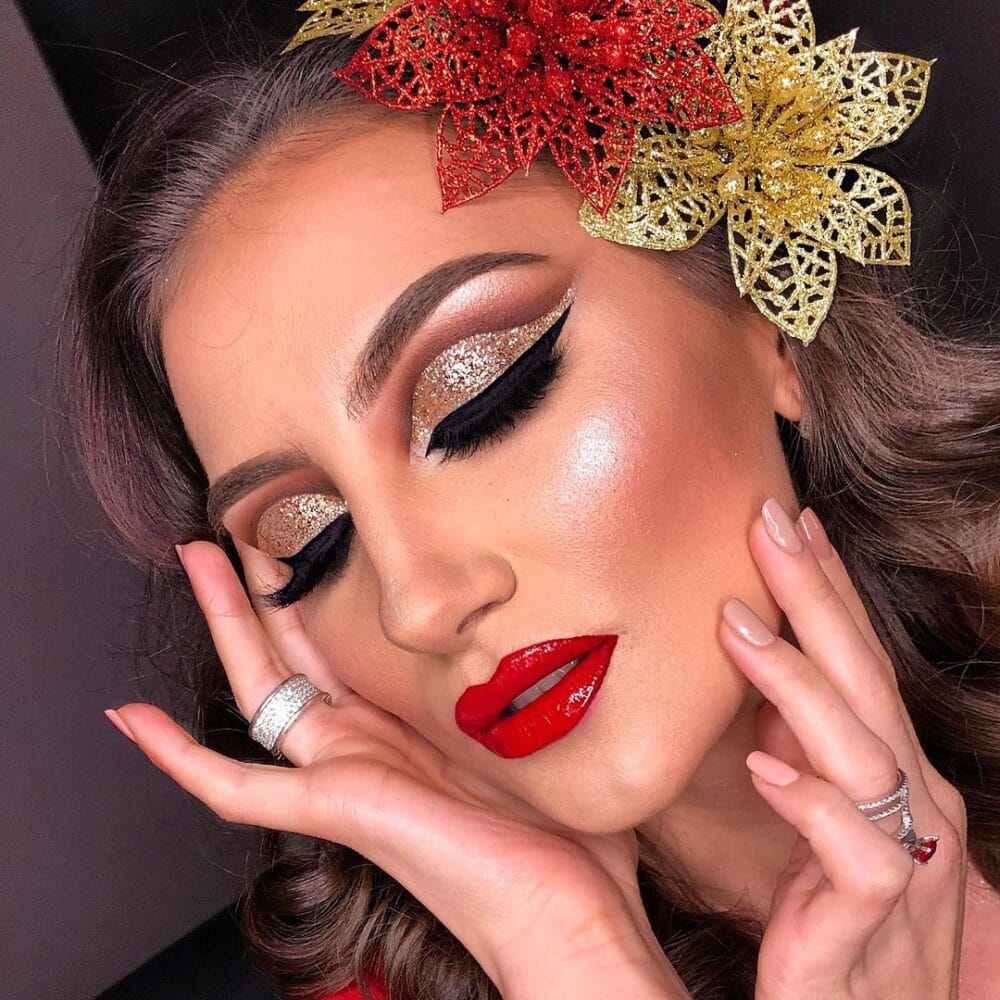 Photo: jcsilveiramakeup
Combine the richness of red lipstick and the opulence of gold eyeshadow for a regal Christmas makeup look. This elegant combination captures the grandeur of the holiday season, making you feel like royalty.

Gingerbread Makeup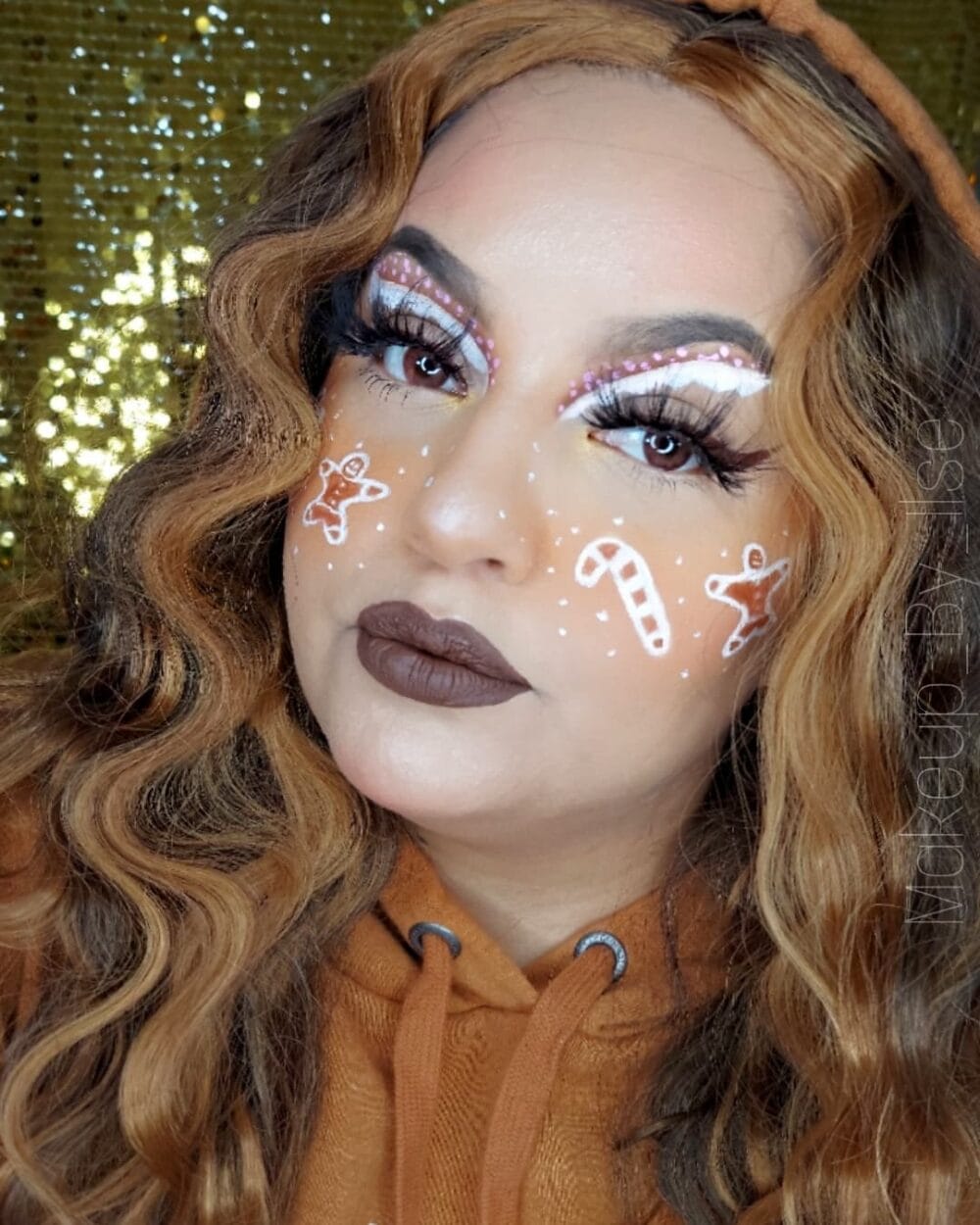 Photo: makeup_by_ilse
Who can resist the charm of gingerbread during the holidays? This makeup art idea takes inspiration from everyone's favorite holiday treat, with warm brown tones and gingerbread-themed details. It's a sweet and cozy look that's perfect for winter festivities.

Red and Silver with Snowflakes
Photo: kingagajdur_makeup
Step into a winter wonderland with red and silver makeup with delicate white snowflakes. It's a combination of elegance and nature's beauty, perfect for embracing the magical side of the season.

Related: Winter Nails 2023: Top Nail Art Trends of the Season

Sparkly Eyeshadow with Gold Stars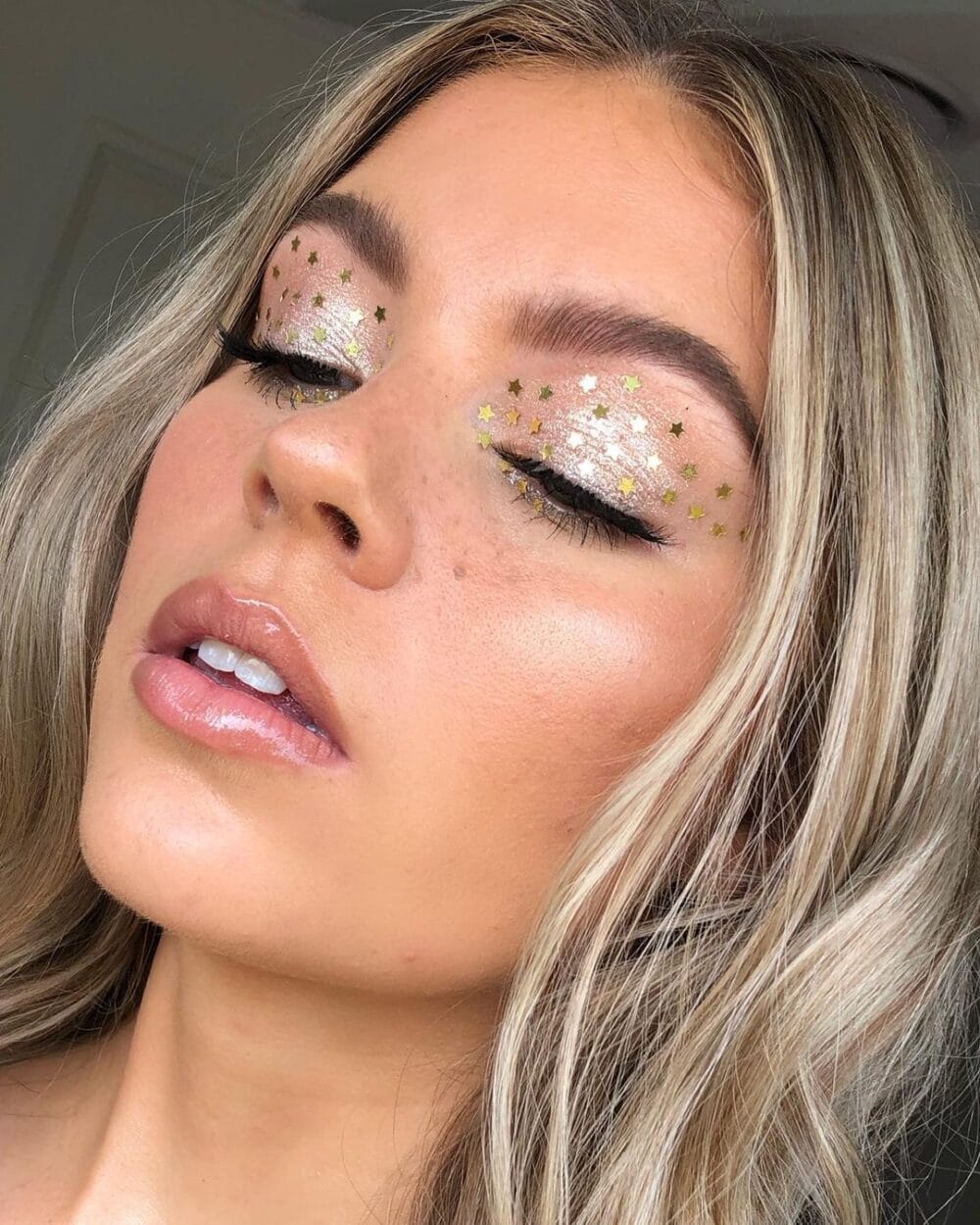 Photo: katedevlin
Channel the brilliance of the night sky with sparkly eyeshadow featuring gold star accents. It's a celestial and dreamy look that adds a touch of magic to your holiday appearance.

Pink Candy Cane Makeup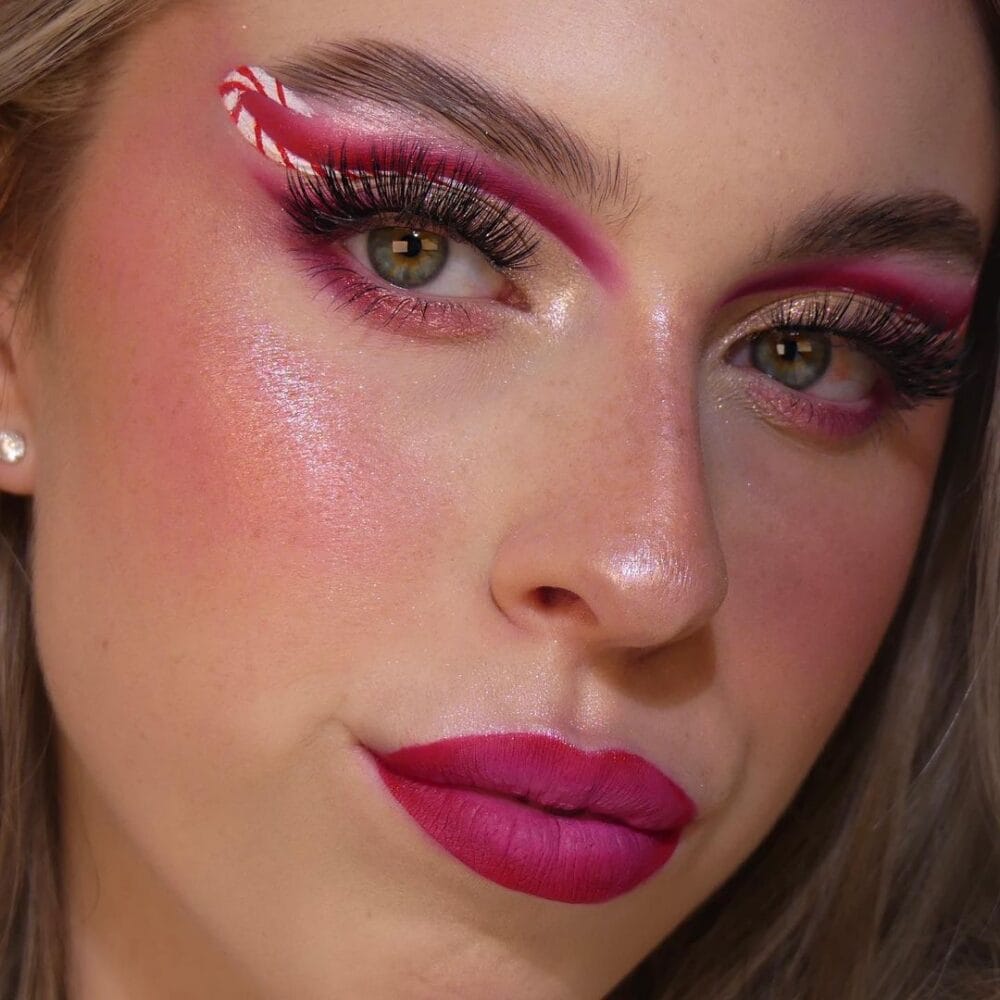 Photo: jaybeauuty
Embrace the sweetness of the season with pink candy cane-inspired makeup. The playful pink and white stripes capture the joy and delight of holiday treats, making your look as extra delightful.

Gingerbread Cookies and Candy Canes
Photo: trinityjoymua
Celebrate the holiday flavors with gingerbread cookies and candy cane-themed makeup. This look combines warm brown colors with wintery white, and just a touch of red, offering a delightful nod to some of the season's most beloved treats.

Green Christmas Eyeshadow
Photo: thekla_and
Get into the Christmas spirit with vibrant green eyeshadow. This bold and festive choice captures the essence of evergreen trees and holiday wreaths, adding a pop of color to your holiday look.

Christmas Glam Makeup
Photo: sara_scek
Elevate your holiday glamour with this stunning Christmas makeup. It combines traditional green and gold shades to create a deep and mesmerizing eyeshadow look. The look is completed with red lipstick, making it a captivating look that's perfect for special occasions.

Pink and Gold Santa Hats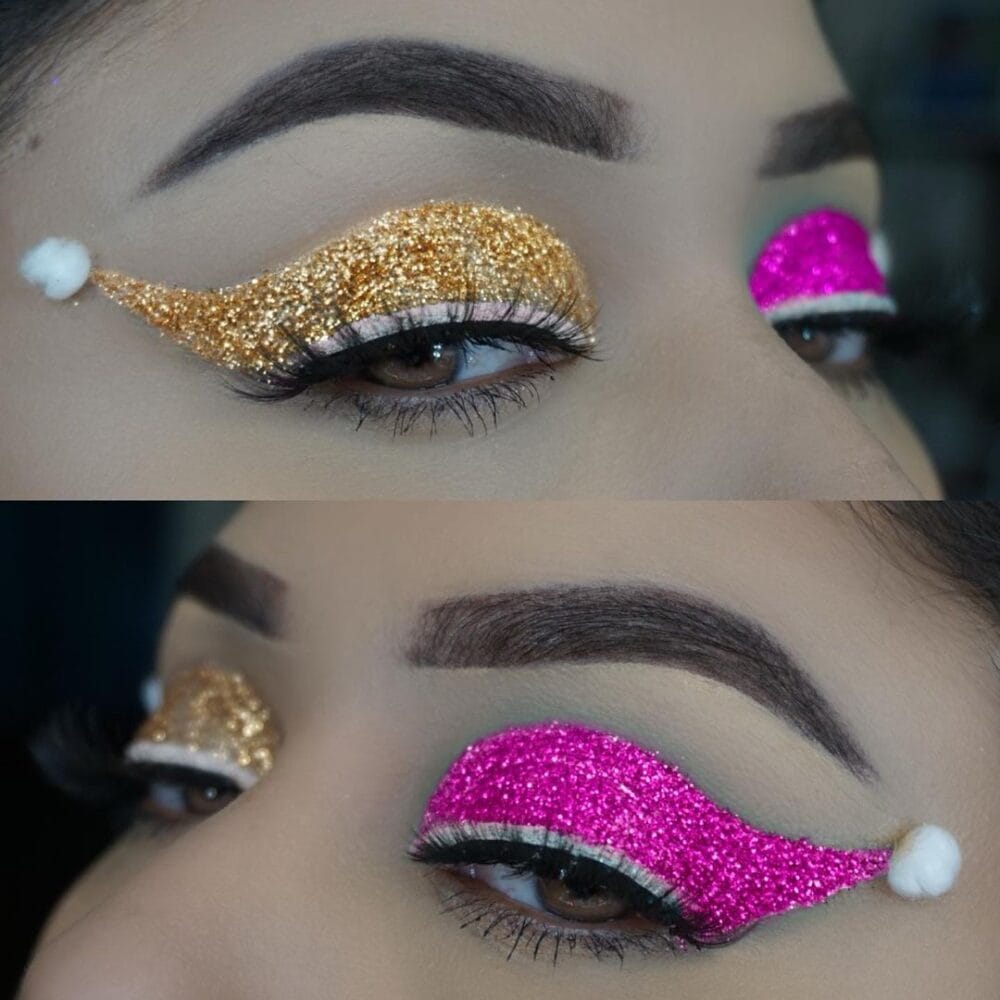 Photo: glambyjossie
Ho, ho, ho! Embrace the holiday cheer with pink and gold glitter Santa hat-inspired makeup. This playful and festive look is a joyful tribute to everyone's favorite gift-giving figure.

Brown Eyeshadow with Glitter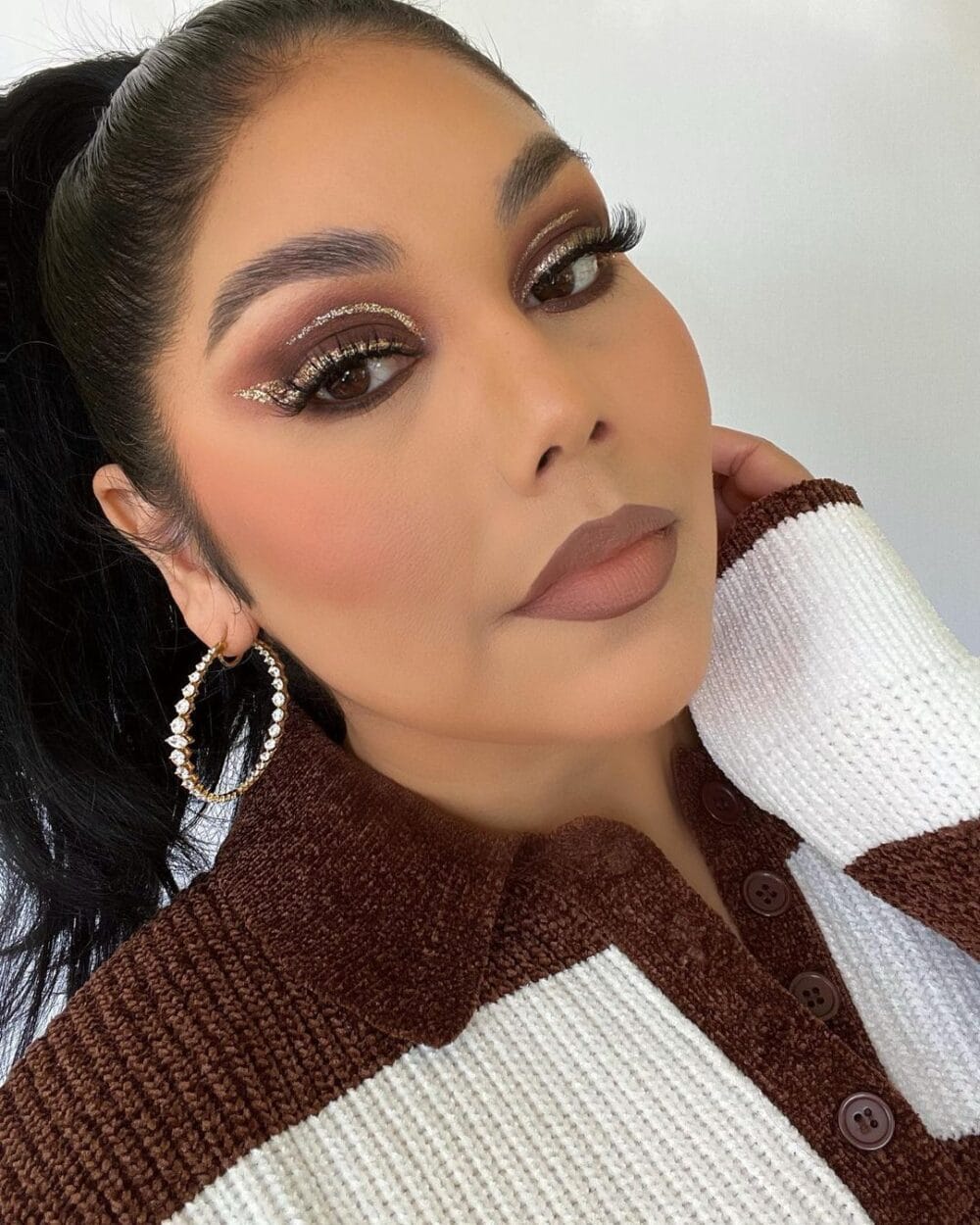 Photo: makeupbyliz1013
Elegance meets sparkle with this brown eyeshadow look enhanced by dazzling glitter. It's a sophisticated choice that adds a touch of enchantment to your holiday makeup look.

Christmas Lights Makeup Look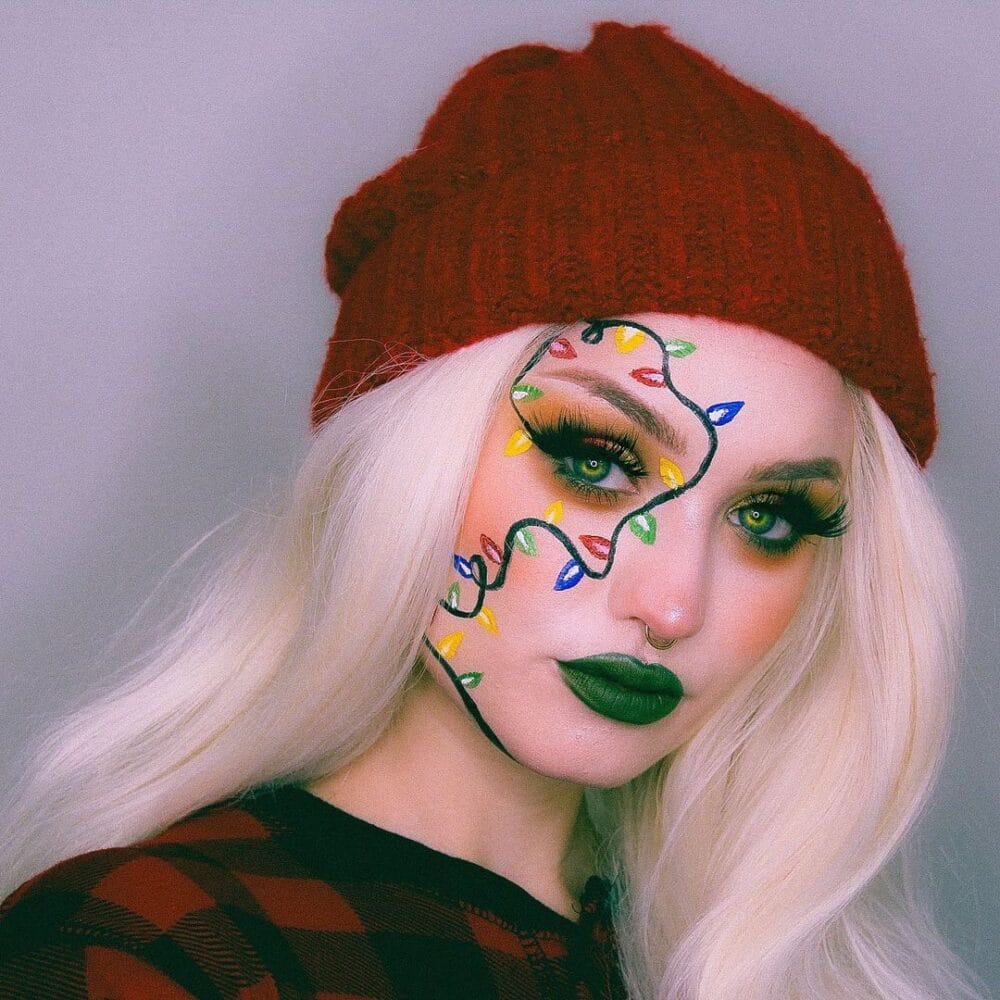 Photo: sn0ok
Light up your holiday season with this stunning Christmas Lights Makeup Look! Embrace the festive spirit with a dazzling display of colors and shimmer that captures the magic of holiday decorations. Whether you're attending a holiday party or just want to add some sparkle to your day and make people smile, this makeup idea is perfect.

Christmas Baubles Makeup
Photo: phoebespike_mua
Adorn your eyes with the beauty of Christmas baubles. This creative and whimsical makeup design incorporates holiday ornaments into your look, adding a playful and festive touch.

Subtle Christmas Makeup Look with Shimmering Lipstick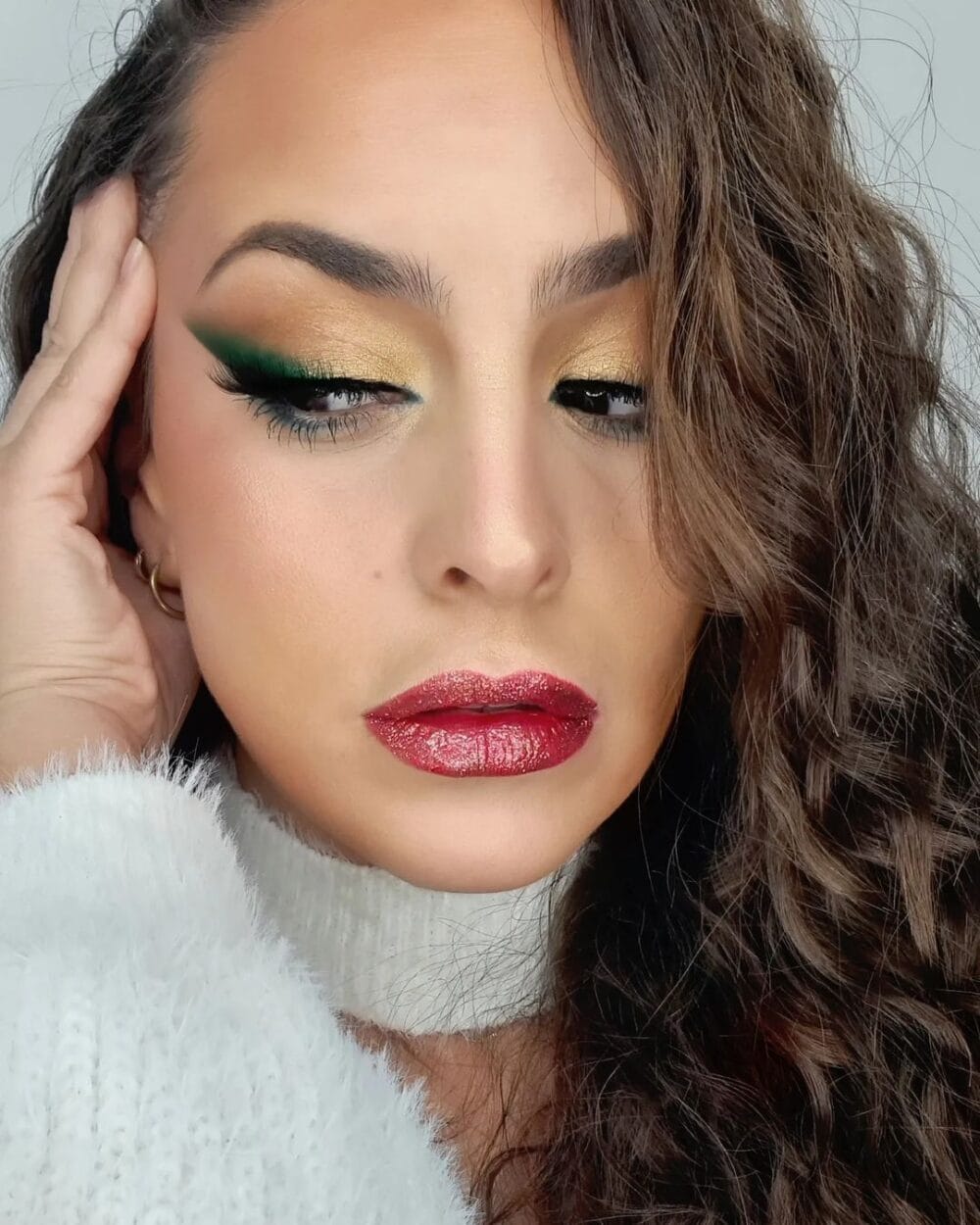 Photo: vaness.mua
For those who prefer a more understated approach, this subtle Christmas makeup look combines soft tones and subtle accents to create an elegant and wearable holiday ensemble.

Red and Green Glitter Eye Makeup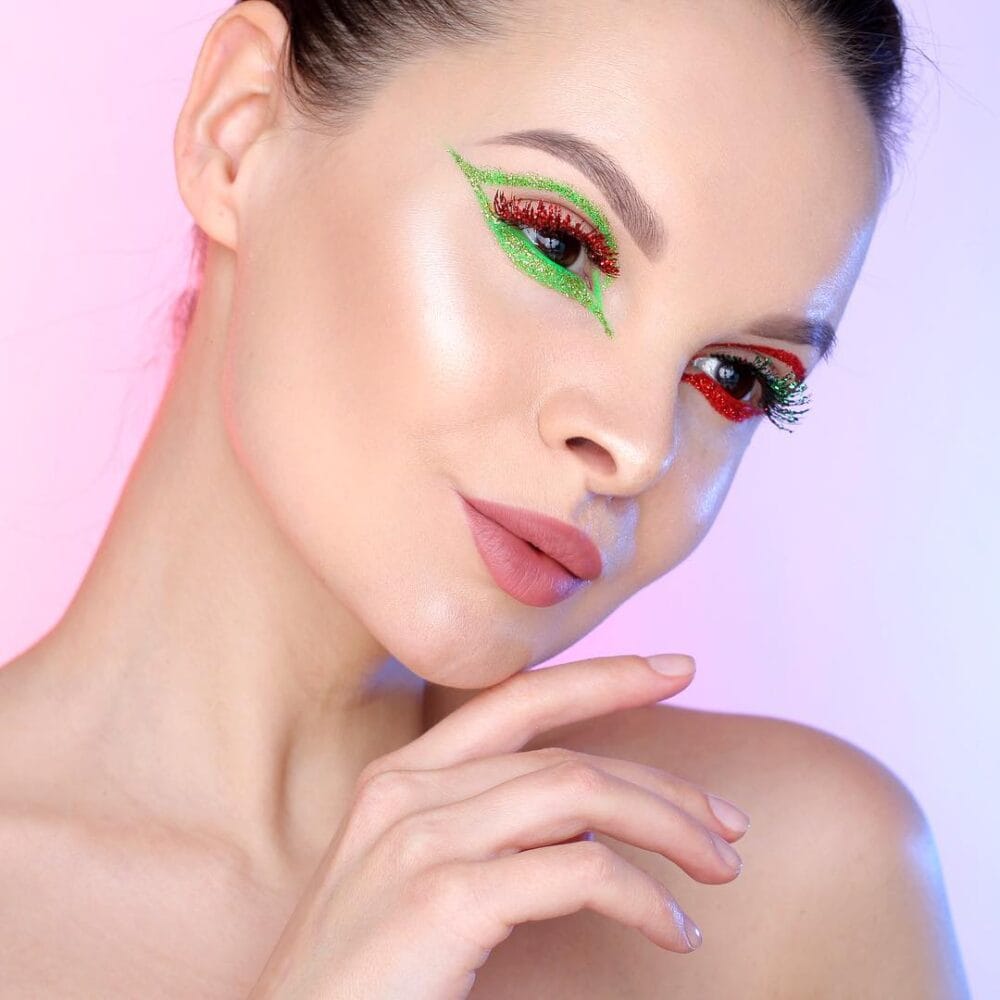 Photo: olgablikmua
Go all out with the glitz and glamour of red and green glitter eye makeup. It's a bold and dazzling choice that captures the spirit of the season, ensuring you'll shine bright at any holiday event.

Grinch-Inspired Christmas Eyeshadow
Photo: alexofmakeup
Get ready to steal the show with this Grinch-inspired Christmas eyeshadow look! Embrace the mischievous spirit of the season with bold greens and festive details that pay homage to everyone's favorite holiday troublemaker.

That's it for now!
In the wonderful world of Christmas makeup ideas, the holiday spirit knows no bounds! With the creativity and festive inspiration from these incredible artists, you're all set to sleigh the beauty game this holiday season.
Whether you opt for classic red and green or decide to play with whimsical designs, remember that makeup is not just about looking good; it's about feeling the magic of the season and sharing it with the world.
Happy holidays and stay fabulous!

Looking for more Christmas inspiration? You might enjoy the latest Christmas tree ideas for a festive home.
Share on Pinterest: