It's almost that magical time of year again when our homes transform into cozy wonderlands filled with the spirit of Christmas. One of the most iconic symbols of this festive season is undoubtedly the Christmas tree.
And with every passing year, there's something special about creating a unique and beautiful Christmas tree to captivate the hearts of your family and guests.
So, if you're looking to level up your tree game and infuse a bit of creativity and charm into your holiday decor, you've come to the right place.
In this blog post, we'll explore some wonderful Christmas tree ideas for 2023 that will leave everyone in awe – we have 20+ Christmas tree ideas to inspire you!

Related: 30+ Christmas Nail Ideas: Holiday Magic at Your Fingertips

Choosing the Right Colors for Your Christmas Tree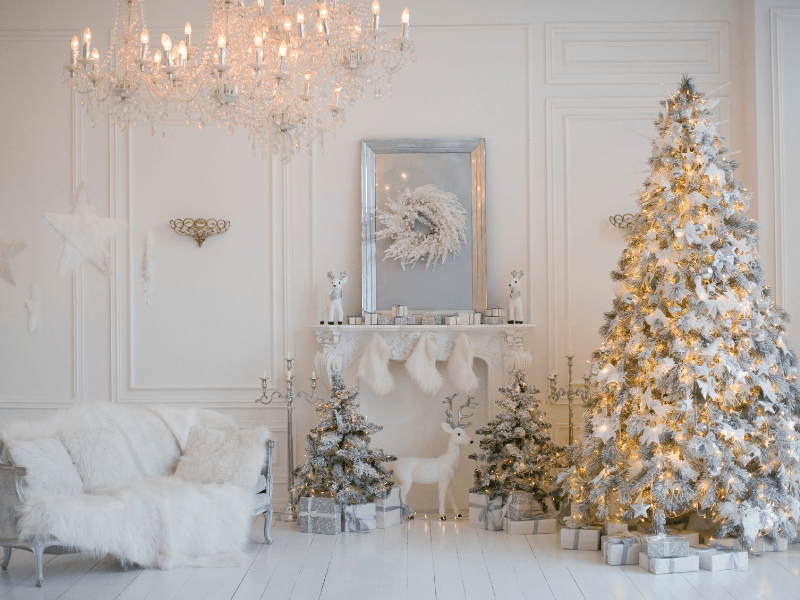 Selecting the right colors for your Christmas tree can be a fun task that helps you express your unique style and make sure your holiday decor stands out.
Here are some ideas to get you going:
Traditional Elegance: If you're a fan of the timeless and classic, red and green is your go-to color scheme. It's a combination that never goes out of style and exudes the warmth and coziness of a quintessential Christmas.
Winter Wonderland: Create a dreamy winter scene with a palette of white, silver, and pale blue. Add shimmering ornaments, snowflakes, and icicle lights to mimic the magic of a snowy day.
Elegant Neutrals: For a sophisticated and understated look, opt for a neutral color scheme. Soft shades of ivory, champagne, and taupe combined with metallic accents can create a tree that's both classy and contemporary.
Vibrant Joy: If you're the life of the holiday party, consider a bold and vibrant color palette. Mix and match bright colors like hot pink, electric blue, and lime green for a tree that radiates energy and fun.
Rustic Charm: Embrace the cozy, rustic feel with earthy tones like deep browns, forest greens, and warm reds. Add burlap ribbons, wooden ornaments, and pinecone decorations for a tree that feels like it's straight out of a cabin in the woods.
Metallic Magic: Shine and shimmer with a metallic-themed tree. Gold, silver, and copper ornaments can give your tree a touch of glamour that's perfect for a festive celebration.
Personalized Perfection: Don't be afraid to break the mold and choose colors that reflect your unique style. Whether it's your favorite shades, a sports team's colors, or something meaningful to you, your tree should be a reflection of you.
There's truly no one-size-fits-all when it comes to Christmas tree colors and decorating styles. It's all about what makes your heart sing and your holiday decor come alive.
Now, let's move on to some stunning Christmas tree inspiration!

Gorgeous Christmas Tree Ideas for 2023

Black Christmas Tree Ornaments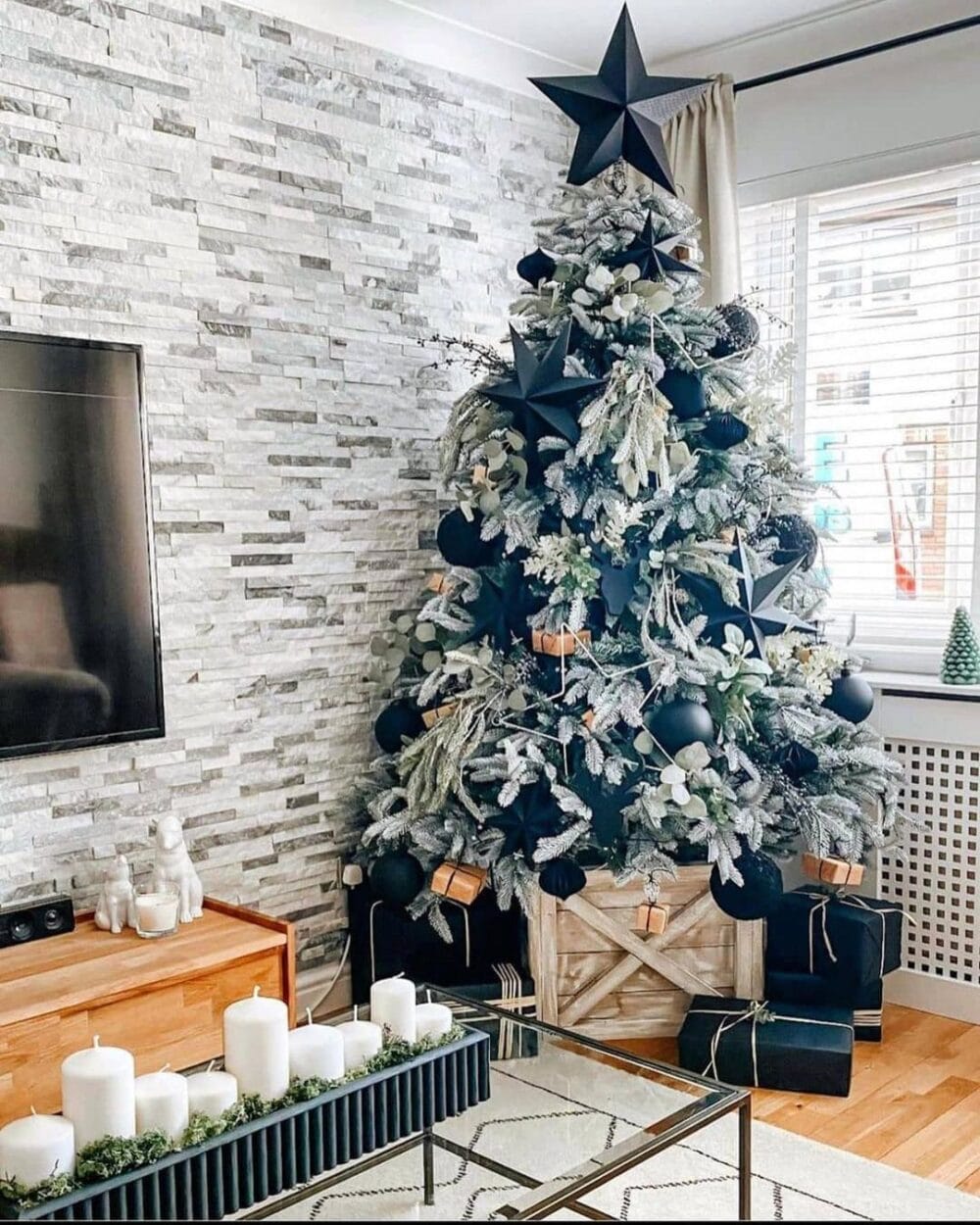 Photo: visitnumber7
A touch of sophistication and mystery, these black Christmas tree ornaments make a statement. They beautifully contrast with the tree branches and Christmas present ornaments, adding a unique and elegant vibe to your holiday decor.

Blue Christmas Tree Ideas
Photo: stagerroz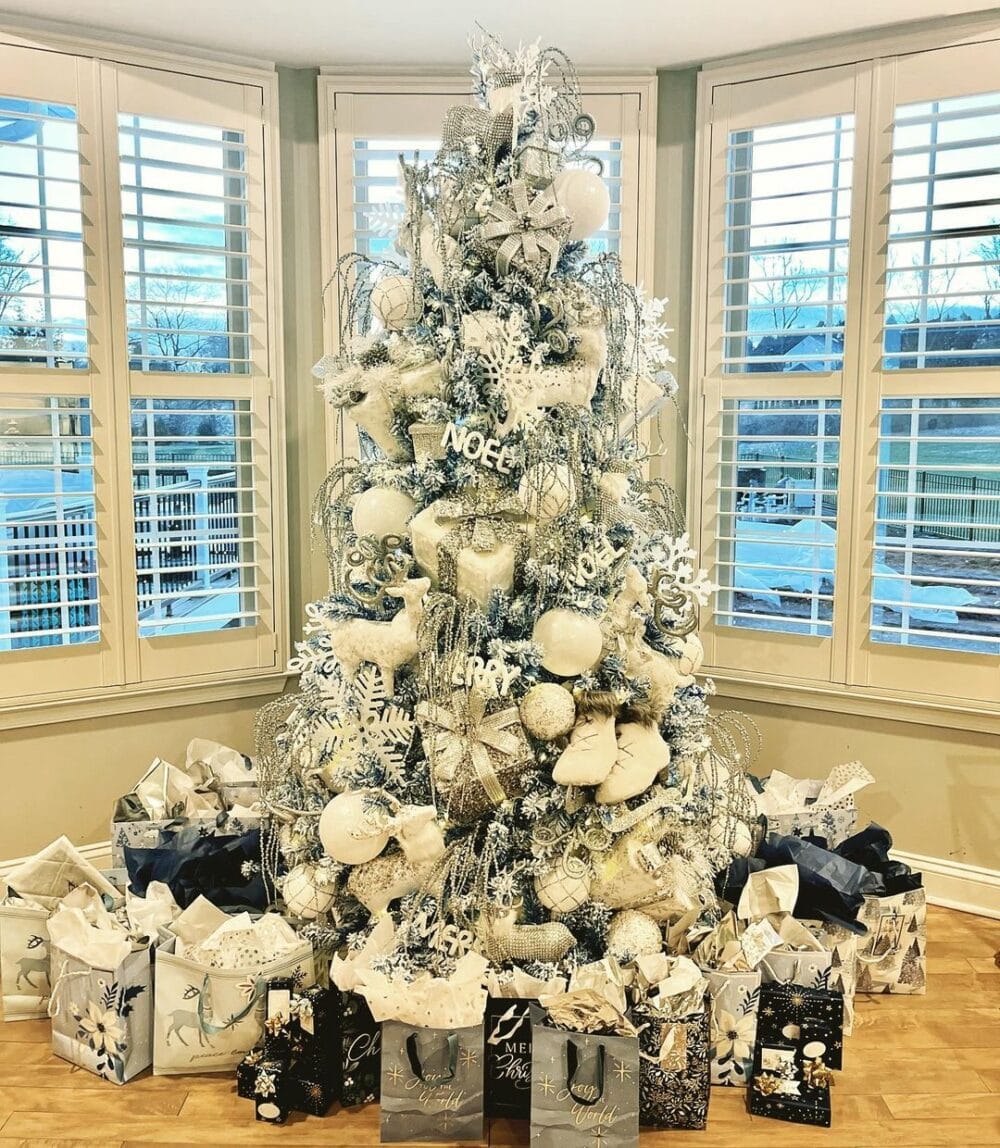 Photo: christyandco74
Dive into a sea of blue with these stunning Christmas trees. It's a refreshing departure from the traditional green and red, offering a cool and tranquil atmosphere that's perfect for a modern holiday setting. They're a festive nod to the wintry landscape and crisp, clear skies.

Blue and Gold Christmas Tree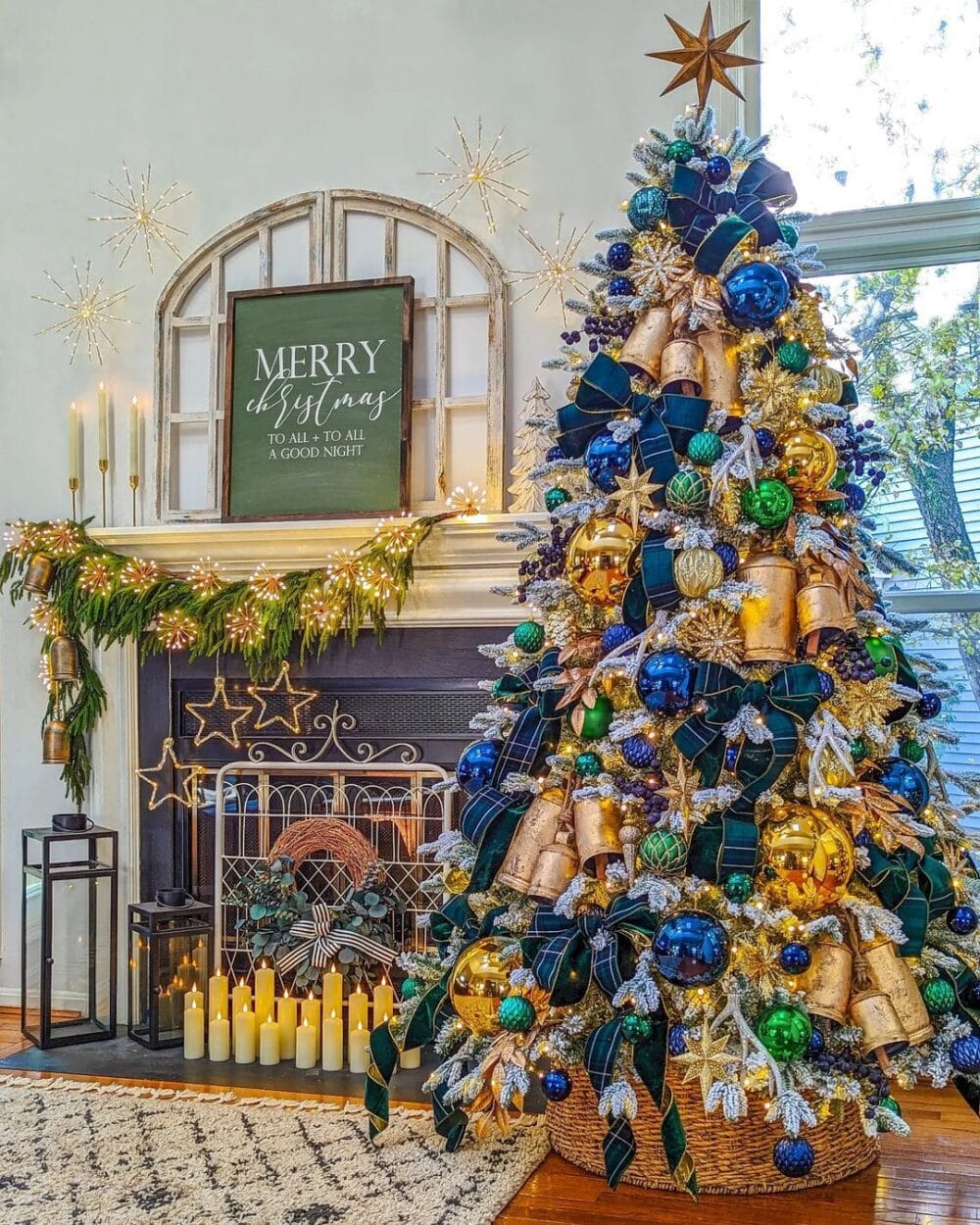 Photo: corbelcottage
These gorgeous gold and blue Christmas ornaments stand out with their captivating contrast. The combination of rich blue and shimmering gold creates a captivating holiday centerpiece that's both elegant and glamorous.

Candy Cane Christmas Tree Ideas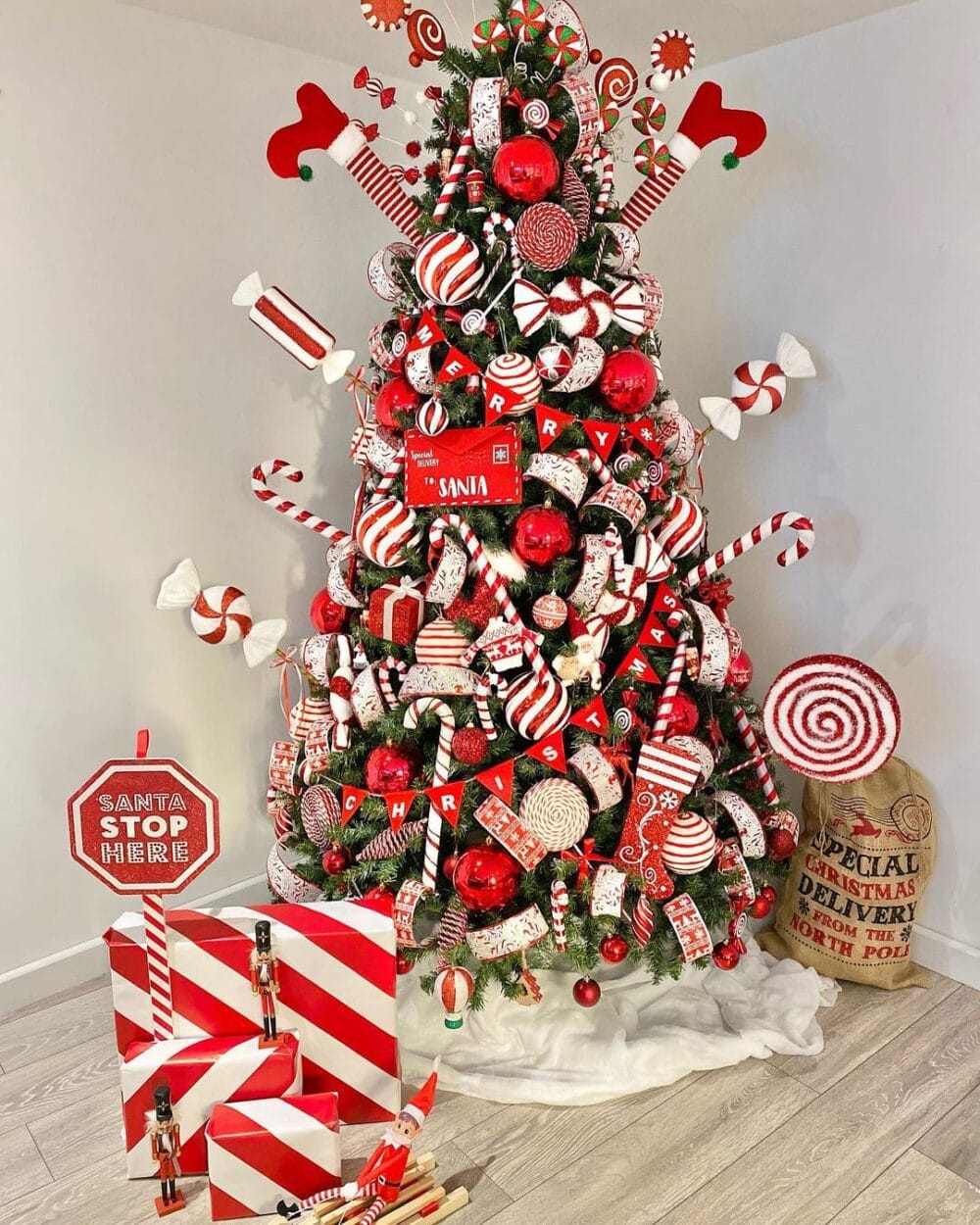 Photo: justanormalhouse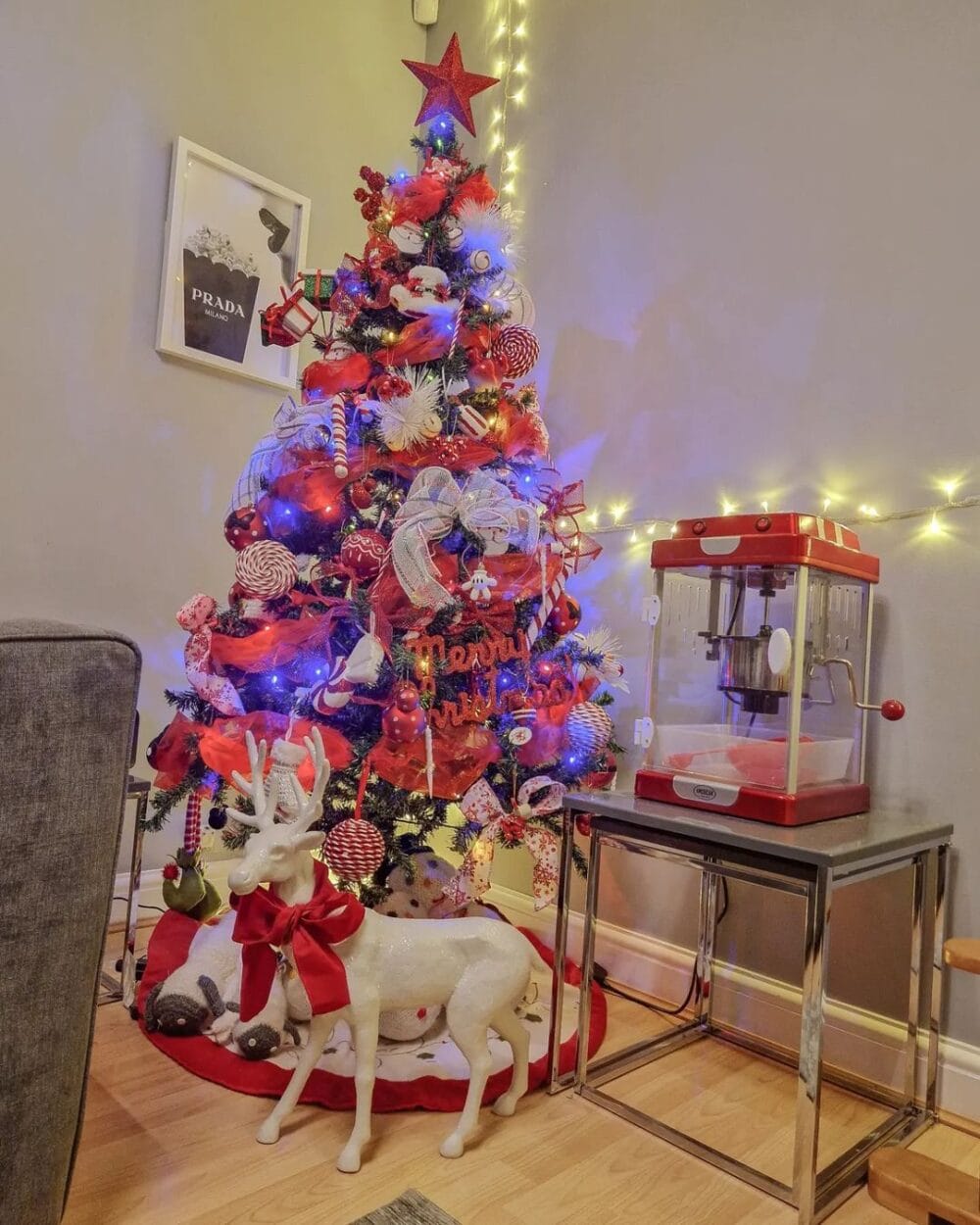 Photo: our_housebubble
Indulge your sweet tooth with a candy cane-themed Christmas tree. Red and white stripes, and maybe a few real candy canes, create a playful and delightful holiday centerpiece. It's a joyful burst of Christmas cheer, perfect for those who love a vibrant holiday display.

Gold and Silver Christmas Tree Ideas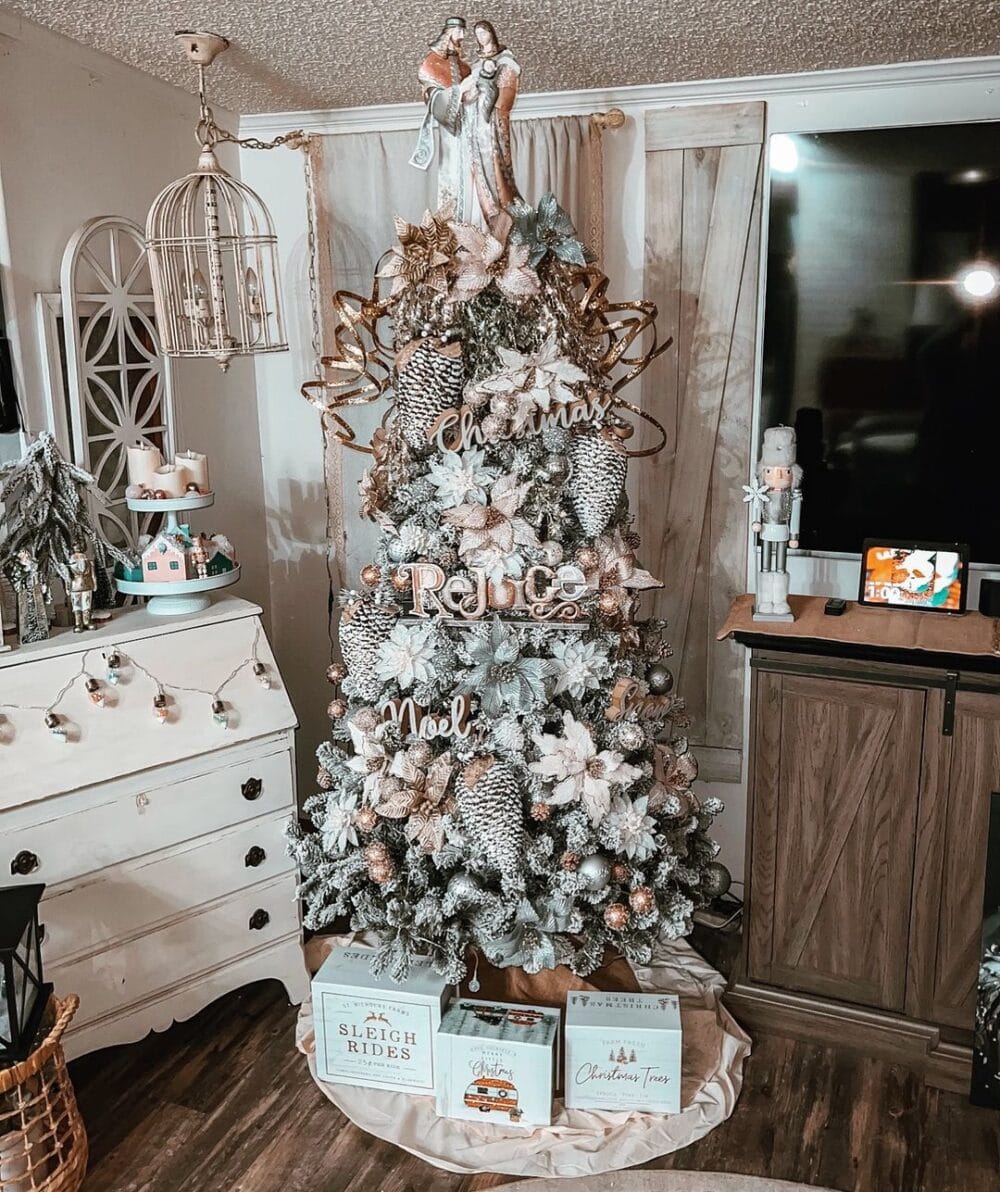 Photo: dreamoakdecor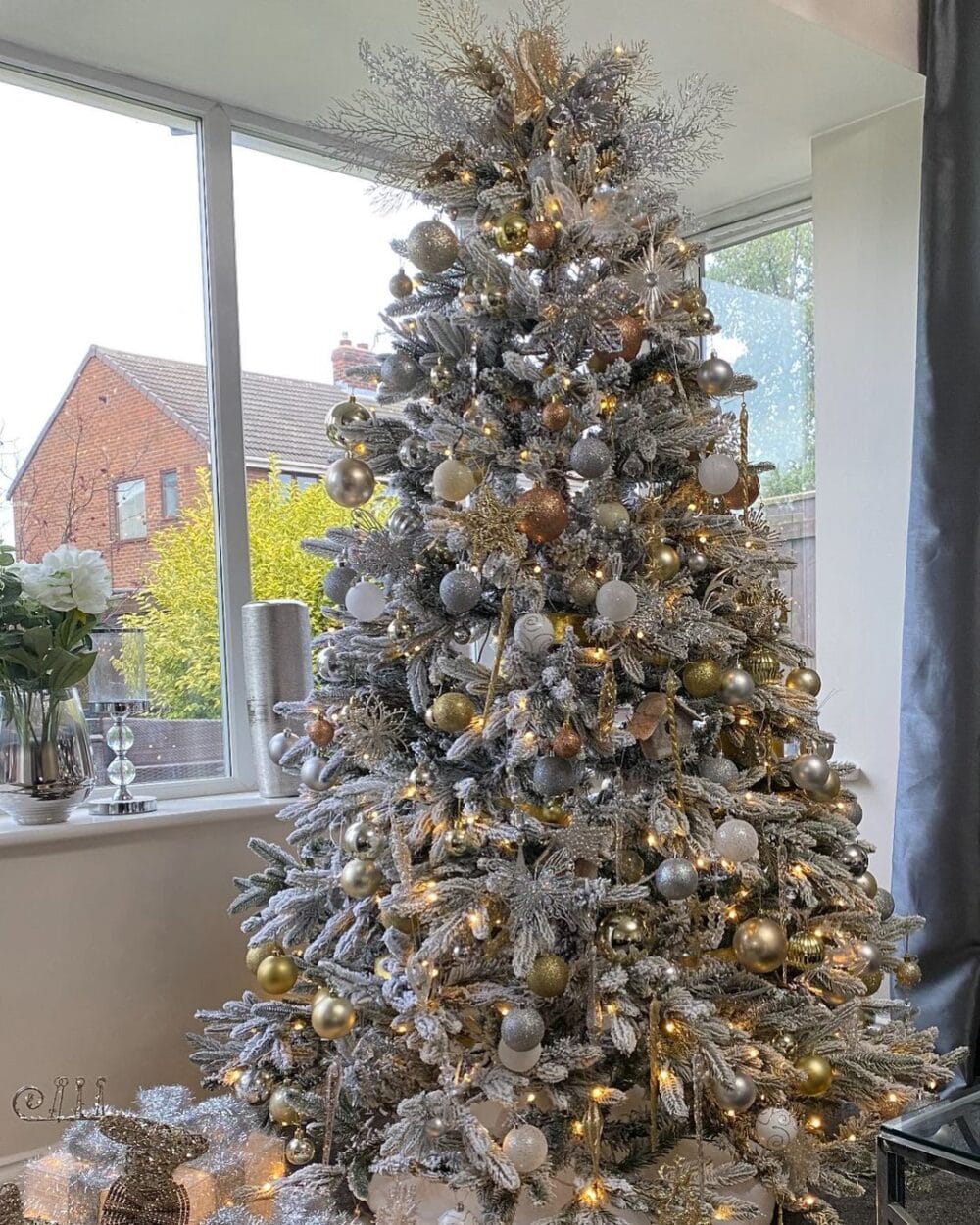 Photo: ouringlefield
Rustic decor and traditional elegance come together in these gold/rose gold and silver Christmas trees. The baubles shimmer and shine, turning your home into a winter wonderland. It's a perfect match for those who love luxurious and elegant holiday decor.

Gold and Silver Mega Baubles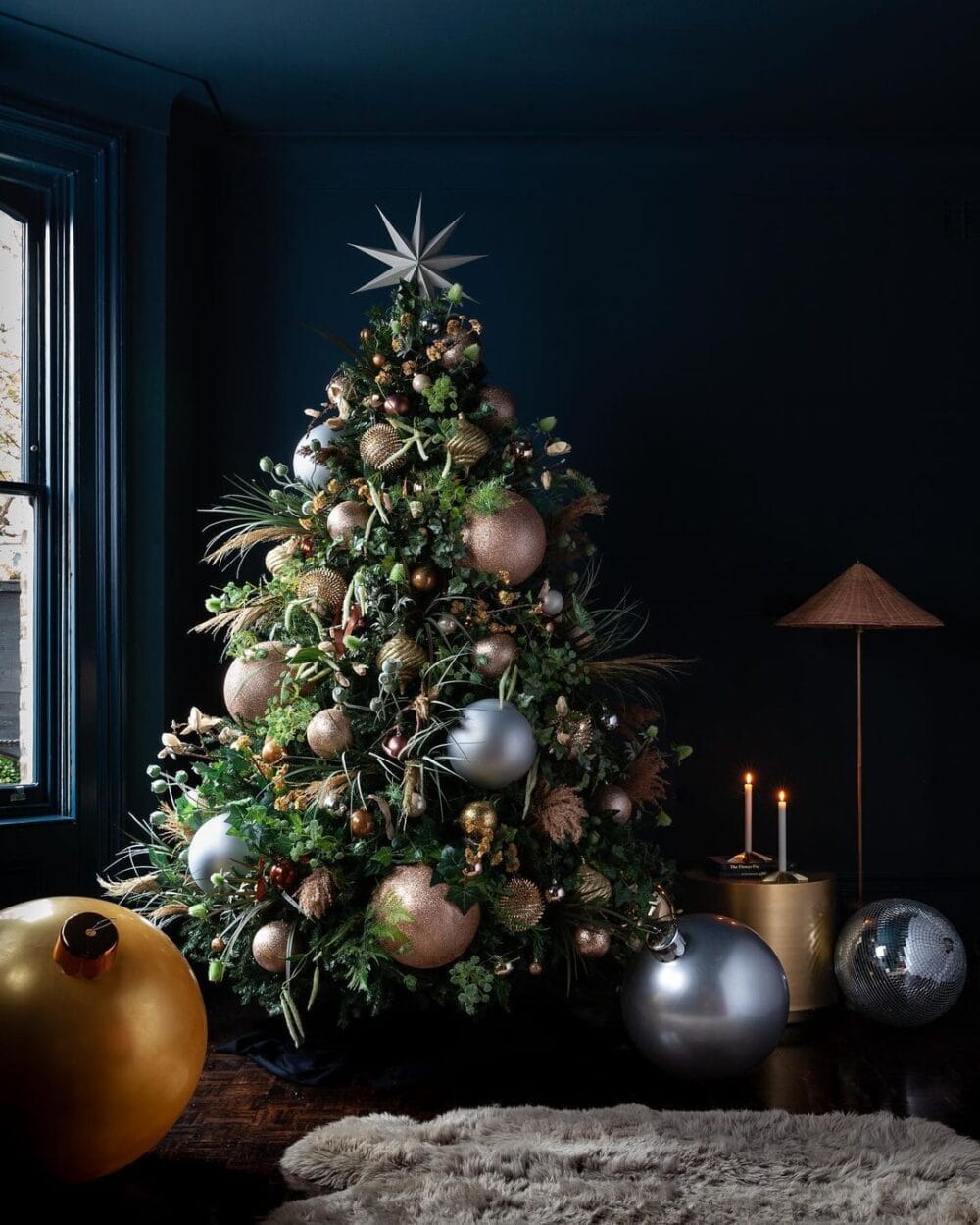 Photo: helloflorauk
Add a touch of grandeur to your tree with oversized gold and silver baubles. They create a sense of drama and are sure to leave a lasting impression.

Gold and White Christmas Tree with Roses
Photo: thegrayhome
This gold and white Christmas tree, decorated with gorgeous white rose ornaments, brings an air of sophistication. It's a classy and very aesthetically pleasing choice that exudes elegance.

Green DIY Christmas Tree Ornaments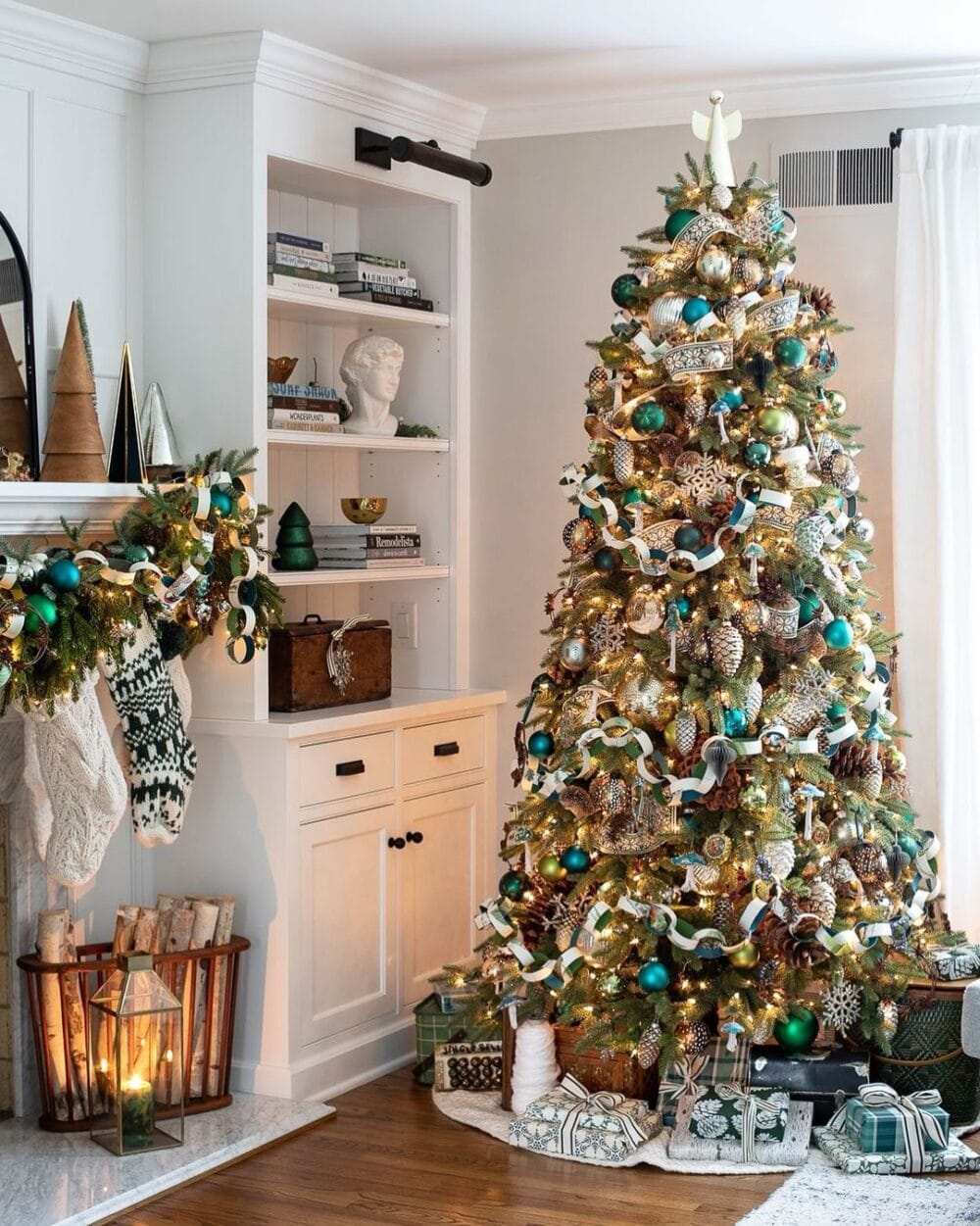 Photo and tutorials: Inspired by Charm
A classic green Christmas tree, beautifully decorated and complemented by nature-inspired DIY ornaments. This Christmas tree is the heart of your holiday decor, filled with warmth and tradition.

Pink Candyland-Themed Christmas Tree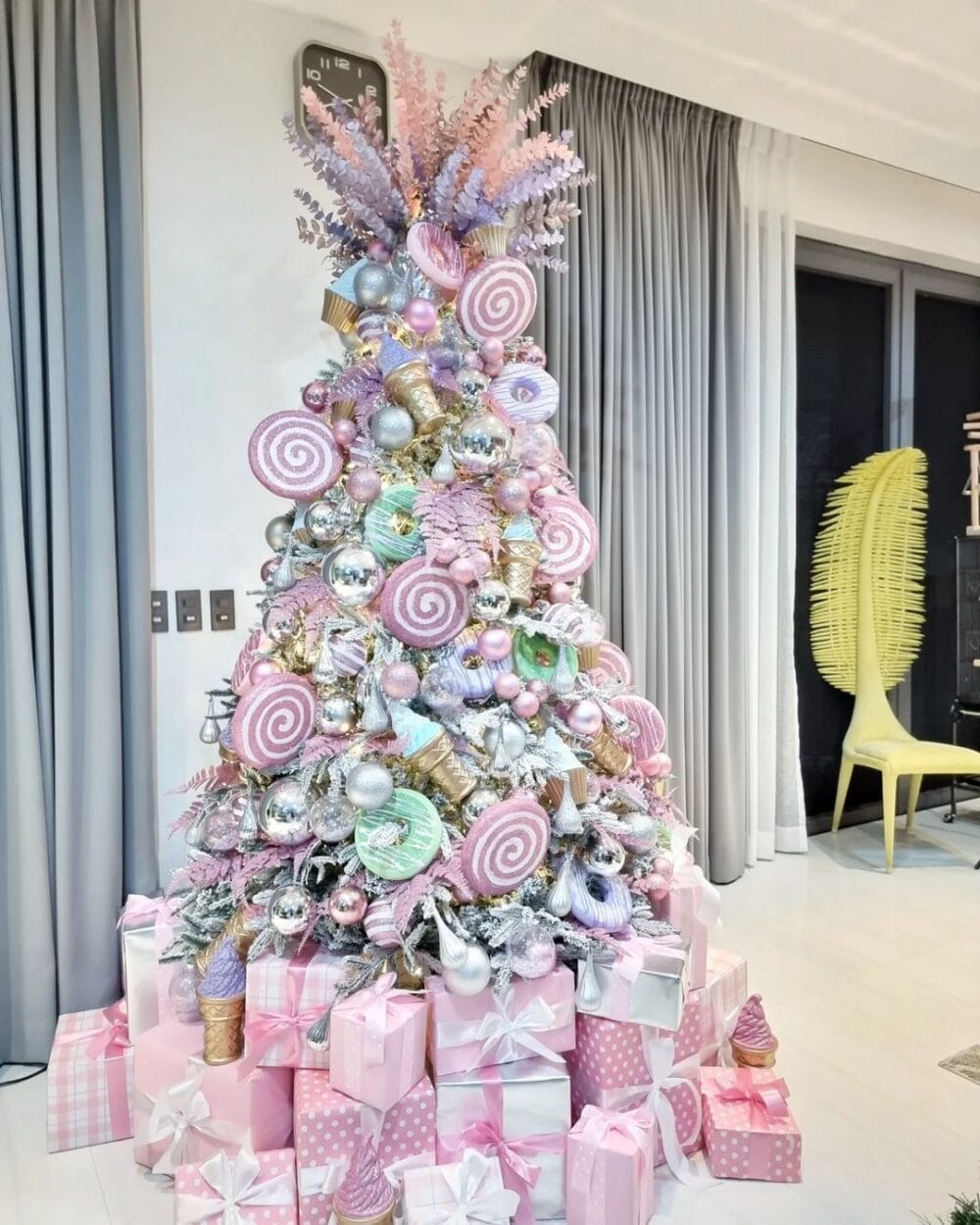 Photo: the_party_project.manila
Step into a pink wonderland with this Candyland-themed Christmas tree. It's a creative, sweet, and delightful choice for those with a love for all things sugary, as well as unique Christmas decor.

Pink and Gold Christmas Tree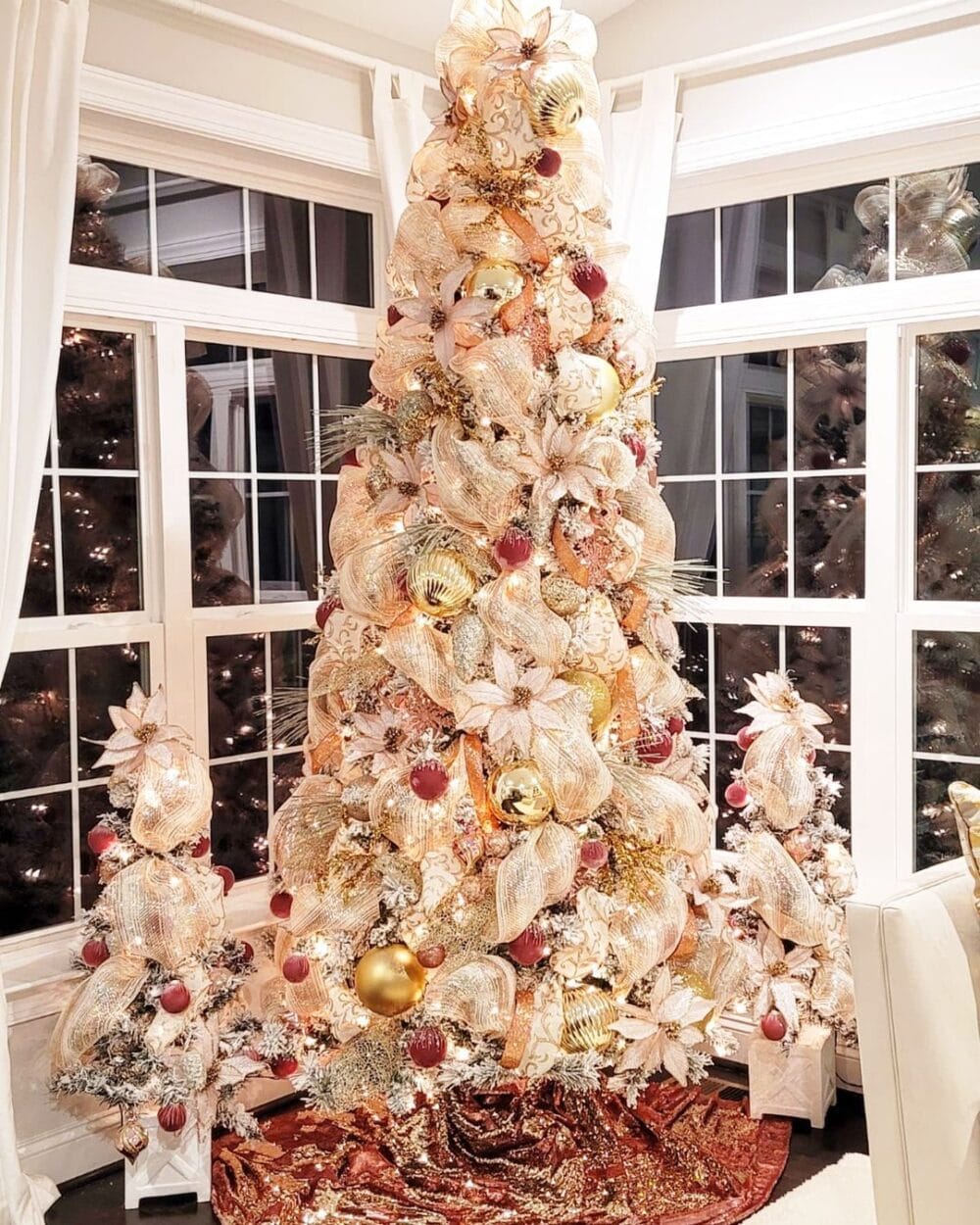 Photo: dollhouse_interiors
This subtle pink and gold Christmas tree combines the trendy pink aesthetic with a timeless classy look. It's a perfect mix of sophistication and holiday cheer.

Pink Christmas Tree Ideas
Photo: unapologeticallybeingkyia



Photo: reedlane_home



Photo: atomic.wildflower
Embrace the pink trend with a fully pink Christmas tree, or with pink tree ornaments. It's bold, unique, and adds a pop of color that's sure to stand out. There are many different takes on the pink Christmas tree trend to get inspired from. Greet Christmas with playfulness and joy this year!

Red and Green Grinch-Themed Christmas Tree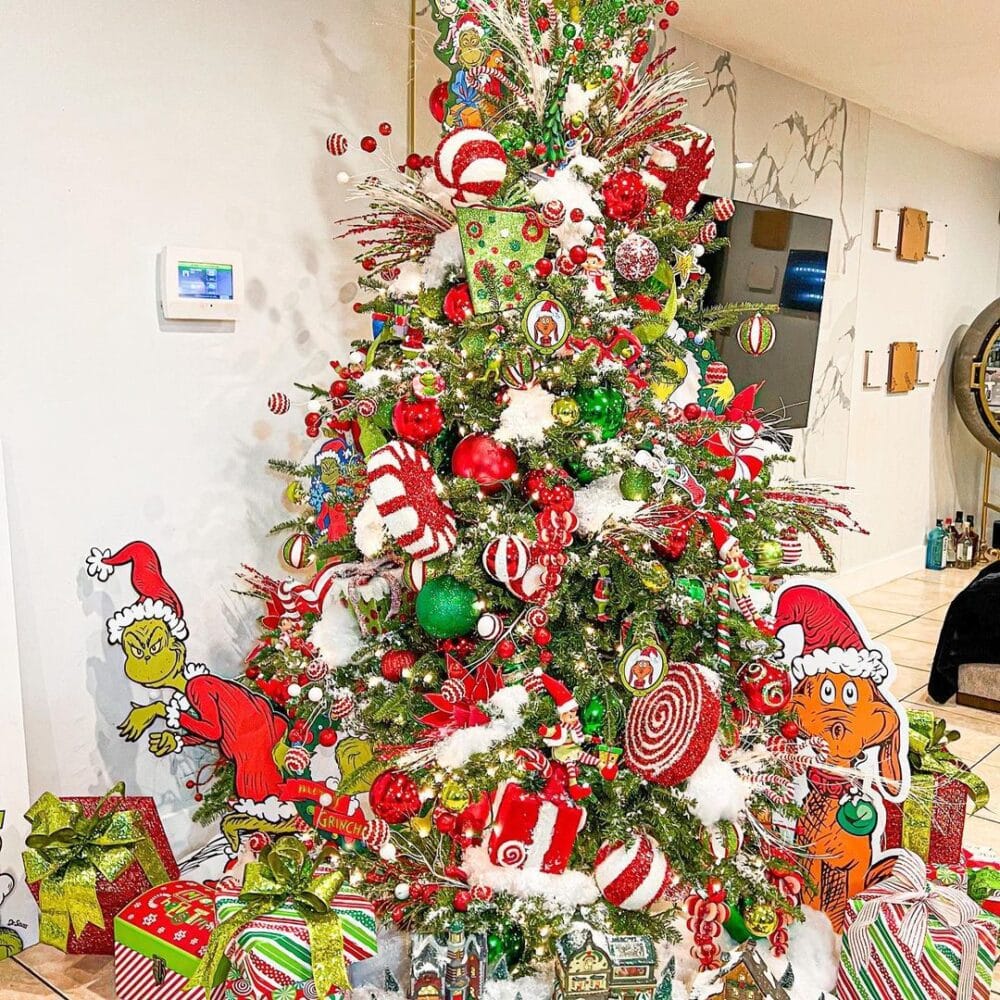 Photo: rodristudio
Celebrate the Grinch with this vibrant red and green Grinch-themed Christmas tree. It's a super fun and heartwarming choice for the holiday season.

Red and White Christmas Tree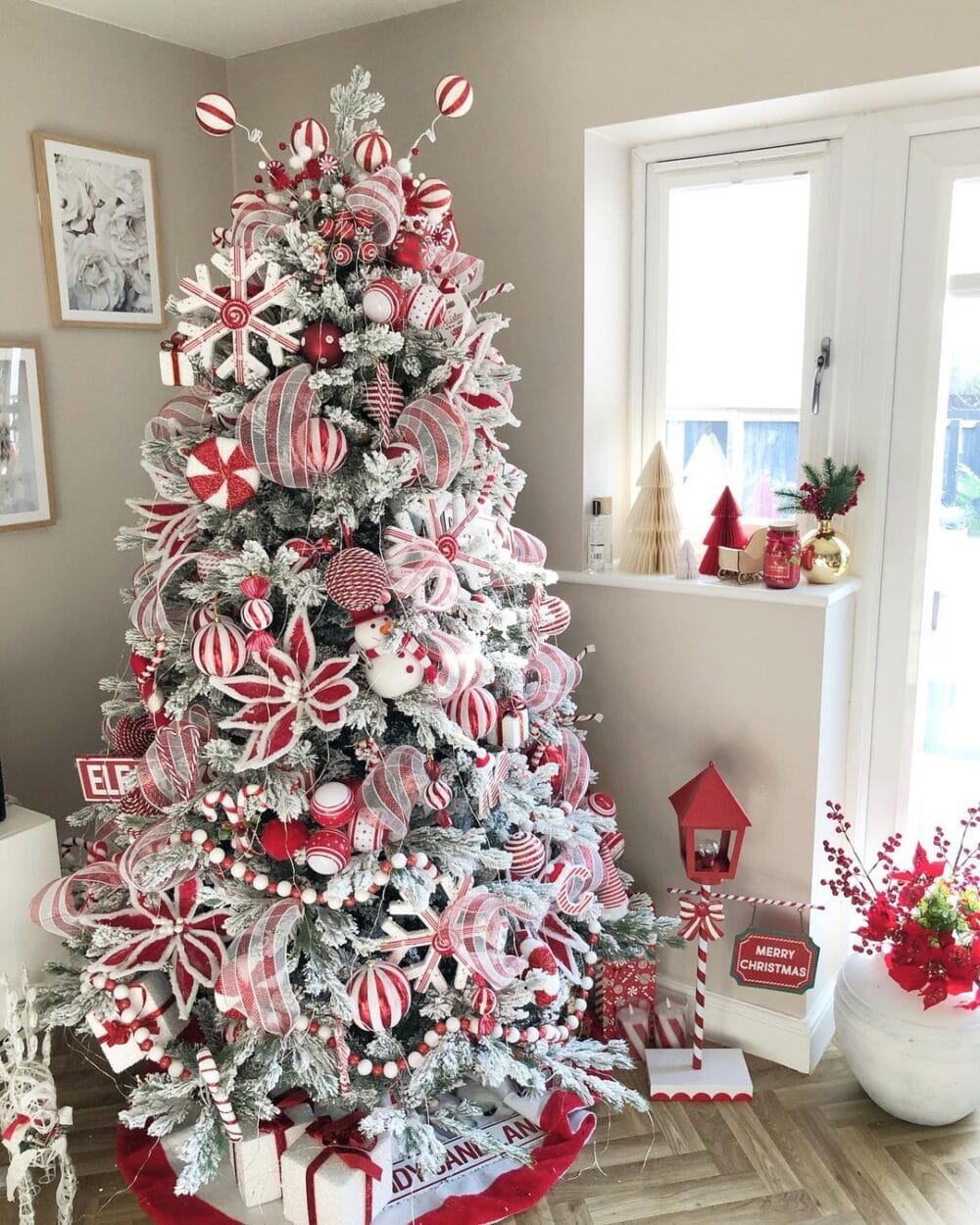 Photo: claireshomejourney
Classic red and white come together in this Christmas tree. It's a timeless choice that embodies the spirit of Christmas and never goes out of style.

Red Christmas Tree Ideas
Photo: bij_jelle_blaricum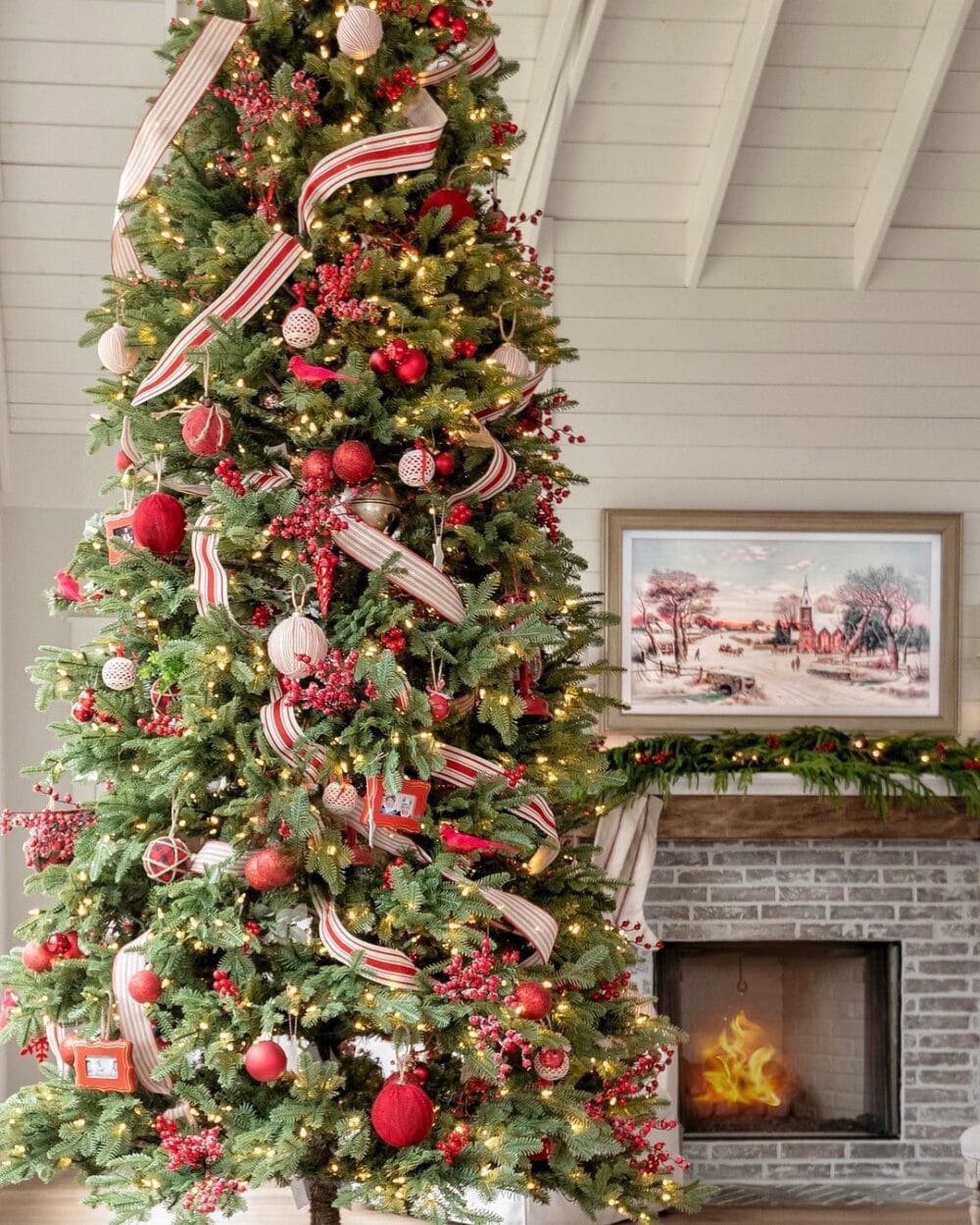 Photo: the.old.barn
Red Christmas tree decor stands for timeless charm and a sense of tradition. It's like wrapping your home in a warm holiday hug. Whether you opt for classic red and white, or vibrant reds combined with other colors, red Christmas tree decor always manages to capture the essence of the season.

Red and Gold Christmas Tree with Gnomes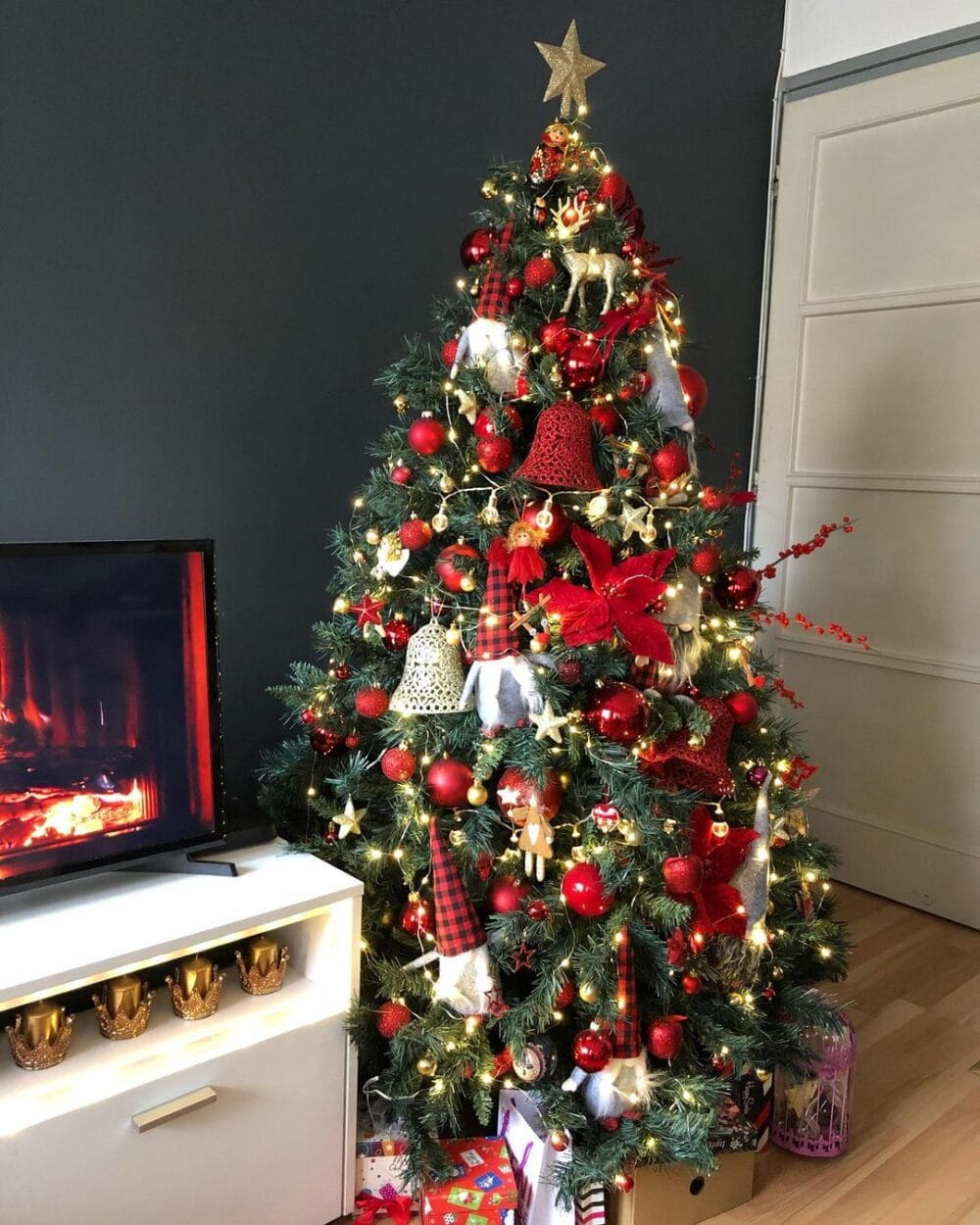 Photo: mademoiselle.queen
Gnomes add a playful and super cute touch to this red and gold decorated Christmas tree. It's a fun and lighthearted choice for the holiday season.

Silver Christmas Tree Ideas
Photo: theribbonclique



Photo: hold_my_eggnog
These silver Christmas trees are all about looking elegant and simple. Whether you favor an all-silver motif or opt for a harmonious blend with other colors, silver Christmas tree decor encapsulates the spirit of a contemporary and chic holiday season.

White and Blue Christmas Tree Decor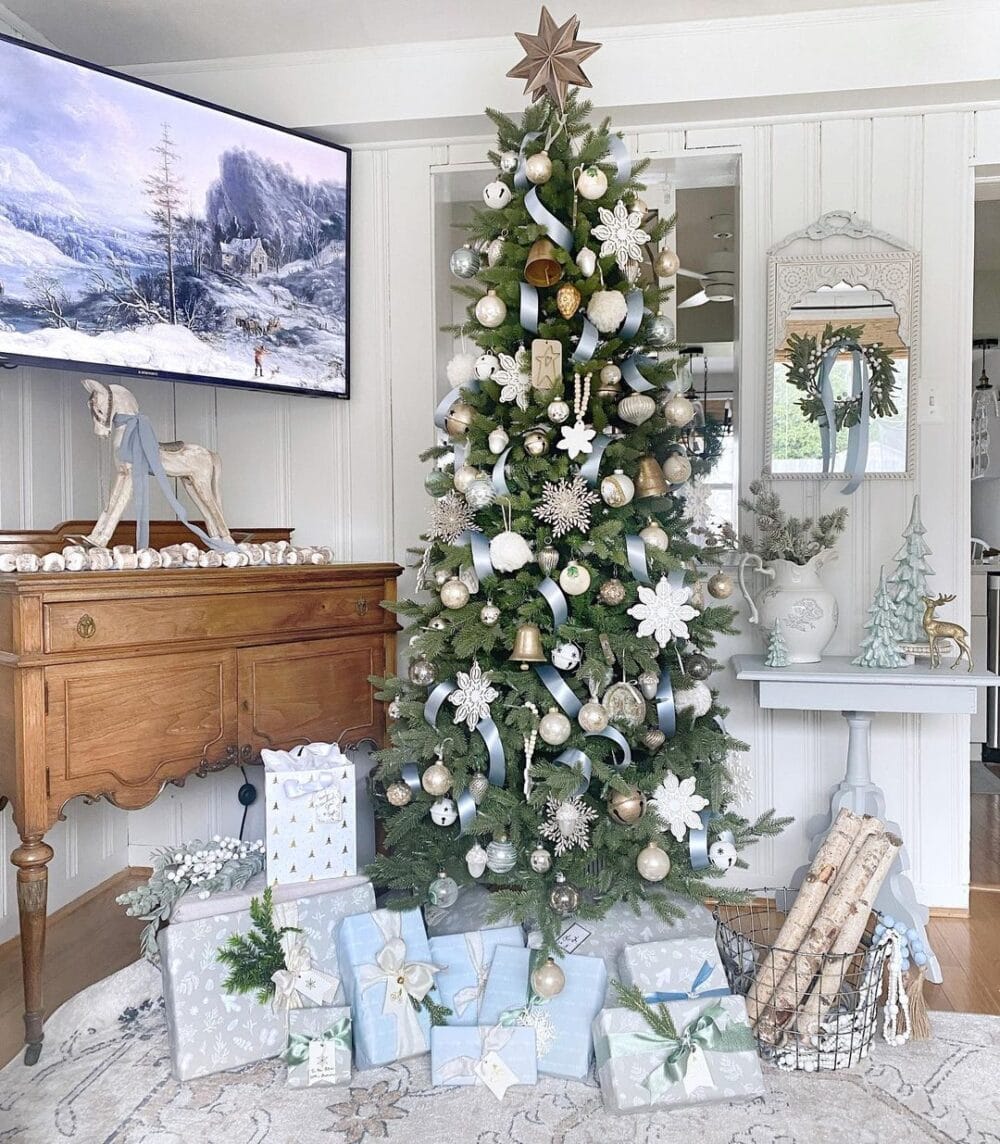 Photo: sweetlittlehouseofmine



Photo: decofhir
Bring a touch of winter to your home with white and blue Christmas tree decor. It's a serene and refreshing choice for your holiday decor. It's a theme that speaks of purity, peace, and the enchantment of the winter season!

White and Silver Christmas Tree Ideas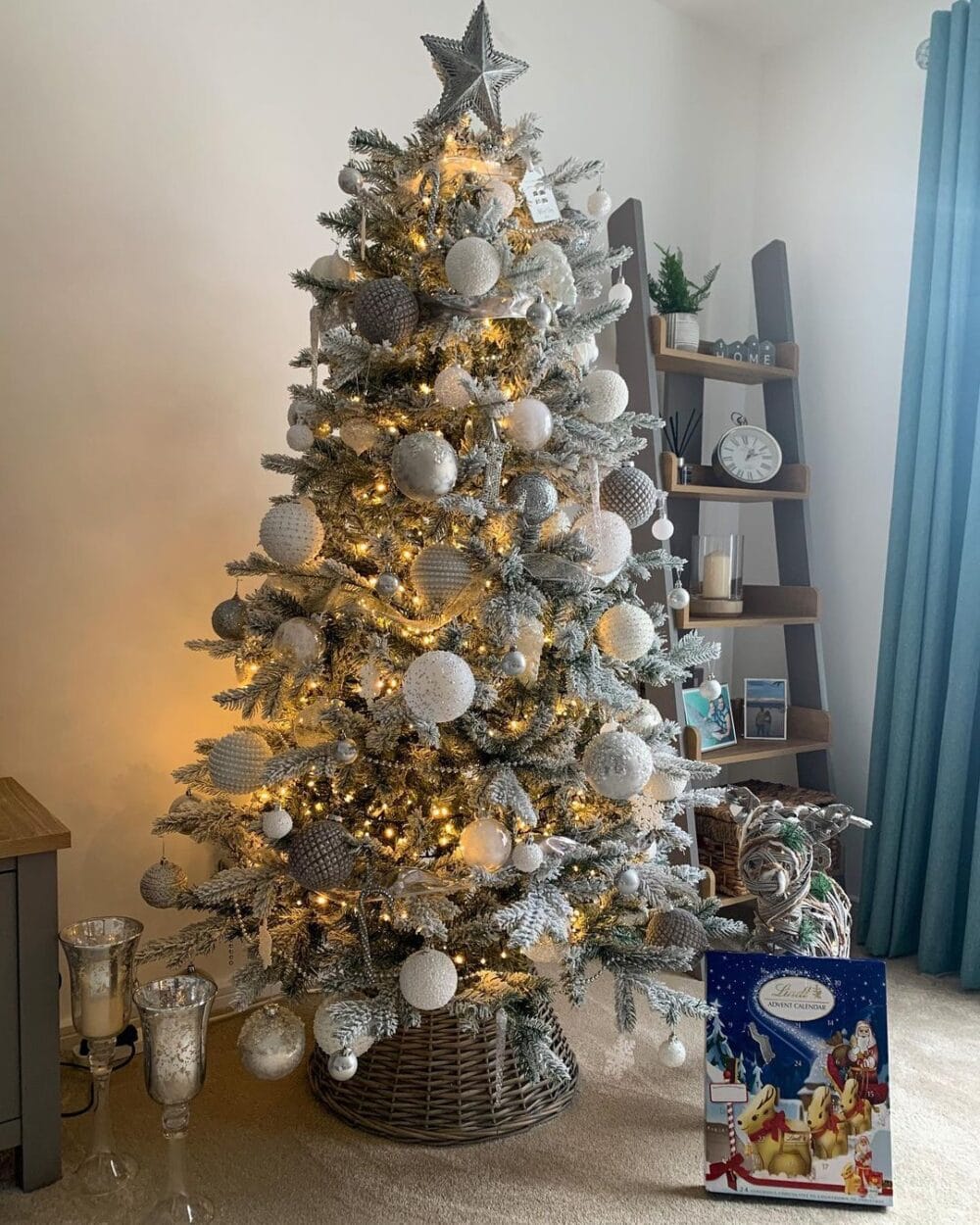 Photo: lucycowdellx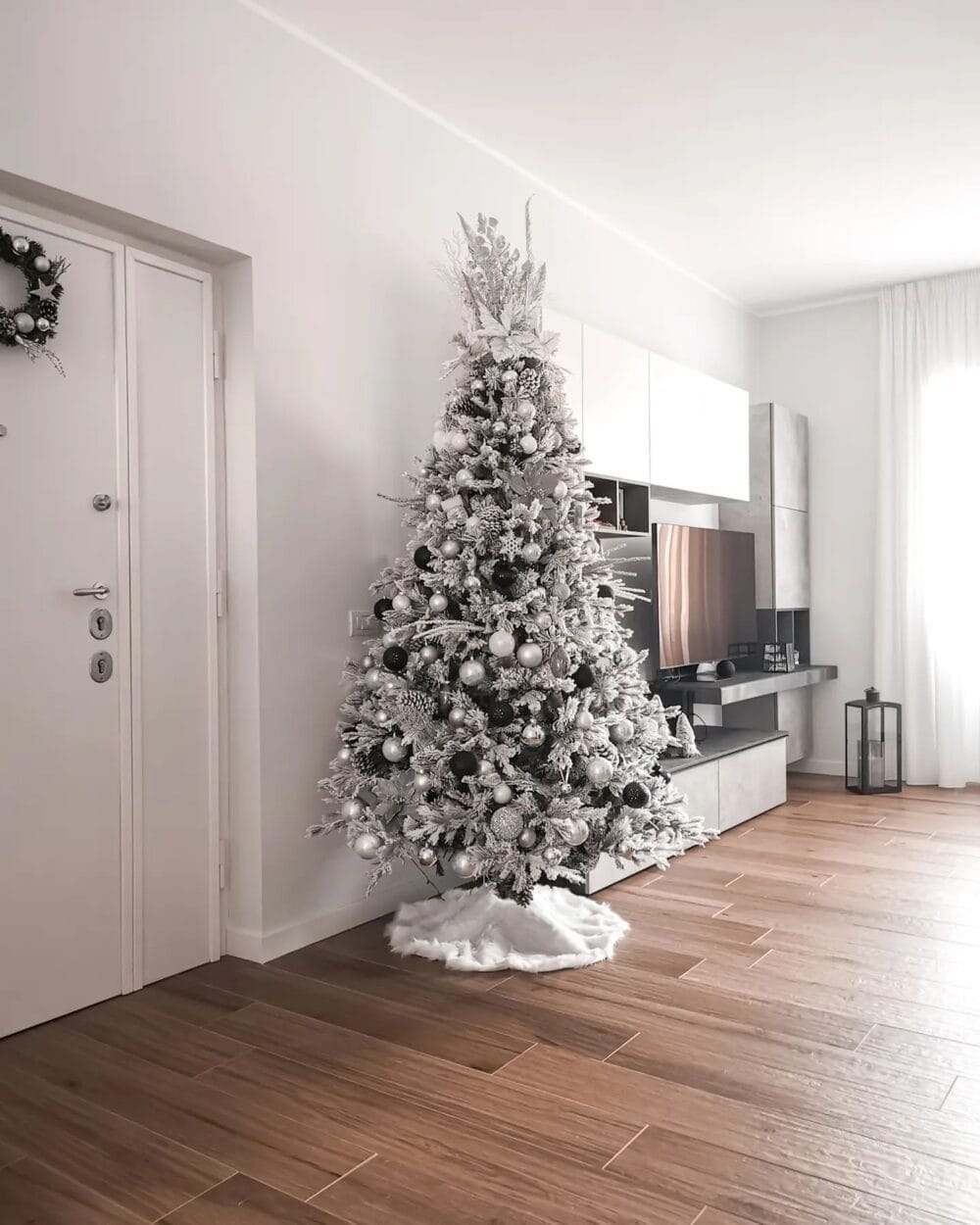 Photo: home_ilaria
White and silver Christmas trees radiate a sense of tranquility and beauty. Be it an all-white and silver theme or a fusion with other colors, this decor choice is very trendy and contemporary.

White Christmas Tree Decor Ideas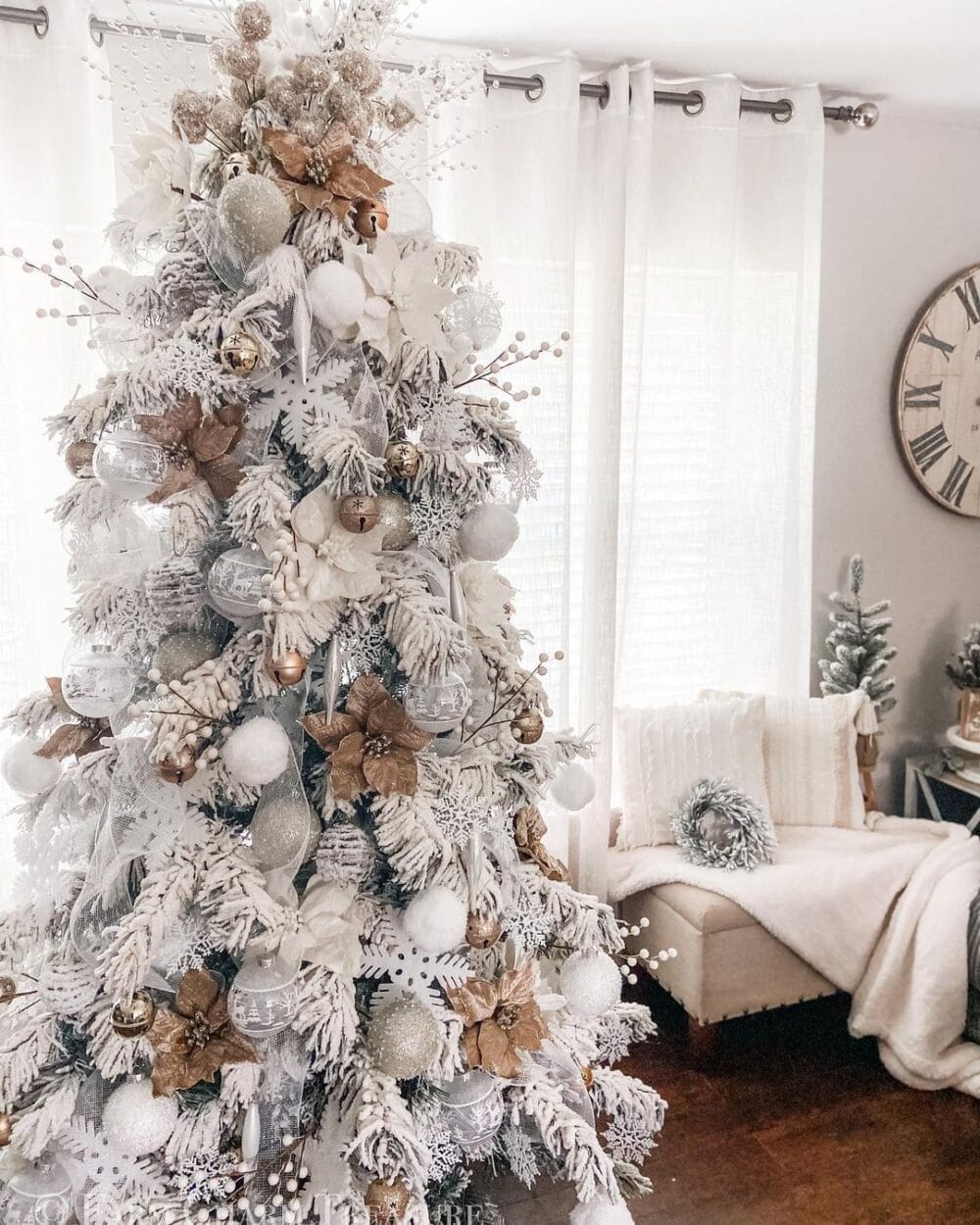 Photo: farm_charm_treasure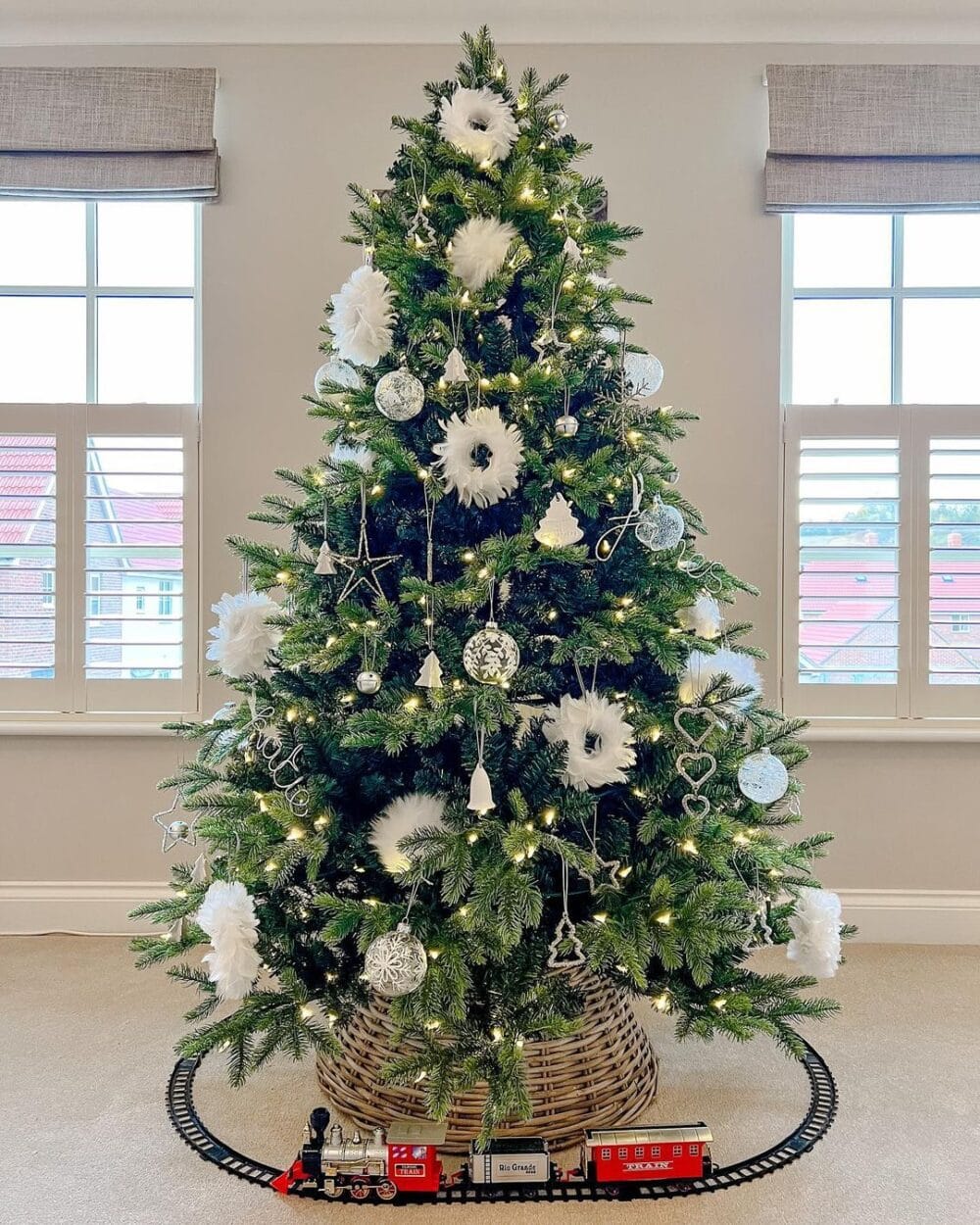 Photo: thesuffolktownhouse
There is nothing that quite captures the pure, enchanting essence of the holiday season like a Christmas tree decorated in white. Whether you opt for a White Christmas tree or for subtle white ornaments amidst a colorful tree, the choice imparts a sense of serenity to your holiday decor, making your festive celebration all the more beautiful and tranquil.

That's it for now!
In this journey through various Christmas tree ideas, it's evident that the holiday season is your canvas for creativity.
So feel free to decorate with your own unique style – this will help you create more memorable moments.
Have fun decking the halls, lighting up the tree, and making this season truly special. Wishing you a Merry Christmas filled with joy and brightness!

Related: 20+ Adorable Winter Outfits for Freezing Cold Weather

Share on Pinterest: