This post may contain affiliate links, which means I'll receive a commission if you purchase through my links, at no extra cost to you. Please read our full disclosure for more information.
If you've ever battled the acne monster, you probably know the war doesn't end when the pimples disappear.
Nope, the scars left behind can be just as pesky and downright annoying.
But don't fret, because in this guide, we're going to equip you with the knowledge on how to get rid of acne scars and unveil smoother, happier skin.

Share on Pinterest:

Understanding Acne Scars: What's the Deal?
Let's dive into the nitty-gritty. Acne scars aren't all the same – they come in various flavors.
And there's also different reasons for these scars popping up. But don't worry, we've got your back, and we're here to break it down in plain English.

Types of Acne Scars
So, acne scars aren't all cut from the same cloth.
You've got atrophic scars, those sneaky little dents that seem to never leave; hypertrophic scars that puff up like they're trying to prove a point, and then there's the boss of them all, keloid scars, the overachievers of scar formation.
Knowing your enemy is half the battle!

The Reasons Behind Acne Scars
Why do these scars show up uninvited in the first place?
Well, it's like a conspiracy involving inflammation, genetics, and your skin's own little quirks.
The bottom line? The sooner you start dealing with acne, the better your chances of avoiding these scars altogether. Prevention is truly the name of the game.

Related: 9 Skincare Mistakes Most People Make

Acne Scar Prevention Strategies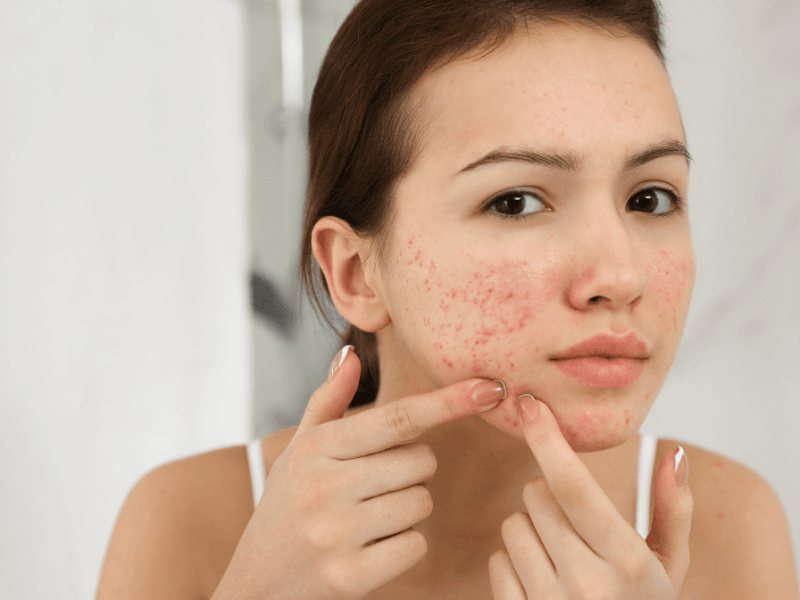 Now that we've got the lowdown on acne scars, let's dive into some seriously effective prevention strategies. Imagine your skin as a fortress, and acne scars are the enemy troops trying to break through.
Your mission, should you choose to accept it, is to fortify those defenses.

1. Hands Off! Seriously, Hands Off!
We get it, it's tempting to squeeze, pick, or poke at those zits like they owe you money.
But resist! These actions can worsen inflammation and increase the chances of scarring.
Your fingertips are not tools of destruction.

2. Craft a Skincare Routine That Says 'Not Today, Acne!'
Invest in suitable skincare products for acne-prone skin. More about that in the next section of this article!
Opt for non-comedogenic products to minimize the risk of clogged pores and future breakouts.
Regularly cleanse your face, but don't go overboard. Over-washing can strip your skin of natural oils, making it more susceptible to damage.
For a full skincare routine to minimize acne scars and product recommendations, see the next section!

3. Manage Your Breakouts Pronto!
As soon as you spot acne forming, take action. Consult a dermatologist if needed to determine the best treatment plan.
Avoid picking or popping pimples. This might feel satisfying in the moment, but it's a one-way ticket to scar city.

4. Maintain a Balanced Diet and Hydration Routine:
What you put in your body matters. Stay hydrated, and consider a diet rich in fruits, vegetables, and foods with anti-inflammatory properties.
Omega-3 fatty acids, found in fish and flaxseeds, can help reduce inflammation, potentially preventing severe breakouts that lead to scarring.

5. Stress Less, Sleep More, and Stay Active:
Stress can trigger breakouts and hinder the healing process. Incorporate stress-reduction techniques like meditation or yoga into your routine.
Prioritize quality sleep – it's when your skin does much of its repair work.
Regular exercise improves circulation and helps maintain overall skin health.

By following these prevention strategies, you're taking proactive steps to keep those acne scars at bay.

Related: 11 Common Mistakes to Avoid in the Shower for a Beautiful You

Skincare Routine and Products for Acne Scar Healing
Your skin has been through quite a journey, and now it's time to pamper it back to its radiant glory.
Start with the basics, such as proper cleansing, moisturizing, and protection from the harmful UV rays.
Here's a simple and comprehensive skincare routine that can help you bid farewell to those pesky acne scars.
Skincare Routine Basics

#1: Double Cleansing
Use a good cleanser that won't strip your skin of its natural oils.

We highly recommend double-cleansing for acne prone skin. To double-cleanse, you can wash your face with an oil-based cleanser first, and then use a water-based cleanser after. This ensures all the makeup, dirt and sunscreen is washed off and your skin is super clean and ready to be hydrated.

Avoid harsh scrubbing or abrasive cleansing tools, as these can exacerbate scars.
We recommend:

#2: Restore Moisture
Use a hydrating serum or lightweight, non-comedogenic moisturizer to maintain skin hydration.
Well-hydrated skin is more resilient and better equipped to heal scars.
Gently pat your moisturizer onto your skin; avoid rubbing or pulling. Focus on applying extra moisturizer to scar-prone areas.
We recommend:

#3: Daily Sun Protection
Did you know that sunscreen can be your secret weapon in the battle against acne scars?
Here's the deal: UV rays from the sun can be a real menace when it comes to scars. They can make those scars appear darker and more noticeable, which is definitely not what we're going for.
But when you slather on that sunscreen, you're not just protecting your skin from burns; you're also shielding your precious scars from the sun's harmful effects.
Apply a broad-spectrum sunscreen with SPF 30 or 50 every morning.
We recommend:


Scar-Busting Skincare Ingredients
Once you have the basic skincare routine down, consider incorporating some products with scar-reducing ingredients into your routine as well.
There's a variety of them, but don't go overboard – it's best to start using these slowly and only introduce one new product at a time.
Here are some products and ingredients to look out for:

Vitamin C
Vitamin C isn't just your regular vitamin; it's a skincare superhero!
As an antioxidant, it swoops in to help fade those stubborn scars by inhibiting the production of melanin, the pigment responsible for dark spots.
But that's not all – it also works overtime to brighten your overall skin tone, leaving you with a radiant, even complexion. So, if you're looking to kick those scars to the curb and get that luminous glow, vitamin C is your best friend.
We recommend:

Retinoids
Meet the multitaskers of the skincare world – retinoids! These little powerhouses promote collagen production, your skin's best buddy when it comes to healing scars.
By boosting collagen, retinoids help to fill in those pitted scars and reduce their appearance over time.
Not only that, but they also accelerate skin renewal, shedding old, scarred skin to reveal fresh, scar-free skin beneath. With retinoids on your side, you're well on your way to smoother, scar-free skin.
We recommend:

Alpha Hydroxy Acids (AHAs)
AHAs are like the friendly exfoliating elves that help your skin shed its old, scarred layers and welcome new, healthy skin to the surface.
They work by gently sloughing off dead skin cells, helping scars fade away gradually.
So, if you want to give those scars a gentle nudge to take a hike and reveal your radiant skin beneath, AHAs are your go-to pals.
We recommend:

Beta Hydroxy Acids (BHAs)
BHAs are the superheroes when it comes to unclogging pores and reducing the inflammation associated with acne scars.
AHAs primarily exfoliate the skin's surface, while BHAs penetrate deeper into pores, helping even more with unclogging and reducing inflammation within the skin.
BHAs dive deep into your pores, breaking down the gunk that can lead to new breakouts and make scars even more noticeable.
BHAs are like your trusty sidekick, ensuring that your skin stays clear and smooth, all while bidding those scars adieu.
We recommend:

Niacinamide
Niacinamide, the friendly form of vitamin B3, is like a soothing balm for your scars.
It improves the texture and appearance of scars and also helps calm inflammation and redness, making scars less noticeable.
Think of it as your skin's best friend, working quietly in the background to help you achieve that smooth, scar-free complexion you've been dreaming of.
We recommend:

Remember that consistency is key when implementing this skincare routine. Be patient; results may not be immediate, but with time and dedication, you'll notice a significant improvement in your skin's texture and the fading of those acne scars.
Your skin is about to embark on a superhero transformation journey!

Professional Treatments: When It's Time to Call in the Pros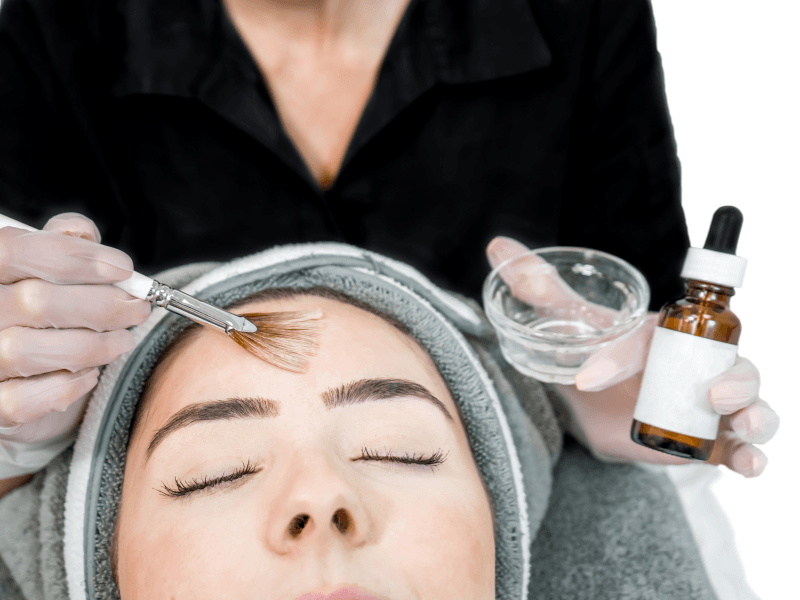 Alright, you've given prevention and home remedies your best shot, but those stubborn acne scars are still holding their ground.
It's time to call in the pros – the skincare superheroes who specialize in scar-busting techniques. These treatments are like the Avengers of skincare, and they mean business!

1. Chemical Peels:
Chemical peels involve applying a solution to your skin that exfoliates the top layer. This process encourages fresh, scar-free skin to emerge.
Depending on the peel's intensity, it can improve the texture and appearance of your skin.

2. Microdermabrasion:
Microdermabrasion uses tiny exfoliating crystals to remove the outer layer of skin, including scar tissue.
It's non-invasive and can improve the overall texture and tone of your skin.

3. Laser Therapy:
Laser treatments target scar tissue and stimulate collagen production, which helps scars fade over time.
Fractional laser therapy is a popular option for acne scar treatment, as it minimizes downtime and provides effective results.

4. Dermal Fillers and Corticosteroid Injections:
For certain types of scars, like depressed or keloid scars, dermal fillers or corticosteroid injections can be effective.
Fillers can raise depressed scars, while corticosteroid injections can reduce inflammation in hypertrophic or keloid scars.
Before diving into professional treatments, it's crucial to consult a dermatologist. They'll assess your skin, scar type, and overall health to recommend the most suitable treatment plan for you.

Related: 11 Important Beauty Habits Before Bed

Home Remedies for Acne Scars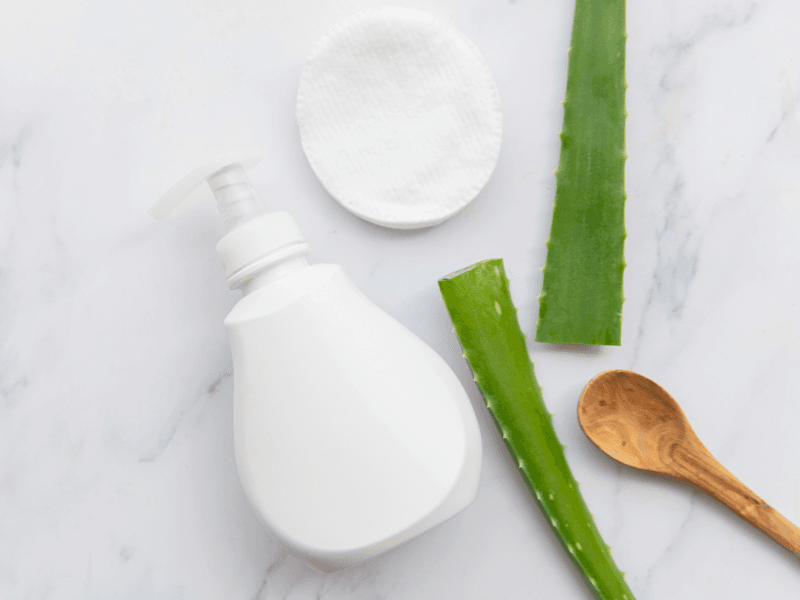 Feeling all-natural and eco-friendly? Sometimes, the best scar-fighting tools are hiding right in your kitchen or garden. Let's explore some home remedies that can complement your scar-healing journey.
Remember, while these remedies can be effective for some, they may not work miracles for everyone. Always do a patch test to ensure your skin agrees with these natural treatments.
Aloe Vera Gel
Aloe vera is a soothing, natural remedy that can help reduce inflammation and promote skin healing. Apply a thin layer of pure aloe vera gel to your scars and leave it on for about 30 minutes before rinsing it off.
Honey
Honey is not just sweet; it's also a natural humectant and has antibacterial properties. Apply a small amount of raw honey directly to your scars and leave it on for 10-15 minutes before rinsing.
Tea Tree Oil
Tea tree oil possesses antimicrobial and anti-inflammatory properties. Dilute a few drops of tea tree oil in a carrier oil (like coconut or jojoba oil) and apply it to your scars. Be cautious not to use it undiluted, as it can be too strong for some skin types.
Keep in mind that results may vary from person to person, and it's always a good idea to consult with a dermatologist for a more personalized and effective scar treatment plan.
Nature's remedies can be powerful allies, but they're just one part of your scar-fighting arsenal.

Conclusion – How to Get Rid of Acne Scars
Here's the deal: patience is your best friend. Healing scars takes time, and results might not happen overnight.
So, don't be disheartened if you don't see instant changes. Keep at it, and your skin will thank you in the long run.
While these tips on how to get rid of acne scars are powerful allies in your quest for scar-free skin, remember that everyone's skin is unique. It's okay to seek professional advice, especially if your scars are particularly stubborn or causing you distress.
You're on the path to brighter, more radiant skin, and we're rooting for you every step of the way. Embrace your journey, be kind to your skin, and get ready to shine like never before!

Share on Pinterest: