This post may contain affiliate links, which means I'll receive a commission if you purchase through my links, at no extra cost to you. Please read our full disclosure for more information.
Having a bright and sparkling smile can boost your confidence and enhance your overall appearance.
While professional teeth whitening treatments are available, there are several effective ways to maintain white teeth right in the comfort of your own home.
In this article, we will explore the top 10 tips for maintaining white teeth. From daily oral care routines to easy teeth whitening methods, we've got you covered!

Share on Pinterest:

Although these suggestions may be helpful, it's still important to see a dentist for personalized advice and to get the finest dental care possible for your unique needs.

1. Try Oil Pulling for a Natural Shine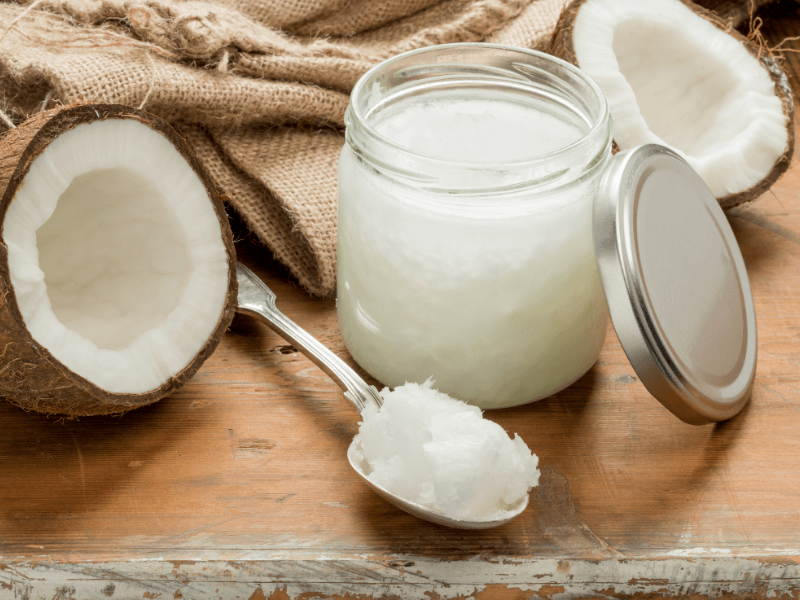 Oil pulling is an ancient practice that has gained popularity in recent years for its potential benefits in oral health and teeth whitening.
A tablespoon of coconut oil or sesame oil is swished around in your mouth for 15 to 20 minutes before being thrown out.
The oil acts as a natural cleanser, helping to remove stains and bacteria from your teeth, leaving them looking brighter and healthier.

2. Whitening Toothpaste: A Simple Solution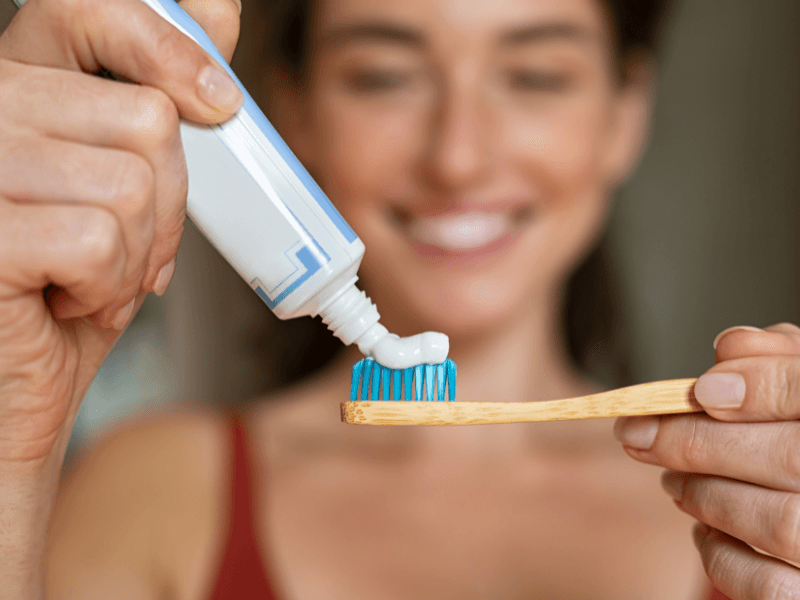 One of the easiest ways to whiten teeth at home is to incorporate a whitening toothpaste into your oral care routine.
Look for toothpaste specifically designed for whitening, as they often contain ingredients that can effectively remove surface stains.
Brush your teeth with this toothpaste at least twice a day to maintain a dazzling smile.
We recommend:

Also read: 9 Skincare Mistakes Most People Make

3. Brush Away Stains with Baking Soda
If you're looking for a natural and affordable solution to brighten your teeth, look no further than your kitchen cabinet.
Baking soda is a versatile ingredient known for its mild abrasive properties, making it an excellent choice for teeth whitening.
Mix a small amount of baking soda with water to form a paste and gently brush your teeth with it a few times a week. However, remember to use it sparingly, as excessive use may damage tooth enamel.

4. Rinse Away Stains Immediately
Prevention is key when it comes to maintaining white teeth.
Whenever you consume stain-causing substances like coffee, tea, or berries, make it a habit to rinse your mouth with water immediately afterward.
This simple step can help minimize the staining effects of these foods and beverages, keeping your teeth whiter for longer.

5. Munch on Nature's Toothbrushes
Nature has provided us with some fantastic teeth-cleaning snacks.
Crunchy fruits and vegetables like apples, carrots, and celery act as natural stain removers. Chewing on these foods can help remove plaque and surface stains, keeping your teeth clean and white.
Additionally, their high water content stimulates saliva production, which naturally cleanses your mouth and promotes oral health.
Also read: How to Smell Amazing All Day Long: 18 Tips and Tricks

6. Teeth Whitening Strips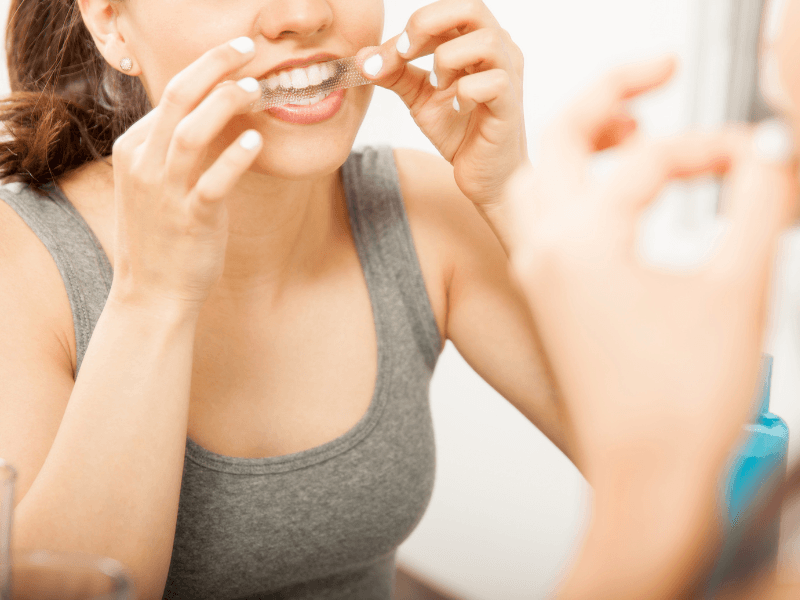 If you're looking for a more targeted approach to teeth whitening, consider using over-the-counter teeth whitening strips.
These products are easily accessible and can be effective in removing surface stains. Teeth whitening strips are probably the easiest and lowest-effort ways you can maintain white teeth at home.
Follow the instructions provided, and use them as directed to achieve the best results.
However, be cautious not to overuse them, as excessive use may lead to tooth sensitivity.
We recommend:

7. Teeth Whitening Trays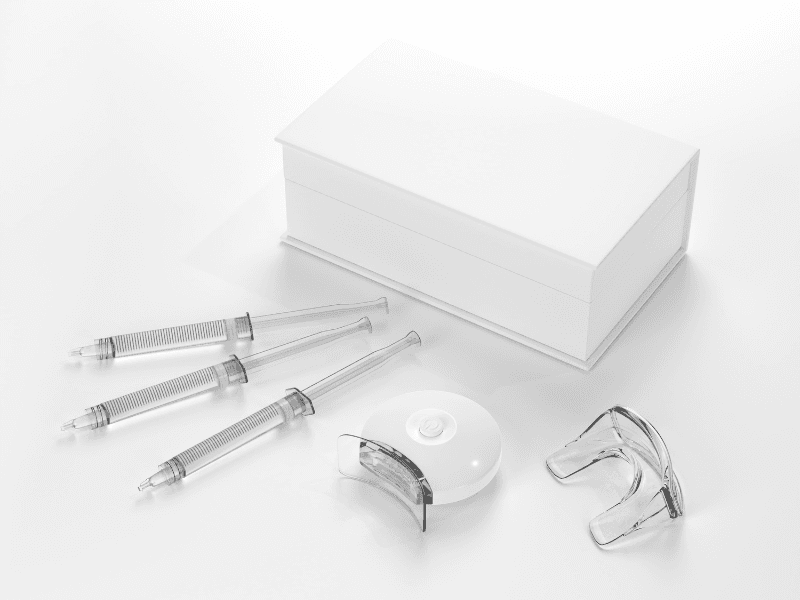 Another great teeth whitening option similar to teeth whitening strips is using teeth whitening trays.
They're just as easy to find and use. They do have a few more steps than teeth whitening strips, as you would usually have to apply the whitening gel to the tray and clean it out after each use, while you can just discard teeth whitening strips.
However, teeth whitening trays can do a better job whitening difficult-to-reach places, such as gaps between your teeth.
We recommend:

8. Limit Stain-Causing Foods and Drinks
While it may be challenging to eliminate certain foods and drinks from your diet, limiting the consumption of stain-causing substances can go a long way in maintaining white teeth.
Coffee, tea, red wine, and dark-colored sauces are notorious culprits for tooth discoloration.
Try to enjoy them in moderation and follow up with a thorough rinse or brushing to minimize their staining effects.

9. Prioritize Good Oral Hygiene
Maintaining a consistent oral hygiene routine is essential for white teeth and overall oral health.
Brush your teeth at least twice a day, preferably after meals, using a soft-bristle toothbrush and fluoride toothpaste.
Don't forget to floss daily to remove plaque and debris from between your teeth. By practicing good oral hygiene, you can prevent the buildup of stains and keep your smile bright.

Also read: 11 Important Beauty Habits Before Bed

10. Regular Dental Check-ups
Last but certainly not least, regular visits to the dentist are crucial for maintaining white teeth.
Professional cleanings can remove stubborn stains and tartar buildup that may be challenging to tackle at home.
Your dentist can also provide personalized advice and recommend additional teeth whitening options, tailored to your specific needs.

In Conclusion – How to Maintain White Teeth
In conclusion, achieving and maintaining white teeth can be a reality with the right tips and practices.
Incorporate these top 10 tips for maintaining white teeth into your daily routine, and you'll be on your way to a confident, bright smile.
Remember, consistency is key, and if you have any concerns or specific dental conditions, consult with your dentist for professional guidance. Get ready to dazzle the world with your pearly whites!

Share on Pinterest: