As the crisp autumn air settles in, it's time to bid farewell to our bright and breezy summer nail shades and embrace the cozy, rich hues that November brings. If you're on the hunt for some fresh nail inspo, you're in the right place.
Today, we're diving headfirst into the top trending November nails, and trust me, there's a little something for everyone.
In the wonderful world of fall nail trends, November is all about embracing warm, earthy tones. Think deep, dark colors like sultry burgundies, moody greens and blues, and, of course, those quintessential brown nails.
This November, we're also exploring the wild side of nail art with animal print designs that add a fierce edge to your fingertips. If you prefer something a bit more understated, don't worry – minimalist nail designs are having their moment.
Clean lines, muted tones, micro French mani, and uncomplicated elegance are all the rage. And for those of you who crave a pop of creativity, there's no shortage of options, from fun swirl nails to chic geometric designs.
Grab your favorite hot beverage, get comfy, and join us on this nail adventure as we explore the 20+ trending November nail ideas that will keep your nails on point and perfectly suited to the fall season. Let's dive in and get those nails November-ready!

20+ Cute Ideas for November Nails

Mocha Swirl Nails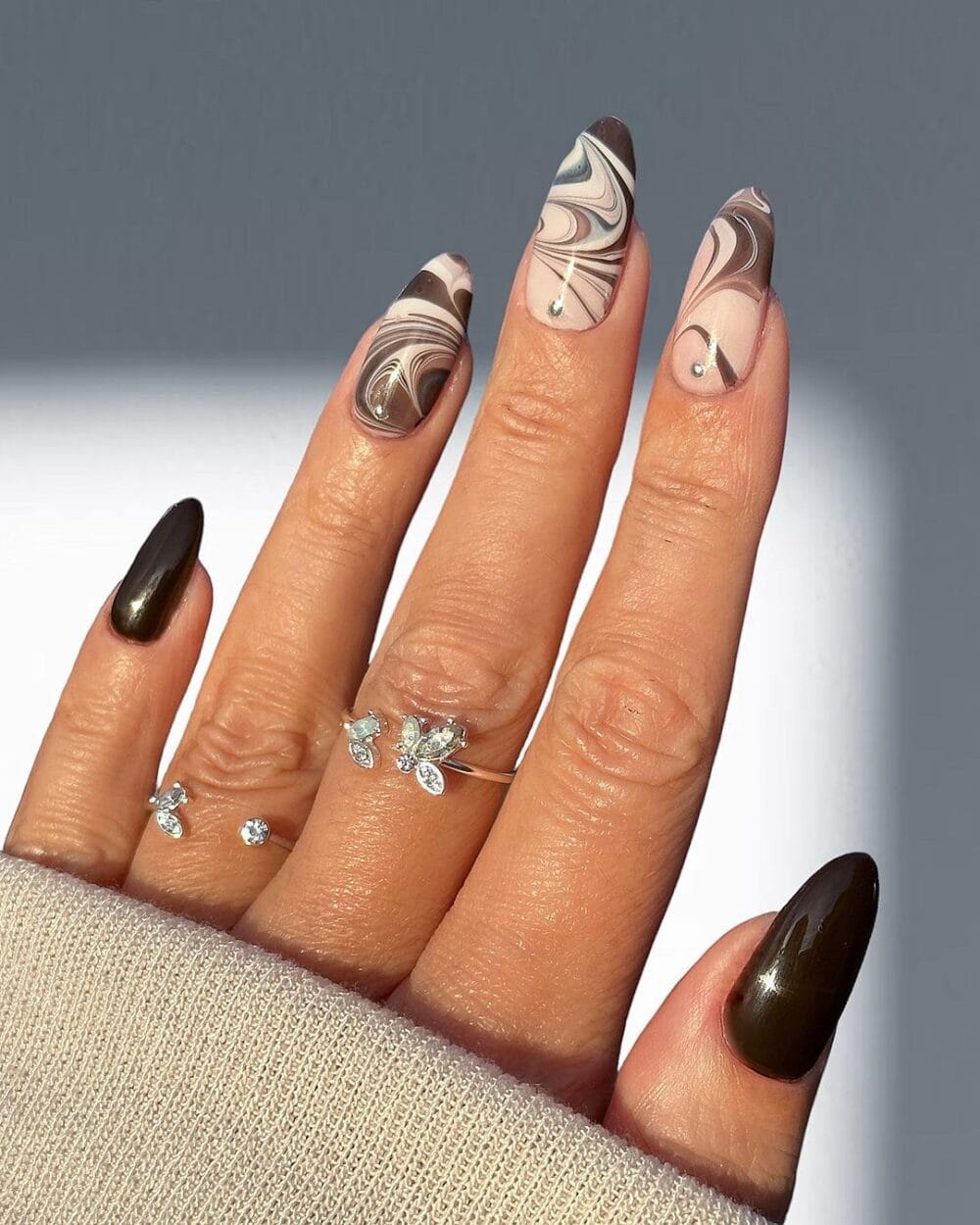 Photo: artdecom
Mocha swirls add a touch of sophistication to your November nail game. The rich, swirling patterns in shades of mocha and cream are reminiscent of a warm cup of coffee on a chilly morning. These nails are the perfect accessory for your fall wardrobe.

Metallic Space Vibes
Photo: learnahstarbuck_nailartist
These metallic space nails are truly out of this world! With shimmering metallic shades that evoke the cosmos, these nails take you on a journey through the galaxy. Perfect for those who crave a touch of cosmic inspiration this November.

Rouge Noir Nails
Photo: tara.holloway_x
This shade is the most perfect thing for the autumn months! With deep, dark hues reminiscent of red wine, these nails are exactly what you need for those cozy November evenings. They exude a sense of luxury and refinement.

Blonde Chrome French Tips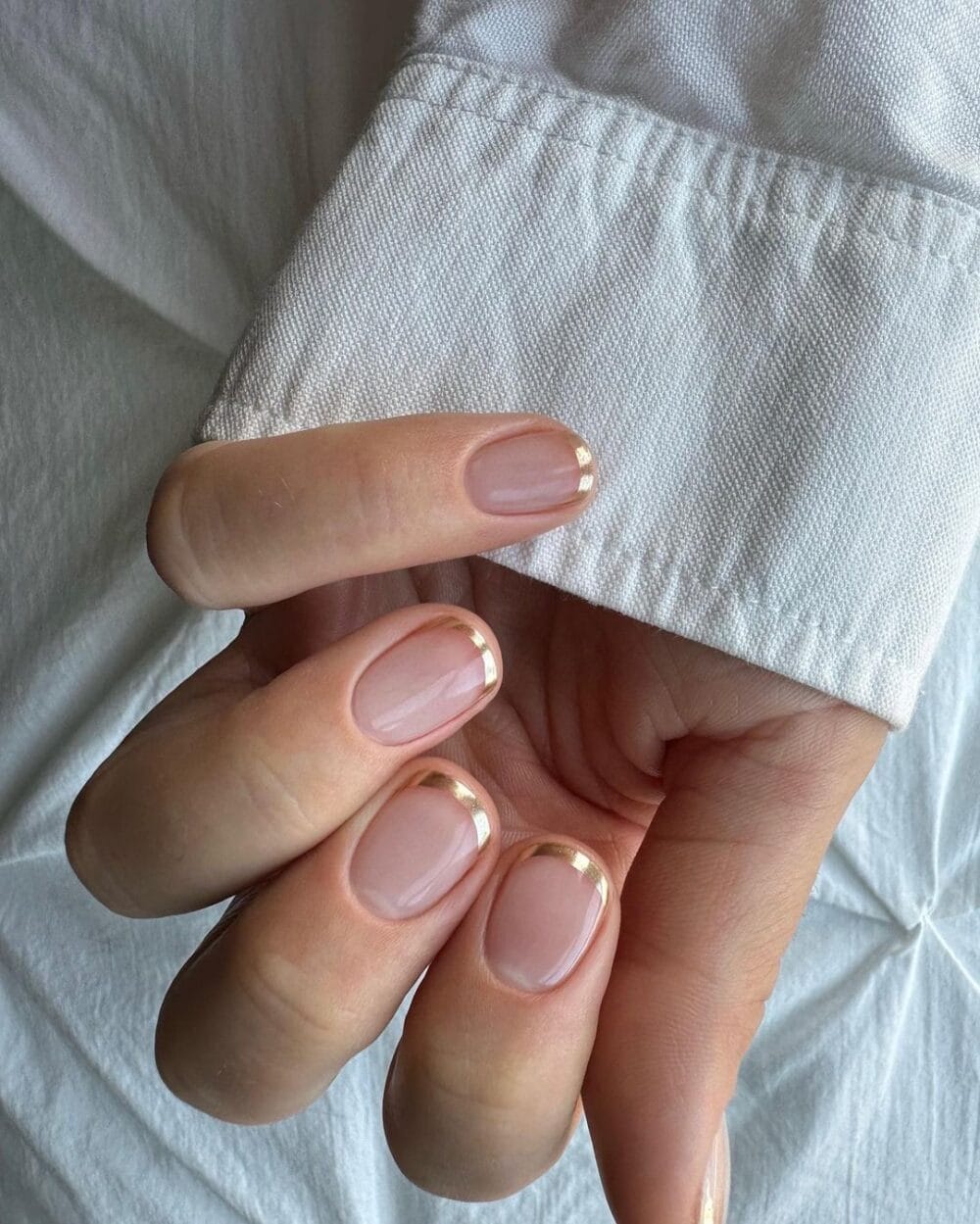 Photo: gel.bymegan
This blonde chrome French mani is a modern twist on a classic favorite. The combination of sleek chrome and elegant French tips creates a sophisticated and stylish look. It will add a touch of glamour to your everyday life this fall.

Black and White with Geometric Nail Art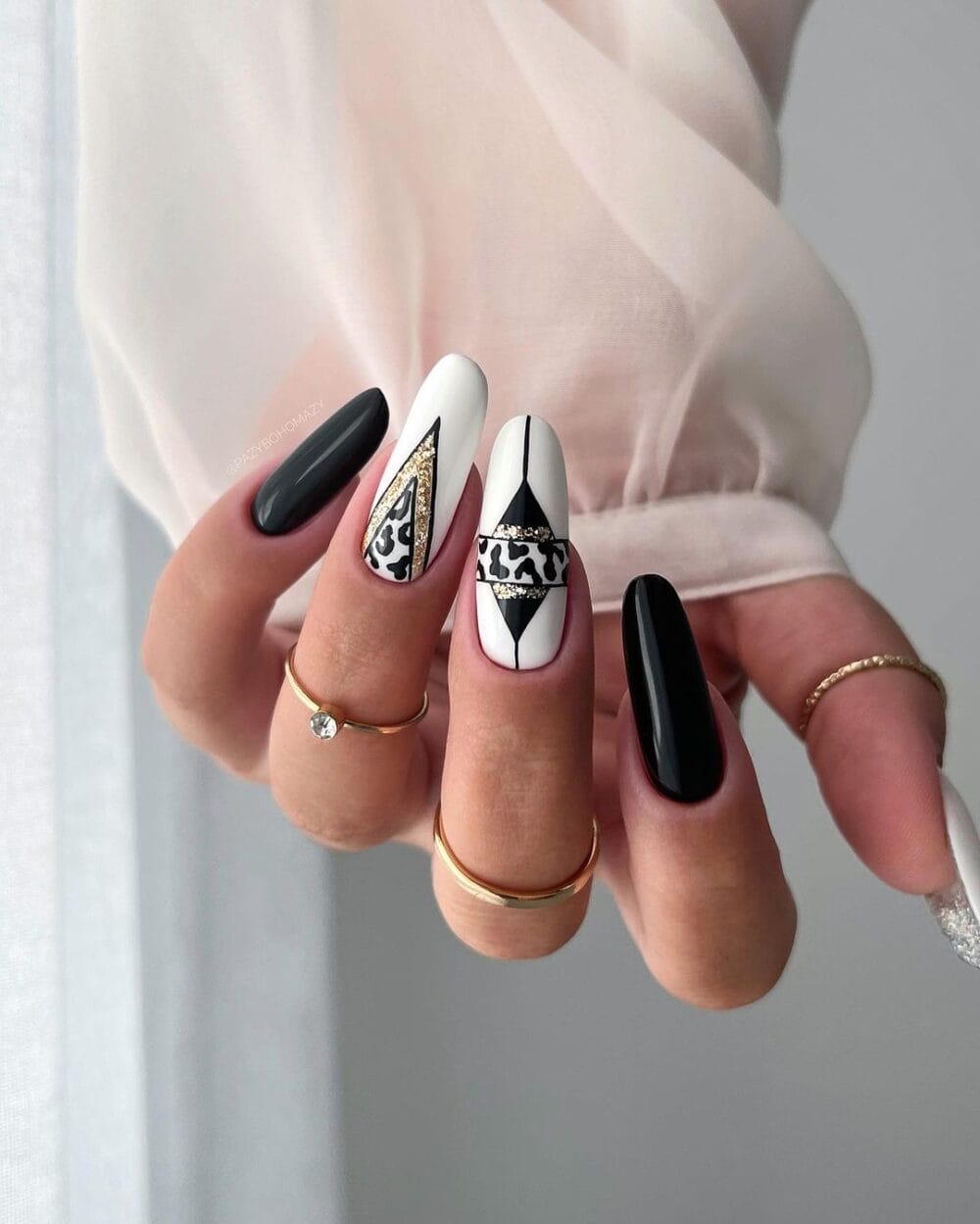 Photo: pazybohomazy
These monochrome nails with geometric patterns are all about clean lines and bold contrasts. They offer a contemporary edge with striking nail art in classic black and white shades. They're a must-try for those who appreciate a clean and classy look.

Mix and Match Animal Print Nails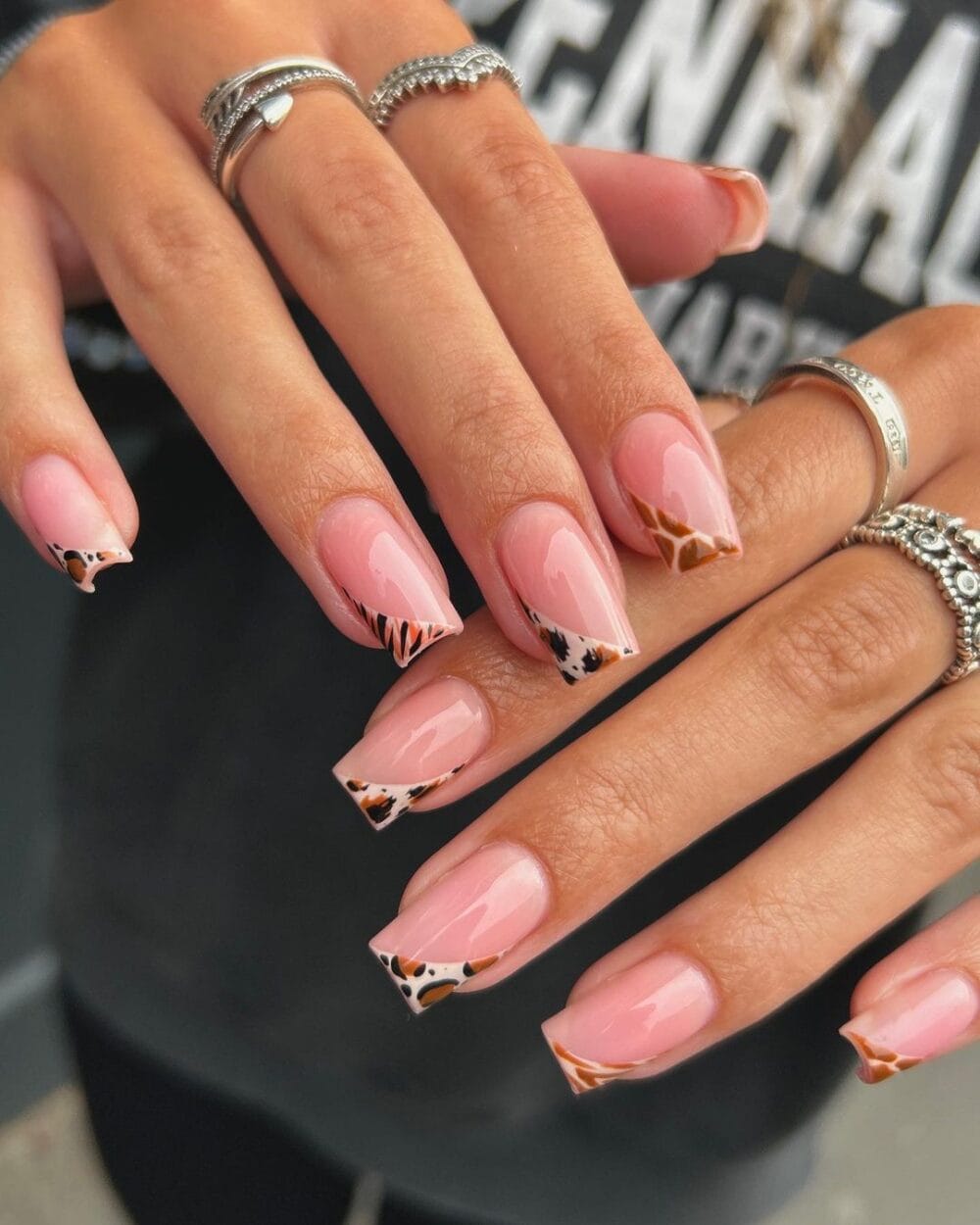 Photo: manisbyannie
These cute mix-and-match nails with animal print accents are for the wild at heart. Embrace the brown shades with a mix of different animal print patterns that add a playful and daring edge to your nails this November.

Brown Pumpkin Nails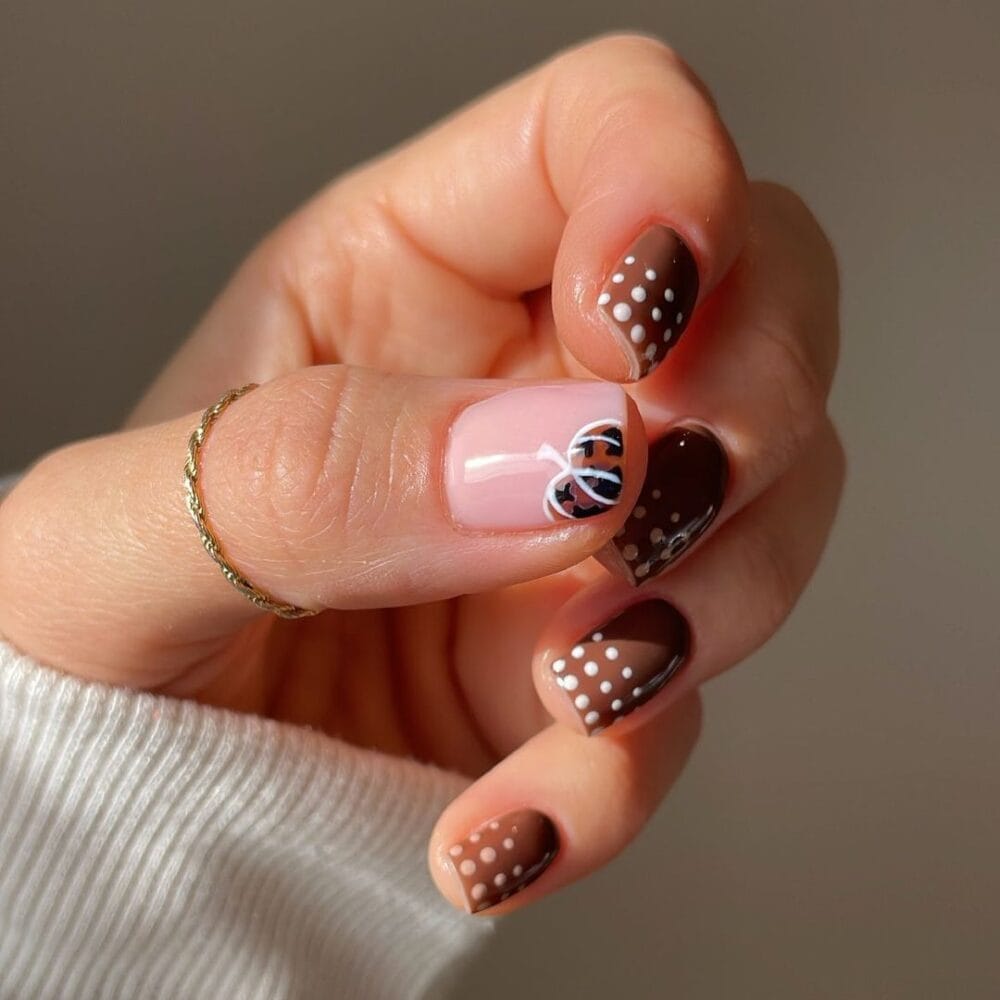 Photo: beautybychloemayboyce
These brown nails decorated with a cute little pumpkin scream 'Pumpkin Spice Latte' in the best way! With warm brown shades and charming pumpkin accents, these nails are a fun and festive choice for the autumn season. They are perfect for Thanksgiving!

Related: 20+ Stunning Thanksgiving Nail Ideas 2023 For This Fall

Black Nails with Leopard Print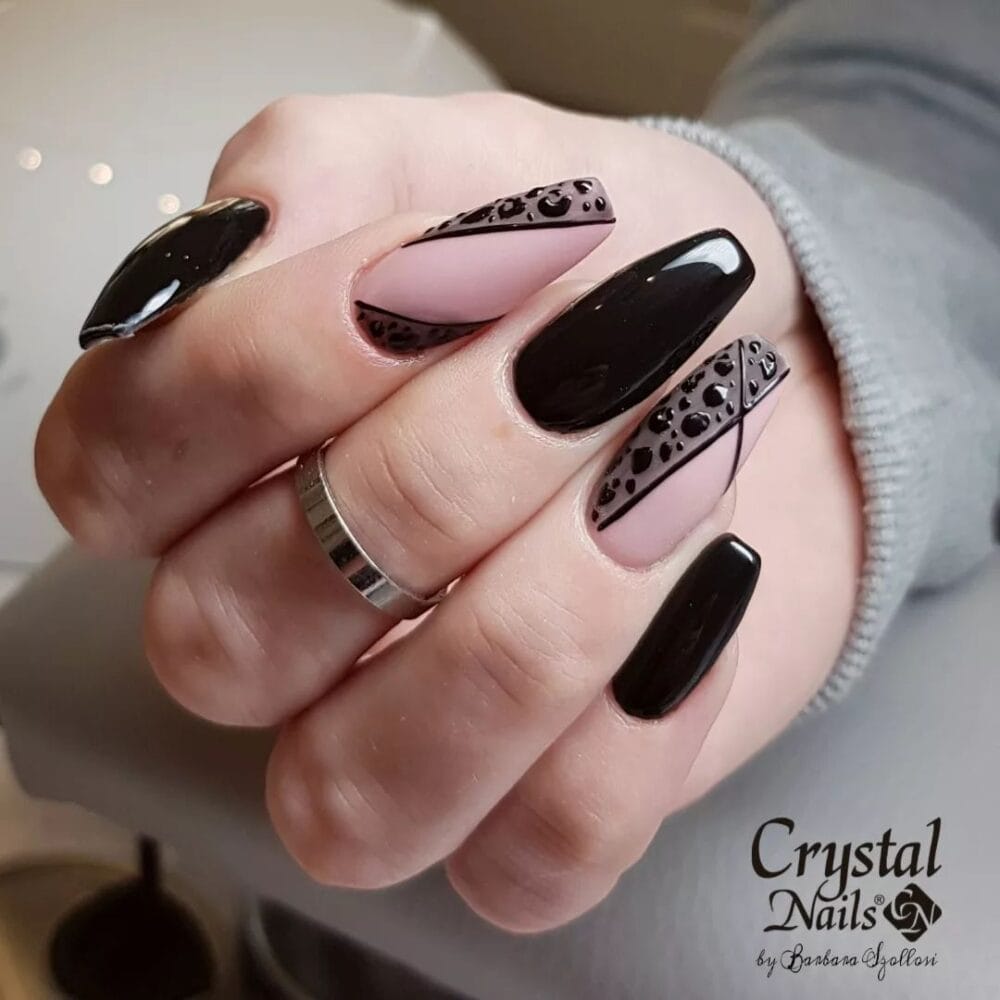 Photo: barbara.szollosi.nails
Combine sophistication with a hint of the wild side – that's the vibe of these edgy leopard print black nails. Perfect for those who want to stand out.

Shades of Brown with Swirls
Photo: nailsbyabigel
Try a delightful mix of warm brown shades and artistic swirls for your November nails. These nails remind us of coffee and chocolate deserts, a yummy combination at your fingertips.

Green Micro French Mani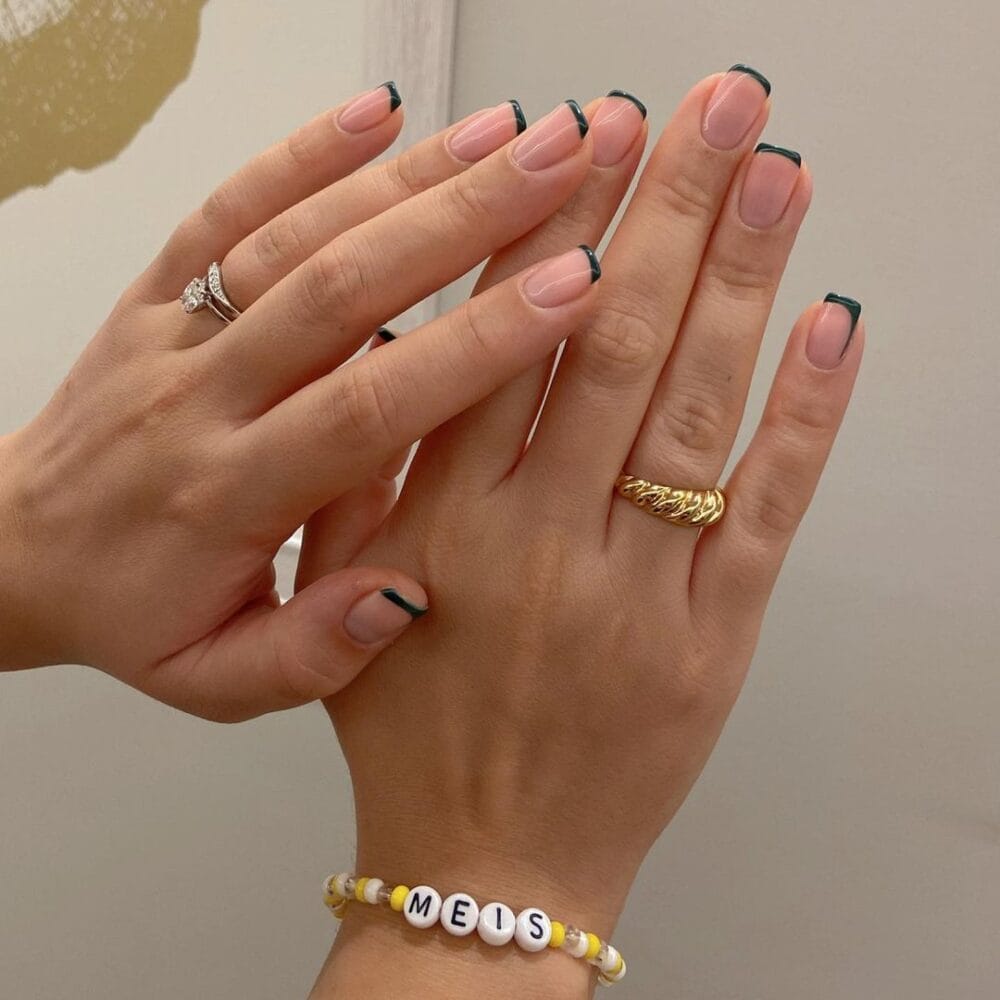 Photo: corrinnabianca
A charming twist on the classic French manicure. A moody dark shade of green combined with a micro French mani offers a unique and refreshing take on a timeless look.

Tortoise Shell Nails
Photo: nailed_byemily
Autumn is also about embracing the beauty of nature's patterns. These nails mimic the distinctive tortoise shell design with warm, earthy tones. They're a unique and stylish choice for a November mani.

Chrome Galaxy Nails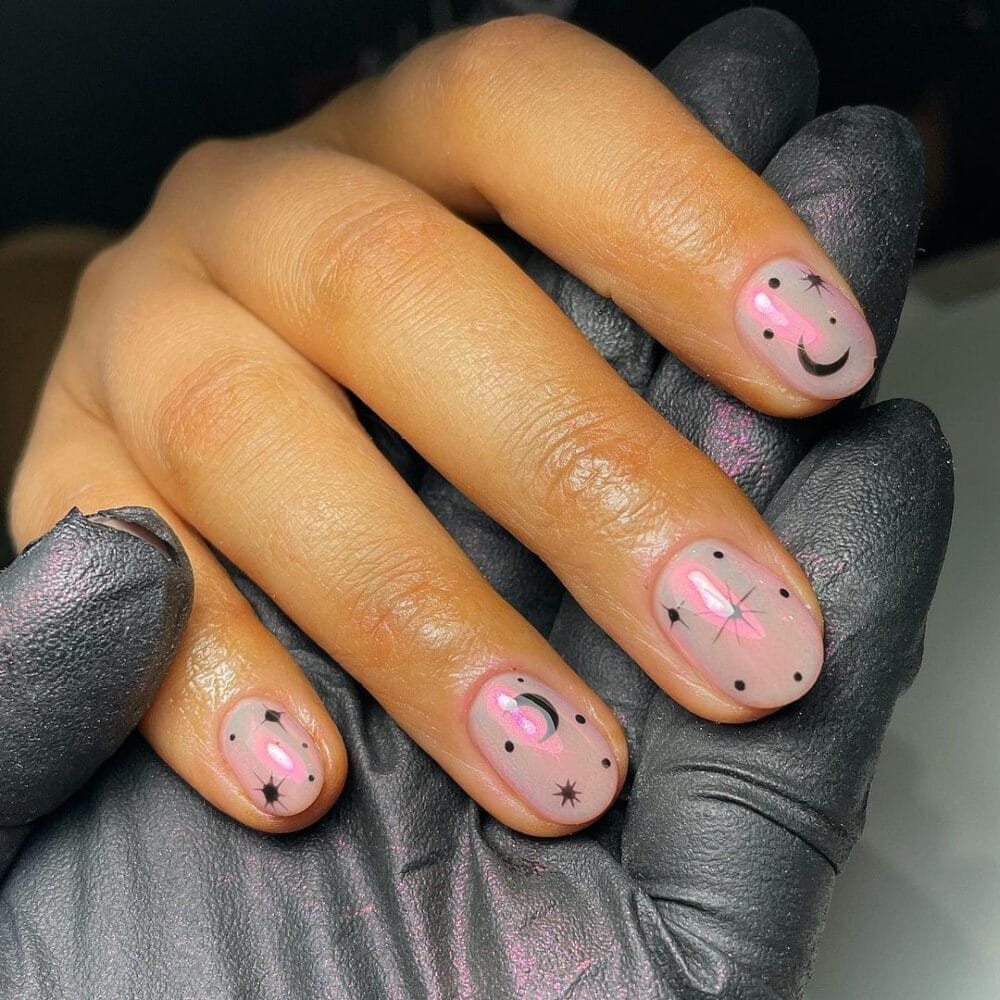 Photo: kirstnailartist
These chrome galaxy nails are a futuristic delight. With trendy chrome and galaxy-inspired designs, these nails transport you to the cosmos. They're an excellent choice for a mysterious and cute fall look.

Festive Foliage Nails
Photo: zeeceebeauty
Fall-to-winter transition nails are all the rage this November. With rich, earthy green tones and delicate leafy designs, these nails perfectly capture the essence of the season and prepare you for the winter festivities.

Related: 30+ Christmas Nail Ideas: Holiday Magic at Your Fingertips

Minimalist Dot Nail Art
Photo: napaznokciach
Less is more with these minimalist dotted nails. Simple yet striking, these nails feature tiny dots on a clean base. It's a versatile choice for those who want an understated, classy look that pairs effortlessly with any fall outfit.

Brown Swirl Nails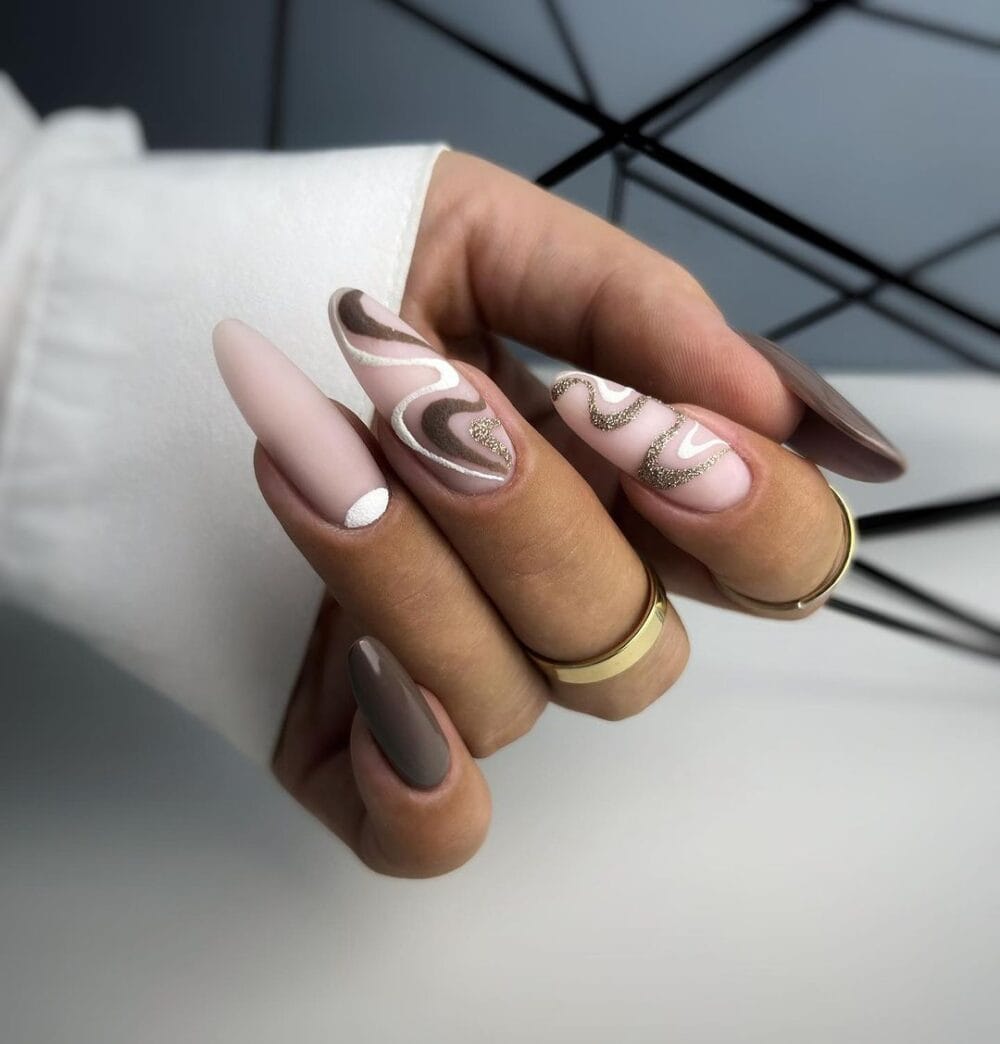 Photo: iwannadonails
A mesmerizing blend of earthy browns and captivating swirl designs. These swirl nails offer a touch of artistry and warmth for November.

Oxblood French Nails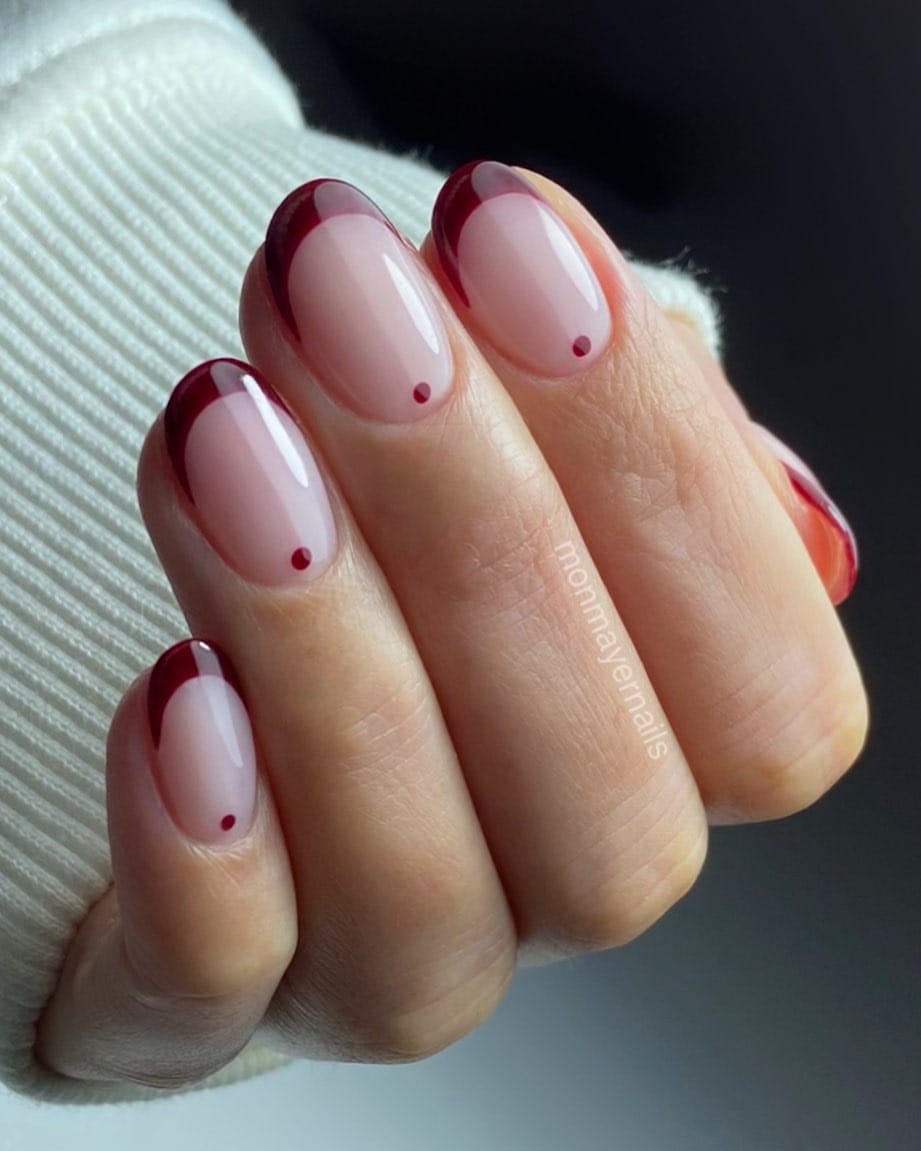 Photo: monmayernails
A deep and sultry take on a classic French manicure. With the elegance of a deep red wine shade, these nails are the perfect choice for adding some sophistication to your November look.

Mushrooms and Stars
Photo: thegelclubstamford
Bring a touch of whimsy to your nails by adding some colorful mushrooms to your fingertips. Super cute and celestial, these nails capture the magic of autumn nights. They're a good fir for those who love a bit of fantasy in their nail art.

Blonde Tortoise Shell Nails
Photo: nailedbygiselle_
Blonde tortoise shell French tips are a trendy twist on a classic design. With a lighter color palette, these nails offer a fresh and modern interpretation of the tortoise shell pattern, making them a very unique November look.

Dark Orange Nails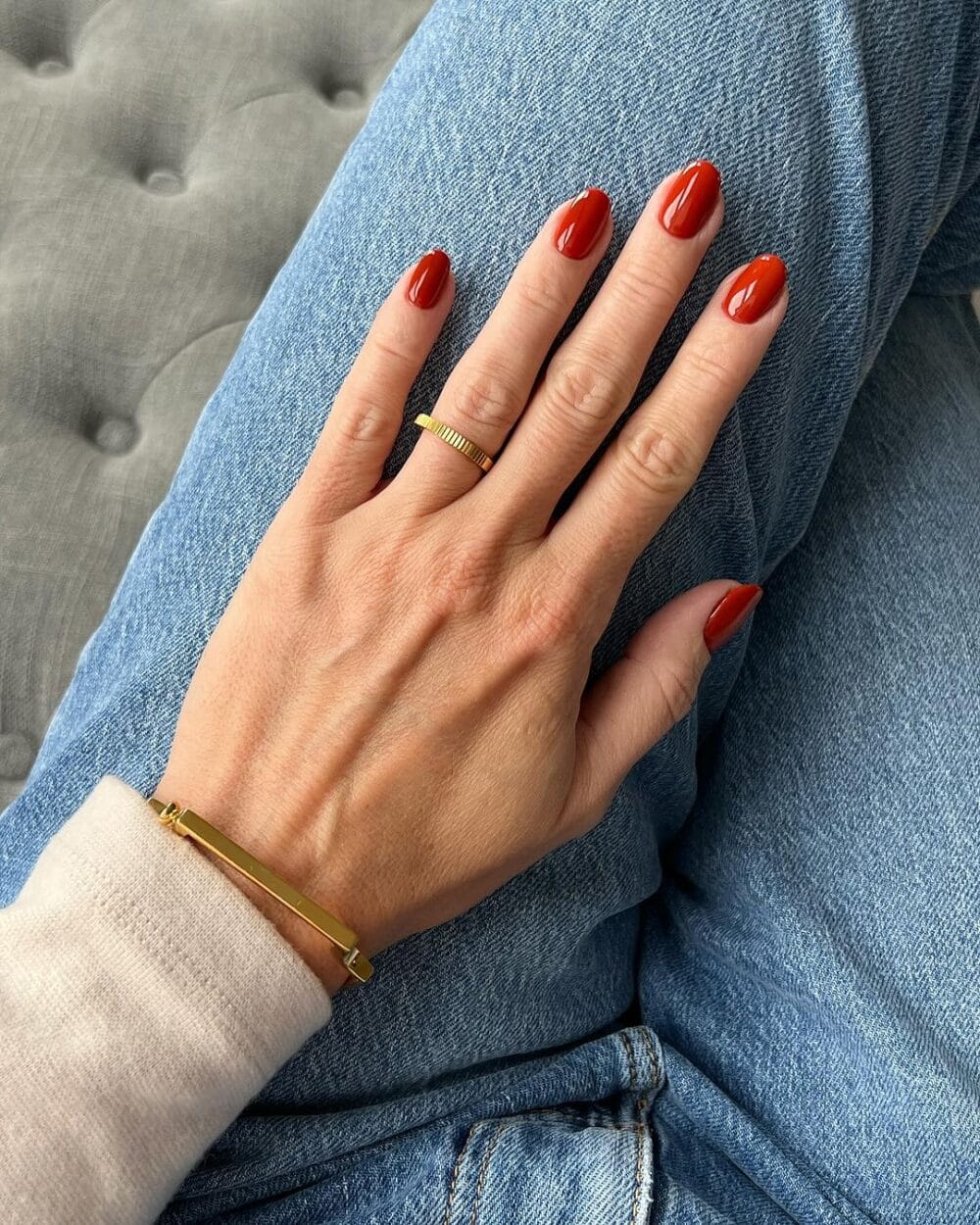 Photo: baraandbeauty
Dark orange shades are the epitome of fall warmth and vibrancy. These nails showcase a rich, deep burnt orange color that mirrors the changing leaves. They're an ideal choice for adding a pop of color to your look.

Checkered Thanksgiving Nails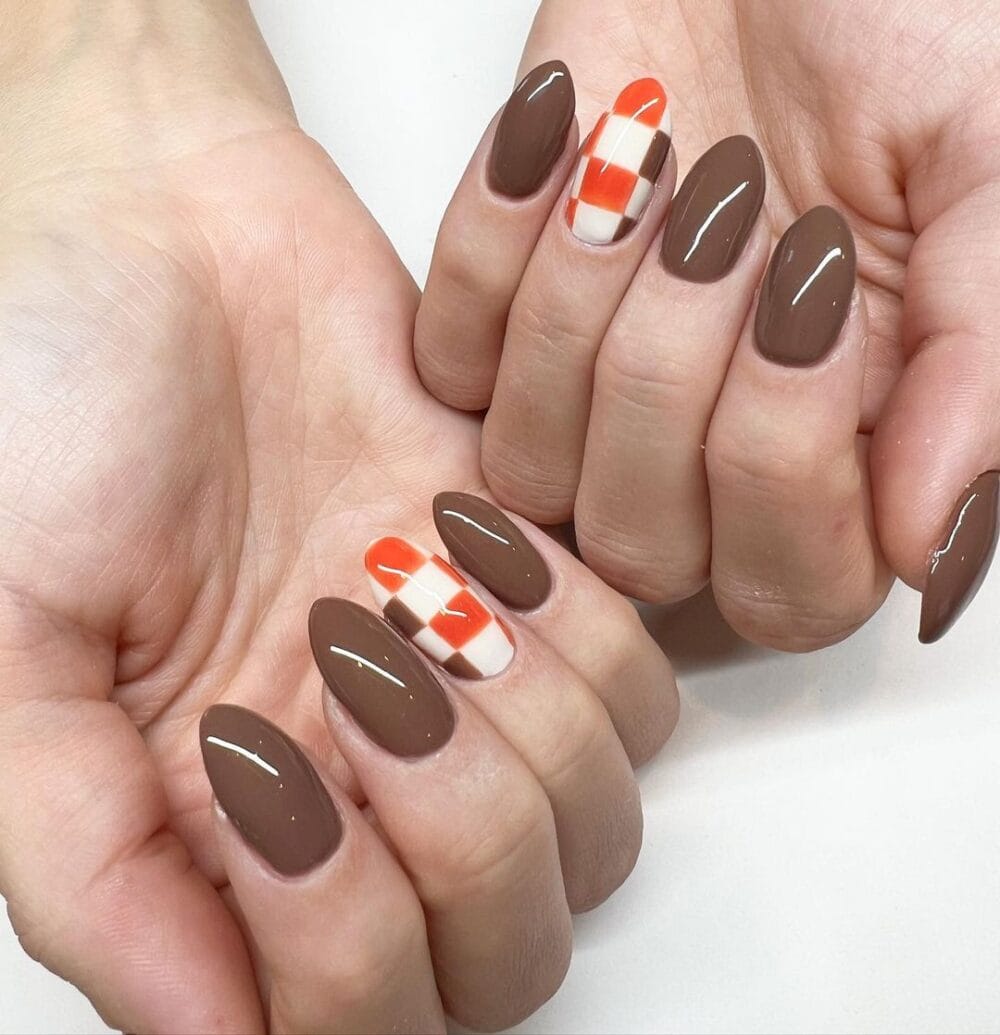 Photo: hernameskyle
These brown and orange checkered nails are a festive choice for the holiday season. With a checkered pattern and warm autumnal hues, they're the perfect way to celebrate Thanksgiving on your nails. A stylish nod to a cherished tradition.

Colorful Autumn Nails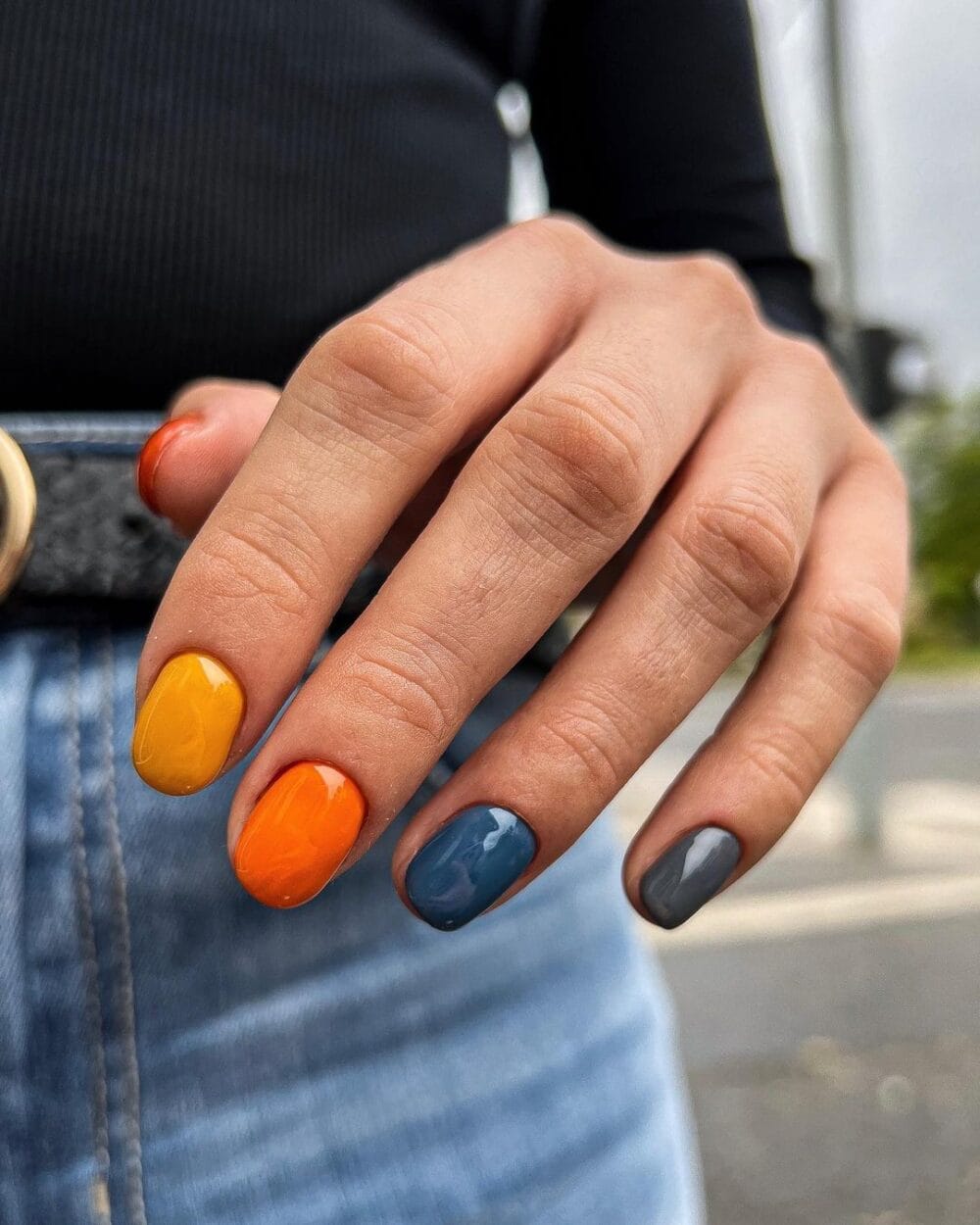 Photo: diana.dianails
Celebrate the vibrant colors of the season with these fall skittle nails. With an array of autumnal colors, these nails capture the spirit of fall in the most fun way.

Black Leopard Chic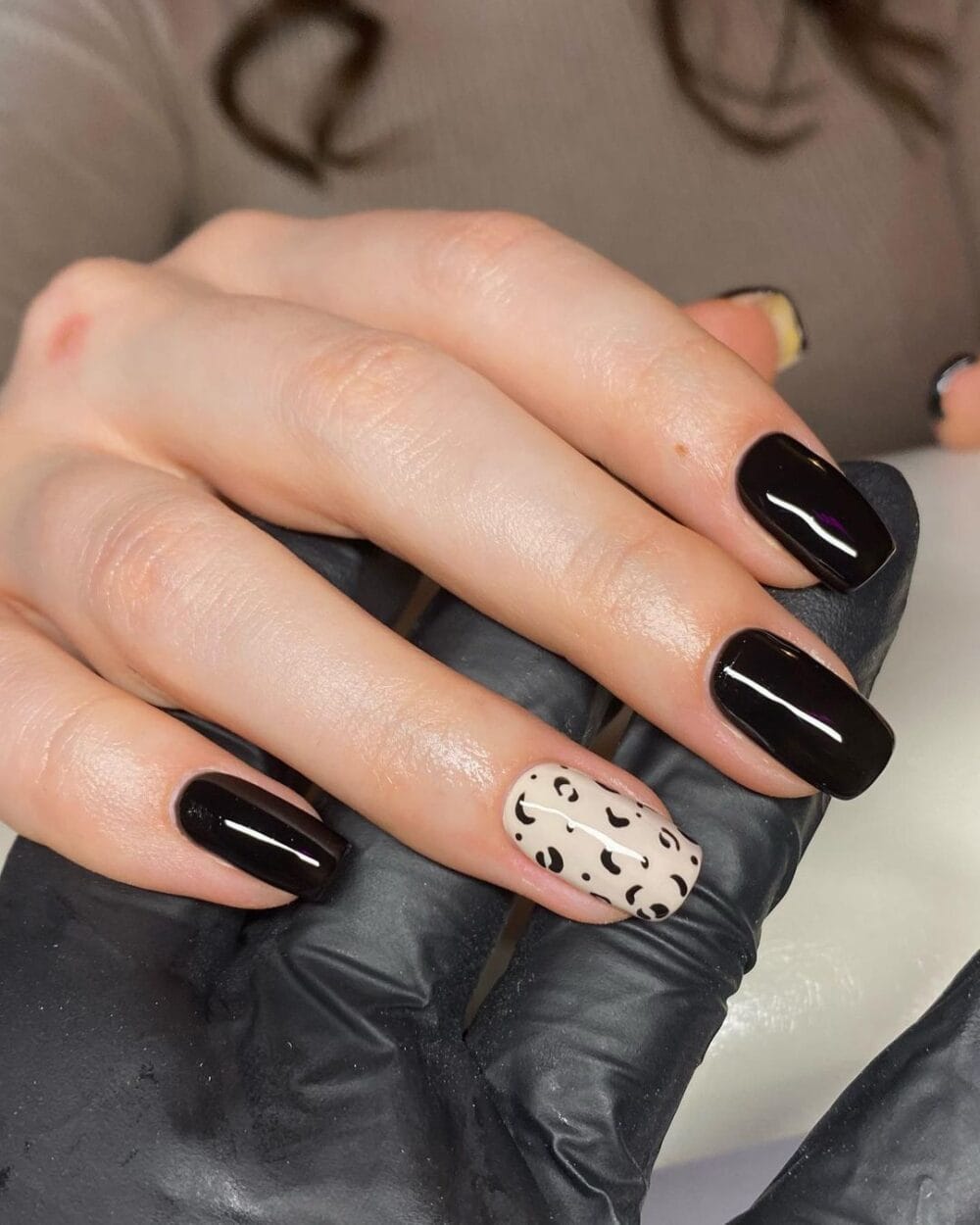 Photo: charlottesbeautyandwellbeing
Black leopard print nails are great for embracing your inner fashionista. These nails feature a trendy animal print style, mixed with a bold black look that's perfect for those who want to make a fierce statement this November.

Paisley Nails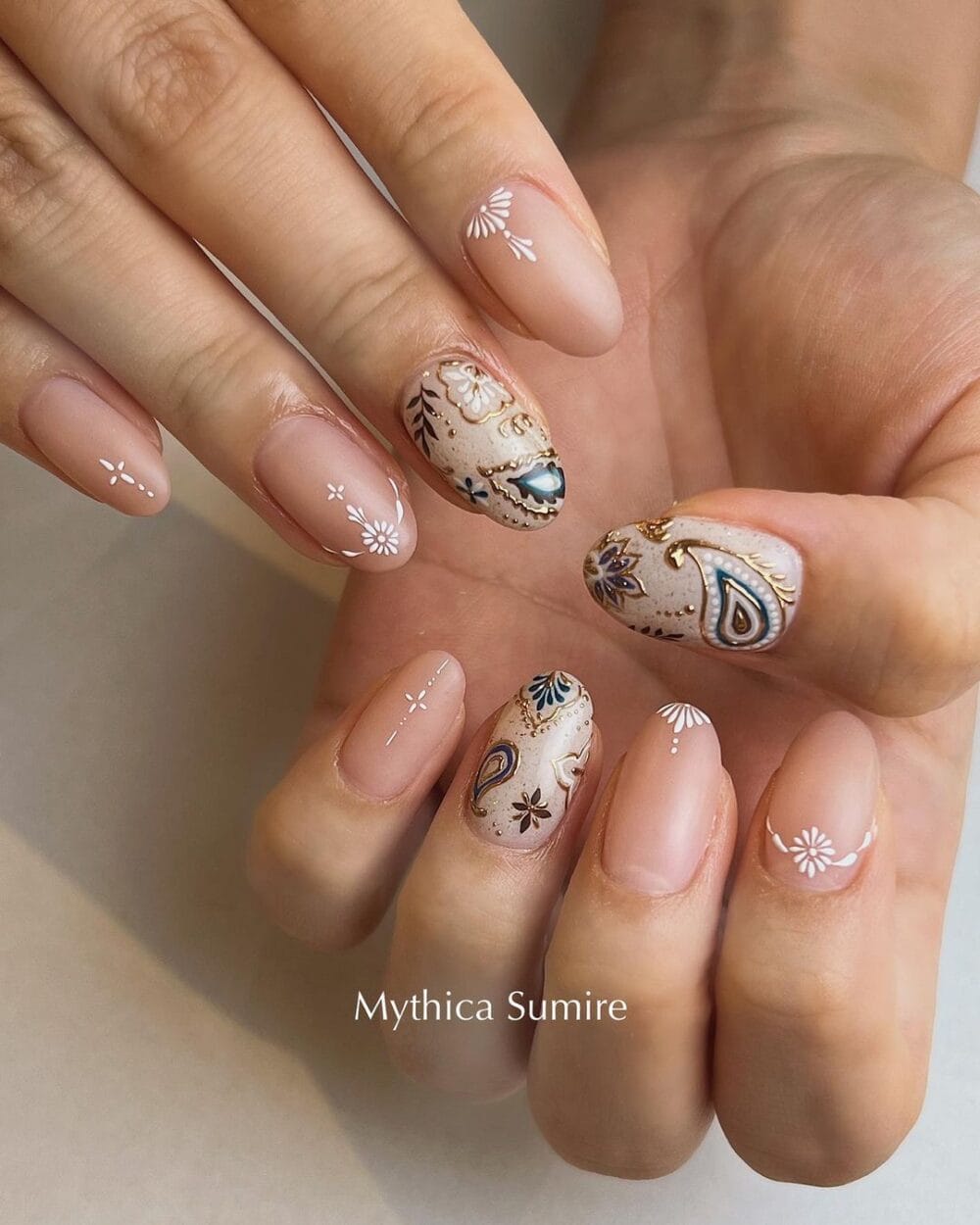 Photo: mythica_sumire
These nails featuring paisley design and intricate patterns can bring a touch of vintage charm to your November look. They're a delightful choice for those who love a hint of nostalgia.

That's it for now!
As you can see, November's nail trends offer a very wide array of styles to choose from, each with its own unique charm.
Whether you're into earthy tones, minimalist designs, or something a bit wilder, there's a November nail look for everyone. Don't be afraid to embrace the season and let your nails reflect the beauty of autumn.
Now, get out there and show off your November nails with confidence. Happy nail painting!

Share on Pinterest: