You already know what the arrival of fall means: it's time to cozy up in your favorite sweaters, sip pumpkin spice lattes, and appreciate the breathtaking beauty of fall colors.
Your nails deserve a seasonal makeover too! In this guide, we'll explore the best fall nail ideas 2023 has to offer. Whether you're a nail art enthusiast or simply want to elevate your manicure game, we've got you covered.
Let's go ahead into the world of fall-inspired nail designs and colors that will have your fingertips looking fabulous all season long.
Share on Pinterest: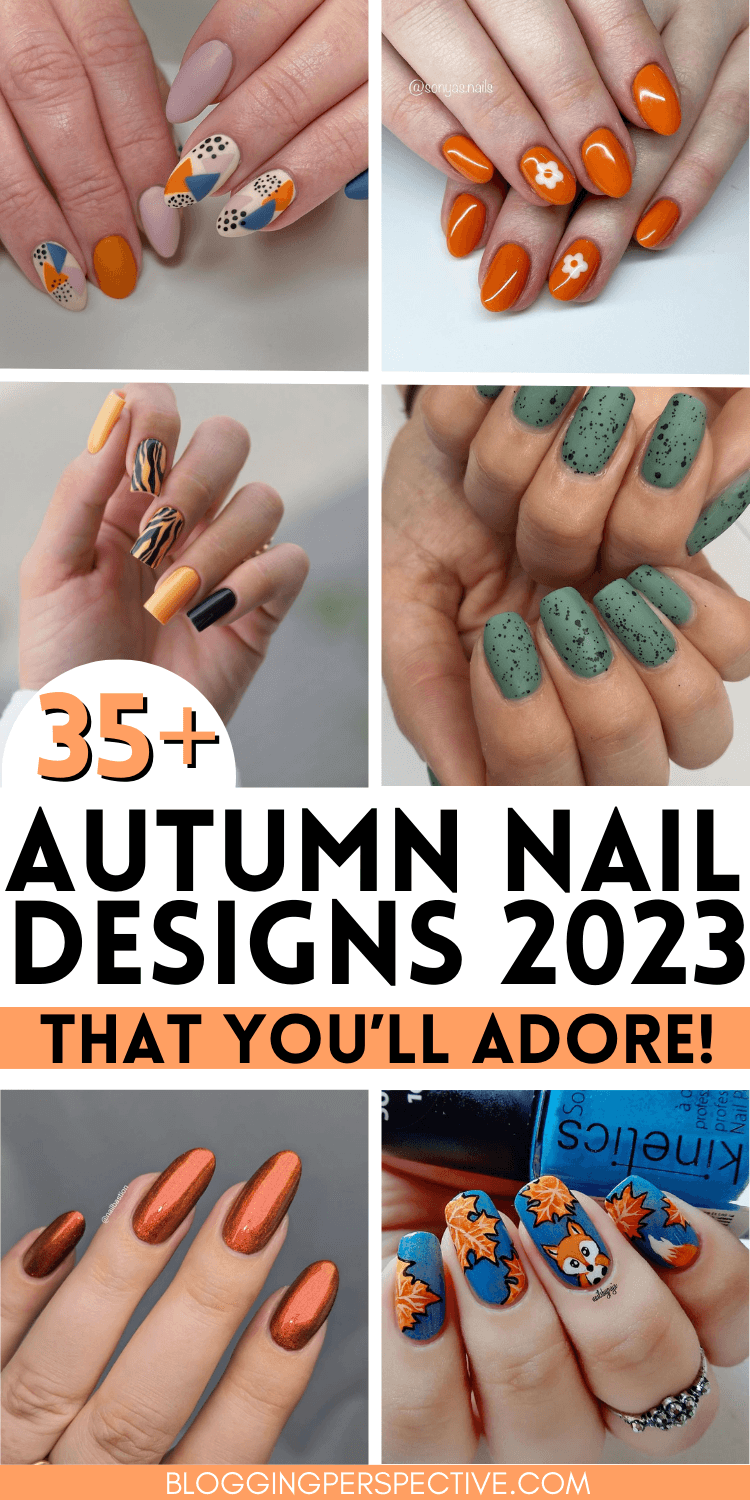 Embrace the Warmth of Fall Colors
The earthy, rich color scheme which goes perfectly with the transforming leaves and fresh air, is one of its most enticing aspects of the season. Here are some must-have fall nail colors to consider:
Deep Burgundy: This timeless shade adds a touch of sophistication to any nail design. It's like having a glass of fine red wine for your fingertips.
Burnt Orange: Embrace the warmth of autumn with this fiery hue. It's like capturing the essence of falling leaves in nail polish form.
Olive Green: Bring a touch of nature to your nails with this earthy green. It's a versatile shade that pairs well with other fall colors.
Warm Terracotta: This reddish-brown shade exudes cozy vibes and complements fall fashion effortlessly.
Navy Blue: For a touch of elegance and versatility, navy blue is a fantastic choice. It pairs beautifully with other fall shades and can be dressed up or down.

Related: 30+ Amazing and Scary Halloween Nail Designs 2023

Fall Nail Design Ideas
Now that you have your fall color palette in mind, let's explore some nail design ideas that are perfect for the season. These designs will not only make your nails stand out but also capture the essence of autumn in every detail:
Leafy Accents: Adorn your nails with delicate leaf patterns or leaf-shaped nail decals for a subtle yet beautiful nod to fall's foliage.
Sweater Weather Texture: Mimic the cozy texture of your favorite sweater with a nail design that incorporates textured elements like cable-knit patterns or fuzzy coatings.
Metallic Accents: Add a touch of glamour to your fall nails with metallic accents in gold or bronze. These can be applied as thin stripes, geometric shapes, or even in an ombre effect.
Pumpkin Spice Nails: Celebrate everyone's favorite fall flavor by incorporating pumpkin spice hues into your nail design. Think pumpkin-inspired orange, cinnamon-brown, and a sprinkle of golden shimmer.
Plaid Patterns: Channel the classic fall fashion staple – plaid – onto your nails with intricate plaid patterns in deep, fall-inspired colors.
Animal Print: Get wild with your nail art by introducing animal prints like leopard spots or zebra stripes. These bold patterns can be done in fall shades for a trendy twist.
Mix and Match: Don't be afraid to experiment with a mix-and-match approach. Combine different fall colors, patterns, and textures on each nail for a unique, eclectic look.
Abstract Art with Muted Colors: Explore your artistic side by opting for abstract nail art in muted fall shades. Think watercolor-inspired designs or subtle geometric abstractions that capture the essence of the season.
With these fall nail color options and design ideas, you're well on your way to having the most Instagram-worthy autumn nails in 2023. So, let's explore these ideas further and inspire your next nail art adventure!

Related: 40 Cute Women's Halloween Costumes to Copy This Year

Best Fall Nail Ideas 2023

Tortoise Shell Stiletto Nails
Photo: @thenaillord
Get ready to embrace fall with these chic brown tortoise shell stiletto nails. They capture the essence of autumn's warmth and style.

Orange and Black Zebra Nails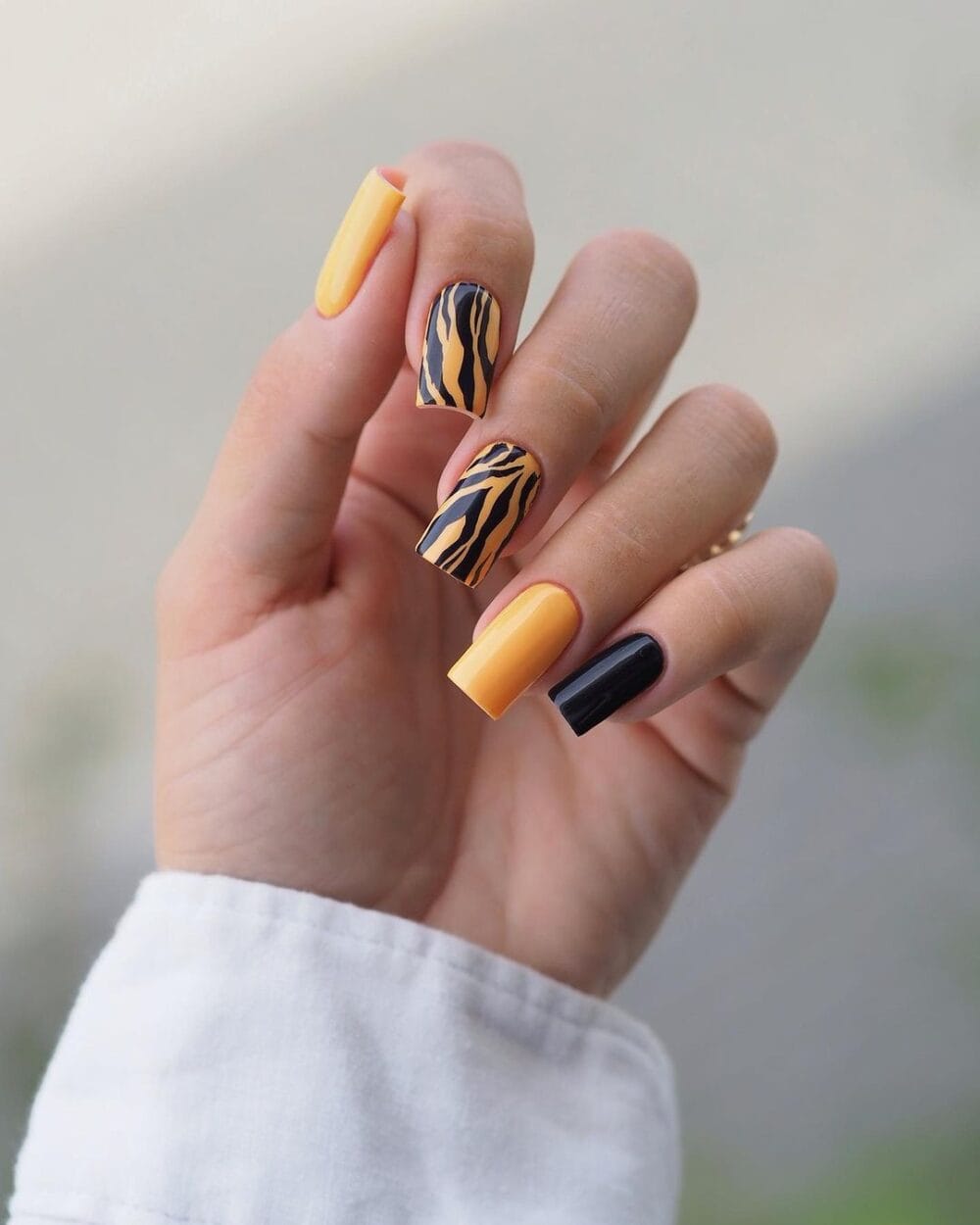 Photo: @magdula.es
Make a bold statement this fall with these vibrant orange and black zebra nails. They're fierce, trendy, and perfect for those who love to stand out.

Matte Blue Nails with Floral Accents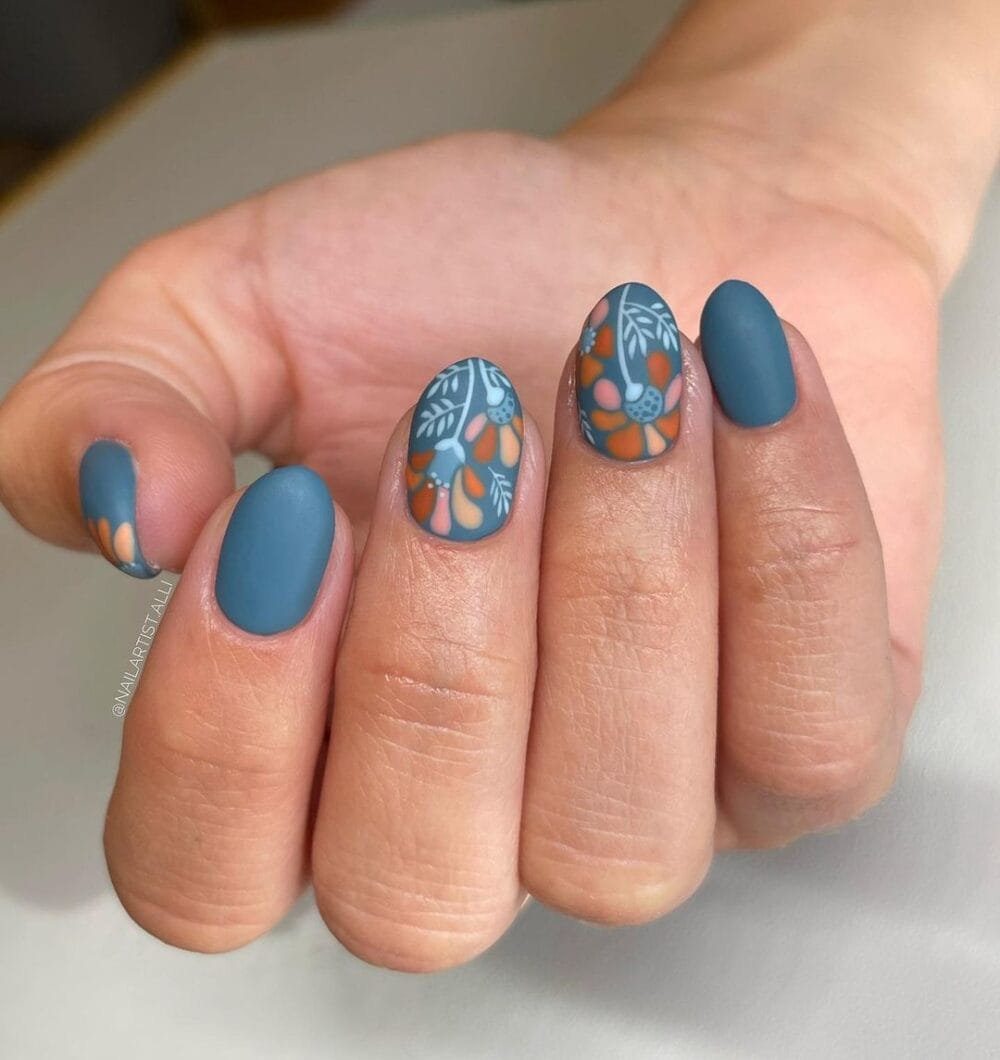 Photo: @nailartist.alli
These matte blue nails adorned with delicate floral accents are like a tranquil garden in the heart of fall. They bring a touch of nature to your fingertips.

Burnt Orange Tips and Flowers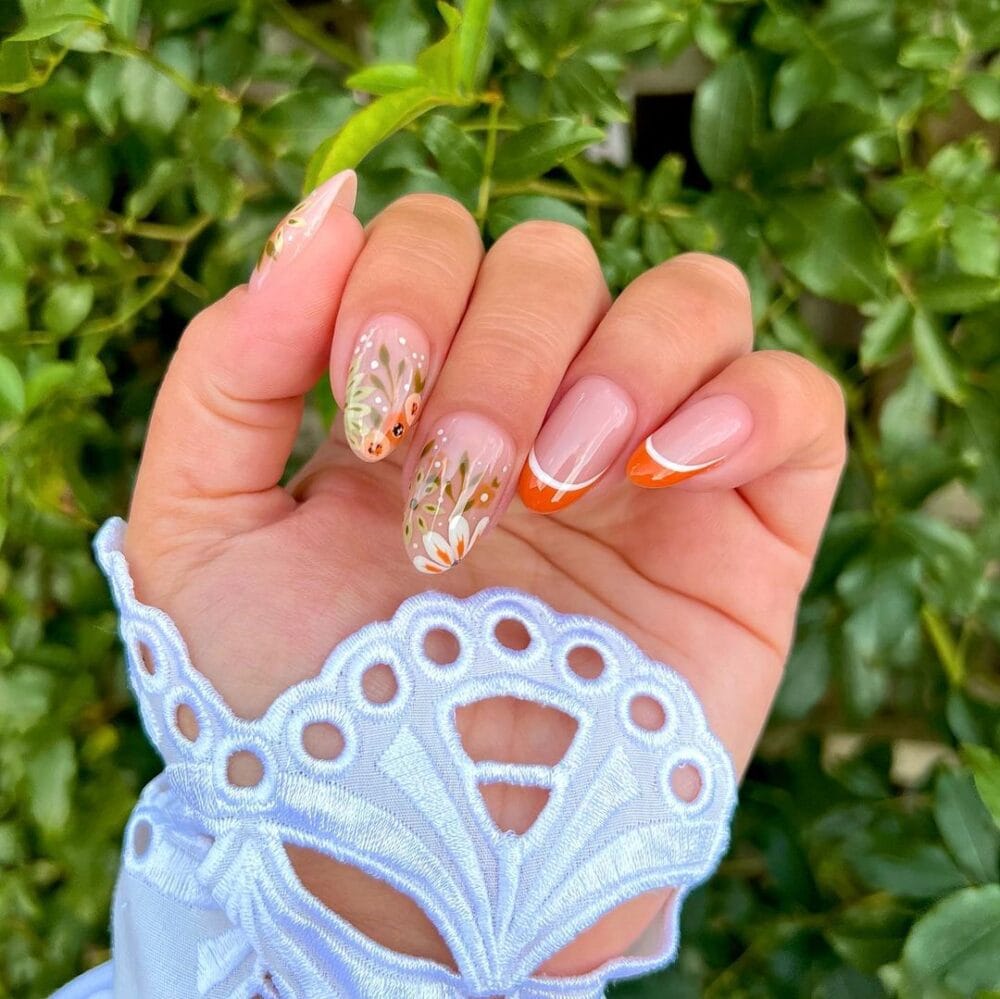 Photo: @queenbcreative_
Indulge in the warm, cozy vibes of autumn with burnt orange tips and charming floral decorations. It's like a fall garden party on your nails.

Black Abstract Swirl Nails
Photo: @drigotbars
For those who appreciate abstract art and minimal nails, these black abstract swirl nails are a masterpiece. They add a touch of intrigue and mystery to your fall manicure.

Muted Colors and Abstract Nail Art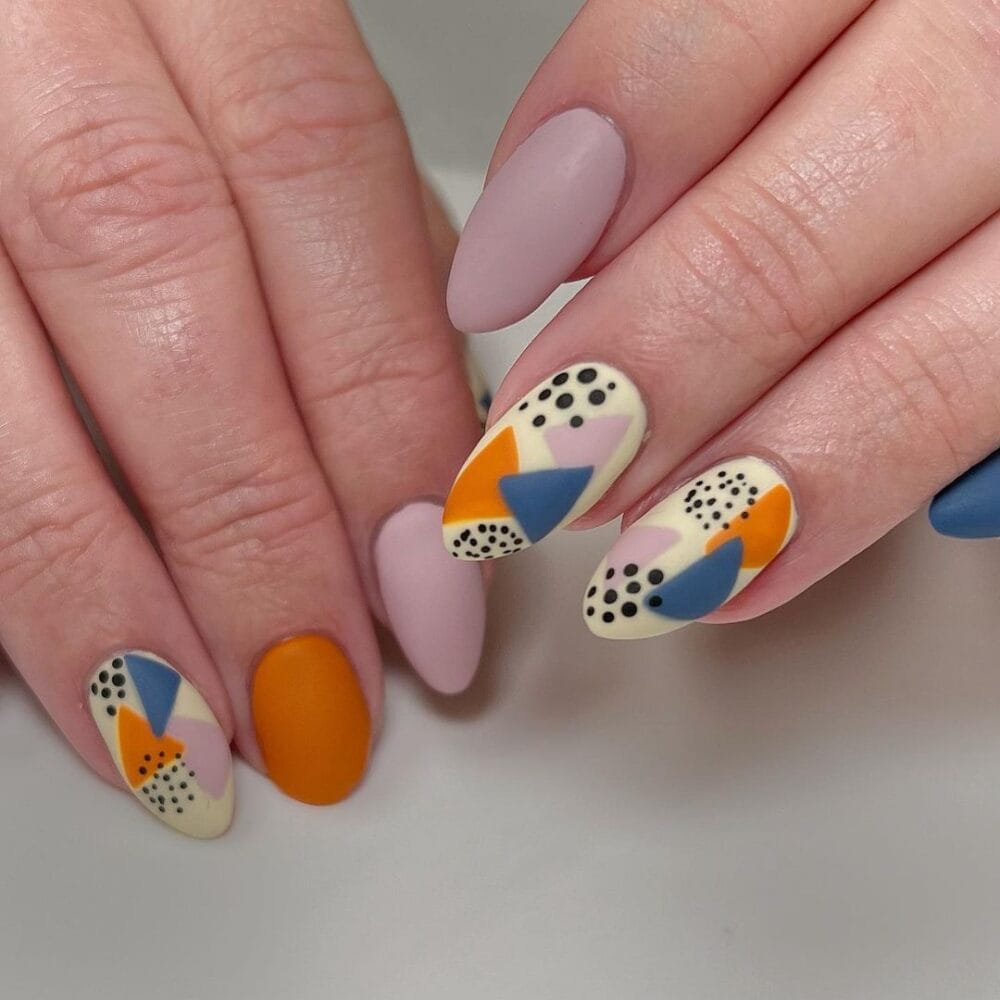 Photo: @nailsbymlh
Step into the world of creativity with muted colors and abstract nail art. These nails are a canvas of self-expression, perfect for the artistic soul.

Mix and Match Fall Nails with Flower Accents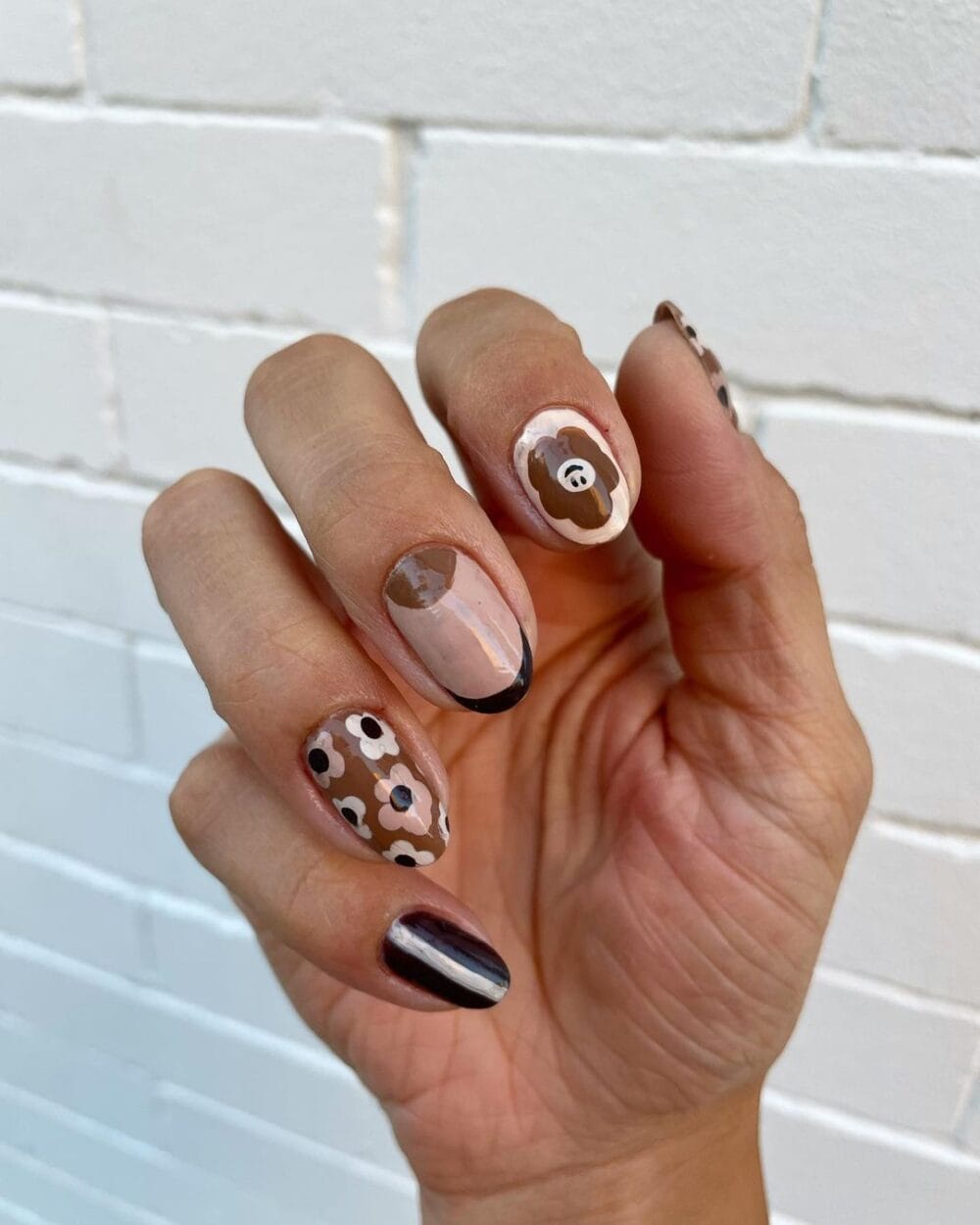 Photo: @canipaintyournails
Why settle for one design when you can mix and match? These brown fall nails featuring charming flower accents are a delightful blend of autumn vibes.

Brown Shimmer Nails
Photo: @nailbastion
Elevate your fall look with brown shimmer nails that glisten like autumn leaves in the sunlight. They add a touch of elegance to your style.

Chocolate Glazed Donut Almond Nails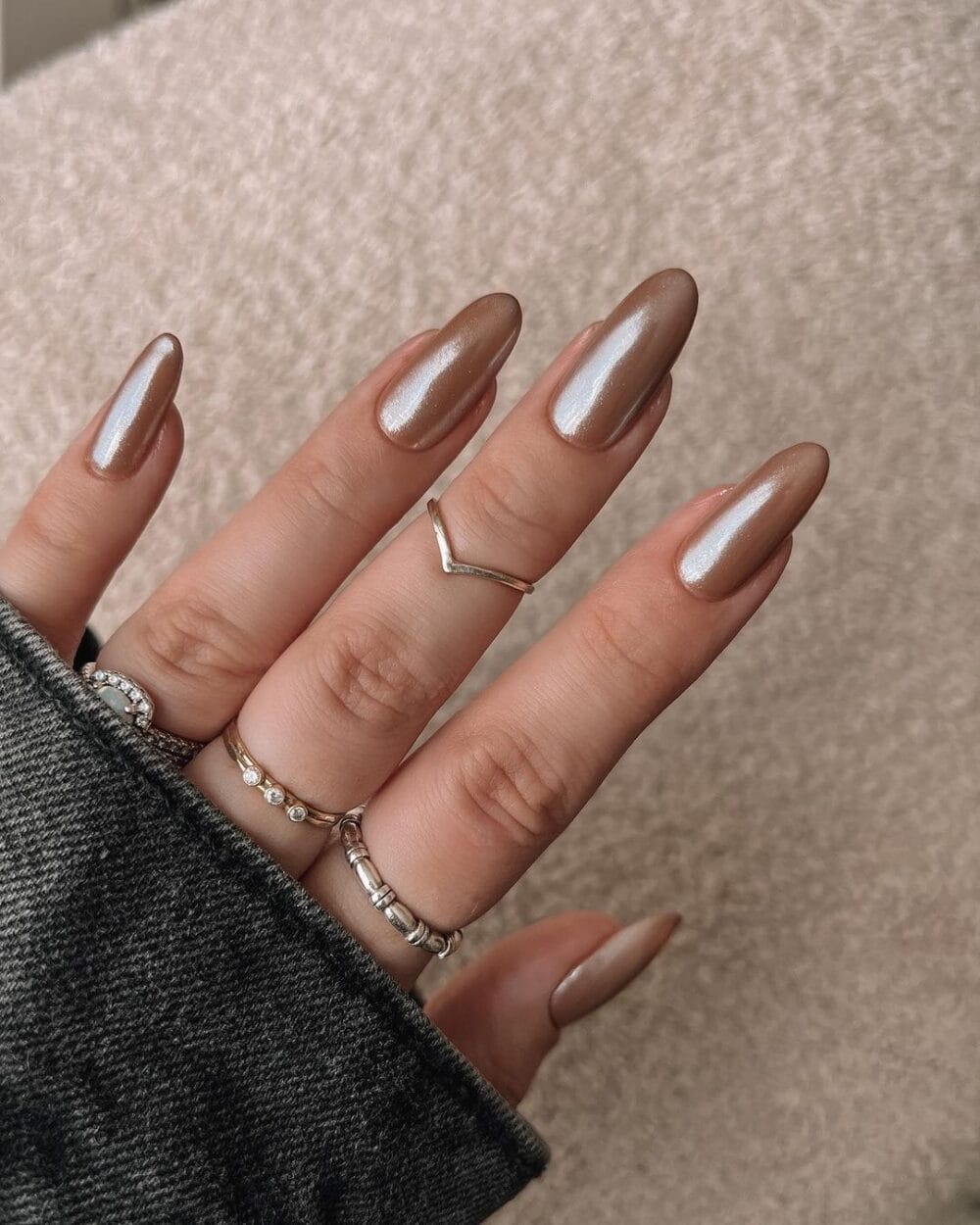 Photo: @style.by.nayla
Indulge your sweet tooth and your love for fall with these chocolate glazed donut almond nails. They're as irresistible as your favorite autumn treat.

Fall-Themed Winnie The Pooh Nails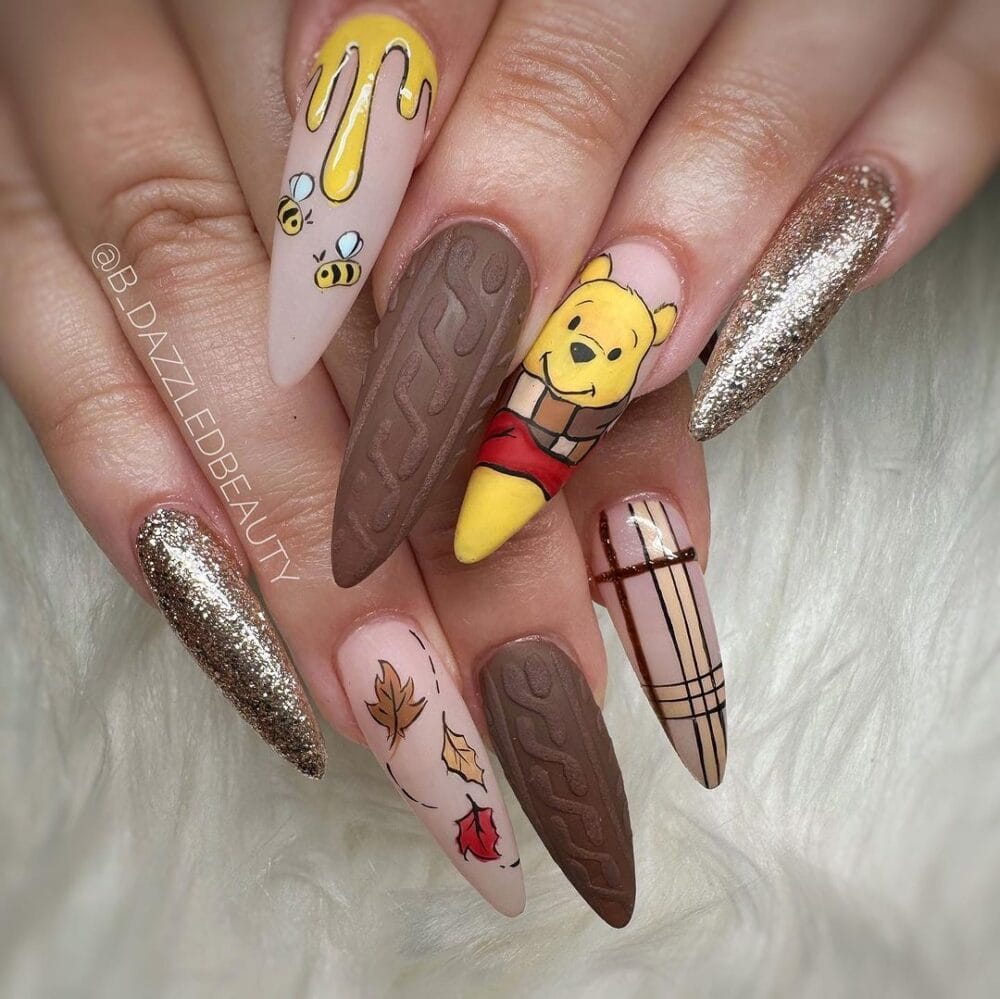 Photo: @b_dazzledbeauty
Celebrate the whimsy of fall with Winnie The Pooh-themed nails. These adorable designs are perfect for adding a touch of nostalgia to your look.

Checkered Fall Nails with Smiley Flowers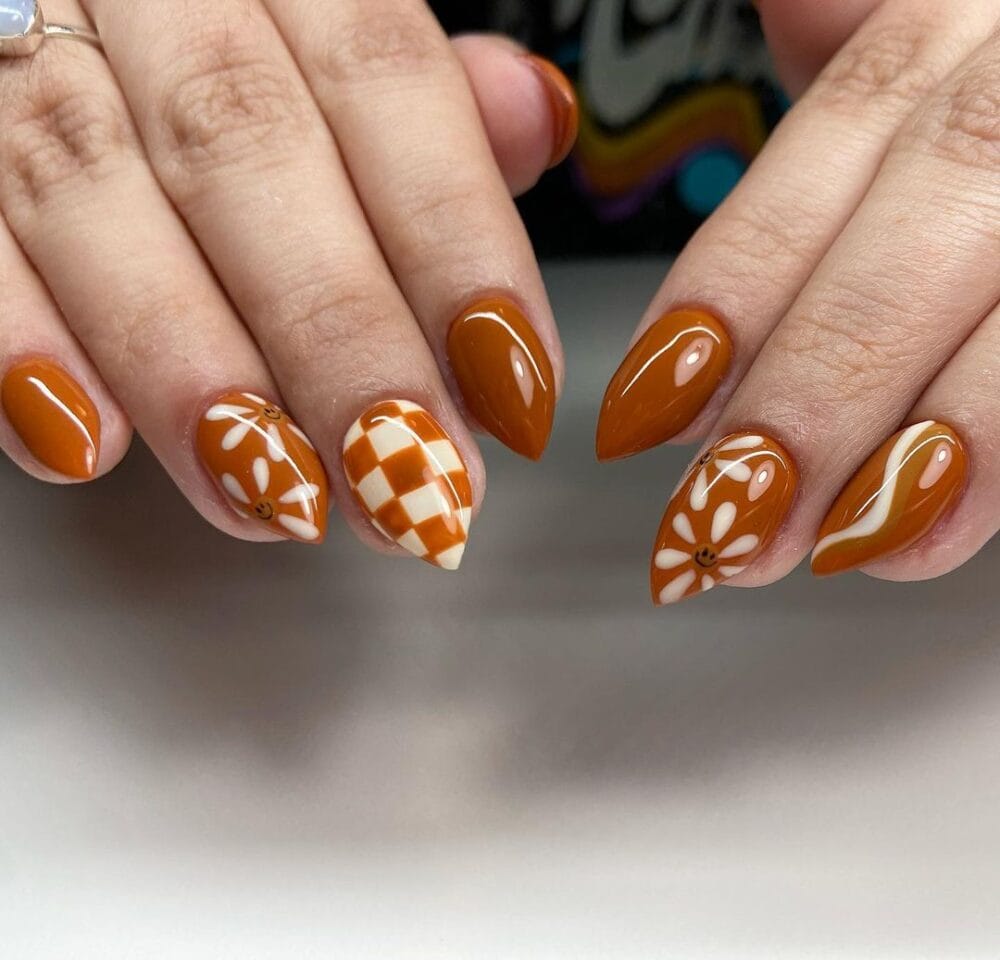 Photo: @bmb_nails
Embrace the playful side of autumn with checkered fall nails featuring cheerful smiley flowers. They're a burst of happiness for your fingertips.

Animal Print Nails with Purple Blobs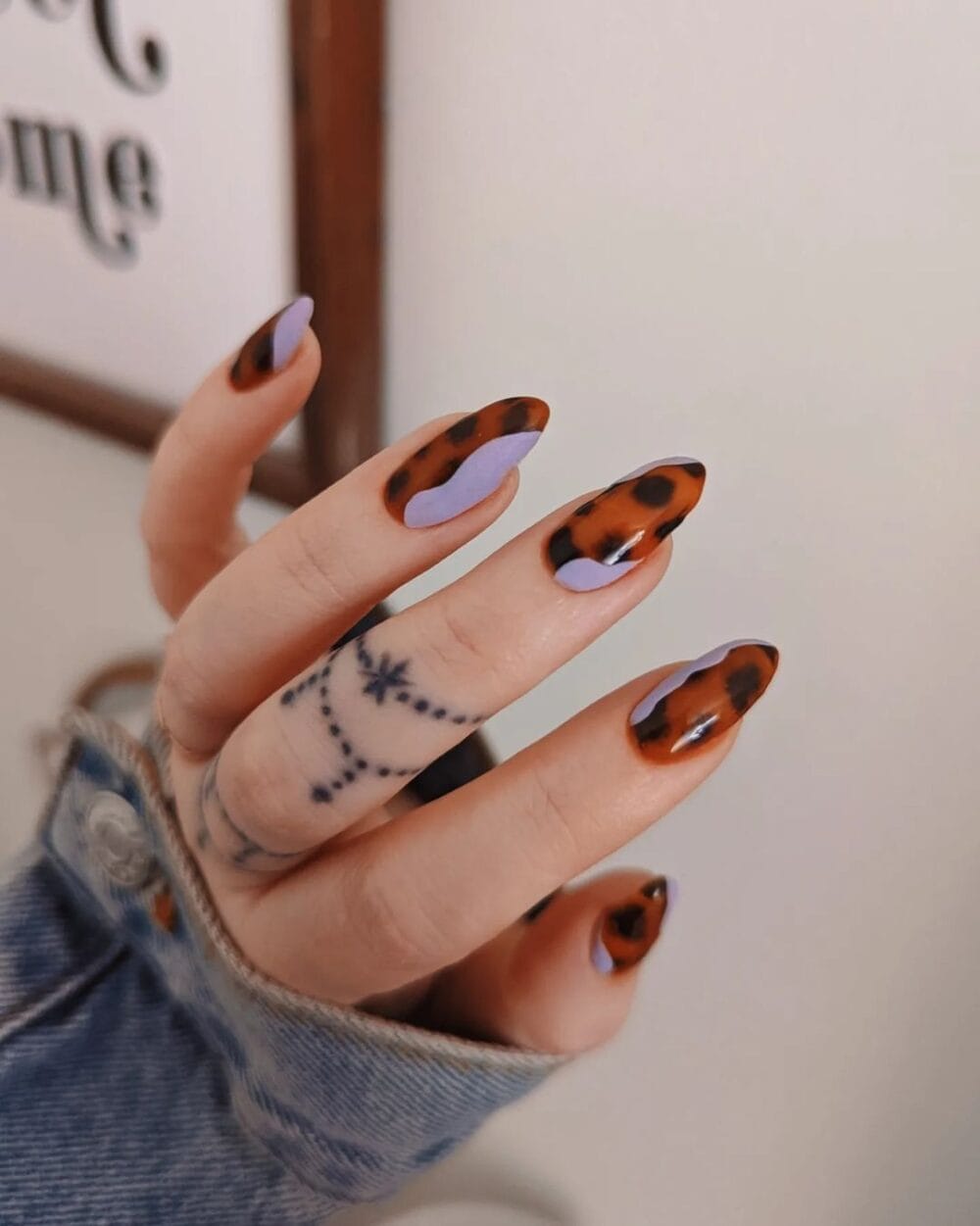 Photo: @laurel.and.ives, Nail Artist: @justinenailqueen
Transition smoothly from summer to fall with these stylish leopard/tortoise shell nails adorned with playful purple blobs. It's like a fashionable journey through the seasons.

Fall Skittle Nails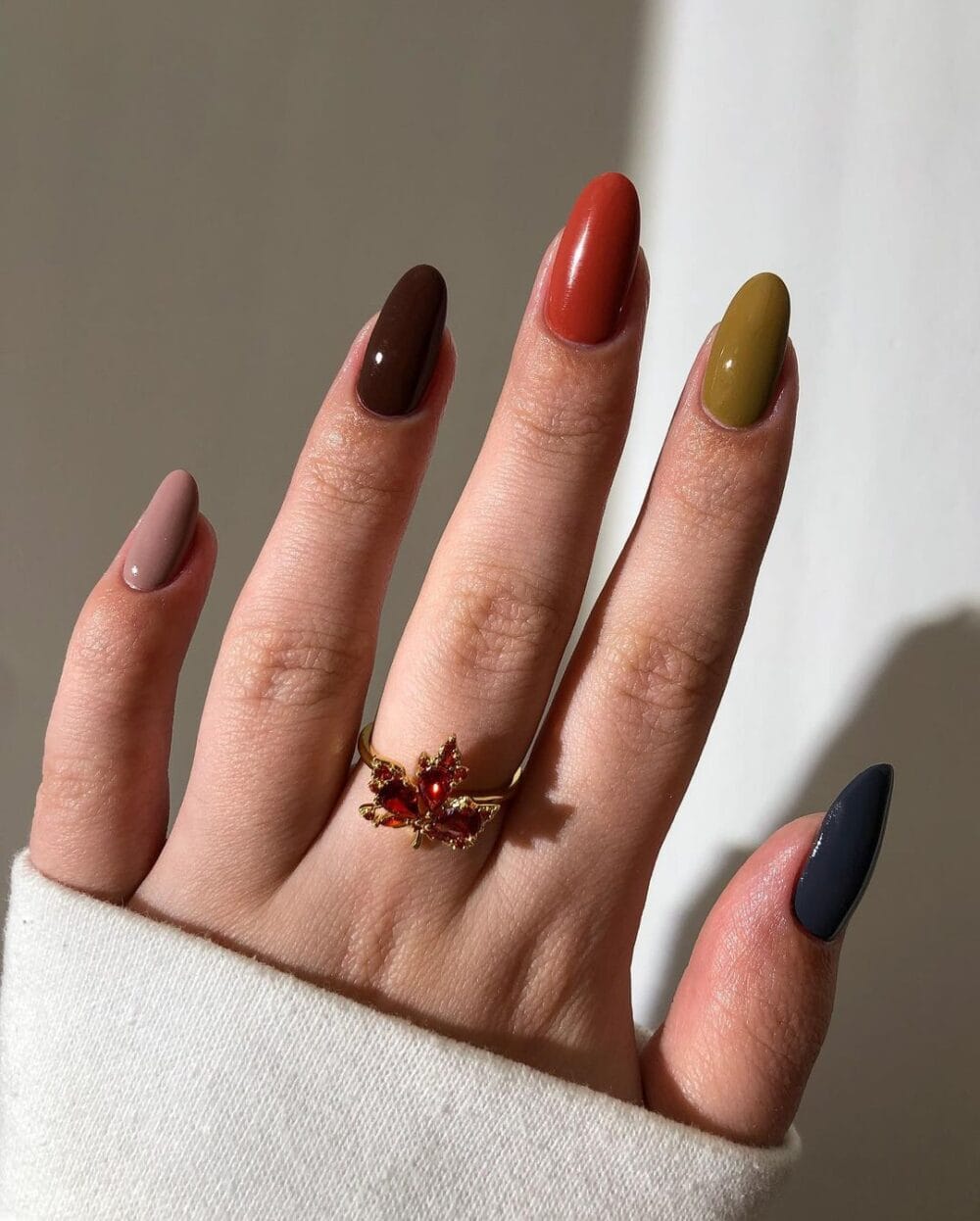 Photo: @des.tinationnails
Fall skittle nails offer a delightful mix of autumn hues, making them perfect for those who can't pick just one fall color. It's a mini rainbow of seasonal beauty.

Related: 20+ Casual Fall College Girl Outfit Ideas for This Year

Muted Colors with Fun Patterns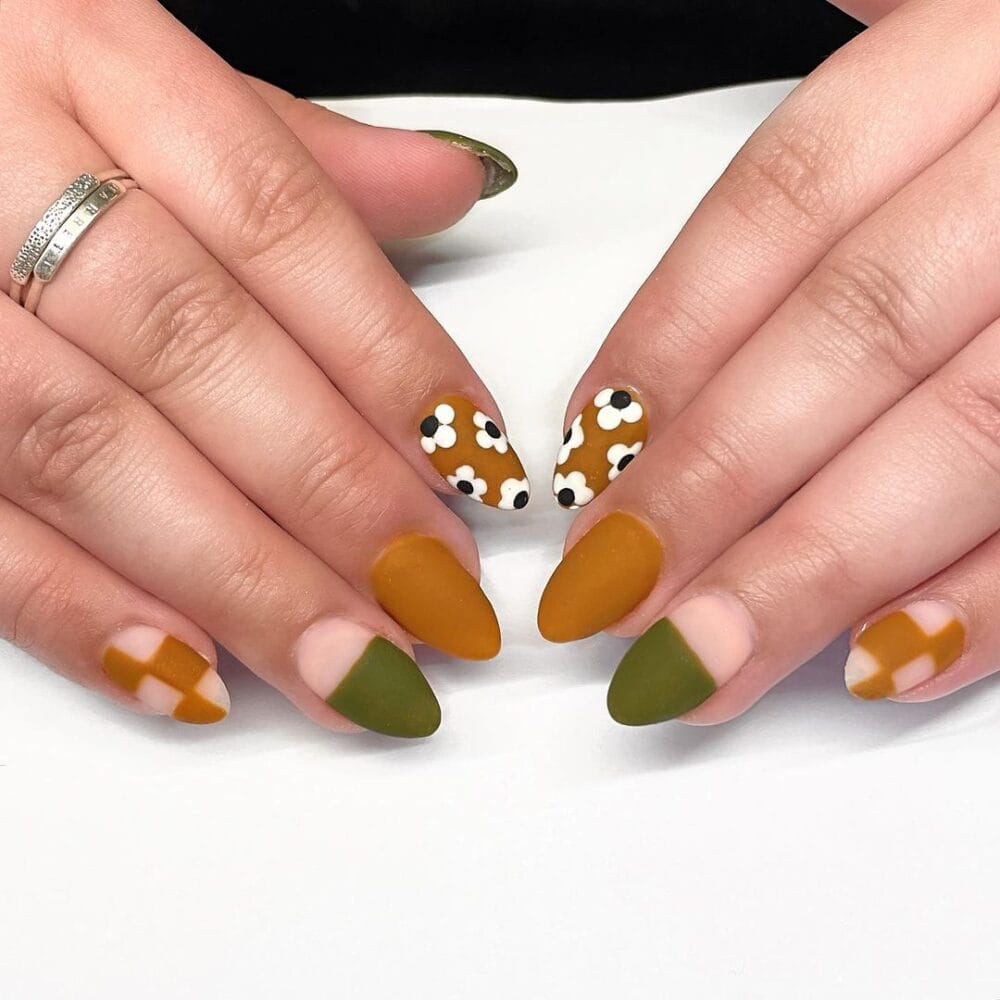 Photo: @polishmepretty_byalexa
Combine muted fall colors with fun patterns to express your unique style. These nails are a playful canvas for your creativity.

Subtle Mix and Match Nails with Smiley Faces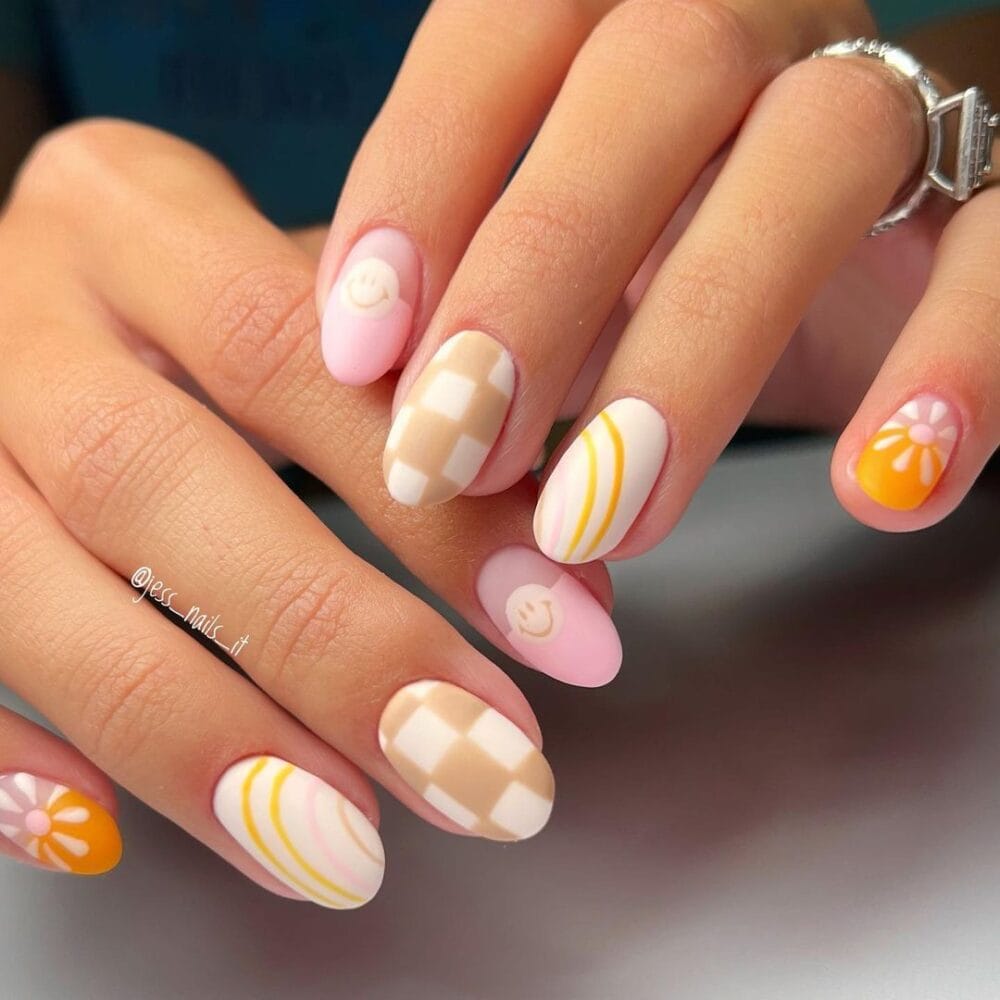 Photo: @jess_nails_it
Inject some subtle fun into your fall nails with mix and match designs featuring adorable smiley faces. They're sure to brighten your day.

Earthy Tones with Hearts
Photo: @asprettyas_nailsbykelly
Embrace the earthy beauty of fall with nails adorned with charming hearts. These nails are a heartfelt expression of the season.

Olive Green Abstract Nails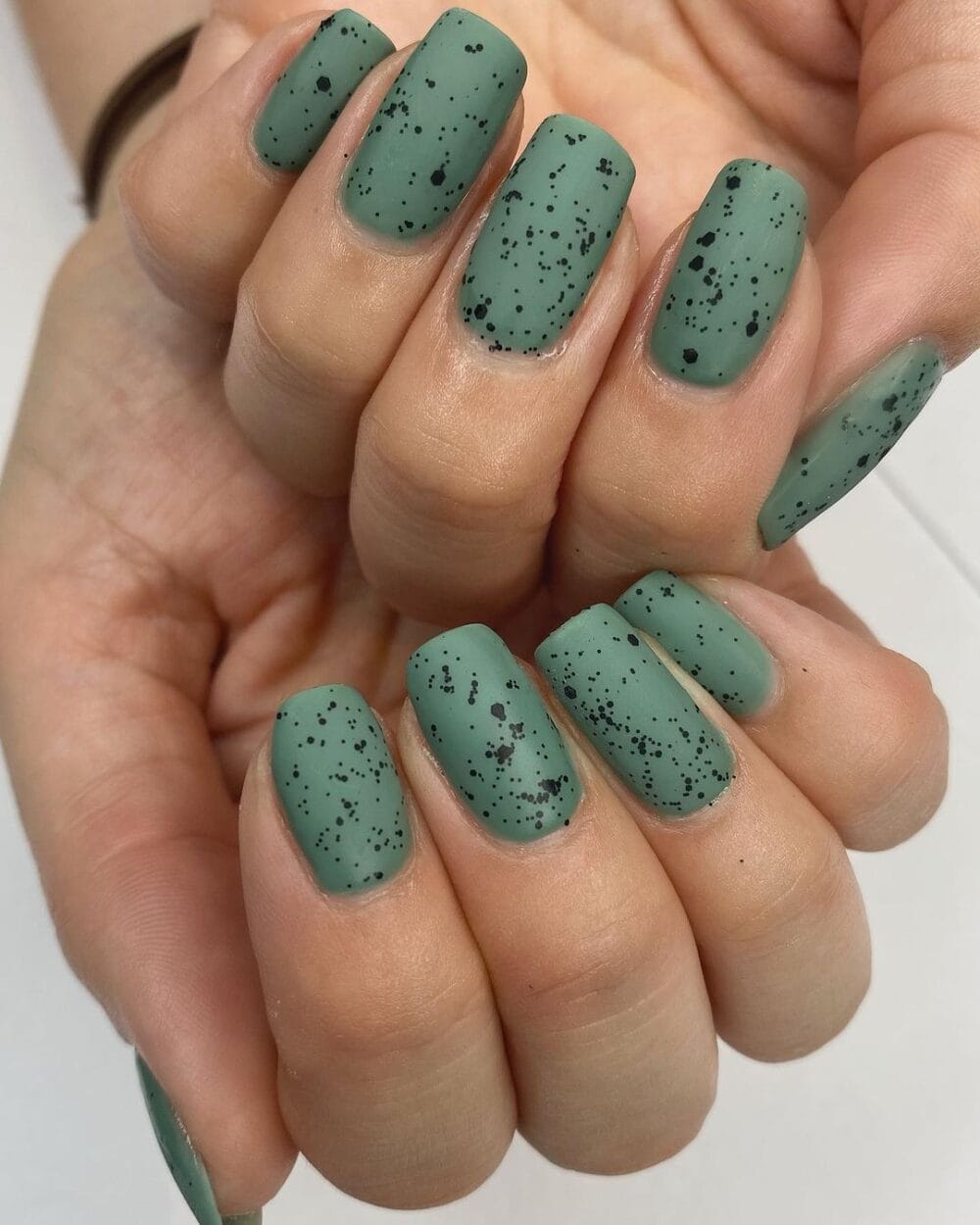 Photo: @paintbrushnails
Let your nails become a work of art with olive green abstract designs. They capture the essence of fall's creativity and natural beauty.

Nude Nails with Brown Chrome Leaves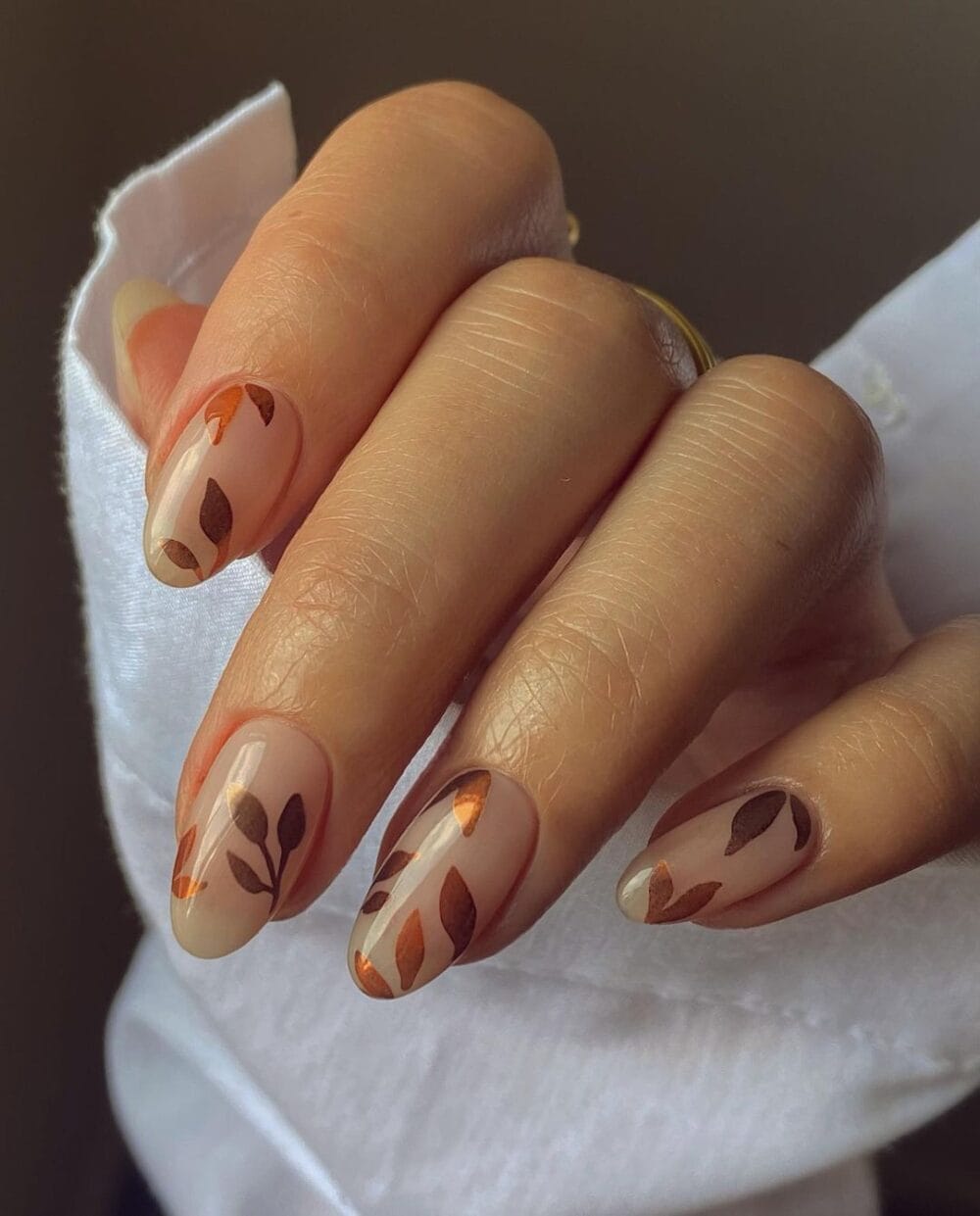 Photo: @nail_blisss_
Elevate your fall look with nude nails featuring intricate brown chrome leaves. It's a delicate nod to the changing foliage.

Grey Glitter, Matte and Gloss Combo Nails
Photo: @gelmynails1
Add a touch of glamour to your fall nails with this grey glitter, matte, and gloss combo. They're a versatile choice for any autumn occasion.

Blue Nails with Maple Leaves and Foxes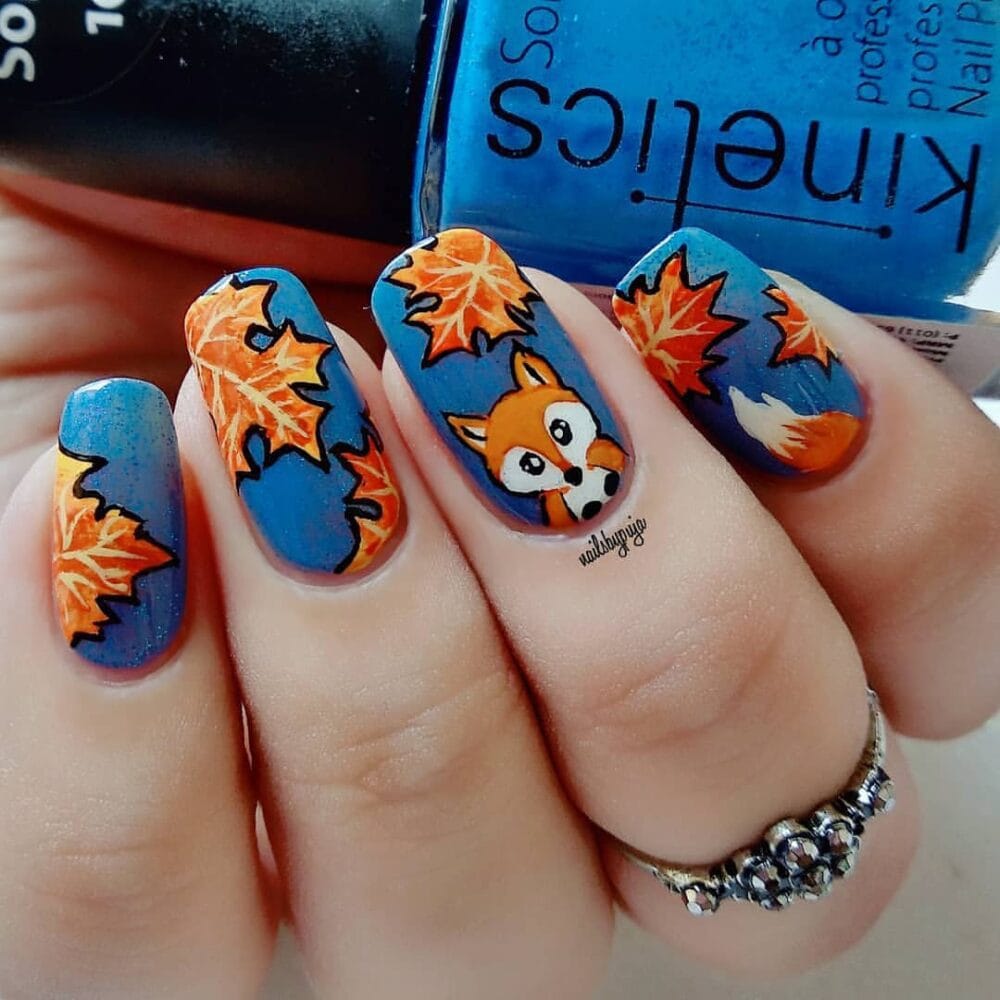 Photo: @nailsbypuja
Celebrate the whimsy of fall with blue nails featuring playful maple leaves and adorable foxes. They're a cute and cozy addition to your manicure.

Oval Nails with Colorful Autumn Tips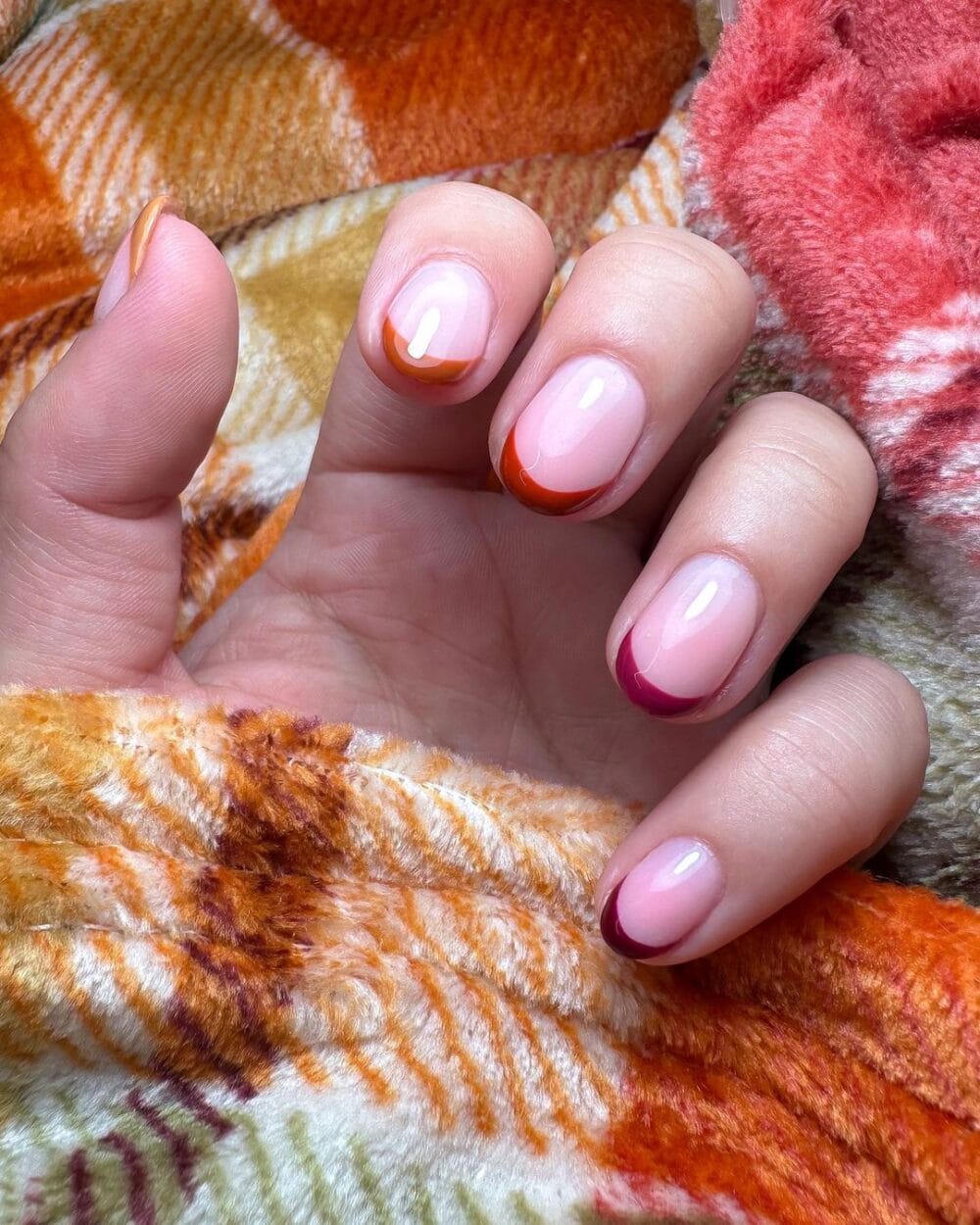 Photo: @sr.beauty__
These oval nails with colorful autumn tips are like a canvas of fall's vibrant hues. They're perfect for those who want a pop of seasonal color.

Liquorice Nails
Photo: @samantharudge.beauty
Embrace the dark and sweet side of fall with liquorice-inspired nails. They're mysterious, stylish, and utterly enchanting.

White Nails with Black Outline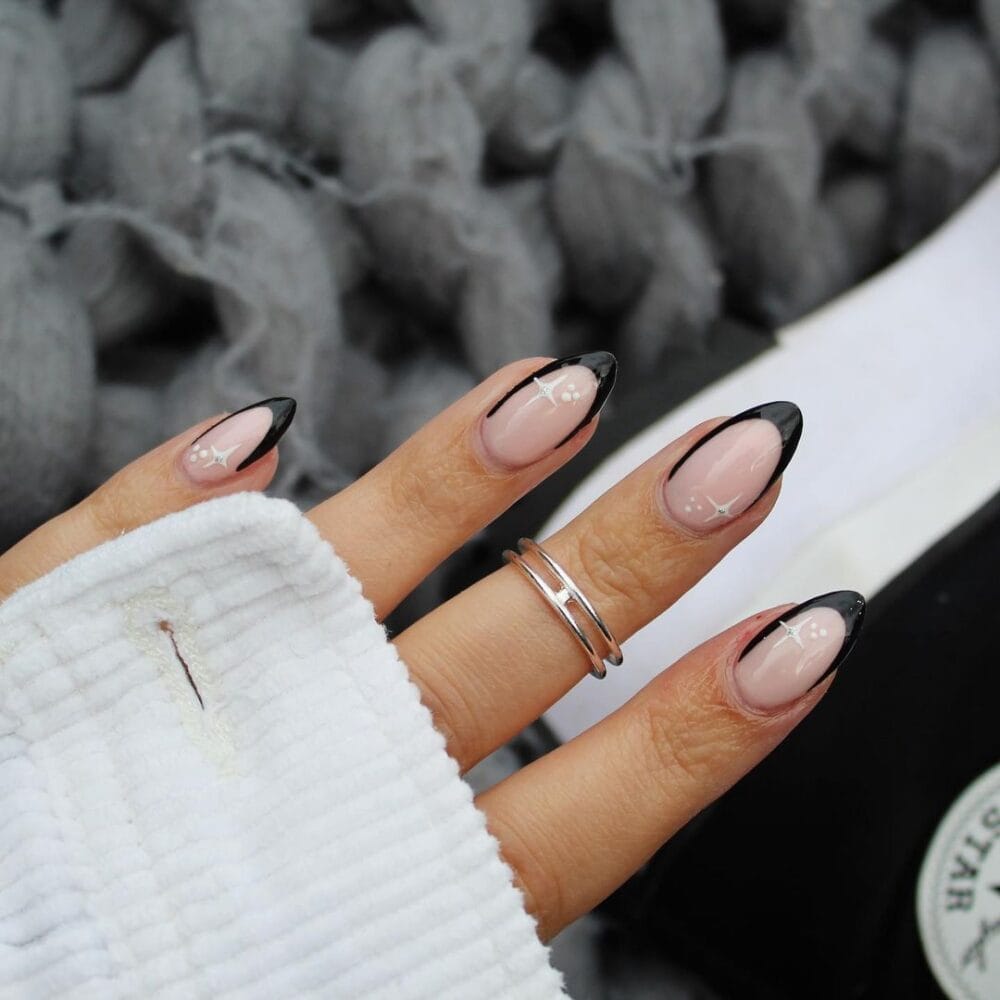 Photo: @thenailroombygee
Achieve a minimalist yet striking autumn look with white nails featuring a bold black outline. It's a modern and edgy take on fall nails.

Dark Chocolate Nails
Photo: @beautybybethsmith
Dive into the rich and indulgent beauty of fall with dark chocolate nails. They're as decadent as a warm cup of cocoa on a crisp autumn day.

Square Nails with Colorful Fall Tips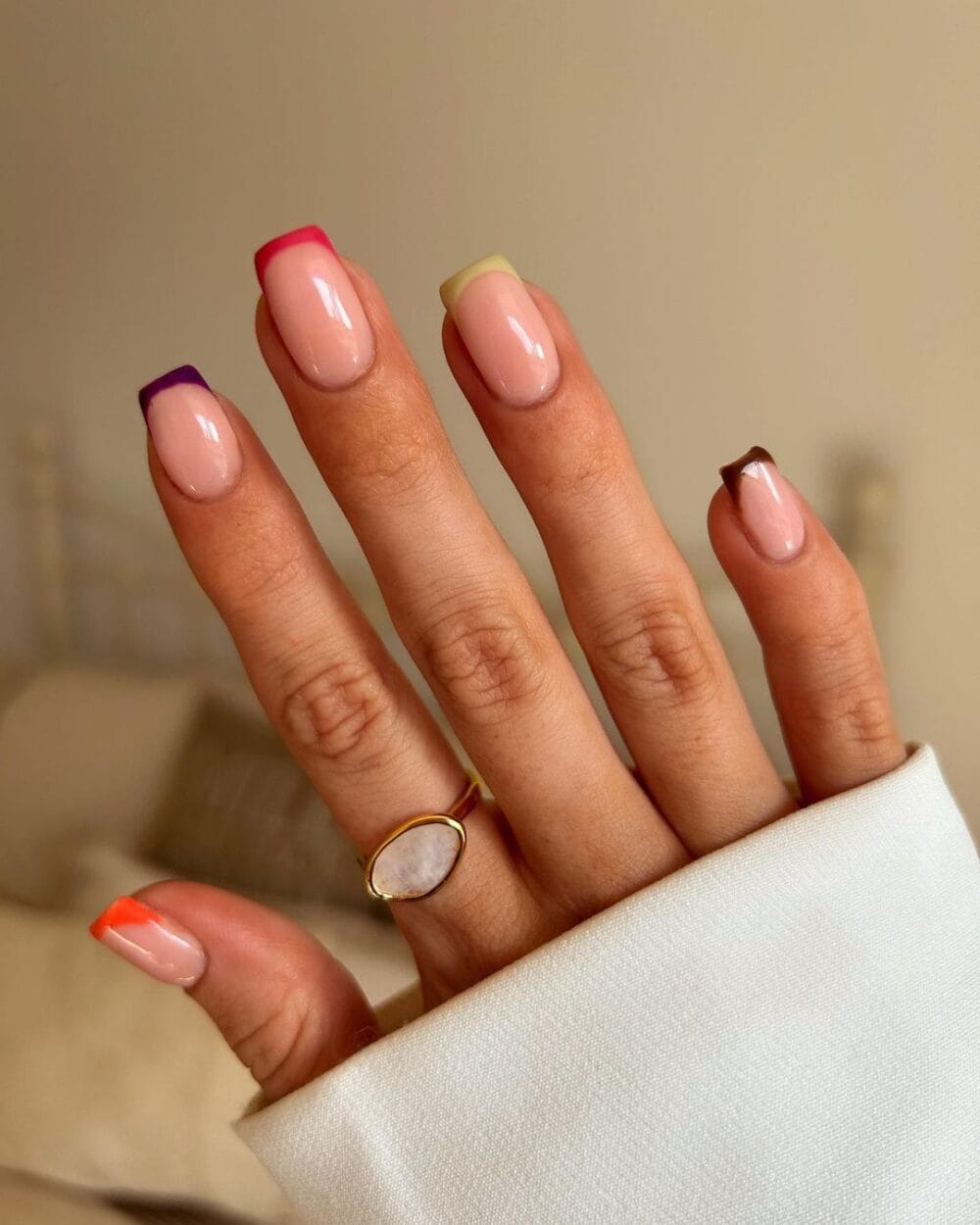 Photo: @lillypalm__
Capture the beauty of fall with these square nails featuring colorful fall tips. They're like a fun walk through an autumn forest.

Square Chocolate Glazed Donut Nails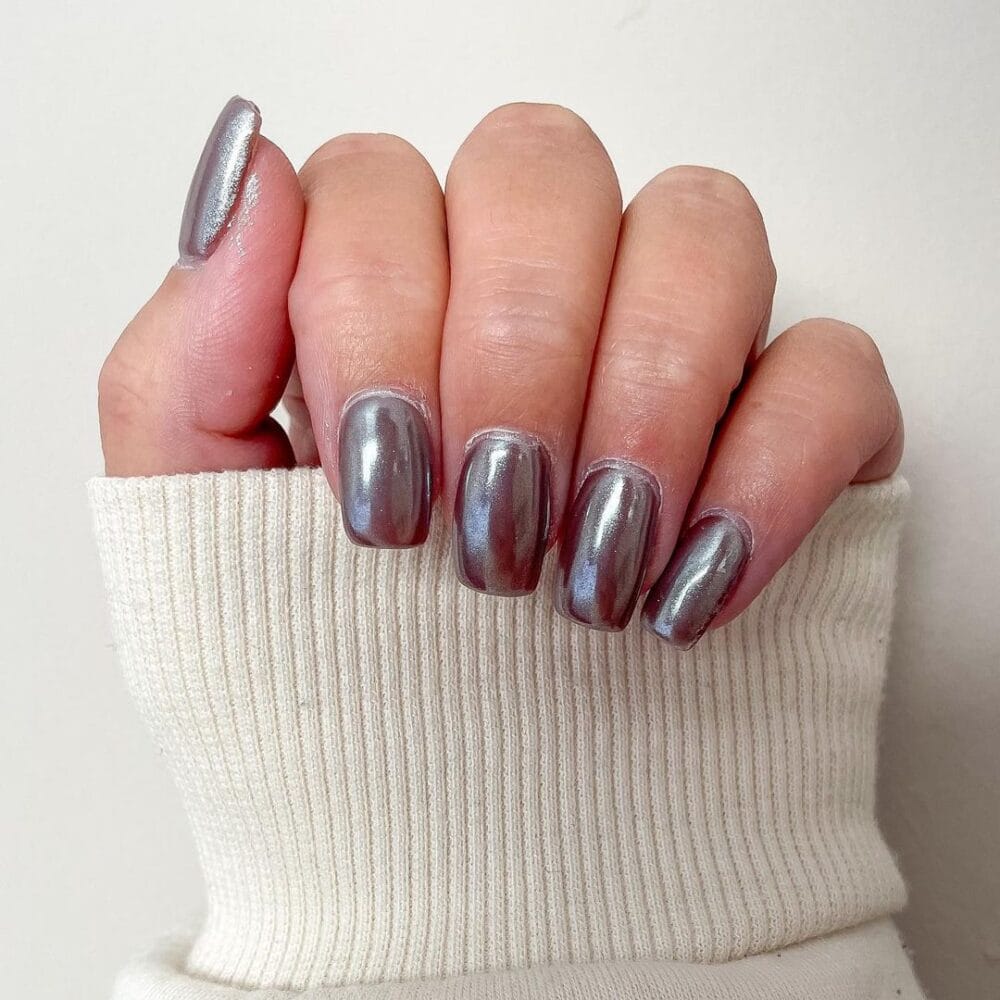 Photo: @kayleylewis_
Indulge in the sweet temptation of square chocolate glazed donut nails. They're a delicious treat for your fingertips.

Orange French Tips with Black Stripes
Photo: @jenski.nails
Elevate your classic French tips with a touch of autumn charm and stylish stripes. These nails are a chic twist on a timeless look.

Funky Brown French Tips, Flowers and Hearts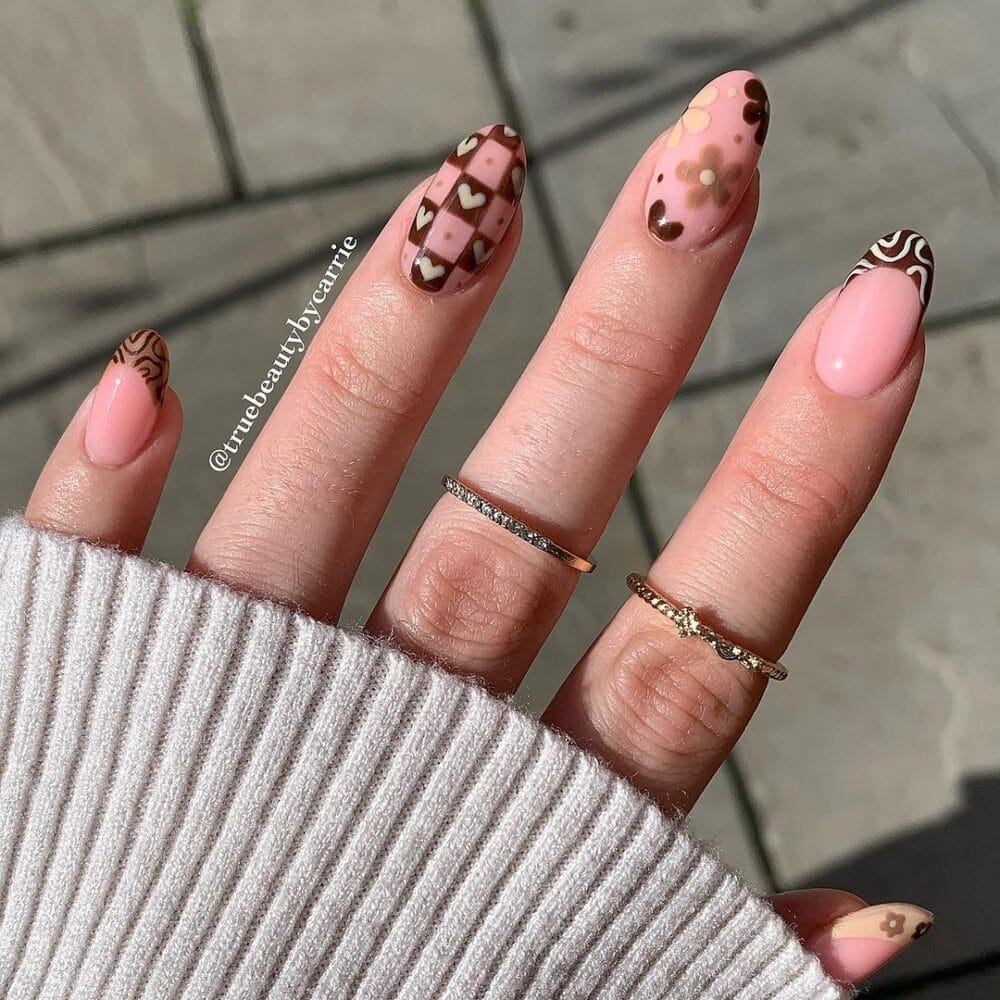 Photo: @truebeautybycarrie
Embrace the funky side of fall with brown French tips adorned with playful mix and match, featuring flowers, hearts, and swirly french tips. They're a burst of creativity for your nails.

Light Olive Green Nails
Photo: @hayleylarue
Capture the serene beauty of fall with light olive green nails. Muted and earthy colors are perfect for autumn!

Black Nails with a Twist
Photo: @bysarahnailartist
Go beyond the ordinary with black nails that have a unique abstract nail art twist. They're a daring and fashionable choice for fall.

Green Sweater Nails with Plaid and Hearts Pattern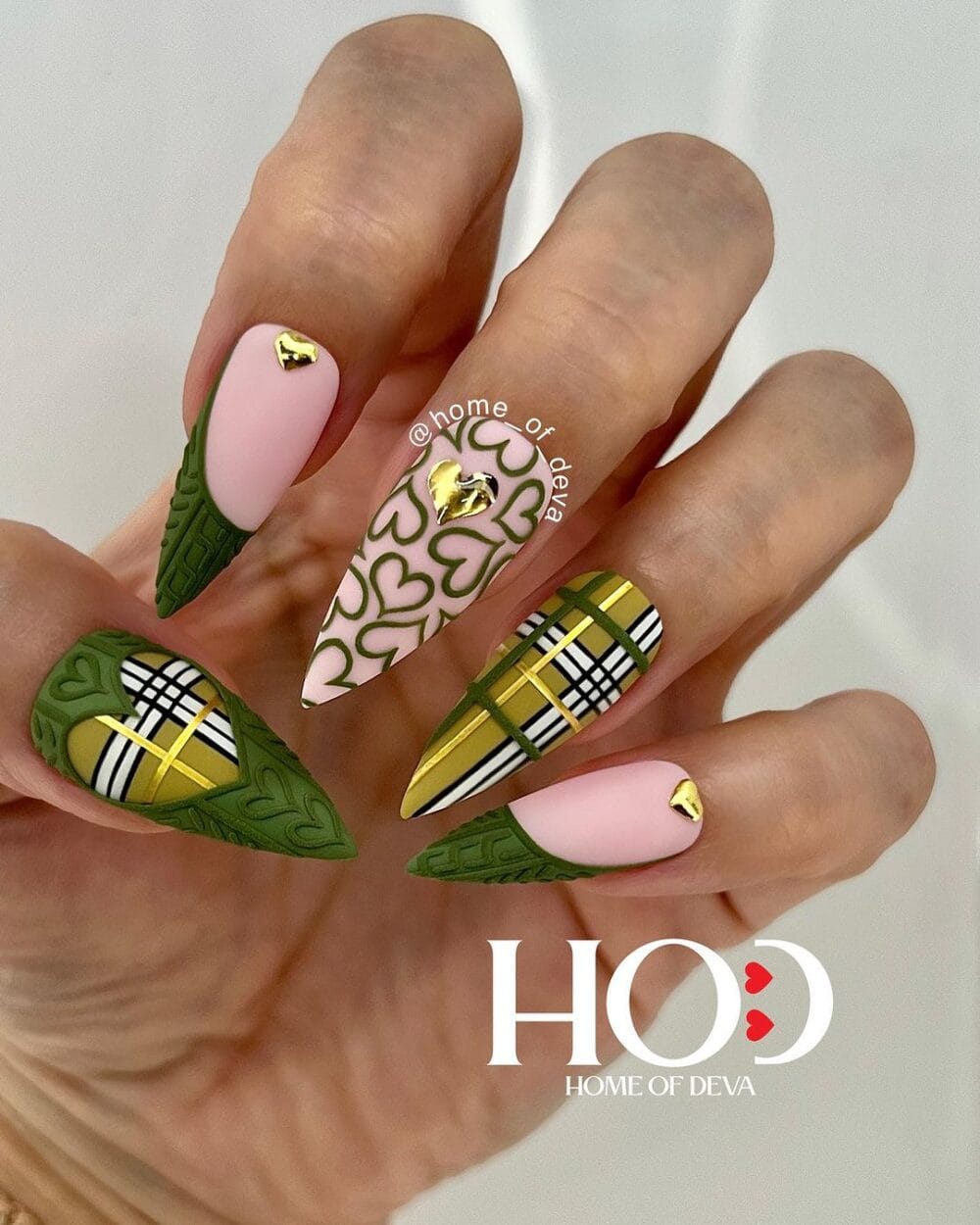 Photo: @home_of_deva
Cozy up to fall with green sweater nails featuring a charming plaid and hearts pattern. They're like wearing your favorite fall sweater on your fingertips.

Autumn Skittle Nails with Flowers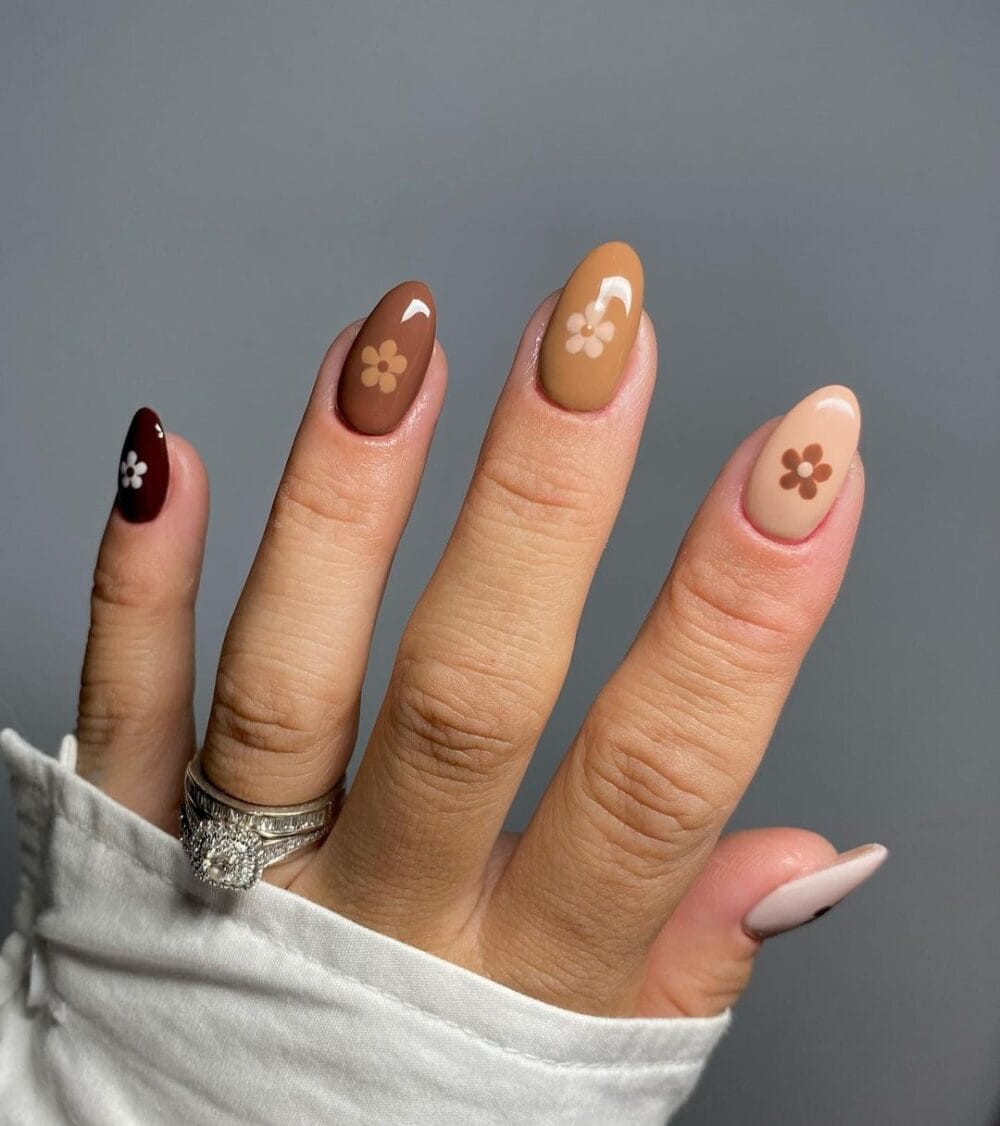 Photo: @beautique_kent
Embrace the spirit of autumn with all the brown shades on your skittle nails, decorated with cute little flowers. They're a cheerful celebration of the season.

Mix and Match Nails featuring Checkers and Bandana Pattern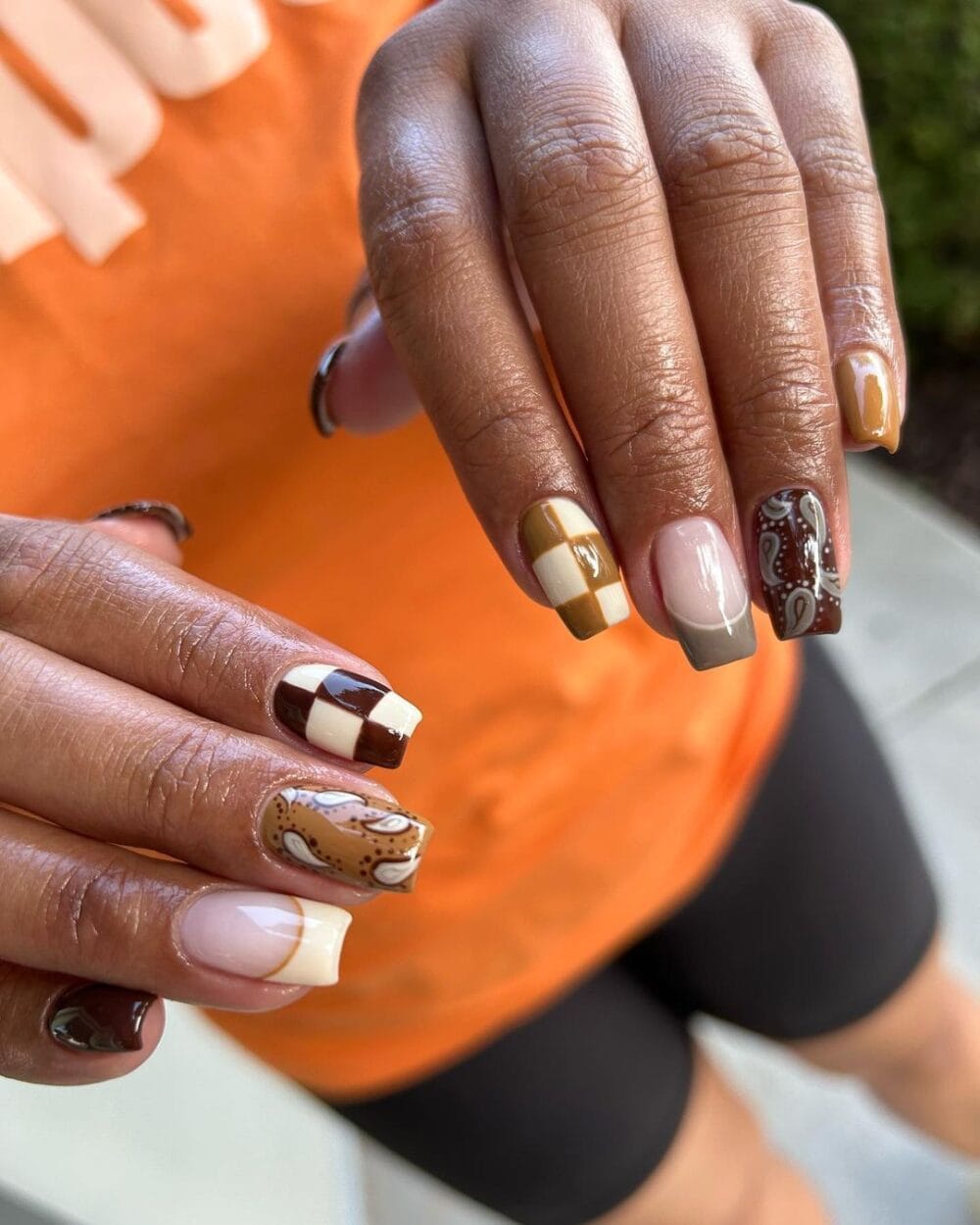 Photo: @lulusxnails
Unleash your inner fashionista with mix and match nails featuring checkers and bandana-inspired designs. They're a trendy nod to fall style.

Leafy Autumn Wallpaper Nails
Photo: @melous_nails
Transform your nails into a work of art with autumn wallpaper-inspired designs. They're like carrying a piece of leafy fall beauty with you wherever you go.

Orange Nails with White Flowers
Photo: @sonyas.nails
Add a touch of brightness to your fall nails with orange shades and delicate white flowers. They're a graceful expression of fall's beauty.

Mix and Match Nails in Fall Colors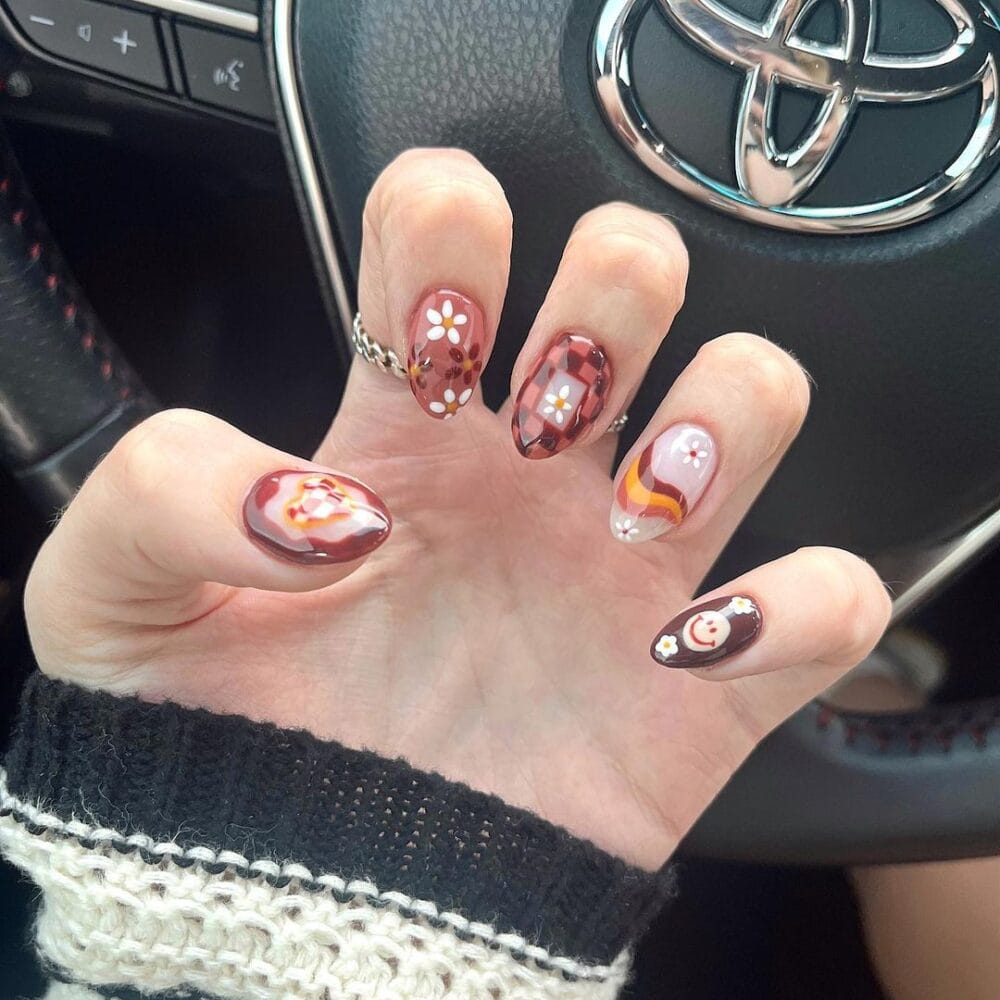 Photo: @katiebelles_nails
Get ready to mix, match, and smile with these playful fall nails! Bursting with the vibrant hues of the season, these nail art designs feature cheerful smiley faces, blooming flowers, and an array of delightful patterns.

Pumpkin Spice Latte Fall Nail Art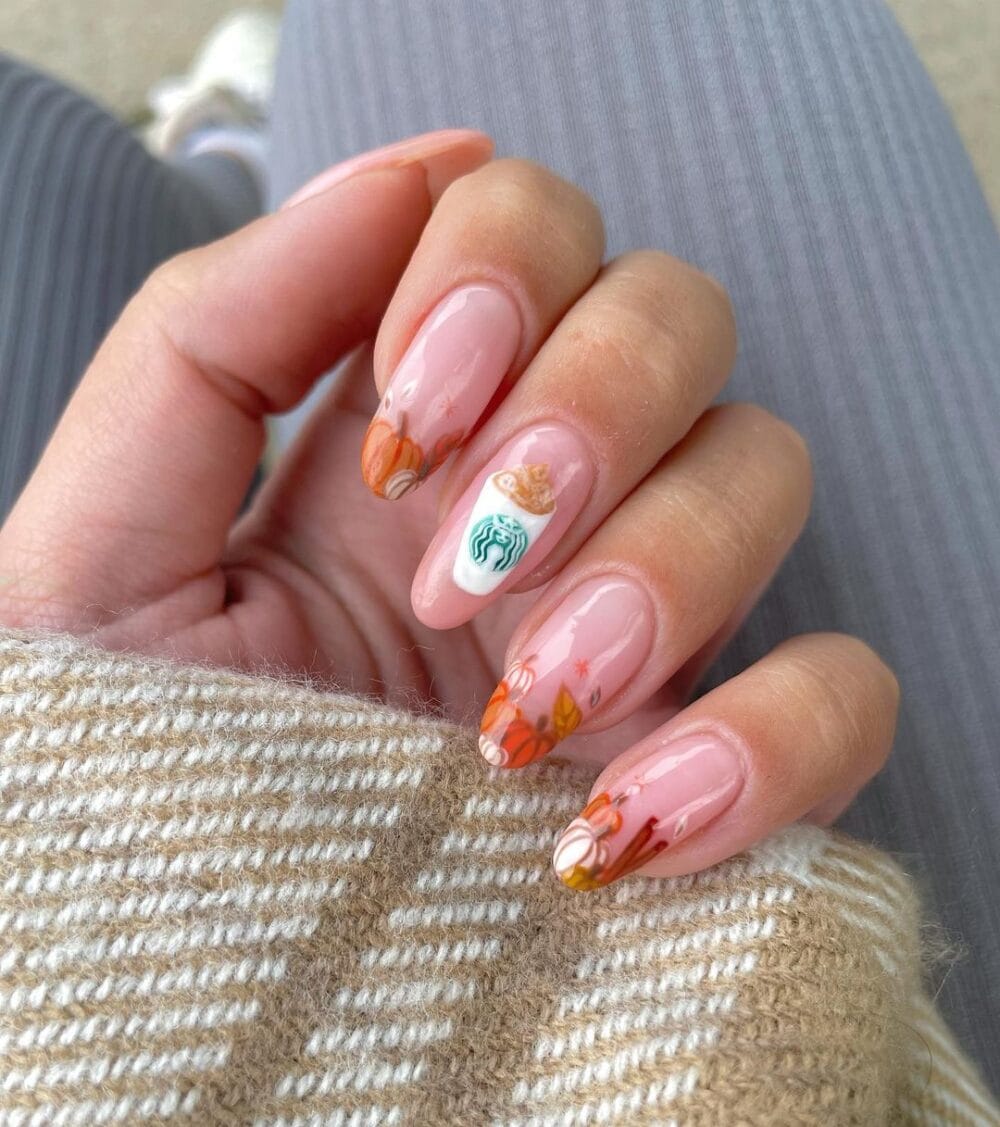 Photo: @naileditbeauty
Embrace the autumn vibes with these stunning almond-shaped nails, featuring cozy pumpkin and fall leaves patterns and adorable pumpkin spice lattes that capture the essence of fall in the most stylish way.

Related: 40+ Hottest Summer Nail Designs You Must Try This Year

That's a Wrap!
As we wrap it up on the best fall nail ideas 2023, it's clear that your nails can be more than just an accessory – they can reflect the season's unique charm.
With a palette of earthy tones and playful patterns at your disposal, your fingertips can tell a cozy and colorful story.
With so much fall nail design inspiration and different ideas, you're ready to craft a manicure that embodies the spirit of fall. Happy autumn everyone!