This post may contain affiliate links, which means I'll receive a commission if you purchase through my links, at no extra cost to you. Please read our full disclosure for more information.
Apple cider vinegar is an unassuming kitchen staple that might just be the multitasking hero you've been looking for.
From salad dressings to home cleaning hacks, apple cider vinegar has many uses that are as practical as they are genius.
Let's take a look at some of the wonderful ways to use apple cider vinegar for beauty as well as in the household.

Share on Pinterest:

Shop ACV here:

Using Apple Cider Vinegar in Your Skincare Routine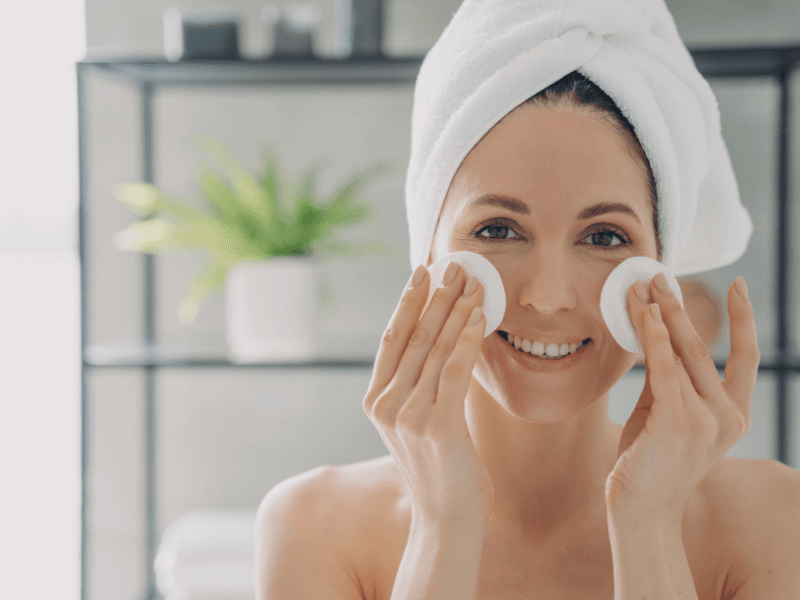 Ready to step up your skincare game with apple cider vinegar?
This humble kitchen staple might just become your new beauty BFF. Let's take a look at how you can use apple cider vinegar in your beauty routine.
Balancing Toner: Your skin has a natural pH, and when it gets out of whack, issues like acne and oiliness can arise. Apple cider vinegar, with its slightly acidic nature, can help restore balance. Mix equal parts of water and apple cider vinegar to create a gentle toner. Apply it after cleansing and before moisturizing to prep your skin for the day ahead.
Goodbye Acne: Dealing with persistent pimples? Apple cider vinegar's antibacterial properties could be your secret weapon. Remember, though, that undiluted vinegar can be harsh on your skin. Always dilute it generously before use, and if you have sensitive skin, consider doing a patch test first.
Reduce Age Spots: Some folks claim that apple cider vinegar can help fade age spots and even out your skin tone. While research on this is limited, the natural acids in vinegar might have a mild exfoliating effect over time. Dilute it well, and apply with a cotton pad as a targeted treatment.
DIY Facial Steam: Treat yourself to a spa day at home with an apple cider vinegar facial steam. Boil some water, pour it into a bowl, and add a splash of apple cider vinegar. Drape a towel over your head and the bowl, and let the steam work its magic for about 5-10 minutes. It'll open up your pores and prep your skin for any subsequent treatments.

Related: 17 Foods You Should Eat If You Want a Flat Stomach

Apple Cider Vinegar: All-Natural Household Hero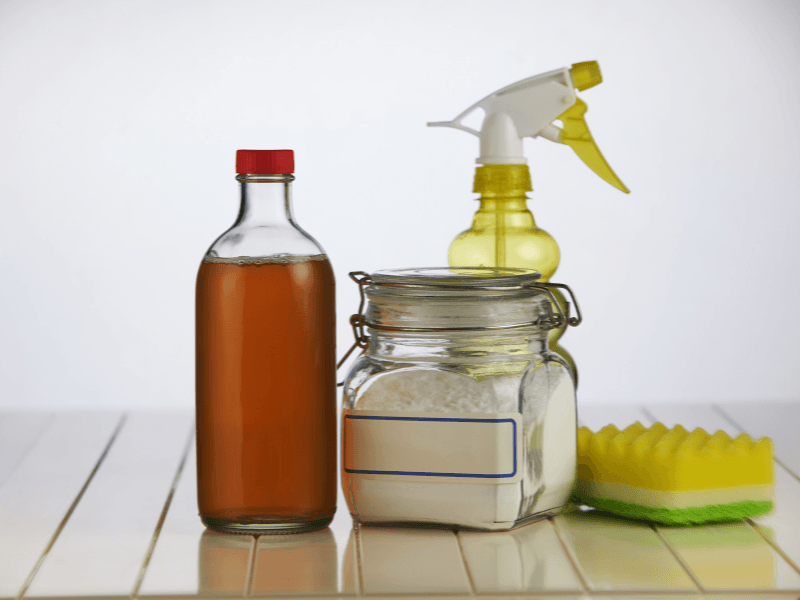 Did you know that apple cider vinegar isn't just a kitchen superstar? It can also work wonders in keeping your home clean and fresh.
The Ultimate All-Purpose Cleaner: Say goodbye to a cabinet full of cleaning products. Mix equal parts of water and apple cider vinegar, add a drop of dish soap, and a few drops of your favorite essential oil for fragrance. You've got yourself an effective, eco-friendly, all-purpose cleaner that's safe for most surfaces.
Deodorizing properties: Is there a funky odor lingering in your kitchen or bathroom? Apple cider vinegar can help neutralize those pesky smells. Place a bowl of vinegar in the room, and let it work its magic to absorb odors over time.
Glass Cleaner: Tired of streaky glass surfaces? Mix up a solution of 1 part water to 1 part apple cider vinegar and use it to wipe down glass and mirrors. Buff with a dry cloth, and marvel at the streak-free shine.
Ditch the Chemical Drain Cleaner: Got a clogged drain? Before reaching for the harsh chemicals, give apple cider vinegar a shot. Mix 1/2 cup of baking soda with 1/2 cup of apple cider vinegar, pour it down the drain, and let it work for about 30 minutes. Follow up with hot water to help clear the clog.
Fabric softener: Add a splash of apple cider vinegar to your laundry routine to help soften fabrics and reduce odors. It can also act as a natural fabric softener, especially if you're looking for an alternative to traditional chemical-laden options.

Related: How to Make Your Home Smell Amazing – 11 Genius Tips

Apple Cider Vinegar Uses for Hair Health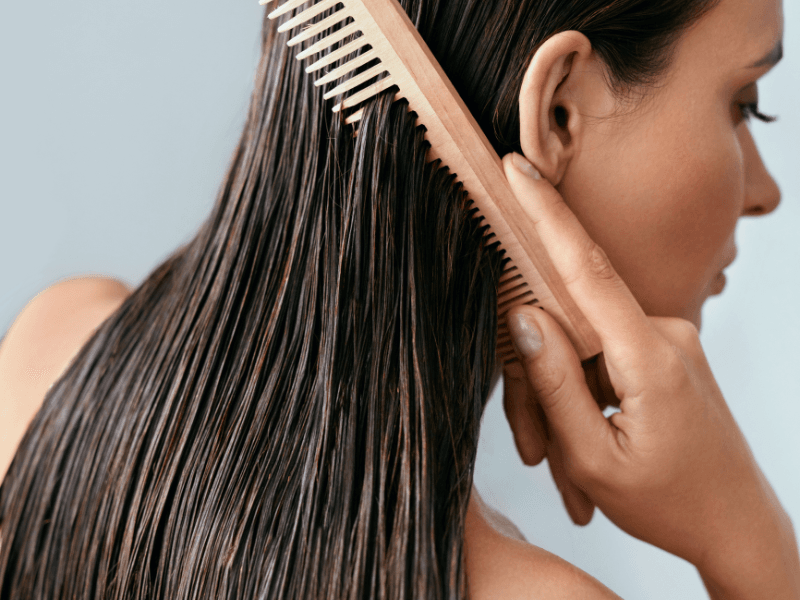 Struggling with lackluster locks? Apple cider vinegar might just be the secret ingredient your hair care routine needs.
Remove Product Buildup: If you're a fan of styling products, chances are your hair has some leftover residue. Enter apple cider vinegar—a natural clarifying agent that can help remove buildup and bring back your hair's natural shine.
pH Balance Savior: Your scalp's pH plays a big role in the health of your hair. Using harsh shampoos or styling products can throw it off balance, leading to dryness and irritation. Apple cider vinegar's acidity can help restore that pH equilibrium, promoting a healthier scalp and shinier strands.
Natural Shine Booster: Looking to up your hair's glow factor? A diluted apple cider vinegar rinse can work wonders. Mix 1 part vinegar with 2-3 parts water and use it as a final rinse after shampooing. Your hair will thank you for the added shine and manageability.
Taming the Frizz: If you're constantly battling frizz, apple cider vinegar might be the solution. The acidity can help flatten the hair cuticle, reducing frizz and promoting smoother, more manageable hair. Just remember to dilute well to avoid any tangy surprises.
To make an apple cider vinegar hair rinse, dilute apple cider vinegar with water and use it as a final rinse after shampooing. You'll be amazed by the natural shine and bounce it brings to your hair, by removing buildup from it.
Gentle does it – while apple cider vinegar can work wonders for many, it might not be suitable for everyone. If you have a sensitive scalp or certain hair conditions, the acidity could exacerbate the issue. Always do a patch test and start with a more diluted solution to avoid any unwanted reactions.

Related: 12 Neglected Areas in Your Home You Should Be Cleaning

More Genius Ways to Use Apple Cider Vinegar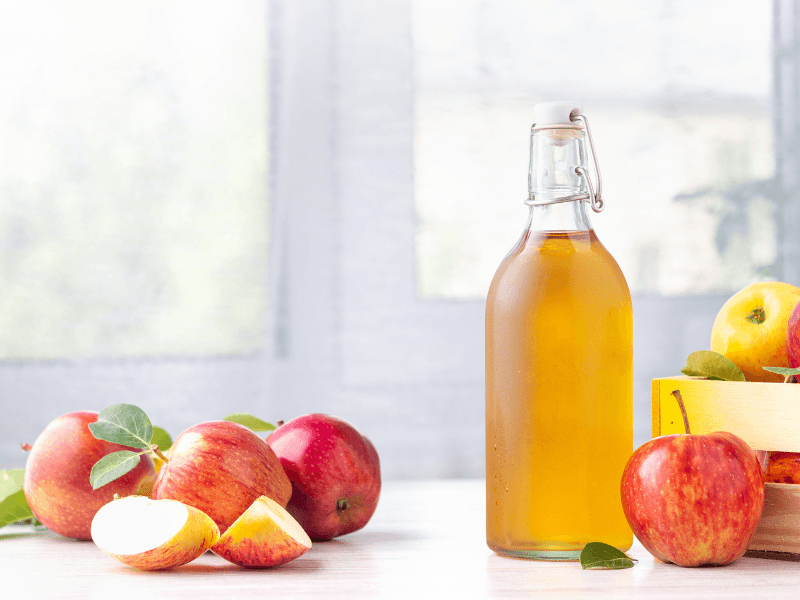 Apple cider vinegar can be a useful tool in your daily household tasks and your beauty routine, but the list doesn't stop there. Want more ideas for how to use apple cider vinegar in your daily life? Here you go!
Flavorful Salad Dressing: Change up your salads by mixing apple cider vinegar with olive oil, a touch of honey, and a sprinkle of herbs. It'll give your greens a zesty kick and make you feel like a master chef in your own kitchen.
Digestive Aid: Feeling a bit off after a heavy meal? Mix a tablespoon of apple cider vinegar with water and sip it slowly. It might just help ease that post-feast discomfort.
Delicious Marinades: Take your marinades to the next level by adding apple cider vinegar. Create a tangy concoction with your favorite herbs, spices, and a splash of vinegar. Let your proteins soak in this flavorful bath before grilling or roasting, and watch them transform into mouthwatering masterpieces.
Foot Soak Magic: Give your tired feet some TLC with an apple cider vinegar foot soak. Add a cup of vinegar to warm water, and let your feet soak for about 15 minutes. The vinegar can help soothe your feet, soften calluses, and combat foot odor. Finish with a gentle scrub and moisturizer for the ultimate pampering session.
Fruit and Veggie Wash: Keep your produce clean and free of pesticides by whipping up a natural fruit and veggie wash. Mix equal parts water and apple cider vinegar in a spray bottle. Spray the solution on your fruits and vegetables, let it sit for a minute, then rinse thoroughly. This easy hack ensures your fresh produce is as clean as can be.
Crisp Pickling Potion: Venture into the world of homemade pickles by using apple cider vinegar as the base for your pickling liquid. Combine vinegar with water, salt, and your favorite spices for a unique and mouthwatering pickle brine.
Sunburn Soother: If you've spent a little too much time in the sun, apple cider vinegar might come to the rescue. Dilute it with water and use a soft cloth to gently apply to sunburned areas. Its anti-inflammatory properties might help soothe the discomfort.
Garden Helper: Your garden will thank you for using apple cider vinegar as a natural plant tonic. Mix it with water and use it to water your plants. Some gardeners believe it can help keep pests at bay and boost the overall health of your greenery.

Related: How to Make Your Home Look Expensive on a Budget

Is Apple Cider Vinegar Safe for Daily Consumption?
Apple cider vinegar has taken the wellness world by storm, promising benefits from aiding digestion to boosting metabolism which aids in weight management. But the big question on everyone's minds is, can you really drink it every day?
Everything in Moderation
While sipping on diluted apple cider vinegar can be a refreshing addition to your daily routine, it's important to remember that moderation is key. Downing shots of undiluted vinegar like a frat party game isn't the best idea. A safe dosage is around 1-2 tablespoons per day, mixed with a large glass of water.
Watch Your Teeth
Vinegar is acidic, and consuming it regularly can erode your tooth enamel over time. To minimize the impact on your pearly whites, never drink undiluted vinegar, and consider using a straw to bypass your teeth altogether.

In Conclusion: Apple Cider Vinegar Unveiled
The world of apple cider vinegar is teeming with clever, practical, and even a tad surprising uses.
From sprucing up your salads to sprucing up your home, this humble liquid can be your ally in the kitchen, bathroom, and beyond.
But remember, like any superhero, apple cider vinegar has its limits. Moderation and consideration for your individual needs are the keys to making the most of this tangy treasure.
So, go ahead and embrace the apple cider vinegar revolution—it might just add a splash of brilliance to your everyday life.

Share on Pinterest: