This post may contain affiliate links, which means I'll receive a commission if you purchase through my links, at no extra cost to you. Please read our full disclosure for more information.
Are you sick of always feeling bloated and uneasy? Do you strive for a flat tummy that gives you confidence and makes you feel amazing?
You're in luck, then! In this post, we'll examine the tricks to using food's power to get a flat stomach.
Prepare to learn about the delicious and healthy foods that can assist you in achieving your objectives.
Save for later;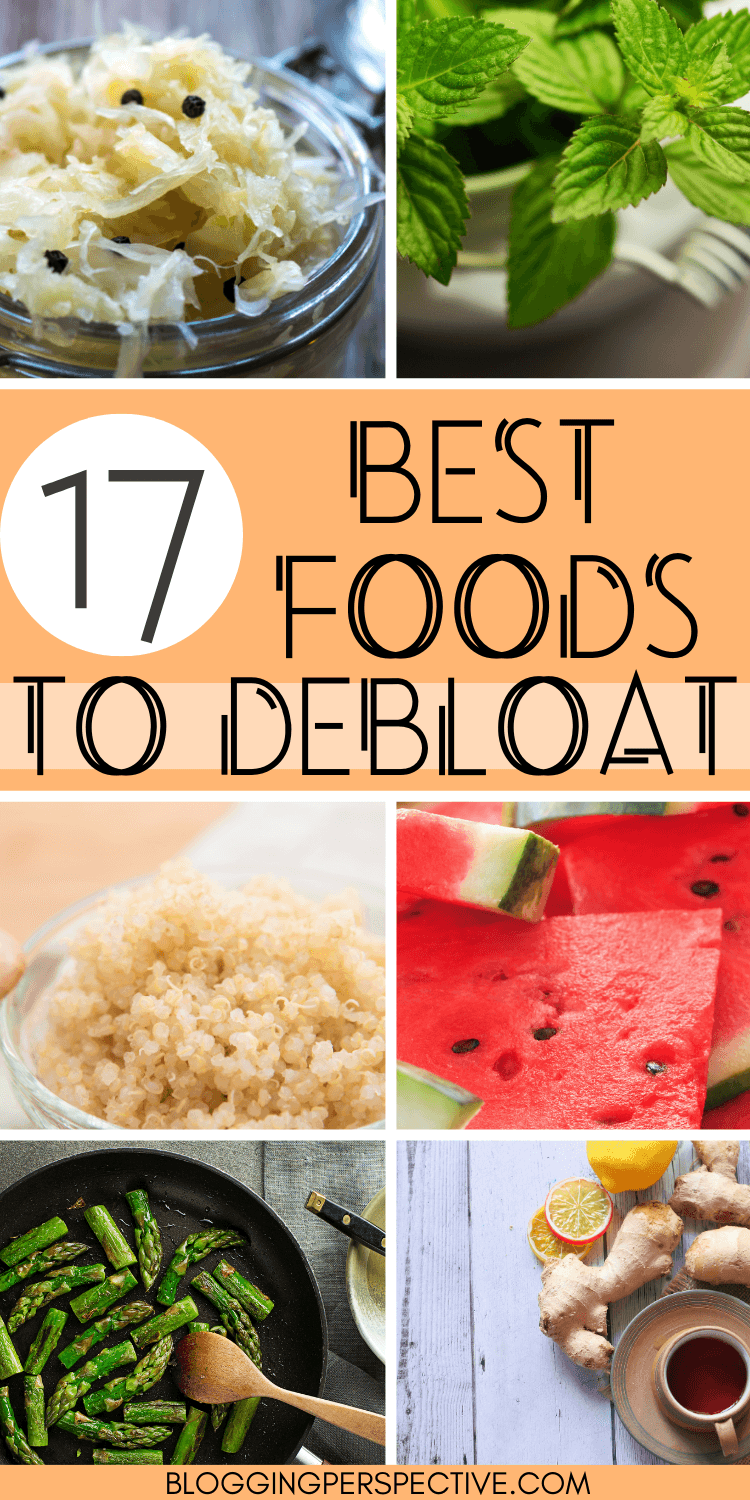 Understanding Bloating: A Common Culprit
Let's first discuss bloating before moving on to the food that can help you have a flat tummy.
The uncomfortable sensation of fullness and tightness in your abdomen, frequently accompanied by gas, is bloating. It can hinder your confidence and cause you to feel self-conscious.
While there are many reasons why people get bloated, food is a typical culprit. Certain foods might make us feel bloated by causing our stomachs to retain water or release too much gas.
You can make a huge step towards a flatter, more comfortable tummy by recognizing and eliminating particular foods if bloating is a problem.

Foods to Avoid: The Bloating Culprits
Carbonated Beverages: Those fizzy drinks may be refreshing, but they can also introduce air into your digestive system, causing bloating. Opt for still water, herbal tea, or freshly squeezed juices instead.
Legumes and Beans: Beans, lentils, and chickpeas are nutritious and packed with protein, but they can also be gas-producing culprits. If you love legumes, try soaking them overnight before cooking or consider adding digestive aids like cumin or fennel to reduce the likelihood of bloating.
Cruciferous Vegetables: The cruciferous vegetable family includes Brussels sprouts, broccoli, cauliflower, and cabbage. Due to their high fiber content, they can also contribute to bloating even if they have many health advantages. These vegetables can be made simpler to digest by steaming or boiling them.
Dairy Products: Many people have difficulty digesting lactose, the sugar found in dairy products. Consider choosing lactose-free alternatives like almond milk or lactose-free yogurt if you have any suspicions about having lactose sensitivity.
Artificial Sweeteners: Although those sugar substitutes with no calories can appear like a good choice, they may be detrimental to your digestive system. Some people have been reported to experience bloating after consuming artificial sweeteners like sorbitol and xylitol. Try using stevia or a tiny amount of natural sugar in place of artificial sweeteners.
While these foods may contribute to bloating, it's important to remember that each person's body is unique. Pay attention to your own reactions and identify the specific foods that may be causing bloating for you.

Related: How to Incorporate More Protein in Your Diet

The Road to a Flatter Stomach: Foods That Help
After addressing the culprits, it's time to introduce the heroes: the meals that can aid in weight loss and a healthy digestive system. Include these delicious foods in your diet, and you'll notice a flatter, more comfortable stomach.

1. Pineapple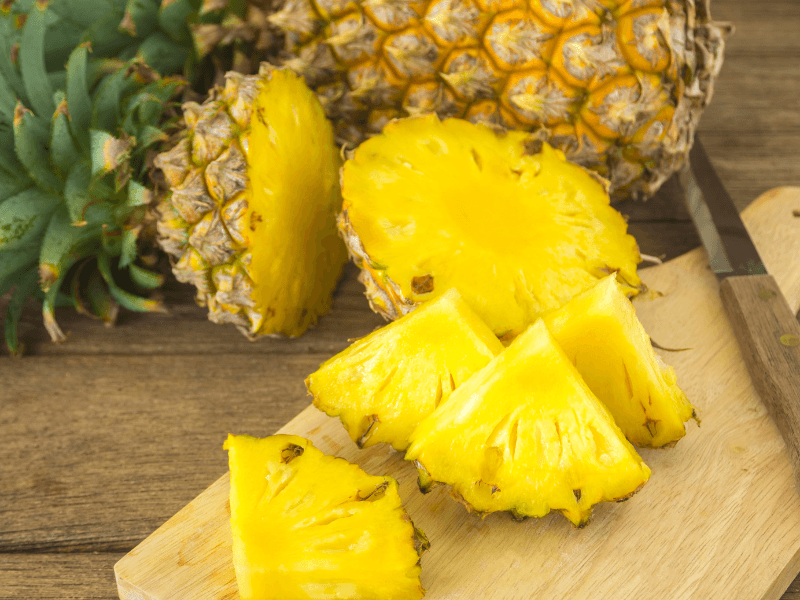 In addition to giving your meals a flavor boost, this tropical fruit includes bromelain, an enzyme that promotes digestion and helps break down proteins. Pineapple can assist in reducing bloating and promoting a flatter stomach.

2. Ginger
Ginger has long been revered for its digestive benefits. Its natural compounds, such as gingerol, can soothe the gastrointestinal tract and alleviate bloating. Enjoy a warm cup of ginger tea or add freshly grated ginger to your meals for an extra kick of flavor and digestion support.

3. Cucumber
Cucumber is not only hydrating and cooling, but it's also a great option for maintaining a flat tummy. With its high water content and natural diuretic properties, cucumber helps flush out excess water and reduces bloating. Slice it up for a refreshing salad or infuse it in water for a spa-like detox experience.

4. Papaya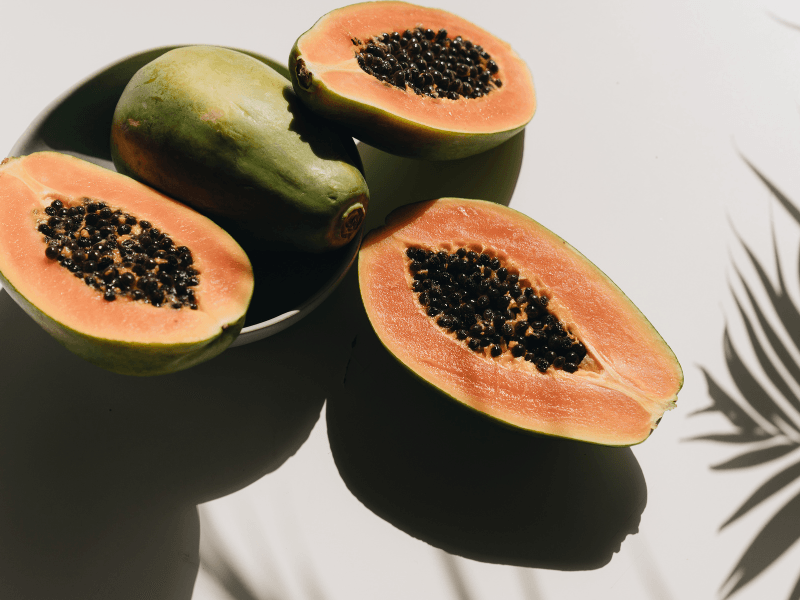 Papaya is not only a tropical delight but also a fantastic aid in digestion. Packed with papain, an enzyme that assists in breaking down proteins, papaya supports a healthy digestive system and reduces bloating. Enjoy it on its own or blend it into a smoothie for a tropical treat.

5. Leafy Greens
Leafy greens are nutritional powerhouses that can aid in your quest for a flat tummy. Examples include spinach, kale, and Swiss chard. Rich in fiber and low in calories, these greens promote healthy digestion and help keep your waistline in check. Whether in a salad, sautéed, or blended into a green smoothie, make sure to include these vibrant greens in your meals.

Related: 15 Healthy Snacks That Will Help You Get Fit


6. Probiotic-Rich Foods
Your allies in getting a flat stomach are foods that contain probiotics, such as yogurt, kefir, sauerkraut, and kimchi. Probiotics are beneficial microorganisms that promote gut health and improve digestion. Try probiotic supplements if you don't get enough probiotics naturally in your diet. By maintaining a balanced gut microbiome, you can reduce bloating and improve overall digestive health.

7. Watermelon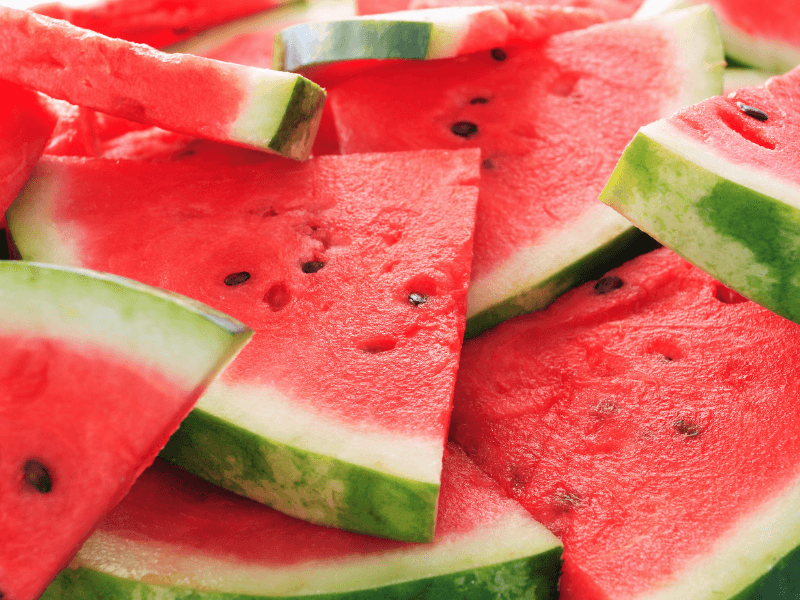 Craving something sweet and refreshing? Look no further than watermelon. This juicy fruit is not only delicious but also helps flush out excess water retention, reducing bloating. Enjoy a slice as a snack or blend it into a hydrating smoothie to keep your stomach happy and your taste buds satisfied.

8. Peppermint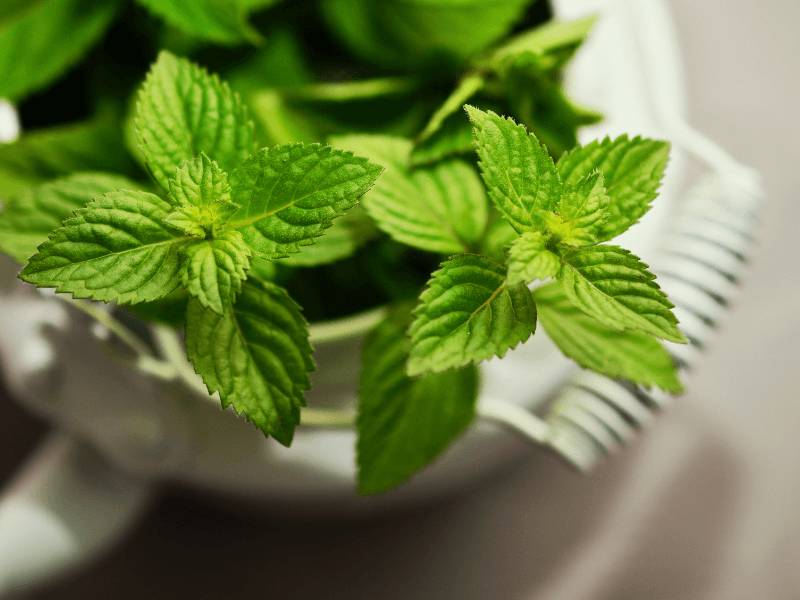 Known for its soothing properties, peppermint can alleviate bloating and discomfort. Sip on a cup of peppermint tea or add a few fresh mint leaves to your water for a refreshing twist. Not only will it help calm your digestive system, but it will also leave your breath minty fresh!

9. Quinoa
The multipurpose grain quinoa is a significant source of fiber and protein. It is easily digestible and less likely to cause bloating compared to other grains. Swap out refined grains with quinoa in your meals to support a flatter stomach and nourish your body.

10. Lemon Water
Start your day off right by sipping on warm lemon water. In addition to hydrating your body, it also promotes digestion and lessens bloating. The natural acidity of lemons helps stimulate digestive enzymes, promoting a healthy gut and a flatter stomach.

Related: How to Stop Being Lazy and Start Exercising

11. Berries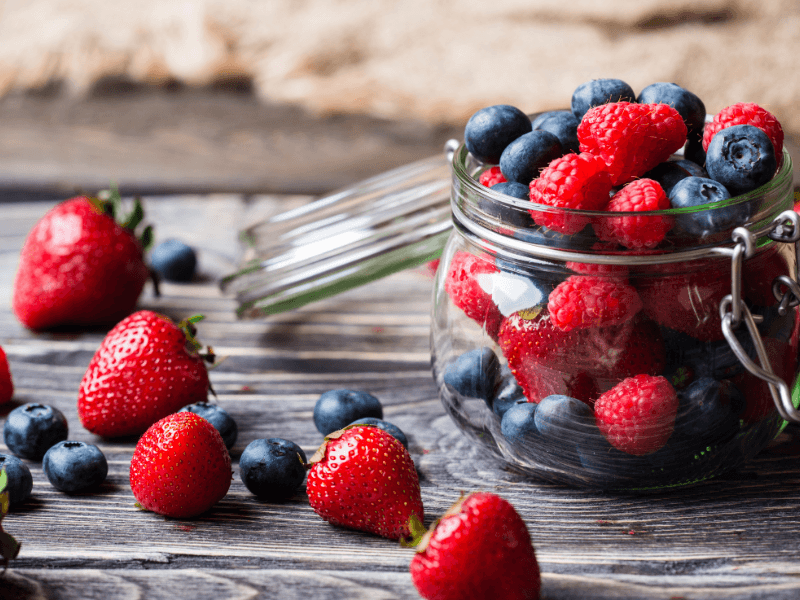 Berries, such as blueberries, strawberries, and raspberries, are not only sweet and satisfying but also packed with antioxidants and fiber. Their high fiber content aids digestion and helps keep you feeling full, reducing the likelihood of overeating. Add a handful of berries to your morning oatmeal or enjoy them as a guilt-free snack.

12. Avocado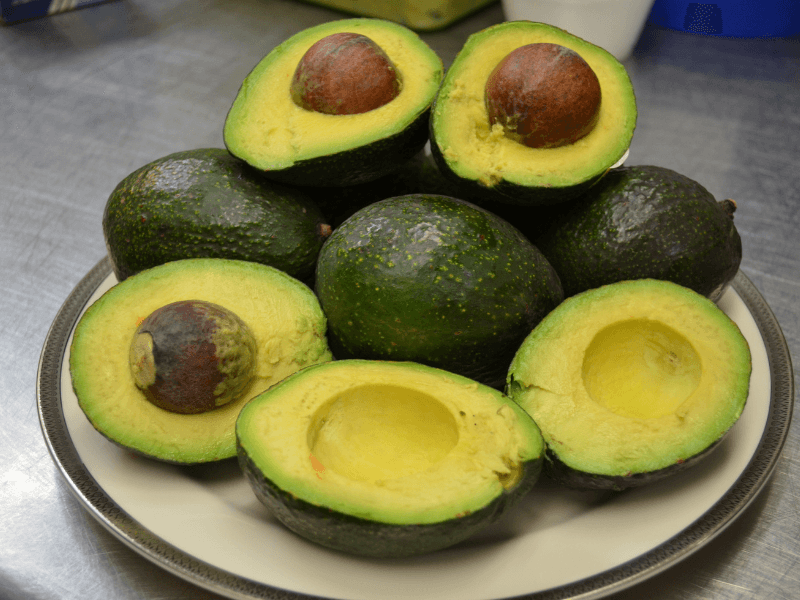 Creamy and delicious, avocados are a fantastic choice for a flat stomach. Avocados, despite their high-fat content, provide healthy monounsaturated fats that induce fullness and aid in bloating prevention. Slice some avocado onto your salads, spread it on whole-grain toast, or blend it into a nutritious smoothie.

13. Salmon
Omega-3 fatty acids, which have anti-inflammatory qualities and can help to reduce bloating, are abundant in salmon, a fatty fish.These healthy fats support a healthy gut and overall digestive health. Grill, bake, or pan-sear a fillet of salmon for a satisfying and belly-friendly protein source.

14. Turmeric
A spice that can help with reducing bloating and contributing to a flat stomach is turmeric, which is renowned for its bright color and strong anti-inflammatory qualities. Add a pinch of turmeric to your dishes or enjoy a warm cup of turmeric tea to experience its digestive benefits.g

15. Chia Seeds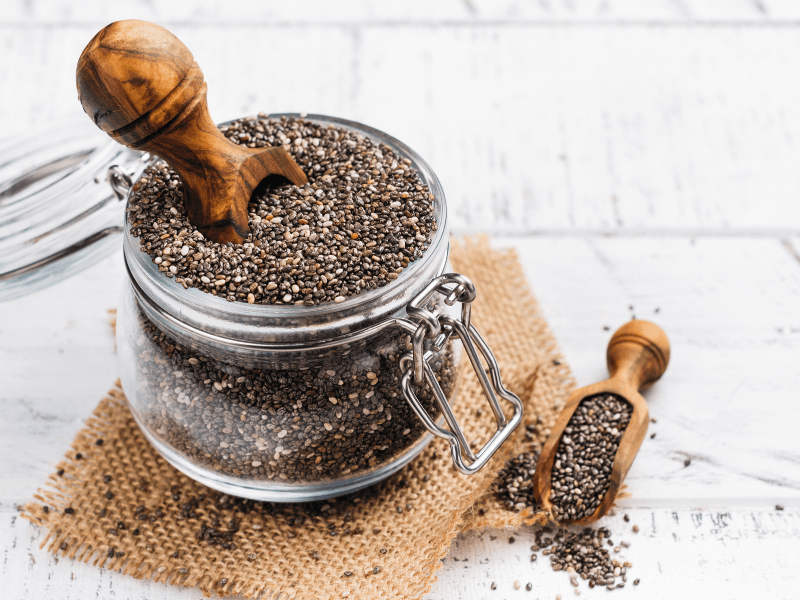 These tiny seeds may be small in size but are big on nutrition. The high fiber content of chia seeds aids in controlling digestion and lowering bloating. They also absorb liquid, creating a gel-like consistency that can keep you feeling fuller for longer. Sprinkle chia seeds onto your yogurt, blend them into smoothies, or make a delicious chia pudding for a belly-friendly treat.

Related: 10 Lazy Girl Workouts That Are Easy To Do Every Day

16. Asparagus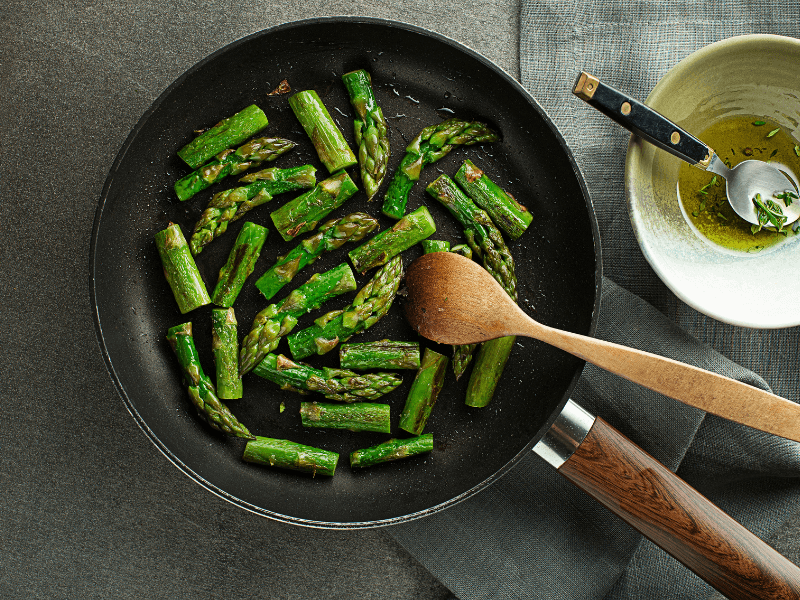 A flat stomach may be achieved more easily if you eat asparagus, an aromatic and nutritious vegetable. It contains prebiotic fibers that nourish the beneficial bacteria in your gut, promoting a healthy digestive system. Roast or steam asparagus as a side dish or incorporate it into stir-fries for a flavorful addition to your meals.

17. Oatmeal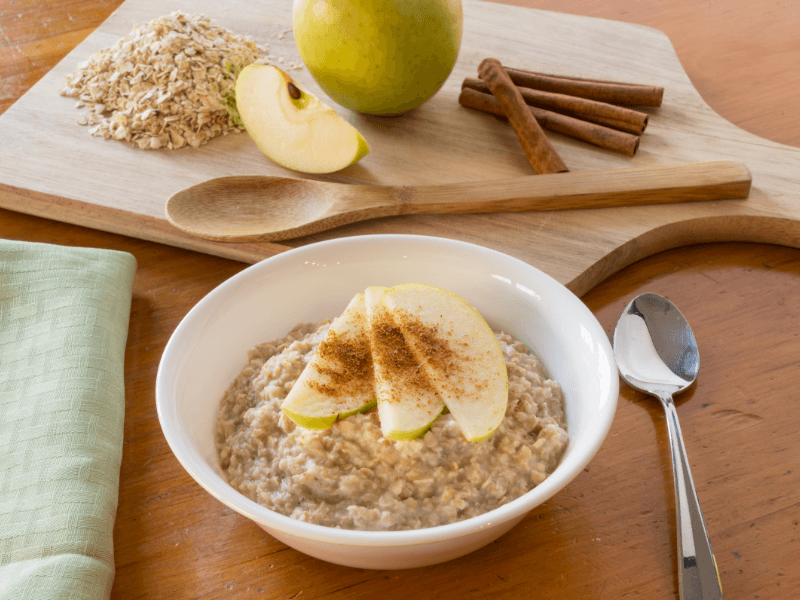 Starting your day with a bowl of oatmeal is not only comforting but also beneficial for a flat stomach. Because they are low in calories and high in fiber, oats can help you feel full and prevent bloating. You can add some protein powder for extra protein intake and experiment with different flavors. Top your oatmeal with some fresh berries or a sprinkle of cinnamon for added flavor and digestion-boosting benefits.

Conclusion: Say Hello to a Flat Stomach
Keep in mind that leading a balanced lifestyle is just as important for maintaining a flat tummy as what you consume. You can achieve your goal by including these belly-friendly foods in a balanced diet, in addition to regular exercise and adequate hydration.
So bid bloating farewell and welcome your flatter stomach! If you embrace these tasty and nourishing foods, you'll be well on your way to confidence and jaw-dropping beauty.
Pin it on Pinterest: