Have you ever planned out a workout the night before, prepared your workout clothes and gear, then the alarm rings in the morning and your motivation is nowhere to be found?
We all have days when we can't bring ourselves to exercise, even though our mind is telling us that we should. It doesn't have to be all or nothing.
You can still get a workout in, even if it's not the one you originally planned. You will feel a lot better for squeezing in some movement into your day, both physically and mentally, since you won't feel like you skipped a day.
It can even feel like a better accomplishment – you had zero motivation and yet you still moved your body. That is truly fantastic!
That's why I compiled this list of my favorite lazy girl workouts that are easy to do every day or on the days when you're just not in the exercise mood.
These workouts are between 5 and 20 minutes long, and some of them can be done in your pyjamas or even in your bed!
Whenever you're feeling just a bit lazy and sluggish, try one of the below workouts and I guarantee it will lift you up.

We recommend:

Save for later: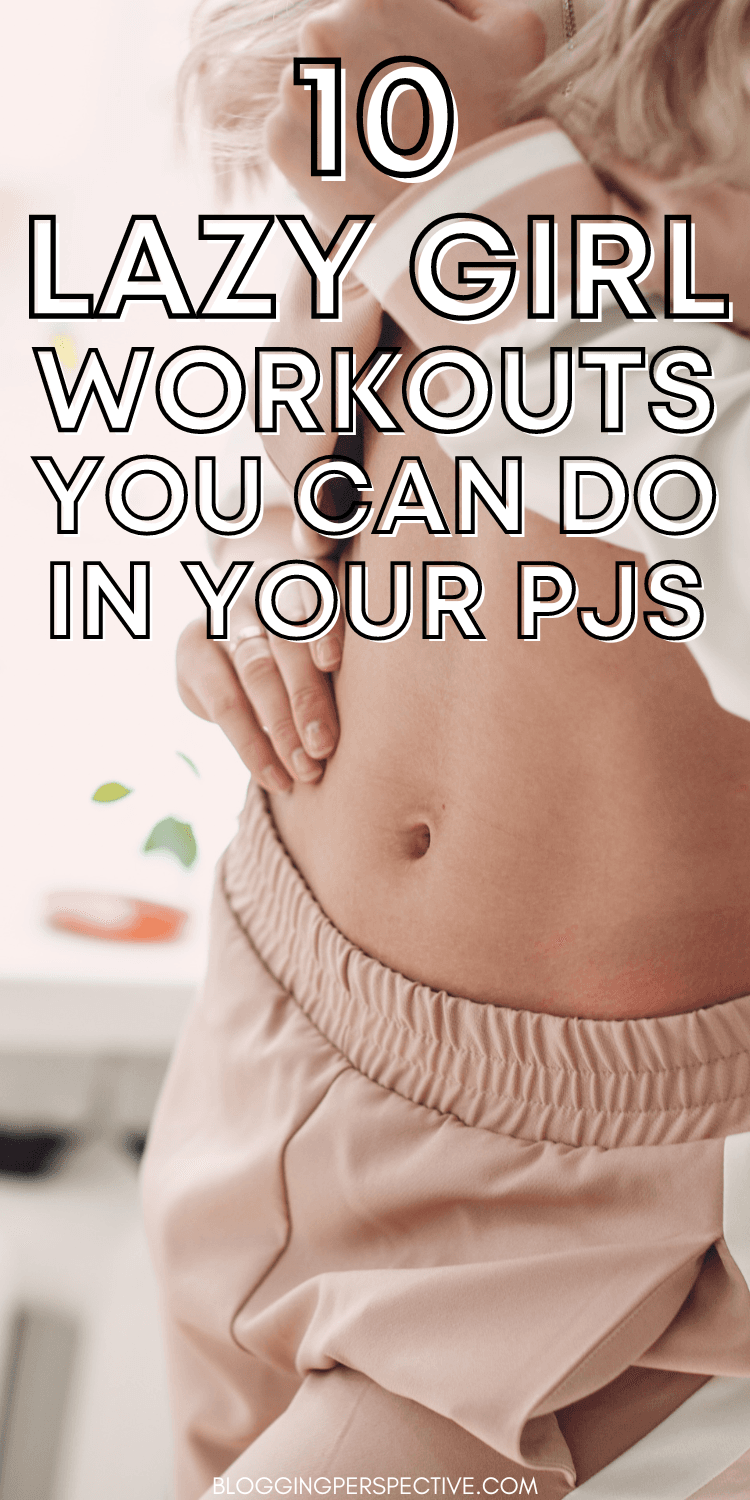 1. Lazy Girl Full Body Fat Burn Workout in 10 Mins | Grow with Jo
This is a great no-jumping workout from Grow with Jo channel. I love her so much for her manageable workout routines that are super beginner-friendly, yet still sweaty.
This low-impact home workout is done completely from the floor! No standing = super lazy girl-friendly.
2. Lazy girl 10-minute full body floor workout | Fit by Lys
Fit by Lys has a great total body toning floor workout perfect for those lazy days. The calm vibe of this workout is just what the doctor ordered.
You will still get a good burn, but without exerting yourself completely. Those single-leg bridge swings and in-and-outs are not as easy as they look. You will actually feel accomplished after the 10 minutes are finished.
3. 5 min fat burning full body workout | MadFit
Sometimes you just don't feel like working out for an hour. That's where the 5-minute workouts come in!
If you're feeling lazy on one hand, but still want to keep up with your fitness goals, try this intense 5 min workout by MadFit. Maddie has such a great selection of workouts on her YouTube channel, no wonder she features in this article multiple times.
No equipment is needed, just get ready for a quick fat-burning session and off you go.
4. 10-minute workout in bed | Dayana Wang
A lazy girl's dream – a workout that you can do without leaving your bed. Absolutely genius.
This 10-minute workout in bed by Dayana Wang is good for the full body. It features leg lifts, crunches, bridges, and more. Try it on a day when getting up just seems too difficult.
5. Lazy girl 7 min full body workout | Vicky Justiz
This appropriately titled workout by Vicky Justiz is another great option for your lazy days. It's a super short workout that can be completed in just 7 minutes. Everyone has 7 minutes in the day to spare!
It's low impact, so there's no jumping. I love that this workout offers a bit more variety – there's a plank in the mix, a knee-to-elbow plank (which is like slow mountain climbers), calf raises, arm circles, and more.
6. 12 min slow workout for period/PMS | MadFit
I love the motivation behind this workout so much! We all know how uncomfortable periods or PMS can make us feel sometimes.
This workout (once again from the MadFit collection) is specifically created to address that. The exercises are chosen to help with relieving tension if you're in pain.
However, this can also act as a perfect slow workout when you don't really feel like exercising.
7. 20 min full body workout in bed | Emi Wong
You can get some movement in, wherever you are. Even if you're in bed and don't feel like getting up.
This is another lazy girl friendy bed workout, this time by Emi Wong.
It's a bit longer, but in 20 minutes you will address all the different muscle groups – abs, arms, back, thighs, and booty. You'll get a really solid burn from this one.
8. 10 min roll out of bed workout | MadFit
Don't feel like changing into your gym clothes? No problem, we've got you.
This MadFit workout can be done in your pyjamas. No jumping, no equipment, no fuss.
Exercising has never been easier – just roll out of bed and get moving.
9. Pilates flat stomach 5 min workout | Lilly Sabri
Lilly Sabri offers a belly fat-burning workout that you can do in just 5 minutes from the comfort of your home.
It's perfect for those of us who just hate long gym sessions – you can no longer say that you don't have time to work out.
And don't let the fact that it's only 5 minutes fool you – the exercises are very challenging and your abs will be burning after this.
10. Good morning 10 min workout | MonikaFit
We love a good pyjamas workout, so here's another one for you. All you need is an exercise mat and 10 minutes of your morning.
This beginner-friendly workout by MonikaFit is done in 45-sec exercise and 15-sec rest intervals. It has a good variety of movements and will definitely help you start your day on a positive note.
Like this post? You should also check out 8 Best Quick HIIT Workouts For Weight Loss.
Save this to your Pinterest collection: