This post may contain affiliate links, which means I'll receive a commission if you purchase through my links, at no extra cost to you. Please read our full disclosure for more information.
Hey there, fitness enthusiasts (or beginners)! Are you ready to dive into the exciting world of best full body kettlebell workouts?
We've got you covered with this ultimate guide that's packed with tips, answers to burning questions, and a whole lot of kettlebell goodness.
Whether you're a newbie on the fitness block or a seasoned pro, these workouts are going to rock your world and boost your fitness game.

Share on Pinterest: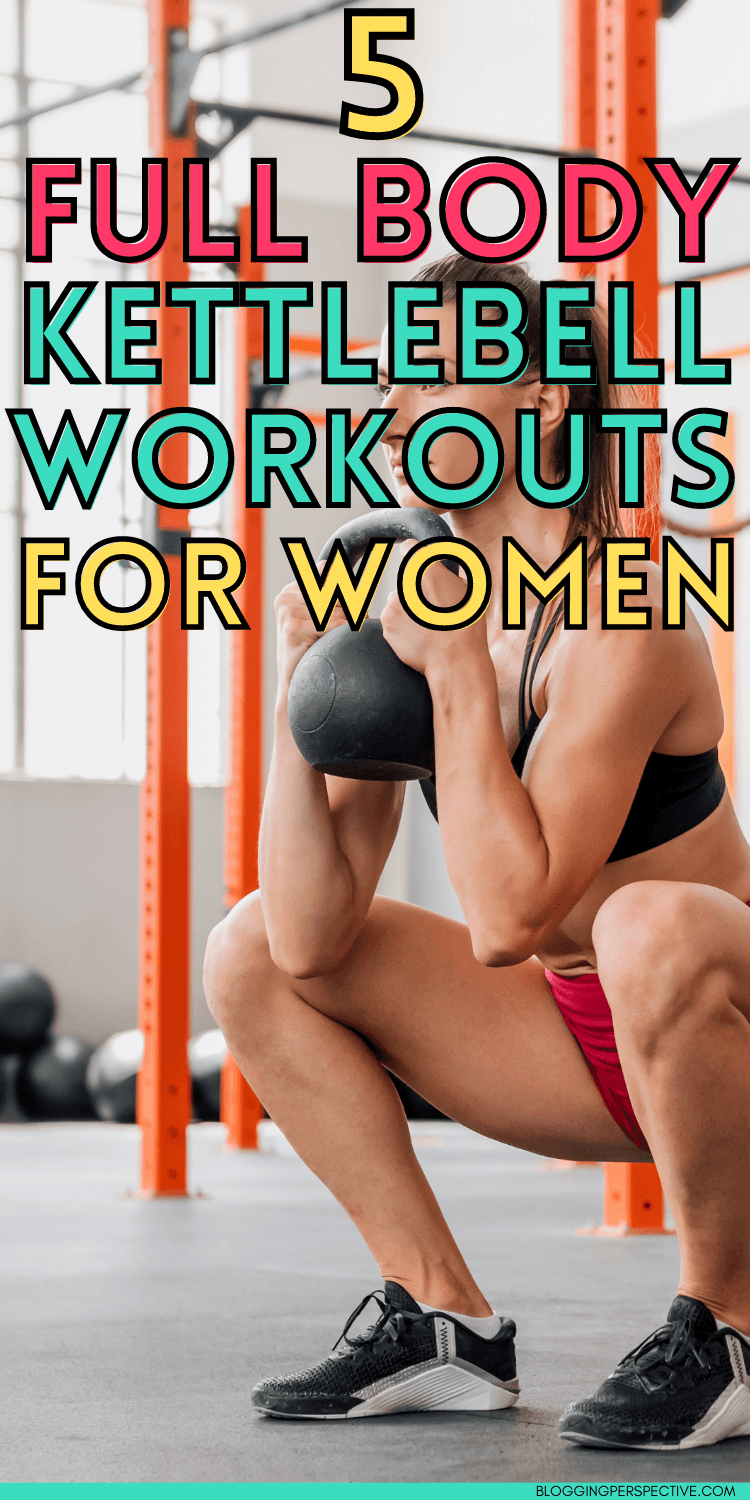 Benefits of Kettlebell Workouts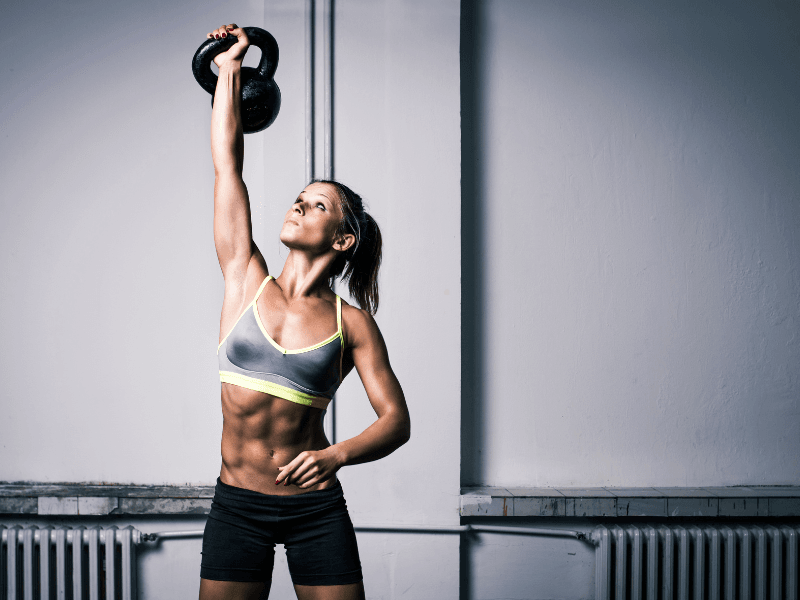 Hold onto your kettlebell, because these workouts are about to give your fitness routine a whole new spin! Here's why you'll fall in love with them:
Work That Whole Body: Kettlebell moves are like a fitness party for your entire body, making sure no muscle is left out of the fun.
Get Functional: These exercises mimic real-life motions, so you'll be stronger for everyday adventures, like lugging groceries or chasing that runaway puppy.
Feel the Cardio Burn: Say hello to a cardio boost! Kettlebell routines can kick your heart rate up, giving your ticker some serious love.
Mix It Up: With endless kettlebell exercises like swings, presses, squats, and lunges, you'll never get bored with your workouts.
Core Champion: Get ready to rock that six-pack! Kettlebell workouts challenge your core, helping you stand tall and strong.

Related: 10 Lazy Girl Workouts That Are Easy To Do Every Day

Kettlebell Workout Tips for Beginners
If you're new to the kettlebell party, don't stress! We're here to guide you through the beginner's journey, one kettlebell swing at a time:
Start Light: Your kettlebell journey begins with a light-weight friend. No need to lift heavy – we're here for good vibes and progress.
Form Is Your BFF: Master the art of the swing, goblet squat, and Turkish get-up with proper form. It's like learning a cool dance routine for your muscles.
Easy Does It: Begin with simple moves, and build your confidence before going full-blown kettlebell ninja.
Smile Through Reps: Repetition is the name of the game. Keep your movements smooth and controlled to avoid any fitness fiascos.
Chill and Recover: Your body deserves some rest & recover after workouts. Listen to it, and give those muscles the pampering they need.

Related: 8 Best Quick HIIT Workouts For Weight Loss

Pick Your Perfect Kettlebell Weight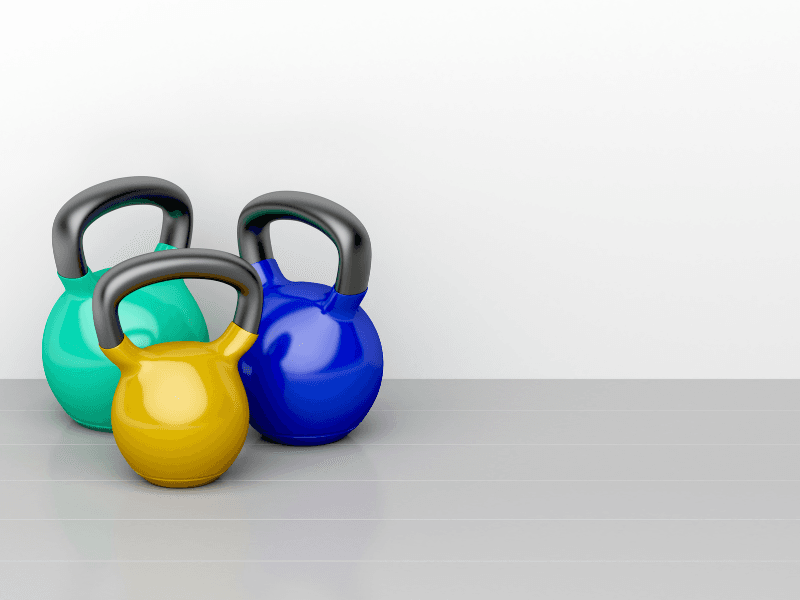 Choosing the right kettlebell weight might feel like solving a puzzle, but don't worry – we've got your back:
Hello, Beginner: If you're new to lifting, start with a kettlebell weighing 10 to 24 pounds (4 to 10 kilograms).
In the Middle: If you've got some strength under your belt, grab a kettlebell between 25 to 34 pounds (11 to 15 kilograms).
Level Up: Seasoned fitness warriors, you're looking at kettlebells ranging from 35 to 53 pounds (16 to 24 kilograms) for a real challenge.
Remember, it's not about the heaviest weight; it's about nailing those moves with style and grace!
If the above recommendations don't feel right, you can always go slightly lower or higher. Always listen to your body, it will tell you what it can handle.
We recommend:

Burning Fat with Kettlebell Workouts
Ready to melt that fat away? Kettlebell workouts are a great way to get some sweaty exercise in, which helps with weight loss.
Here's how kettlebell workouts can help you with your weight loss goals:
Burn, Baby, Burn: High-intensity kettlebell sessions torch calories like crazy – during and even after your workout.
Boost Your Metabolism: Muscle matters! Kettlebell training builds lean muscle, which revs up your metabolism for the long haul.
Efficiency is Key: Why spend hours doing separate cardio and strength workouts when kettlebell routines combine the best of both worlds?
For top-notch results, blend a mix of kettlebell moves into your routine and pair it up with a balanced diet. Get ready to strut your stuff with confidence!

Related: How to Stop Being Lazy and Start Exercising

Kettlebells vs. Dumbbells: Which One to Choose?
In the red corner, we have kettlebells, and in the blue corner, it's dumbbells! Which one's right for you? Let's break it down:
Funky Handles: Kettlebells sport a unique handle for swings and dynamic moves, while dumbbells keep it classic with their symmetrical design.
Weight Tricks: Kettlebells play with uneven weight distribution, engaging your muscles like a boss. Dumbbells, not so much.
Compound exercises: Kettlebells are the kings of swings and snatches, making them great for compound exercises. Dumbbells are more about isolation exercises.
When it comes to choosing between these fitness pals, it's all about your goals and the kind of workout dance you want to groove to!
Best Full Body Kettlebell Workouts
Stay tuned because next we're diving into the best kettlebell workouts that target different muscle groups and cater to different fitness dreams.
Get excited for a jam-packed list of the absolute best full-body kettlebell workouts for women that will leave you feeling like the superhero you truly are!

1. 30 Min Full Body Kettlebell Workout – Supersets by Caroline Girvan
Get ready to unleash your full body potential with the exhilarating 30 Min Full Body Kettlebell Workout with Supersets led by the incredible Caroline Girvan. This workout takes the crown as the leader of your kettlebell workout list, and for good reason!
Featuring the powerhouse technique of supersets, this routine is designed to take your strength and endurance to new heights.
The formula is simple yet oh-so-effective: you'll dive into different kettlebell exercises for an intense 30 seconds, followed by an immediate switch to alternating hand kettlebell swings for another 30 seconds, and then rest for 30 seconds.

2. 10-Minute Efficient Total Body Kettlebell Workout by BodyFit By Amy
Ignite your fitness journey with the invigorating "10 Minute Kettlebell Workout" brought to you by BodyFit By Amy.
In just a short burst of time, this efficient total body workout packs a punch, focusing on sculpting your arms, defining your abs, and toning those legs.
The beauty of this workout lies in its effectiveness and convenience – it's perfect for those busy days when time is of the essence. Consistency is key, and by dedicating just 10 minutes a day to this routine, you'll witness the transformational power of focused effort.

3. 40-Minute Kettlebell Workout – Full Body Strength & Cardio by Heather Robertson
Prepare to elevate your fitness game with the dynamic 40-Minute Kettlebell Workout – Full Body Strength & Cardio workout presented by Heather Robertson.
This workout is the ultimate combo of the best of strength and cardio kettlebell exercises. You'll go through three distinctive circuits, each designed to enhance body strength while giving your heart rate a good boost.
Get ready to experience the synergy of strength and cardio as you power through circuits that not only kick ass but also sculpt and transform your body. Let's do this!

Related: 17 Foods You Should Eat If You Want a Flat Stomach

4. 20 Min Full Body Kettlebell Strength Workout (Beginner Friendly) by Workout With Roxanne
Step into the world of efficient, joint-friendly strength training with the empowering "20 Min Full Body Kettlebell STRENGTH (No Squats/No Lunges)" workout, thoughtfully curated by Workout With Roxanne.
This workout is fantastic for those seeking an alternative to traditional squats and lunges, making it perfect for all fitness levels.
With absolutely no repeated exercises, boredom won't stand a chance as you move through a diverse range of movements that target your entire body.
Designed for moderate to heavy resistance, it's your time to shine by selecting a kettlebell weight that challenges and motivates you. Whether you're a beginner or a seasoned fitness enthusiast, Roxanne's guidance ensures that every rep counts and every movement empowers you.

5. 35 Min Walk & Tone Kettlebell Workout by BurpeeGirl
Get ready to supercharge your walking routine with the fiery "35 Min WALK & TONE Kettlebell Workout" led by the enthusiastic BurpeeGirl.
Say goodbye to mundane walks and hello to a new level of fitness excitement! This takes a walking workout to the next level by seamlessly integrating full body compound exercises.
Grab your kettlebell and join in as you walk and tone simultaneously – a genius way to maximize every step. BurpeeGirl's approach is super fun and adds a lot of variety while burning calories and building muscle at the same time.

You're Ready to Start Your Kettlebell Journey!
And there you have it, fitness champs! These best full body kettlebell workouts (in my opinion) are your ticket to a stronger, fitter you.
From the incredible benefits to selecting the right weight, and even the kettlebell vs. dumbbell showdown, we've covered it all.
So grab that kettlebell, follow those killer techniques, and get ready to level up your fitness game. Oh, and don't forget to warm up!

Share on Pinterest: