Are you searching for the best fat-burning HIIT (high-intensity interval training) workouts?
Well, look no further – we've got the BEST tried and tested at-home HIIT workouts for fat loss – most of them are beginner friendly and can be done in 20 minutes or less!
If you want to get into a fantastic shape (or maintain it), HIIT exercises can help you to achieve this goal faster, and from the comfort of your own home (if that's what you prefer). Who doesn't want that?!
Benefits Of HIIT Workouts
HIIT can really make you feel like you've just had a 1-hour long intensive gym session, in a much shorter time. But how does it do that?
HIIT simply means doing rounds of 'explosive' cardio movements in intervals, with short rest or no rest periods in between. This increases the heart rate and makes you expend a lot of energy in a very short time.
Doing HIIT workouts can have numerous benefits in your life. It can help you build up your strength and endurance, burn lots of calories thus aiding in weight loss, and improve and maintain your overall health.
In addition to all that, HIIT can help you achieve the same results as a lower-level, less intense workout which lasts longer, so you save time! I have to say, that is one of my favorite HIIT benefits!
HIIT lives up to its name – it can be quite intense, so please be sensible and only attempt the workouts that you can handle. If you have any concerns, you should always go to a medical professional for advice.
How To Prepare For A HIIT Workout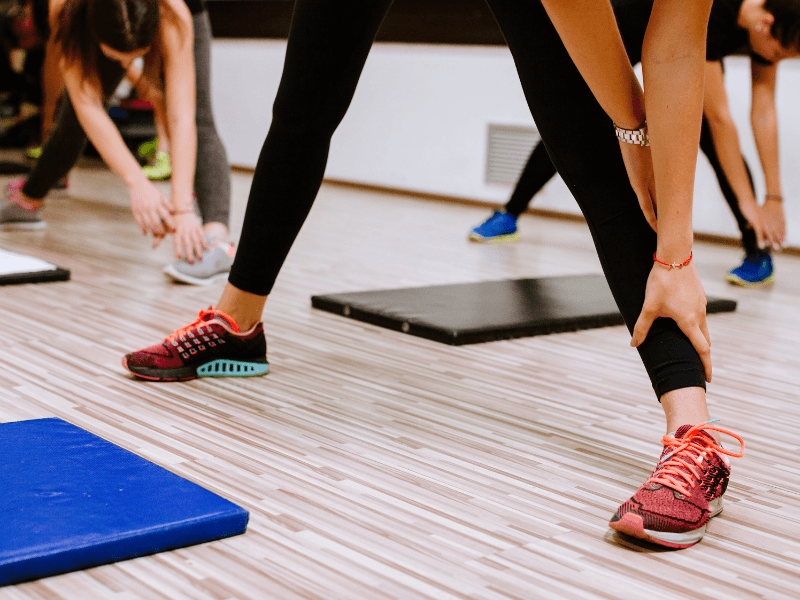 Equipment
The best thing about HIIT workouts is that you can get great results without the need to invest in expensive equipment or a gym membership.
Just get into your workout clothes, press 'Play' and off you go!
Yes, it is possible to do HIIT with weights, but for the purposes of this article, we kept it simple and gathered only the best HIIT routines with no equipment required.
The only piece of equipment you may want to invest in is a good exercise mat. Many of the routines in these workouts are done on your feet, but sometimes there might be a need to lie down on the floor, get on your knees, or be in a plank position, so a workout mat may come in handy.
Warm Up
ALWAYS warm up before you exercise!
A simple 5-10 minute warm-up increases the body temperature and improves circulation, which in turn helps the muscles contract and relax more easily. This helps to prevent injuries and also to increase your performance while you exercise.
A proper warm up is especially important before doing intensive exercise routines, such as HIIT.
Best Fat Burning HIIT Workouts
I can honestly say I love every single fitness YouTuber mentioned in this article and have been doing their workouts for a while now. I hope you get to enjoy some of their amazing HIIT videos as well, whether your goal is to lose weight, get stronger, or just improve your overall health.
Without any more introductions, let's get to the good part – here are my top 8 quick at-home HIIT workouts for weight loss (and more)!
1. 10 Min HIIT Cardio Workout to Burn Fat
Grow with Jo is the QUEEN of walking workouts. They sure helped me a lot when I was first getting into working out at home. You would be surprised how much you can sweat just from walking.
This excellent 10-minute HIIT cardio workout is great for beginners or anyone who wants to squeeze in a workout but is short on time. As a bonus, Jo's infectious smile and positive energy will get you into a great mood for the day. Try it out!
2. 15 MIN FULL BODY HIIT WORKOUT – burn lots of calories / No Equipment by Pamela Reif
Your full body will be in pain (in a good way) after this 15 min full-body HIIT workout by Pamela Reif.
Pamela makes you sweat profusely while she looks like she's barely breaking a sweat herself. But that's part of the motivation! Her perfect form and stamina are definitely something to aspire to.
You will need an exercise mat for this workout.
3. 20 Minute HOT HIIT Full Body Workout at Home | No Equipment
This one is explosive! This isn't for the faint-hearted – be prepared to test your limits.
Caroline Girvan will push you and I love her for that. If you want a real challenge, this is the workout for you. Once again, no equipment is needed, except for the yoga mat.
4. SWEATY FAT BURN in 7 Days (lose fat) | 10 minute Home Workout
Lilly Sabri's Sweaty Fat Burn in 7 Days is a great program you can do at home with no equipment if you want to see results fast. It's only 10 minutes but it will work all your muscles to soreness.
Lilly has great energy and keeps you motivated throughout the entire workout. Oh, and how cute is her dog!!
5. 18 MINUTE AB AND HIIT WORKOUT *NO EQUIPMENT*
This great 18-minute HIIT workout from Whitney Simmons has a special focus on abs if you want that belly muscle definition. This workout is really varied and much more fun than doing endless crunches.
You will feel the burn in your whole body, but Whitney gives you rest periods between different sets, for example, 30 sec on, 20 sec rest, or 20 sec on, 15 sec rest.
6. 15 min Intense HIIT for Fat Burn | Standing & No Equipment
If you are familiar with fitness YouTubers, you probably know Chloe Ting. She has tons of workouts to choose from, including this 15-minute fat burning HIIT workout.
What I love the most about this workout is that Chloe gives you low-impact alternatives for the exercises, so you can participate even if you can't jump or need to take it a bit slower.
7. 20 MIN SUPER SWEATY HIIT Workout – ALL STANDING – No Repeat QUICK & EFFECTIVE Home Workout
Anna from GwoingAnnanas has a versatile, fun 20-minute no repeat HIIT workout just for you. This quick no equipment routine is perfect for weight loss and toning your muscles.
I love the aesthetics of Anna's channel, and the bar on the side showing the % of the workout completed really keeps you pushing.
8. Low Impact FULL BODY HIIT Workout (No Equipment + No Jumping)
It doesn't have to be all about jumping jacks and burpees! This Low Impact Full Body HIIT is perfect for you if you're not a fan of jumping.
Maddie from MadFit did a great job with this low-impact, yet still very challenging workout routine. The burn is real with this one!
I hope this was helpful! Don't forget to pin this to your Pinterest account so that you can easily find the workouts later! 🙂