Life may frequently be a chaotic blur of obligations, due dates, and demands, leaving little time for self-care and indulgence.
It's sooo important to stop, take a breath, and remember to take care of yourself in the midst of the craziness.
Self-care is essential to your general well-being and is not a luxury. A day of pampering yourself can pull you out of a funk and reset your week.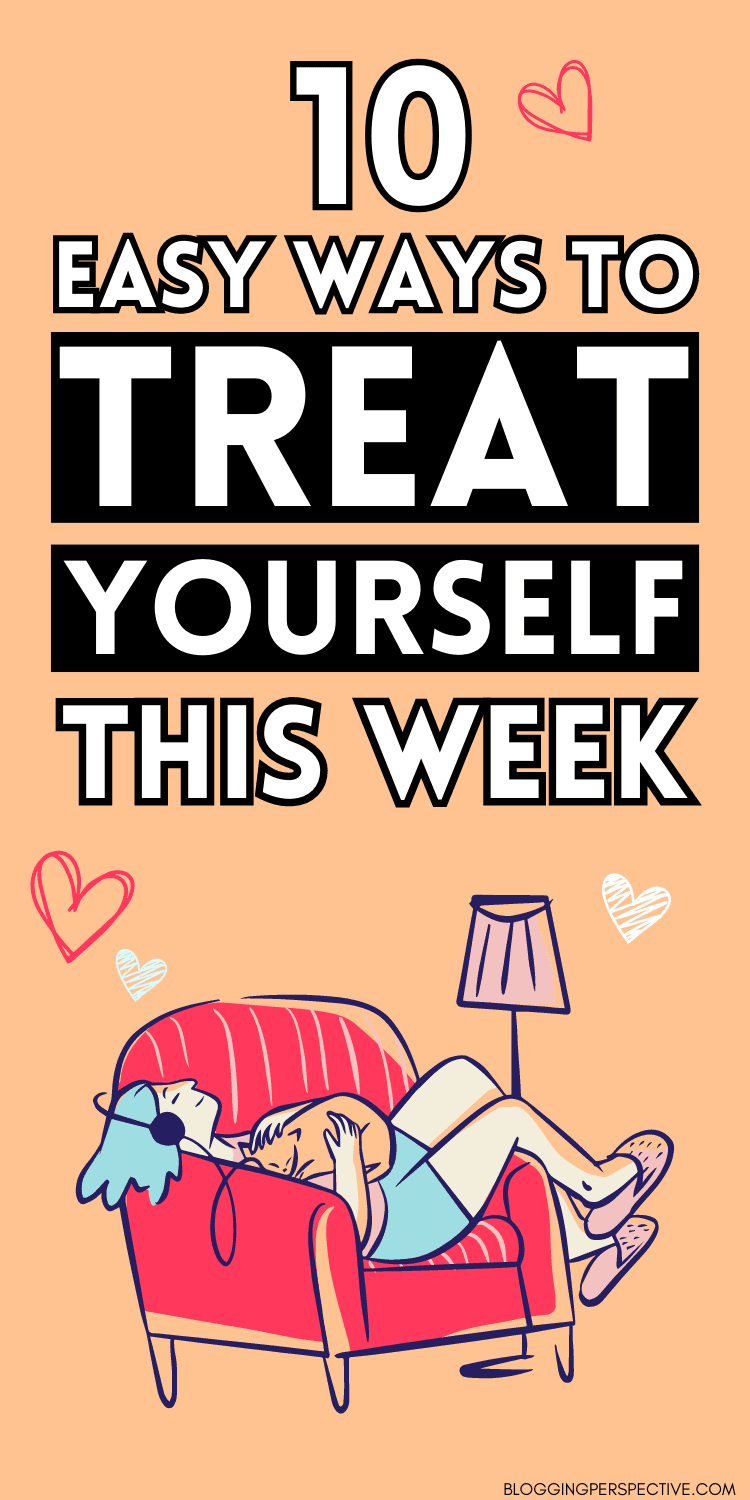 So, let's explore some delightful ways to pamper yourself and bask in the joys of self-indulgence.
1. Make a Fancy Meal Just For Yourself
Cooking can be an art form, and what better way to spoil yourself than by preparing a fancy meal just for you? Step into your personal gourmet kitchen and unleash your culinary creativity.
Experiment with new recipes, exotic ingredients, and tantalizing flavors.
Treat your taste buds to a symphony of delectable sensations. The satisfaction of savoring a well-crafted dish tailored exclusively to your preferences is truly incomparable.
2. Indulge in a Soothing Facial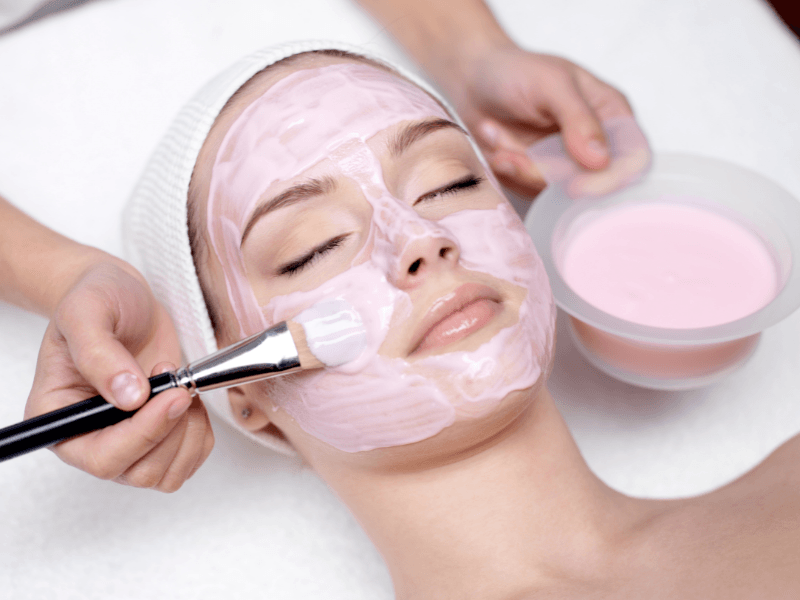 Feeling stressed? Let the cares of the day melt away as you indulge in a rejuvenating facial treatment.
The gentle touch of skilled hands, combined with nourishing creams and serums, can restore your skin's natural glow and leave you feeling refreshed.
Take the time to pamper yourself and revel in the tranquil ambiance of a spa or create your own serene oasis at home. Embrace the revitalizing power of self-care and emerge with a radiant complexion.
3. Rock a Cute Outfit, Even at Home
Who says you can't be your own fashion icon while staying in?
Get some new gorgeous loungewear or even rock a cute little sundress. Style your hair, put on your favorite accessories, and feel the confidence radiate from within.
Dressing up purely for your own pleasure is a remarkable act of self-expression and self-love.
So, strike a pose, take a selfie, and savor the satisfaction of looking amazing, even if just for yourself.
4. Buy Yourself Flowers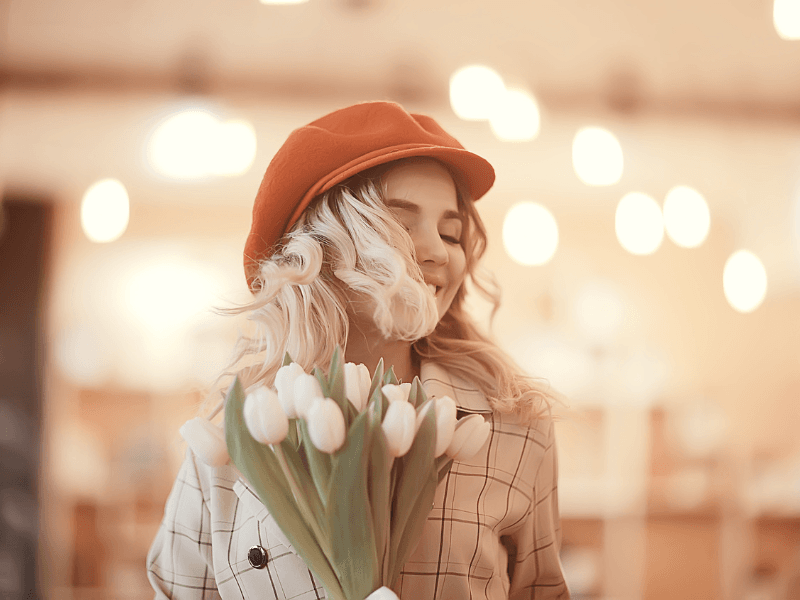 Nature's artwork, flowers, have a magical ability to brighten any space.
Treat yourself to a vibrant bouquet, hand-picked to your liking. Allow the fragrance and colors to envelop your surroundings, creating a sense of serenity and beauty.
Admire the delicate petals, watch as they slowly unfurl, and let their presence remind you to appreciate life's simple pleasures.
5. Whiten Your Teeth
A bright, dazzling smile can work wonders for your confidence.
Consider treating yourself to a teeth-whitening session. Whether you opt for professional treatment or at-home kits, the transformation will leave you beaming.
Unlock the radiance within and let your smile light up every room you enter.
6. Savor Breakfast in Bed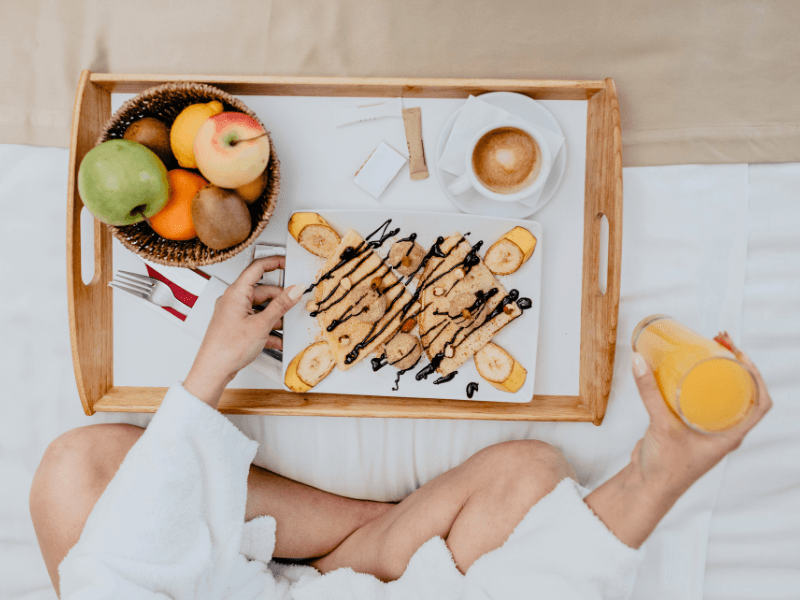 There's something incredibly indulgent about having breakfast in bed.
Take the time to prepare a sumptuous morning feast for yourself. Whip up fluffy pancakes, savor a warm croissant, or indulge in a hearty omelet.
Nestle into your cozy sanctuary, relish the quiet moments, and let the world outside fade away. This blissful ritual is a delightful way to start your day on a pampered note.
7. Get a Massage
Release tension, ease your mind, and surrender yourself to the healing touch of a massage.
Close your eyes as skilled hands work their magic, kneading away knots and soothing weary muscles. Feel the stress melt away with each stroke, and allow yourself to fully relax.
Whether you opt for a Swedish massage, a deep tissue treatment, or a hot stone therapy, the experience will transport you to a realm of pure tranquility.
Your body and mind will be soothed, and you'll leave the session feeling refreshed and ready to take on the world.
8. Do Nothing
In a world that glorifies busyness, giving yourself permission to do absolutely nothing is a luxury worth indulging in.
Set aside a guilt-free afternoon or evening to simply be. Curl up with a good book, watch your favorite TV show, or take a leisurely stroll in the park.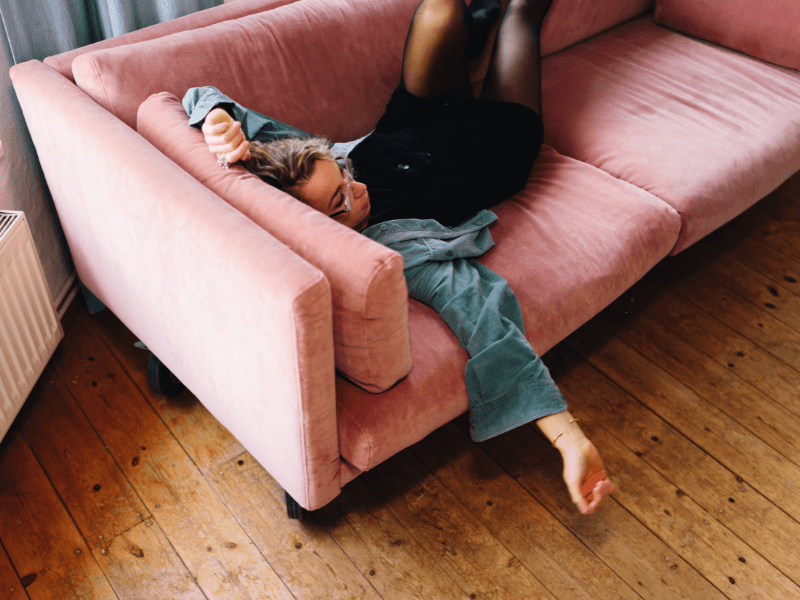 Let go of obligations and responsibilities, allowing yourself to unwind and recharge.
It's not always about how much you accomplish; sometimes it's about how well you take care of yourself.
9. Treat Yourself to Your Favorite Takeaway
Sometimes, the simplest pleasures can bring the greatest joy. Give yourself a break from cooking and treat your taste buds to your favorite takeaway meal.
Whether it's a mouthwatering pizza, a delectable sushi platter, or a comforting bowl of noodles, savor every bite.
Indulge in the flavors that make your heart sing, and relish the convenience of a delicious meal served right to your doorstep.
10. Nourish Your Skin with Luxurious Body Butter
Your skin deserves to be pampered and nourished. Treat yourself to a luxurious body butter or lotion that envelopes your body in silky smoothness.
Take the time to massage it gently into your skin, allowing the rich formula to hydrate and revitalize.
Feel the stress and worries of the day dissolve as you indulge in this self-care ritual. Your skin will thank you with a radiant, supple glow.
Conclusion – Simple Ways to Treat Yourself
Treating yourself is not a selfish act but an essential component of self-care.
By embracing these delightful ways to indulge in self-care, you nourish your mind, body, and spirit. Whether it's through culinary adventures, soothing spa treatments, or simply taking time for yourself, remember that you deserve to be pampered and cherished.
Embrace the art of self-indulgence, prioritize your well-being, and let the joys of treating yourself enrich your life in immeasurable ways. So go ahead, create moments of bliss, and let the world see the radiant, self-cared version of you.
Understand that self-care is a process, and this advice is only the beginning. Discover what speaks to you, then keep looking for ways to take care of yourself that make you happy, fulfilled, and really content.
Enjoyed these tips? Check out these self-care ideas you can do in one weekend!
Pin this to your Pinterest collection: