Do you often wake up feeling groggy, unmotivated, or just plain terrible? It could be due to your toxic morning habits that are ruining your day right from the start.
We all have our routines, but some of them can be detrimental to our overall well-being and productivity.
In this blog post, we will explore the toxic morning habits that you should cut out immediately to set yourself up for success. Let's dive in!
Pin me for later!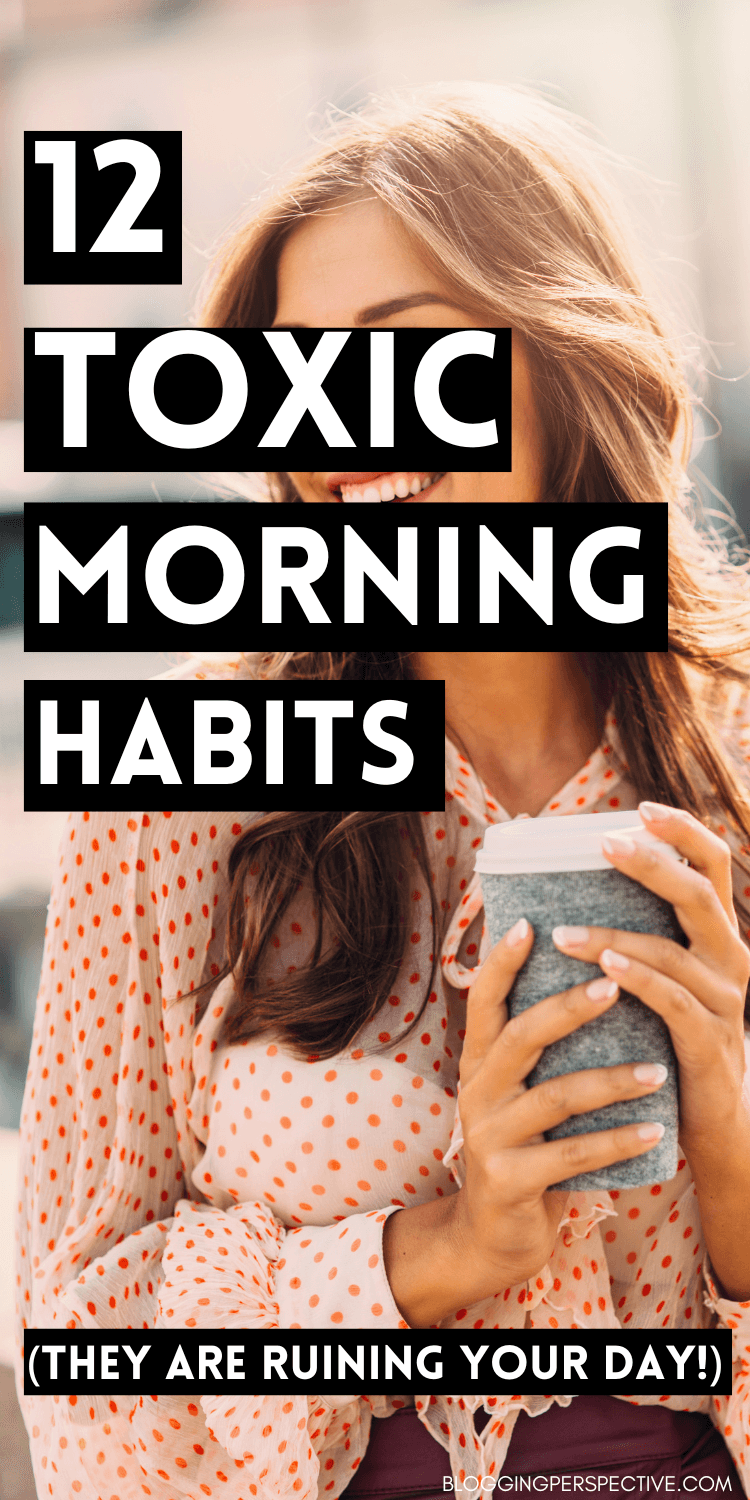 1. Checking Your Phone, Social Media, and Emails
Stop reaching for your phone the moment you wake up!
We've all been guilty of scrolling mindlessly through social media or getting lost in our overflowing inbox. However, this habit can quickly derail your morning and set a negative tone for the rest of the day.
Instead, reserve the first hour of your morning for yourself. Focus on activities that nourish your mind and body, such as meditation, journaling, or enjoying a quiet cup of tea.
2. Running on Empty
Skipping breakfast might seem like a time-saving strategy, but it's one of the most unhealthy morning habits you should give up.
Your body needs fuel to function optimally, and that means starting your day with a nutritious breakfast.
Aim for a balanced meal that includes protein, carbs, and healthy fats to keep you energized and satisfied throughout the morning. Don't forget to hydrate with a glass of water too!
3. Not Making Your Bed
Believe it or not, making your bed can have a profound impact on your mindset and productivity.
It sets a tone of order and accomplishment right from the start, giving you a sense of control over your environment.
Plus, it takes only a couple of minutes and provides a clean and inviting space to return to at the end of the day. So, take a few extra moments each morning to make your bed and start your day on a positive note.
4. Oversleeping and Ignoring Your Alarm Clock
While getting enough sleep is crucial for your well-being, oversleeping can leave you feeling groggy and sluggish.
Additionally, repeatedly hitting the snooze button and ignoring your alarm clock disrupts your natural sleep-wake cycle, making it harder to wake up refreshed.
Aim for a consistent sleep schedule and try placing your alarm clock across the room to force yourself out of bed. This way, you'll have a better chance of starting your day on time and feeling more alert.
5. Not Showering
One common toxic morning habit that many people have is not showering.
Some may choose to delay their shower or skip it altogether in an attempt to save time. However, this habit can have negative consequences on both your physical and mental well-being.
When you wake up, your body has been at rest for several hours, and a refreshing shower can help you awaken your senses and prepare for the day ahead. Not only does showering cleanse your body, but it also invigorates your mind, leaving you feeling refreshed and revitalized.
6. Not Taking Time for Self-Care
Your mornings should be a time to prioritize self-care and set a positive tone for the day ahead.
Whether it's practicing mindfulness, stretching, or reading a few pages of a book, make sure to allocate time for activities that bring you joy and relaxation.
These moments of self-care can help reduce stress, increase focus, and enhance your overall well-being. Remember, taking care of yourself is not selfish – it's necessary for you to show up as your best self for others.
7. Not Making the Most of Your Morning Commute
If you have a morning commute, it's essential to utilize that time effectively. Instead of mindlessly scrolling through social media or zoning out, try making the most of your commute by engaging in activities that enrich your mind.
You can listen to a podcast, an audiobook, or even read a book if you're using public transportation.
Use this time to learn something new, get inspired, or simply enjoy a good story.
8. Not Exercising
Physical activity is a powerful way to kickstart your day and boost your energy levels.
By neglecting exercise in the morning, you're missing out on numerous benefits.
Engaging in a workout routine releases endorphins, enhances mental clarity, and sets a positive tone for the rest of the day. Whether it's a brisk walk, yoga session, or a full-fledged workout, make it a priority to incorporate exercise into your morning routine. Your body and mind will thank you!
Check out these super easy lazy girl workouts you can do in 10 minutes.
9. Not Planning Your Day
Starting your day without a clear plan can lead to a lack of focus and productivity.
Take a few minutes each morning to outline two to three important tasks or goals you want to accomplish during the day.
This simple act of planning can help you prioritize your time, stay organized, and maintain a sense of purpose throughout the day. When you have a roadmap, you're more likely to make progress towards your goals and feel a sense of accomplishment.
10. Not Getting Enough Natural Light After Waking Up
Exposure to natural light plays a crucial role in regulating your body's internal clock and overall well-being.
By not getting enough natural light in the morning, you may disrupt your sleep-wake cycle and experience daytime fatigue.
Open your curtains or step outside for a few minutes to soak up the sunlight. If natural light is limited, consider investing in a light therapy lamp, which mimics the effects of sunlight and can help improve your mood and energy levels.
11. Not Making Time for a Skincare Routine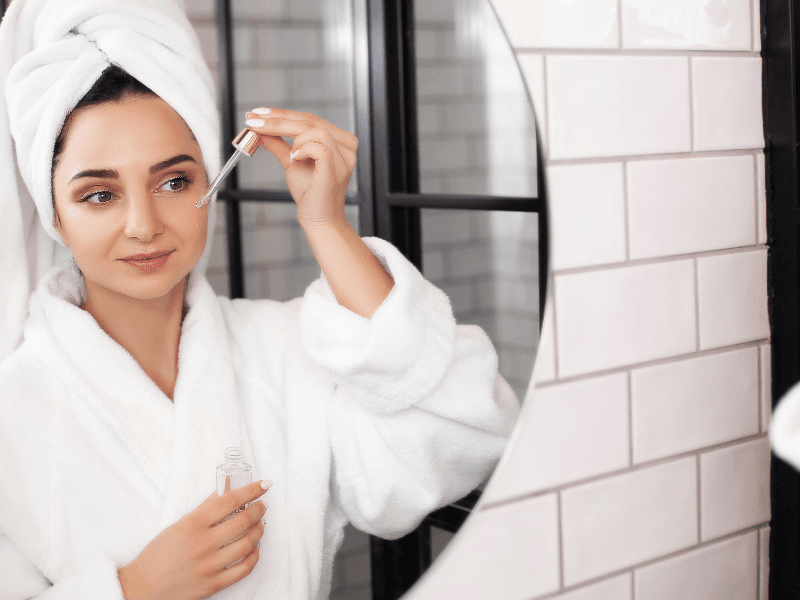 Your morning skincare routine is not just about vanity – it's an act of self-care and a way to take care of your skin's health.
Neglecting your skin can lead to various issues, including dryness, breakouts, and premature aging. Dedicate a few minutes each morning to cleanse, moisturize, and protect your skin with sunscreen.
Establishing a consistent skincare routine will not only benefit your skin's appearance but also boost your confidence and overall well-being. Just make sure to avoid the common skincare mistakes.
12. Leaving Your Home in a Mess
Starting your day in a chaotic environment can impact your mood and increase stress levels. Take a few minutes each morning to tidy up your living space, making your bed is just the beginning.
Put away clutter, organize your belongings, and create a clean and serene atmosphere. Returning to a clean home at the end of the day will promote relaxation and provide a sense of order in your life.
Cut These Toxic Morning Habits – Conclusion
In conclusion, your morning habits set the tone for the rest of your day. By identifying and eliminating these toxic morning habits, such as mindlessly checking your phone, skipping breakfast, or neglecting self-care, you can create a positive and productive start to your day.
Make small changes and be consistent, and you'll notice significant improvements in your overall well-being, energy levels, and productivity. Remember, a toxic-free morning leads to a happier, healthier you!
So, why wait? Start today and cut these toxic morning habits out of your life. Embrace positive changes, and watch how they transform your mornings and elevate your mood.