This post may contain affiliate links, which means I'll receive a commission if you purchase through my links, at no extra cost to you. Please read our full disclosure for more information.
Ah, Friendsgiving—the delightful blend of friendship and Thanksgiving that brings together your chosen family for a memorable feast.
It's that time of year when you swap stories, laugh till your sides hurt, and create unforgettable memories with your nearest and dearest. And let's not forget the mouthwatering food!
But what makes Friendsgiving truly special is the opportunity to get creative with your decor and party ideas. It's a chance to add your personal touch to the traditional Thanksgiving celebration.
And the best part? You don't need to break the bank to host a fabulous Friendsgiving gathering!
In this blog post, we've scoured the web and our own creative minds to bring you 25 chic Friendsgiving decor and party ideas, all for under $20.
Yes, you read that right—budget-friendly and super Instagrammable ideas to make your Friendsgiving unforgettable!

Related: 20+ Stunning Thanksgiving Nail Ideas 2023 For This Fall

Share on Pinterest: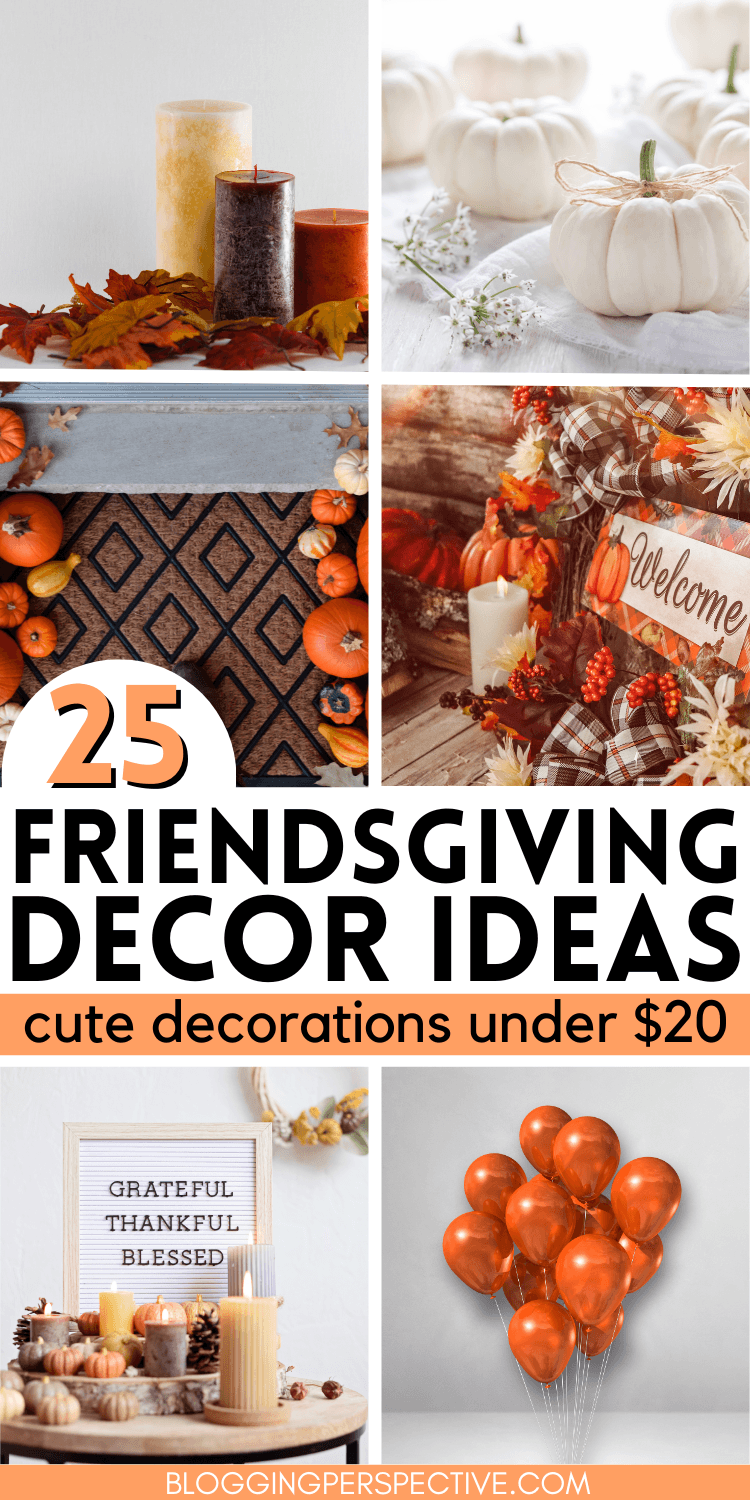 What Is Friendsgiving?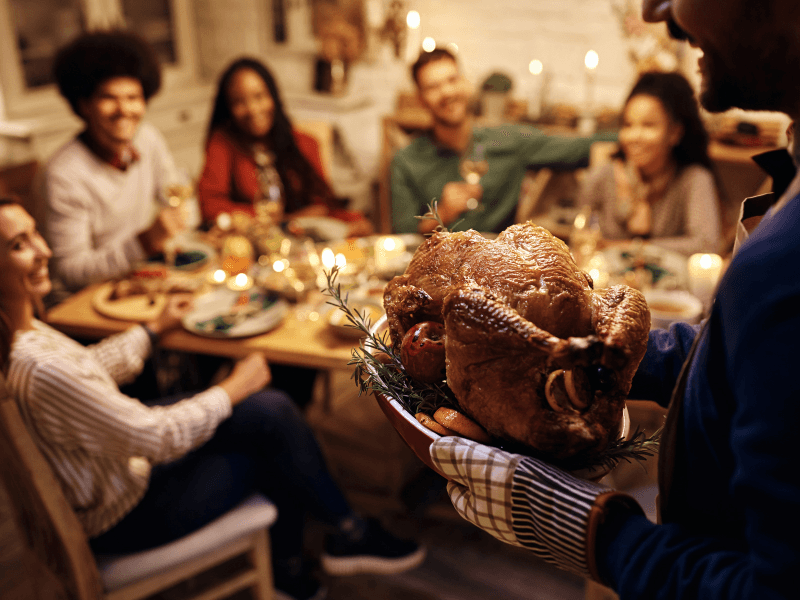 Before we dive into the decorating and party planning fun, let's make sure we're all on the same page about what Friendsgiving is.
Essentially, it's a heartwarming prelude to Thanksgiving, where friends come together to celebrate gratitude, friendship, and the joy of sharing a delicious meal.
The best part about Friendsgiving is that it's a more relaxed and informal gathering than Thanksgiving with family. It's a time to let your creativity shine and create a warm and welcoming atmosphere for your chosen family.

Now that we're all set on the basics let's dive into the exciting part—25 chic Friendsgiving decor and party ideas that won't break the bank!

Friendsgiving Decor and Party Ideas

Decorative Friendsgiving Sign
Kick off your Friendsgiving celebration with a bang by greeting your pals with a whimsical Decorative Friendsgiving Sign. Display it on the table or near the entryway to set the mood and give everyone a warm welcome.


Happy Friendsgiving Banner
A Friendsgiving party just isn't complete without a Happy Friendsgiving Banner based on the cult tv series 'Friends'. Hang it over your dining table or fireplace, and let the good times roll! This banner radiates joy and sets the tone for a day filled with laughter and gratitude.


Friendsgiving Balloon Banner
Looking for a festive vibe? A Friendsgiving Balloon Banner will do the trick! These balloons spelling out "Friendsgiving" make for a fantastic photo backdrop. Snap some Instagram-worthy shots with your friends and create lasting memories.


Fall Leaves Garland
Infuse your Friendsgiving decor with the beauty of autumn using a Fall Leaves Garland. Drape it along your table, mantle, or staircase for an instant dose of seasonal charm. It's the perfect way to bring the outdoors in and create a cozy atmosphere.


Thanksgiving Balloon Arch
Take your decor to the next level with a stunning Fall-themed Balloon Arch. It's a showstopper that will leave your friends in awe. Whether you place it as a centerpiece or use it as a backdrop for photos, this arch will look absolutely amazing!


Photo Booth Props
Unleash your inner goofball with these fun Photo Booth Props. These props are a guaranteed hit and will have your friends laughing and capturing hilarious memories all night long.


Photo Booth Backdrop
Don't forget the Photo Booth Backdrop! Choose one that fits your Friendsgiving theme—whether it's rustic, glamorous, or quirky. It's the canvas for unforgettable snapshots that will have you reminiscing for years to come.


Friendsgiving Table Runner
Set a stylish stage for your feast with a Friendsgiving Table Runner. It's the foundation of your table decor, adding a touch of elegance to your meal. Choose one that's Friendsgiving-themed or with autumn-inspired patterns to tie everything together.


Friendsgiving Napkins
Don't forget about the small details – these Friendsgiving Napkins will match the mood perfectly.


Friendsgiving Paper Plates
Make cleanup a breeze with Friendsgiving Paper Plates. Opt for designs that match your theme or feature heartfelt messages. Not only are they practical, but they also add a festive touch to your table settings.


Friendsgiving Glasses
Raise a toast to friendship with Friendsgiving Glasses. These can double as party favors and add a touch of sophistication to your celebration.


Friendsgiving Cocktail Garnishes
Elevate your beverage game with these Friends-themed Friendsgiving Cocktail Garnishes. These little touches will make your drinks as Instagram-worthy as they are delicious.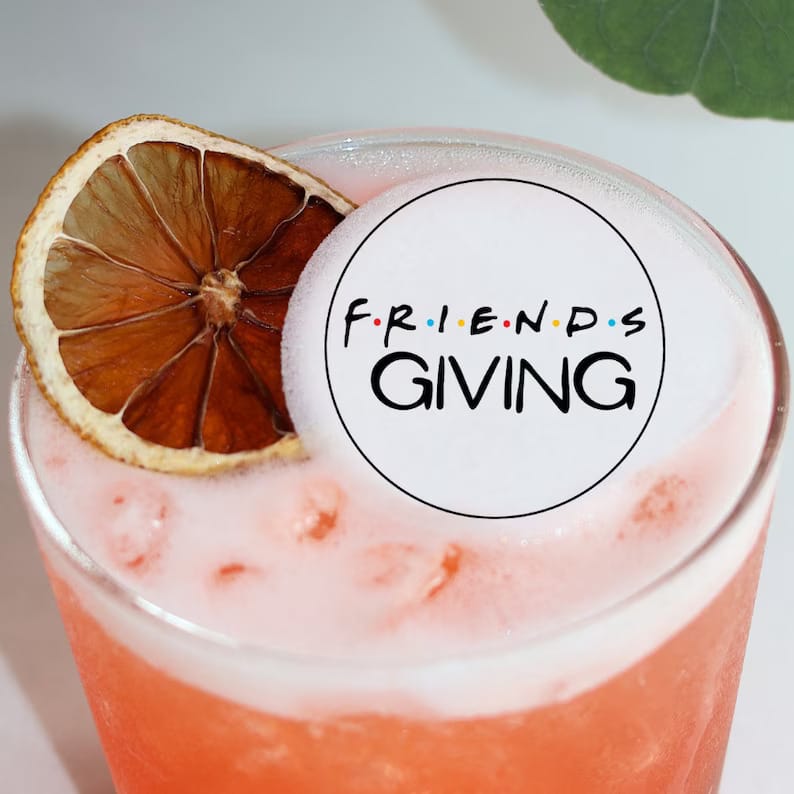 Orange Placemats
Add a pop of color to your table settings with vibrant Orange Placemats. They can provide a delightful contrast to your dinnerware and help create a warm and inviting atmosphere.

Related: 35 Best Fall Nail Ideas 2023 That You'll Absolutely Love


Pumpkin Place Card Holders
Guide your guests to their seats with these charming Pumpkin Place Card Holders. These mini pumpkins can be personalized with each guest's name, adding a personal and festive touch to your tablescape.


Thanksgiving Paper Straws
Sip your favorite fall beverages in style with Colorful Paper Straws. They come in various designs and colors. This will add a whimsical flair to your drinks.


Friendsgiving Party Invitations
Build anticipation for your Friendsgiving gathering with thoughtfully designed Friendsgiving Party Invitations. These cards set the tone for your event and get everyone excited to celebrate together.


Decorative Pumpkins
No Friendsgiving decor is complete without a few Decorative Pumpkins. Scatter them around your space for an instant touch of autumn charm. You can even personalize them with paint or markers for an extra creative touch.


Friendsgiving Party Gift Boxes
Show your appreciation for your friends with Friendsgiving Party Gift Boxes. Fill them with small tokens of gratitude and hand them out as party favors. It's a lovely gesture that adds a warm and personal touch to your celebration.


Friendsgiving Party Favors – Cupcake Socks
Treat your friends to a dose of coziness with these super cute Cupcake Socks as party favors. These fun and quirky gifts will keep your pals warm and remind them of the sweet time you all had at Friendsgiving.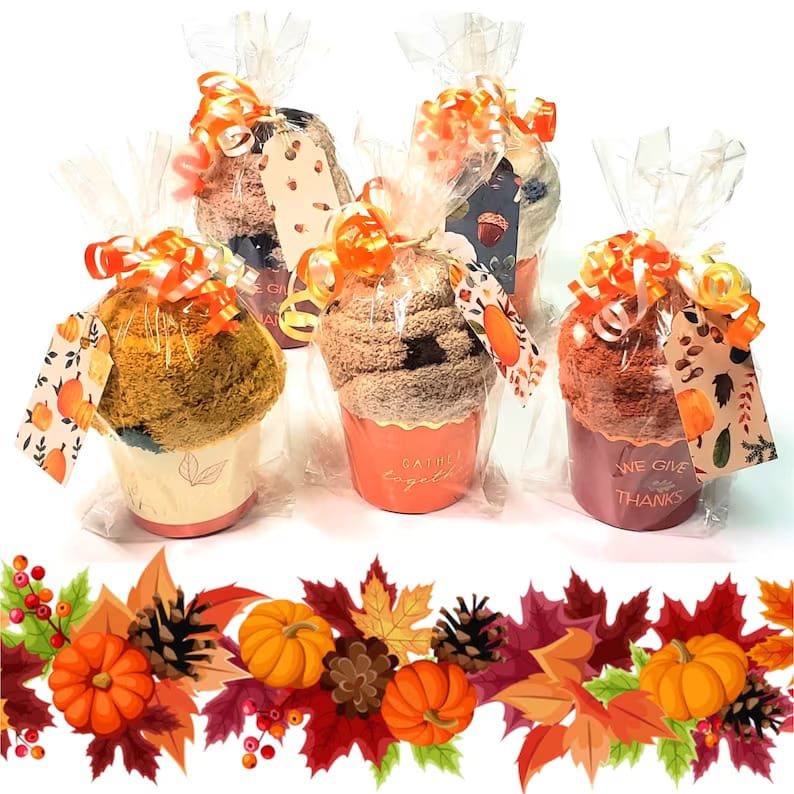 Fall Leaves Garland with Lights
Illuminate your space with the warm glow of a Fall Leaves Garland with Lights. It will create a cozy and inviting atmosphere, perfect for a Friendsgiving gathering that lasts into the evening.


Artificial Berry Branches
Bring the beauty of the outdoors inside with some Artificial Berry Branches. Use them in your centerpiece or scatter them throughout your decor for a touch of rustic elegance.

Related: 20+ Casual Fall College Girl Outfit Ideas for This Year


Friendsgiving Party Games
Keep the laughter flowing with Friendsgiving Party Games. Whether it's charades, board games, or Friendsgiving-themed games like the ones below – these activities ensure that everyone has a blast.


Drink If Game
The Drink If Game is a hilarious icebreaker that guarantees a night filled with laughter and bonding. It's a must-have for Friendsgiving entertainment.


Thanksgiving Trivia Game
Test your friends' knowledge of Thanksgiving traditions with a Thanksgiving Trivia Game. It's a fun and educational way to learn more about this beloved holiday.


Thanksgiving Party Can Coolers
Keep your beverages cool and your hands warm with Thanksgiving Party Can Coolers. They're practical and stylish, ensuring your drinks stay refreshing throughout the celebration.


That's it for now!
With these fabulous Friendsgiving decor and party ideas, you're all set to host the ultimate Friendsgiving bash without breaking the bank.
Get ready to create lasting memories and toast to the joy of friendship.
Happy Friendsgiving!