Happiness is a beautiful and elusive feeling that we all strive to cultivate in our lives.
While big achievements and significant life changes can contribute to our overall well-being, it's often the small things we do on a daily basis that have a profound impact on our happiness levels.
In this blog post, we'll explore 33 small and simple activities that can help boost your happiness. So, let's dive in and discover the joy in the little things!
Pin it on Pinterest: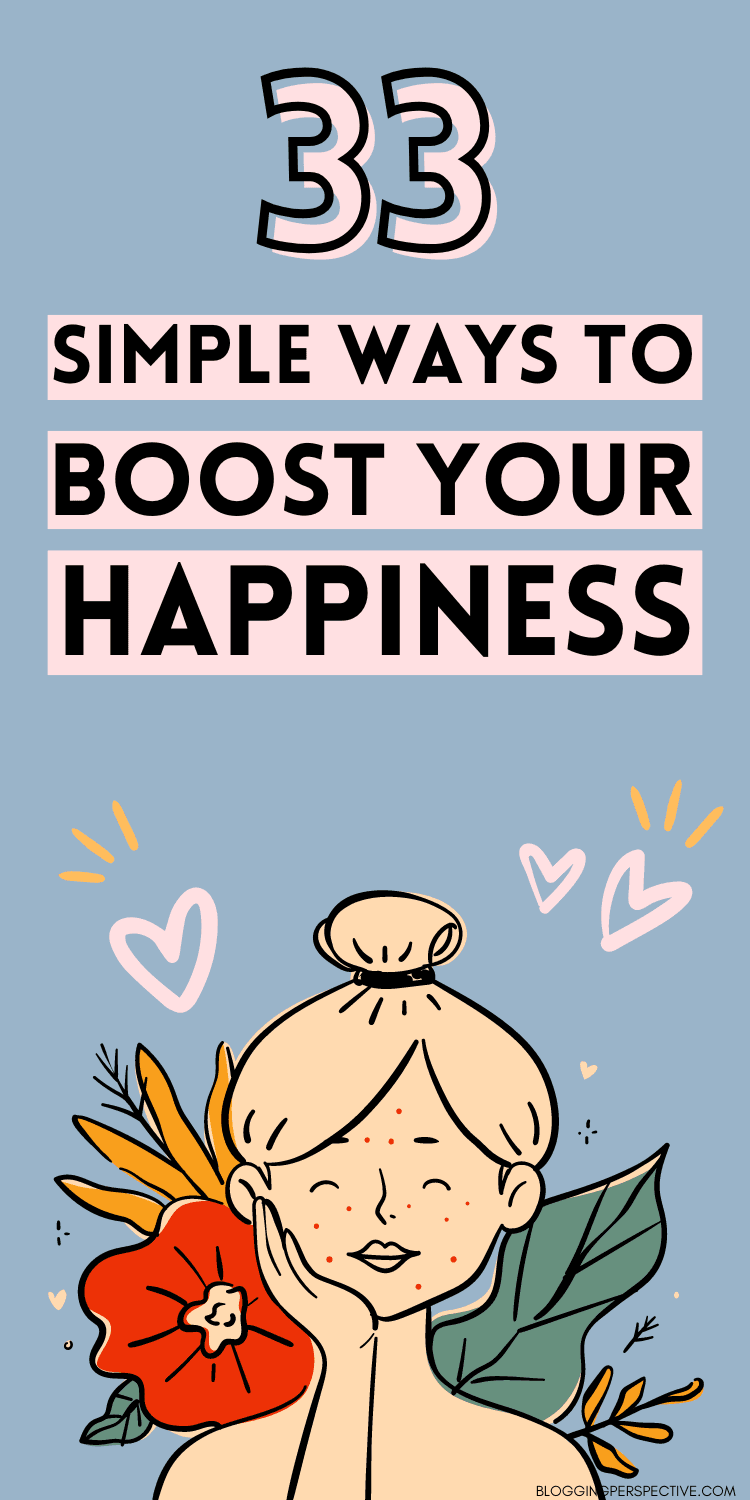 1. Take a Walk in Nature
There's something magical about immersing yourself in the beauty of nature. Step outside, feel the fresh air on your face, and take a leisurely walk in a nearby park or a scenic trail.
As you stroll amidst the trees and listen to the soothing sounds of birds chirping, you'll find that nature has a way of rejuvenating your spirit and filling you with a sense of calm and happiness.
2. Write Down Three Things You're Grateful For Each Day
Practicing gratitude is a powerful tool for cultivating happiness.
Take a few moments every day to reflect on the things you're grateful for and jot them down in a journal. It could be as simple as a delicious meal, a heartfelt conversation, or a beautiful sunset.
By focusing on the positive aspects of your life, you'll shift your perspective and train your mind to notice and appreciate the abundance that surrounds you.
3. Listen to Your Favorite Uplifting Song
Music has the incredible ability to uplift our spirits and transport us to a place of joy.
Create a playlist of your favorite upbeat and uplifting songs, and whenever you're feeling down or in need of a mood boost, hit play and let the music work its magic.
Sing along, dance like nobody's watching, and let the rhythm guide you to a happier state of mind.
4. Enjoy a Cup of Tea or Coffee in Peace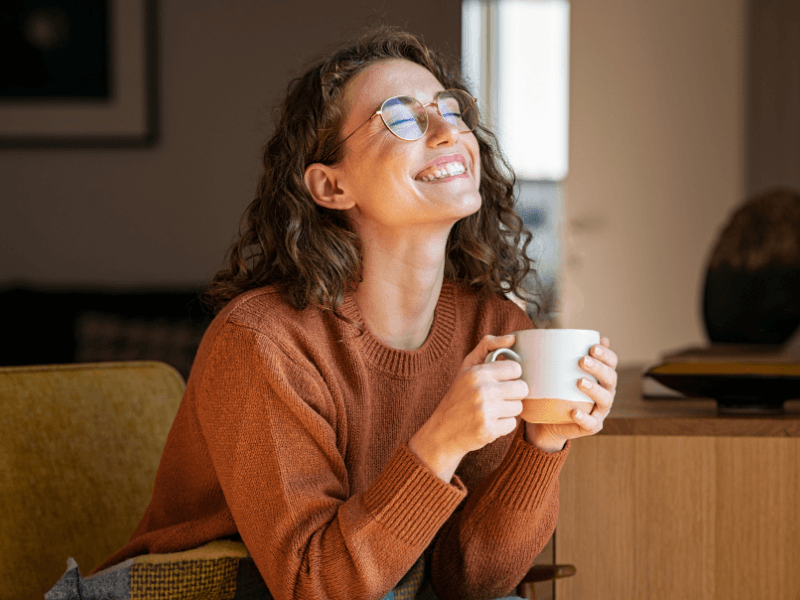 In the hustle and bustle of daily life, it's essential to carve out moments of tranquility for ourselves.
Brew a cup of your favorite tea or coffee, find a cozy spot, and savor each sip mindfully.
Allow yourself to be fully present in the moment, appreciating the warmth and comfort that a simple cup of your preferred beverage can bring.
5. Send a Kind Message to Someone You Care About
Acts of kindness have a way of not only brightening someone else's day but also filling our hearts with happiness.
Take a moment to send a thoughtful message to a friend or family member, expressing your appreciation or simply letting them know you're thinking of them.
The act of spreading kindness and love will create a ripple effect of positivity in both your lives.
6. Watch a Funny Video or TV Show
Laughter is truly the best medicine when it comes to boosting happiness.
Seek out humor in your daily life by watching funny videos or tuning into a lighthearted TV show.
Allow yourself to laugh freely and let the infectious giggles lift your spirits and bring a smile to your face.
7. Take a Few Deep Breaths
In the midst of a busy day, it's easy to get caught up in a whirlwind of thoughts and worries.
Take a pause, close your eyes, and take a few deep breaths.
Focus on the sensation of each inhale and exhale, bringing your attention to the present moment.
This simple act of mindfulness will help you ground yourself, reduce stress, and cultivate a sense of inner peace.
8. Treat Yourself to a Small Indulgence
Every now and then, it's important to treat yourself and indulge in a little self-care. It could be a piece of decadent chocolate, a luxurious bubble bath, or even a small purchase that brings you joy.
Allow yourself to experience the pleasure of this little indulgence guilt-free.
By nurturing yourself and acknowledging your own needs, you're sending a powerful message to yourself that you deserve happiness and self-care.
9. Spend a Few Minutes Stretching or Doing Yoga
Our bodies and minds are intricately connected, and taking care of our physical well-being can greatly impact our happiness levels.
Set aside a few minutes each day to stretch your body or engage in a simple yoga routine.
These gentle movements will not only increase your flexibility and release tension but also promote a sense of calm and relaxation.
10. Look Through Old Photos and Reminisce on Happy Memories
Nostalgia has a way of instantly transporting us to happier times.
Take out those old photo albums or scroll through your digital gallery and immerse yourself in cherished memories. Allow yourself to relive the laughter, adventures, and special moments captured in those images.
The flood of positive emotions will surely bring a smile to your face and fill your heart with warmth.
11. Write a Positive Affirmation and Repeat It to Yourself
Positive affirmations are powerful statements that can shift our mindset and boost our self-confidence.
Take a moment to write down a positive affirmation that resonates with you. It could be something like "I am deserving of happiness and abundance" or "I embrace joy and positivity in every aspect of my life."
Repeat this affirmation to yourself throughout the day, and let it sink deep into your subconscious, reinforcing a positive and empowering belief system.
Need some ideas? Check out these powerful affirmations and choose one or two to use daily.
12. Do a Random Act of Kindness for a Stranger
Spreading kindness not only uplifts others but also brings immense joy and fulfillment to ourselves.
Look for opportunities to perform random acts of kindness for strangers. It could be as simple as holding the door open, offering a genuine compliment, or buying a cup of coffee for the person in line behind you.
These small gestures have the power to make someone's day and fill your heart with a sense of interconnectedness and happiness.
13. Try a New Hobby or Craft
Exploring new hobbies and engaging in creative activities can spark joy and tap into our inner childlike wonder.
Pick up a paintbrush, try your hand at gardening, learn a musical instrument, or experiment with cooking a new recipe.
The process of learning something new and immersing yourself in a creative outlet will not only boost your happiness but also expand your horizons and bring a sense of accomplishment.
14. Watch the Sunrise or Sunset
Nature's daily spectacle of the sunrise and sunset is a breathtaking reminder of the beauty and wonder that surrounds us.
Wake up early one morning or find a peaceful spot in the evening to witness this awe-inspiring phenomenon. As the colors dance across the sky, take a moment to reflect on the magnificence of the universe and the preciousness of life.
It's a gentle reminder to be present, grateful, and embrace the magic of each day.
15. Write a Letter of Gratitude to Someone who has Made a Difference in Your Life
Gratitude is a powerful force that not only brings happiness but also strengthens our relationships.
Take the time to write a heartfelt letter to someone who has had a positive impact on your life. Express your appreciation, share the ways in which they've made a difference, and let them know how grateful you are to have them in your life.
The act of expressing gratitude will deepen your connection with them and fill your heart with love and contentment.
16. Declutter a Small Area of Your Home
Our external environment often mirrors our internal state.
Take a few minutes to declutter a small area of your home, such as a drawer, closet, or countertop surface. Clearing physical clutter can have a profound effect on our mental and emotional well-being.
As you organize and create space, you'll experience a sense of accomplishment and a renewed clarity of mind. The tidiness and orderliness will bring a subtle but noticeable boost to your overall happiness.
17. Try a New Recipe or Bake Something Delicious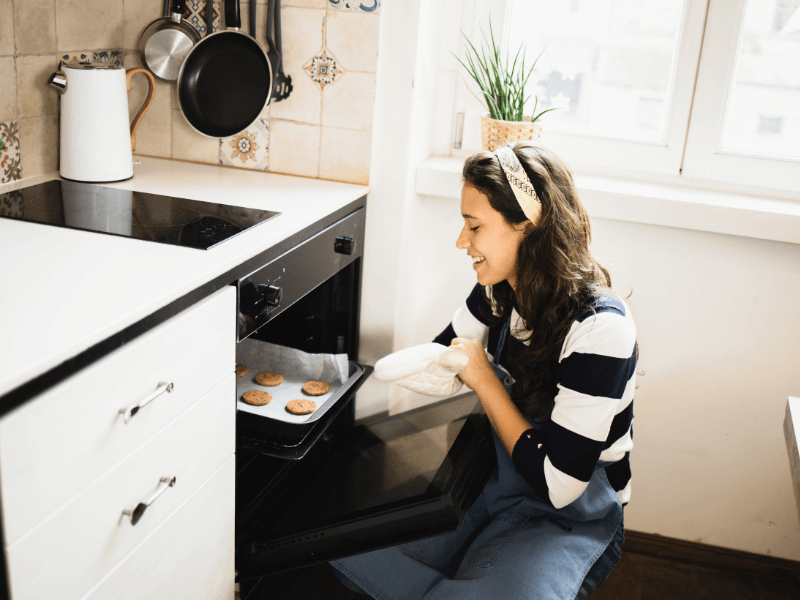 There's something magical about the aroma of freshly baked goods wafting through the kitchen.
Step into the role of a chef and try your hand at a new recipe or bake your favorite treat. The process of preparing and indulging in homemade goodness will not only delight your taste buds but also ignite a sense of creativity and satisfaction.
Plus, sharing your culinary creations with loved ones will spread joy and create lasting memories.
18. Read a Few Pages of a Book that Inspires You
Books have the incredible power to transport us to different worlds, expand our knowledge, and evoke a range of emotions.
Set aside a few minutes each day to delve into a book that inspires you.
Whether it's a captivating novel, a motivational self-help book, or an enlightening piece of non-fiction, the act of immersing yourself in words will uplift your spirits and ignite your imagination.
19. Spend Time Playing with a Pet
Pets have an extraordinary ability to bring joy and unconditional love into our lives.
Take a break from your daily routine and spend quality time playing with your furry friend. Engage in their favorite games, shower them with affection, or simply enjoy a cozy snuggle session.
The connection and happiness that pets bring are unparalleled, reminding us of the beauty of companionship and the simplicity of pure, unfiltered love.
20. Practice Self-Care by Taking a Relaxing Bath or Shower
Self-care is not a luxury; it's a necessity for our overall well-being. Set aside time for yourself by indulging in a relaxing bath or shower.
Light some candles, play soft music, and allow the warm water to wash away your stress and tension. Engage your senses by using your favorite scented bath products or incorporating essential oils.
As you focus on self-nurturing, you'll feel a renewed sense of calm and a deepened connection with your body.
21. Write Down Your Goals and Aspirations
Having clear goals and aspirations gives us a sense of purpose and direction in life. Take a pen and paper and write down your goals, dreams, and aspirations.
Visualize the life you want to create and the person you aspire to be. By articulating your ambitions, you not only clarify your intentions but also set the stage for taking inspired actions that will bring you closer to your dreams.
This act of self-reflection and visioning will ignite a spark of excitement and determination within you.
22. Have a Picnic in the Park or Your Backyard
Picnics are a delightful way to connect with nature, bask in the sun, and enjoy delicious food in a relaxed setting.
Pack a basket with your favorite snacks or homemade goodies, grab a cozy blanket, and head to a nearby park or even your backyard.
As you lay back, savoring each bite and appreciating the natural surroundings, you'll experience a sense of serenity and contentment.
Picnics provide the perfect opportunity to slow down, disconnect from the daily grind, and embrace the simple pleasures of life.
23. Do a Small Act of Generosity for a Friend or Family Member
Acts of generosity not only benefit the recipient but also nourish our own souls. Identify a small way to show kindness and generosity to a friend or family member.
It could be surprising them with their favorite treat, offering to help with a task, or simply lending a listening ear. The act of giving will fill your heart with warmth and bring a sense of fulfillment.
The genuine connection and joy that result from these small acts of generosity are truly priceless.
24. Watch a Motivational TED Talk or Listen to a Podcast
Inspirational talks and podcasts have the power to ignite our passion, broaden our perspectives, and uplift our spirits. Find a TED Talk or podcast episode that resonates with your interests or goals.
Allow yourself to be captivated by the speaker's words of wisdom, and let their insights and stories inspire you to reach for your own greatness.
The knowledge and motivation gained from these resources will leave you feeling empowered and energized.
25. Have a Digital Detox and Disconnect from Screens for a While
In this digital age, we are constantly bombarded with notifications, emails, and social media updates.
Take a break from the virtual world and embark on a digital detox. Set aside a specific time each day or dedicate an entire weekend to disconnecting from screens. Instead, engage in activities that nurture your well-being, such as reading, spending time in nature, or enjoying quality time with loved ones.
By consciously unplugging, you'll create space for quiet reflection, deeper connections, and a renewed sense of presence in the world around you.
26. Write a List of Things You Love About Yourself
Self-love and self-acceptance are essential ingredients for happiness. Take a moment to reflect on your strengths, qualities, and achievements.
Grab a pen and paper and write down a list of things you love about yourself. It could be your sense of humor, your determination, or your ability to empathize with others.
Embrace your uniqueness and celebrate the qualities that make you who you are. This exercise will boost your self-confidence, enhance your self-worth, and foster a deep sense of self-love.
27. Dance to Your Favorite Song
Movement and music have an undeniable synergy that can instantly uplift our mood and fill us with joy. Put on your favorite upbeat song and let the rhythm guide your body.
Dance like nobody's watching, allowing the music to flow through you and liberate your spirit.
Engaging in this playful and expressive act will release endorphins, decrease stress, and infuse your day with a burst of positivity and happiness.
28. Write Down a List of Your Accomplishments, No Matter How Small
Sometimes, we forget to acknowledge and celebrate our achievements, no matter how small they may seem.
Take a moment to reflect on your journey and write down a list of your accomplishments. It could be completing a challenging project, overcoming a fear, or learning a new skill.
Embrace a sense of pride and allow yourself to bask in the satisfaction of your achievements. Recognizing your progress and growth will fuel your motivation and cultivate a deep sense of fulfillment.
29. Do a Small Home Improvement Project that Brings You Joy
Our physical environment greatly influences our well-being. Identify a small home improvement project that will bring you joy and a sense of satisfaction.
It could be organizing a cluttered closet, creating a cozy reading nook, or adding plants to brighten up your space.
As you dedicate time and effort to enhance your surroundings, you'll create a harmonious and uplifting environment that supports your happiness and overall sense of well-being.
30. Take a Moment to Appreciate the Beauty of Nature Around You
Nature is a constant source of beauty, inspiration, and tranquility.
Pause for a moment during your day and take in the natural wonders that surround you.
Whether it's the delicate petals of a flower, the gentle rustle of leaves in the wind, or the mesmerizing colors of a sunset, allow yourself to truly appreciate the magnificence of the natural world.
31. Volunteer for a Cause You Care About
One of the most fulfilling ways to boost your happiness is by giving back to others. Find a cause or organization that aligns with your values and volunteer your time and skills.
Whether it's assisting at a local shelter, participating in a community clean-up, or lending a hand at a fundraising event, contributing to a greater cause will not only bring joy and fulfillment but also foster a sense of purpose and connectedness with your community.
32. Practice Mindfulness and Meditation
In our fast-paced lives, it's crucial to carve out moments of stillness and quiet reflection.
Embrace the practice of mindfulness and meditation to cultivate a deeper sense of self-awareness and inner peace. Set aside a few minutes each day to sit in silence, focusing on your breath and observing your thoughts without judgment.
This practice will help you cultivate a calmer mind, reduce stress, and enhance your overall well-being, leading to a greater sense of happiness and contentment.
33. Treat Yourself to a Bouquet of Fresh Flowers
Brighten your day and uplift your spirits by treating yourself to a vibrant bouquet of fresh flowers.
The simple act of bringing nature's beauty indoors can have a profound effect on your mood and well-being. Choose your favorite blooms, arrange them in a vase, and let their colors and fragrance fill your space.
The presence of flowers can evoke feelings of joy, serenity, and a deeper appreciation for the wonders of the natural world. Treat yourself to this small, yet delightful gesture, and watch as your happiness blossoms along with the flowers.
Conclusion – Time to Boost Your Happiness
In our quest for happiness, we often overlook the power of small and simple actions that can bring immense joy to our lives. By incorporating these 33 small things into our daily routines, we can cultivate happiness in our hearts and embrace the beauty of each moment.
From immersing ourselves in nature's embrace to practicing gratitude, spreading kindness, and indulging in self-care, these small acts have the potential to create a ripple effect of positivity and happiness in our lives and the lives of those around us.
So, let us embark on this journey of happiness, one small step at a time, and discover the profound impact that these little things can have on our well-being. Remember, happiness is not a destination; it is found in the everyday moments that we choose to cherish and embrace.
Enjoyed this article? You will also like this: How to Pull Yourself Out of a Funk.
Save to your Pinterest collection: